Yves here. I'm glad to have Gaius lay out this perjury/entrapment question at a high level. One contact, an attorney, has been bothered about the fact that it's looked more than a bit obvious that Mueller was not just trying to bait Trump into obstruction of justice, but might also be trying to entrap him. Moreover, left-leaning defense lawyers like Harvey Silverglate have warned that Mueller has tried entrapment strategies in the past. In 2013, the ACLU published a report on the FBI, Unleashed and Unaccountable: The FBI's Unchecked Abuse of Authority. Mueller's name features prominently.
Note that a Politico story to which we linked yesterday reads the state of play between Trump and Mueller as having changed. Trump had repeatedly said he was willing to be interviewed by Mueller:
U.S. President Donald Trump is shifting to war footing in the Russia investigation.

On Wednesday, the White House announced that it had hired a veteran lawyer who helped President Bill Clinton weather impeachment, while Trump's top personal lawyer expressed new defiance toward special counsel Robert Mueller and his Justice Department superiors.

Combined, the two moves represent a sharp turn away from the cooperation-minded days of 2017 when Trump said publicly that he was eager to sit down with the lead Russia investigator…

Now, amid the prospect of a widening Mueller inquiry that has already ensnared several top Trump aides, along with a potential Democratic wave in the November midterm elections that could give way to impeachment proceedings, Trump and his lawyers are showing signs that they intend to fight back.
The attorney to whom I spoke also said that Trump fighting Mueller was a much more viable strategy than you'd think from reading the press. The special prosecutor's subpoena authority is limited. His view was Trump has decent odds of successfully contesting or at least considerably narrowing a the scope of a subpoena that sought to compel answers to the questions leaked to the New York Times earlier this week.
By Gaius Publius, a professional writer living on the West Coast of the United States and frequent contributor to DownWithTyranny, digby, Truthout, and Naked Capitalism. Follow him on Twitter @Gaius_Publius, Tumblr and Facebook. GP article archive  here. Originally published at DownWithTyranny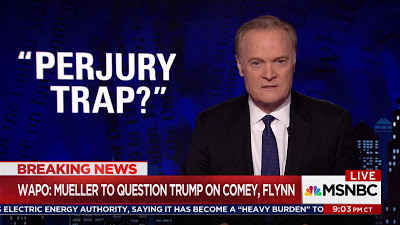 A "perjury trap" is a prosecutorial maneuver and a form of entrapment in which "a prosecutor calls a witness to testify with the intent to base a perjury charge on their statements, not to indict them for a previous crime." If a prosecutor calls a witness for only that purpose, rather than to get information to further an investigation, the law is clear — it's forbidden.
Perjury traps are most easily executed when the prosecutor has prior knowledge of the matter about which the witness is questioned but doesn't reveal having that knowledge. In practice perjury traps can be executed while furthering an investigation and still be traps. A prosecutor can ask investigatory questions and set a perjury trap at the same time. Thus, since perjury traps are forbidden in law only in restricted circumstances, they are difficult to avoid.
If the questions leaked to the New York Times and presented as what Robert Mueller would ask Donald Trump in an official interview, are indeed Mueller's questions (regardless of who leaked them), Mueller may be setting a perjury trap for Trump.
Michael Flynn's Perjury Trap
Witness the situation of Michael Flynn, about which investigative reporter Robert Parry wrote just weeks before his death:
Russia-gate enthusiasts are thrilled over the guilty plea of President Trump's former National Security Adviser Michael Flynn for lying to the FBI about pre-inauguration conversations with the Russian ambassador, but the case should alarm true civil libertarians.

What is arguably most disturbing about this case is that then-National Security Adviser Flynn was pushed into a perjury trap by Obama administration holdovers at the Justice Department who concocted an unorthodox legal rationale for subjecting Flynn to an FBI interrogation four days after he took office, testing Flynn's recollection of the conversations while the FBI agents had transcripts of the calls intercepted by the National Security Agency.

In other words, the Justice Department wasn't seeking information about what Flynn said to Russian Ambassador Sergey Kislyak – the intelligence agencies already had that information. Instead, Flynn was being quizzed on his precise recollection of the conversations and nailed for lying when his recollections deviated from the transcripts.
Seems like entrapment to me, regardless of what you think of Michael Flynn.
Bill Clinton's Perjury Trap
If you're not fond of Michael Flynn, consider Bill Clinton, of whom many have kinder thoughts. In 1998 Jeffrey Rosen wrote this in The New Yorker about Ken Starr's attempt to prove Bill Clinton perjured himself by denying his affair with Monica Lewinsky (emphasis added):
Independent Counsel Kenneth Starr has claimed that his 7-month investigation of President Clinton's relationship with Monica Lewinsky, which seeks to prove that Clinton and Lewinsky lied under oath in the Paula Jones sexual harrassment case against Clinton, is about lies, not sex. But the public appears to recognize instinctively what the law has long acknowledged: that lies vary in degree and in kind, and that they should be treated accordingly. The President's aides fear that Starr will try to set a so-called perjury trap in order to catch the President in lies told directly to the grand jury. Perjury traps have become a popular tactic among independent counsels: if they can't prove the alleged crime they were appointed to investigate, they indict suspects for lying to investigators. But the traps are effective only because independent counsels have succeeded over the past few decades in expanding the lying laws far beyond their historical roots.
The U.S. is a prosecutorial nation, and has been for some time. How else do we explain the popularity of shows like Judge Judy, Jerry Springer and the many like them, shows in which the "unworthy" are subjected to public humiliation? How else do we explain our acceptance of having the largest prison population in the world?
How Will the Next "Rogue" President Be Taken Down?
Perhaps you're fine with this use of prosecutorial power. Perhaps, even though you'd hate it if these tactics were used against you, and hated it when they were used against Bill Clinton, you now love them when used against Trump and his team.
But whatever your view of either man, Donald Trump or Bill Clinton, keep this in mind:
     1. This is the way prosecutors regularly do business in our "in love with prosecution" state.
     2. This is one way Mueller is trying to get rid of Donald Trump — this and the blackmail opportunity his investigation of Trump's finances will inevitably offer.
And thanks to Democrats, who opposed these tactics when used against Clinton's presidency, and now cheer their use against Trump's, we see that:
     3. These techniques have now been "blessed" (legitimized) by both parties and the mainstream press, and
     4. They can and will be used freely against any sitting president who falls seriously out of favor with our ruling Establishment.
Do you think a President Sanders would be any more loved, or any less hated, by the DC and press Establishment than Donald Trump is? Imagine a Sanders-like presidency. Remember MSNBC's behavior to Sanders during the 2016 primary. Remember the Party's behavior during that time. What do you think would be done to "delegitimize" him, or anyone like him, by both parties and the press, with both parties' consent?
What if he adopted a federal jobs guarantee proposal? Such a program, properly executed, would force wages to rise through the entire private sector and affect the bottom line of every corporation with employees in the U.S. What if he starts such a program under current executive power? Now imagine that the program has huge popular support, which means it represents a real legislative threat to our decades-old, comfortable, bipartisan neoliberal Establishment.
Would such a program be allowed by that Establishment to go forward? What if it could not be stopped in any other way than by bringing down ("delegitimizing") the Sanders presidency itself?
Anyone who attempts to overturn four decades of Establishment neoliberal rule would not be treated kindly by anyone in DC. The bipartisan takedown of a President Sanders would look different than the takedown of Trump, but all of the same actors would participate and all the same tools would be in play.
Please, as you cheer the takedown of President Trump (if you do), keep a president like Sanders in mind.
The NSA Already Knows the Answers to Mueller's Collusion Questions
Back to Mueller's questions for Donald Trump. The dirty little secret — which is only "secret" because everyone in the country is pretending it isn't so — is that the NSA already knows all or most of what Mueller reportedly wants to find out in his questions for Donald Trump.
Ex-intelligence officers Ray McGovern and William Binney wrote about this at Robert Parry's Consortium News (h/t email correspondent Kevin Fathi for the link; emphasis added):
Mueller does not need to send his team off on a "broad quest" with "open-ended" queries on an "exhaustive array of subjects." If there were any tangible evidence of Trump campaign-Russia collusion, Mueller would almost certainly have known where to look and, in today's world of blanket surveillance, would have found it by now. It beggars belief that he would have failed, in the course of his year-old investigation, to use all the levers at his disposal — the levers Edward Snowden called "turnkey tyranny" — to "get the goods" on Trump.

Here's what the "mainstream" media keeps from most Americans: The National Security Agency (NSA) collects everything: all email, telephone calls, texts, faxes — everything, and stores it in giant databases. OK; we know that boggles the mind, but the technical capability is available, and the policy is to "collect it all." All is collected and stored in vast warehouses.  (The tools to properly analyze/evaluate this flood of information do not match the miraculous state of the art of collection, so the haystack keeps growing and the needles get harder and harder to find.  But that is another story.)

How did collection go on steroids? You've heard it a thousand times — "After 9/11 everything changed."  In short, when Vice President Dick Cheney told NSA Director and Air Force Gen. Michael Hayden to disregard the Fourth Amendment, Hayden saluted sharply. [James Comey, hero of the #Resistance, saluted sharply too, except for that one little time when he asked for changed first.]

And so, after 9/11, NSA's erstwhile super-strict First Commandment, "Thou Shalt Not Collect Information on Americans Without a Court Warrant," went the way of the Fourth Amendment. (When this became public, former NSA Director Adm. Bobby Ray Inman stated openly that Hayden violated the law, and former NSA Director Army Gen. William Odom said Hayden ought to be courtmartialed.  The timorous "mainstream" media suppressed what Inman and Odom said.)
And yes, the NSA does indeed spy on everyone, with the help and connivance of Barack Obama:
On January 17, 2014, when President Barack Obama directed the intelligence community to limit their warrantless data searches for analysis/evaluation to two "hops," either he did not understand what he was authorizing or he was bowing, as was his custom, to what the intelligence community claimed was needed (lest anyone call him soft on terrorism).

Intelligence directors were quite happy with his decision because, basically, it authorized them to spy on anyone on the planet.
"Collect it all," NSA chief Keith Alexander famously said. And if whistle-blower Russell Tice is to be believed, the NSA's been doing just that since 2001, including getting wiretaps of Barack Obama in 2004, just as he was emerging onto the national political scene. Tice once claimed in an interview to have held those orders in his hand. He also claimed that similar orders applied to all important judges, including FISA judges, and all Pentagon officers of three-star rank and above. (For conspiracy fans, note that this would have included General Patraeus.)
Setting a Perjury Trap for Trump
To end where we began, here's what I think we're about to see next in the Mueller-Trump story. Mueller is attempting to bait Trump into giving an interview. Trump's former lawyer John Dowd quit recently, reportedly over Trump's interest in granting Mueller an interview, which Dowd strongly (and wisely) opposed. Trump recently hired Rudy Guilani, reportedly to negotiate a Trump-Mueller interview with clear boundaries and with it an end to the investigation.
It looks like Trump favors doing the interview. So what will happen if Trump sits down with Mueller? Will he stay on the script his lawyers prepared for him, or will he freelance?
If he freelances, will he lie?
It's impossible to imagine an undisciplined Trump not freelancing and not lying. If he lies, he will be charged with perjury and Mueller will have succeeded.
Whether that brings him down, however, is anyone's guess. (Mine is, it won't.) After all, the House would still have to impeach him, and even Nancy Pelosi has said impeachment is off the table (again).
Maybe it's all just one club after all.