The shape of the new Italian government is becoming more visible, and so far, it's not pretty. The head of the right wing Lega party, and now interior minister Matteo Salvini, is attempting to live up to anti-immigrant campaign promises by denying ship carrying over 600 refugees access to Italian ports. As we'll discuss, he actually lacks the power to do that so the ship will presumably dock, but with the passengers and crew suffering more than they need to, which is presumably part of the point.
This situation is symptomatic of a bigger issue that Lega faces: it is also pretty much impossible for them to deliver on their promise of deporting up to 500,000 refugees.
In terms of the pro-spending agenda of both members of the ruling coalition, 5 Star and Lega, those at least for the moment have been walked back substantially by the new finance minister, Giovanni Tria, in an interview over the weekend with Corriere della Sera.
We'll deal first with the migrant ship controversy.
Trying to Bar a Ship Landing: A Symptom of Empty Anti-Immigrant Rhetoric?
The lead story in many non-US papers is the effort by interior minister Salvini to keep a vessel with 629 migrants on it from docking in Italy, since under EU rules now in effect, the country where an immigrant lands is responsible for them. Salvini wants Malta to take them and Malta has said no. Italy's case for not accepting the passengers would seem to be weakened by the fact that the Italian navy assisted in some of the rescue operations that got the migrants on the ship in the first place.
It is pretty much certain that the ship will wind up landing in Italy. Despite his bluster, Salvini does not have authority over ports. The mayor of Naples has said he'll receive the migrants: "Naples is ready, without funds, to save lives," he said.
That does not mean that migrants are not an issue. Estimates vary, with the total estimated at over 600,000 However, no matter how you cut and slice it that is less than the 800,000 that smaller and more broke Greece took in during 2015, the peak of the refugee crisis, per the United Nations Human Rights Commission: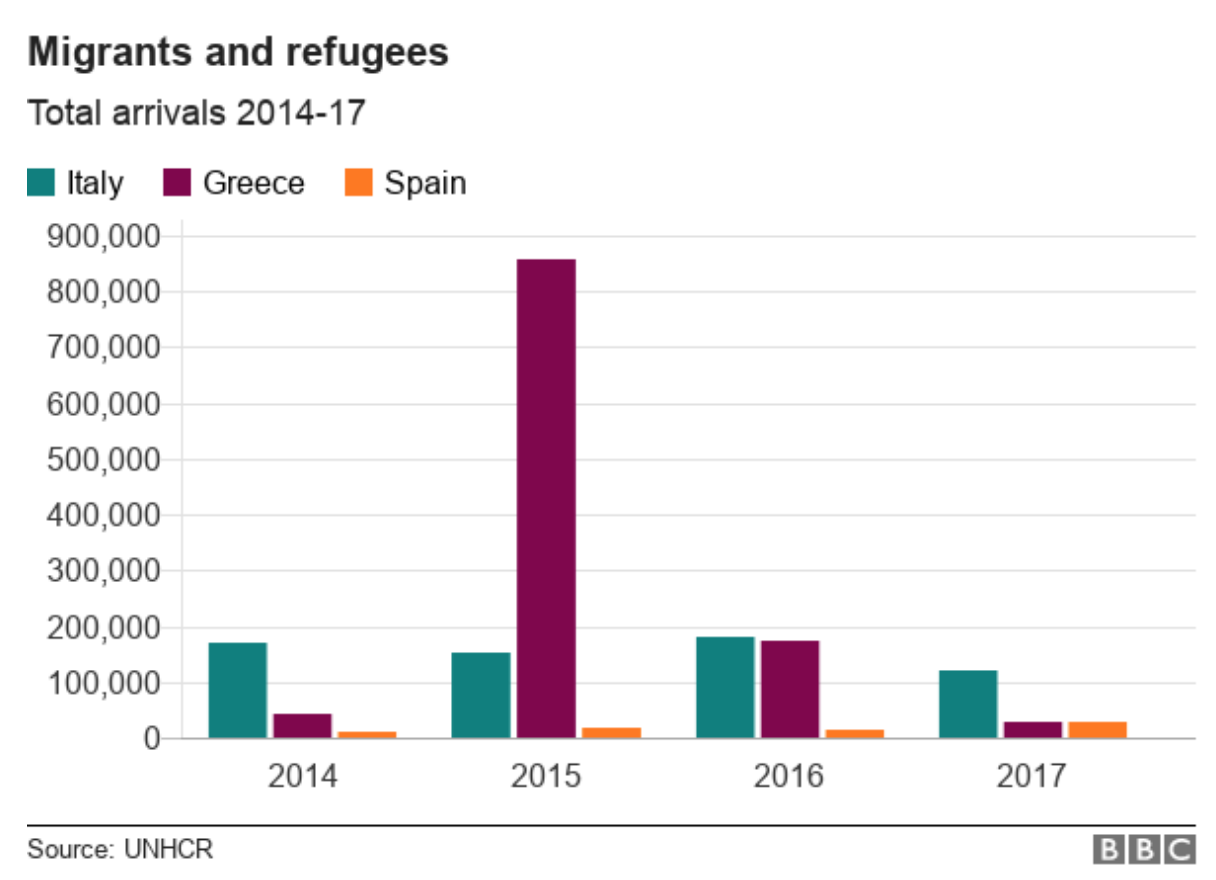 According to the BBC, "Out of the 80,000 applications [for refugee status] made in Italy in 2017, 40% were successful.
Salvini contends that these humanitarian efforts are enabling human trafficking and that Europe is standing pat instead of Doing Something. On the latter issue, he has a point. Merkel has tried and failed to get other countries to take more refugees. George Soros has a point in saying that Italy should be compensated for being responsible for them (but why wasn't he arguing that point on behalf of Greece in 2015?)
Even though new migrant arrivals to Italy are down markedly from the same time last year, in the last few days, a series of launchings from Libya raise concerns in Italy that the flow may be picking up again.
As for the migrants already in Italy, Lega's deportation threat is hot air, as a CNBC story explains in detail. For starters, Italy would have to identify where the immigrants came from and its county would have to agree to take them back:
Federico Soda, director of the IOM [UN's International Organization for Migration]'s coordination office for the Mediterranean, told CNBC that deportation agreements would have to be created with a vast number of countries in order for Italy to forcibly deport illegal migrants — with each nation having to first accept the migrant was from its country and accept his or her return.

With 60 nationalities registered at Italian ports last year alone, the number of countries that Italy would have to draw up deportation agreements with, in order to deport 500,000 people, would be immense, Soda said…

"It's very fragmented and there are lots of small numbers of migrants from many countries. If you take the top five countries in terms of arrivals, they don't even account for 50 percent of the arrivals."
Next, Italy would have to set up costly detention centers and fly migrants back home. CNBC quotes Michael Flynn, executive director of the Global Detention Project:
"If the government were truly serious about deporting 500,000 people they would have to build a garrison state in order to achieve that goal, the cost of which would be astronomical and plunge the country's economy into turmoil."

Noting that Italy managed to remove, by forced deportations and voluntary returns, nearly 6,000 people in 2016 and 6,500 in 2017, when it had bed space for less than 400 in its immigration detention centers, Flynn said removing more people was unfeasible.

"Imagine the size of the system necessary to detain 500,000 people to facilitate their deportation? It is an absurd sum of money, not even counting the cost of the deportation flights.
Lega made combatting immigrants such a central part of its campaign that Salvani is almost certain to try new moves when his initial gambits fail. For instance, he's called on NATO to help protect Italy from what he depicts as a security threat. I can't imagine that will go very far. It seems likely that Salvani would try to punish cities like Naples that continue to accept migrants, similar to the way Trump has gone after sanctuary cities. It is over my pay grade to judge whether the national government could withhold funds from cities it deemed to be non-compliant.
Finance Minister Salutes Euro, Trashes Parallel Currency Idea, Talks Up Fiscal Rectitude
It is possible that Italy's new finance minister, Giovanni Tria, has decided that discretion is the better part of valor, and that he'll placate the neoliberals for now while playing a longer and stealthier game of loosening the Eurozone austerity yoke. However, his interview in Corriere della Sera not only had Tria talking down spending and talking up structural reforms, which means more squeezing of labor, but he even retreated from the idea of bucking pension "reforms".
Readers who know the players in Italy should pipe up, but the interview appears to confirm the take of this Financial Times reader:
AlphaBet

No Tria is more a man of Draghi than of Five Stars – I would suggest to stop shorting Italy for some time…
Rather than quote the Financial Times' recap, the Google Translate version of the interview is revealing. Headline: Tria: "Government commitment on the euro. And the debt will fall » Key sections of Tria's remarks:
We can not be accused of adventurous budget policies…

"The position of the government is clear and unanimous. There is no question of going out of the euro. The government is determined to prevent the emergence of market conditions that lead to exit. It is not just that we do not want to go out: we will act in such a way that conditions are not approached that could call into question our presence in the euro
That looks like about as clear a rejection as one could read of the idea that Italy will ignore Maastrict limits on deficits and see what if anything Germany does. Back to Tria, on whether the government will reverse pension "reforms" as in benefit reductions:
….I am aware of the need to ensure the long-term sustainability of public finance. The legislation on the pension system requires not only to look at the short term, but also at the medium and especially in the long term. I think our pension legislation can be improved, but it will be done with attention to sustainability. Even the long-term one. We will study improvements, knowing that on these subjects we can not improvise
That sounds like most of the "reforms" will stay in place. The next question was how with plans to cancel a VAT increase, expand employment centers, and roll back pension reforms, would the government keep the deficit from rising from 2% of GDP to 3%? Tria largely ducked the question by saying the budget would be " completely consistent with the objective of continuing on the road to reducing the debt/GDP ratio." After some more prodding from the interviewer, Tria came down against more spending:
The goal is growth and employment. But we are not aiming to re-launch growth through deficit spending. We have a program focusing on structural reforms and we want it to also act on the supply side, creating more favorable conditions for investment and employment. In the update note to Def I invite you not to look only at the accounts, but also at the national reform plan.
Later, the interviewer asked about using the parallel currency, mini-BOTs, to pay "trade debts" meaning to business suppliers. Tria rejected the idea:
The idea points to a real problem: state debts to businesses. I believe that the best way to deal with it is to eliminate it at its root, to ensure that payments are made on time and in cash. Nothing is solved with buffer solutions.
Unless Tria is keeping his cards close to his chest and is waiting for opportunities to slip loose from austerity shackles, this interview gives little reason to see Italy as a source for reform of Eurozone austerity policies. Tria rejects deficit spending as the way to spur growth, when that is what Italy needs most. None other than the IMF itself concluded that its austerity policies were misguided, and that fiscal multipliers are greater than one, which in layperson speak, means that $1 of deficit spending produces more than $1 of GDP growth, so that deficit spending reduces debt to GDP ratio. Instead, Tria saluted "reforms," when for the most part, they will drive Italy deeper into its ditch.
In other words, unless Tria's actions depart markedly from his words, the populist reform agenda in Italy is pretty much dead on arrival.