By Lambert Strether of Corrente.
Readers, I got a late start writing up my nannies post, so I'll be back in a couple hours or so with a more complete version. –lambert UPDATE 5:30PM I hate to run an errand, so this took longer than I thought. But it's good for you guys out in California! I regret only that I had no time to skewer that loathesome showboat, Elon Musk. Perhaps tomorrow!
Trade
"As Trade Tensions Grow, 'Reshoring' of U.S. Supply Chains Sputters" [Wall Street Journal]. "U.S. manufacturers that have moved production to low-cost regions overseas aren't bringing that factory work back to the country, according to a new report from business consultancy A.T. Kearney. The report suggests that returning industrial production to the U.S., a Trump administration goal helping drive its aggressive trade policies, will remain tough as manufacturers adjust their supply chains to a new trading landscape. U.S. manufactured-goods imports from the top offshoring countries grew faster than American manufacturing output in eight of the last 10 years… According to the monthly Global Port Tracker report, published Monday by the National Retail Federation and Hackett Associates, retail imports at the nation's top ports are expected to reach record levels this month. In June, imports at the nation's top ports rose an estimated 6.8% from the same month last year to 1.83 million 20-foot equivalent units, a standard measure for container cargo, according to the report. Despite the Trump administration's new tariffs on imports—intended to reduce trade deficits and bring production back to the U.S.—experts say low-skilled, labor-intensive manufacturing operations are likely to remain in countries where labor costs are low, such as China, India, Vietnam, Malaysia, Indonesia, Bangladesh and others." • Dear Lord. After a few months?! I'm sure some of these countries did exactly what these experts said not to do: They protected their domestic industries while building up their export capabilities. Why shouldn't we?
"Switzerland Challenges US Tariffs at WTO" [Industry Week]. "Switzerland has joined a string of countries launching challenges to Washington's new steel and aluminum tariffs at the World Trade Organization, Bern said Tuesday. The Swiss economic affairs ministry said it had formally asked the U.S. for 'consultations' over tariffs of 25% on steel and 10% on aluminum. Consultations constitute the first step in a full-blown legal challenge before the global trade body."
"USA unlikely to permit airframers to support Iran-owned aircraft" [FlightGlobal]. "A top US official has made clear that the US government is unlikely to issue any licenses that would allow companies like Airbus and ATR to continue supporting aircraft in service with Iranian airlines. The official likewise says the US government is unlikely to approve a new request by ATR to sell more turboprops to Iranian carriers. Those companies recently delivered aircraft to Iran Air, but their ability to support the aircraft remains uncertain due to the US government's recent harder stance toward Iran… Aircraft manufacturers have to "obtain licenses from us" to fully support aircraft delivered to Iranian airlines, US Department of Treasury assistant secretary of terrorist financing Marshall Billingslea told FlightGlobal on 9 July."
Politics
2020
"Fetishizing 'Identity Politics' Could Cost Democrats in 2020" [The Intercept]. "Nonwhite and/or female candidates are praised for advancing "identity politics" if they win — regardless of how they campaigned. And efforts to include white voters in one's coalition are blamed for faltering campaigns — regardless of a candidate's more substantive failures. If all you have is a hammer, everything looks like a nail. And with a belief that demographics hold the key to unlocking a Democratic victory, Democrats stand poised to ignore the most important lesson of 2016: People turn out for material change." • Liberals, IMNSHO, are so deeply committed to their demographic vision of the "coalition of the ascendant" that they literally, as the kids say, cannot perceive or think except in categories supported by that narrative. And speaking of material change–

"Four More Years" [Thomas Frank, Harperhttps://harpers.org/archive/2018/04/four-more-years-2/2/s]. From April, still germane, though somehow I missed it. Use the structure of the URL in your browser bar to move through the article. Frank: "Still, there was something else about the late-Nineties boom, something real, something that accounted for Clinton's popularity: during those years. Unemployment was so low for so long during the Clinton era that employers briefly found themselves competing for workers rather than dismissing their entreaties. Indeed, the late Nineties were the only sustained period since the early Seventies when wages for ordinary workers went up in real terms. Hence the flavor of universal prosperity that still seems to envelop the Clinton boom in the public mind. No, the boom didn't last. And no, it wasn't really Clinton's doing." • Of course, Trump might ace himself out in a trade war; even though his own districts might be willing to "take one for the team," I doubt the whole country will. But as Frank urges, if Trump manages to deliver — as Obama did not — rising wages for most American workers, he'll be in a far stronger position, both in 2018 and 2020, than the political class imagines. (They themselves have always been comfortable, so they won't notice a change.)

"Say Hello to Full Employment" [Annie Lowry, The Atlantic]. "Full employment — that magical economic state, in which everyone who wants work has it, and at a good wage too — finally seems to be near. In much of Iowa, it already is. Out of every 100 people who want a job, 98 or 99 have one. The rate of wage growth has doubled of late, and businesses are scrambling to find workers… Around the country, and especially in central Iowa, the low unemployment rate has slowly but surely tipped the balance of power away from employers and towards workers." • So it will be interesting to see how the Iowa caucuses work out…

"Watch: When Bernie Sanders Endorsed Jesse Jackson for President" [The Nation]. "Only a few prominent, white, progressive elected officials supported Jesse when it counted. The two I remember most risked their own political career to help Jackson—Jim Hightower, then the Texas agricultural commissioner, and Bernie Sanders, then the mayor of Burlington, Vermont. Jim and Bernie took the risk and, in Jesse's eloquent phrase, 'stepped across the color line,' much to their credit. That moral courage should not be left out of the history books."
Migration
"Is Ocasio-Cortez a Progressive Paladin or Partisan Poison?" [The American Conservative]. "Perhaps most profoundly, Ocasio-Cortez has called for open borders, or, as she puts it, "abolish ICE"—that is, Immigration and Customs Enforcement, the agency charged with protecting the border. (Some might wish to argue that one could abolish ICE while still somehow protecting the border, but that doesn't seem to be an argument that anyone on the left is trying to make.)…. Once upon a time, democratic socialists believed in border security; after all, it's hard enough to build socialism in one country, let alone trying to build it for the whole world. In fact, as recently as 2015, Bernie Sanders defended not only border security, but also national sovereignty. Asked about expanded immigration, Sanders flipped the question into a critique of open-borders libertarianism: 'That's a Koch brothers proposal…which says essentially there is no United States.'" • Er…

Damn. What's that high-pitched warbling sound?

The Abolish Ice narrative is a Russian Active Measure. It's purpose is to make the Democrats seem supportive of open borders and anti law enforcement. ICE needs reform and may need to be absorbed into another Homeland Security apparatus. https://t.co/ea2Y8vW36A

— Andrew C Laufer, Esq (@lauferlaw) July 5, 2018
2018
"K Street staffs up for a Democratic takeover" [Politico]. "Now there are signs that Democrats are back in demand. Companies and trade groups are trying to hire congressional staffers with ties to influential House Democrats four months ahead of the midterm elections, in which Democrats are expected to pick up seats and potentially retake control of the House. Lobbyists are helping their clients meet with the Democrats who would become committee chairs if the party does win back the chamber. And trade groups are talking to members about what to expect from a Democratic takeover. 'Clients are cautiously beginning to look and say, 'Do we need to do more with people who have House Democratic expertise?" said Steve Elmendorf, a prominent Democratic lobbyist and fundraiser who once worked in House leadership." • Ka-ching…

"'Educator spring' spawns wave of teacher candidates" [Poltico]. "Angry educators are flooding down-ballot races in the wake of recent red-state teacher strikes, accelerating the Democratic Party's rebuilding process at the statehouse level and raising the prospect of legislative gains after years of decline…. The teacher candidacies suggest that the wave of teacher strikes and protests that began last winter in West Virginia and later spread to Oklahoma, Arizona and elsewhere created a grass-roots political opportunity…. Now the red-state movement is spreading to state and local races, attracting local excitement but little attention from Democratic power brokers." • It's simple for everyone but Politico. The liberal Democrat establishment has a professional base. They hate proles. Teachers have been proletarianized (not least by Democrat support for charteres). QED.

TX Senate: "O'Rourke, a third-term congressman, often boasts that he has hired no consultants or pollsters. He is his own strategist, and his strategy is simple: campaign relentlessly, project vitality and hope his raw charisma combines in just the right proportion with anti-Cruz animus, Texas' changing demographics and national Democratic momentum to put him over the top" [Politico]. • What, nothing on policy? Note to Politico editors: I think the lead — "sweat pours off his lean, 6-foot-4-inch frame," "in between panting breaths," "ling[-ng-ng-ng-ng]ering at the end to pose for selfies" exhibits a little too much Schwärmerei — readers, did I get it right this time? — even for a campaign even where cardio is the theme.

NY Governor: "EMILY's List Backs Hochul for Reelection as Lieutenant Governor" [Gotham Gazette]. "EMILY's List has entered somewhat new territory this year given the exponential groundswell of women interested in running for office and those who have made the leap, in many cases with support from EMILY's List, which can come in forms that don't include a formal endorsement. The organization has faced several difficult choices about where and when to get involved in Democratic primaries with two or more women running, and in some cases where female candidates are taking on establishment-backed male candidates (as The New York Times recently explored). The organization is closely aligned with the Democratic establishment and is careful in assessing viability of campaigns." • "[C]losely aligned with the Democratic establishment." Oddly, or not, Emily's List has not endorsed Cynthia Nixon.
Realignment and Legitimacy
"According to the CDC's latest statistics, about 200 Americans are now dying each day from drug overdoses—the first time the numbers have breached that benchmark. About 136 of the 200, or 68 percent, are dying of opioid overdoses" [Opioid Institute]. "The most recent finalized overdose death numbers from the Centers for Disease Control and Prevention are for calendar year 2016. They showed 63,632 deaths, of which 42,249 involved an opioid. The finalized figures for 2017 won't be ready until December." • But babies don't have the maturity to experience despair, and besides, these deaths are in the flyover states, so they don't matter. They're not even an issue. Fuck 'em if they can't take a joke. We hate them anyhow. Why didn't they move?

"Boston considers allowing non-U.S. citizens to vote in local elections: report" [The Hill]. "The city is reportedly exploring methods that will make its local election more inclusive by allowing participation by legal permanent residents, visa holders and residents who are legally residing in the U.S. under Temporary Protected Status or the Deferred Action for Childhood Arrivals program."

"Trump pardon of Oregon ranchers sparks concern, jubilation" [Associated Press]. "Two imprisoned ranchers who were convicted of intentionally setting fires in 2012 on public land in Oregon will be freed after President Donald Trump pardoned them on Tuesday. The move by Trump raised concerns that others would be encouraged to actively oppose federal control of public land. The imprisonment of Dwight and Steven Hammond prompted the armed occupation of Malheur National Wildlife Refuge in Oregon in 2016, led by two sons of Nevada rancher Cliven Bundy. Jamie Rappaport Clark, president of the group Defenders of Wildlife, noted that the Hammonds were convicted of arson, a serious crime. 'Whatever prompted President Trump to pardon them, we hope that it is not seen as an encouragement to those who might use violence to seize federal property and threaten federal employees in the West,' Clark said." • I could file this under 2020 too, of course.

"The Democratic Party left me behind — and I'm not alone" [USA Today]. "I've been a loyal Democrat for about 15 years. As someone who became a citizen in 2006, I became a Democrat during the George W. Bush years, because I liked the party's anti-war, pro-minority, pro-environment, pro-little guy positions. But the 2016 election was an eye-opener for me…. It was the year I recognized that our two political parties have become dinosaurs, ossified beyond recognition. Yes, there's grassroots energy in the Democratic Party, but party leadership is essentially bereft of ideas… The real divisions, as I see it, aren't between Democrats and Republicans, but between the political and corporate ruling class and the national media establishments that support them, on the one hand, and the rest of us. All the other divisions are less consequential." • USA Today, left at the front door of every hote room in America…

"I confronted Scott Pruitt in a restaurant. I'd do it again in a second." [Vox]. • Worth a read. The writer was at lunch, fortunately. Not brunch, as I read it.

"This Is No Time for Liberal Despair" [David Leonhardt, New York Times]. "Over the last half-century, conservatives have put more energy into building a movement — creating ideological institutions, grooming judges and, perhaps above all, winning local, state and congressional elections. Democrats have emphasized higher-profile politics, like the presidency and landmark court cases. Democrats can't afford to do so anymore." • Fair enough, but just because the Democrats can't afford to do something doesn't mean they won't keep doing it, though they keep trying to stand up astroturf movements, and suppressing real ones (like the Sanders campaign). More: "[U]nlike the confirmation battle, the midterms remain up for grabs. In the coming weeks, Democrats will be talking about the Supreme Court, but they should be thinking about the midterms." • Up for grabs?!

"Conservatives will always call socialists hypocrites. Ignore them. [Opinion]" [Elizabeth Bruenig, Houston Chronicle]. "Conservatives will continue to skewer as hypocritical anyone who takes exception to the unfair, anti-egalitarian system outlined above by fighting for equality even if they come from inequality's better side. They will do this to the detriment of everyone on its worse side, and for that reason should be ignored."
Stats Watch
Consumer Credit, May 2018: "Consumers ran up credit-card debt very sharply in May" [Econoday]. "The rise in revolving credit may not be a plus for household wealth [sic] but it is a plus for consumer spending which has been moderate so far this year." And: "Consumer borrowing increases $24.6 billion, double economists' forecast and the fastest pace in six months" [MarketWatch].
NFIB Small Business Optimism Index, June 2018: "Beating the consensus forecast calling for a more substantial decline" [Economic Calendar]. "Business owners surveyed continued to point to difficulties in finding qualified workers and identified this as the single most important business problem, as 36 percent reported job openings they could not fill in the current period, up 3 points… The survey also showed the threat of inflation as subdued in the current environment… Perhaps surprising given the tightening on the jobs front, from May's record reading to a net 31 percent, though plans to raise compensation did rise by 1 point to net 21 percent." So they over-compensated… And: "June 2018 Small Business Optimism: Index Soars, Hitting Several Records" [Econintersect]. "The Small Business Optimism Index posted its sixth highest reading in survey history for the month of June… .A net ten percent of all owners (seasonally adjusted) reported higher nominal sales in the past three months compared to the prior three months, down five points but still one of the strongest readings in years. June is the seventh consecutive strong month of reported sales gains. Reports of sales increases were most frequent in manufacturing and the wholesale trades."
JOLTS, May 2018: "Job openings slipped back but still remain very abundant" [Econoday]. "Openings are not only above hirings but they are also above the 6.564 million unemployed who are actively looking for work. This inversion — which strongly underscores lack of available capacity in the labor market — first appeared in April and marks a first in data going back 20 years. It's the abundance of openings that are pulling in discouraged workers back into the workforce looking for jobs." And: Job openings are at a high level, and quits are increasing year-over-year. This was a strong report" [Econoday]. And: "The BLS Job Openings and Labor Turnover Survey (JOLTS) can be used as a predictor of future jobs growth, and the predictive elements show that the year-over-year growth rate of unadjusted private non-farm job openings slightly improved" [Econintersect].
Consumer Expectations: "The Federal Reserve Bank of New York's Center for Microeconomic Data released the June 2018 Survey of Consumer Expectations, which shows no change in short- and medium- term inflation expectations" [Econintersect]. "Households' expectations about income, earnings and spending growth all recovered from a slight dip in May, as did year-ahead expectations about household financial situations."
Shipping: "LGBTQ Drivers Share Experiences at Uber Freight Event" [Transport Topics]. • Uber. Of course.
Shipping: "Global shipping lines are sailing under heavy headwinds as trade tensions grow. New and threatened tariffs between the U.S., China and Europe add to the problems already confronting ship operators…, as tepid demand and rising fuel prices cut short the industry's recovery" [Wall Street Journal]. "Carriers and shippers alike say they're operating through deep uncertainty, and the surge in some seaborne trade in the past two months suggests companies are trying to minimize their risks by getting goods in place. Shipping lines aren't counting on that business to hold up, however."
Shipping: "Sea container imports expected to set record in July" [DC Velocity]. "Imports at the nation's major container ports are projected to set a new record this month, as increasing consumer demand and rising retail sales offset the initial impact of tariffs on goods from China, according to the monthly "Global Port Tracker" report released today by the National Retail Federation (NRF) and consultancy Hackett Associates… The 12 U.S. ports covered by Global Port Tracker handled 1.82 million twenty-foot equivalent units (TEU) in May, the latest month for which after-the-fact numbers were available. That was up 11.6 percent from April… Hackett Associates forecasts that trade tariffs will eventually raise prices on consumer goods and slow the nation's imports, but said that the momentum of a strong economy will delay that effect."
Shipping: "Container ships, which move $4 trillion worth of products each year, are suffering from weak freight rates, owing to a glut of boats in the water. Despite consolidation that has left the market dominated by a handful of players, companies have recently issued profit warnings, suspended some sailings and scrapped a planned IPO" [Wall Street Journal].
Shipping: "The Baltic Dry Index measuring transportation rates in the bulk business has surged nearly 50% since the end of May, the WSJ's Amrith Ramkumar reports, and recently hit its highest level of the year. The index is rising as prices for commodities like copper and iron ore have been sliding, largely on worries that the escalating tariffs will tamp down global demand. Experts say bulk carriers are benefiting so far from a push by companies to move the manufacturing materials before levies take effect. Operators of ocean-going bulk shipping vessels are responding by keeping vessels in the water" [Wall Street Journal].
The Bezzle: "Ohio moves forward on autonomous, but public still needs assurance" [FreightWaves]. "John Kasich signed an executive order in May that will allow companies to test autonomous vehicles on all public roads in Ohio…. [T]he National Highway Traffic Safety Administration (NHTSA) estimates that 94% of serious crashes are due to driver error and that up to 80% of those crashes involving unimpaired drivers could be avoided or mitigated with advanced technology systems*. Also, according to research from Securing America's Future Energy, a Washington-based advocacy group, public acceptance is the number one obstacle facing the widespread adoption of autonomous vehicles. In spite of the growing safety of vehicles and the general downward trend of fatalities on the nation's roadways over the past several decades, "the public has expressed instinctive and reasonable safety concerns about turning over control of a vehicle to a computer." NOTES * "Advanced technology" means what? ** Nothing on the funding sources, but an ingenious About page that presents each member of the "Energy Security Leadership Council" using pop-ups, so there's no easy-to-scan list. If this isn't a dark pattern, it should be.
Tech: "PayPal told customer her death breached its rules" [BBC]. From the letter: "You are in breach of condition 15.4(c) of your agreement with PayPal Credit as we have received notice that you are deceased… this breach is not capable of remedy." • Sadly, no!
Transportation: "FAA declines to put a stop to the 'incredible shrinking airline seat'" [MarketWatch]. "The FAA was ordered to address the 'case of the incredible shrinking airline seat' by a judge in the U.S. Court of Appeals for the District of Columbia Circuit in 2017. On Friday, the regulatory agency responded to that order by ruling that seat shrinkage does not, in fact, affect consumer safety, so the FAA won't be setting limits on legroom or seat width."
Five Horsemen: "Amazon, Facebook and Microsoft are all at or near new record highs in late morning trade" [Hat Tip, Jim Haygood].
NakedCap Mania-Panic Index: "Amazon, Facebook and Microsoft are all at or near new record highs in late morning trade" [Hat Tip, Jim Haygood]. (The NakedCap mania-panic index is an equally-weighted average of seven technical indicators derived from stock indexes, volatility (VIX), Treasuries, junk bonds, equity options, and internal measures of new highs vs new lows and up volume vs down volume … each converted to a scale of 0 to 100 before averaging, using thirty years of history for five of the seven series.)
Rapture Index: Closes up 1 on climate. "All-time record high temps have been set in several western US cities" [Rapture Ready]. Record high, October 10, 2016: 189. Current: 182.
Our Famously Free Press
America's Favorite Economist (1):
This is absolutely hilarious pic.twitter.com/PxvAqlA64P

— David Sirota (@davidsirota) July 3, 2018
American's Favorite Economist (2):
Paul Krugman in 2004 beng straightforwardly in favor of single-payer, vs. now espousing the right-wing notion that it's bad because it involves "pushing everyone" into the same plan pic.twitter.com/3CAKL4iLZO

— Hot Take Appreciator (@IHateNYT) July 3, 2018
Gaia
"Poll: Young adults list expense of child care as top reason for having fewer kids" [The Hill]. "While 64 percent of the poll's respondents said they are having fewer children because child care is too expensive, roughly half, 49 percent, said they are worried about the economy, 43 percent said they waited because of financial instability and 39 percent cited no paid family leave…. The decline in U.S. fertility rates began with the Great Recession in 2008 and has continued steadily for the past decade, baffling those who assumed the rate would pick back up when the economy recovered." • So they're taking one for the team by helping to push The Jackpot further out?
MMT
Kelton on a Jobs Guarantee vs. a Universal Basic Income:
Class Warfare
Civility:
"I like to calmly and rationally discuss my views in a conformist manner, even though I consider myself to the extreme Left.

I like to infiltrate the mechanics of a system by posing as one of them, then slowly start the rot from the inside of the empire."

– Kurt Cobain pic.twitter.com/uEf4yAU6KE

— Black Socialists of America (@BlackSocialists) July 9, 2018
"Rebuilding Power in Open-Shop America: A Labor Notes Guide" [Labor Notes]. • This is very good. See especially the last bullet: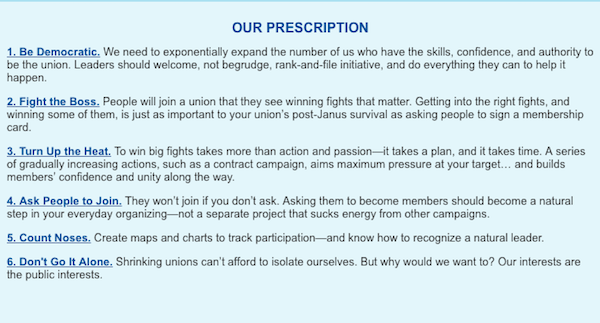 "How the Janus Ruling Could Undercut Private-Sector Unions Too" [Governing]. "Private sector employees are governed by the National Labor Relations Act, a federal law that requires employers to bargain with unions that employees have voted to represent them, and those unions may set mandatory fees and may lobby for all sorts of public causes, including government spending and minimum wage levels, that some employees may not agree with, he said. 'I don't see a big difference, therefore, between the First Amendment issue in the public and private sectors,' [Cesar Rosado, co-director of the Institute for Law and the Workplace at Chicago-Kent College of Law] said. 'Therefore, I can totally see Janus getting extended to the private sector.'" • I'm not even a knowledgeable layperson on these issues, but it feels to me like the Supreme Court is using the First Amendment as a wedge to pry open just about anything it wants. I would bet that even by an original intent standard that's not, er, legitimate (irrespective of the ruling in Janus, which seems to me more a consequence of the national union's slavish devotion to the Democrat Party than anything else)>
"YouTube star Gaby Dunn wants to make money as cool as sex" [MarketWatch]. "[DUNN:] We should also be looking at the systematic barriers to financial success." • Wage labor?
"The 'Preston Model' and the modern politics of municipal socialism" [P2P Foundation]. "In a few short years Preston has gone from being one of the most deprived parts of the country to a model of radical innovation in local government through its embrace of community wealth building as a modern reinvention of the longstanding political tradition of municipal socialism."
News of The Wired
"Love me I'm a liberal – updated for Trump" [MR Online]. And high time, too.
"Being rational all the time isn't going to do you any favors" [Quartz]. "I've recently been exposed to the research of psychologist Lisa Feldman Barrett, and it's clarified some of my own thoughts on the matter… .[S]he has proposed the theory of constructed emotions, which essentially states that there are no pre-existing emotions that everyone shares like anger, sadness, or happiness, but what we have is a survival system that evaluates our surroundings to create a unique emotional landscape. The purpose of this landscape is to give us quick, condensed information about our environment so we can figure out an optimal route of action. The thing you call anger isn't a distinctly programmed thing, but it's a concise information point, and it gets updated by each new experience you have to better reflect your place in the world and your understanding of reality. Essentially, what we call emotions are probability calculators…. Barrett's model even suggests that cognition and emotion are not distinct at all."
"Human-Centered AI: Building Trust, Democracy and Human Rights by Design" [Medium]. "[T]he universal human rights framework provides a rich, practical basis for an evaluation of the effects of AI on humans across a whole spectrum of rights: ranging from concrete concerns about the right to work; to more abstract concerns about the right to privacy; to civic and political concerns about how algorithms shape access to information and free expression; to governance concerns about fairness, nondiscrimination and equal protection."
* * *
Readers, feel free to contact me at lambert [UNDERSCORE] strether [DOT] corrente [AT] yahoo [DOT] com, with (a) links, and even better (b) sources I should curate regularly, (c) how to send me a check if you are allergic to PayPal, and (d) to find out how to send me images of plants. Vegetables are fine! Fungi are deemed to be honorary plants! If you want your handle to appear as a credit, please place it at the start of your mail in parentheses: (thus). Otherwise, I will anonymize by using your initials. See the previous Water Cooler (with plant) here. Today's plant (JSN):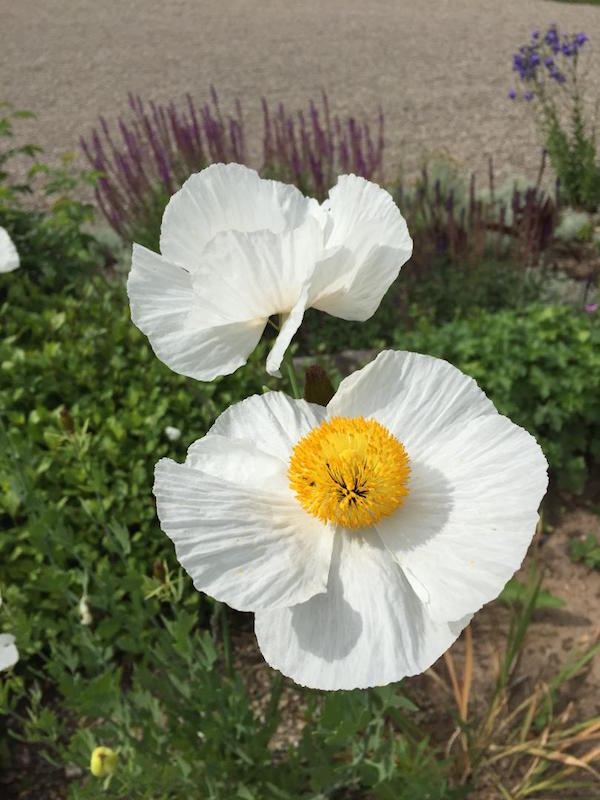 Reader JSN writes that these flowers are from the Parc de Schoppenwihr gardens. I had no idea that poppies could be white! Something for Remembrance Day, I guess…
* * *
Readers: Water Cooler is a standalone entity not covered by the annual NC fundraiser. So do feel free to make a contribution today or any day. Here is why: Regular positive feedback both makes me feel good and lets me know I'm on the right track with coverage. When I get no donations for five or ten days I get worried. More tangibly, a constant trickle of small donations helps me with expenses, and I factor that trickle in when setting fundraising goals. So if you see something you especially appreciate, do feel free to click the hat!

To give more, click on the arrow heads to the right of the amount.
If you hate PayPal — even though you can use a credit card or debit card on PayPal — you can email me at lambert [UNDERSCORE] strether [DOT] corrente [AT] yahoo [DOT] com, and I will give you directions on how to send a check.