By Lambert Strether of Corrente.
Readers, here is a brief Water Cooler, so I can finish up my latest post on migrants. More later. –lambert UPDATE 5:15PM All done… So much more, but that is all for today!
Trade
"Senate Sends Trump Message to Slow Down on Tariff Escalation" [Industry Week]. "The U.S. Senate took President Donald Trump to task on trade but fell short of curtailing his power to impose tariffs. In an 88-11 vote on Wednesday, the Senate approved a symbolic motion backing a role for Congress in requiring tariffs based on national security, such as those Trump imposed on steel and aluminum imports and is contemplating on autos…. The Senate often takes such test votes as a way to build momentum for eventual binding legislation. Corker said the vote suggests "strong support" for giving Congress a bigger role on tariffs and that he will seek a binding vote."
"The best way to win a trade war: refuse to fight" [Dani Rodrik, Financial News]. "[B]efore we get too carried away with doomsday scenarios on trade, we need to consider other countries' incentives as well. Trump may well want a trade war, but he cannot have it on his own. A trade war requires other economies to retaliate and escalate. And there are compelling reasons why they should not do so… If Europe, China, and other trade partners were to retaliate in response to Trump's tariffs they would simply reduce their own gains from trade without reaping any of the advantages of protectionism. And they would be doing Trump a favor by lending surface plausibility to his complaints about the "unfairness" of other countries' trade policies vis-à-vis the US….. Besides, if Europe and China want to uphold a rules-based multilateral trade regime, as they say they do, they cannot mirror Trump's unilateralism and take matters into their own hands. They need to go through the World Trade Organization and wait for formal authorization to reciprocate, without expecting a quick resolution or that Trump will have much respect for the eventual ruling…. In short, both self-interest and principle counsel restraint and no (immediate) retaliation. This is the time for Europe and China to stand tall." • Given the EU's "democratic deficit," China may need to play to its domestic audience more than they do (though probably less than Trump needs to).
Politics
2020
"Trump claims a big win over Big Pharma, forcing Pfizer to walk back drug price hikes" [Endpoint]. "Trump says he's been in direct contact with Ian Read — along with HHS Secretary Alex Azar — and the Pfizer CEO has backed down, agreeing to delay the hikes by some months…. Pfizer is backing it up, saying that it will defer any price increases that went into effect at the beginning of the month until the end of this year or until the president's drug pricing blueprint goes into effect – whichever is sooner. It plans to roll back prices as soon as it can — and any price cuts it instituted will remain in effect…. Pfizer, though, isn't the only big company raising prices. We'll see if Trump can keep a lid on the rest of the drug prices out there, and just how far his reach can extend. In the meantime, Read says Pfizer will rely on innovation to create the value it needs — something that has eluded the company for some years now." • Ah, innovation.
2018
"With Obama's Help, Redistricting Group Targets State Legislative Races" [Governing]. "Barack Obama says all the voter registration drives and first-time candidates running for office this year are 'inspiring'— but that in the existential battle for America he's been warning about, it's not enough. 'That's all vital to protecting this democracy of ,' Obama says in a new video being released by the National Democratic Redistricting Committee on Wednesday. 'So is something else — and that's rethinking the way we draw our congressional districts." • Idea: Make voter registration a core Democrat party function too. And I really hate that "our democracy" locution when liberal Democrats use it, because after the shenanigans in 2016, I know they mean their democracy.

"Registering by Party: Where the Democrats and Republicans Are Ahead" [Larry Sabato's Crystal Ball]. "Altogether, there are 31 states (plus the District of Columbia) with party registration; in the others, such as Virginia, voters register without reference to party…. Among the party registration states are some of the nation's most populous: California, New York, Florida, North Carolina, Pennsylvania, New Jersey, Arizona, and Massachusetts…. In 19 states and the District, there are more registered Democrats than Republicans. In 12 states, there are more registered Republicans than Democrats. In aggregate, 40% of all voters in party registration states are Democrats, 29% are Republicans, and 28% are independents. Nationally, the Democratic advantage in the party registration states approaches 12 million…. Still, Republican Donald Trump found a route to victory in 2016 that went through the party registration states. He scored a near sweep of those where there were more Republicans than Democrats, winning 11 of the 12, while also taking six of the 19 states where there were more Democrats than Republicans…."

"First look: Dems crush GOP in party registration" [Axios]. • This is Axios's version of Sabato's post. What I'm having a hard time getting — triggered by the word "crush" — is why this is a variable for 2018 rather than a constant across elections. If the story were about new registrations, I'd be more excited. But it isn't.

"Voter Turnout Is Up, Especially Among Democrats. What Does That Mean for November?" [Governing]. "More than half the states have held primary contests this year, representing nearly two-thirds of the country's population. Nearly 14 million people have cast votes in Democratic primaries so far — an increase of nearly 60 percent from four years ago. On the Republican side, 12.3 million people have cast votes, which is an increase of just under 20 percent…. Still, [Seth Masket, a political scientist at the University of Denver] and other political scientists think it's too soon for Democrats to celebrate. Increased primary turnout, he says, 'doesn't necessarily match up that well for general elections.' Studies show that people choose to vote in primaries for different reasons than in general elections. One older study found that the increased numbers of presidential primaries in the 1970s and 1980s actually lowered turnout in the fall by 5 percentage points."

* * *

"Ocasio-Cortez Highlights How Third-Party Quirks Can Muddle Elections" [New York TImes]. "In Ms. Ocasio-Cortez's district, the Working Families Party line was won by Mr. Crowley, who had secured that party's endorsement. Bill Lipton, state director of the Working Families Party, said he immediately reached out to Mr. Crowley's campaign to request that he vacate the line. To Mr. Lipton's chagrin, his campaign declined; Mr. Crowley will remain on the ballot in November. 'You'd think that given the moment we're in,' said Mr. Lipton, 'that Democratic leaders would want to help progressive forces to unite.'" • The New York Working Families Party endorsed Cuomo over Teachout, too. What's with these guys, anyhow?

AOC:

.@repjoecrowley stated on live TV that he would absolutely support my candidacy.

Instead, he's stood me up for all 3 scheduled concession calls.

Now, he's mounting a 3rd party challenge against me and the Democratic Party- and against the will of @NYWFP.https://t.co/Xvb6Jk8N8q

— Alexandria Ocasio-Cortez (@Ocasio2018) July 12, 2018

Crowley:

Alexandria, the race is over and Democrats need to come together. I've made my support for you clear and the fact that I'm not running. We've scheduled phone calls and your team has not followed through. I'd like to connect but I'm not willing to air grievances on Twitter. https://t.co/hxEeWEpI2O

— Joe Crowley (@JoeCrowleyNY) July 12, 2018

He said, airing a grievance on Twitter. Couldn't he at least have spent some time in the woods?

* * *

CA: "California Stands to Suffer if US-China Trade War Worsens" [Industry Week]. "Billions of dollars and many jobs are at risk in the richest and most populous state — a world-class economy and bastion of opposition to President Donald Trump. 'If there's one region in the United States that will be most impacted by the trade war, it's going to be LA,' said Stephen Cheung, former director of international trade at the Port of Los Angeles and now chairman of an NGO called World Trade Center Los Angeles."

MO Senate: Thread:

Perhaps it is long overdue as the Missouri primary is almost a month away on August 7th, but Claire Mccaskill is going to get her own thread. Why? Because she is terrified of being primaried by a progressive. pic.twitter.com/QW2kDMLInE

— Trevor Reese?? (@RealTrevorReese) July 9, 2018

NC-09: "Poll: Dem leads in red-leaning NC House district" [The Hill]. "The new poll by the Civitas Institute, a conservative nonprofit in the state, found 43 percent of likely voters said they would vote for McCready while 36 percent said they would vote for Harris in the district that has long been held by Republicans. The libertarian candidate in the race, Jeff Scott, was supported by 3 percent of the poll's respondents….. 'This race has all the indications of being a nail-biter into November, but Republicans should be concerned with a negative 7-point spread in a district that has an R+7 rating,' Civitas President Donald Bryson said in a statement with the poll's release." • Stirring the fund-raising pot?
Realignment and Legitimacy
"The Politics of Forward and Backward Infiltration: Towards a Dynamic Theory of Civil Society" (PDF) [Steven Klein, Cheol-Sung Lee]. From the abstract: "We criticize the prevailing Weberian and Tocquevillian concepts of civil society, and then, drawing on research in social movements and comparative political economy, propose a new framework: the politics of forward and backward infiltration. Under each form of infiltration, we delineate three sub-modes: the politics of influence, the politics of substitution, and the politics of occupation, which correspond to strategies for discursive influence, functional replacement, and institutional take-over, respectively. We challenge the exclusive focus on 'the politics of influence' as inadequate for analyzing these processes, while highlighting the other two modes as necessary additions."

"A left turn could be a dead end for the Democrats" [Janan Ganesh, Financial Times]. For example: "Next week, Jon Favreau, President Barack Obama's former speech writer, launches a 15-episode podcast epic on the Democrats' electoral predicament. Informed by testimonies from across this shaken party, The Wilderness should be the most substantial account of the American left since 2016." • There has to be a word for what it is when clever people shuffle categories about with no real knowledge of how the real-world entities for which the categories are proxies fit together. The only thing Favreau knows about the left is how to co-opt or erase it. I may have to listen to this 15-episode monstrosity just to debunk it; I'm sure it's a vile mixture of smugness, misdirection, and unintentional moments of hilarity. Still, or rather naturally, creatures like Ganesh will listen to Favreau assiduously….

"America's new revolutionaries show how the left can win" [George Monbiot, Guardian]. "Remarkable as she is, there are others like her. Cori Bush in Missouri, Jess King in Pennsylvania and Kerri Evelyn Harris in Delaware are just a few of those now fighting for Democratic nominations or seats while renouncing big money, relying instead on the enthusiasm of the communities they hope to serve. The Justice Democrats are not expecting all these candidates to win, but hope for a few spectacular victories at the congressional elections in 2018 and 2020, not only replacing corporate, money-tainted Democrats, but flipping a couple of Republican districts as well (look out, for example, for the campaigns by Brent Welder and James Thompson in Kansas). As soon as such people take their seats in Congress, Saikat Chakrabarti, one of the core organisers, tells me the aim is to ' … proposing the boldest, biggest ideas on day one.'" • It's hard to separate reporting from triumphalism here. But, yes, copy the Republicans: Why not learn from the winners?

"Democrats ignore the left at their peril. Midwesterners aren't scared of socialism — they're hungry for it" [Carlos Ramirez-Rosa, NBC (!)]. "Midwestern cities and towns such as Dayton, Ohio, Minneapolis, Minnesota and Flint, Michigan, all have proud socialist backgrounds. "Appeal to Reason," the most widely read socialist publication in U.S. history, was published out on the plains of Girard, Kansas; Oklahoma was a national hotbed for Socialist Party organizing for much of the 20th century's first half….. This isn't all ancient history, either. In the most recent Democratic presidential primary, Sen. Bernie Sanders — for whom I was a proud delegate to the Democratic National Convention — ran an unapologetically left-wing campaign, proudly fighting for popular policies like Medicare for all, a $15 minimum wage and free public college, all while proclaiming himself a 'democratic socialist.' Were Midwesterners scared off by his clear embrace of socialist ideas? Far from it. Sanders won primaries throughout the Midwest, in states like Wisconsin, Minnesota, Michigan and Indiana and barely lost in Iowa, Missouri and Illinois."
Stats Watch
Consumer Price Index, June 2018: "Subdued but still inching higher" [Econoday]. "Yesterday's producer price report did show signs of acceleration including for trade services and tariff-related metals, but pressure here isn't leading to, at least yet, pass through to the consumer. Today's report is very positive for Federal Reserve policy makers who are now trying to hold inflation steady." And: "Energy prices and services were the main driver for year-over-year inflation. Core inflation is now above 2.0 % year-over-year" [Econintersect]. • A punchbowl the size of a thimble….
Jobless Claims, week of July 7, 2018: After edging higher in the prior two weeks, initial jobless claims fell" [Econoday]. "These are very healthy results that offer the first hint of strength for the July employment report." And: "This marks 170 consecutive weeks of initial claims below 300,000, the longest streak since 1970" [Econintersect].
Bloomberg Consumer Comfort Index, July 8, 2018: "Capping a 4-week run, the consumer comfort index is back near its April peak" [Econoday].
Commodities: "A new frac sand giant is born amid an industry shift" [Freight Waves]. "Last month, a new frac sand giant was born out of a merger of Unimin and Fairmount Santrol called Covia Holdings, with a market cap of $2.27B…. Sand itself has been commodified in an entirely new way. First, vast mines in Wisconsin were the source for high-crush 'white sand' that would be brought south by rail to terminals in shale plays, and frac sand became a major category of freight for railroads. Union Pacific has hauled 14.4% more crushed stone, sand, and gravel in 2018 so far than it did by this time last year; BNSF's stone, sand, and gravel volumes are up 11.8% year-to-date; Canadian Pacific grew its crushed stone, sand, and gravel volumes 20.8% in 2018 so far. Now, sand mining is shifting to locally sourced 'brown sand' located closer to oil production sites, and railroads like Union Pacific are giving guidance for reduced frac sand volumes in the back half of 2018…. There are essentially three categories of companies that supply sand: turnkey oilfield operators like Halliburton, Schlumberger, and Mammoth Energy Services that include frac sand as part of their offerings; privately held sand companies including Vista Sand, Atlas Sand, Black Mountain Sand, Preferred Sands, and Alpine Silica; and then there are the publicly traded sand companies… 'Finally, I believe local sand is going to spur higher-intensity wells,' [Taylor Robinson from PLG Consulting] concluded. ' So as there's cheap local sand available later this year and next year, folks will put more sand down because the payback is quite good.'"
Manufacturing: "FDI was Down 32% in 2017, But Manufacturing Top of List for Investment" [Industry Week]. "[Total FDI] was $259.6 billion in 2017, down 32% from $379.7 billion in 2016, according to the Department of Commerce… However, manufacturing was at the top of the list of expenditures at $103.7 billion, accounted for 40% of total expenditures, the largest share among major industries. Within manufacturing, expenditures were largest in food manufacturing ($34.0 billion). There were also large expenditures in information ($25.7 billion) and in real estate, rental, and leasing ($17.0 billion)…. And the states which received the largest expenditures were in California ($41.6 billion), Texas ($39.7 billion), and Illinois ($26.0 billion)."
The Bezzle: "Ex-Goldman Banker Caught In A Billion Dollar Fraud Scandal" [Safe Haven]. "Every so often, embarrassing and alarming exposés unravel the extent of dodgy financial dealings and moral vacuum that exist in the banking sector. Big investment banks in particular seem to enjoy living down their reputations as greedy and avaricious institutions that will readily conjure up all manner of schemes to enrich themselves…. a former Goldman Sachs Group Inc. banker could face criminal charges for attempting to steal from the Malaysian government. Tim Leissner, a one-time Goldman partner and Southeast Asia chairman, is alleged to have hatched a scheme to defraud billions of dollars from Malaysia's 1MDB (1 Malaysia Development Berhad) a Malaysian state investment fund that's wholly owned by the country's Ministry of Finance. Leissner has not been charged yet…. Ultimately, it might turn out that Leissner was merely a pawn in a much bigger scheme. And it looks like none other than Goldman Sachs itself is in the thick of a giant scandal that has been billed as one of the world's biggest cases of white collar crime–one revolving around disgraced former Malaysian Prime Minister Najib Razak and at least 10 other countries." • Hoo boy.
Five Horsemen: "Once again juggernaut Amazon has blown the top off our chart, forcing an expansion of the y-axis. Microsoft and Facebook also are at record highs in mid-morning trade" [Hat Tip, Jim Haygood].
NakedCap Mania-Panic Index: "Yesterday's 0.7 percent drop in the S&P 500 lowered the mania-panic index to 50 (complacency)" [Hat Tip, Jim Haygood]. (The NakedCap mania-panic index is an equally-weighted average of seven technical indicators derived from stock indexes, volatility (VIX), Treasuries, junk bonds, equity options, and internal measures of new highs vs new lows and up volume vs down volume … each converted to a scale of 0 to 100 before averaging, using thirty years of history for five of the seven series.)
Gaia
"SCOTUS and water contamination: Some important history" [Medium]. "This is a story about the warp and weft of industry and government corruption that is literally killing people every single day. One of the biggest things no one has time to talk about amidst the continuing wildfire burning through lives of vulnerable human beings at the hands of our government is the epic DOD contamination which Trump and Pruitt attempted to suppress…. But as with all nightmarish policies harming people today, clearly this did not start with the current cabal in power…. In an environmental contamination case heard by the Supreme Court on April 23, 2014, Waldburger v. CTS Corporation, President Obama filed an amicus brief specifically designed to prevent Marines and their families from recovering damages for the disease and death caused by decades of exposure to toxic chemicals in their drinking water at Camp Lejeune, North Carolina — the most massive groundwater contamination in U.S.history. The Supreme Court sided with Obama's • Worth a read, especially if you live near a military base.
Black Injustice Tipping Point
"'New information' prompts US to reopen Emmett Till case" [Associated Press]. "But the 2017 book 'The Blood of Emmett Till' by Timothy B. Tyson quotes a white woman, Carolyn Donham, as saying during a 2008 interview that she wasn't truthful when she testified that Till grabbed her, whistled and made sexual advances at a Mississippi store in 1955… Paula Johnson, co-director of an academic group that reviews unsolved civil rights slayings, said she can't think of anything other than Tyson's book that could have prompted the Justice Department to reopen the Till investigation… The Justice Department declined to comment on the status of the investigation. Relatives of Till pushed Attorney General Jeff Sessions to reopen the case last year after publication of the book."
Big Brother Is Watching You Watch
"Walmart patents surveillance tool that can eavesdrop on workers" [Engadget]. "The audio surveillance system Walmart designed is composed of several sensors that can collect all kinds of audio data, including beeps and the rustling of paper bags. Any data it gathers can be used to assess an employee's performance — for instance, the sounds items make when they're placed inside a bag can tell the company how efficient someone is at bagging purchases. Customers' voices can also indicate how long a line is and how quickly a cashier can get through all of them."
MMT
I hope AOC is paying attention: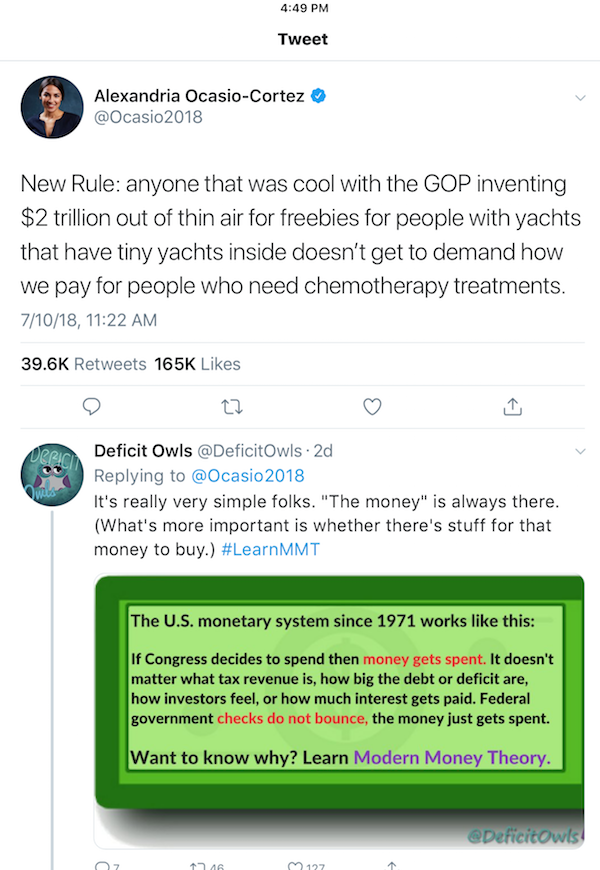 "Why do some in the tech community support universal basic income? They're 'terrified' about the future." [Recode]. "'Culturally, we are not even close to something like this where we say, 'You know what? We're okay , for nothing back," Lowrey said of the U.S. as a whole. 'So I think it would be a big cultural change, and I think that that would have to come through something like, you know, robots taking all our jobs.'" • MMT to Recode editorial offices, stat!
Neoliberal Epidemics
"DNA marks in adults tracked back to changes in earliest days of life" [MedicalXpress]. "The genes we inherit from our parents are overlaid by a complex set of instructions that govern how they are expressed. These so-called 'epigenetic' marks come in a range of different forms and control many vital processes within cells…. The researchers studied specialised regions of the genome (known as metastable epialleles or MEs) where the epigenetic (methylation) marks are laid down in the first few days following conception…. The researchers say that these regions could have evolved to sense the nutritional environment, record the information on DNA and adapt the baby to be best suited to its circumstances." • Important! Since class has a geographical/environmental component — they didn't put the landfill on Cape Elizabeth! — class also creates epigenetic effects. It's not all "breeding"….
Class Warfare
All in the framing:
1) Billionaires aren't PAYING their fair share
2) Billionaires are TAKING more than their fair share

2 > 1 because it identifies the problem at its origin. Also, better framing. https://t.co/nrju2kgUzr

— Stephanie Kelton (@StephanieKelton) July 10, 2018
Despair is our most important product:
Some very bleak Goldman research: US labour force participation rate distinctly worse than other advanced economies. A full third of the problem, they suggest, is explained by far higher rates of incarceration and opioid use pic.twitter.com/fX6qiXsxQC

— Mike Bird (@Birdyword) July 12, 2018
"It's Open War Against Unions on All Fronts Now" [Splinter News]. " While the Janus ruling will allow public union members to decide not to pay their fair share of fees for the services that the union provides to them, there is now an effort to push the ruling even further: Some (hand-selected) teachers are suing to be refunded for fees they already paid to their union in the past. This would have the effect of making the financial damage of Janus to public unions even more critical. It is an indication of the right wing's ultimate desire to fully cripple public unions once and for all." • Well, of course that's their desire. When was it ever not? Conservatives get stuff done, even if it's bad. Idea: Copy that?
News of The Wired
"How Postcards Solved The Problem Of Disappearing Rice" [NPR]. "[The Indonesian government] was spending $1.5 billion a year on the [rice distribution] program but less than half the rice was actually reaching the intended recipients…. [I]t turned out that there was a really simple way to make the program far more efficient…. The solution lay in giving recipients written proof of what they were entitled to under the program. [MIT's Abhijit Banerjee] and his colleagues sent hundreds of thousands of postcards to the intended beneficiaries of Raskin in more than 500 villages. The cards stated explicitly that you, Joe or Jane Citizen, are eligible for this program, this is exactly how much rice you're supposed to get each month and this is how much you're supposed to pay…. Once villagers have an eligibility card with their name on it, they're in a much better position to demand their full ration." • I wonder if ObamaCare does this. Should be easy, since buying insurance on the exchanges was going to be like buying a flat-screen TV. Too cynical?
"The open-plan office is a terrible, horrible, no good, very bad idea" [David Heinemeier Hansson, Medium]. "A new study shows that the number one argument for the open office, increased collaboration, is bullshit. Converting traditional offices with walls and doors and separation into open-plan offices causes face-to-face interaction to plummet, not rise. People try to shield their attention (and sanity!) by retreating into headphone-clad cocoons, and instead rely on instant messaging or email to interact. D'oh!"
"A New Type of Museum for an Age of Migration" [New York Times]. How might you reorganize a universal museum for the 21st century, an age of migration and of perpetual exchange? One of the boldest answers yet is to be found in "Mobile Worlds," at the Museum für Kunst und Gewerbe, an applied arts museum in the northern German city of Hamburg that has a similar standing to the Victoria & Albert Museum in London or the Musée des Arts Décoratifs in Paris…. Upstairs at the Hamburg museum, the old 19th-century taxonomy still holds, with exquisite artifacts arranged by type and origin. But downstairs, in 'Mobile Worlds,' a whole new order is proposed, one that does not care about an artwork's uniqueness, a dress's elegance, or an artifact's fine condition. What matters here is movement — how objects and forms circulate through time and across the globe."
"Cambodian Dancers, Auguste Rodin, and the Imperial Imagination" [The Appendix]. "Rodin's drawings, despite the beauty of their execution, are symptomatic of European engagement with foreign cultures at the turn of the century. Rodin pulls the dancers out of context, stripped of costume, storyline, and individual identity. In transcribing the Cambodian Royal Ballet to paper, Rodin prioritizes the study of form and motion, denying the significance of Khmer dance and stagecraft as an art form in itself. The Cambodian Royal Ballet becomes simply source material…."
And the cat: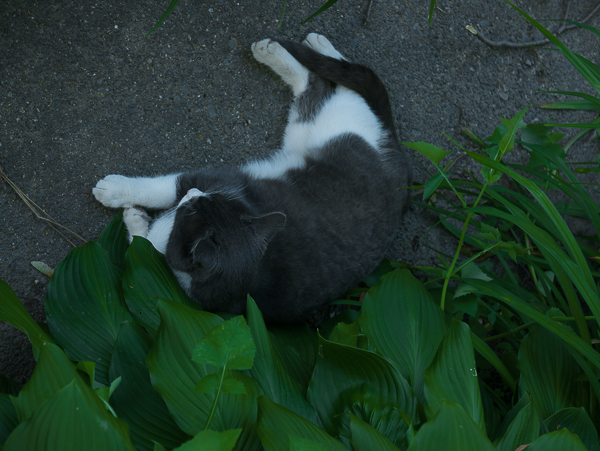 I hope this isn't too dark; I like shadows…
* * *
Readers, feel free to contact me at lambert [UNDERSCORE] strether [DOT] corrente [AT] yahoo [DOT] com, with (a) links, and even better (b) sources I should curate regularly, (c) how to send me a check if you are allergic to PayPal, and (d) to find out how to send me images of plants. Vegetables are fine! Fungi are deemed to be honorary plants! If you want your handle to appear as a credit, please place it at the start of your mail in parentheses: (thus). Otherwise, I will anonymize by using your initials. See the previous Water Cooler (with plant) here. Today's plant (TH):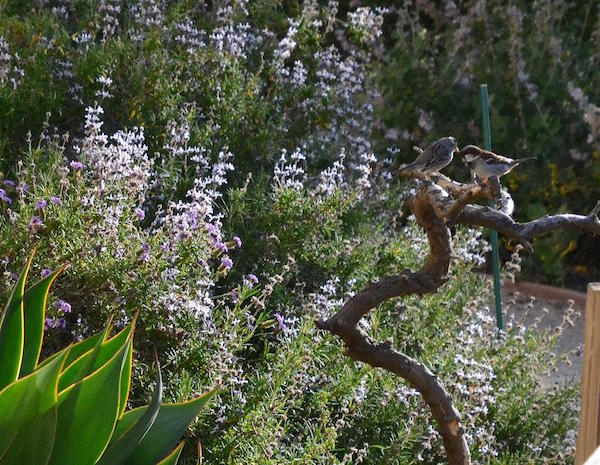 TH: "White-crowned Sparrow with a House Sparrow, in a garden of sage and agave at the Madrona Marsh Preserve in Torrance California." Certainly nicer than my sage, which I just realized I confused with basil (been doing it for years).
* * *
Readers: Water Cooler is a standalone entity not covered by the annual NC fundraiser. So do feel free to make a contribution today or any day. Here is why: Regular positive feedback both makes me feel good and lets me know I'm on the right track with coverage. When I get no donations for five or ten days I get worried. More tangibly, a constant trickle of small donations helps me with expenses, and I factor that trickle in when setting fundraising goals. So if you see something you especially appreciate, do feel free to click the hat!

To give more, click on the arrow heads to the right of the amount.
If you hate PayPal — even though you can use a credit card or debit card on PayPal — you can email me at lambert [UNDERSCORE] strether [DOT] corrente [AT] yahoo [DOT] com, and I will give you directions on how to send a check.