MIchael Gove releases beavers into the wild to hep stop flooding (David L). If Gove also had beavers that would stop Brexit, I'm sure he'd have turned them into hats for the Ultras long ago.
Astronomy Photographer of the Year 2018 shortlist – in pictures Guardian (EM)
Laos dam collapse: Race to rescue flooded villagers BBC
Humans have used a year's worth of Earth's resources in just seven months Independent (Dr. Kevin)
Chinese Researchers Achieve Stunning Quantum-Entanglement Record Scientific American. EM: "Key finding appears to be ability to encode multiple qubits per particle – in this case, per photon."
China?
China's debt threat: time to rein in the spending boom Martin Wolf, Financial Times. Important (and Google the headline…). Does not distinguish "currency issuer" debts from other indebtedness, but otherwise informative.

Putting this under "China" because implications extend beyond US real estate: Chinese Reversing Big U.S. Real Estate Buying Spree That Had Helped Boost Prices Wall Street Journal
Ebola Outbreak in Congo Has Ended, W.H.O. Says New York Times (furzy)
EU finds evidence carmakers are manipulating results Financial Times
Illegal refrigerant costs Greece €20m Cooling Post (Clive)
Swedish student's dramatic plane protest stops man's deportation 'to hell' Guardian (furzy, UserFriendly)
Syraqistan
Pakistanis vote in extremely divisive election DW

Syria – For The Third Time Israel Falsely Claims Iran Pull-Back Deal With Russia Moon of Alabama

'Tweet of Mass Destruction' ratchets up tension on Iran Asia Times
Imperial Collapse Watch
Democracies More Prone to Start Wars – Except When They're Not Caltech (Dr Kevin). So much for the myth of pacific democracies…

Oligarchy and the Death of Worlds Ian Welsh (furzy)

Renew treason laws to jail enemies of the state for life, says thinktank Guardian (JTM)
Big Brother is Watching You Watch
Facebook signs agreement saying it won't let housing advertisers exclude users by race The Verge (Kevin W)

No Matter What You Think Of Julian Assange, It Would Be Harmful For Press Freedoms For The US To Prosecute For Publishing Leaks TechDirt
Tariff Tantrum
The European Union is coming to Washington tomorrow to negotiate a deal on Trade. I have an idea for them. Both the U.S. and the E.U. drop all Tariffs, Barriers and Subsidies! That would finally be called Free Market and Fair Trade! Hope they do it, we are ready – but they won't!

— Donald J. Trump (@realDonaldTrump) July 25, 2018

Like a Soviet-type economy': GOP free traders unload on Trump Politico
Trump Transition
Trump-backed candidate wins Georgia governor nomination The Hill

Transcript of Cohen tape suggests Trump knew about model's deal to sell story of alleged affair Washington Post (furzy)

Montana governor sues Trump administration to block IRS policy ending some donor disclosures The Hill (furzy)
Estimated Increases in 2019 Premiums by Congressional District Due to ACA Sabotage Center for American Progress (furzy)
The Left Should Commandeer Red State Democratic Parties Benjamin Studebaker (UserFriendly)
A Tale of Two Very Different Meetings Bernie Sanders
A lawyer sued Miami over the Beckham stadium deal. A full hearing could be next. Miami Herald (Douglas M). Sports stadiums are bad deals for cities to begin with. They are a gimmie to the local construction industry.
Kill Me Now
GM's new car-sharing program allows owners to rent their vehicles Engadget (David L). More proof of the pauperization of Americans.

Graphic Novel in Running for Man Booker Prize for First Time New York Times (UserFriendly)
Fake News
Read this thread. The disaster continues to come for us… https://t.co/VRD95GQTDP

— Chris Hayes (@chrislhayes) July 24, 2018


https://www.bbc.com/news/world-asia-44947185

Maybe in keeping, this was the first item tin Politico's European newsletter….with no accompanying Politico story:

EUROPE GETS MOVING TO HELP GREECE: Cyprus, Italy and Romania are sending aircraft, ground forces and vehicles to help Greece fight wildfires that have killed dozens. Cyprus, Spain and Bulgaria had already offered assistance. Commissioner for Humanitarian Aide Christos Stylianides arrived in Athens late Tuesday, his team said, to coordinate with Greek authorities. Sweden and Latvia, which also requested support to fight their own fires, are getting help too.

Fake Interview With Alexandria Ocasio-Cortez Was Satire, Not Hoax, Conservative Pundit Says Intercept. John C: "1 Million Views? I thought FB censored fake news?"
Where Guns Go to Be Reincarnated New York Times (furzy). Since when do guns have souls?
Former Equifax employee pleads guilty to insider trading Reuters. EM:
Note the real mega-insider-trading opportunity unstated by the article here, namely on the part of the breachers. Steal their data, go short, leak to the media about the breach you committed. I defer to the expertise of traders in such venues, but it seems to me that anyone sophisticated enough to do this kind of hack would presumably also be capable of doing the requisite options trades using suitably anonymized accounts. Come to think of it, one might not even need to hack the company to pull this sort of scam – just a credible-enough allegation of non-existent hacking which triggers a short-term drop in the stock.
Tesla Calls Lawsuit's Claims 'a Complete Lie' Barrons (EM)
"Desperate" Tesla Asks Suppliers for Cash Back Retroactively to 2016 Wolf Street (EM)
Uber self-driving cars back on public roads, but in manual mode TechCrunch. So why are they being called self driving cars in the headline if they are not allowed to do that? They are at best "former self driving cars".
This Is What's Actually Happening When The Government Auctions Bonds Bloomberg. UserFriendly: "Endorsing MMT without realising it.​"
The state of 'New Keynesian' economics Lars P. Syll (UserFriendly)
Wells Fargo Hit By Another Transparency Scandal SafeHaven
Class Warfare
The View's Meghan McCain Throws Epic Fit Over Democratic Socialism As Joy Behar Calmly Shuts Her Down: 'This Makes My Head Explode!' Alternet (furzy)

Near unanimous vote to strike by Fiat Chrysler workers in Kokomo, Indiana WSWS

Lucy Marcil: Why doctors are offering free tax prep in their waiting rooms TED. UserFriendly: "​Jesus no wonder neoliberals love EITC, 1 in 5 eligible don't claim it.​"
Antidote du jour (guurst). By amateur photographer Christina Sautter. From Audobon's Photography Awards:
Story Behind the Shot: It was Sautter's longtime dream to photograph Dalmatian Pelicans on Lake Kerkini, in northern Greece. When she at last made her way to the spot, she was determined to convey both the birds' delicate beauty and their impressive power. On her final morning there, with just minutes before mauve sunrise transformed into harsh daylight, Sautter noticed this bird flying near her boat and knew it was the moment she'd been waiting for. She took this image just as the softly lit pelican landed with a pose Sautter compares to a confident gymnast sticking a dismount.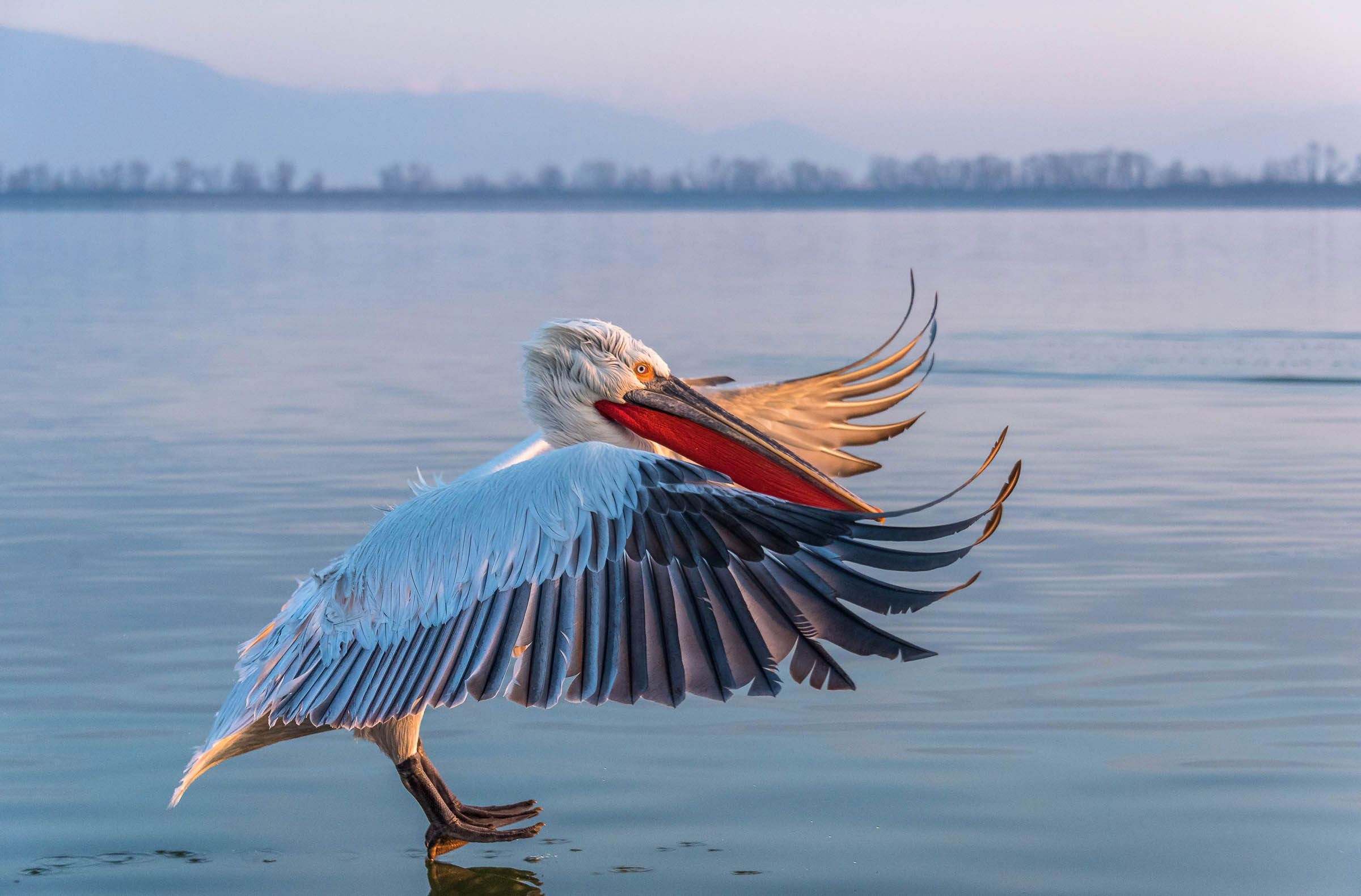 See yesterday's Links and Antidote du Jour here.