Yves here. I have a minor quibble with this otherwise fine piece on the danger posed by Brett Kavanaugh as Supreme Court justice. Even though losing Roe v. Wade would be a bad development, it is not as radical a change as most people believe. Access to abortions is more restricted than most people in blue cities recognize. From the Independent:
States such as Mississippi, North Dakota, South Dakota, West Virginia and Wyoming each only have one licensed abortion clinic and in Kentucky, the state is threatening to close its only one, due to apparent deficiencies in its licensing paperwork. Other states have instituted enforced counselling for women and waiting periods from anything from 24 hours to 3 days, as well as mandatory ultrasound scans before an abortion. Many states also deny health insurance coverage for abortion.
Having abortions be legal but not paid for was Nixon's idea for limiting abortion rights.
And I also fault the so-called women's liberation movement for being in this place. Rather than get the right to abortions enshrined in legislation, as it is in ever other major advanced economy, the early feminists invested a great deal of energy in trying to pass an Equal Rights Amendment rather than nailing down women's rights on key issue, issue by issue, when they had the wind to their backs.
By Gaius Publius, a professional writer living on the West Coast of the United States and frequent contributor to DownWithTyranny, digby, Truthout, and Naked Capitalism. Follow him on Twitter @Gaius_Publius, Tumblr and Facebook. GP article archive  here. Originally published at DownWithTyranny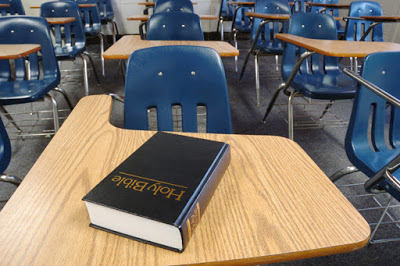 There are not enough philanthropic dollars in America to fund what is currently the need in education…Our desire is to confront the culture in ways that will continue to advance God's kingdom.

—Education Secretary Betsy DeVos
This begins a short series detailing the radical changes to the way our government operates — changes to its constitution if you will — that will be force on the nation by an unelected Supreme Court containing Brett Kavanaugh as the final piece of a 5-4 radical majority.
The list of these changes is long and frightening. They include:
And finally:
Conversion of the country, to the greatest extent Court rulings make possible, into Charles Koch's ideal libertarian paradise
That's a hefty, scary list, especially the last, which will not be difficult at all to document. For a hint at what the "Koch network" (author Nancy MacLean's phrase) has planned for America, consider just some of the constitutional amendments they want to pass at the Constitutional Convention they're pushing so hard to create.
Some items on the list above may look small and "manageable," but others are too huge even to contemplate. Striking down Roe v. Wade will turn all states but the most liberal into virtual back alley abortion dens, a horrifying, deadly thought. I've dealt with the assault on the regulatory state in a preliminary way and will have more on it later. But needless to say, striking down the general right of the Executive Branch to regulate commerce at all will reverse the New Deal almost in its entirety.
Consider the nation which those changes will create; then consider the nation's response, once the voters, all of them, realize how much has been lost, been given away, never to be gotten back.
So let's look briefly, one at a time, at these aspects of a "Kavanaugh Court" — a 5-4 radical right-wing-majority Court — starting with religion and religious education, which are intertwined.
The Kavanaugh Court on Religious Education
When Kavanaugh is confirmed and seated, brace yourselves. Get ready for a series of 5-4 rulings that enshrine giving government money to religious schools, especially those espousing virulent forms of what is inaccurately called "fundamentalism." Betsy DeVos' stiffled dream, in other words, will be fulfilled from the bench.
For a taste of how that would work, consider this piece from the New York Times:
Kavanaugh Could Unlock Funding for Religious Education, School Voucher Advocates Say

Judge Brett M. Kavanaugh, in a speech last year, gave a strong hint at his views on taxpayer support for religious schools when he praised his "first judicial hero," Justice William Rehnquist, for determining that the strict wall between church and state "was wrong as a matter of law and history."

Mr. Rehnquist's legacy on religious issues was most profound in "ensuring that religious schools and religious institutions could participate as equals in society and in state benefits programs," Judge Kavanaugh, President Trump's nominee to succeed Justice Anthony M. Kennedy on the Supreme Court, declared at the American Enterprise Institute, a conservative research organization.

Words like that from a Supreme Court nominee are breathing new life into the debate over public funding for sectarian education. Educators see him as crucial to answering a question left by Justice Kennedy after the Supreme Court ruled it unconstitutional for the state of Missouri to exclude a church-based preschool from competing for public funding to upgrade its playground: Can a church-school playground pave the way for taxpayer funding to flow to private and parochial schools for almost any purpose?
The answer to the last question is yes.
The purpose of that flow of funds would not be to ensure that a broad spectrum of religious ideas get funded — imagine the response from conservatives, for example, if a large group of Muslim madrassas were funded by the U.S. government or one of the states. That response would be like the response from whites if a large group of blacks in, say, Alabama exercised their Scalia-minted Second Amendment rights and took open-carry to the streets.
The purpose of that new funding would be to "save the nation" by creating an army of politically active fundamentalist true believers.
"Confront the culture to advance God's Kingdom"
Voucher programs like the ones conservatives advocate exist to give government money to schools at the intersection of "libertarian" ideology and fundamentalist religious beliefs — schools like those that Dept. of Education secretary Betsy DeVos would like use tax dollars to finance.
The Times again:
Scott Sargrad, the managing director of primary and secondary education policy at the liberal Center for American Progress, wrote that while Education Secretary Betsy DeVos's school voucher agenda has not gained traction, "if confirmed, Kavanaugh may be the solution to her problems."

"It is not a stretch to imagine a series of 5-to-4 decisions that slowly decimate public education in favor of voucher schemes," Mr. Sargrad wrote.

Ms. DeVos has been among the most vocal critics of the legal prohibitions on parochial school vouchers. In a speech to leaders of religious schools this year, she called the prohibitions — born out of anti-Catholicism — "the last acceptable prejudice" that "should be assigned to the ash heap of history."

Ms. DeVos has stalled in her efforts to create a $1 billion school voucher program, but after the Trinity decision, she has moved to loosen regulations that exclude religious colleges from participating in federal aid programs.
Here's Ms. DeVos belief about the mission of education: "There are not enough philanthropic dollars in America to fund what is currently the need in education…Our desire is to confront the culture in ways that will continue to advance God's kingdom."
DeVos wants to devote government dollars to that mission. And that's the mission a Kavanaugh Court will enshrine into law. Just one of many reasons confirming Brett Kavanaugh to the Supreme Court would be a generational disaster for a nation already in crisis.