As we've pointed out regularly, the SEC has been hobbled by Congress for so long that its enforcement actions focus mainly on insiders trading cases. To see the agency file a suit against Elon Musk, and (as we'll see) on such short notice means they are highly confident they can prove that Musk violated securities laws.
The Wall Street Journal describes how Musk gave the SEC the middle finger:
The SEC had crafted a settlement with Mr. Musk—approved by the agency's commissioners—that it was preparing to file Thursday morning when Mr. Musk's lawyers called to tell the SEC lawyers in San Francisco that they were no longer interested in proceeding with the agreement, according to people familiar with the matter. After the phone call, the SEC rushed to pull together the complaint that it subsequently filed, the people said.
It's one thing to have some preliminary discussions and then decide that you'll see the SEC in court. It's quite another to complete an agreement, have the SEC commissioners bless it, and then renege.
And indeed, it looks like the SEC has a slam dunk case. As most readers will recall, Musk tweeted that he has the financing lined up to take Tesla private:
Am considering taking Tesla private at $420. Funding secured.

— Elon Musk (@elonmusk) August 7, 2018
Analysts who called Tesla's Investor Relations department about the details of the financing didn't get more information but were reassured that the "funding secured" statement was accurate.
Musk later tweeted other details consistent with a deal being structured and ready to go:
My hope is *all* current investors remain with Tesla even if we're private. Would create special purpose fund enabling anyone to stay with Tesla."
This story was front page news for a day or so until it became clear that this going private plan was pure varporware. Musk had had four conversation about the general idea with a sovereign wealth fund, presumably from the Middle East, since it repeatedly asked Musk to open a facility there. Musk did not agree to the idea. Again from the complaint regarding the very last meeting:
The July 31 meeting lacked discussion of even the most fundamental terms of a proposed going-private transaction. For example, there was no discussion at the July 31 meeting of (1) any dollar amount or specific ownership percentage for the Fund's investment in a going-private transaction; (2) any acqui
sition premium to be offered to current Tesla shareholders; (3) any restrictions on foreign ownership of a significant stake in Tesla; (4) the Fund's available liquid capital; (5) whether the Fund had any past experience participating in a going-private transaction; (6) any regulatory hurdles to completion of a going-private transaction; or (7) the board approval process necessary to take Tesla private. Musk has acknowledged that the July 31 meeting was the most specific discussion of a transaction to take Tesla private between him and representatives of the Fund….

Between the July 31 meeting with representatives of the Fund and the morning of August 7, Musk (1) did not have any further substantive communications with representatives of the Fund; (2) did not discuss a going-private transaction at a share price of $420 with any potential funding source; (3) had a conversation with a private equity fund representative about the process, but did not actually contact any additional potential strategic investors to assess their interest in participating in a going-private transaction; (4) did not pr
ovide Tesla's Board of Directors with a more specific proposal to take Tesla private; (5) did not contact existing Tesla shareholders to assess their interest in remaining invested in Tesla as a private company; (6) did not formally retain any advisors to assist with a going-private transaction; (7) did not determine whether retail investors could remain invested in Tesla as a private company; (8) did not determine whether there were restrictions on illiquid holdings by Tesla's institutional investors; and (9) did not determine what regulatory approvals would be required for such a transaction or whether they could be satisfied.
There are more damaging details in the short and readable filing, which we have embedded at the end of the post.
The stock jumped nearly 11% on the day as shorts closed out their positions.
Musk's Twitter account was indeed an official venue for investor communications. From the complaint:
On November 5, 2013, Tesla publicly filed a Form 8-K with the Commission stating that it intended to use Musk's Twitter account as a means of announcing material information to the public about Tesla and its products and services and has encouraged investors to review the information about Tesla published by Musk via his Twitter account.
Musk had over 22 million followers at the time of his ill-advised tweet. By contrast, Bernie Sanders has only 7.9 million followers.
Musk also made clear he hated short sellers:
Musk has complained that Tesla has been unfairly targeted by short sellers and predicted that short sellers would be "burned." For example, on May 4, 2018, Musk tweeted, "Oh and uh short burn of the century comin soon. Flamethrowers should arrive just in time." On June 17, 2018, Musk tweeted that short sellers "have about three weeks before their short position explodes."
Musk's recklessness gives the SEC a great opportunity to burnish its badly-tarnished image with a high-profiel victory. Again from the Journal:
The case ranks as one of the highest-profile civil securities-fraud cases in years. Its filing less than two months after the Aug. 7 tweets by Mr. Musk also marks an unusually rapid turnaround by an agency that has been under fire for its perceived failure to promptly bring significant cases in the financial crisis and other episodes. "It means there was not that much investigation they needed to do to get comfortable that it was a case they should bring, but also a case they can win," said Michael Liftik, a former SEC enforcement lawyer now at Quinn, Emanuel, Urquhart & Sullivan LLP…

"It's an easy case," said Charles Elson, director of the John L. Weinberg Center for Corporate Governance at the University of Delaware. "He said in the tweet he had financing, and apparently he didn't. … It's about as straightforward as you can get."
Needless to say, as the high short positions show, Tesla's business is not faring well, despite its huge market capitalization and the enthusiasm of customers. Musk made a great show of getting production of his Model 3 over 5,000 a week. A Bloomberg tracker based on vehicle identification numbers says that was a one-shot wonder: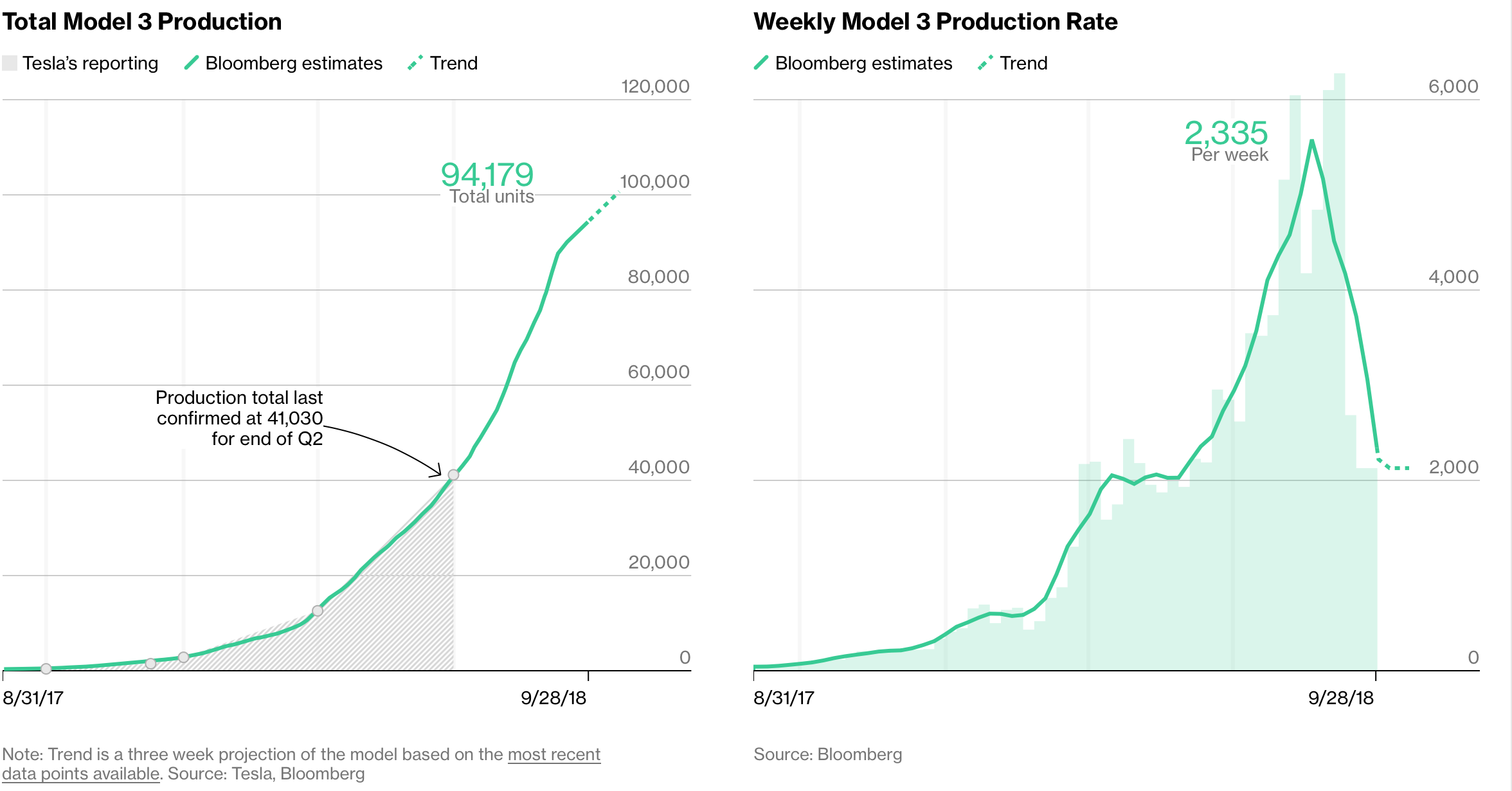 And reminds readers that Tesla has repeatedly fallen short of its production targets: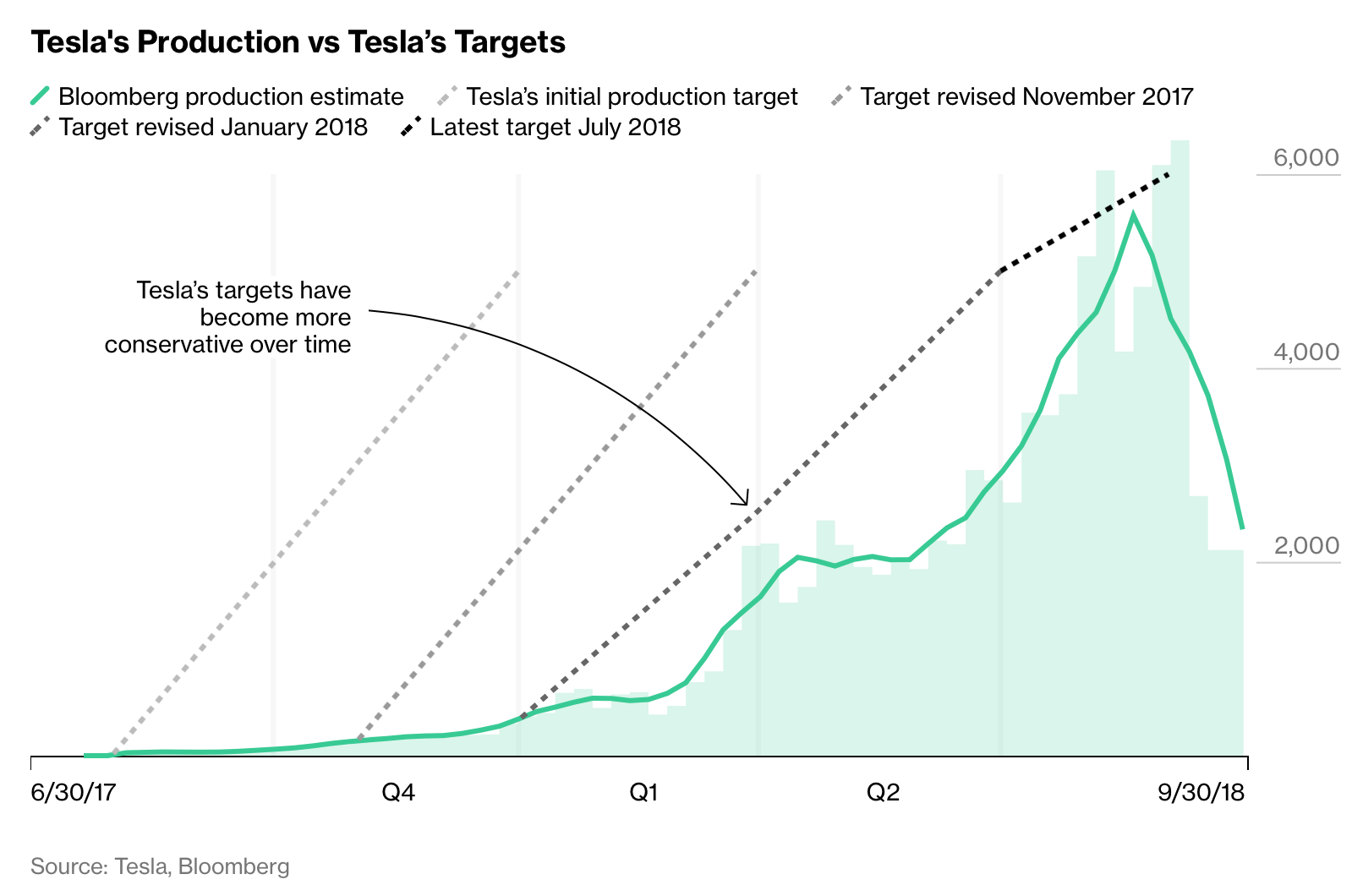 These figures are particularly important since Tesla is still losing money on every car sold. The company claims it will be able to show a manufacturing profit once it can produce 5,000 to 6,000 cars a week. But that seems questionable given its quality problems. From an August 31 article in Seeking Alpha:
With 84% of the cars rolling off the production line needing repairs, there is a strong likelihood that Model 3 is the lowest quality mainstream car ever produced. This kind of yield for any other company would only occur during prototype stages…

We are now starting to see data that shows how bad the quality problems are. For example, public Model 3 tracker shows that:

62% had defects in the first 30 days of ownership
47% had AT LEAST one visit to the service center in the first 30 days
20% were out of service AT LEAST one day in the 30 days
The same article argues, in detail, that Model 3 demand is greatly exaggerated:
Even with rapid homologation, we now estimate that Model 3 LR/P/AWD version worldwide demand to be about 2500 to 3500 a week – well below even the 5k per week production level Tesla reached in Q2. This number can double with the base short range $35K version of Model 3 but given the Company's cost structure we do not expect to see the $35K car until mid-to-late 2019 if at all.

The consequence of the above is that Tesla now has significant amount of Model 3 overcapacity once the reservation queue is exhausted which is almost certain to happen in Q4 – if not sooner.
And Tesla's financial condition is desperate. Interest expenses are now $640 million a year. The car company lost $743 million in its latest quarter, up 85% from the prior quarter and worse than expectations. An improvement in the burn rate did little to change the overall picture. From MarketWatch at the end of August:
The Canaccord analyst [Jed Dorsheimer] also worried about Tesla's cash position. With $2.2 billion in cash at the end of second quarter, Tesla "only has enough cash to maintain operations for another six to nine months at its current rate," he said.

The company has managed "to stem the flow of cash burn" from $1 billion to roughly $740 million quarter-over-quarter, but has not managed to achieve profitability since a short stint in 2016.
The financial press is hotly debating what sort of life, if any, Tesla has if the SEC succeeds in forcing Musk out of the company. Of course, Musk can attempt to escape the practical effect of an SEC win (save for whatever fine it imposes) by taking the company private. That may be the reason Musk's lawyers decided to blow the agency off. However, if the SEC prevails, the bar would include any company that had public debt, not just public shares, which would restrict Tesla's financing options. But the bigger barrier is that Tesla's prospects don't seem likely to improve, particularly as the company has seen high executive turnover in the last two years and Musk has been more and more erratic. And losing to the SEC has other downsides. From the New York Times' Dealbook's daily e-mail:
If the commission convinces a jury that Mr. Musk misled investors, he could be blocked from serving as an executive or director of any public company. That could force him to assume a different position at Tesla. It could also affect his other companies, SpaceX and the Boring Company, were they to go public, and potentially harm their ability to raise money from investors….

Andrew [Ross Sorkin]'s take:

Mr. Musk will want to prove that his intent wasn't to mislead investors, probably by demonstrating that he had real conversations to take the company private. But his intent is almost beside the point. He can be found guilty simply for being "reckless." And naïveté isn't a defense.

This is turning into a sad story for Tesla's employees, investors and ultimately everyone who has followed Mr. Musk's efforts to transform the auto and energy industries.
Tesla has long seemed to be more a vehicle for Musk's personal mythology than a business, despite the fact that is actually has produced quite a few cars. And Musk may have foreseen his car company's future when he choses its name. Even though Tesla profited from licensing his inventions, he eventually exhausted his funds.
comp-pr2018-219