By Lambert Strether of Corrente.
Trade
"A group of influential WTO members say the global trading body needs urgent attention and will meet again in January to continue efforts. Plus, top officials at a U.S. business group are urging China to lay out a plan to spur a deal with Trump, while retailers urge Trump to find a long-term solution with China that's not tariffs" [Politico]. "A group of 13 trade ministers left a daylong meeting in Ottawa on Thursday with one united message: The situation at the World Trade Organization is 'no longer sustainable.' Influential WTO members — including Canada, Mexico, the European Union and Japan — agreed to meet again in January as part of a continued effort to reform the global trading body. The leaders identified three areas 'requiring urgent consideration': the WTO's dispute settlement system, approach to negotiations and monitoring of members' transparency."
Politics
2020
"Sanders Makes a Strong Case Against the Saudis (and for Bernie 2020)" [New York Magazine]. "In recent weeks, the Vermont senator has weaved the Trump-Russia scandal — and the president's broader affinity for foreign dictators — into a tale about the global struggle between the forces of democracy, and the "authoritarian axis.'….. Sanders [explained to the (blob-friendly) Johns Hopkins School for Advanced International Studies earlier this month]d that the U.S. government could meet this challenge by, among other things, developing a foreign policy that prioritizes the promotion of labor rights, the elimination of tax havens, and a global reduction in arms spending."

"We Must Stop Helping Saudi Arabia in Yemen" [Bernie Sanders, New York Times]. "The likely assassination of the Saudi critic and Washington Post journalist Jamal Khashoggi underscores how urgent it has become for the United States to redefine our relationship with Saudi Arabia, and to show that the Saudis do not have a blank check to continue violating human rights. One place we can start is by ending United States support for the war in Yemen…. Above and beyond the catastrophe that this war has created, there is the fact that American engagement there has not been authorized by Congress, and is therefore unconstitutional. Article I of the Constitution clearly states that it is Congress, not the president, that has the power to declare war. Over many years, Congress has allowed that power to ebb. That must change."
2018
10 days until Election Day. 10 days. That's less than two weels, still is a long time in politics, as the "package devices" show. And Mr. Market.

"Man detained in Florida in mail-bomb case" [Associated Press]. "Law enforcement officers were seen on television examining a white van, its windows covered with an assortment of stickers, in the city of Plantation in the Miami area. Authorities covered the vehicle with a blue tarp and took it away on the back of a flatbed truck. The stickers included images of American flags and what appeared to be logos of the Republican National Committee and CNN, though the writing surrounding those images was unclear…. Law enforcement officials told The Associated Press that the devices, containing timers and batteries, were not rigged to explode upon opening. But they were uncertain whether the devices were poorly designed or never intended to cause physical harm." • I'm including that last sentence as an interesting reminder that AP stories are often pastiches of earlier AP stories; an interesting production method.

"South Florida man arrested in connection with suspected explosive packages" [Miami Herald]. "A trail of DNA evidence on the packages or the devices helped investigators narrow a nationwide manhunt to Cesar Sayoc, a 56-year-old man from Aventura, law enforcement sources told the Miami Herald. Sayoc was being questioned by FBI agents with the Joint Terrorism Task Force following his arrest."

"Cesar Sayoc Jr., Florida man, arrested in pipe bomb case; van with 'right wing paraphernalia' seized" [Boing Boing]. • With a good roundup of Tweets, including this one, said to be of Sayoc's unusual van, in 2017:

OMG. My husband just called and said "Remember that picture I texted you of that crazy Trump van that delivered lunch to my office? THAT WAS THE GUY!" This is the picture he sent me of the van parked at his office on November 1, 2017. #FloridaMan @FBI pic.twitter.com/18BimNzNhi

— Lesley Abravanel (@lesleyabravanel) October 26, 2018

The van today:

Aerial shot of a van about to be towed in connection with the mail bombing case. pic.twitter.com/oDhZuJgXTH

— Steve Herman (@W7VOA) October 26, 2018

"Pipe bomb suspect arrested: what we know" [Vox]. "Sayoc has an an extensive criminal history, including an arrest for a past bomb threat in 2002, according to the Washington Post and the New York Times."

Presser at 2:30:

The #FBI can confirm we have one person in custody. There will be a press conference in Washington, D.C. at the Department of Justice at 2:30pm ET.

— FBI (@FBI) October 26, 2018

UPDATE "Specifically, in terms of behavior, [this attack] has reflexively conditioned us to expect and immediately react to politically connected bomb threats. As a result, bomb threats are now far more likely to cause an evacuation and temporary shut-down of a targeted polling facility (during the midterm elections) than a week ago." [John Robb]. • Now there's a happy thought!

* * *

"House Midterm Outlook: Look for a Democratic Flip" [Stuart Rothenberg, Inside Elections]. "More important at this point of the election cycle, surveys in individual congressional districts show GOP-held suburban districts like Virginia's 10th District (Barbara Comstock), Colorado's 6th (Mike Coffman), New Jersey's 11th (retiring Rodney Frelinghuysen's open seat) and Kansas' 3rd (Kevin Yoder) poised to flip…. A veteran Democrat I spoke with laughed at the prospect that Democrats were ever going to win 50 seats, insisting that 30 or 35 seats was always a more reasonable number. Inside Elections with Nathan L. Gonzales has projected Democratic gains of 25-35 seats, a "Category 1″ hurricane that would produce a wave that would cost Republicans the House but wouldn't produce anything close to a 1994 or 2010 tsunami…. Although I have watched House campaigns and elections closely for almost four decades, I'm less confident I know how this cycle will end…. The focus remains primarily on suburban districts, college-educated whites, younger voters and minorities, not on rural and evangelical voters or whites without a college education. The House is still poised to flip party control." • The key word being "poised."

"Trump's Numbers Improve, But GOP Problems Remain" [Cook Political Report]. "[O]ne interesting finding in that NBC/WSJ poll involved people who have a negative opinion of both parties. Recall that in 2016, the voters who disliked both Hillary Clinton and Trump broke at the end heavily toward Trump, arguably making the difference in the election. In this poll, among those who had a negative opinion of both parties in the August survey, they favored Democrats by 3 points, 42 to 39 percent. In September, those with negative views of both parties favored Democrats by 5 points, 43 to 38 percent. But in the latest survey, the Democratic margin soared to a 42-point margin, with 59 percent favoring a Democratic Congress and 17 percent favoring one controlled by Republicans. In both cases, those with a 'pox on both your houses' mentality broke toward the side that represented the most change. Two years ago it was Trump; this year, it's Democrats." • Change vs. more of the same!

"Midterm elections could have strangest result in decades" [New York Post]. "Democrats look poised to retake the House, but Republicans appear likely to retain control of the Senate on Nov. 6. That would be the first time since 1982 that a midterm election wave ended with such divergent results."

"Redistricting Reform and the 2018 Elections" [Harvard Law Review Blog]. "No other country with single-member election districts like ours leaves the power to draw these districts in the hands of the most politically self-interested actors, the politicians whose power and seats will be affected. I have long argued this is an inherently pathological situation for a democracy and that we should move this power into the hands of independent commissions. But shifting to commissions cannot avoid the fact that substantive choices must still be made about how we ought to define fair maps and what criteria commissions, or any other redistricting body, ought to follow in order to design fair maps." • This is a useful wrap-up.

GA: "NAACP Says Georgia Is Counting Democratic Votes as Republican" [Courthouse News]. "The Georgia NAACP complained to the Georgia Board of Elections on Tuesday that electronic voting machines in four counties switched votes for governor from Democrat Stacey Abrams to Republican Brian Kemp. The complaints are particularly notable because Kemp, as Georgia secretary of state, is in charge of voting…. Georgia is one of five states that use electronic voting machines that do not provide a paper trail backup." • Great.

GA: "Georgia Dems say more than 4,700 voter applications are missing: report" [The Hill]. "Georgia Democratic officials claim that more than 4,700 applications to vote by mail are missing in DeKalb County, a progressive-leaning county of about 753,000 people…"

NV: "Democrats See Nevada As 'The Model' For A Blue Wave" [NPR]. "The chairman of the Democratic National Committee, Tom Perez, calls Nevada 'the model.' 'The Democratic party nationally needs to emulate what Nevada has been doing since the beginning of 2015, which is organizing early, organizing everywhere,' he says. 'Making sure we have a 12-month party where we are talking to people.'" • Not just talking to them, but expanding the base by registering them?
Realignment and Legitimacy
"Imagine a world without facts" [Science]. "Facts are statements that have a very high probability of being verified whenever appropriate additional observations are made. Thus, facts can be reliably used as key components in interpreting other observations, in making predictions, and in building more complicated arguments…. Consider the present "post-fact" world in this context. The lack of acceptance and cynical or ignorant questioning of well-documented evidence erode the perception that many propositions are well-supported facts, weakening the foundation on which many discussions and policies rest. Under these circumstances, numerous alternatives appear to be equally plausible because the evidence supporting some of these alternatives has been discounted. This creates a world of ignorance where many possibilities seem equally likely, causing subsequent discussions to proceed without much foundation and with outcomes determined by considerations other than facts." • And then there's the replication crisis, money in medicine… which the following in the last paragraph seems to address: "We should acknowledge and accept responsibility for, but not exaggerate, challenges within the scientific enterprise." Challenges…
Stats Watch
GDP, Q3 2018 (a): "Consumer spending is the driver that it should be, leading a solid third-quarter GDP report that, however, does raise some fundamental questions about the outlook for the economy" [Econoday]. "Business investment wasn't the major star as it has been in prior quarters but still was in the plus column… Whatever tariff effects there are in the quarter, whether on metals or agriculture, they didn't hold down imports which surged…. stimulus from government purchases is no surprise given the government's massive $4.1 trillion in annual outlays…. inflation didn't show much life… The real surprise in the report is the strength of consumer spending where the outlook, given the enormous level of demand for labor, looks very positive. Not positive, however, is the weakness in housing and also trade where the unfolding effects of tariffs and counter-tariffs are a major risk to future quarters. Uncertain in the outlook are inventories which may, however, continue to build given the underlying strength of consumer demand. But inventories, whose effects are abstract, added disproportionately to the quarter's results, without which GDP would have come in no better than 1.4 percent." And but: "Over 2% of this 3.5% growth number is attributable to inventory growth (materials manufactured but not yet sold). I consider this a very weak report" [Econintersect]. "I am not a fan of quarter-over-quarter exaggerated method of measuring GDP – but my year-over-year preferred method showed moderate acceleration from last quarter."
Consumer Sentiment, October 2018 (final): Edged lower [Econoday]. "Despite the downtick in current conditions and the uptick in near-term inflation expectations, today's results are strongly positive and fit in with the strength of the consumer." And: "Final October 2018 Michigan Consumer Sentiment Down Slightly" [Econintersect]. "The final University of Michigan Consumer Sentiment for October came in at 98.6, down from the October preliminary of 99.0 and down from the September final of 100.1."
Shipping: "Perpetual pilot purgatory" [Logistics Management]. Pilot programs, not airline pilots. "[A]n important part of the discussion involving robotics solutions providers, two executives from DHL and Target and a variety of consultants and systems integrators is that right now there's too much hype and marketing around robotics in our space (mea culpa, perhaps) and not enough real-life examples and data around what works and more importantly, what doesn't work. We're all trying to answer those questions, and the brave customers who have been early adopters are playing it close to the vest. The result: Perpetual pilot purgatory."
Shipping: "United Parcel Service Inc. is investing heavily in shipping capacity for a busy holiday season and expects shippers to help pay the bill. The delivery giant has been raising prices this year…, to back an effort that brings seven times more processing and sorting capacity this year than the company had had in 2017. UPS will need the new infrastructure: The company expects to deliver 800 million packages in the U.S. between Thanksgiving and Christmas, up from 750 million last year" [Wall Street Journal].
Transportation: "[Boeing] says its supply chain is returning to 'a healthy condition,'… as new orders push the manufacturer's backlog to 5,800 commercial aircraft. Boeing now expects to bring in as much as $100 billion in revenue this year, up $1 billion from a previous forecast, and says its plane deliveries remain on track" [Wall Street Journal]. "The company has wrestled with a supplier bottleneck for 737s, and unfinished versions of the single-aisle plane have stacked up at a factory outside Seattle. The big demand is coming from vibrant passenger-airline demand—global passenger traffic was up 6.8% in the first eight months of this year. But Boeing is also predicting strong demand for freighters, pushed largely by e-commerce growth."
Transportation: "UPDATE 2-Rolls-Royce hit by delay to engine for new Airbus jet" [CNBC]. "British aero-engine maker Rolls-Royce said on Friday it would deliver fewer Trent 7000 engines this year than initially expected due to production problems, hitting both its shares and those of major customer Airbus…. Rolls-Royce has also been grappling with problems affecting blades on its Trent 1000 engines for more than two years, and last month said it was still managing durability issues within its fleet and was replacing affected parts."
Transportation: "​Thai frets about reputational damage from grounded 787s" [FlightGlobal]. "Four of the carrier's eight 787-8s are ground awaiting spare parts for their Rolls-Royce Trent 1000 engines… Issues with the both intermediate-pressure turbine and IP compressor blades in the Trent 1000 have been an problem with both Thai and other operaters throughout the world, periodically grounding portions of the world's Trent-powered 787 fleet."
The Bezzle: "Why almost everyone was wrong about Tesla's cash flow situation" [Ars Technica]. "Each time Tesla has begun work on a new vehicle, cash flow has turned sharply negative as Tesla spent heavily to design the vehicle and build up its manufacturing capacity. Around the time each vehicle starts coming off the assembly line, the negative free cash flow hits a peak. Then a few quarters later, as the factory gets close to capacity, free cash flow turns positive. Tesla achieved positive cash flow in late 2013, mid-2016, and now in mid-2018. And the company experienced profits, however small, during each of these time periods as well…. Tesla is in no danger of going bankrupt. With $3 billion in the bank and a growing cash cushion, Tesla won't need to raise any cash to pay off the big $920 million loan that's coming due next March." • Readers?
Honey for the Bears: "ECRI's WLI Growth Rate Index Returns To the Dark Side" [Econintersect]. "The current [Economic Cycle Research Institute] forecast continues to be for insignificant growth (or lack thereof) six months from today."
Mr. Market: "Wall Street resumes selloff; S&P flirts with correction" [Street Insider]. " U.S. stocks resumed their selloff on Friday, with the S&P poised to join the Nasdaq in correction territory, sparked by grim earnings reports from Alphabet and Amazon that eclipsed data showing the U.S. economy continued to grow at a healthy clip…. While the U.S. economy continues to grow, despite trade wars, the same cannot be said of U.S. corporate profit growth, with a slew of disappointing forecasts this earnings season showing how tariffs, rising wages and borrowing costs, as well as jitters over geopolitical events are hitting companies."
Our Famously Free Press
"When YouTube went down for an hour, publishers' traffic increased" [Nieman Lab]. "A one-hour YouTube outage on October 16 at around 9 p.m. ET resulted in a 20 percent net increase in traffic to client publishers' sites, Chartbeat found… That increase was roughly evenly split between general articles on the publishers' sites, and articles specifically about the YouTube outage.
"What happens when Facebook goes down? People read the news" [Nieman Lab]. "Direct traffic to publishers' websites increased 11 percent, while traffic to publishers' mobile apps soared 22 percent."
"Apple's Radical Approach to News: Humans Over Machines" [New York Times]. "In a quiet corner of the third floor, Apple is building a newsroom of sorts. About a dozen former journalists have filled a few nondescript offices to do what many other tech companies have for years left to software: selecting the news that tens of millions of people will read…. 'We put so much care and thought into our curation,' said Ms. Kern, 43, a former executive editor of New York Magazine. 'It's seen by a lot of people and we take that responsibility really seriously.'" • Curation is good, but what about the creators?
Gaia
"The Hope at the Heart of the Apocalyptic Climate Change Report" [Foreign Policy]. "The IPCC says we need to cut emissions to net zero by the middle of the century. But during that very same period, the global economy is set to nearly triple in size. That means three times more production and consumption than we are already doing each year. It would be hard enough to decarbonize the existing global economy in such a short timespan. It's virtually impossible to do it three times over. If we carry on with growth as usual, then cutting emissions in half by 2030 would require that we decarbonize the economy at a rate of 11 percent per year. For perspective, that's more than five times faster than the historic rate of decarbonization and about three times faster than what scientists project is possible even under highly optimistic conditions…. The plan the IPCC has in mind is called BECCS, which stands for "bioenergy with carbon capture and storage." The idea is to grow massive plantations around the world to absorb carbon dioxide, turn those crops into biofuel, burn it in power stations, capture the carbon dioxide that's emitted from the smokestacks, and store it deep under the ground. Voila: negative emissions." • Biofuels don't have a good track record, IIRC. Readers?
Class Warfare
"Arkansas Federal Judge Rules Sleeper Berth Time Is 'Time-Worked'" [Transport Topics]. "A federal district judge in Arkansas has ruled that a legal class of nearly 3,000 truck drivers is entitled to compensation for time in the sleeper berth even though the drivers were signed out as off-duty."
""Stress Hormone" Cortisol Linked to Early Toll on Thinking Ability" [Scientific American]. "The study of more than 2,000 people, most of them in their 40s, found those with the highest levels of the stress-related hormone cortisol performed worse on tests of memory, organization, visual perception and attention. Higher cortisol levels, measured in subjects' blood, were also found to be associated with physical changes in the brain that are often seen as precursors to Alzheimer's disease… The link between high cortisol levels and low performance was particularly strong for women… Rockefeller University's McEwen says other research suggests it is never too late to adopt a healthier lifestyle by taking steps like reducing stress, exercising regularly, eating a healthy diet, getting enough good-quality sleep and finding meaning in one's life." • Hard to eat healthier if you're in a food desert, for example…
"Most Americans say their finances have not improved since the 2016 election" [MarketWatch]. "Only 38% of Americans say their finances have improved since the 2016 election, according to a study released Thursday by finance website Bankrate, while 17% say they have gotten worse, and 45% say they are about the same…. Meanwhile, the gap between the rich and everyone else appears to be growing. The average wage for the top earners in the U.S. hit $719,000 per year in 2017, up 3.7% on the year, exceeding their peak of $716,000 per year just before the Great Recession… When inflation is taken into account, middle-class wages have remained stagnant, Divya Sangam, spokeswoman at personal-finance site Value Penguin, wrote in an email. 'Given the market growth, consumers would expect to be earning more money, but it's not really happening,' she said. 'Instead, Americans are facing ballooning student-loan debt and credit-card debt.'" • Same as it ever was, same as it ever was…
News of the Wired
"A Dark Consensus About Screens and Kids Begins to Emerge in Silicon Valley" [New York Times]. "'Doing no screen time is almost easier than doing a little,' said Kristin Stecher, a former social computing researcher married to a Facebook engineer. 'If my kids do get it at all, they just want it more.' Ms. Stecher, 37, and her husband, Rushabh Doshi, researched screen time and came to a simple conclusion: they wanted almost none of it in their house. Their daughters, ages 5 and 3, have no screen time 'budget,' no regular hours they are allowed to be on screens…. [I]n the last year, a fleet of high-profile Silicon Valley defectors have been sounding alarms in increasingly dire terms about what these gadgets do to the human brain. Suddenly rank-and-file Silicon Valley workers are obsessed. No-tech homes are cropping up across the region. Nannies are being asked to sign no-phone contracts."
"How working memory gets you through the day" [MIT Technology Review]. "[W]orking memory gets us through each day by allowing us, for example, to follow the receptionist's directions to find the doctor's office, or to sort through the costs and benefits of one set of tires versus another at the dealership. It's also profoundly debilitating when it is diminished by disorders such as schizophrenia or autism. [But] "what's special about working memory is that it is volitional," says [MIT neuroscientist Earl Miller]. 'It is the main mechanism by which your brain wrests control from the environment and puts it under its own control. Any simple creature can just react to the environment. But what higher order animals have evolved is the ability to take control over their own thoughts.'… the temporary storage of that sensory information is achieved by how the interplay of these rhythmic waves changes the weight of connections among the neurons, called synapses… The evidence, and the model itself, challenges at least two classically held beliefs among neuroscientists. One is that brainwaves are merely byproducts of neural activity and don't have functional meaning. The other is that working memory is maintained by a persistent hum of neural firing, rather than short, coordinated bursts." • Fascinating article, though I'm a little dubious about capitalism coming to an understanding of brain function.
"A decade of data reveals that heavy multitaskers have reduced memory, Stanford psychologist says" (interview) [Stanford News]. From the summary: "People who frequently use many types of media at once, or heavy media multitaskers, performed significantly worse on simple memory tasks." The interview, of psychology Professor Anthony Wagner, is bit more nuanced. Wagner: I would never tell anyone that the data unambiguously show that media multitasking causes a change in attention and memory. That would be premature. It's too early to definitively determine cause and effect. One could choose to be cautious, however. … We know there are costs of task switching. So that might be an argument to do less media multitasking – at least when working on a project that matters academically or professionally. If you're multitasking while doing something significant, like an academic paper or work project, you'll be slower to complete it and you might be less successful."
* * *
Readers, feel free to contact me at lambert [UNDERSCORE] strether [DOT] corrente [AT] yahoo [DOT] com, with (a) links, and even better (b) sources I should curate regularly, (c) how to send me a check if you are allergic to PayPal, and (d) to find out how to send me images of plants. Vegetables are fine! Fungi are deemed to be honorary plants! If you want your handle to appear as a credit, please place it at the start of your mail in parentheses: (thus). Otherwise, I will anonymize by using your initials. See the previous Water Cooler (with plant) here. Today's plant (AA):
AA writes: "Here are a few plantish pictures from a trip to Old Blighty last March. Maybe they can rev up the canal traffic after all the car makers leave the country. This is Kidlington Green lock, Oxford canal."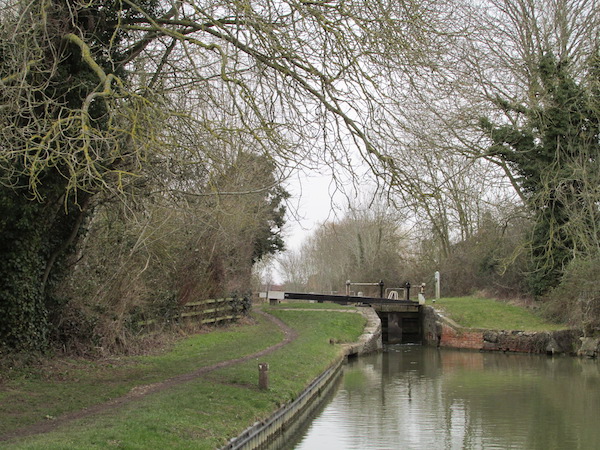 This makes me think of a Constable painting (though I think if it were, there would be a red accent somewhere).
* * *
Readers: Water Cooler is a standalone entity not covered by the annual NC fundraiser, now completed. So do feel free to make a contribution today or any day. Here is why: Regular positive feedback both makes me feel good and lets me know I'm on the right track with coverage. When I get no donations for five or ten days I get worried. More tangibly, a constant trickle of small donations helps me with expenses, and I factor that trickle in when setting fundraising goals. So if you see something you especially appreciate, do feel free to click below! (The hat is temporarily defunct, so I slapped in some old code. The form below should work.)
Or Subscribe to make a monthly payment!