This is Naked Capitalism fundraising week. 1540 donors have already invested in our efforts to combat corruption and predatory conduct, particularly in the financial realm. Please join us and participate via our donation page, which shows how to give via check, credit card, debit card, or PayPal. Read about why we're doing this fundraiser and what we've accomplished in the last year, and our current goal, more original reporting
Yves here. It appears Republicans have noticed how popular socialism is with the young and felt compelled to Do Something about that, in the form of a 72 page soi disant report by the Council of Economic Advisers on the "Opportunity Costs of Socialism". Apparently no one told them that Basque region of Spain, dominated by the worker-owned Mondragon, which has strict curbs on executive pay, had the lowest post-crisis level of unemployment in the country.
Even this post, however, misses the idea that there are different types of property rights, even with supposedly private property, as Jerri-Lynn's discussion of the "right to repair" illustrates. Sandwichman at Econospeak made a similar point by hoisting this matrix from Elinor Olstrom: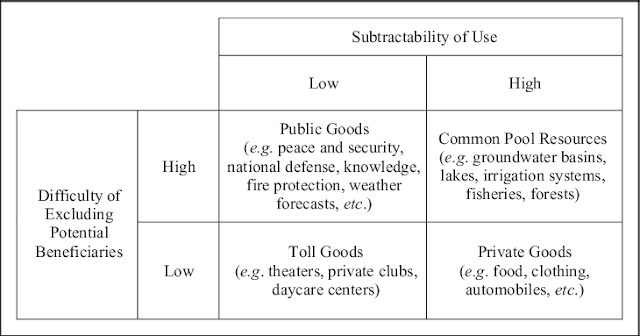 By Jake Johnson, staff writer at Common Dreams. Originally published at Common Dreams
From its heavy-handed comparisons between mild-mannered democratic socialist Sen. Bernie Sanders and militant communist revolutionary Mao Zedong to its bizarre assertion that the Scandinavian economic model is a failure due to the high weekly costs of owning a pickup truck in Finland and Sweden (seriously), a White House attack on socialism was roundly mocked almost as soon as it was released on Monday, with informed critics arguing that the report reads as if it was plagiarized from a college freshmanwith a serious Ayn Rand obsession.
Titled "The Opportunity Costs of Socialism," the Council of Economic Advisers' (CEA) new 72-page paperpurports to offer an empirical analysis of socialist policies—but what it actually does is make what analysts described as "hilariously stupid" and "intellectually embarrassing" claims accompanied by charts and footnotes that give off the appearance of scholarly diligence.
Characterizing the CEA's report as a "truly bizarre document," Vox's Dylan Matthews notes that the paper's bibliography contains "a mix of books about mass atrocities in Communist regimes, economics papers on the distortionary effects of taxation, and works by socialists, like the essay Voxpublished by Jacobin staff writer Meagan Day defending democratic socialism."
But a look beyond the CEA's hysterical rants against socialism's supposedly totalitarian nature reveals that the White House accidentally makes a strong case for Medicare for All, which the paper describes as the "headline American socialist proposal."
After attempting to discredit single-payer healthcare programs—which multiple polls now show most Republicanvoters support—as "similar in spirit to Lenin and Mao," the CEA produced a chart showing short wait times for seniors under the current U.S. healthcare system compared to those under the Canadian and Nordic systems.
As Vox's Sarah Kliff notes, the CEA conveniently omits the fact that "America's seniors are essentially in a single-payer system": it's called Medicare.
"The Trump chart doesn't say what the White House seems to think it says," Kliff concludes. "It isn't telling us that single-payer healthcare has long wait times. If anything, it says that it is possible to build a single-payer system with short wait times—and our Medicare program has already done it."
So, um, a new @WhiteHouseCEA report ostensibly written to argue against Medicare for All uses… the success of Medicare (!) to argue against it. https://t.co/irnkIlNzbh pic.twitter.com/RhndXzAHzE

— Steve Goldstein (@MKTWgoldstein) October 23, 2018
In a tweet, Sanders offered Trump his congratulations for making such a good argument in favor of Medicare for All:
Congratulations to Donald Trump for unintentionally making the case for Medicare for All. https://t.co/De09BEVq2s

— Bernie Sanders (@SenSanders) October 23, 2018
The CEA's Medicare for All faceplant was just one of many ludicrous components of the White House's latest effort to ratchet up fear of the coming socialist menaceahead of next month's midterm elections. According to recent survey data, a growing number of American voters prefer socialism to capitalism—hardly a surprising finding, given that just five men own almost as much wealth as half the world's population and tens of millions of Americans are just one emergency away from economic peril.
In a Twitter thread, Public Citizen highlighted a couple more of the report's egregious lies:
Here's one embarrassing claim from the report: Restraining drug prices will lower life expectancy. Yes, that's right – in the country where 1 in 6 ration drugs because of price – they argue that restraining price gouging would cost lives. 5/

— Public Citizen (@Public_Citizen) October 23, 2018
The report is dead wrong on the cost of Medicare for All. Medicare for All is MORE efficient than wasteful private insurers. We would spend the same or less on health care while providing better treatment to all. 6/

— Public Citizen (@Public_Citizen) October 23, 2018
The report twists and turns to claim that US health care is superior. But we do worse than other rich nations on infant mortality, access to care, lifespan, overall health and quality. Private insurance makes things worse in each dimension. 7/

— Public Citizen (@Public_Citizen) October 23, 2018
But as the left-wing magazine CurrentAffairs pointed out on Twitter, no detailed breakdown is necessary to recognize that the CEA's paper is total bunk.
"The White House paper on socialism can be dismissed in a sentence: it defines socialism as state ownership rather than worker control, and therefore does not have anything to say about socialism," the publication noted. "Sorry that you wasted 72 pages and a bunch of hours, White House CEA."