This is Naked Capitalism fundraising week. 1017 donors have already invested in our efforts to combat corruption and predatory conduct, particularly in the financial realm. Please join us and participate via our donation page, which shows how to give via check, credit card, debit card, or PayPal. Read about why we're doing this fundraiser and what we've accomplished in the last year, and our current goal, extending our reach.
A fresh story at Bloomberg, which includes new analysis, shows the ugly student debt picture is getting uglier. The driver is that higher education costs keep rising, often in excess of the likely wages for graduates. The article's grim conclusion: "The next generation of graduates will include more borrowers who may never be able to repay."
Student debt is now the second biggest type of consumer debt in the US. At $1.5 trillion, is is second only to the mortgage market, and is also bigger than the subprime market before the crisis, which was generally pegged at $1.3 trillion.1 Bloomberg also points out that unlike other categories of personal debt, student debt balances has shown consistent, or one might say persistent, growth since the crisis.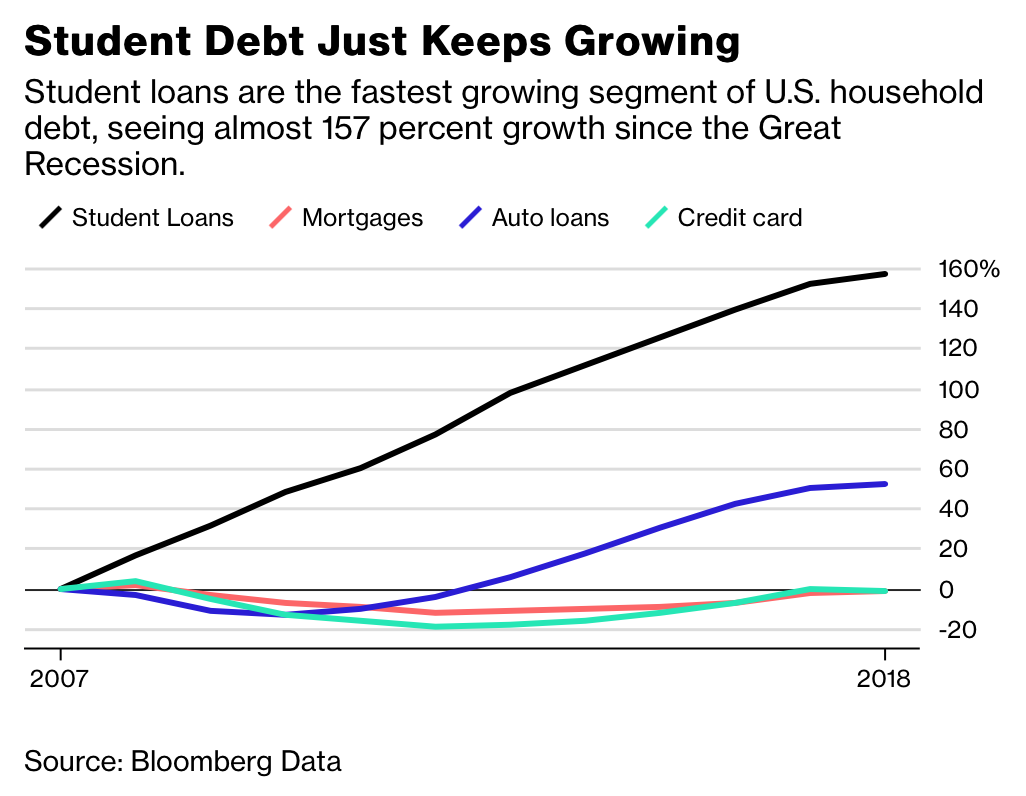 From the article:
Student loans are being issued at unprecedented rates as more American students pursue higher education. But the cost of tuition at both private and public institutions is touching all-time highs, while interest rates on student loans are also rising. Students are spending more time working instead of studying. (Some 85 percent of current students now work paid jobs while enrolled.) Experts and analysts worry that the next generation of graduates could default on their loans at even higher rates than in the immediate wake of the financial crisis.
The last sentence is alarming. As graduates of the class of 2009 like UserFriendly can attest, the job market was desperate. And for the next few years, the unemployment rate of new college graduates was higher than that of recent high school graduates. One of the corollaries of that is that more college graduates than before were taking work that didn't require a college degree; this is still a significant trend today. And on top of that, studies have found that early career earnings have a significant impact on lifetime earnings. While there are always exceptions, generally speaking, pay levels key off one's earlier compensation, so starting out at a lower income level is likely to crimp future compensation.
And on top of that, interest costs are rising. The rate for direct undergraduate loans is 5% and for graduate and professional schools, 6.6%. So student debt costs will also go up even before factoring in inflating school costs. So the ugly picture of delinquencies and defaults is destined to get worse.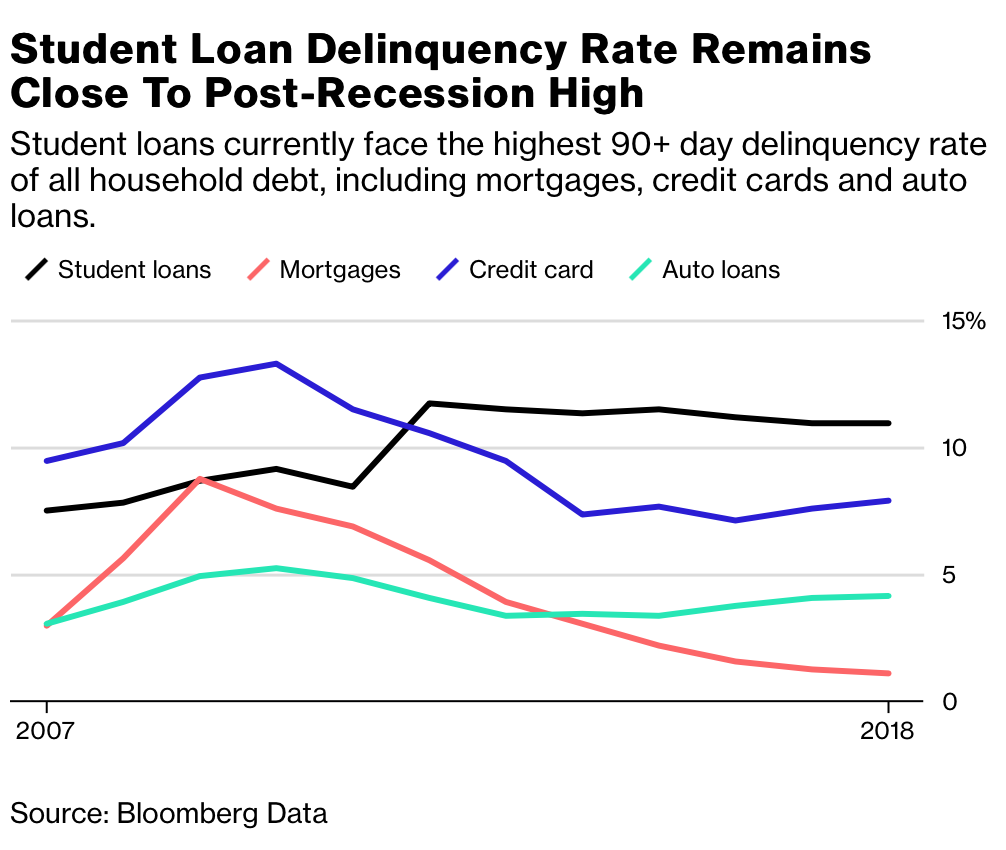 Students attending for-profit universities and community colleges represented almost half of all borrowers leaving school and beginning to repay loans in 2011. They also accounted for 70 percent of all defaults. As a result, delinquencies skyrocketed in the 2011-12 academic year, reaching 11.73 percent.

Today, the student loan delinquency rate remains almost as high, which Scott-Clayton attributes to social and institutional factors, rather than average debt levels. "Delinquency is at crisis levels for borrowers, particularly for borrowers of color, borrowers who have gone to a for-profit and borrowers who didn't ultimately obtain a degree," she said, highlighting that each cohort is more likely to miss repayments on their loans than other public and private college students.

Those most at risk of delinquency tend to be, counterintuitively, those who've incurred smaller amounts of debt, explained Kali McFadden, senior research analyst at LendingTree. Graduates who leave school with six-figure degrees that are valued in the marketplace—such as post-graduate law or medical degrees—usually see a good return on their investment.
I'm a little leery of cheerful generalizations like "big ticket borrowers for professional degrees do better." "Better" may still not be that good. Recall that law school and in the last year, business school enrollments have fallen because candidates question whether the hard costs and loss of income while in school will pay off. And there are some degrees, like veterinary medicine, that are so pricey it's hard to see how they could possibly make economic sense.
What is distressing about this ugly picture is the lack of effective activism by the victims. I am sure some are trying, but in addition to the burden of being so overwhelmed by the debt burden as to lack the time and energy to do anything beyond cope, is the fact that being in debt is stigmatized in our society, and borrowers may not want to deal with condescension and criticism. Another obstacle to organizing is that most of the victims are lower income and/or from minority groups, which means Team Dem can ignore them on the usual assumption that they have nowhere else to go. It is also harder to create an effective coalition across disparate economic, geographic, and age groups
But the experience of the post-Civil War South says things could get a lot worse. From Matt Stoller in 2010:
A lot of people forget that having debt you can't pay back really sucks. Debt is not just a credit instrument, it is an instrument of political and economic control.

It's actually baked into our culture. The phrase 'the man', as in 'fight the man', referred originally to creditors. 'The man' in the 19th century stood for 'furnishing man', the merchant that sold 19th century sharecroppers and Southern farmers their supplies for the year, usually on credit. Farmers, often illiterate and certainly unable to understand the arrangements into which they were entering, were charged interest rates of 80-100 percent a year, with a lien places on their crops. When approaching a furnishing agent, who could grant them credit for seeds, equipment, even food itself, a farmer would meekly look down nervously as his debts were marked down in a notebook. At the end of a year, due to deflation and usury, farmers usually owed more than they started the year owing. Their land was often forfeit, and eventually most of them became tenant farmers.

They were in hock to the man, and eventually became slaves to him. This structure, of sharecropping and usury, held together by political violence, continued into the 1960s in some areas of the South. As late as the 1960s, Kennedy would see rural poverty in Arkansas and pronounce it 'shocking'. These were the fruits of usury, a society built on unsustainable debt peonage.
Sanders has made an issue of student debt, but politicians who want big bucks from financiers and members of the higher education complex pointedly ignore this issue. As we've pointed out, top bankruptcy scholar Elizabeth Warren won't even endorse a basic reform, that of making student debt dischargable in bankruptcy. So it may take student debtors becoming a bigger percentage of voters for this issue to get the political traction it warrants.
______
1 Higher estimates typically included near subprime mortgages then called "Alt A".