By Lambert Strether of Corrente.
Readers, this Water Cooler will evolve more dynamically than usual, as I complete a post on the USPS and run an errand. But at some point, we will achieve the full complement of items. –lambert
Trade
"The US-China Trade War: A Timeline" [China Briefing]. "Total US tariffs applied exclusively to China: US$250 billion. Total Chinese tariffs applied exclusively to US: US$110 billion."
"Tesla cuts China car prices to absorb hit from trade war tariffs" [Reuters]. "Tesla warned last month it was facing major problems with selling cars in China due to new tariffs that would force it to accelerate investment in its first overseas Gigafactory in Shanghai."
"Trump's aluminum tariffs push metal's price down in Asia" [Nikkei Asian Review]. "With global production topping 60 million tons per year, aluminum is now the leading nonferrous metal of commerce. Demand for aluminum has been growing in recent years due in part to increased use by automakers competing to produce lighter cars….. Aluminum tends to remain mainly in Asia's emerging economies as a result of the U.S.-China trade war. With price competitiveness reinforced by depreciating currencies, exporters are turning to Japan, which is geographically closer than the U.S. and has solid demand for aluminum from makers of autos and home appliances…. Aluminum exports from China to the U.S. decreased due to the trade war but those to other markets increased. In the first 10 months of 2018, China boosted exports of aluminum materials by 20% thanks partly to the yuan's depreciation."
Politics
"But what is government itself, but the greatest of all reflections on human nature?" –James Madison, Federalist 51
2020
"Inside Bernie Sanders's Head The discussion the most popular democratic socialist in America is having over his political future." [New York Magazine]. Sanders: "[I]f it turns out that I am the best candidate to beat Donald Trump, then I will probably run." Hoo boy. This is important:

When [Sanders] first sat down to recalculate his life after the 2016 campaign, a top priority was an overhaul of his digital-media operation. He hired Armand Aviram, a former producer from NowThis News, and cameras now follow him everywhere; in 2017, the team published 550 short videos for Facebook and Twitter. They are enormously popular — town halls streamed on Facebook can earn millions of views — and Sanders constantly asks aides for updates on his viewership and sharing numbers. The project is substantially more ambitious than that of any other politician in Washington. (In April, aides from multiple Senate offices told me they had no idea how Sanders was doing it.) In fact, the only person in Washington who seems to care as much about building his own media ecosystem is Trump.

It's this audience, and the pressure it can exert, that Sanders often credits with pulling his party toward him on specific issues.

"How the Beto Bubble Could Burst" [Politico]. "O'Rourke wouldn't come into the 2020 campaign with a signature issue that would distinguish himself among the sprawling Democratic pack and define his candidacy. The main argument for a Beto campaign comes down to little more than, well, he's Beto, and people really like Beto. But a successful presidential campaign needs a lot more than that to survive the presidential primary marathon. While it's possible O'Rourke has what it takes to be Obama 2.0, the risk remains he could be Edwards 2.0."

"Trump's Chances in 2020 Are Better Than You Think" [Matt Taibbi, Rolling Stone]. "I underestimated Donald Trump once. I'll never do it again. Don't think Democrats regaining the House has any bearing on the 2020 presidential run, which horrifyingly is beginning right about now. Campaign-trail reporters like myself (at least, those of us who don't do the smart thing and off ourselves before the race starts) would do well to remember the mistake we made in 2015-2016…. By any rational standard, Trump in the past two years has made huge political gains. Trump began his 2016 run as a sideshow conspiracist, a human rimshot the papers turned to for comic relief. Today, he commands the electorate within his own party. He regularly pulls between 85 and 90 percent of Republican support — he was right at 90 percent just before the midterms — which is where George W. Bush was heading into the 2004 race. Retaining above 85 percent of your own party's voters is a characteristic shared by the past four incumbents to win re-election: Obama, Bush, Clinton and Reagan." • From Tuesday of last week, so I must have missed it in the pre-tryptophan haze.

"'He's Going to Fieldstrip These Guys': Inside the Trump 2020 Campaign's Wild, Disorganized Attempt to 'Keep America Great' [Vanity Fair]. "Most Republican strategists I spoke to agreed that Trump will face a primary challenge from the Never Trump wing of the party, which has been clipped since the 2016 election. Possible primary candidates include Senators Jeff Flake, Bob Corker, and Ben Sasse; and Ohio governor John Kasich. 'My sense is someone is going to challenge Trump,' said Ed Rollins, Ronald Reagan's '84 campaign manager who now advises the pro-Trump Great America PAC. 'I don't think it'll be a viable candidate. Someone like Flake or Kasich, they're just more of a nuisance. Trump has the base.' (A Gallup poll in June showed that Trump's 87 percent popularity among his party is the second highest in modern presidential history, behind Bush 43 post-9/11.) If there's one historical data point that should worry Trump advisers, it's that incumbent presidents in the modern era who faced primary challenges failed to win the general election." • Missed this back in September, but it's a good guide to the whacky cast of characters.
2018 Post Mortems
"Midterms reveal South split along urban, rural differences" [Daily Mail]. "An Associated Press analysis of election returns along with data from AP VoteCast, a national survey of more than 115,000 midterm voters, found two factors largely driving election outcomes. Competitive races required both a racially diverse electorate and Democratic success in building support from white voters in growing metro areas. One or the other wasn't enough. For instance, Democratic hopes to make inroads in Kentucky and Tennessee failed because there weren't enough minority voters to rely on. Meanwhile, the GOP maintained its grip on Alabama and Louisiana, states that have a significant minority population but where white voters in metro areas often voted in line with their rural counterparts."

FL: "Puerto Ricans may have elected Rick Scott and other midterm surprises" [The Hill]. "Plenty of political observers thought the Puerto Rican diaspora would be a political boon to Democrats. Unlike Cuban Americans, Puerto Ricans tend to vote pretty heavily for Democratic candidates. But there's a sign that Puerto Ricans might have rewarded Scott's warm welcome. Scott took 42 percent of the vote in Osceola County, a Democratic bastion south of Orlando where President Trump took just 36 percent of the vote two years ago. More Puerto Ricans moved to Osceola County, about 22,000, than to any other county in the country, except neighboring Orange County. Miami-Dade County was the third-most common destination for Puerto Ricans. Scott outperformed Trump in all three counties — and those votes alone gave him the margin he needed to beat Sen. Bill Nelson (D)." • Messing up the "coalition of the ascendant narrative, here. Can any Florida readers shed light?
Realignment and Legitimacy
"House Democrats Don't Know What to Make of Alexandria Ocasio-Cortez" [The Atlantic]. "The Democrats don't have a huge majority, so just a few votes could make or break party unity on legislation." • Good. At last the left has leverage. Let's see if they know how to use it.

"Are Sex Workers Becoming a Viable Political Bloc?" [Rolling Stone]. "Not long ago, most porn stars, escorts, strippers and cam-girls wouldn't feel comfortable entering the political scuffle. But thanks to a confluence of factors — including Stormy Daniels, arguably the world's most famous sex worker, making herself a symbol of the anti-Trump resistance — the sex-work community has become America's newest niche political bloc…. [I]t wasn't until the passage of the so-called Online Trafficking bill SESTA-FOSTA last spring that many workers began to organize locally, forming grassroots coalitions not just to oppose the bill but also to support sex work decriminalization efforts more broadly." • Not seeing any numbers for this "political bloc."

"The Illegitimacy of the Ruling Class" [In These Times]. "Fracture, however, is not a sufficient prerequisite for social change. In the context of lives stretched thin by economic precarity, political instability can also be met with apathy. When you are working two jobs to make ends meet, it's hard to find energy for political engagement or to discern a meaningful difference between candidates when government always seems to provide more of the same. One can argue that the prior hegemonic order was sustained less by widespread faith in its virtue than by widespread disengagement, a resignation that elites are all too happy to abet."

"Here's how Republicans hijacked a bill designed to 'Help America Vote' — and used it to block people from voting" [Greg Palast]. "It started with the 2000 election 'debacle' in Florida…. Maryland Democratic Congressman Steny Hoyer reached out to Ohio Republican Congressman Bob Ney to collaboratively write legislation that would ensure that our elections could, after 200-plus years of mostly race-based 'shenanigans,' actually make it easy and convenient for every eligible voter in America to both vote and have their vote counted. The result was the Help America Vote Act (HAVA) of 2002, aka HR 3295." • This is well worth a read. While HAVA instigated the wave of horrid e-voting mahines, Palast also shows that voter purges (which also took place in Florida) are a real problem. (HAVA is an excellent proof-by-example that bipartisan legislation is often to be feared.

"How Douglas Bruce And The Taxpayer's Bill Of Rights Conquered Colorado" [The Taxman]. "The sweeping measure took away legislators' ability to raise taxes without approval from a majority of voters, and it limits how quickly government revenues can grow. Experts declared it the most restrictive tax and expenditure limitation in the country. Since voters added TABOR to the Colorado Constitution 25 years ago, it's become a boogeyman that politicians blame fiscal problems on. Colorado today has "one of the five best economies in the United States," said former Gov. Roy Romer, who fought Bruce tooth and nail during the campaigns for TABOR. Then Romer drops the other shoe. "We have one of the five worst education systems." The Democrat pins that disparity on a lack of funding partially caused by the procedural machinations of TABOR."
Stats Watch
Chicago Fed National Activity Index, October 2018: "Employment gave a sizable boost to the national activity index in October" [Econoday]. "[P]ayroll growth more than doubled." And: "Chicago Fed 'Index Points to a Slight Increase in Economic Growth in October'" [Calculated Risk]. "[E]conomic activity was slightly above the historical trend in October (using the three-month average)."
Dallas Fed Manufacturing Survey, November 2016: "Readings cooled noticeably in the Dallas manufacturing report for November with general activity coming in far below consensus" [Econoday]. The production and new orders indices slowed. "The price of oil is key to this sample and the ongoing downdraft didn't pick up pace until late in the month. It will be the next report for December, where oil's impact will be more fully felt, that could see even greater slowing." And: "This is a solid reading, but suggests growth is slowing in the Texas region" [Calculated Risk].
Retail: "Singapore malls try big gambit to stay ahead of e-commerce" [Jakarta Post]. "With some of the nation's biggest mall operators reporting falling rents and rising vacancies, landlords, just like those elsewhere in Asia and the U.S., are being forced to reposition. They're making room for yoga studios, boxing gyms and climbing walls — plus expanding their food and beverage options — to make sure people come for the dining and fun, and hopefully, stay for some shopping." • Not sure how this is different from existing malls…
Retail: "There Is No Crisis of Retail Vacancy in Manhattan" [New York Magazine]. "You may have heard that 20 percent of retail storefronts in Manhattan are vacant. But as Rebecca Baird-Remba reported for the Commercial Observer earlier this month, you heard wrong…. Anyway: Comprehensive data about retail vacancy in Manhattan doesn't exist. And nobody has actually promulgated a 20 percent estimate of the phenomenon people claim to be decrying: vacant, closed, unoccupied retail stores…. New York, for nearly 400 years, has operated on change. Ossifying our retail landscape isn't in line with our spirit as a city. And we definitely shouldn't do it in reaction to bad statistics." • I dunno. A Manhattan where I travel from Penn Station up to the Upper East Side, and on every block there's at least one empty window isn't the Manhattan I know, statistics aside. Something's out of kilter, stats or no.
Retail: "US Treasury to scrutinize all-cash home sales in Boston" [Boston Globe]. "The US Treasury Department has added Suffolk and Middlesex Counties to a program that requires people who buy homes with cash through shell companies to share their name with the government. It's a bid to combat money laundering in high-end real estate, which critics say is becoming increasingly popular with buyers who can hide their identity behind a limited liability company or other shell entity…. The Treasury launched the program in 2016 in New York and Miami and has gradually expanded by adding more cities and less-expensive purchases. The latest expansion, announced Thursday, will bring the review to 12 housing markets and all deals worth $300,000 or more." • A mere $300,000?
The Bezzle: "Easiest Fix for Facebook: Break It Up" [Bloomberg]. "It's a monopoly, having either bought or crushed most potential competitors. It stifles innovation; as my Bloomberg Opinion colleague Noah Smith noted recently, potential startups can't get capital if venture capitalists think they might wind up as Facebook roadkill. (Such companies are said to be in Facebook's 'kill zone.')…. [T]he idea that makes the most sense — the one with the best chance to dilute Facebook's power, spur innovation and insert competition into the social media industry — is the solution Tim Wu proposes in his new book, "The Curse of Bigness." 2 It's the Occam's razor solution: break Facebook up."
The Bezzle: "So many people are downloading their Facebook data that it's causing delays" [Recode]. "'Over the past two weeks we've experienced a higher volume of Download Your Information requests than usual,' a Facebook spokesperson told Recode when we noticed a few complaints that download requests seemed to be taking a long time. 'This means it is taking longer to process the requests. We are working on it and appreciate people's patience.'" • As Recode points out, "not all download requests are from users preparing to delete their accounts." But why else would anyone go to the trouble?
Tech: "King of kilograms is no more as metric system gets a makeover" [Chemistry World]. "Today marks the end of units of measurement as we know them. At a meeting in Versailles, France, representatives of 60 countries have unanimously agreed to overhaul the base units' definition and, from now on, link them to fundamental laws of nature…. The decision has ended the reign of the king of kilograms, the 140-year-old platinum–iridium cylinder known as le grand K. The original kilogram is kept in a vault in Paris and all mass measurements on the planet can be traced back to it… Since the metre bar became obsolete in 1960, the kilogram has remained the last unit dependent on a physical artefact." • So, the système international d'unités has gone fiat?
Tech: "An Analysis of the ProtonMail Cryptographic Architecture" (PDF) [Nadim Kobeissi, Symbolic Software]. "In this work, we provide the first independent analysis of ProtonMail's cryptographic architecture. We find that for the majority of ProtonMail users, no end-to-end encryption guarantees have ever been provided by the ProtonMail service and that the Zero-Knowledge Password Proofs are negated by the service itself." • Well, that's unfortunate, because Yahoo is getting so flaky I was thinking of finally ditching it, after — wow — 14 years. I suppose the Swiss servers are good for something, crypto aside. Readers?
Rapture Index: Unchanged [Rapture Ready]. Record High, October 10, 2016: 189. Current: 180. Testing whether 180 is a floor.
Gaia
"The environment: what's in a word?" [Nature]. "Are we robbing the next generation by impoverishing the planet? Can we find a way for economies to grow without depleting the environment? Barely 50 years ago, such provocative questions might have seemed unimaginable. This was not because people were unaware of the damage already wreaked. Instead, as an intriguing book reveals, no one had fully conceptualized the intricate interconnections of nature. Without that framing, humanity could not adequately describe the scale of its own impact on the planet. From the infinitely complicated was born a simple term: the environment." • Not a term around which mobilization can take place, in retrospect…
"Economics of Climate Change: How to Stop Global Warming by 2030" [John Laurits]. "The good news is that scientists from across the world have analyzed over 6,000 studies and concluded that it is possible to limit global warming to 1.5°C using today's technology — but there is a catch. Though it is possible within the laws of physics and chemistry, it would require unprecedented efforts at a planetary scale to pull off the greatest hustle in world-history (and probably galactic or even universal history) to transform the global energy-system, overhaul supply-chains, and replenish a pilfered ecosystem but — and here's the kicker — it all needs to be halfway done in about 12 years…. The first thing would be to open the throttle on spending, mobilizing the idle workforce by funding a workers' self-managed federal job-guarantee, as well as programs to assist workers in establishing construction co-ops capable of building new infrastructure for transportation and energy and to assemble movable labor-armies led by workers for large-scale reforestation and similar efforts." • Speaking of mobilization…
Water
"Pistachio Wars: Killing California for a Snack Food" [KickStarter]. "For the past three years, I've been working with filmmaker Rowan Wernham on a documentary that investigates how a small group of billionaires have taken control of California's water — they have used that control to drain rivers, fuel real estate bubbles, build vast plantations in the middle of a desert, and left a trail of abuse, pollution, and environmental collapse behind them." • Normally I'd think twice, and then a third time, before linking to a KickStarter, but this is the great Yasha Levine, so…
Guillotine Watch
"Giving the ultra-rich financial advice doesn't make you one of them" [MarketWatch]. "Advisers who win over the wealthy demonstrate unruffled professionalism. Aside from rarely acting flustered, they showcase their natural personality without any fakery. 'When you have lots of money, people circle around you,' Keffeler said. 'So you'll select an adviser who, rather than seeing you as an opportunity, connects with you as a human.'" • "The secret of success is sincerity. Once you can fake that you've got it made."
Class Warfare
UPDATE "Alexandria Ocasio-Cortez has a point about housing for Congress" [Curbed]. "Housing is political, especially during a critical affordable housing shortage. With the increasing cost of life in Washington, and skyrocketing cost of a successful campaign—this year was the most expensive election on record—there are important questions to be asked about how and where politicians live. Does the cost of being a politician deter some of lesser means from pursuing public service?… But if we want a more equitable government, we should find a way to get a more financially diverse group of leaders elected." • It's not just housing. When I was doing the worksheets for the mid-terms and looking at candidate's careers, working class people were few and far between. Perhaps they weren't comfortable with the idea of spending four hours each and every day on the phone sucking up to the donor class (which they woud have to do for DCCC support. Perhaps one reason AOC is so ubiquitous is that she doens't have to do that?)
"The Thibodaux Massacre Left 60 African-Americans Dead and Spelled the End of Unionized Farm Labor in the South for Decades" [Smithsonian]. "In the sugar parishes arcing through the southern part of the state from Berwick Bay to the Mississippi River, African-American men voted. The Republican Party, which supported black civil rights, was stronger in sugar country than anywhere else in the state. By the late 1860s, African-Americans became legislators or sheriffs, and black volunteer militias drilled, despite living and working conditions still bearing the marks of slavery. In 1874, nine years after slavery ended in the United States, cane cutters demanded a second emancipation. They wanted a living wage, or at least the chance to rent on shares…. Then the killings started."
"Privilege: White, American, or Imperial?" [Zero Anthropology]. " One might think, if you subscribe to the concept [of white privilege], that the whole point of racism is just to produce racial inequality, not capital accumulation." • See above.
UPDATE "How the baby boomers — not millennials — screwed America" [Vox]. • No. And no.
News of the Wired
UPDATE "Cockney Cats" [Spitalfields Life]. Photos from a vanished time. My favorite is "Old Bill the railway cat, his favourite position is the entrance to Blackfriars Station."
UPDATE "The microscopic structure of a cat's tongue helps keep its fur clean" [The Economist]. "Of the ten hours a day that a domestic cat deigns to remain awake, it spends a quarter licking dirt, fleas, blood and loose hairs from its fur. Cats' tongues, specialised for this task, are covered in hundreds of backward-facing keratin spines. But exactly how these cone-shaped protuberances, called filiform papillae, work to give the animals such mastery over their cleanliness has remained unknown until now…. The two researchers found that the filiform papillae were shaped not, as had previously been thought, like solid cones. Rather, they resembled tiny scoops. Each had a small groove—named a cavo papilla by the team—at its tip. This structure permits surface tension to wick saliva from a cat's mouth and release it into the farthest recesses of the animal's fur. During each lick, about half of the saliva on the tongue is so transferred. Saliva serves as a multi-purpose cleaning agent and the cavo papillae also assist the absorption, for the return journey, of any dirt or blood that needs removing. The cat's tongue therefore 'acts like a loofah and a sponge at the same time', says Dr Hu." • Perhaps too much information… But I wonder if this true for all cats, like lions and tigers, or just domestic cats?
"The 1-hour workday" [Science]. "I noticed a few senior colleagues who published with impressive regularity and always had a paper in the works. When I asked them what their secret was, I found that they prioritized doing small amounts of focused writing every day. I've since developed my own version of this approach. I call it the 1-hour workday, referring to the short, sacrosanct period when I do what I see as the 'real' work of academia: writing papers. First thing in the morning is when I'm at my mental best, and when I'm still most in control of my time, so I now use the first hour of my day to write. For me, it's best done from home. I've developed something of a ritual: I wake up early, make an espresso, and write until I'm spent…" • Seems like a good idea. But… nice work if you can get it!
"I Found the Best Burger Place in America. And Then I Killed It." [Thrillist]. "In my office, I have a coffee mug from Stanich's in Portland, Oregon. Under the restaurant name, it says "Great hamburgers since 1949." The mug was given to me by Steve Stanich on the day I told him that, after eating 330 burgers during a 30-city search, I was naming Stanich's cheeseburger the best burger in America… Five months later, in a story in The Oregonian, restaurant critic Michael Russell detailed how Stanich's had been forced to shut down. In the article, Steve Stanich called my burger award a curse, 'the worst thing that's ever happened to us.' He told a story about the country music singer Tim McGraw showing up one day, and not being able to serve him because there was a five hour wait for a burger. On January 2, 2018, Stanich shut down the restaurant for what he called a 'two week deep cleaning.' Ten months later, Stanich's is still closed. Now when I look at the Stanich's mug in my office, I no longer feel light and happy. I feel like I've done a bad thing." • If only Stanich had been a Sentinel Islander…
UPDATE "Long-Term Diet of Vegetables, Fruit Tied to Less Memory Loss in Men" [MedPage]. n = 27,842. "Greater intake of total vegetables, total fruit, and fruit juice across middle to late adulthood were associated with lower odds of moderate poor subjective cognitive function in later life, reported Changzheng Yuan, ScD, of the Harvard T.H. Chan School of Public Health in Boston, and colleagues…. Leafy greens, dark orange and red vegetables, and berry fruits showed the strongest links in subgroup analyses." • Note, however, the limitations in the final paragraph: The study was confined to professionals!
* * *
Readers, feel free to contact me at lambert [UNDERSCORE] strether [DOT] corrente [AT] yahoo [DOT] com, with (a) links, and even better (b) sources I should curate regularly, (c) how to send me a check if you are allergic to PayPal, and (d) to find out how to send me images of plants. Vegetables are fine! Fungi are deemed to be honorary plants! If you want your handle to appear as a credit, please place it at the start of your mail in parentheses: (thus). Otherwise, I will anonymize by using your initials. See the previous Water Cooler (with plant) here. Today's plant (BCexpat):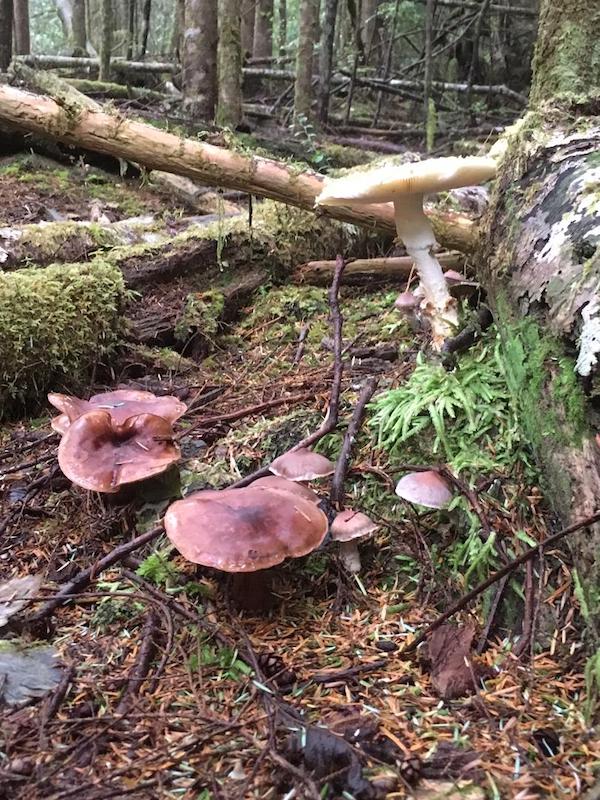 BCexpat writes: "From British Columbia, think the pale is a muscaria, was light yellow. Lots of shrooms after the rains started. Photo is a good representation: multiple fruitbodies per square foot. Multiple species per square foot."
* * *
Readers: Water Cooler is a standalone entity not covered by the annual NC fundraiser, now completed. So do feel free to make a contribution today or any day. Here is why: Regular positive feedback both makes me feel good and lets me know I'm on the right track with coverage. When I get no donations for five or ten days I get worried. More tangibly, a constant trickle of small donations helps me with expenses, and I factor that trickle in when setting fundraising goals. So if you see something you especially appreciate, do feel free to click below! (The hat is temporarily defunct, so I slapped in some old code.)
Or Subscribe to make a monthly payment!