By Lambert Strether of Corrente.
Politics
"But what is government itself, but the greatest of all reflections on human nature?" –James Madison, Federalist 51
2018
MS Senate: "3 Things to Watch in the Mississippi Senate Runoff" [Roll Call]. "High African-American turnout is Espy's best shot at winning or even keeping it close….. Major League Baseball, Walmart and a handful of other companies have asked Hyde-Smith to return their campaign contributions in the days leading up to the election. The question is whether that could translate to voters souring on her, too…. Hyde-Smith is hoping that President Donald Trump's support will be enough to push her across the finish line Tuesday — he won Mississippi by 18 points in 2016."

MS Senate: "Why Cindy Hyde-Smith is a near-lock to win in Mississippi today" (interview) [Chris Cilizza, CNN]."Espy getting to 45% would be a strong showing, though it would likely point more toward Hyde-Smith's weakness as a candidate than his strength. All in all, don't be surprised to see a 60-40 race. For all the national attention, I don't think the needle has moved much here."

MS Senate: "Mike Espy's path to an upset victory in the Mississippi Senate runoff" [Vox]. "One recent ad, a closing argument of sorts, touts [Espy's bipartisan record, pointing out that the first bill he ever got passed through Congress was signed by Ronald Reagan…. Brandon Finnegan, who runs Decision Desk HQ, pointed to two counties — Harrison and Rankin — as good indicators of whether Espy is eroding the Republican advantage in these suburban areas. Rankin, just to east of the state capital of Jackson, voted for Donald Trump by 50 points over Hillary Clinton. Harrison, home to Biloxi and Gulfport, broke for Trump by 31 points. A little headway in those counties would bode well for Espy."

* * *

"The Pathetic Pelosi Putsch" [Politico]. "Pelosi strides into Wednesday's House Democratic Caucus elections with her head held high, and her high heels on Moulton's neck. She remains without a Democratic challenger. She has unleashed a wave of support from the Democratic faithful, from Barack Obama on down. She turned two of Moulton's allies who had, just days before, stated their opposition to her. A third opponent suggested he'll vote for Pelosi on the floor if no other Democratic option emerges. And she has kept several other Serve America PAC alumni from jumping aboard Moulton's rickety bandwagon…. Moulton failed to unite [dissident Democrat] factions. There is only one Congressional Progressive Caucus member on his public letter opposing Pelosi, and only one member of the Problem Solvers."
2018 Post Mortem
UT-04: "GOP Rep. Mia Love Slams Trump in Concession Speech" [Courthouse News]. Love: "'This election experience and these moments shine a spotlight on the problems Washington politicians have with minorities and black Americans. It's transactional. It's not personal,' Love said. 'We feel like politicians claim they know what's best for us from a safe distance. Yet they're never willing to take us home. Republicans never take minority communities into their homes and hearts; they stay with Democrats and bureaucrats in Washington because they make them feel like they have a home." • Not transactional…
Realignment and Legitimacy
"Hope for Fixing the Heart of America's Voting Problems" [Governing]. "Another problem is the shortage of poll workers, who can make the difference between a smooth, efficient electoral process and a chaotic one. Good workers are getting harder to find. In the wake of the 2012 election, President Barack Obama ordered a full review of all election procedures. The national commission he created found that one of the central weaknesses of the electoral system was 'the absence of a dependable, well-trained corps of poll workers.'" • Uh oh….

I don't mean to signal boost AOC every day, but this is so good. Note the media critique in the first tweet!

How about if
a) You aren't a scientist; or
b) Have no interest in citing scientific consensus on climate change; or
c) Are financed by groups with a proven interest in denying climate science,

Then you shouldn't have a seat at the table w/ people addressing climate change.

— Alexandria Ocasio-Cortez (@Ocasio2018) November 25, 2018

Suggesting that lobbyists not have "a seat at the table"… This young lady has a lot to learn…
Stats Watch
Consumer Confidence, November 2018: "The consumer confidence index… continues to hold… not far from the all-time high" [Econoday]. "[A] very favorable sign for next week's November employment report comes from jobs-hard-to-get which fell… Ongoing trouble in the stock market isn't really hurting this report much though the percentage of bulls is noticeably down…. Yet it's the strength of the jobs market that is the most important factor in the Conference Board's report, one that continues to point to unusually favorable conditions for the economy including for the nation's retailers."
S&P Corelogic Case-Shiller Home Price Index, September 2018: A "moderate and expected" rise [Econoday]. "Housing has been sagging the last six months and prices are a very visible indication of the weakness. However strong the 2018 economy will prove to be, it won't include home prices which are a central source of household wealth." And but: "I continue to see this a situation of supply and demand. It is the affordability of the homes which is becoming an issue for the lower segments of consumers. With the rise in mortgage rates, it is pricing more and more consumers out of the market. If mortgage rates continue to rise – we likely will see some retrenchment in home prices" [Econintersect]. But: "November 2018 Conference Board Consumer Confidence Declined" (2 points) [Econintersect]. "Consumer confidence has been on a multi-year upswing. The softening this month could be the beginning of a downtrend – or at a minimum is showing a growing uncertainty by consumers this month."
Federal Housing Finance Agency House Price Index, September 2018: "the weakest showing since March this year" [Econoday]. "Growth in home prices has been slowing visibly this year for a housing sector, where demand is flat and mortgage rates going up, that is the big disappointment of the 2018 economy."
Shipping: "The U.S. Postal Service handles many last-mile deliveries for both [UPS and FedEx], and it has been preparing for the [expected blizzard of holiday e-commerce packages] by leasing more space and planning additional routes to help deliver a projected 900 million holiday packages" [Wall Street Journal].
Tech: "The Federal Aviation Administration is significantly behind schedule for creating rules to identify and track airborne drones…, frustrating companies whose commercial applications for uses such as package delivery remain on hold" [Wall Street Journal]. "Federal regulators and industry advocates have been working together to try and fast-track decisions on reliable remote-tracking methods so that officials can identify suspect or potentially hostile drones. But some experts say the rules may not be finalized until 2022 amid disagreements over how to track flying robots that may operate out of sight of air-traffic controllers. The delay could limit development of applications such as dropping shipments in remote rural areas or using drones to bypass clogged surface streets for deliveries." • Wait, the streets won't be clogged because by the time drones get off the ground we'll have robot cars. Anyhow, it looks like I don't have to buy a loogie gun anytime soon.
Manufacturing: "General Motors Co. is shrinking as consumer demand for passenger cars slides. The company is ending production at several North American plants and slashing up to 14,800 jobs… GM's plans to drop several models from its U.S. lineup, from big sedans to compact cars and its plug-in hybrid, likely upending auto-parts supply chains and raising warning signals over shifts auto manufacturing strategies and the U.S. industrial economy" [Wall Street Journal]. "The company is idling three assembly plants in Ohio, Michigan and Ontario, and two smaller transmission factories, cutting off significant demand for materials and parts. The decision is raising a political firestorm over the impact of tariffs on GM's costs, but the company's action goes beyond cost cutting. GM's goal is streamlining its core business while gaining room to invest in new technology like electric and self-driving vehicles."
Manfacturing: "UAW to Challenge GM Over Plant Closings" [Industry Week]. "To that end, the UAW and its membership will do its part to convince GM and all American employers that the American consumer market should support American-made products by building where we buy products. Simply said, American consumers need to be patriotic consumers by joining the UAW in this effort in saying 'No' to American companies that choose foreign workers over American workers and imported products over U.S.-made products." • Why not occupy the plants? Anyhow, here's the information:
Also, in the statement, the UAW explained how to ensure that a car is made in America. "Be informed when making an American company automobile purchase: Examination of the driver-side window near the dashboard displays the Vehicle Identification Number plate (VIN) that identifies where the vehicle was assembled. VIN numbers beginning with "1", "4" or "5" were assembled in the U.S., "2" were assembled in Canada, "3" were assembled in Mexico. If it begins with the letters J-R, it was assembled in Asia."
Manufacturing: "Why Automation Needs Apprenticeships" [Industry Week]. "I think it is fair to say that American companies rushed to invest in automation, but did not make a similar commitment or investment in the training needed to operate, maintain, troubleshoot, and repair all of the automation they purchased… I don't think that America's public corporations have bought into the idea of long-term apprentice training, for several reasons. First, public corporations today are financially driven by short-term results—and 8,000-hour training programs would probably not meet their return-on-investment objectives. Second, it is pretty obvious they thought they could get by with short-term and on-the-job training. Third, I think these corporations would also be resistant to the idea of investing in years of training for a worker to obtain a journeyman certificate that allows them the credentials to then shop their skills to the highest bidder." • See below under "Class Warfare" for similar issues with medieval smiths….
Transportation: "Scooters Are Suddenly Everywhere. What Should Cities Be Doing About It?" (interview) [Governing]. Governing interviews David Estrada, a top policy expert from Bird, the company that started the scooter craze. Estrada: "You need to start in the densest areas where the traffic is, where you're going to solve the problem and where there is the most need. So you're going to start in the city center. You're serving everyone who is working in the city center. So we see the biggest plurality is people in their 30s. Then you make your way out from there…. A city should start from the perspective of, 'Let's use these to replace cars.' That's where we align…." • Hmm. I don't drive, so I'm not sure, but do scooters really substitute for cars? I mean, where's the cupholder?
Transportation: "What is the business case for autonomous vehicles in the supply chain?" (roundtable discussion) [Supply Chain Dive]. Mike Ramsey
Senior Research Director, Automotive and Smart Mobility, Gartner, "In practice, however, autonomy already exists and is saving companies money in the supply chain. Rio Tinto is operating more than 80 autonomous mining trucks in Australia. In 2016, on average, each of Rio Tinto's autonomous haul trucks operated an additional 1,000 hours and at 15% lower load and haul unit cost than conventional haul trucks. As the technology improves and comes down in cost, businesses will find that moving goods inside of factories and between factories and warehouses makes financial sense. This return-on-investment-based thinking of automation isn't as sexy as a fleet of 80,000 Waymo cabs picking up passengers around the globe, but it is a more likely future. Companies such as Einride, in Sweden, believe there is a $1 trillion market for autonomous logistics aimed precisely at this market. That company's electric truck has begun running pallets on a 10 km stretch between warehouses owned by German logistics company, Schenker, in the Swedish city of Jönköping." • Figure out a fixed route in a controlled environement, and the need for Level 5 goes away.
Transportation: "Are We Building the Electric Vehicle Charging Infrastructure We Need?" [Industry Week]. "Currently, 55,000 public charging points in 19,300 stations (including 8,800 DCFC) are available across the United States, and more are added every week. These numbers, however, are not nearly enough to support the EV growth predicted for the next decades. A Department of Energy study estimates that if, in 2030, we will have 15 million EVs in the United States, then we will need 27,000 DCFC and 600,000 Level 2 outlets in public locations. The bulk of that EV supply equipment would be needed in cities, as well as in smaller towns, rural areas, and interstate corridors. To encourage EV adoption, it is essential to increase the supply of both public charging geared towards long distance trips on highways and charging in residential and office areas." • This is a very useful review of all the players. But I don't see anything about standards for the plugs. It woud be nice if EV charging plugs worked like consumer appliances (standardized for all products) and not like computer charging plugs (a horrid mess of incompatibility).
Gaia
"Climate change is pushing the farm belt northward. Farmers are plowing up forests and planting corn in former wheat fields…., as rising temperatures extend the growing season and expand regions where some crops can be grown" [Wall Street Journal]. "Warming temperatures have helped increase U.S. corn harvests and boosted corn and soybean acreage in Canada. The boom is also driving expansion of business lines that process and transport crops. Companies are adding more grain-shipping facilities in Canada, and the Port of Prince Rupert on Canada's west coast has nearly doubled its agricultural exports since 2008. Agricultural giants such as DowDuPont Inc. are pushing to develop hardier varieties that mature faster so farmers can take advantage of climatic shifts. Still, over time climatic factors such as drought and soil erosion are expected to cut overall production."
"The Insect Apocalypse Is Here" [New York Times]. "Within days of announcing the insect-collection project, the Natural History Museum of Denmark was turning away eager volunteers by the dozens. It seemed there were people like Riis everywhere, people who had noticed a change but didn't know what to make of it. How could something as fundamental as the bugs in the sky just disappear? And what would become of the world without them?" • Another project for a Jobs Guarantee…
"The Sequel: life after economic growth" [Tikkun]. "[O]ur leaders hold tight to their simple answer – growth. Having worked supporting people with drug addiction for several years, it is hard to escape the parallels to the more tragic cases. The dire consequences of our choices are piling ever higher around us, threatening the very continuation of our lives and those around us. And the response is to double down on the current path and turn a blind eye – to sink deeper into denial. It is just too difficult, too brave, to undergo that dark night of the soul – to admit the problem, to seek a new paradigm…. Most people – even most economists – never question the desirability of these measures, as if mastery of them could somehow heal an economy so violently contrary to our human instincts and desires that it leaves epidemics of depression, loneliness and suicide everywhere it goes."
"Lights Out, Clean Green: How Janitors Are Boosting High-Rises' Sustainability" [Capital & Main]. "Janitors can tell you down to the tenant – to the desk – who doesn't care and just throws everything in the trash or contaminates the recycle bin."
Metaphor (1):
"3… 2… 1.." – A huge chimney has been demolished in South Australia. It was constructed in 1984 and was 200m (656ft) high.

For more news and video from around the world, head here: https://t.co/iOm40vn1kt pic.twitter.com/vY0jfUNMft

— Sky News (@SkyNews) November 24, 2018
Metaphor (2):
Not quite sure it is real, but if it is…Wow!https://t.co/NxFidWLnd4

— Chytowns J (@j_chytown) November 23, 2018
I believe this is an example of tight coupling. (That warehouse collapse is not this warehouse collapse.)
Police State Watch
Just imagine if the Stasi had gone digital:
East German secret police guide for identifying youth subcultures. Circa 1985. #yesreally pic.twitter.com/TXF1iFBTNT

— S. Alexander Reed (@industrial_book) November 24, 2018
The 420
They're not wrong:
April of 2020 is gonna be wild. The whole month will be 4/20. 4/20/20 at 4:20 is gonna be the bong rip heard 'round the world.

— calf-cramping noir goth ?☠️? (@Wrend_Wravyn) November 21, 2018
Class Warfare
"What was the role of the Blacksmith in medieval society?" [Medievalists.net]. "Away from the battlefield, the smith learnt his trade form a Master, who often employed several apprentices from a young age. Advancement from apprentice to Master was by no means guaranteed and rested entirely upon being noticed as a talented worker who was likely to be worthy of patronage or of lending money to. The Master himself would have been raised through the ranks in this manner, which was designed to forge the best blacksmiths as well as to regulate the number of workers to reduce competition and preserve the prestige of the business. Masters were unlikely to be too lenient towards their apprentices as it was only the master who would suffer financially in turn. It is interesting to note the basic parallels between smiths at this stage and the same process of advancement for young knights seeking recognition. The industry itself, like many others, assumed legitimacy by creating a guild that was administered by the Masters which served the purpose of regulating the number of smith apprentices permitted and the materials allowed." • Lots of interesting detail on smiths and smithery.
News of the Wired
"Why Don't We Forget How to Ride a Bike?" [Scientific American]. "As it turns out, different types of memories are stored in distinct regions of our brains. Long-term memory is divided into two types: declarative and procedural. There are two types of declarative memory: Recollections of experiences such as the day we started school and our first kiss are called episodic memory. This type of recall is our interpretation of an episode or event that occurred. Factual knowledge, on the other hand, such as the capital of France, is part of semantic memory. These two types of declarative memory content have one thing in common—you are aware of the knowledge and can communicate the memories to others. Skills such as playing an instrument or riding a bicycle are, however, anchored in a separate system, called procedural memory. As its name implies, this type of memory is responsible for performance…. Even with traumatic brain injury the procedural memory system is hardly ever compromised. That's because the basal ganglia, structures responsible for processing nondeclarative memory, are relatively protected in the brain's center, below the cerebral cortex. However, it's not clear, beyond brain damage, why procedural memory contents are not as easily forgotten as declarative ones are."
"Why the Enlightenment was not the age of reason" [Aeon]. "However, to say that the Enlightenment was a movement of rationalism against passion, of science against superstition, of progressive politics against conservative tribalism is to be deeply mistaken. These claims don't reflect the rich texture of the Enlightenment itself, which placed a remarkably high value on the role of sensibility, feeling and desire…. In France, the philosophes were surprisingly enthusiastic about the passions, and deeply suspicious about abstractions. Rather than holding that reason was the only means of battling error and ignorance, the French Enlightenment emphasised sensation. Many Enlightenment thinkers advocated a polyvocal and playful version of rationality, one that was continuous with the particularities of sensation, imagination and embodiment. "
"The Seven Deadly Social Networks" [The Atlantic] • Apparently, sin scales. This illustration (not sure where it comes from) maps sins to social media platforms, but differently: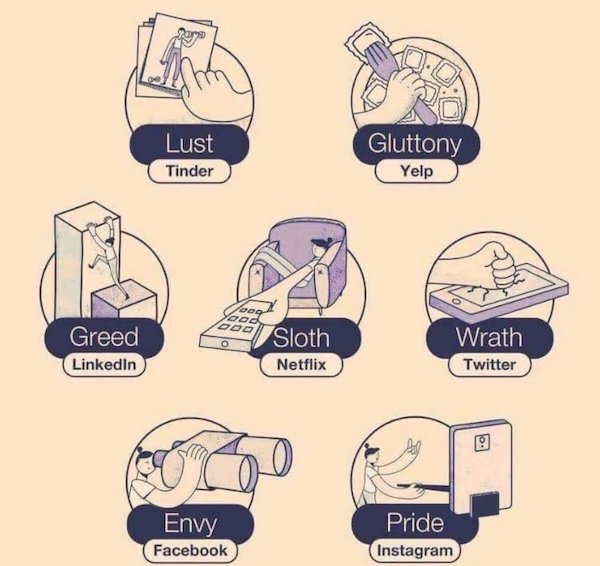 But Twitter is often very funny and not wrathful at all:
jerry: you ate the plums in the icebox?
george: I ATE THE PLUMS, JERRY
jerry: how could you eat the plums?
george: THEY WERE SO SWEET AND SO COLD

— left at london (@LeftAtLondon) November 24, 2018
(See subsequent riffing on the concept, too.) For those who came in late, the source of the parody.
* * *
Readers, feel free to contact me at lambert [UNDERSCORE] strether [DOT] corrente [AT] yahoo [DOT] com, with (a) links, and even better (b) sources I should curate regularly, (c) how to send me a check if you are allergic to PayPal, and (d) to find out how to send me images of plants. Vegetables are fine! Fungi are deemed to be honorary plants! If you want your handle to appear as a credit, please place it at the start of your mail in parentheses: (thus). Otherwise, I will anonymize by using your initials. See the previous Water Cooler (with plant) here. Today's plant (albrt):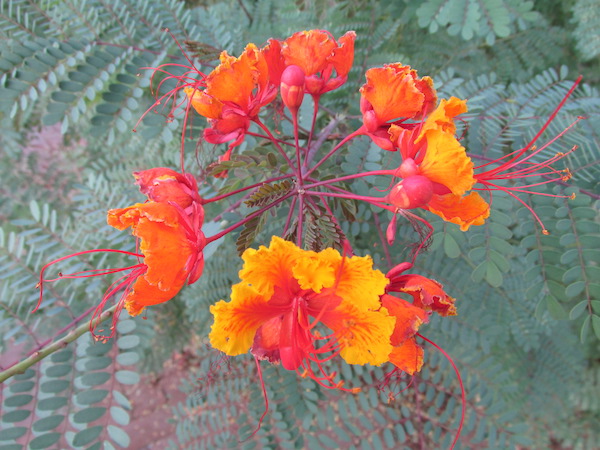 Red Bird of Paradise from albrt's garden in Phoenix, AZ.
* * *
Readers: Water Cooler is a standalone entity not covered by the annual NC fundraiser, now completed. So do feel free to make a contribution today or any day. Here is why: Regular positive feedback both makes me feel good and lets me know I'm on the right track with coverage. When I get no donations for five or ten days I get worried. More tangibly, a constant trickle of small donations helps me with expenses, and I factor that trickle in when setting fundraising goals. So if you see something you especially appreciate, do feel free to click below! (The hat is temporarily defunct, so I slapped in some old code.)
Or Subscribe to make a monthly payment!