By Lambert Strether of Corrente.
Readers, sorry for the excitement, but we are back up. –lambert 3:44PM
Trade
"Will the new trade deal prevent Mexican trucks from entering the U.S.?" [Freight Waves]. "While most of the deal is an update to NAFTA, there is a paragraph inserted into the agreement that could disrupt cross-border trade via truck…. While the section doesn't implicitly state that the U.S. would halt the current cross-border trucking program, which allows approved Mexican-based carriers to operate outside the current commercialized zone along the border, it does seem to suggest that the U.S. could end the controversial program if it chooses. That would be a departure from where the two nation's stand and a win for the Teamsters and other anti-Mexican trucking groups. There is speculation in some circles that once the agreement is formally approved, the Teamsters may make a renewed push to get Mexican trucks off U.S. roads for good."
"Their Soybeans Piling Up, Farmers Hope Trade War Ends Before Beans Rot" [New York Times]. "But this year, the Chinese have all but stopped buying. The largest market for one of America's largest exports has shut its doors. The Chinese government imposed a tariff on American soybeans in response to the Trump administration's tariffs on Chinese goods. The latest federal data, through mid-October, shows American soybean sales to China have declined by 94 percent from last year's harvest."
"Tariffs are being slowly but surely absorbed into the supply chains of American business. A broad range of companies reporting third-quarter earnings say they are blunting the effects from escalating tariffs with China through price increases or changes to their supply chains. But the WSJ's Theo Francis reports that many also are warning investors that the picture could worsen next year" [Wall Street Journal]. "An analysis of recent financial reports shows tariffs have slowed timber and grain shipments, raised the cost of clothes hangers and heavy-equipment materials, and compressed margins for chip- and toolmakers…. Some companies say tariffs are dampening demand for exports to China, which is hitting transport networks. Railroad giant Union Pacific Corp. says the season's typical grain-shipment increase hadn't materialized, partly due to Chinese tariffs."
"Jack Ma Labels Trade War 'Most Stupid Thing' as Tensions Boil" [Industry Week]. "China's richest person — who warned just last month that a trade war could last two decades — argued it was pointless to target goods because the Asian nation was on its way to becoming a major buyer of foreign products. Indeed, it's services — such as those on the internet — powering job growth, not old-school manufacturing, the outgoing Alibaba Group Holding Ltd. chairman told a business forum Monday…. While Alibaba gets most of its revenue from domestic commerce, Ma and his fellow executives have championed China as a destination for foreign-made products — American or otherwise."
Politics
2018
1 day until Election Day, tomorrow. That's not a long time at all!

"Wall Street and business donors bet on Democrats" [Financial News]. "Democratic donors from the financial industry banded together this year to form a group called the House Victory Project, which accepts contributions of as much as $108,000 from donors and parcels them out to 37 Democratic House candidates in some of the country's tightest races, Federal Election Commission paperwork shows. Individuals can give no more than $2,700 to a campaign for each election… The group raised more than $14m as of October 17, from donors including Frederick Iseman, founder of private-equity firm CI Capital Partners, and Alan Patricof, founder of the venture-capital firm Greycroft LLC…. Other big-named donors to the House Victory Project include James Attwood, managing director of the Carlyle Group, a private-equity firm; Jeff Zients, president of the Cranemere Group and Obama's former economic adviser; and , former Treasury secretary under Obama." • "Bob Rubin called. He wants his administration back."

"A Few Moves on the Eve of the Election" [Inside Elections]. "The disparity between the two parties is reminiscent of 2010, when our pre-election list of competitive races included 100 Democratic seats and just nine Republican seats. Democrats lost 63 seats that cycle. Republicans are unlikely to lose that many seats this cycle, but the battleground is one of the biggest reasons why Democrats are likely to regain the majority- because they need to win less than a third of the competitive seats."

"Final House Ratings: 75 Competitive Races, Ten Rating Changes' [Cook Political Report]. "Just by winning all of the races at least "leaning" their way, Democrats would net 16 of the 23 seats they need for a majority. In that scenario, Democrats would only need to win eight of the 30 races in Toss Up to win control (they currently hold one Toss Up, Minnesota's 1st CD). Conversely, Republicans would likely need to win 23 of the 30 Toss Up races to keep their majority. That's not impossible, but it's very difficult."

"Final picks for 2018" [Larry Sabato's Crystall Ball]. "The 2018 midterm has long been a study in contradictory signs…. Our expectations for this election have been consistent for the past several months…. Our ratings changes leave 229 seats at least leaning to the Democrats and 206 at least leaning to the Republicans, so we are expecting the Democrats to pick up more than 30 seats (our precise ratings now show Democrats netting 34 seats in the House, 11 more than the 23 they need)."

"Nate Silver says Dems could retake House, or not: 'Both extremely possible'" [The Hill]. "'[N]o one should be surprised if they only win 19 seats and no one should be surprised if they win 51 seats,' Silver added. 'Those are both extremely possible, based on how accurate polls are in the real world.'"

"Polling in Real Time: The 2018 Midterm Elections" [Nate Cohn, New York Times]. • Scan down the right hand column for the Undecideds. The numbers are enormous. Cohn tweets:

Across our 28 polls in districts rated as "tossups' by the Cook Political Report, we have the Democrats leading by a little under 1 point
Democrats only need about one-third of these districts to take the House, but there are a lot of close races out there

— Nate Cohn (@Nate_Cohn) November 5, 2018

"Prediction Markets See Republicans Losing House, Keeping Senate" [Bloomberg]. "The bet viewed as the safest is that Democrats will secure a net gain of 23 seats to take the House majority for the first time since 2010."

"Dem Avg Gain +26.5 (23 Seat Gain Needed for Dems to Take Control)" [RealClearPolitics].

"Election Day 2018: Here's when to expect the results of the midterms" [MarketWatch]. "Experts think it will become clear relatively quickly whether the Democrats have a "blue wave" that can wrest control of Congress from Republicans. • Between 10:00PM and 2:00AM, absent "nightmare scenarios that push the final outcome until early December."

* * *

"What Is a Wave Election, Anyway?" [Sean Trende, RealClearPolitics]. "So, we start with a definition: A wave election represents a sharp, unusually large shift in the national balance of power, across multiple levels of government." • With lots of nerdy detail about how to measure "an unusually large shift."

"Democrats Are Near Certain to Make Gains in State Legislatures, But How Many?" [Governing]. "despite all the speculation about a "blue wave" forming, Democrats shouldn't count on winning too many chambers. Republicans control two-thirds of the nation's legislative chambers and hold big majorities in many of them. On average, 12 chambers switch hands per cycle. Democrats this year may fall shy of that number…. In many states, Democrats know they almost certainly can't erase GOP supermajorities in a single year. In North Carolina, Democrats are simply setting their sights on taking over enough seats to keep vetoes from Democratic Gov. Roy Cooper from being overriden. There are some states, such as Ohio, where even big wins wouldn't be enough to erase GOP legislative majorities."

Peak liberalism: Sadly, Billy Eichner's Tweet — "I just told a bellhop to vote" — has been deleted. But it was archived [Archive Today].
Realignment and Legitimacy
"The political climate is making Democrats 'eat their feelings.' Here's how to manage the stress." [NBC]. "According to a poll conducted by YouGov and commissioned by the fitness site Daily Burn, Democrats are 50 percent more likely than Republicans to say they're "eating their feelings" as a result of the current political climate. They're also drinking more (a 2-to-1 ratio over their GOP counterparts). The ostensibly good news is that these stressed out Democrats are also working out more, by as much as 40 percent; but even exercise can be overdone."" • So all the jokes about brunch and box wine do have a point….

"Applebee's is betting on stress eaters, and it's paying off" [CNN]. "Applebee's knows you're stressed, and it wants to make you feel better with cheap alcohol and lots of food. That's been the brand's strategy since John Cywinski took over as its president in March of last year. And it's working… Applebee's customers have an average household income of $70,000, the company said. About 30% of its customers are Millennials, but it also sells to Baby Boomers and Gen Xers. And it serves more families and black and Hispanic customers than its peers."

* * *

"Progressivism is Popular and Conservatism is Not!" [Data for Progress]. "An exploration of the crosstabs on the single payer question demonstrates further the popularity of progressive policies. The Upshot/Siena team asked "Do you support the creation of a national insurance program, in which every American would get insurance from a single government plans?" Support for such a program goes beyond Obamacare and the standard position of the Democratic party, and doesn't even mention the popular Medicare program. And yet, it is overwhelmingly popular among swing district Democrats and very popular among swing district independents. Even one-fourth of Republicans support this progressive dream!"

"The Southernization of the Midwest" [Benjamin Studebaker]. "[The Midwest] is the region that has changed the most politically in the last decade. Most of these states have, at some point in the last 10 years, fallen under control of a Republican governor who has attempted to radically reform their labour laws and pension systems in bids to remodel these Midwestern states after the states of the deep south. Their strategy is simple–lower taxes, stifle wage growth, strangle unions, kill regulations, and pirate jobs and investment from the states that fail to do the same. It's a great Midwestern race to the bottom." • Kochistan, I think they call it.

"Cheating with paper ballots" [Freedom to Tinker]. "[P]aper ballots with audits and recounts, by themselves, are not a panacea. They need careful and transparent chain-of-custody procedures, and some basic degree of honesty and civic trust." • Very true.
Stats Watch
Purchasing Managers Services Index, October 2018: "[L]ittle changed from… the mid-month flash but noticeably higher from September" [Econoday]. "The report notes that higher wages and rising borrowing costs are contributing to the rise in input costs and that traction for selling prices is the second highest in nine years of data, hints of overheating that the Federal Reserve will note ahead of this week's FOMC meeting." And but: "Both services surveys are in expansion – and their intensity of growth and general trends are different again this month. Markit shows this sector's growth rate is improving whilst the ISM Services growth rate is slowing. Pretty hard to draw conclusions when one survey is improving and the other slowing" [Econintersect].
Institute For Supply Management Non-Manufacturing Index, October 2018: "October's ISM non-manufacturing index was expected to slow from September's record and it did" [Econintersect]. "The strength in export orders highlights how strong foreign demand is for U.S. services, such as financial services and technical and managerial services. Yet concerns over tariffs particularly with China are a constant refrain of the sample's commentary amid concerns that related costs may soon begin to escalate. Tariffs aside, ISM's non-manufacturing sample has been having an extraordinarily good year."
Employment: "October 2018 Conference Board Employment Index Improved But Rate Of Growth Slowed" [Econintersect]. "Econintersect evaluates year-over-year change of this index (which is different than the headline view) – as we do with our own employment index. The year-over-year index growth rate decelerated 1.7 % month-over-month and 4.6 % year-over-year."
Employment: "Hiring in the transportation and warehousing industries accounted for nearly 10% of the country's job growth last month" [Wall Street Journal]. "E-commerce looks to be driving much of the hiring surge: The parcel and warehousing sectors each added 7,600 jobs in October as employers brace for another expected double-digit increase in online sales during this holiday season. The boost in hiring pushed the logistics operators close to the job gains in manufacturing and construction… Even a slowdown in truck hiring to 2,400 jobs was strong by historical standards, and gave trucking 36,000 new jobs over the past year."
Shipping: "China's big investment in Africa's natural resources is extending into shipping. Cosco Shipping Corp. is looking at buying some 25 large bulk vessels to move bauxite from the West African country of Guinea" [Wall Street Journal]. "The talks between Cosco's bulk shipping unit and Chinese shipyards highlight how the country's maritime operations are increasingly interwoven with broader national industrial policy. From shipyards to port investments, China's shipping businesses are building the scale to handle more of the country's trade demand. Experts say the order of the biggest capesize vessels will be one of the largest ever for dry-bulk ships."
Transportation: "Panasonic Says Gigafactory Profit in Sight as Tesla Ramps Output" [Industry Week]. "Panasonic Corp. is on the verge of turning a profit at the giant U.S. battery factory it operates with Tesla Inc., finally yielding returns for a Japanese company shelling out billions to make power cells for Elon Musk. Panasonic already makes money on batteries for the Model S and Model X, which it produces domestically, President Kazuhiro Tsuga said in an interview. It's now ramping up output at the two-year-old Gigafactory in Nevada, which is dedicated to making batteries for the Model 3 but still losing money, he said."
Tech: "Apple will no longer report iPhone numbers after growth went to 0%, and analysts are now worried iPhone sales may decline" [Business Insider]. "If Apple is worried the iPhone is entering a decline, then not reporting its sales numbers helps it avoid that negative PR. On Friday, many analysts openly worried in notes to clients that the move was an indicator that iPhone growth was over and that negative unit sales growth lay ahead." • Not sure Apple has another "hit" in the product pipeline. And the most salient feature of both the new iPads* and MacBooks looks like the price jump, to me. But if the iPhone is a cash cow, the iPad is a question mark, and the MacBook is a dog, where does that leave Apple as a company? Where's the star? NOTE * Sure, I'd like to be able to hook up the iPad to a monitor I can color correct, but that's hardly "one more thing" level, it it?
Tech: Instagram:
https://t.co/5lDIPwn0SP pic.twitter.com/QRMV1T9R5j

— Joan Cornellà (@sirjoancornella) November 4, 2018
Rapture Index: Closes unchanged [Rapture Ready]. Record High, October 10, 2016: 189. Current: 182. Testing whether 180 is a floor.
Black Injustice Tipping Point
"Why Detroit '67 Matters Now" [Belt Magazine]. "The 1967 Detroit Rebellion matters today because the core issues remain the same: police brutality, structural poverty, racial segregation, and pervasive bitterness between citizens of our country. The lessons of the '67 Detroit Rebellion, and of similar uprisings in Newark, Watts, and throughout the country, are as important now as they were fifty years ago. They beg deeper questions about who we are as Americans, where we are going as a society, and what we should do about persistent problems of inequality." • That black and white picture of LBJ in his Oval Office chair brings back memories… And MacNamara with his slicked-back hair….
Imperial Collapse Watch
The Battle of the Somme:
As we approach Remembrance Sunday, this map of the Somme brings home the horror of the Great War. Each grid square is 250m squared; the number in blue is the amount of bodies found in each. One of them says 808. That's over 3 bodies per metre squared. Lest we forget. pic.twitter.com/5OJAV07NVc

— Greg Colton (@colton_gregoryj) November 4, 2018
America hasn't really taken casualties, even by this standard (far short of Russia in World War II).
Neoliberal Epidemics
"How a traumatized America finds relief in hate" [Philadelphia Inquirer]. "The connecting line between addiction and hate, according to Maté, is trauma. "'What happened in Pittsburgh is a manifestation of trauma,' [Dr. Gabor Maté] told the Inquirer. 'There is no mass killer who wasn't a traumatized person.'…. ",' Maté says. '' It should come as no surprise, then, that we see more addiction and more mass shootings since 'the inequality is rising all the time.' Violence against racial, ethnic, or religious groups 'is a manifestation of a society that foments division amongst people and sets people against each other.'"
"Opinion: What's causing the epidemic in drug-related deaths among whites?" [MarketWatch]. "If drug availability — rather than despair — is the immediate cause of the increase in drug-related deaths, efforts to improve economic conditions in distressed locations — while definitely desirable — will not solve the problem." • And how convenient that would be.
"Merck Pulls Out Of Agreement To Supply Life-Saving Vaccine To Millions Of Kids" [NPR]. "The pharmaceutical giant Merck & Co. Inc. is ending a long-term agreement to supply a lifesaving vaccine for children in West Africa. At the same time, the company has started sending the vaccine to China, where it will likely be sold for a much higher price. The vaccine is for a deadly form of diarrhea, called rotavirus, which kills about 200,000 young children and babies each year. Merck's decision means it will fall short of its commitment to supply its rotavirus vaccine, RotaTeq, to four low-income countries in 2018 and 2019, according to Gavi, the Vaccine Alliance. By 2020, the company will completely stop delivering its vaccine. 'This was difficult decision for us, which did not come lightly,' Merck wrote to NPR in an email." • Ka-ching.
Class Warfare
"Strikes and Picket Lines, Explained" [Teen Vogue]. "The past month has seen multiple sports teams run afoul with one of the most important current labor actions in America: a massive nationwide hotel work stoppage happening right now, with more than 7,700 members of a hospitality workers' union on strike…. Why is it such a big deal that they and their unionized cohorts crossed the Marriott picket line? Why does the concept "never cross a picket line" matter? What does it mean to "go out on strike" or to be a "scab"? Let's break it down using these recent examples." • How come we're seeing this in Teen Vogue, and not, say, in the Washington Post or the New York Times? More: "Instead, stand with striking workers, donate to strike funds when you can, and never cross a picket line! • At this point, we remember that liberal Democrat royalty Bill and Hillary Clinton crossed a picket line on their first date. How romantic! I'm sure they felt a bond….
* * *
"Google CEO Pichai Says He's Still the Boss Amid Employee Revolts" [Bloomberg]. "'We don't run the company by referendum,' Pichai said at a conference in New York on Thursday. 'There are many good things about giving employees a lot of voice, out of that we have done well.' The internal dynamics may appear chaotic to outsiders, but they're not as intense as some have characterized them to be, he added."
Google on strikes:
The collective mind still has some mulling to do. pic.twitter.com/Fzm3GJ74tR

— Jedediah Purdy (@JedediahSPurdy) November 1, 2018
"Don't expect a Google-style walkout at banks anytime soon" [Financial News]. "Thousands of [Google] employees left notes on their desks explaining they had walked out in solidarity with other Googlers and contractors. Could that show of mutual support ever happen on Wall Street, or in the City of London? In short, no. The Google protest was meant to signal the need for more employee empowerment. But most investment bankers don't go into the industry — which demands long hours and high stress — for empowerment. They go into it for the lucrative pay packets, and those ensure that they toe the line." • So, investment bankers are the labor aristocrats, not Google engineers? Hmm.
* * *
Just doing their jobs:
Economists reverse claims that $15 Seattle minimum wage hurt workers, admit it was largely beneficial https://t.co/ObdCM0DQGk pic.twitter.com/pDBw2YHcfc

— Boing Boing (@BoingBoing) November 3, 2018
News of the Wired
"Welcome to http://TextEditors.org, your home for text editor reviews, analysis, and commentary by the community at large. Home of the largest collection of text editor information on the web." [TextEditors.org]. • All my old favorites are there. And the 1995-style site design couldn't be improved upon.
I recently spent a long time looking at images — paintings, really, even if digital — from Simon Stålenhag's new book. This is from an already-published book: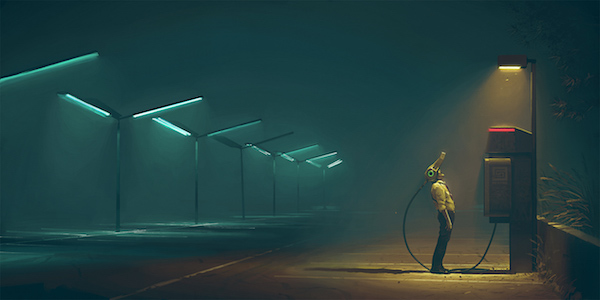 Brilliant Japanese take on Halloween. Thread:
Just catching up on the 地味なハロウィン ("sober Halloween") event, where flashy fancy dress is banned, in favour of everyday cosplay. This girl has come as the kind of model you see on cheap Korean fashion mail order sites. https://t.co/TzzJrjF4hF pic.twitter.com/6VuJKndunL

— Mulboyne (@Mulboyne) November 3, 2018
Another example: "This woman has come as a customer in a crowded food court, who went to get cups of water first, and now can't find anywhere to sit." • I'm sure examples could be multiplied…
In the final stage of its life-cycle, the parasite mimics the host it has hollowed out and eaten:
Having destroyed thousands — literally, thousands — of real town centers, Walmart is now creating faux town centers around its ailing stores.

Food trucks, farmers markets, restaurants. First one in Loveland, CO.

There's a video. I'm losing my mind.https://t.co/LPfTscElhP pic.twitter.com/nl4mADTGE8

— Stacy Mitchell (@stacyfmitchell) October 31, 2018
* * *
Readers, feel free to contact me at lambert [UNDERSCORE] strether [DOT] corrente [AT] yahoo [DOT] com, with (a) links, and even better (b) sources I should curate regularly, (c) how to send me a check if you are allergic to PayPal, and (d) to find out how to send me images of plants. Vegetables are fine! Fungi are deemed to be honorary plants! If you want your handle to appear as a credit, please place it at the start of your mail in parentheses: (thus). Otherwise, I will anonymize by using your initials. See the previous Water Cooler (with plant) here. Today's plant (Eureka Springs):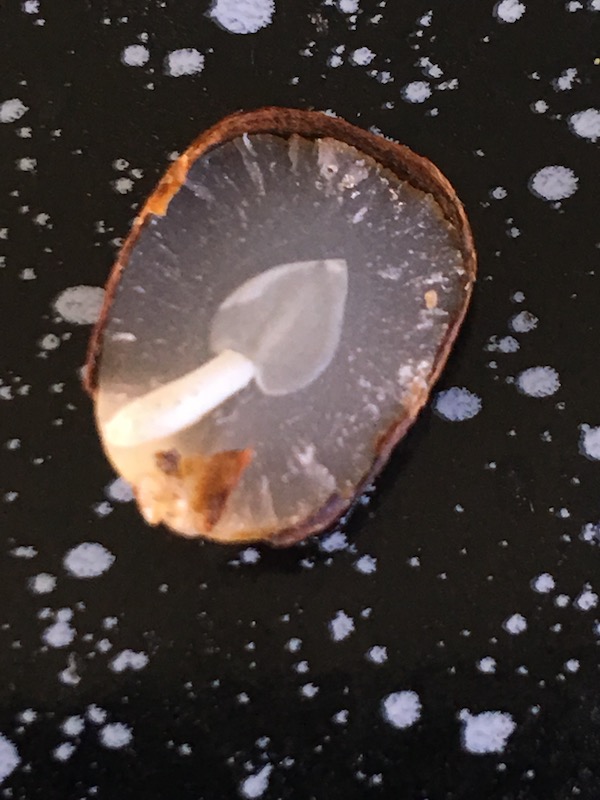 Eureka Springs writes: "Persimmon Seed, fall 2018 in Northwest Arkansas. Supposedly the spoon means get ready to shovel a lot of snow this winter."
* * *
Readers: Water Cooler is a standalone entity not covered by the annual NC fundraiser, now completed. So do feel free to make a contribution today or any day. Here is why: Regular positive feedback both makes me feel good and lets me know I'm on the right track with coverage. When I get no donations for five or ten days I get worried. More tangibly, a constant trickle of small donations helps me with expenses, and I factor that trickle in when setting fundraising goals. So if you see something you especially appreciate, do feel free to click below! (The hat is temporarily defunct, so I slapped in some old code. The form below should work.)
Or Subscribe to make a monthly payment!