We thought it was extremely odd that on November 13, two months after the last board meeting, that toadying over-eager CalPERS staffers orchestrated a show of support for CEO Marcie Frost. In case you missed it: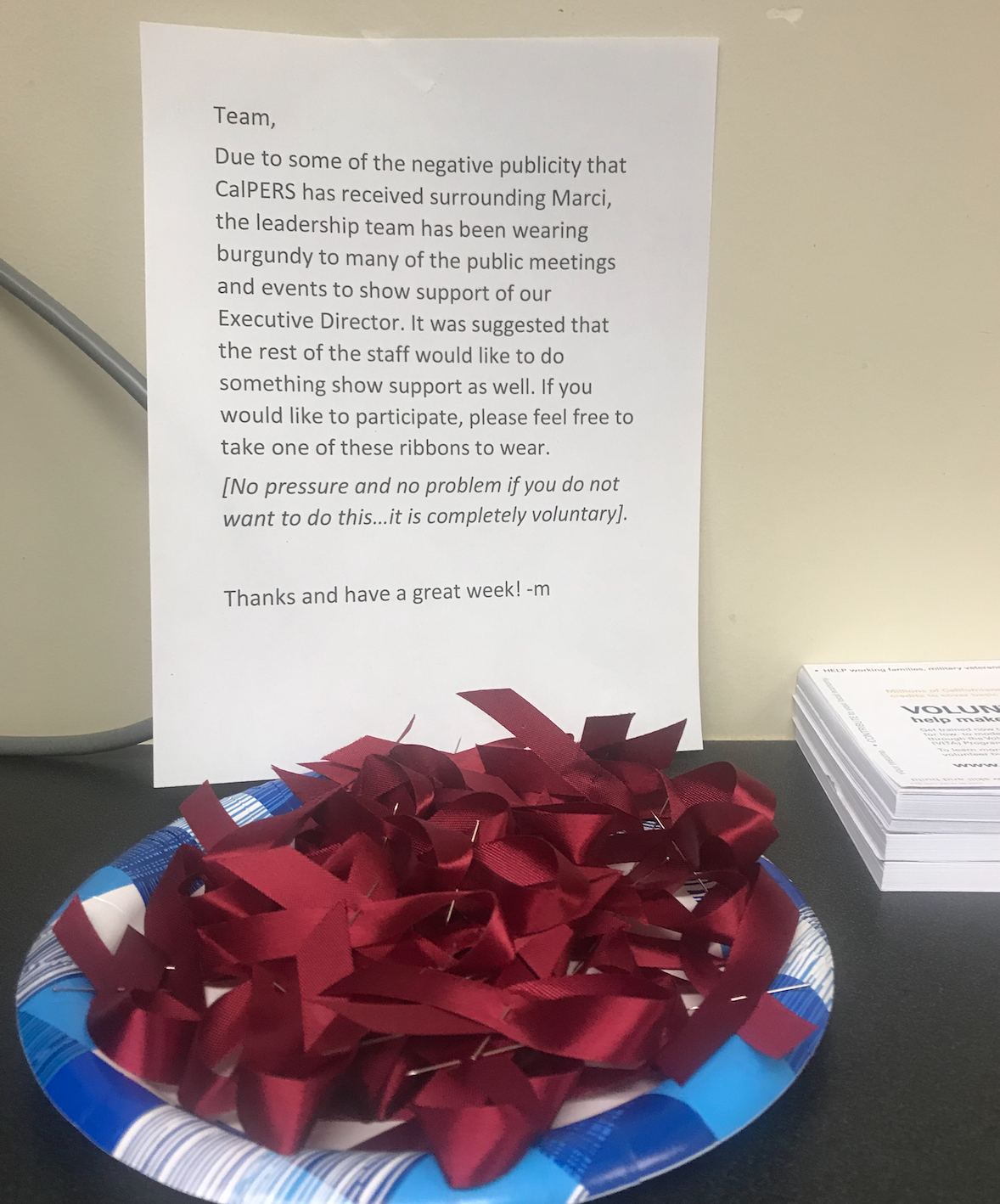 This was not a smart move. Even if it was organic, which we and our big-organization-savvy readers doubted, it sent all the wrong messages. A competent CEO would have squashed this scheme immediately for its resemblance to a Trumpian loyalty oath, as well as potentially being a HR violation (no one would dare not wear a ribbon for fear of alienating Frost and their boss despite the claim participation was voluntary).
The timing seemed peculiar because the CalPERS board had apparently decided to defend Frost despite Los Angeles Times reporter Mike Hiltzik publishing a lengthy article about Frost's misrepresentations. His piece followed stories in the Financial Times, Bloomberg, and other outlets. Treasurer John Chiang would not have called for an independent investigation after the board meeting if one had already been authorized. Nevertheless, press attention had turned from the matter by November. So why the orchestrated ribbon show, timed to start the first day of the November board meetings?
It turns out influential stakeholders are not happy about the failure to investigate Frost's background and how she conducted herself during the seletion process. As we pointed out, the California State University Emeritus and Retired Faculty and Staff's council demanded an investigation into Frost's hiring in its November newsletter.
But the trigger for l'affaire ribbons appears to have been a letter by former CalPERS board member George Diehr and the former designee of the State Controller Terry McGuire to the Governor and other key state officials making a detailed case for an independent investigation. We've embedded the letter below.
Note the timing: it was dated November 11 and sent either then or November 12, which was immediately before the November board meetings. The board members were cc'd.
Thus the ribbons display looks every bit as astroturfed as we surmised. And it says that either Frost herself or at least some of her direct reports see her as so insecure in her job that she needs to rally her staff behind her. Not a good look.
I hope you'll circulate this letter.
Letter RE Frost 11-12-18