In comments, I've regularly advocated for avoiding using merchants that engage in poor labor practices. That includes companies like WalMart, Amazon, and Uber. But in my search for alternatives, it was so difficult to complete transactions at the independent bookseller Powell's that I can't recommend them. For those of you outside the US, Powell's is held up as a socially responsible alternative to Amazon. I'm writing this post in the hope of shaking Powell's out of the managerial complacency that allowed the sort of problems I encountered the few times I tried shopping there to persist.
Before the latest attempts, I bought from Powell's twice, both times presents for my mother, who consumes books like popcorn. Powell's has a fine list of "Staff Picks" which helped me find some novels she liked that were outside her staple, mysteries. They also have attractive gift wrapping.
However, with the earlier orders, I was unable to complete an online transaction. I can't remember the details of both, but one time, I got to the final step of the transaction, when you put in payment details, and I had wanted to change something about the order (perhaps adding the gift wrap). It was impossible to go back and make the change, and when I tried logging in on a different screen, it showed my cart as empty. Both times, I had to place the order by phone and joked that the lousy state of the website was a full employment act for the phone staff.
This time, I was ordering books again for my mother, and saw some that looked suitable for my nieces, and I confirmed the choices with my sister-in-law. I also saw a book I wanted to get for myself. So I had an order of seven books, three for my mother, one for each of my three nieces, and one for me. I was going to have them all shipped to my mother's house with the books for her for her birthday and the three for the nieces to be kept till they came down for Christmas.
Let me also stress I was consciously paying a premium. My mother is perfectly happy getting used books but none of the books I had chosen for her were available in Powell's "used books" section. The books for my sisters and me were 10% to 65% more on Powell's than on Amazon (I had not checked until I wrote this post). Amazon's squeezing of publishers has also hurt authors; advances for mid-list books have collapsed, which is a big reason why I am probably not writing a second book. My advance on ECONNED was terrible and I would probably get even less now. I want to support authors and publishers as well as merchants.
Powell's wouldn't even let me choose all seven books. No joke. I got four into a shopping cart. It then set up a second shopping cart with two books in it. I called Powell's as before to place the order.
Because I had screenshot both carts, the rep was able to find one. He attempted adding books to it but it would not accept one of them. He had to "rebuild" the cart. He was not able to find one of the books even by searching on the title, even though I was reading it out and spelling the words from the "Staff Picks" list. I had to give him the ISBN number for him to locate it in Powell's system.
I then was going through which ones got gift wrapped and what the gift cards had to say so as to make sure the right people got their books. He had just taken the shipping address when I got dead air on the line.
It was just after 8:00 PM EDT. I called and got an automated message which among other things made clear you could get live humans only through 5:00 PM PDT. So it looked as if the phone system had cut out even though I did not get a hangup. And because the phone rep had created a new cart and I did not have that cart number, I was going to have to start from scratch.
I sent a complaint with the sorry tale above to "orders@powells.com" with "I am furious with you" in the headline. That was an accurate depiction of my state. I had spend over 20 minutes on the phone on this order, on top of the time (5 minutes? 10 minutes?) I had spent trying to get the shopping cart to work.
I was so annoyed I resent the message two days later when I had not gotten a response. The fact that I had to prod them to Do Something, at least apologize, was a bad sign.
Two days later, I got this e-mail from an Adam:
I'm very sorry to learn about your disappointing experience; it sounds like we missed the mark in every way. I'm glad that you emailed us – feedback from our customers is important to make sure that we remedy issues like these.

It's difficult to tell what may have caused the issues with your shopping cart; occasionally, we see a glitch where a certain title may get "stuck" and cannot be added to the cart normally. We're usually able to resolve this issue by adding another book, and then retrying the stuck title, but in some cases, it's necessary to clear out the cart and restart the checkout process entirely.

I'm sorry that you weren't able to complete your order over the phone. Our phone system does not end active calls at 5:00, so the disconnection was likely either a technical issue or an accident on the part of the agent.

In any case, we apologize for the frustration that this has caused, and we hope that you are willing to continue shopping with us. As a token of apology, I have added $10.00 in Virtual Credit to your Powells.com account. This credit will apply automatically to the next order that you place online or over the phone.
So even though I was not happy with Powell's, they had made an effort to make right so I thought I'd give them a second chance. By happenstance, two of the seven books I had chosen, including weirdly the one that the phone rep had to have me give the ISBN number to find, were now in "Season's Picks" which meant their prices were now 30% lower. So I thought this might be a sign that things would go better.
Wrong assumption.
I did manage to get all seven books in my shopping cart this time. But when I logged in, it threw five out and I had only two. And on top of that, even for the two left in my cart, it would let me only have the entire order, as in both books, gift wrapped and they could have only the same gift card. I could not have one wrapped and one not: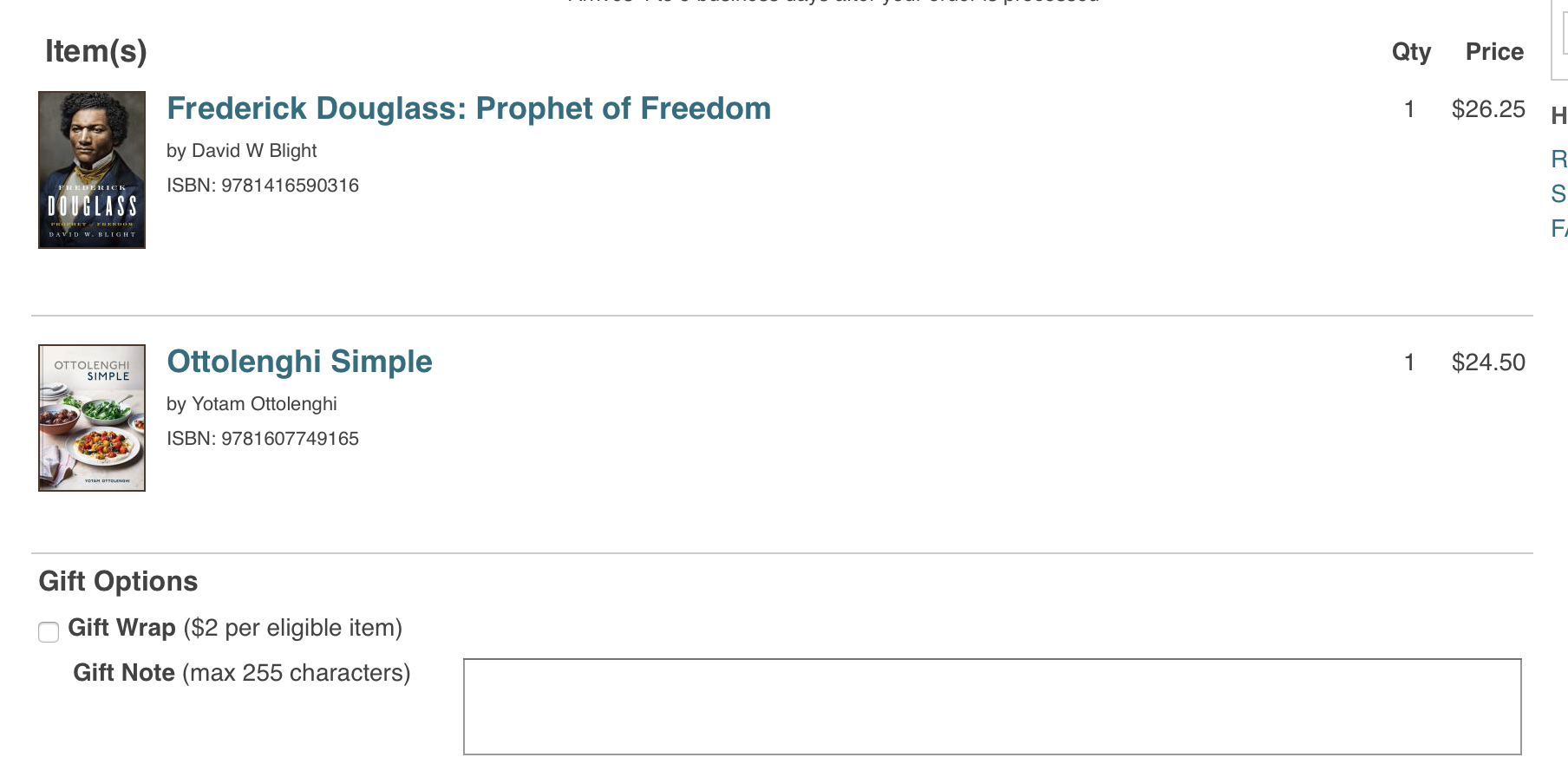 I was getting upset again but I figured I would call Powell's again and repeat the drill I had gone though the first time. This was early enough in the day that I was not at risk of 5:00 PM PDT mishaps.
I told the order rep that I was having trouble with my cart, that I needed him to put books back in it that had gotten thrown out by the system but also needed him to set them individually to be gift wrapped or not and put different gift cards on them.
He said he didn't know how to do that and would have to "escalate" it. He transferred me to a customer service rep.
I had to wait a little to get her. I explained the problem. She said the system couldn't do what I wanted to do.
I hung up.
Now it is clear the web system lacks the functionality to allow customers to have different gift cards and gift wrap instructions on a single order. Since none of my niece's books nor mine were $50, the order size for getting free shipping, placing single orders to accommodate the system's deficiencies would have cost me more in financial terms, as well as hassle. Why should I be required to place five orders?
But from the first experience, it appears that that the system the staff have access to is capable of doing what should not be hard, allowing for gift wrap and gift card instructions for each item in an order. Yet many (most?) Powell's employees apparently aren't well trained enough to do that, nor do they seem to know how to get to someone who can. I have a sneaking suspicion that the "customer service" rep, who appeared to be outside the ordering adminisphere, has a job scope of tech support on customer orders (meaning they are confined to the customer system) plus handling returns and similar issues, and not fixing orders gone awry.
This is no way to run a business. What I wanted to do is a basic use case. It's a disgrace that Powell's can handle even simple online orders (my earlier ones where I had to call didn't have the multiple gift cards requirement). Powell's is not just losing sales but also employing more people to compensate for its deficient website. Those unnecessary costs limits its ability to price books more competitively. And even though being at Powell's is almost certainly nicer than working for Amazon, it is still demeaning to workers to expect them to do a job and then give them tools that don't work well.
I wish I had a better answer. In the meantime, due to having run the clock out relative to my mother's birthdate, I wound up buying her used books from Amazon merchants (yes, Amazon, but my rationalization was I was at least directing some of the revenues from my order to other vendors and not using Amazon warehouse workers). And I gave up on the rest of my order. I'll get something else for my nieces and me.