Dear patient readers,
Please thank Jerri-Lynn, who due to a scheduling screw-up, wound up providing nearly half of today's Links.
Don't stress about what kind of Christmas tree to buy, but reuse artificial trees and compost natural ones The Conversation
Robert Mueller devotional candles BoingBoing (Chuck L). For your Democrat friends.
US Navy funded search for Titanic shipwreck as cover for Cold War mission, oceanographer claims Independent (JTM)
Researchers consider whether supernovae killed off large ocean animals at dawn of Pleistocene PhysOrg (Chuck L)
The Arctic Ocean has lost 95 percent of its oldest ice — a startling sign of what's to come Washington Post
Comcast rejected by small town—residents vote for municipal fiber instead ars technica (Chuck L)
Report: FBI opens criminal investigation into net neutrality comment fraud ars technica
So weird how a fake asset backed by nothing that you can't use for anything keeps going down. https://t.co/3NTlhnIV7u

— Matt Stoller (@matthewstoller) December 11, 2018
San Jose Unveils Tiny Home Prototype for Homeless Residents KQED (David L). A good start, but only for singles, when some homeless are in couples or even families.
Should you stop eating 'blood avocados'? Guardian
China?
China Move to Cut Duties on U.S. Imports Lifts Auto Stocks Bloomberg. Um, this does not look like Trump is losing the trade war.

Xi walks a trade war tightrope Asia Times (Kevin W)
Huawei
Whenever people tell me they long for the days of post US hegemony, I always say, "So long as that is not followed by Chinese hegemony". Beijing knows it can't bully the US, so it picks on Canada as well. I happen to have a friend who knows Michael (the Canadian seized). It's complete BS

And the US clearly has the goods on Huawei and this person. That released email was damning. As you say, had Huawei been even slightly more careful, they could have got away with it. Interesting that Xi knew about it by the time he had dinner with Trump, but chose not to make an issue out of it.
India
Dirty air: how India became the most polluted country on earth FT

All Indians should be concerned, says ex-RBI governor Rajan on Urujit Patel's resignation Times of India
Brexit. Please discuss the big news of the day, the Tory no-confidence vote, on our Brexit post today.
Italy's Di Maio says France risks Brussels budget sanctions Financial Times
Big Brother Is Watching You Watch
Customs officers searching more travelers' devices AP

Delete All Your Apps Motherboard. "… and the best way to guarantee privacy would be to have a dumb phone, an iPod Touch, or no phone at all."

The CEO of privacy search engine DuckDuckGo says Google uses location data that puts entire ZIP codes in politically biased 'filter bubbles' Business Insider (David L)

Google+ to shut down early after data from 52 million users exposed Independent
Trump Transition
4 weeks ago, I contacted ~20 House Dems about this issue

Only 2 — @RoKhanna & @Ocasio2018 — went on record expressing their opposition

Now it looks like they've won, after internal push on their side from @repmarkpocan & @RepJayapal https://t.co/wzPmUS0wEG

— Jeff Stein (@JStein_WaPo) December 11, 2018
Supreme Court Rule Crimps Crowd-Funded Amicus Briefs Law.com
Black woman goes to the Administration for Children's Services, no seats available, she sits on the floor. Security guard calls cops because she wants to sit and not stand. 3 NYPD officers rip her baby out of her hands and srrest a woman posing no threat to anyone.#BeingBlack pic.twitter.com/om2rIDaJR2

— Bishop Talbert Swan (@TalbertSwan) December 10, 2018
'We Gonna Rise Up, Rise Up 'Til It's Won!': 140+ Arrested at Pelosi and Hoyer Offices as Youth-Led Protests Demand Green New Deal on Capitol Hill Common Dreams
Ocasio-Cortez Vs. The Conditioners American Conservative
Jazmin Headley case: Charges dropped against mother whose baby was torn away by NYPD in viral video Washington Post (martha r)
Uber is 'hell-bent on stifling competition,' an out-of-business startup claims in a new lawsuit Business Insider (David L)
NEW STUDY: Digital First Media leads in profits; news deserts expanding DFM Workers (UserFriendly)
Petrified Forest: Fear, says Lewis Lapham, is America's top-selling consumer product. Lapham's Quarterly (Chuck Roast)
Elon Musk Mocks SEC Enforcement Above the Law
Carlos Ghosn Planned to Remove Nissan's CEO Before He Got Arrested in Japan; Weird, Right? Jalopnik (Kevin W)
Guillotine Watch
Yellow Vest protesters erect a GUILLOTINE in Paris bearing French President's political party name amid revolt that has forced Macron to address the furious nation Monday evening Daily Mail (Paul R). Hate to say it, this is only a toy model. The real ones were much taller, with a very large wood piece over the blade so as to assure it would sever the neck cleanly. The guillotine was intended as a humane alternative to other forms of execution. And since pretty much everyone would have seen animals killed and butchered, the ick factor wouldn't be as strong as with modern consumers who get nicely packaged meat and don't think much about how it got to them.

It's surprisingly hard to give away billions of dollars Vox. Kinnucan: m"It seems the noblesse are having some difficulties obligeing."
Class Warfare
My So-Called Media: How the Publishing Industry Sells Out Women. Longreads. Far from a perfect piece, but contains some useful information.

The best and worst cities in America for public transportation, according to an urban planner Vox

NY STUDENTS AREN'T BUYING AMAZON'S SWEETHEART DEAL Who What Why
Antidote du jour. Martha r: "Humpback whale in Sydney harbour."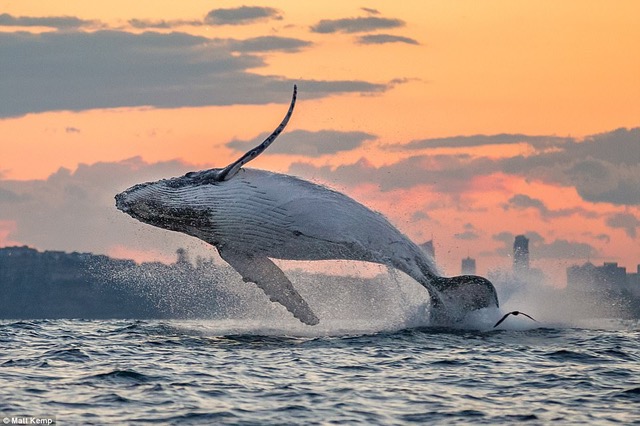 See yesterday's Links and Antidote du Jour here.