Yves here. Normally I put updates to posts at the end, but this is such big news that it goes up front.
From the Guardian (hat tip resilc) French government 'to suspend fuel tax increase':
The French government will announce it is suspending plans to introduce an eco-fuel tax after three weeks of increasingly violent protests, according to reports in French media….

The tax on petrol and diesel, due to increase next month in a move towards cleaner fuels, sparked national demonstrations that quickly grew to encompass wider anger and frustration at the country's leaders.

President Emmanuel Macron had repeatedly vowed not to give in to street rule, but has been forced to reconsider after the worst violence in Paris in half a century.
Note that, per the original post, the eco-tax wasn't the only burden on rural citizens and workers who had long commutes they could only do by car. There were also rules targeting older cars. But the new tax was the big flashpoint, and the government went fully into reverse.
Back to the original post:
Some additional overview material on France's gilets jaune protests:
1. They have overwhelming public support.
2. Even though the flashpoint was taxes and inspections designed to cut greenhouse gasses, the grievances are about austerity and cut in services. Recall that Macron ended the wealth tax when he took office. From the Guardian:
So if the hike in the price of fuel triggered the yellow vest movement, it was not the root cause. The anger runs deeper, the result of an economic and cultural relegation that began in the 80s. At the same time, economic and land logics have locked up the elite world. This confinement is not only geographical but also intellectual. The globalised metropolises are the new citadels of the 21st century – rich and unequal, where even the former lower-middle class no longer has a place. Instead, large global cities work on a dual dynamic: gentrification and immigration. This is the paradox: the open society results in a world increasingly closed to the majority of working people.

The economic divide between peripheral France and the metropolises illustrates the separation of an elite and its popular hinterland. Western elites have gradually forgotten a people they no longer see. The impact of the gilets jaunes, and their support in public opinion (eight out of 10 French people approve of their actions), has amazed politicians, trade unions and academics, as if they have discovered a new tribe in the Amazon.
Note that some, perhaps many, protestors don't buy the government's justification for the new taxes. I've included this quote from a piece in LaDepeche in Links:
Ce n'est pas non plus vraiment pour le prix de l'essence mais on est trop taxés et dire que c'est pour l'écologie, c'est une vaste fumisterie. On nous prend vraiment pour des idiots.
3. There are different groups among the gilets jaunes, such as self-identified moderates. There are now several independent sign-ups for "Act 4" protests in Paris on December 8, and some calls for a general strike on December 10.
Lambert also noted:
The yellow jackets – a universal mandate – make the cost of entry to the protest very low. Everyone already has one, in their cars, ready for repurposing. The only object that springs to my mind in America that's readily accessible in people's cars is…. well, guns.
Michael Olenick replied:
It's also symbolic: everybody is required to put on the yellow jacket anytime we get out of the car, on the road, when the car has broken down. Wearing it means "Be alert – something is broken" and there's an implicit "Give me a hand, please."

There is nothing quite like it in the US.
By Michael Olenick, a research fellow at INSEAD who writes regularly at Olen on Economics
On my way into work this morning I stopped, as I often do, to get a croissant for myself and cookie for my kid at one of the 13 bakeries between the tiny French village where I live and the slightly larger one where I work at and my daughter attends school. Like many cars lately, I noticed the yellow vest that broken down drivers are required to wear being prominently displayed on the windshield of the car in front of me, a message of solidarity with the Gilets Jaunes.
By now, most of the world has noticed the new French protest movement, Gilets Jaunes, accurately translated as yellow vests and informally as yellowjackets. The world is focused on video from dramatic protests along the Champs-Élysées. Most Americans don't quite get what the movement is about; as an expat American living in France I'll try to explain.
Last January, the French government raised taxes on the price of diesel by seven percent, which came to about ten centime per liter, or 40 centime ($.55) per gallon. There are 100 centime in a euro (cent means 100 in French, a touchpoint to how a US cent found its name way back when).
And they came on top of increases in fuel costs. This graph shows the price of fuel from a politician in Macron's party (that's her, at top), trying to contextualize the price increases; a large part of the price shock wasn't entirely the taxes but that fuel cost more.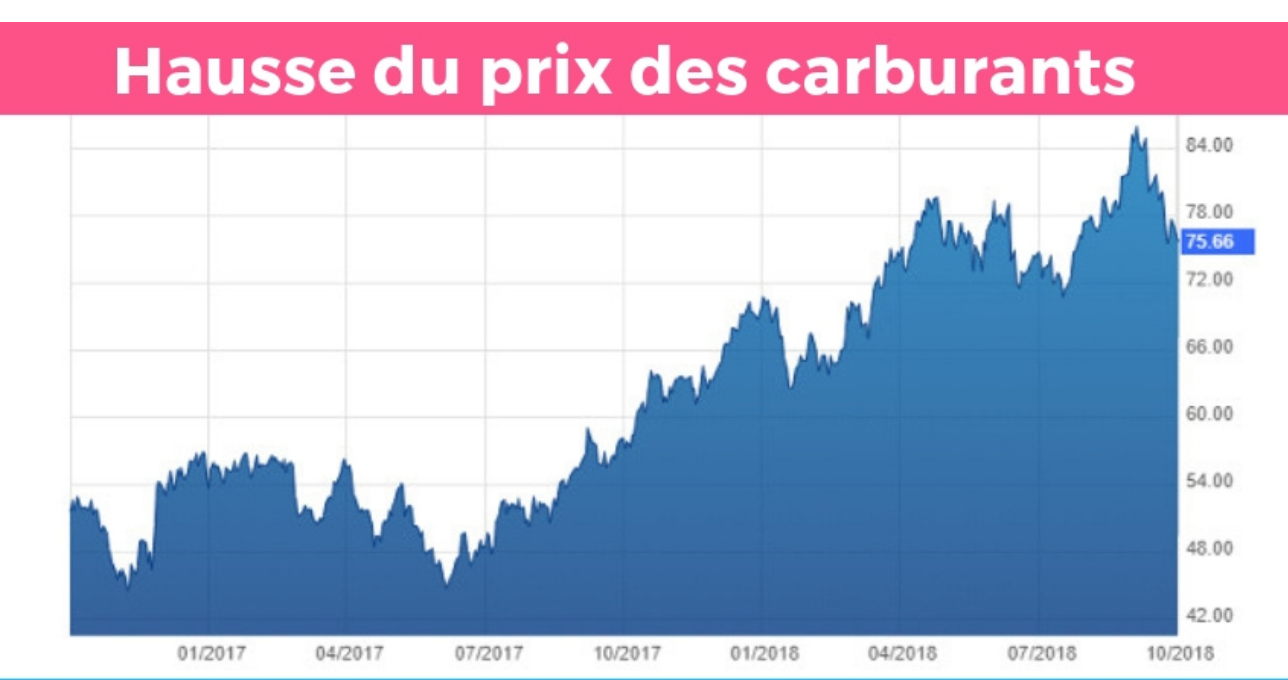 And a breakdown by type of fuel:

Besides the increase in diesel prices there was also a double-digit increase in electricity prices and a steep increase for the biennial auto inspections.
The biennial inspections are not needed until a cars fourth birthday so newish cars are exempt. And the fuel price increase had less impact those who drive newer hybrids, which consume less fuel. or expensive electric cars. Parisians who do not own cars were entirely unaffected.
These taxes leaned heavily on working stiffs who live in the sticks and drive klunkers.
Soon after the protests started, a senior official from the Macron government remarked that he understood their frustration because it costs €100 per person, sans wine, to have dinner in Paris. Except that it does not, at the vast majority of regular restaurants in Paris (much less in villages), cost anywhere near that much. My family of three regularly has nice meals in Paris, with some wine or beer, for no more than €50 and often less.
Rather than empathy the message which came across, to an already frustrated populace, is their government is out of touch, eating out at high priced restaurants in Paris while imposing regressive taxes on ordinary people while pretending to care. In the country that beheaded Marie Antoinette tone deafness is, at best, political malpractice.
So, an out of touch government run by a former investment banker who taxed the middle class resulted in a pure economic protest, right? Unfortunately, things aren't so clear-cut. What many outside France don't understand is the purpose of the taxes was to push a transition to cleaner fuels.
There are many people who believe the fuel and inspection taxes are the right way to encourage people to purchase more fuel-efficient cars. If we keep doing this, said a friend pointing to a car belching black soot, our children won't be able to breathe unfiltered air by the time they're our age. Ordinary French counter they'd love to buy hybrids or electric cars but the vast majority of people can't afford new cars, despite government subsidies, or they wouldn't be driving decade-old jalopies.
What separates this from the usual screeds in the US is that both sides have a valid point. The world can't afford to keep polluting at current levels andeverybody can't afford new cars.
The Gilets Jaunes will likely go down in history as the first mass climate-change fueled protests. Today it's groups of disorganized people wearing their yellow vests to slow traffic or make a show for the TV cameras. In future years, as the need for immediate change become more acute, the protestors are less likely to be less polite. In my first draft of this essay I concluded this paragraph with "the yellowjackets might sting but they're not out to hurt anybody … yet." But that was last week and, after over 400 people were arrested in Paris on Saturday, that's not so clear anymore. The local one's are polite, handing out sweets in the streets while walking and talking to motorists with children and strollers. But the Parisian protesters are more extreme, or at least they look that way on TV (I'll skip checking it out in person).
It's here that commentators usually add some deep insight or ideal solution. I don't have one and I'm not sure it exists. Some small solutions are obvious. The government could lower the price of train tickets: it costs about €18 per person for a one-day train ticket to/from Paris. For my family of three driving costs less than public transport, even with parking included. That's idiotic if there is a real commitment to climate change.
But most yellowjackets live farther away from cities than I do and France is a relatively big place. Mass transit is a lot better than the US but there will never be mass transit strong enough to meet every need. Maybe shared autonomous vehicles (self-driving cars) will lower the cost of transportation and, if they're electric, offer environmental benefits. While Waymo (Google) has ordered 82,000 for use in the US over coming years they're unlikely to function well in the rural villages where countless French live. Waymo is on clean, clear streets in Arizona; outside my window today looks like a monsoon.
The tradeoffs the French are working through – questioning how the costs of climate change will be apportioned between the haves and have-less – will play out city-by-city in country after country over the coming decades. If those costs are apportioned disproportionately the world will find many more bees willing to do a lot more than temporarily block traffic.