Even though the item up for approval by the CalPERS Board of Administration this Wednesday is far from the most important CalPERS abuse, it's a case study in how CalPERS staff put their personal prerogatives over what is best for the fund.
We've embedded the agenda item in question at the end of this post. You will see that CalPERS staff, meaning Marcie Frost, is proposing to have soon-to-be-ex board member Priya Mathur continue on the board of the Principles for Responsible Investment Association (or "PRI"), an investor group that is "UN backed". PRI is one of the highest-profile organizations promoting "ESG" or "environmental, social, and governance" oriented investing.
Mathur's term was set to end in 2020. In the note to the board, General Counsel Matt Jacobs states that Mathur could remain on the PRI board if the CalPERS board were to make that request in writing.1 That means she would continue to swan about the world on someone else's dime (CalPERS claims not theirs; we'll discuss why that assertion is questionable).
And on top of that, even though the memo below piously states that Mathur will recuse herself from the vote, this move isn't even remotely on the up and up. Mathur is chair of the Board of Administration. She scheduled it for the consent calendar. That is where the board votes through a batch of supposedly routine items all together. Board members could approve this item unknowingly if they hadn't read the materials in full, or could claim ignorance later, whether that was true or not.
Here is why this is a bad idea and an insult to beneficiaries:
Mathur cannot represent CalPERS. She will have no current connection to CalPERS. She will not be a CalPERS employee or consultant. She will not be party to CalPERS board meetings, most importantly, the closed sessions.
In theory, CalPERS could lose a board seat on PRI, since they are voted by members. However, just this year, another board member gave up his seat in anticipation of resigning from his job, as the PRI website shows: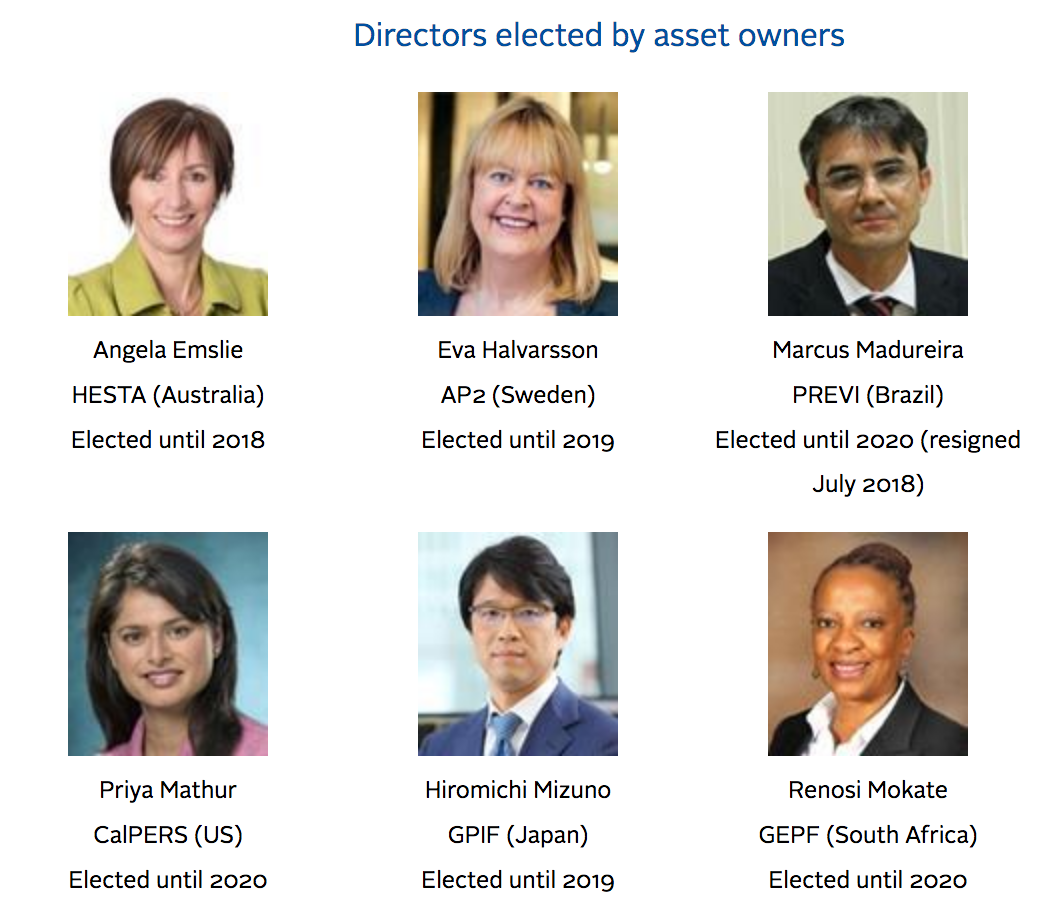 If either the State Treasurer or Controller were to seek one of the open seats, they would seem to have a good chance of winning. Not only would they represent two very large pension funds, CalPERS and CalSTRS, but they have even more authority as elected officials of the fifth largest economy in the world.
But this begs the question: what good does being involved in PRI do for CalPERS? Unlike the giant fund's activism in the 1990s, it does not appear to have enhanced its reputation, which in turn helped it attract and retain "talent". It has not improved returns. It may make staff and board members feel good, and it is better to be a positive force in society than not, but CalPERS has a fiduciary duty to its beneficiaries, and any ESG aims have to be secondary to that. The fact that a police union chief, Jason Perez, trounced Mathur in the last election says that beneficiaries perceive that CalPERS is giving ESG far too high a priority relative to producing solid returns on investments.
Mathur has no stature whatsoever independent of CalPERS. Many people of legitimate accomplishment (or at least as seen in modern society) like former McKinsey and Goldman partners, are almost without exception stunned to find out how few people return their phone calls once they no longer have a big-name job. Mathur has done no academic work. The only speeches and articles she has published were penned by CalPERS. It is not surprising that Mathur is returning to BART. It indicates that players in the ESG field did not regard her as having the chops or the personal connections to be a good hire.
Mathur is a poor ambassador for CalPERS. CalPERS has chosen to look past how hypocritical it is to have someone with Mathur's rap sheet of infringements as an ESG representative, since she is a recidivist governance abuser. Mathur has been repeatedly fined and sanctioned for violating campaign finance disclosure requirements in 2002, 2007, 2008. 2012, and 2013. California regards the failure to make timely campaign disclosures as a serious violation of state ethics laws.
Pulitzer Prize winning reporter had called for Mathur's resignation in 2013 for her at best negligence in the pay to play scandal that resulted in former CEO Fred Buenrostro being sentenced to four and a half years in Federal prison and former board member Al Villalobos committing suicide shortly before his trial began. From Hiltzik:
The charges against former CalPERS Chief Executive Fred Buenrostro and former CalPERS board member Alfred Villalobos stem from wrongdoing that may date back as far as 2002. A report CalPERS commissioned from the law firm of Steptoe & Johnson was made public in 2011.

Back then I raised the question whether the report was enough for CalPERS to be scrubbed clean, and answered in the negative…three board members who served while Buenrostro and Villalobos were doing their magic are still in place: President Rob Feckner, Vice President George Diehr, and member Priya Mathur.

They should all have stepped down when the scale of alleged wrongdoing by Buenrostro and Villalobos was spelled out by the Steptoe firm; now that it's clear that the alleged wrongdoing rose to the level of indictable offenses, there's even less justification for their remaining in place.
Mathur defended Buenrostro until very late in the game, just as she did former CFO Charles Asubonten, who was eventually dismissed over misrepresentations on his resume and employment application.
CalPERS will be spending unnecessary beneficiary funds to keep Mathur in this role. CalPERS claims that PRI would be pay for Mathur's travel to its board meetings. CalPERS pays for her travel now. To put it mildly, this would be highly irregular for a not for profit to bear a cost that it does not normally absorb. One wonders whether CalPERS will launder the costs of Mathur's travel through PRI, say by paying higher dues. This arrangement has the added advantage of keeping the cost of travel hidden from public disclosure.
But travel is only one cost. What about release time? It seems inconceivable that Mathur, who has young children, would use her vacation time to be a good soldier for CalPERS. She would almost certainly have CalPERS arrange for her to get "release time" for PRI-related work, which she and CalPERS would contend is not just the time to travel to and participate in PRI board meetings, but a certain amount of prep.
And since Mathur would no longer be at CalPERS, one can easily see CalPERS taking the position that Mathur has to attend or at least watch CalPERS board meetings and read the board materials. In other words, they could argue that she needs almost as much release time as she gets now in order to do her job properly at PRI.
The advantage to Mathur isn't simply that she gets to spends lots of time away from a worker bee job at BART. She would likely have less than 40% of her time, and perhaps as little as 20%, left for her nominal day job. It's hard for organizations to deploy someone on a part-time basis when they aren't set up with part-time roles; it will be even more so for someone like Mathur who has't worked there in a serious way since 2003.
Frost is poking the eye of new board member Jason Perez and beneficiaries. CalPERS' motivation may be as much to try to put new board member Jason Perez in his place as to give Mathur an undeserved perk. Perez has a bully pulpit even before assuming office. The Sacramento Bee gave him prominent play even before the election when Perez called out Treasurer John Chiang for using gun victims as a PR stunt in his gubernatorial bid. Perez got national press for his 57 to 43 defeat of Mathur, which was widely depicted as beneficiaries repudiating Mathur's ESG efforts.
The media has chosen to depict Perez as anti-ESG, when his position is more nuanced. He thinks the board spends far more time on it relative to bread-and-butter investment matters that should be its top priority, and ought to be giving more consideration to what ESG policies might be costing CaLPERS so as to make shrewder picks (as in can CalPERS get 80% of the benefit at 20% of the cost, which is a rough and ready rule in most walks of life).
So Frost's effort to keep Mathur around despite her being unambiguously rejected by beneficiaries looks to be yet another statement that CalPERS' staff thinks it can write its own rules and everyone else be damned.
The only good news here is that Frost is so well ensconced in her bubble machine that she is not seeing clear signs that her hold on power is slipping. Prominent members of stakeholder organizations are visibly frustrated with her, to the degree that they are no longer complying with CalPERS PR efforts. The fact that three prominent members of retiree groups came to Sacramento yesterday to object to the "unorthodox" private equity scheme and the changing stories they have been told about it should serve as a big warning sign to Frost. But she's too busy getting her senior leadership to wear burgundy, as if that were an effective counter to her record of misrepresentations and self-serving, short-sighted decisions.
______
1 A Google search on the section Jacobs quotes turns up no matches. It would be useful to see the entire section, since Jacobs has a habit of cherry picking. That is not to say that PRI would not go along; CalPERS would be risking a big embarrassment to push for Mathur to continue and be rebuffed, so this idea has presumably pre-cleared. However, this may not be as routine as Frost, acting through Jacobs, would like the board to believe, particularly in light of the other resignation that we discuss shortly.
Priya boondoggle