By Lambert Strether of Corrente.
Politics
"But what is government itself, but the greatest of all reflections on human nature?" –James Madison, Federalist 51
2020
"Iowa farmers teach Sherrod Brown a lesson on running in the rurals" [Cleveland Plain-Dealer].
SOTU
A mini-essay on the SOTU [completed 2:20PM, do refresh if need be]: Let me start with this image from CNN politics (via):

Now, there's been a good deal of dunking, deservedly so, on the content of the graphic. Formally, however, it represents a rejection of the linear — dare I say, bi-polar? — notion of politics as a linear spectrum of "left" vs. "right" (most popularly used in the Overton Window). Here we have a triangle, a tacit admission that today's politics are not linear — since three points determine a plane — but a field, a terrain. Readers will be familar with my view that the vertices of a triangle that describe our current politics would be liberals, conservatives, and "the left," and that liberals and conservatives both put markets first (with conservatives wanting few layers of indirection, and liberals wanting many), while "the left" puts the working class first. (I'm sure that libertarians, the Green Party, and anarchists would regard this as an insultingly gross oversimplification.) Hold that thought of triangular thinking, and now let's look at the responses to Trump's SOTU from Abrams, on national television, followed by Sanders, on Facebook:

Introduction
Policy
[ABRAMS:] Good evening, my fellow Americans, and happy Lunar New Year. I'm Stacey Abrams, and I am honored to join the conversation about the state of our union. Growing up, my family went back and forth between lower middle-class and working class. Yet, even when they came home weary and bone-tired, my parents found a way to show us all who we could be…
Our most urgent work is to realize Americans' dreams of today and tomorrow… Yet this White House responds timidly while first graders practice active-shooter drills and the price of higher education grows ever steeper. From now on, our leaders must be willing to tackle gun-safety measures and the crippling effect of educational loans, to support educators and invest what is necessary to unleash the power of America's greatest minds…. Under the current administration, far too many hard-working Americans are falling behind, living paycheck to paycheck, most without labor unions to protect them from even worse harm. The Republican tax bill rigged the system against working people…. We know bipartisanship could craft a 21st-century immigration plan, but this administration chooses to cage children and tear families apart… And rather than suing to dismantle the Affordable Care Act, as Republican Attorneys General have, our leaders must protect the progress we've made and commit to expanding health care and lowering cost for everyone…. We can do so much more: take action on climate change, defend individual liberties with fair-minded judges. But none of these ambitions are possible without the bedrock guarantee of our right to vote.
[SANDERS:] Let me thank all of you for joining me tonight for a brief response to President Trump's State of the Union address. And let me thank Stacey Abrams for her extremely effective response. Now, we all know why she would have been a wonderful Governor of Georgia. I know that this will probably not shock you, but not everything President Trump said tonight was true or accurate.
If Trump truly wants to govern in a bi-partisan manner, let's take a look at what the overwhelming majority of the American people want:

A Fox News poll conducted last month shows that 70% of Americans support a tax increase on families making over $10 million.

According to Reuters, 70% of the American people, including 52% of Republicans support Medicare for All.

Another poll found that 72% of the American people, including 51% of Republicans want to expand Social Security by increasing taxes on millionaires and billionaires.

According to Gallup, 76% of the American people, including large majorities of Republicans and Democrats, want us to spend $1 trillion on an infrastructure plan to create up to 15 million good-paying jobs.

The Kaiser Family Foundation has found that 92% of Americans want Medicare to negotiate with pharmaceutical companies to lower drug prices. 92%.

That same poll also found that 72% of Americans, including 75 percent of Republicans, want to buy low-cost prescriptions from Canada.

Gallup tells us that 64% of Americans including 51% of Republicans, believe marijuana should be legal. Let us end the disastrous war on drugs.

Quinnipiac tells us that Americans support, by 94-5 percent, requiring background checks for all gun purchases

CBS has found that 87% of Americans, including 79% of Republicans, want to allow immigrants who were brought to the U.S. as children to stay in our country….

Now, I know which approach I prefer. Why? Because although Abram's story about her family is touching, it's really not possible to hold her accountable for her views on policy, because, unlike Sanders, there's no precision to them. But which approach does the Democrat Establishment prefer?

ABRAMS on deck:
* Top Dems pleading w/her to run for Senate, incl. Schumer & Gillibrand
* Abrams ally says "50-50" chance she runs
* Ds hope Abrams could unseat Perdue & help flip GA in presidential race
* She vowed to donors in NYC that she'll run againhttps://t.co/x54K0O5dJT

— Alex Burns (@alexburnsNYT) February 5, 2019

Now, back to triangular thinking. You will recall that point in the SOTU when Trump said: "Here in the United States, we are alarmed by new calls to adopt socialism in our country. Tonight, we resolve that America will never be a socialist country." Republicans (conservative vertex) applauded. Most Democrats, including, behind Trump, Pelosi (liberal vertex) applauded. A few Democrats, including Sanders (amd IIRC AOC) did not applaud. (Interestingly, almost all the policy energy in the Democrat Party is coming from the left, which is also vastly more popular, especially among younger people.)

Abrams was not present to applaud. Which apex would she be on? As it turns out, we have an answer, from the Febuary 1 issue of Foreign Affairs. Stacy Abrams, "Identity Politics Strengthens Democracy"

THE CLASS TRAP

(As a side note, it's a little amazing that she takes Francis Fukuyama as her interlocutor, instead of, oh, Adolph Reed.)

Fukuyama and other critics of identity politics contend that broad categories such as economic class contain multitudes and that all attention should focus on wide constructs rather than the substrates of inequality.

("All attention" is, of course, a straw-man.)

The oppressed have often aimed their impotent rage at those too low on the social scale to even attempt rebellion. This is particularly true in known as "the working class."

A "catchall category" — not being mutually exclusive and collectively exhaustive — is of course no category at all. I don't need to go on to make the point, but this:

In the 2016 U.S. presidential election, enough white working-class voters abandoned the Democratic Party to put Donald Trump over the top, capping a 40-year trend of shifting party loyalties. .

Or — stay with me here — it means that the Democrat Party, with its professional base, betrayed the class interests of the working class (see Thomas Frank, Listen, Liberal!) and enough of them decided they'd bad enough of that.

In other words, because Abrams denies the validity of class as an analytical construct, she cannot say, with Sanders, "The billionaire cannot have it all. Our government belongs to all of us, and not just the one percent." That would place Abrams firmly at the liberal apex, opposed — with conservatives — to the left; no wonder Tanden and Abrams embraced so warmly. QED!
Stats Watch
Jobless Claims, week of February 2, 2019: "Easing in claims from Federal employees helped pull down initial claims by 19,000 in the February 2 week, to what nevertheless is a higher-than-expected 234,000" [Econoday]. "Initial claims have been erratic in recent weeks, hitting 50-year lows in mid-January then spiking 53,000 late in the month but the underlying signal, putting aside Federal workers and the effects of the government shutdown, points to strong demand for labor."
Housing: "Landlord-tenant relationships are changing, thanks to cryptocurrencies, Airbnb, and more" [MarketWatch]. "Short-term rental platforms such as Airbnb and HomeAway have created a great opportunity for both homeowners and renters. Now, with an app, you can turn your property into a weekend retreat. But, it's important to note that your tenants can do the same with their couch or spare room." • Even better, your tenant could rent out a room, and then that renter could rent out a couch in that room…
The Bezzle: "Tesla fined $29,365 for safety hazards in Model 3 production tent" [The Verge]. "Tesla has been fined $29,365 for violating California labor laws in the parking lot tent where Model 3s are assembled… Tesla failed to obtain a permit before building the tent, and failed to inspect it for potential safety hazards, according to Cal-OSHA…. Tesla also did not properly train employees on evacuation procedures in the tent, or on how to prevent and respond to heat illness. Lastly, the tent featured exposed metal rods and rebar." • Just another outlaw Silicon Valley company…
Tech: "How Much Would You Pay for a Foldable Smartphone?" [New York Magazine]. "The basic shape of the smartphone has remained remarkably steady for nearly a decade…. That will change in 2019 and 2020, as a host of phone manufacturers, set free by bendable AMOLED screens — and made semi-desperate by flat or falling global smartphone sales — are set to roll out smartphones that can unfold into tablets, and then fold back down into something resembling a very thick smartphone…. the price point that foldable smartphones are settling into, at least for this first generation, is eye-watering. Even the cheapest foldable phone so far will cost more than Apple's priciest iPhone." • As for me, not a thing.
Tech: "The real lesson of Facebook's Apple dust-up shows why Zuckerberg's 'hacker way' is even more dangerous than we thought" [Business Insider]. "Facebook long ago showed that it has no respect for its users or for conventional societal norms when it comes to things like privacy. It showed that it was willing to cross legal lines and defy government regulators years ago too. But the fact that it was willing to risk even the wrath of Apple — a company that has no small amount of power over Facebook's ability to reach consumers, customers, and even its own employees — shows just how brazen the social networking company has become. Its appetite for data on its users and competitors is so ravenous that it's willing to cross seemingly any and every line to get it, no matter what the potential risk." • As bad as Uber. Worse.
Tech: "Extremely cold weather can sap electric car batteries by up to 40%" [MarketWatch]. "Cold temperatures can sap electric car batteries, temporarily reducing their range by more than 40% when interior heaters are used, a new study found…. Many owners discovered the range limitations last week when much of the country was in the grips of a polar vortex…. AAA recommends that drivers heat or cool their cars while still plugged in to a charging station. It says electric cars can still be used in extreme climates with a little extra planning."
Tech: "Microsoft warns investors that its artificial-intelligence tech could go awry and hurt its reputation" [Business Insider]. "'Issues in the use of AI in our offerings may result in reputational harm or liability,' Microsoft wrote in the filing. 'AI algorithms be flawed. Datasets be insufficient or contain biased information. Inappropriate or controversial data practices by Microsoft or others could impair the acceptance of AI solutions. … Some AI scenarios present ethical issues,' it added." • "May," or "must"?
Honey for the Bears: "The Polar Vortex Could Freeze Economic Growth" [Barron's]. "The U.S. economy always shrinks in the winter, with or without a "polar vortex." Since 2002, America's gross domestic product has dropped about 13% at an annual rate, on average, between the last three months of each calendar year and the first three months of the next one…. The polar vortex of early 2014 is a useful precedent. Despite a booming domestic economy and the normal seasonal adjustment, U.S. GDP shrank at an annual rate of 1% in the first quarter of that year. Motor vehicle sales, employment, and construction were all affected by the unusually harsh winter for Americans in the Midwest and Northeast—about 40% of the U.S. population and economy. At the time, Atif Mian and Amir Sufi found a reliable link between the weather and the decline in vehicle spending. People in places that were significantly colder than normal tended to cut their spending while people in the rest of the country, including places where temperatures were higher than normal, such as in the West, tended to increase their spending. Looking back a year later, Justin Bloesch and François Gourio of the Federal Reserve Bank of Chicago found that harsh winters generally lead to higher unemployment, lower home-building, and reduced vehicle sales, with the employment effects concentrated in construction, bars and restaurants, and retail. Encouragingly, they also found that the economic consequences of extreme events end up disappearing after a few months as the weather reverts to normal."
Fodder for the Bulls: "JPMorgan Says 2020 'Might Not Be a Year to Think About Recession'" [Bloomberg]. "The Federal Reserve's change in tone may mean investors should reconsider the timing of the investment cycle, according to JPMorgan Chase & Co….. The Fed signaled last week that it's done raising rates for at least a little while, and that it'll be flexible in reducing bond holdings." • Also, a study is discussed that says stocks aren't over-valued….
The Biosphere
"Last 5 years have been the hottest ever, U.S. government scientists say" [MarketWatch]. "Last year was the fourth-warmest year since 1880, according to the report by the National Aeronautics and Space Administration and the National Oceanic and Atmospheric Administration, which track annual climate trends. The record was set in 2016, followed by 2017 and 2015, with this century's repeatedly higher temperatures largely stemming from greenhouse-gas emissions from human activities, the agencies said."
"South Florida Family Wins Right to Drill for Oil in Everglades" [Miami New Times]. "[T]oday, Florida's First District Court of Appeal in Tallahassee ruled that an investment company in Broward County — Kanter Real Estate — can build an oil well in a section of the Glades just west of Miramar, near the Broward/Miami-Dade County line. Kanter's land sits in a state conservation area above a shale deposit called the Sunniland Trend…. Kanter's will be the first new one in the Everglades in 50 years… the court ruled . The court also suggested the area is 'hydrologically isolated' enough to prevent pollutants from contaminating the rest of the Glades." • We're [family blogged], so drill baby drill… Can't we just leave it in the ground?
"New Tonga island 'now home to flowers and owls'" [BBC]. "Scientists have found signs of life on one of the world's newest islands, just four years after it was spawned by a volcanic eruption. Unofficially known as Hunga Tonga-Hunga Ha'apai, it lies in the kingdom of Tonga, and is already nurturing pink flowering plants, sooty tern birds, and even barn owls."
"See How Much You Know About Deforestation" [Council on Foreign Relations]. • It's a quiz.
The 420
"One of the biggest names in garden supplies is all about weed now" [Quartz]. "Scotts Miracle-Gro, the maker of home, lawn, and garden-care goods that traces its roots back to the 19th century, blamed disappointing quarterly earnings on the volatility of the cannabis market, on which it is increasingly dependent. Since 2016, annual sales growth at subsidiary Hawthorne Gardening—which owns dozens of brands selling lights, filtration systems, premium soil, containers, air filters, and more specialized supplies for hydroponic operations—has outpaced the group's general lawn and garden business."
"A cannabis producer just topped Apple as the favorite stock among millennials (ACB, AAPL)" [Business Insider]. "More people own shares of the Canadian cannabis producer Aurora Cannabis than Apple on Robinhood, a free trading app popular among millennial traders, highlighting the 'green rush' into marijuana by younger investors."
Our Famously Free Press
"'The News Is Dying, but Journalism Will Not': How the Media Can Prevent 2020 from Becoming 2016" [Vanity Fair]. Better than the headline (though oddly, AOC gets many mentions, and Sanders a back-handed reference). Long quote from Buzzfeed's Ben Smith: "'The same social-media mechanisms that have poisoned the conversation have also elevated a sophisticated two-way policy conversation that includes experts and actual people affected by policies. The Internet has created communities of expertise and sophistication around everything from how labor law treats transgender employees to carbon taxation to economic policy. Political reporters used to bullshit their way through a discussion of the hard stuff. But you can't get away with that anymore. Which is good! Both professional journalists and the people who don't get paid to do it for a living and are in the same centralized conversation, mostly on Twitter, about policy." • IMNSHO, correct. This is why Twitter is worthwhile in a way that Facebook is not (nor is any other "social media" platform). As I have urged, "a sophisticated two-way policy conversation that includes experts and actual people affected by policies" is also the function performed by the blogosphere c. 2003 – 2006. which ended up having significant policy results for the good. Now, Twitter is a far worse platform than blogging — compare doing [family blogging] "threads" with no embedded links or fomatting to actual paragraphs — but you go to war with the platform you have, and many people are making good use of it (despite the world-weary "hellscape" whining).
"Gannett rejects takeover offer from MNG/Digital First Media" [USA Today]. "Gannett Co. said Monday that its board has unanimously rejected an unsolicited proposal to be acquired by media company MNG Enterprises Inc., also known as Digital First Media, saying the proposal undervalues the company and the board doesn't believe the offer is credible…. If MNG Enterprises 'is really serious,' the company will have to have a slate of board of directors candidates submitted to Gannett by Feb. 7, says Michael Kupinski, director of research at Noble Capital Markets in Boca Raton, Florida." • So we should know by tomorrow. (Yes, I think Gannet being gutted by hedgies is A Bad Thing.)
Water
"Wisconsin case shows how sewage plants spread unregulated toxins across landscape" [State Journal]. "Detection of a toxic chemical in a northeastern Wisconsin wastewater treatment plant's sludge has prompted a halt to application of the material on nearby farms and raised broader concerns about how public sewer systems across the state may be spreading the chemical across the landscape. The contaminated sludge in Marinette also highlights unease and confusion in local communities over the absence of enforceable federal or Wisconsin environmental standards for the chemicals — often referred to by the acronym PFAS — despite at least two decades of research linking them to serious health problems." • Yikes.
Guillotine Watch
"Opinion: Billionaires take more than they make" [Rex Nutting, MarketWatch]. "My own view is that most billionaires do create some value, but they generally take more than their share of money and power. Their wealth far exceeds their economic contributions. Plutocrats don't deserve the guillotine, but neither do they deserve billions of dollars. . Most wealth is created, maintained and sustained by extracting unearned rents from the rest of us. The wealthy take advantage of monopolies, asymmetric information, network effects, regulatory capture, artificial scarcities created by patents, licenses or trademarks, bailouts, subsidies, protectionism, financialization, and globalization. In economics, 'rents' is a word that means 'leveraging control over something that already exists, such as land, knowledge, or money, to increase your wealth,' in the words of economic historian Rutger Bregman. The concept dates back to Adam Smith and David Ricardo, who argued that owners of land or natural resources could demand payments in excess of what's required to bring their land or resources into production. The classic example of a 'rent' is a landowner who controls both banks of a river and charges a toll on anyone who wants to sail through. The rentier did not create the river, but collects the rent anyway." • OK, maybe not the guillotine, but how about (as Yves puts it) some government-assisted creative destruction?d
Class Warfare
"Prominent Republican wants to take student-loan payments out of your paycheck" [MarketWatch]. "Senator Lamar Alexander, a Republican from Tennessee and the chair of the Senate's Committee on Health, Education Labor and Pensions, which oversees higher education, proposed automatically withholding a borrower's monthly student-loan payment from their paycheck, similar to the system already used for federal payroll taxes." • Yeah, that should do it. For some definition of "it."
"Why dollar stores are replacing supermarkets in low-income neighborhoods" [Quartz].
"The Decline of Historical Thinking" [The New Yorker]. "The reason that students at Yale and places like it can "afford" to major in history is that they have the luxury of seeing college as a chance to learn about the world beyond the confines of their home towns, and to try to understand where they might fit in…. A nation whose citizens have no knowledge of history is asking to be led by quacks, charlatans, and jingos. As he has proved ever since he rode to political prominence on the lie of Barack Obama's birthplace, Trump is all three. And, without more history majors, we are doomed to repeat him." • Then again, come on…
News of the Wired
"The Thrill of Building Space Hardware to Exceptionally High Standards" [Hackaday]. "[O]ne of the biggest mistakes you can make is designing a system that only operates within a rigid set of parameters or requirements. The rules of the game occasionally change, and if your design can't quickly be adapted or expanded as needed, you run the risk of having to go back to zero and starting all over again. When it's an Arduino on a breadboard you can get away with yanking out the wires and starting from scratch, but when there are boards to be fabricated and deadlines to meet, there simply may not be enough time to recover from a shortsighted design."
"The Last Incan Suspension Bridge Is Made Entirely of Grass and Woven by Hand" [Slate]. From 2013, but I didn't know this. "Five centuries ago, the Andes were strung with suspension bridges. By some estimates there were as many as 200 of them, braided from nothing more than twisted mountain grass and other vegetation, with cables sometimes as thick as a human torso. Three hundred years before Europe saw its first suspension bridge, the Incas were spanning longer distances and deeper gorges than anything that the best European engineers, working with stone, were capable of…. Today, there is just one Incan grass bridge left, the keshwa chaca, a sagging 90-foot span that stretches between two sides of a steep gorge, near Huinchiri, Peru. According to locals, it has been there for at least 500 years…. the tradition of rebuilding the keshwa chaca each year has not abated. Each June, it is renewed in an elaborate three-day ceremony. Each household from the four surrounding towns, is responsible for bringing 90 feet of braided grass cord. Construction takes place under the supervision of the all important bridge keeper, or chacacamayoc. The old bridge is then cut down and thrown into the river. Because it has to be willfully, ritually regenerated each year, the keshwa chaca's ownership passes from generation to generation as a bridge not only across space, but also time." • Perhaps, as well as pre-industrial, post-industrial?
* * *
Readers, feel free to contact me at lambert [UNDERSCORE] strether [DOT] corrente [AT] yahoo [DOT] com, with (a) links, and even better (b) sources I should curate regularly, (c) how to send me a check if you are allergic to PayPal, and (d) to find out how to send me images of plants. Vegetables are fine! Fungi are deemed to be honorary plants! If you want your handle to appear as a credit, please place it at the start of your mail in parentheses: (thus). Otherwise, I will anonymize by using your initials. See the previous Water Cooler (with plant) here. Today's plant (via):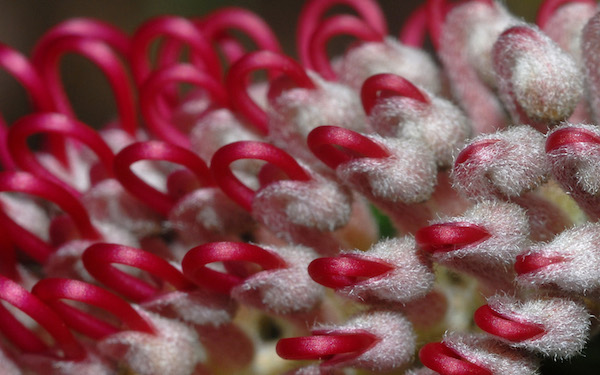 From the UBC Botanical Garden: "Grevillea longifolia is a narrow-range endemic with a distribution restricted to New South Wales in Australia. Within New South Wales, Grevillea longifolia is primarily found in the southern half of the Sydney Basin and the Woronora Plateau. It grows in moist forests on yellow clay soils and Sydney Basin Hawkesbury Sandstone, typically along the banks of rivers, streams, gullies, and creeks."
* * *
Readers: Water Cooler is a standalone entity not covered by the annual NC fundraiser. So do feel free to make a contribution today or any day. Here is why: Regular positive feedback both makes me feel good and lets me know I'm on the right track with coverage. When I get no donations for five or ten days I get worried. More tangibly, a constant trickle of small donations helps me with expenses, and I factor that trickle in when setting fundraising goals. So if you see something you especially appreciate, do feel free to click below! (The hat is temporarily defunct, so I slapped in some old code.)
Or Subscribe to make a monthly payment!