By Lambert Strether of Corrente.
Readers, this Water Cooler is a little Beto and Boeing heavy, but that's where we are right now! –lambert
Trade
"China and US make 'concrete progress' on trade deal text" [South China Morning Post]. • We'll see.
Politics
"But what is government itself, but the greatest of all reflections on human nature?" –James Madison, Federalist 51
"They had one weapon left and both knew it: treachery." –Frank Herbert, Dune
2020
O'Rourke (1): "Beto O'Rourke 2020 Presidential Candidate. With Poll" [Daily Kos]. FWIW, the online poll at Kos, representative of who knows what:

Yang is higher than I would have expected.

O'Rourke (2):

The NRCC just sent out a press release calling O'Rourke a "law-hating 'furry,'" so the 2020 campaign is off to a great start. pic.twitter.com/z86VBCBEG7

— Ramesh Ponnuru (@RameshPonnuru) March 14, 2019

The NRCC has not lost its touch. "Law-hating furry" is almost as good as "pot-smoking joy-seeker." Not that there's anything wrong with furries, pot, or joy.

O'Rourke (3): "It is wildly unclear whether Beto O'Rourke supports Medicare-for-all" [Vox]. "O'Rourke entered the Democratic primary Thursday, and a close reading of his policy positions on health care reveals he vacillates between Medicare-for-all as 'the best way to ensure Americans get the health care they need' and criticism of the Medicare-for-all plans offered. He once described writing his own Medicare-for-all plan, but so far, no such plan has been made public. His presidential campaign site doesn't yet have a section on policy proposals."

O'Rourke (4):

Beto O'Rourke praises the Schakowsky/DeLauro "Medicare for America" bill at an IBEW in Burlington, saying he wants universal, affordable coverage and "that might get us there as fast as we possibly can." pic.twitter.com/EADJmlmBRh

— Eric Bradner (@ericbradner) March 14, 2019

So, Kliff is wrong; O'Rourke supports Neera Tanden's brand-confusing scheme to derail #MedicareForAll, which is what "Medicare For America" is.

O'Rourke (5): "O'Rourke says adding SCOTUS justices is worth exploring" [The Hill]. O'Rourke: "What if there were five justices selected by Democrats, five justices selected by Republicans and those 10 then pick five more justices independent of those who picked the first 10. I think that's an idea we should explore." • Um. Readers?

O'Rourke (6): "Beto O'Rourke's Past GOP Ties Could Complicate Primary Run" [Wall Street Journal]. "Before becoming a rising star in the Democratic Party, Beto O'Rourke relied on a core group of business-minded Republicans in his Texas hometown to launch and sustain his political career. To win their backing, Mr. O'Rourke opposed Obamacare, voted against Nancy Pelosi as the House Democratic leader and called for a raise in the Social Security eligibility age." • Admirably flexible.

O'Rourke (7): "Beto O'Rourke frequently voted for Republican legislation, analysis reveals" [Guardian]. "[E]ven as O'Rourke represented one of the most solidly Democratic congressional districts in the United States, he has frequently voted against the majority of House Democrats in support of Republican bills and Trump administration priorities. Capital & Main reviewed the 167 votes O'Rourke has cast in the House in opposition to the majority of his own party during his six-year tenure in Congress. Many of those votes were not progressive dissents alongside other left-leaning lawmakers, but instead votes to help pass Republican-sponsored legislation. O'Rourke has voted for GOP bills that his fellow Democratic lawmakers said reinforced Republicans' anti-tax ideology, chipped away at the Affordable Care Act (ACA), weakened Wall Street regulations, boosted the fossil fuel industry and bolstered Donald Trump's immigration policy." • Note the source: "fellow Democratic lawmakers." O'Rourke is, perhaps, no better liked than Cruz?

O'Rourke (8): "Beto's 'unity' narcissism" [Ryan Cooper, The Week]. "It takes enormous self-regard to run for president, but truly titanic narcissism to think one can bridge America's partisan divides through force of personality. It turns out that conservatives have deep ideological disagreements with liberals and leftists about how the country should be governed. The way to get past them is to defeat them."

O'Rourke (9): "Beto Got $430,000 From Individuals in Oil and Gas. Should We Care?" [Sludge]. "Based on detailed campaign finance data provided to me by the Center for Responsive Politics, the organization that operates the OpenSecrets website, I've found that of the $430,000 that O'Rourke's Senate campaign received from individuals who work in the oil and gas industry, 75 percent has come in the form of "large" donations over $200. The donors include more than two dozen oil and gas executives. More than 30 donations were the maximum allowed amount of $2,700. But the Texas representative also took in tons of small donations of $200 and under. I also found that O'Rourke broke the No Fossil Fuel Money Pledge—a commitment to reject campaign donations over $200 from fossil fuel PACs and executives that was endorsed by 16 environmental groups—which he signed." • From 2018, still well worth a read.

O'Rourke (10): "Beto O'Rourke's secret membership in America's oldest hacking group" (!) [Reuters]. "The hugely influential Cult of the Dead Cow, jokingly named after an abandoned Texas slaughterhouse, is notorious for releasing tools that allowed ordinary people to hack computers running Microsoft's Windows. It's also known for inventing the word 'hacktivism' to describe human-rights-driven security work. Members of the group have protected O'Rourke's secret for decades, reluctant to compromise his political viability. Now, in a series of interviews, CDC members have acknowledged O'Rourke as one of their own…. There is no indication that O'Rourke ever engaged in the edgiest sorts of hacking activity… 'There's just this profound value in being able to be apart from the system and look at it critically and have fun while you're doing it,' O'Rourke said. 'I think of the Cult of the Dead Cow as a great example of that.'" • "Profound value." Nice timing by Reuters and whoever fed them this, though.

And lighter Beto fare:

O'Rourke (11), a photo from Beto's coffee shop announcement:

If Bernie did this we would 100% absolutely get an Amanda Marcotte piece calling out this dudebro behavior as "somewhere on the continuum between manspreading and violence" pic.twitter.com/PN7fhV13it

— Carl Beijer (@CarlBeijer) March 14, 2019

O'Rourke (12), needing gas money (very relatable):

Quick update from the road in Iowa. We just filled up the Dodge Grand Caravan for $28.53. Your donations are literally keeping us fueled up as we begin this campaign. Chip in $28.53 now to keep us on the road: https://t.co/ckAgjYlwKN pic.twitter.com/5vevrjBp6l

— Beto O'Rourke (@BetoORourke) March 14, 2019

NOTE: No announcement of his first-day fundraising totals.

Sanders:

"Free country, anybody can run." Sen. Bernie Sanders responds to Beto O'Rourke's candidacy https://t.co/ITHzcgckIC pic.twitter.com/RVS3PQxquh

— CNN (@CNN) March 15, 2019
2019
"Democrats upset over Omar seeking primary challenger" [The Hill]. "Several party leaders said they have had discussions about finding a candidate to take on Omar, just two months into her first term in Congress. But even those who were deeply offended by Omar's comments about Israel concede they have not yet found anyone to challenge her." • So all that "Listen to Black women" was just for the rubes, I guess…
2016 Post Mortem
"How Trump's Brand of Grievance Politics Roiled a Pennsylvania Campaign" [New York Times]. "Here, among Republicans in the northeastern Pennsylvania region that has suffered with the gutting of the steel industry and the ravages of the opioid crisis, Mr. Trump's language is endlessly repeated…. Over a bowl of stuffed pepper soup, [Frank Scavo Jr.] cited a statistic that is notorious among the group: that nonwhite Americans were expected to outnumber whites in the coming decades." • That statistic is also, in fact, "notorious" among Democrat consultants and strategists. The "coalition of the ascendant" is an article of faith in the Democrat establishment, invented and propagated by Ruy Teixeira, and the reason Democrats believe they don't need to change; demographics will bring their voters to them, so policy doesn't matter, and identity politics does. But did they seriously expect there would be no, er, reaction?
Realignment and Legitimacy
[Montgomery Advertiser]. "SPLC President Richard Cohen said in a statement Dees' dismissal over his misconduct was effective on Wednesday, March 13. When pressed for details on what led to the termination, the organization declined to elaborate…. Over the years, the SPLC has continued to amass massive funds from donors amid differing levels of scrutiny. The nonprofit has hundreds of employees and offices in four states. The organization had nearly $450 million in net assets, according to publicly available tax documents filed for 2017." • Hmm.
Stats Watch
Boeing:
Manufacturing: "Boeing's 737 Max Problems Put $600 Billion in Orders at Risk" [Bloomberg]. "Boeing Co.'s $600 billion-plus order book for its 737 Max began shaking after several big customers threatened to reconsider their purchases in the wake of the Ethiopian Airlines crash, the second deadly accident involving the plane since October…. VietJet Aviation JSC, which doubled its order to about $25 billion only last month, said it will decide on its future plans once the cause of the tragedy has been found. Kenya Airways Plc is reviewing proposals to buy the Max and could switch to Airbus SE's rival A320. Russia's Utair Aviation PJSC is seeking guarantees before taking delivery of the first of 30 planes."
Manufacturing: "Boeing faces mounting pressure as more countries ground Boeing 737 Max" [Xinhua]. "U.S. aircraft manufacturer Boeing's efforts to defend the safety of its jets backfired Wednesday as the U.S. government bowed to international pressure to ground all Boeing 737 Max 8 and 9 aircraft…. 'Given that two accidents both involved the newly delivered Boeing 737-8 planes and happened during the take-off phase, they had some degree of similarity,' China's Civil Aviation Administration said on its website, adding that the move was in line with the principle of zero tolerance for safety hazards. 'China has an excellent safety track record in civil aviation. In part, it comes from an absolute willingness to take decisions like these, even if it seems an overly cautious use of the powers,' Gordon Orr, a senior adviser to McKinsey China, said on the social network LinkedIn." • Ouch.
Manufacturing: "Bjorn's Corner: The Ethiopian Airline's Flight 302 crash" [Leeham News and Analysis (SS)]. "The Seattle Times today wrote the horizontal stabilizer trim system, a jackscrew which pushes the horizontal stabilizer up or down, has been found at the crash site. Apparently, it was in the full nose down position. This should point to this being another MCAS accident, with the aircraft's powerful pitch trim going to full nose down position." SS comments:
If the elevator is in this position, nothing the pilot can do with the stick can overcome this. The plane will fly into the ground. MCAS would have to be turned off, and apparently in the noise and confusion of the evolving disaster, this is too hard to do
Leeham continues on issues with the original MCAS software design:
There are several areas of question marks over Boeing's problems with the 737 MAX's sensors and stability augmentation system:

It's strange the AoA [Angle of Attack] signal to the Air data computer gets corrupted on brand new aircraft with only months between presumably two cases of it happening.

It's also strange there were no balances or checks in the system to check the signals were correct and not erroneous. The signals were used to trigger powerful and potentially dangerous functions in the flight control system.

Finally, it's strange how MCAS was allowed to trim the horizontal tailplane full nose down. It's not needed to fulfill its intended stabilizing function in a remote part of the flight envelope. By allowing this to happen, MCAS can overpower the pilot's elevator control and render the aircraft uncontrollable.
I'd love to see the requirements document for MCAS. Presumably in the lawsuits to come, we will…..
Manufacturing: "Boeing overhauls quality controls: more high-tech tracking but fewer inspectors" [Seattle Times (JO)]. From January, still germane: "one element of what Boeing is calling its "Quality Transformation" has unnerved the Machinists union and current quality inspectors: The company told the union last month it will eliminate thousands of quality checks as no longer necessary. Boeing said it will cut about 450 quality-inspector positions this year and potentially a similar number in 2020. In the Puget Sound region, there are currently just over 3,000 Boeing Quality Inspectors, who typically work as a second set of eyes. For each of the tens of thousands of jobs that go into assembling an airplane, they formally sign off that it has been completed and done right. By the end of next year, Boeing's plan would bring that down to not many more than 2,000 people." More: "Boeing envisions a new streamlined production system that builds every component and performs every task without defects from the get-go — "built right first time" — so there's no need for every last detail to be inspected afterward. The model is the high-volume auto-manufacturing industry… To convince the FAA, Boeing has compiled data on how it is reducing defects." But if the data is bad? "FAA investigators substantiated a complaint by a whistleblower working at Boeing's Electrical Systems center inside the Everett plant. They found that quality inspectors had issued final acceptances on some wire bundles, although afterward Boeing employees reworked the wiring to fix defects, without writing a record of the work." • "[N]o need for every last detail to be inspected." I understand the use of statistical sampling for quality control. But if crooks are gaming the samples?
* * *
JOLTS, January 2019: "Job openings keep rising and employers are increasingly scrambling to fill them" [Econoday]. "Today's report also includes a sharp upward revision to December… Year-on-year, openings are up 21.7 percent which dwarfs the 4.2 percent rise in hires. According to the text books, separation like this points to the risk of an inflationary flashpoint for wages which in fact have been showing visible traction in recent months. One indication of inflationary risk that Federal Reserve policy makers watch closely is the quits data in this report, rising … to indicate no more than moderate mobility in the labor force, that is workers seeking higher pay moving from one employer to another. " • Can't have that.
Industrial Production, February 2019: "If it wasn't for a weather-related boost for utilities, industrial production would have been in the negative column of a second month in a row" [Econoday]. "[I]t's manufacturing and whether the sector, outward facing as it is toward the global economy, is at risk of sinking into the negative column this year. This may not be an exaggeration based on a second month of contraction for production…. Indications on business equipment from the capital goods components in the separately released durable goods data were very weak going into year-end though they did pop back up in January, a fact which points to a better performance for business equipment in this report in the months ahead. Yet searching for positives is an indication of trouble and that is becoming an established theme for the factory sector."
Empire State Manufacturing Survey, March 2019: "Diminishing growth is a now common theme among many of the regional manufacturing reports" [Econoday]. "The general outlook for the sample remains favorable yet… is a little less favorable than February. Manufacturing data have been wobbling since late last year with occasional strong showings the exception and mixed in with plenty of soft ones. Today's report won't be lifting expectations"
Consumer Sentiment, March 2019: "The consumer sentiment index easily beat expectations" [Econoday]. "Economic data, led by last week's marginal gain in the employment report, have been mostly disappointing of late making today's results especially important, results that hint at better strength for consumer spending."
Banks: "Regulator Warns of 'Panic' Risk From Money-Laundering Scandals" [Bloomberg]. "Once considered the safest of them all, Nordic banks are now navigating a world dominated by allegations of laundering…. Nordic banks underpin the entire financial system across the Baltic region… The money laundering scandal has engulfed not only Nordic and Baltic banks, but also their regulators. The financial watchdogs of Denmark and Estonia are both being investigated by the European Banking Authority to find out whether they should have done more to prevent the Danske scandal. In Sweden, the head of the FSA has stepped away from the case because of a potential conflict of interest, due to his relationship with a Swedbank board member. The banks to have suffered the worst investor exodus are Danske and Swedbank." • Some damned thing in the Baltic?
The Bezzle: "OxyContin's maker is accused of fueling the opioid epidemic. Its new overdose antidote was just fast-tracked by the FDA" [CNN]. It's brilliant, a classic self-licking ice cream cone: Create an epidemic of addiction, then sell the antidote! (That Harvard still has the Sackler name on the Arthur M. Sackler museum is a telling symbol of their institutional priorities. The Harvard Museums don't seem to give out their email addresses. Here is their contact information, such as it is.)
The Bezzle: "Americans Still Fear Self-Driving Cars" [Bloomberg]. "Seven in 10 Americans don't want to go anywhere near self-driving cars. The portion of Americans who fear autonomous vehicles—71 percent in the American Automobile Association's latest survey—is virtually unchanged from a year ago and up eight percentage points from 2017. While public skepticism isn't new, its consistency is noteworthy…. There's been virtually no increase in public acceptance even as automakers and tech giants are pouring billions into driverless technology…. Putting children or family members into a fully self-driving car? Only 19 percent of those surveyed would be comfortable with that."
The Bezzle: "SEC charges Volkswagen, former CEO Martin Winterkorn with lying to investors" [USA Today]. "The Wall Street regulatory agency accused the German automaker of defrauding investors by selling bonds at inflated prices and lying to them about the state of the company. The accusations cover actions from April 2014 to May 2015. The scandal was first publicized in September 2015."
The Bezzle: "Tesla's Lack of 'One More Thing' Moment Underwhelms Wall Street" [Bloomberg]. "The string of disappointments for Tesla Inc. investors continued after the much-anticipated Model Y unveil was largely found to be underwhelming…. Tesla did announce what it promised. A crossover vehicle that is largely similar to the Model 3, so it allows the company to keep a lid on the price. Production, as expected, will not begin until 2020, which some say might get pushed out to 2021. Yet, the market was expecting more – a 'one more thing' moment – a la Apple Inc's Steve Jobs. 'There was no 'one more thing' – nothing incremental to get the Tesla bulls excited. No updates on self driving, mobility as a service, etc.,' Cowen analyst Jeffrey Osborne wrote in a note to clients." • There is, however, a $2500 deposit. So the rollout looks more like crowdfunding than anything else.
The Bezzle: "Facebook is being abandoned by top executives. Here's everyone who has left since the Cambridge Analytica catastrophe last year." [Business Insider]. List of names and bios. This one is interesting: "Chris Cox joined Facebook in 2005. He helped build some of the social network's most recognisable features, such as the news feed. His departure signalled a major reshuffle at the company's highest levels following Mark Zuckerberg's announcement that he was going to make the company more privacy-focused… No one will be filling Cox's shoes as chief product officer, and instead, the heads of Facebook's various apps will report directly to Zuckerberg." Hmm. I suppose Steve Jobs was a CEO and a chief product officer. I don't think Zuckerberg is a Steve Jobs.
The Bezzle: "Bird lays off up to 5% of workforce" [TechCrunch]. "Electric scooter startup Bird has laid off between four to five percent of its workforce…. The layoffs were part of Bird's annual performance review process and only affected U.S.-based employees… Despite the layoffs, Bird is actively looking to hire for more than 100 positions throughout the company… Bird has raised more than $400 million in funding to date and is reportedly in the midst of raising an additional $300 million."
Tech: "Tech giants' free pass means they haven't innovated in years" [Sky News]. "According to estimates by Tommaso Valletti, chief economist at the European Commission's Directorate-General for Competition, since 2001 Google has acquired over 200 smaller firms, swallowing up one every 18 days in the years since 2010… Some it turned into products: Google Maps and Google Earth, for instance. Many others just disappeared. For Google, both results are wins – either it grows its market share, or it eliminates a potential competitor. At Facebook, Amazon and Apple it's just the same. Far from innovating themselves, these companies have been buying innovation at a furious rate. Apple's Siri and Amazon's Alexa both started life as independent startups, as, famously, did Facebook's Instagram and WhatsApp." • Interestingly, uses business class vs. economy as the structuring trope. More: "Silicon Valley firms were thought to possess a special power. Unlike ordinary companies, it was believed, they were innovative. In fact, they were mostly just rich."
Tech: "Amazon gets an edge with its secret squad of PhD economists" [CNN]. "Amazon is now a large draw from the relatively small talent pool of PhD economists, which in the United States grows by about only 1,000 new graduates every year. Although the definition of "economist" is fuzzy, the discipline is generally understood as the study of how people use resources and respond to incentives. In the past few years, Amazon has hired more than 150 PhD economists, making it probably the largest employer in the field behind institutions like the Federal Reserve, which has hundreds of economists on staff. It was the only company with a recruiting booth at the American Economics Association's annual conference in January, handing out free pens and logoed stress balls." • Oddly, or not, mainstream economics works very well for Amazon, and very badly for the rest of us.
Tech: (unrolled thread) [Hemant Mohapatra]. "So @lyft is paying $8m/mo to @AWS — almost $100m/yr! Each ride costs $.14 in AWS rent. I keep hearing they could build their own DC & save. My early days at @Google cloud, heard the same from customers: "at scale, owning is cheaper". It wasn't – they all came around. Here's why." • Lots of interesting detail on what owning and running a data center implies.
The Biosphere
"Thousands of scientists are backing the kids striking for climate change" [Nature]. "In about 1,700 cities in more than 100 countries — from Nepal to Vanuatu — thousands of young people are planning to walk out of schools to demand that adults do more to combat climate change… The day is set to be the biggest moment yet for a grassroots movement that has developed into a global phenomenon in only a few months. Most protestors — including Nakate — have been inspired by Swedish teen Greta Thunberg, who kick-started the movement when she began regularly walking out of classes in August 2018 to sit outside the Swedish parliament in Stockholm with a sign reading 'school strike for climate'… 'You say you love your children above all else, and yet you are stealing their future in front of their very eyes,' [Thunberg] said in a speech at the 2018 United Nations climate conference in Katowice, Poland." • And she's not wrong, is she?
"California declared totally drought free for first time in seven years" [Reuters]. "California was declared totally drought free for the first time in more than seven years on Thursday, following unusually abundant winter rains and snowfall statewide, according to the government's weekly report on U.S. drought conditions… The U.S. Drought Monitor's latest survey reflected an astonishing turnaround – at least for now – from a severe, prolonged dry spell that reduced irrigation supplies to farmers, forced strict household conservation measures and stoked a spate of deadly, devastating wildfires."
"Well-bred daphnes are a victory for common scents" [Financial Times]. "The warm English weather in late February was exceptional and amazingly lovely. Magnolias came into flower about five weeks early. Hyacinths coincided with early crocuses. There has never been such a transition between winter and spring and the effects were too beautiful to be worth worrying about. Who knows what will await those flowers which obediently open in April? Storms and frosts may ruin them all anyway. As a spectacle this early season was heavenly. It was also wonderfully scented. Flowers' scents are released most freely when the temperature drops after a warm sunny day. In this unique season, days of summery heat cooled sharply in late afternoon and provoked a haze of scent in well-planted gardens." • "Unique" season? Perhaps not.
"GOP lawmaker: Green New Deal is like genocide" [Axios]. "Rep. Rob Bishop (R-Utah) said the ideas behind the progressive policy are 'tantamount to genocide. That may be an overstatement but not by a whole lot,' Bishop said at a press conference Thursday morning on Capitol Hill." • Hoo boy.
"Eco-fascism: The ideology marrying environmentalism and white supremacy thriving online" [New Statesman]. "Although eco-fascism can manifest in different ways (just like any umbrella ideology), there are consistent sets of beliefs that crop up among eco-fascists. They include veganism, anti-multiculturalism, white nationalism, anti-single use plastic, anti-Semitism, and, almost always, a passionate interest in Norse mythology. Most Twitter profiles of self-defining eco-fascists are a bespoke cocktail of alt-right memes, pictures of forests and cabins, hatred towards Jews, and rants about animal rights. Between calls for a racial purity and plastic bans, most accounts have tweets or retweets honouring Thor, celebrating Tyr Day, or glorifying Sunna, the Norse Sun Goddess."
Our Famously Free Press
"Facebook, Axios And NBC Paid This Guy To Whitewash Wikipedia Pages" [HuffPo]. "This guy" is Ed Sussman, a former head of digital for Fast Company and Inc.com. "The vast majority of the people who propose and make changes to Wikipedia are volunteers. A few people, however, have figured out how to manipulate Wikipedia's supposedly neutral system to turn a profit. That's Sussman's business. And in just the past few years, companies including Axios, NBC, Nextdoor and Facebook's PR firm have all paid him to manipulate public perception using a tool most people would never think to check… Although he's only technically allowed to suggest changes on a subject's Talk page, Sussman has an impressive track record of getting edits approved on behalf of his clients."
Class Warfare
"States where income inequality is causing the middle class to disappear" [USA Today]. State rankings. Interestingly, New Hampshire, Massachusetts, and Vermont are first, second, and third.
News of the Wired
"The Sound of Evil" [The American Scholar]. "Like many movie trends, the musical murderer cliché was born of genius. The trope's historical roots trace back to two landmark films. Fritz Lang's M (1931) introduced the trait in serial killer Hans Beckert, who whistles Grieg's "In the Hall of the Mountain King" while stalking his victims. But Kubrick's A Clockwork Orange (1971) truly enshrined the phenomenon in the cultural consciousness. Its iconoclastic score rewrote the rules of cinema soundtracks by mixing graphic violence with serene symphonic classics. Gentle melodies from Purcell and Beethoven accompanied brutal acts of rape and torture carried out by the protagonist's gang." • So the crapification started with Kubrick, right at the beginning of the neoliberal era…
"The easiest way to lucid dream, according to science" [Quartz]. From 2018, surely still germane? "[O]ne of the most mysterious faculties of the human mind [is] to know that we're dreaming even while asleep, a state known as lucid dreaming. In the study I published with colleagues at the University of Adelaide, the best technique turned out to be something called Mnemonic Induction of Lucid Dreams (MILD), originally developed in the 1970s by the American psychophysiologist Stephen LaBerge. It involves the following steps…" which you can read. More: "Aside from the sheer joy of being able to bend an imaginary world to your will, there's a range of additional psychological benefits to lucid dreaming. For one, it can help with nightmares: Simply knowing that you're dreaming often brings relief during a nasty episode. You might also be able to use dreams to process trauma: confronting what's haunting you, making peace with an attacker, escaping the situation by flying away, or even just waking up. Other potential applications include practicing sporting skills by night, having more 'active' participants for studies about sleep and dreaming, and the pursuit of creative inspiration." • Do any readers practice lucid dreaming? Do these benefits exist? I must say, "practicing sporting skills by night" seems a little bathetic.
* * *
Readers, feel free to contact me at lambert [UNDERSCORE] strether [DOT] corrente [AT] yahoo [DOT] com, with (a) links, and even better (b) sources I should curate regularly, (c) how to send me a check if you are allergic to PayPal, and (d) to find out how to send me images of plants. Vegetables are fine! Fungi are deemed to be honorary plants! If you want your handle to appear as a credit, please place it at the start of your mail in parentheses: (thus). Otherwise, I will anonymize by using your initials. See the previous Water Cooler (with plant) here. Today's plant (CK):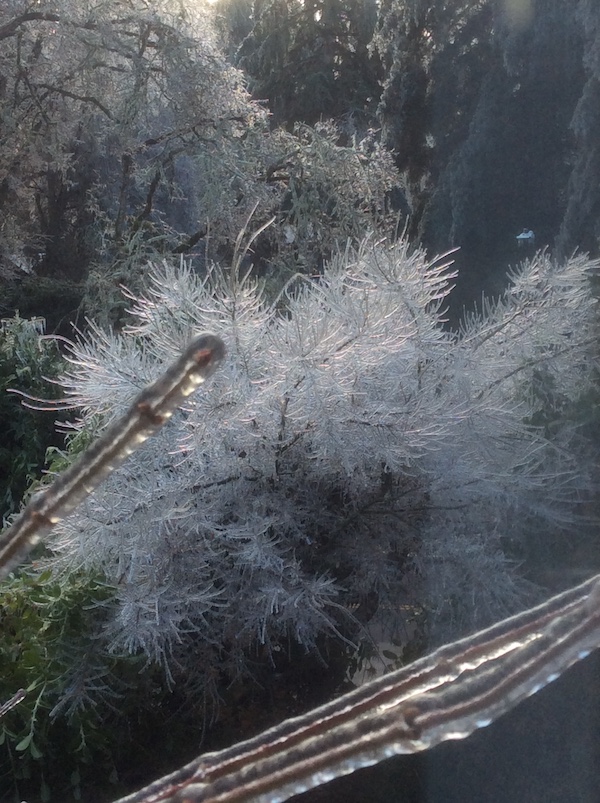 Oooh, a lovely ice storm!
* * *
Readers: Water Cooler is a standalone entity not covered by the annual NC fundraiser. So do feel free to make a contribution today or any day. Here is why: Regular positive feedback both makes me feel good and lets me know I'm on the right track with coverage. When I get no donations for five or ten days I get worried. More tangibly, a constant trickle of small donations helps me with expenses, and I factor that trickle in when setting fundraising goals. So if you see something you especially appreciate, do feel free to click below! (The hat is temporarily defunct, so I slapped in some old code.)
Or Subscribe to make a monthly payment!