By Lambert Strether of Corrente.
Patient readers, I have had a complexified day, and so today's Water Cooler will be a bit abbreviated. A shame, since there's so much happening! –lambert
Politics
"But what is government itself, but the greatest of all reflections on human nature?" –James Madison, Federalist 51
"They had one weapon left and both knew it: treachery." –Frank Herbert, Dune
2020
Booker:

Cory Booker on the filibuster to @NPRinskeep: "We need to understand that there's good reason to have a Senate where we are forced to find pragmatic bipartisan solutions. Let's be a country that operates from that sense of common purpose."

— Alex Seitz-Wald (@aseitzwald) March 7, 2019

Booker wants to take office. But he doesn't take power, does he?

Sanders: "Bernie Sanders Is Beating Kamala Harris 2-1 Among Black Democratic Primary Voters, New Poll Finds" [The Intercept]. "Bernie Sanders is leading all other announced candidates in support from black voters, a new poll [from Morning Consult] finds. Sanders's support among black voters, at 28 percent, puts him in second place among that demographic, behind Biden, at 32 percent. He trailed Biden 31-25 among whites." And about class:

There appears to be a strong class element at play in the finding. The same poll found that (two qualities that typically, if not always, overlap). Because of structural wealth and income gaps, that population is heavily white.

Sanders, meanwhile, receives his strongest support support from those making less than $50,000 — a group that is, for the same reasons, much more diverse. The poll found that 30 percent of those with the lowest incomes backed Sanders.

In other words, Thomas Frank is right. The professional class hates Sanders — and they are the base of the Democrat Party.

* * *

"The Bernie-Hillary Feud Is Bleeding Into 2020" [Talking Points Memo]. "Clinton allies were irritated that Sanders made former Ohio State Sen. Nina Turner a campaign co-chair, since she pointedly refused to endorse Clinton during the 2016 general election." • "Listen to black women," lol.

"Sanders vs. Clinton: 2016 rivalry proves hard to overcome" [Associated Press]. "Bill and Hillary Clinton don't believe Sanders can beat Trump, according to people who have spoken to them and requested anonymity to discuss private conversations." • And the Clintons tend to act on their putative beliefs, don't they?

The DCCC is still at it:

@dccc is this yours? I hope not. If so, are you serious? Staying neutral? Where is @BernieSanders name? And don't blame it on an intern. This is more of the shame underhanded foolishness from 2016. #BERNIE2020 pic.twitter.com/70Jj6Ec7q8

— Nina Turner (@ninaturner) March 4, 2019
2019
"Pelosi: House anti-hate resolution won't mention Omar" [Associated Press]. "Pelosi defended Omar and says she does not believe the new congresswoman understood the 'weight of her words' or that they would be perceived by some as anti-Semitic. 'It's not about her. It's about these forms of hatred,' Pelosi told reporters." • A courageous stand indeed! Remember that bucket of warm spit, "Love trumps hate" from the Clinton campaign? Consistent messaging is everything. Because bad things are bad:

Please support HR 2, the We Condemn All Bad Things And In No Way Should This Be Interpreted As Throwing Shade At Anyone In Particular Act of 2019

— David Burge (@iowahawkblog) March 7, 2019

"The left's revolt against Democrats' plan to punish Rep. Ilhan Omar appears to be working" [Vice]. "Democrats seem to have underestimated the groundswell of support that manifested for Omar. Engel, chair of the House Foreign Affairs committee, vowed not to kick Omar off the committee and started defending her on Twitter. Even one of Omar's defenders, Rep. Alexandria Ocasio-Cortez, received backlash for not being explicit enough about her defense of Omar." • 

"Political operation tied to Alexandria Ocasio-Cortez aide faces scrutiny" [CNN]. "Saikat Chakrabarti's corporation, Brand New Congress LLC, received $867,000 in 2017 from two political action committees he helped found, Brand New Congress PAC and Justice Democrats, Federal Election Commission records show. Ocasio-Cortez's campaign also paid Chakrabarti's corporation more than $18,000 in 2017 for 'strategic consulting.'" • $18,000? Really? That's hardly enough to buy a parka for Bernie. What's wrong with these people?
Health Care
"Lobbyist Documents Reveal Health Care Industry Battle Plan Against 'Medicare for All'" [The Intercept]. I ran this when it appeared in November 2018, but with HR1834 out, it's worth a second look: "'We're all focused on 2020,' Lauren Crawford Shaver, a partner at Forbes-Tate who is helping to manage the [Partnership for America's Health Care Future] campaign, recently told the National Association of Health Underwriters in a podcast produced by the group. explained to the group that she is working to peel support away from the 'Medicare for All' bill sponsored by Sen. Bernie Sanders, I-Vt.: • "Never, ever."
Realignment and Legitimacy
"In search of a new center in the culture war" [Damon Linker, The Week]. "For much of the past four decades, the American center has been defined by its broadly libertarian outlook on both economic and social issues. To be a centrist Democrat, a centrist Republican, or a centrist independent has been to favor keeping taxes relatively low, regulations relatively minimal, international trade relatively free, and government services and benefits intact and in place while not expanding them very far into new areas. It has also meant supporting abortion rights and eventually gay marriage and transgender rights, and favoring, for both moral and economic reasons, high levels of immigration. Yet a comprehensive survey of voters in the 2016 election has revealed that very few people actually support this combination of libertarian policies — and that lots of people favor the ideologically opposite position: relatively progressive on the economy and relatively conservative on social issues." • Hoo boy.

"Reading Mobilization" [Inside Higher Ed]. • Interesting discussion of the difference in signage between the 1963 March on Washington, and the National Women's March. In 1963: "The organizers kept the event unified and on message through printed signs calling for school integration, full citizenship, a higher minimum wage and a few other agreed-upon demands. No unauthorized placards were allowed." So no debacles like: "If Hillary were president, we'd be at brunch right now." Iconic though that was.

"Open the Jeffrey Epstein files. All of them." [WaPo]. "It is time to uncover all the hidden secrets in the sordid matter of Jeffrey Epstein, the wealthy sex offender with a stable of high-placed friends. Pull up the floorboards and see what slithers or scurries into the light… For example: What do the FBI and Main Justice know about the strange failure of New York's district attorney to vigorously investigate alleged sex trafficking at Epstein's Manhattan townhouse and "modeling agency"? What have the feds heard about Epstein's conduct at his New Mexico ranch and aboard his private jet? Has there been any contact with law enforcement in the U.S. Virgin Islands, where Epstein owns a private compound visited by the likes of former president Bill Clinton and numerous rich-guy moguls?" • Sounds bipartisan!
Stats Watch'
Productivity and Costs, Q4 2018: "A key vital sign for the U.S. economy is favorable as nonfarm productivity rose at a higher-than-expected annual rate" [Econoday]. "However you look at it, U.S. output is growing at a healthy rate and wages, as cited by Jerome Powell, are beginning to show improvement."
Challenger Job-Cut Report, February 2019: "The number of layoff announcements has clearly shifted higher through the end of last year and into this year" [Econoday]. "But actual layoffs following announcements of layoffs can take months which may be good news for the near-term jobless claims and employment reports but this delayed effect poses a risk for reports through the first half of the year."
Jobless Claims, week of March 2, 2019: "February was yet another strong month for the labor market" [Econoday]. "No states were estimated in the week and there were no special factors. Whatever the questions over retail spending or bumps underway in the factory sector, demand for labor remains very strong."
Retail: "One stat in Target's earnings proves stores are still the biggest defense against Amazon" [Business Insider]. "In the company's latest earnings report, Target says it fulfilled nearly three out of every four digital orders through its stores in some way…. 'Digital growth at Target isn't coming at the expense of our stores," [CEO Brian Cornell] told investors on Tuesday in a meeting. 'It's making stores more relevant.'"
Retail: "NCAA Judge Goes Easy on Convicts, Hard on College Basketball" [Bloomberg]. "Two weeks before the annual college basketball tournament known as March Madness, U.S. District Judge Lewis Kaplan sentenced former Adidas AG executive James Gatto to nine months, while Merl Code, a consultant with ties to Adidas, and agent Christian Dawkins each got six…. The three were convicted of conspiring to defraud universities by routing payments to the families of recruits and concealing those payments from the schools. Meeting in parking lots and hotel rooms, they hustled cash to family members of hot prospects, who in turn joined college programs sponsored by Adidas." • Universities shouldn't be in the sports business.
Tech: "Stalkers and Debt Collectors Impersonate Cops to Trick Big Telecom Into Giving Them Cell Phone Location Data" [Vice]. "Bounty hunters and people with histories of domestic violence have managed to trick telecommunications companies into providing real-time location data by simply impersonating US officials over the phone and email, according to court records and multiple sources familiar with the technique. In some cases, these people abuse telecom company policies created to give law enforcement real-time location data without a court order in 'exigent circumstances,' such as when there is the imminent threat of physical harm to a victim. The practice is ongoing according to the sources, and court documents and an audio recording obtained by Motherboard also detail a previously prosecuted case in which one debt collector tricked T-Mobile by fabricating cases of child kidnapping to convince the telco to hand over location data."
Tech: "Facebook's reputation is sinking fast" [Axios]. • From the Axios Harris Poll RQ ranking, 2012–19, "Public reputation of the 100 most visible U.S. companies.: In 2012, Facebook ranked #51. Now it ranks #94.
Tech: "A Privacy-Focused Vision for Social Networking" [Mark Zuckerberg, Facebook]. "Over the last 15 years, Facebook and Instagram have helped people connect with friends, communities, and interests in the digital equivalent of a town square. But people increasingly also want to connect privately in the digital equivalent of the living room. As I think about the future of the internet, I believe a privacy-focused communications platform will become even more important than today's open platforms." • I would totally trust Facebook in my living room. Who wouldn't?
Tech: "Facebook's pivot to privacy has huge implications — if it's real" [The Verge]. "Zuckerberg is fond of grand pronouncements — it's less than four years since he declared that the News Feed would one day primarily be video, and just two years since he announced that Facebook would concentrate on "developing social infrastructure," whatever that might have meant. In any case, neither vision came true. Whether this one does, facing even longer odds, remains anyone's guess."• Plus the stock didn't move.
Tech: "Zuckerberg says Facebook's future is going big on private chats" [Reuters]. "James Cordwell, a financial analyst at Atlantic Equities, said Facebook's strategy risks undercutting its current way of making money. 'But if they can pull off this WeChat-esque strategy,' he said, 'it could open up material revenue streams beyond just advertising, something that investors have been craving for quite some time.'"
Manufacturing: "Made for Next to Nothing. Worn by You?" [New York Times]. "Home work — working from home or a small workshop as opposed to in a factory, often for a subcontractor who is then employed by a supplier for an established company or brand — has long been a cornerstone of the fast-fashion supply chain. It is particularly prevalent in countries such as India, Bangladesh, Vietnam and China, where millions of low-paid and predominantly female home workers are among the most unprotected in the industry… In northern India, where most of the 1,452 workers interviewed were located, about 76 percent started their home-based work because of "some form of duress," including severe financial hardship, family pressure or lack of alternate income. The youngest individual interviewed was 10 years old; up to 19 percent of the workers were between 10 and 18 years old." • Not good at all, but let's not forget that "some form of duress" includes wage work as such, and that's not a bug, it's a feature.
Concentration: "The case against Amazon" [Politico]. "European Commissioner for Competition Margrethe Vestager is guarded about the nature of her investigation, but has stressed that it focuses on data usage and the way that Amazon has a hybrid role as both a shop and a platform for other sellers. The central point to investigate would be whether Amazon abuses its dominance of online retail to collate useful data from competitors and then uses that same data to push sales of its own wares." • Lots of anecdotal data about this. So if Vestager is on the trail…
The Biosphere
Only 80 days 'til Memorial Day, when Maine puts the seeds in the ground!
am going to start from seed: peas, cucumbers, zucchinis, leeks, big sauce tomatoes and little cherries, sweet basil, and fennel. i'm direct sowing sunflowers, beans, fernleaf dill, salad greens, rainbow carrots and parsnips. i'm only buying strawberry starts and seed potatoes.

— sweet cicely ? (@spindlypete) March 6, 2019
I strongly advise readers who grow vegetables, especially readers starting out, to grow from seed. It's not hard; after all, seeds are highly adapted to growing, so the only real requirement is patience (and, in Maine, not getting over-optimistic and planting too early). Only after I became a little time-pressed, and bought flats ("starts") of plants at the Farmer's Market, did I get bugs, and after I got bugs, I never got rid of them (because I don't want to use sprays, and who has the time to look for eggs on the underside of leaves?). So I dropped vegetables, and moved over to flowers — an approach that has many other advantages — but that's not exactly Jackpot-ready behavior, now is it? Oh, and a garden affects everything around you, everything, I would argue for good. Critters, neighbors, even the the air and water. It's not at all like changing personal consumption habits.
Macroni is anti-food:
Soylent is to humanity what macaroni is to Georgians. pic.twitter.com/g7qoXIPgmK

— Frédéric Leroy (@fleroy1974) February 21, 2019
Water
"Radium contamination in public water systems nationwide" [Environmental Working Group] (methodology).
Guillotine Watch
"Here's Where to Find the World's Super Rich, From Paris to Tokyo" [Bloomberg]. "The world had almost 200,000 ultra-high-net worth individuals last year, according to the broker's wealth study, with more than two-thirds of them across Asia, Europe and North America." Handy map: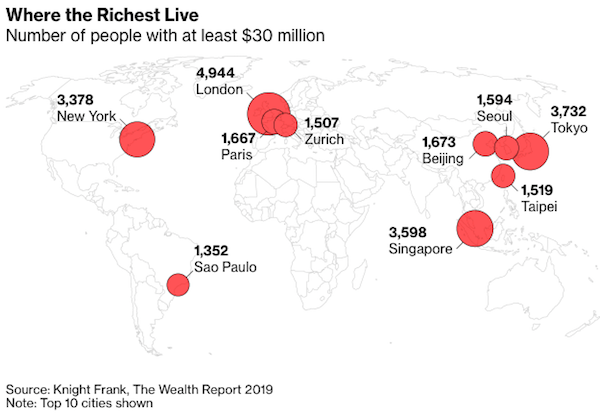 "Can a Hedge Fund Quant Remake a City Without Destroying It?" [Bloomberg]. No. More: "What Woodriff really wants to do with his wealth is transform Charlottesville into a place that will attract more people like, well, him." As I said.
News of the Wired
Look how "smart" this lock is:
Everything is fine. https://t.co/OJ9tjjYgeD pic.twitter.com/clQuaKUrrp

— Network Security Engineer. Architect. Leader. (@vipergts46) March 6, 2019
* * *
Readers, feel free to contact me at lambert [UNDERSCORE] strether [DOT] corrente [AT] yahoo [DOT] com, with (a) links, and even better (b) sources I should curate regularly, (c) how to send me a check if you are allergic to PayPal, and (d) to find out how to send me images of plants. Vegetables are fine! Fungi are deemed to be honorary plants! If you want your handle to appear as a credit, please place it at the start of your mail in parentheses: (thus). Otherwise, I will anonymize by using your initials. See the previous Water Cooler (with plant) here. Today's plant (MR):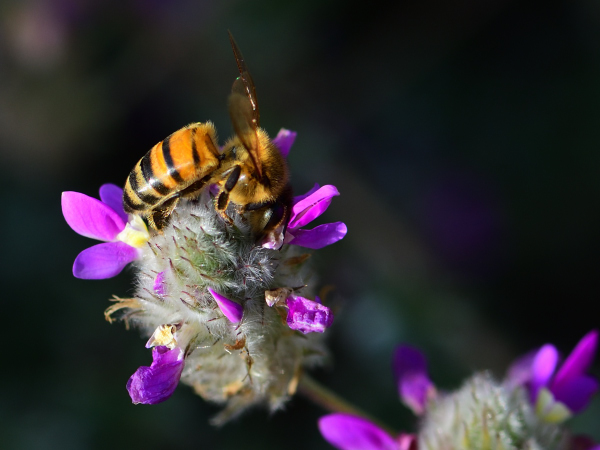 MR writes: "One of the many pollinators that's hanging out at my trailing indigo." Good news about pollinators!
* * *
Readers: Water Cooler is a standalone entity not covered by the annual NC fundraiser. So do feel free to make a contribution today or any day. Here is why: Regular positive feedback both makes me feel good and lets me know I'm on the right track with coverage. When I get no donations for five or ten days I get worried. More tangibly, a constant trickle of small donations helps me with expenses, and I factor that trickle in when setting fundraising goals. So if you see something you especially appreciate, do feel free to click below! (The hat is temporarily defunct, so I slapped in some old code.)
Or Subscribe to make a monthly payment!