The UK is rudderless as Brexit looms. Theresa May was never in control; her fundamentally wrongheaded approach to the negotiations of thinking the UK had the advantage, compounded by the massive own goal of calling snap elections, led to the EU steering the negotiations at key junctures. But May was still able to exert influence even as her authority kept eroding. She still has perhaps one play left, but even if she prevails, the UK will need to petition the EU for an extension. Ian Dunt, in a despairing post, Britain pleads to extend Article 50: This is one of our darkest hours, summed up where things stand:
We are no longer in control of our own destiny….We are now at the mercy of others. This is what Brexit has done to what was, just a few years ago, one of the most powerful countries in the world….

The debate in the Commons was typically contradictory, scheming and chaotic. Remainers collapsed into an internecine battle over when to table an amendment on a People's Vote. That was embarrassing and self-harming, with no-one coming out of it looking good. Hilary Benn and others tried to table an amendment wrestling back control of Brexit from the government, but it fell by just two votes. Chris Bryant toyed with an amendment blocking the prime minister from bringing her deal back, but didn't put it forward to a vote.

When all was said and done, it was a straight vote on the government's motion saying it would ask for an extension of Article 50. It passed easily, by 412 votes to 202.

Immediately afterwards, many commentators insisted that that was it: Britain was now officially not leaving the EU on March 29th. But they were wrong.
As most readers already know, one of the amendments Dunt mentioned above, on a second referendum, failed by 334 to 85, with a remarkable 223 abstentions. Recall that whenever the EU has discussed the possibility of the UK getting an extension, officials have consistently stressed that the UK needs to give a reason, and a second referendum was often an example. Even though Jeremy Corbyn said he was all for another referendum after whipping against it, EU leaders are likely to regard the vote as dispositive until they have an awfully good reason to thin otherwise.
As Politico's morning European newsletter put it:
GOOD FRIDAY MORNING. This was the week the U.K. parliament took all the workable options for Brexit off the table — deal as well as no deal. It was also the week MPs deprived the country and the rest of the EU of the one certainty they thought they had: That the divorce would happen at a specific point in time. So much for our updates on how many days until Brexit.

What we do know: Prime Minister Theresa May isn't in control any more, if she ever was. Labour leader Jeremy Corbyn hasn't ever been able to change the course of Brexit. The impact of Speaker of the House John Bercow's handling of procedures on the real world is yet to be seen. And the queen is not supposed to say or do anything.

On the European end of things, the decision on what's next is neither in the hands of Commission President Jean-Claude Juncker nor Council President Donald Tusk (who on Thursday expressed his preference for a long Brexit delay, to the surprise of two EU diplomats who expected Tusk to just purdah, as everybody else does). The EU's chief negotiator, Michel Barnier, said any decision was beyond his control.

Collective bargaining: "It seems as if the EU27 leaders really do hold all the cards," write David Herszenhorn, Jacopo Barigazzi and Diego Torres.
May said that her game plan was to hold yet another vote on her deal next week, assuming Speaker John Bercow does not block her from submitting the same matter yet again. That means she will spring whatever version of extension she is asking for on the EU 27 right before or even at the meeting. This is not going to improve their mood.
Government working on bribing the DUP to secure a Withdrawal Agreement win. It helps that the DUP is signaling that it wants to be bought. However, with a 140 vote gulf last time, the Ultras as rabid as ever, and the widespread UK assumption that the EU will agree to an extension, the odds that so many votes will change looks very remote even if the DUP switches sides. May seemed to be pinning her hopes on getting ERG defections after Attorney General Geoffrey Cox gave an additional opinion on the Irish backstop which found nee grounds why it might not wind up being a roach motel. The lawyers for the Ultras have rejected it.
Ultras are still trying to blow things up. Clive flagged a new story at the Telegraph:
Theresa May has faced renewed pressure to resign as Tory MPs warned they could support a vote of no confidence in the Government.

George Freeman, a Tory former minister, suggested a pledge from the Prime Minister to quit could persuade Brexiteers to support her deal.

But Sir Christopher Chope, the veteran Eurosceptic Tory MP, said Mrs May's handling of Brexit meant he would now "seriously consider" voting to bring down the Government.
He added:
Sir Christopher Chope is my mother in law's MP. The local association there are mad as loons. They had to out-UKIP UKIP such was the euroskeptic theocracy that is the electorate there. Which they did without breaking into a sweat.
However, even if the Ultras do table a vote of no confidence, aside from the fact that enough MPs are likely to have worked out that triggering a general election now would almost guarantee a crash out, it's also not a good time for Labour. From a John Authers piece at Bloomberg: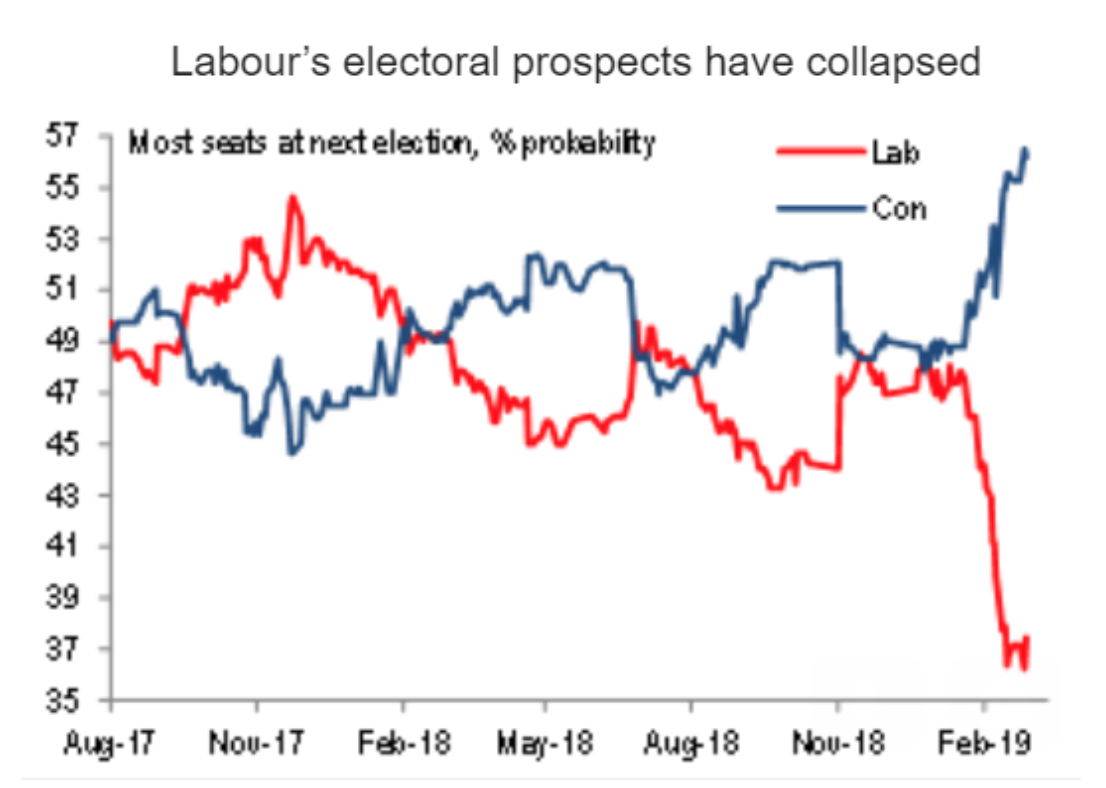 It isn't a given that the EU will give a long extension if May fails to win approval of her Withdrawal Agreement. It's not that UKIP and other right wingers trying to get "no" votes from Italy, Poland, or Hungary is likely to do the trick. The EU has been loath to have the UK seat members in the next European parliament.
But the immediate issue is that the EU has said every time that the idea of an extension has come up, the UK needs to give a reason why (aside from a short "technical" extension), the EU can have reasonable odds of believing that the UK can sort itself out and agree on a different type of Brexit that still sits on Barnier's ladder, his now-notorious chart of Brexit options given various red lines.
But now we have the UK having shown itself to be in a degree of disarray unthinkable in any country, or even large organization. And May seems to be going about seeking an extension in a way designed to lower the odds of her getting one. It doesn't seem likely she'll offer a reason, since the UK is fundamentally divided and there's no ready way to change that. She can't say a new referendum and she won't say a general election. And she might not even say how long "long" is.
Key EU leaders were already not well disposed towards the lengthy extension idea. From CNN:
French President Emmanuel Macron said on Thursday any extension to Brexit could only be "a technical delay to allow more time to put their departure in place."

Macron, who is currently in Kenya, added that the UK would need a purpose for the EU to grant any extension, so as "to ensure something will come out of it."
Attitudes have hardened in Germany too. From Reuters:
Only delaying Britain's departure from the European Union does not bring a solution, Germany's Justice Minister Katarina Barley on Friday said.

"I think the EU would be ready to delay Brexit, but one has to have a plan on what is supposed to happen during this period," Barley told rbb broadcaster.
In the Spectator, Robert Peston confirmed this view is well shared:
So the stakes for the UK could not be higher when the PM launches Meaningful Vote 3 after the weekend. Now if I am right, and the PM loses that vote again, how would the EU react? Well my sources in EU capitals are clear and agreed on only one point. It depends utterly on whether the PM asks for something specific. For the avoidance of doubt, if she turns up and simple says "gimme a delay, but I'm not sure what I'll do with it", they'll "ask her for clarity" – according to one well-placed source – and "would not take any decision at all". She would be sent home, and invited to re-submit her request for extra time at an emergency council of EU leaders the following week. Yes, I am not making this up.
Consistent with our earlier observations, May springing whatever her plan winds up being on the EU at the 11th hour is going to hurt her. Even though professional diplomats wind up in those roles for their ability to maintain their composure, the UK has run roughshod over them too many times. From the Telegraph:
Brussels has reacted furiously after Theresa May announced plans to hold a third meaningful vote on her Brexit deal just one day before an EU summit to approve an extension to the Article 50 negotiations.

While EU-27 leaders are divided over the length and conditions for the extension beyond the March 29 deadline, they are united in their irritation that the prime minister will give the bloc very little time to consider their response and prepare a joint position.

Last night Mrs May said that MPs would hold a third vote on her deal on March 20. Officials and diplomats have told Britain to set out its extension plans as early as possible, preferably on Thursday, ahead of the summit in Brussels on March 21.

"There is frustration and anger among the ambassadors of the EU-27 in Brussels at Mrs May's plan. This is not how things are done before EU summits. We need to plan. A lack of planning leads to another Salzburg," the diplomat added, in a reference to one of Mrs May's humiliations at the hands of EU leaders at a summit last year."
As Ian Dunt put it:
Other voices in Europe are strongly opposed to an extension – some in all circumstances, others only in certain circumstances. With no deal in place, they might view an extension as an ability to allow Britain to prepare for the aftermath, which they feel they are better protected against. That would open up the possibility of further extensions and erode the EU's strength in talks.

There are even some figures in Europe, including in France, who quite welcome no-deal from a self-interested medium-term strategic perspective. Others are simply fed-up with Brexit and believe it's time to cut the UK off.

This is not the most likely outcome. Chances are, they'll offer a extension on the condition that it is quite long and contains a set idea of what will take place to change the situation. But let's be clear what this means. We are no longer the ones who decide what happens to our country.
Normally I would expect the EU to ask the UK to make a hefty financial payment to get an extension, particularly a long one when the odds favor that the UK will just faff about, but The Times suggests the EU will force a plan on May if she doesn't present one (recall that the Times has a particularly poor record with rumors, but even a blind pig sometimes finds a truffle):
The European Union is poised to tell Theresa May that she must hold a second referendum or soften Brexit in return for them granting a lengthy delay to Britain's departure date.

The Times understands that the prime minister has been told by senior EU officials and other European leaders that conditions for an extension to the Article 50 exit process would include the option of a second vote on EU membership.

Mrs May is expected to ask a summit of EU leaders next week for a delay to Brexit. Unless the House of Commons has ratified the withdrawal agreement by then momentum is growing across the EU for a lengthy postponement to give Britain a "long reflection period".
This view seems at least in part based on Donald Tusk's remarks, but as Politico indicated above, the locus of decision-making has shifted away from Brussels to the individual EU leaders, so Tusk has less sway than he did before.
Finally, I wonder how Barnier feels about all of this. He's 67. Admittedly, he has a very able deputy in Sabine Weyand, but he's done a remarkable job in the face of May's thickheadedness and repeated self-sabotage, and the revolving door of idiotic Brexit ministers. How much more of this does he want to put up with? And what happens when he decides to retire? In some ways, Brexit has only begun. As some experts have pointed out, the talks on a trade deal will be even more taxing.