Yves here. Like Lambert, I am a bit distracted by the Russiagate aftermath, particularly who is recanting and who is doubling down. So I feel even more behind that usual.
In addition, Colonel Smithers, who graciously provided his perspective on the forced deportation of Chagos residents (a sordid bit of British colonial history described long form in a Craig Murray post), asked if Thuto or any other South Africa residents could provide an update on the SA elections.
'Monster' alligator strolls on to Georgia golf course BBC
It Was 70 Degrees in Alaska This Week Gizmodo (furzy)
World's longest salt cave found in Dead Sea's Mt. Sedom, 'biblical' Israel Jerusalem Post (David L)
74% of US Coal Plants Threatened by Renewables, But Emissions Continue To Rise arstechnica
I Rode an E-Scooter as Far From Civilization as Its Batteries Could Take Me Gizmodo. Starting in San Francisco, there is no way you will get far from civilization unless that scooter is capable of riding on/under water.
Bacteria can travel thousands of miles through the air on its own Earth (resilc)
Monsanto Ordered to Pay $80 Million in Roundup Cancer Case New York Times (David L)
UPS eyes in-home health services with U.S. vaccine project Reuters (resilc)
New York county declares measles outbreak emergency BBC
The Anti-Vaxxer Movement Is Getting More Organized and Powerful Than Ever Before Daily Beast (resilc)
China?
The EU bows to 'systemic rival' China Asia Times (Kevin W)

US and China resume their dance in latest trade talks Financial Times
North Korea
Judge Identifies CIA Related Man Who Led The Raid On North Korea's Embassy In Spain Moon of Alabama (Kevin W)
Brexit
Venezuela
Trump tells Russia to get its troops out of Venezuela Reuters (resilc)
Syraqistan
Netanyahu: Golan Endorsement 'Proves' Israel Can Keep Occupied Territories Antiwar.com (resilc)
Big Brother is Watching You Watch
Facebook To Fight Belgian Ban On Tracking Users (And Even Non-Users) Bloomberg

Airbnb Has a Hidden-Camera Problem Atlantic

French Gas Stations Robbed After Forgetting To Change Gas Pump PINs ZDNet
Imperial Collapse Watch
Navy's $7.8 Billion Destroyer Now Due for Delivery 5 Years Late Bloomberg

3 reasons to think twice about an infrastructure bill Politico. Resilc: "We don't think once on the DoD budget."

A Foreign Policy Without War or Corporate Power New Republic (resilc)
Trump Transition
Trump says he can produce a better healthcare plan than Obamacare Reuters. Resilc: "And Mexico will pay for it."

Why Trump's New Push to Kill Obamacare Is So Alarming New York Times

VP Mike Pence: I want Americans back on the Moon by 2024 (or before the Chinese get there) The Register. Kevin W: "Also wants the UK to send over one of their magical sparkly ponies."
During the 90s, the influencers said millions of lost jobs for the sake of free trade and globalization were worth it. Now, they tell us the loss of several hundred thousand jobs in the insurance industry for the sake of Medicare For All is intolerable. pic.twitter.com/krGH9kdHgC

— corey robin (@CoreyRobin) March 24, 2019
Senators Demand To Know Why Election Vendors Still Sell Voting Machines With 'Known Vulnerabilities' TechCrunch
RussiaGate
"There Was No Market for Skepticism": Surprise Mueller Ending Stuns MSNBC—But the Resistance Show Will Go On Vanity Fair (resilc)

AG Barr to release Mueller report in 'weeks not months' NBC (furzy)

Despite report findings, almost half of Americans think Trump colluded with Russia: Reuters/Ipsos poll Reuters (resilc)
2020
Warren Unveils Proposal To Bust Up Agribusiness Monopolies New York Magazine. Resilc: "Warren will do better than expected."

Elizabeth Warren Calls For a National Right-to-Repair Law for Tractors Vice

Will The Results Of The Mueller Investigation Matter In 2020? FiveThirtyEight
Driver in deadly car attack at Charlottesville white nationalist rally pleads guilty to federal hate crimes NBC (furzy)
The Trouble With Stephen Moore AIER (resilc)
1/ Sorry I'm late guys :D – I'll comment here as a factory owner, buyer of many machine tools, and industrial history buff. First, it's true that today only a few countries make all the machine tools today, so let's look at that history. Thanks for indulging me :-)

— Nick Pinkston ? (@NickPinkston) March 25, 2019
'Making Amazon Look Bad': Microsoft Is Backing a Major Tax On Itself and Amazon Gizmodo. This comes after Amazon but not Microsoft lobbied against a homeless tax in Seattle.
Lyft's insurance problem FT Alphaville (Harry Shearer)
Class Warfare
Rankings: Healthiest Communities in the U.S.  US News. Resilc: "Wow, rich white people are healthy. Big news."

The New Politics of the Retirement Crisis New Republic

IBM Accused of Violating Federal Anti-Age Discrimination Law ProPublica. I was hearing about IBM's hostility to older workers over 15 years ago. One trick they'd employ to get older workers to quit was to try to post them to places like Brazil, where they had no friends or family, at 1/4 of their current pay, and no promise to move them back to the US.

Millennials don't want to buy baby boomers' sprawling, multi-bedroom homes, and it's creating a major problem in the real-estate market Business Insider (Kevin W). Article gets around to admitting that "can't afford" is contributing to their preferences.

Walmart and the Push to Put Workers on Company Boards New Yorker

Jamie Dimon Laments the Plight of the Poor While His Bank Pays 0.02% on CDs Counterpunch

Jamie Dimon, spare us your crocodile tears about inequality Robert Reich, Guardian (resilc)

Yale rescinds admission for student whose parents allegedly paid $1.2 million to get her in Boing Boing (resilc)
Antidote du jour: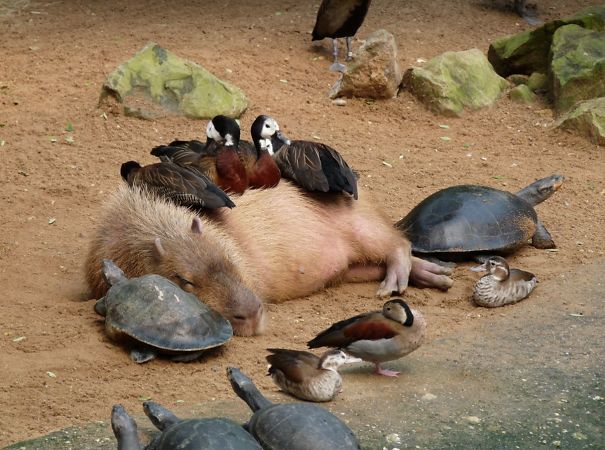 And a bonus (guurst):
Chukotka Polar bears in brilliant pictures by Viktor Nikiforov pic.twitter.com/hd2xiIcxi0

— The Siberian Times (@siberian_times) January 23, 2019
See yesterday's Links and Antidote du Jour here.