The Wall Street Journal has an in-depth report on how William "Rick" Singer, the architect and head honcho of the college admissions cheating and bribery operation that has generated 50 criminal indictments, built up his network.
One reason this scandal has attracted so much interest is that it's another nail in the coffin of the legitimacy of the professional classes, the obsession with credentials as proof that their elevated position was well deserved. At some point, I hope to return to a topic I wrote about many years ago, about how meritocracy is an illusion (not simply that it isn't observed much in practice, but that it is unattainable).
But after looking at so many finance scams, such as many varieties of mortgage fraud, CDOs, Bernie Madoff, money laundering, private equity abuses, Wells Fargo stealing from depositors, it's instructive to look at at how a little crime syndicate grew and prospered before it was busted.
As an aside, I fail to understand how Singer and his co-conspirators didn't recognize that their activities were hitting the scale where they were sure to be found out. But I guess the short answer is the money is so enticing that it becomes hard to stop or even dial it down. Look at the house that it allowed a mere former coach to buy in tony Newport Beach: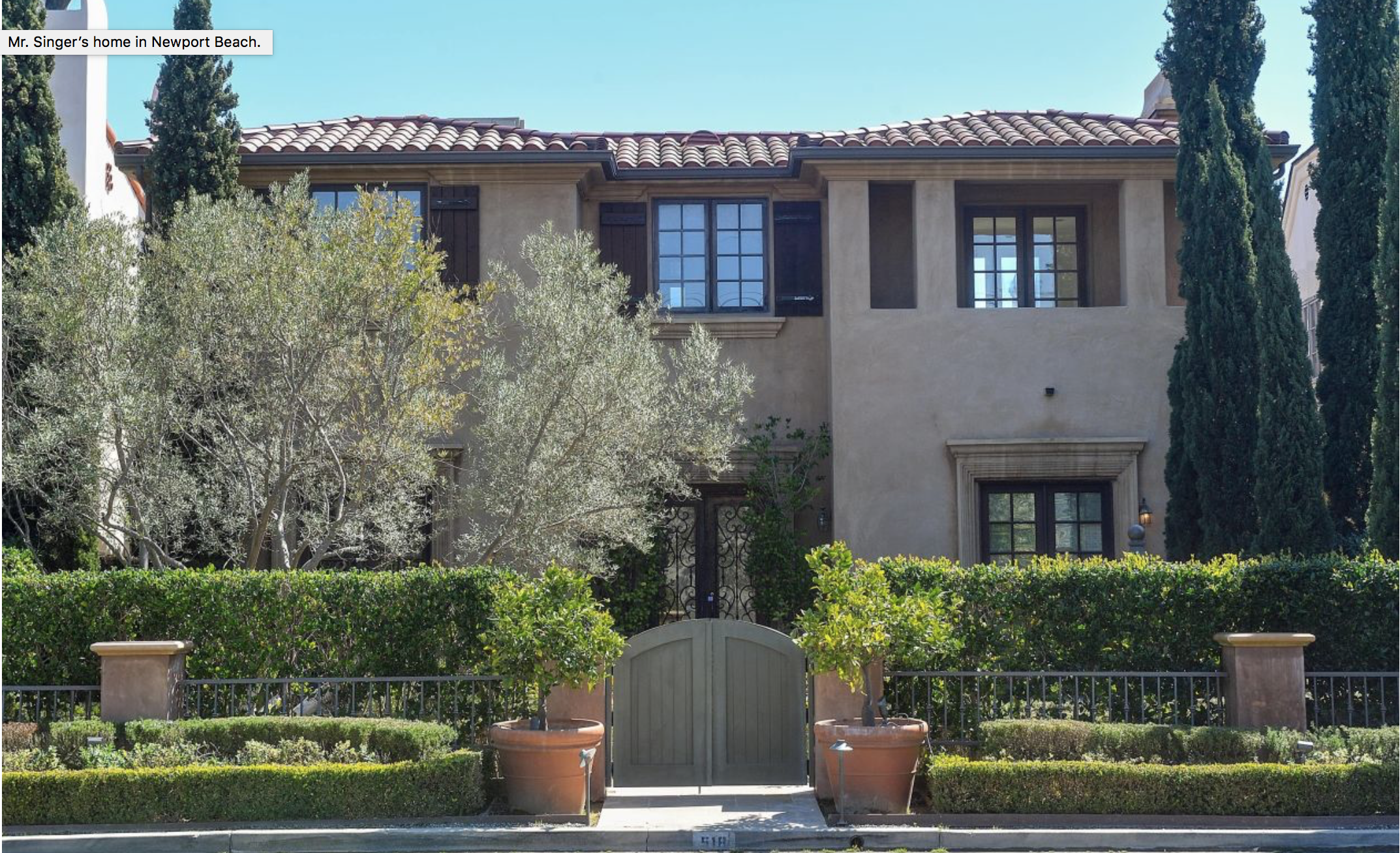 And Singer has the air of a hyper-active promoter who liked risk.
As a reminder, here are the core illegal services Singer provided:
Guaranteeing a pre-specified result on the SAT and ACT. This was achieved either by having someone take the test in lieu of the student or having the score corrected. Parents paid from $15,000 to $75,000. Here's how that worked:

For children who he felt needed higher test scores, Mr. Singer tapped Mark Riddell. The 2004 Harvard University graduate had the uncanny ability to nail just the score a student needed—but not so high it would draw scrutiny—on demand, authorities say…

In 2011 and 2012, Mr. Riddell, whom friends describe as sandy blond, about 6-foot-5 and in his late 20s at the time, pretended to be teenage brothers of Indian descent and sat in testing sites in Orange County, Calif., and Vancouver, Canada, to take college-entrance exams on the boys' behalf, according to court filings….

Mr. Riddell used fake IDs that paired his likeness with the teens' names, according to court filings….

In 2012 the College Board, which administers the SAT, announced new security measures, including closer scrutiny of IDs….Mr. Singer settled on a new strategy: bribing administrators at testing sites, according to court filings.

First, he told parents to have their children pretend to have learning disabilities to secure a doctor's note allowing them special accommodations such as extra time.

Then, he had them make up reasons why they would be near one of two sites in Houston or West Hollywood, Calif., where Mr. Singer said he had bribed test administrators. Mr. Riddell would fly in from Florida and the administrator would give him free rein to either take the tests in private rooms or correct answers after, according to court filings.

Even though prosecutors described the typical fee as $15,000 to $75,000, the father of the two Indian boys paid $200,000 for both.

One nagging question is how Singer was able to approach and bribe the various test company and university officials. The Journal presents one piece of that puzzle, how he got to the administrators in Houston test centers:

In Houston, prosecutors allege Mr. Singer got help from Martin Fox, a sports promoter well known in tennis and youth and college basketball circles…

"He was the kind of guy who would drive everybody around, the hustler guy," said Sonny Vaccaro, a veteran consultant to the likes of Nike, Adidas and Reebok, in an interview. "Martin is the man who knew the way to get through the jigsaw puzzle."

Mr. Singer allegedly paid $50,000 in 2016 to Mr. Fox, who introduced him to Niki Williams, according to court filings. She was visible in the community as an assistant teacher and cheerleading coach at public Jack Yates High School, a basketball powerhouse in Houston, according to interviews. She was also an administrator of a college-exam testing site there, according to court filings.

Mr. Singer bribed Ms. Williams through Mr. Fox, prosecutors said. Ms. Williams's lawyer declined to comment.

Guaranteeing admission to certain colleges, including Yale, Georgetown, Stanford, and USC. This was done by Singer helping fabricate that the students were elite athletes, and having coaches at these schools press for the admission of these students and even cover for them when they failed to participate in the sport. Parents paid from $200,000 to $6.5 million. Here's an example from the Journal:

Mr. [Douglas} Hodge, the former Pimco executive, had a target to hit: an acceptance letter from Georgetown University for his daughter.

Problem was, she had only a 50% shot "at best" of getting in based on her academic record alone, Mr. Singer wrote to Mr. Hodge in a February 2008 email, according to court filings.

Mr. Singer added promising news: "There may be an Olympic Sports angle we can use."

A bogus tennis-player profile landed the girl a spot at Georgetown, after allegedly being flagged for special consideration by then tennis coach Gordon Ernst. She never joined the team once she got to college, according to federal authorities…

Mr. Hodge paid a total $525,000 to Mr. Singer or others in his network as part of the admissions scheme for his second and third child, prosecutors said. Details of whether money changed hands for the daughter who attended Georgetown weren't included in court documents.
So how did Singer create his crooked business?
Singer started out and continued to run a legitimate "college counseling" business. He began in the early 1990s, using contacts from his prior life as a high school athletic coach in Texas and California, and later as assistant men's basketball coach at one of the California State University schools. He also worked for The Money Store and oversaw call centers. The Journal isn't clear on how these two careers overlapped, but Singer set up The College Source in 2002 and Edge College & Career Network in 2007, so it looks likely that he was working on his college coaching business full time by then.
Singer was fortunate to get into this field relatively early. Some parents who used his services, like golfer Phil Mickelson, say they used only Singer's legal services. He charged between $10,000 and $20,000 for that.
The illegal "guarantee" services were vastly more lucrative. Singer had started his dirty business by 2008. Prosecutors allege that typical fees were between $200,000 and $400,000.
Singer wormed his way into the money manager network. He was apparently a high-energy, credible-seeming presenter. He had also been at his machinations long enough to have a reputation on the legitimate and crooked side of his business. The Journal reports that Oppenheimer and Pimco had hosted events where Singer was the showcase speaker, and Morgan Stanley had has his foundation that laundered bribes to college coaches, on a referral list. This gives an idea of the drill:
Early last year, a money-management firm welcomed wealthy clients to the top floor of a Seattle skyscraper for an exclusive presentation titled "Raising a Balanced Child in an Affluent Environment." It featured a dynamic college-counseling coach, who bounded across the stage in a zip-up track suit….

Court filings and interviews indicate that financial advisers sent clients to Mr. Singer. In November 2017, for instance, an employee at a Los Angeles-based financial adviser emailed Mr. Singer, introducing him to a parent who wished to make a "donation" to "one of those top schools" for his daughter, according to federal filings, which don't name the firm.
Singer also tapped into a blue-chippy network:
Mr. Singer also met prospective new clients through YPO, formerly known as Young Presidents Organization, a global network for business leaders. The group said Mr. Singer spoke at two local chapter events, in San Diego and in Bellevue, Wash., years ago.
Singer preyed on parents' anxieties and need for certainty. Again from the Journal:
Audience members at the Freestone Capital Management event scribbled furiously on notepads, peppered Mr. Singer with questions and surrounded him after his presentation, said Betsy Brown Braun, a parenting expert who shared the stage that evening. "It was like he had the magic elixir that would get your kid into school," she said….

"He's a heck of a speaker," said Mr. [Gary] Furukawa [Freestone's founder]. He knew how to hit all the hot buttons for ambitious people who are "really wound up about their kids," he said.
Over time, word of mouth became an important source for Singer's cheating and bribery operation. At some elite schools, like Marlborough,a girls' school in Los Angeles, Singer was apparently known as a fixer. The Journal reports that an indicted father of a student at Marin Academy was caught on tape saying to Singer that he knew he had helped another student cheat on entrance tests. The second father has also been indicted. Singer also made inroads at Sage Hill School in Newport Beach, where two defendants were on its board.
Note that there are only 50 indictments so far, which encompass Singer, his various co-conspirators in universities and at testing agencies, and the parents who paid the bribes. The Department of Justice obtained permission to wiretap Singer, and he claimed to have provided illegal help to nearly 800 families. Only 33 have been indicted so far. How many more will be in the dock?
Oh, and the best part? Singer started out in Sacramento.