Could a computer ever rival Rembrandt or Beethoven? BBC (David L)
Just 10% of U.S. plastic gets recycled. A new kind of plastic could change that Science (David L)
The Problem With Putting a Price on the End of the World New York Times (Dr. Kevin)
Greenland Is Melting Even Faster Than Experts Thought, Study Finds CNN
The Sea Beneath Us Bay Nature (Paul R). Important.
Unreliable Nature Of Solar And Wind Makes Electricity Much More Expensive, Major New Study Finds Forbes
China?
NIH, FBI Accuse Scientists In US of Sending IP To China, Running Shadow Labs ars technica

Microsoft workers decry grueling '996' working standard at Chinese tech firms Guardian
Sri Lanka faces scrutiny over bomb warnings BBC
Sri Lanka bombings: Local Islamists to blame, government says DW
Brexit
Syraqistan
Big Brother is Watching You Watch
Facial Recognition Creeps Up on a JetBlue Passenger ZDNet
Imperial Collapse Watch
Lockheed (LMT) Costly F-35 to Be Billions More, Pentagon Finds Bloomberg

US threatens to veto UN resolution on rape as weapon of war, officials say Guardian (Kevin W)
Trump Transition
Supreme Court could limit FOIA, curtail investigative reporting Columbia Journalism Review (Doug S)
Nancy Pelosi shows no restraint on disparaging young progressive women Guardian (resilc)
2020
Bernie Sanders has Democrats on the ropes – is he the man to beat Trump? Guardian (resilc)

TYPOGRAPHY 2020: A SPECIAL LISTICLE FOR AMERICA Butterick's Practical Typogrphy (resilc). Fun. And a reminder that real designer people sweat things most of us take for granted.

GOP message watch: AOC and Rashida Tlaib featured prominently in ad for new self-funding GA-07 candidate Lynn Homrich (R). Swing suburban seat.

"If our kids behaved like these women, you'd ground them."https://t.co/0t95N8HJJA

— Josh Kraushaar (@HotlineJosh) April 22, 2019
Black Injustice Tipping Point
Baltimore's Endless Pursuit of Keith Davis Jr. Intercept (resilc). Distressing.
No trial date yet for Theranos CEO Elizabeth Holmes San Francisco Chronicle
The "disintegration" of global capitalism could unleash world war 3, warns top EU economist Medium
Samsung delays shipping its $2,000 folding smartphone. Analysts say that hurts the brand CNBC
Google Walkout Organizers Say They're Facing Retaliation Wired. Quelle surprise!
Report: 'Photographer' among 2018's worst jobs due to rise of freelancing, smartphones DPReview (David L)
Germ Killing Brands Now Want To Sell You Germs Bloomberg (Dr. Kevin)
How Millennials Are Reshaping Real Estate SafeHaven
Class Warfare
Antidote du jour. Frank:
These two pictures were taken just outside my door in Windham, VT on April 3, 2019. I believe that the bird is a Black-capped Chickadee with a condition called Leucism. The bird is not an albino, but does not produce melanin properly.

At our feeder just now we are having lots of Black caps, some Junco's, an occasional Nuthatch, and one Tufted Tit-mouse. The other birds do not seem to ostracize White-Cap as we call him/her.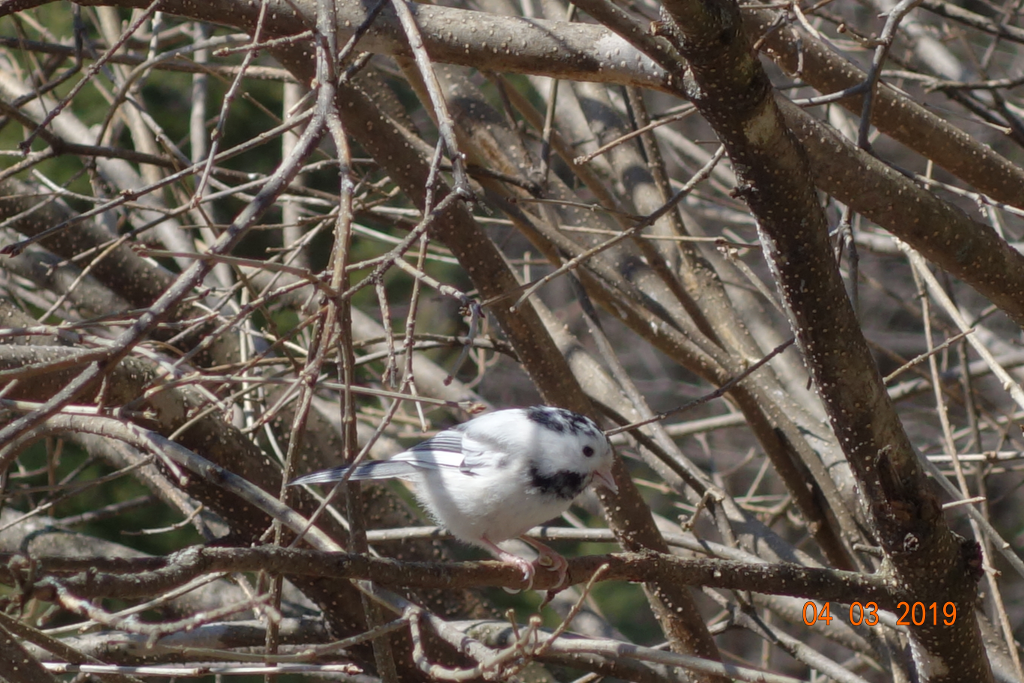 And a bonus (Richard Smith):
Possibly the greatest selfie ever taken, a ranger and friends at Virunga National Park in DR Congo. pic.twitter.com/KDm9ZSh7YY

— Kabir Taneja (@KabirTaneja) April 21, 2019