Dear patient readers,
To those of you who expressed your kind wishes yesterday about my cat's health, I wanted to thank you and provide an update. Unfortunately, I was likely to get bad news and that's what happened.
In yesterday's Brexit post, I told readers my 14 year old Abyssinian Gabriel had just had two episodes of incontinence. When I brought him into the vet on Monday, they found a large mass on his bladder, so large that the bladder could barely hold any urine.
Yesterday, an ultrasound showed the mass looks like cancer and is too extensive to be operated on. Because Gabriel's kidney readings are also now poor, at least in part due to urine backing up into his kidneys, he can't be put on cancer medications. It might be possible to use a balloon stentto improve the flow out of his kidneys, but even if that helped, it would likely not buy that much time.
Right now, he seems fine. Aside from leaking urine if he stays in one place for a while, you'd never know anything was wrong with him. Thanks to some anti-nausea meds and antibiotics, he's eating well and behaving normally. But this isn't going to last long. The vet gives him days to weeks.
I know many of you have had to deal with aging and ailing pets. But I've never had to put one down. I am not only devastated to learn so unexpectedly that my cat is dying but even though I know I will have to do it, I am distraught at the thought of being the one who will kill him.
Bill Heine, the man who in 1986 stuck a giant shark on the roof of his terraced house in Oxford, has died. He fought planning officers all the way to the top for the right to keep it. The government's final ruling is thing of beauty. https://t.co/dpgRGxFrN1 pic.twitter.com/XG8xIIwoz2

— Jim Waterson (@jimwaterson) April 3, 2019
The transpolar drift is faltering—sea ice is now melting before it can leave the nursery PhysOrg (Chuck L)
America's new recycling crisis, explained by an expert Vox (David L)
113 Year Old Machine Shop YouTube (bob)
Shrinking a medical lab to fit on a fingertip PhysOrg
Unvaccinated Kentucky teen loses lawsuit over school ban BBC
Fake Cancerous Nodes in CT Scans, Created By Malware, Trick Radiologists Washington Post
Study: Keeping the Same Doctor Can Lead to a Longer, Healthier Life MDVIP (Chuck L). My first MD was terrific and I'd still be with him if he hadn't gone to a biotech co…:-(
China?
Trump to Meet China's Liu in a Sign Trade Talks Are Reaching Final Stages Bloomberg

MIT cuts funding ties with Huawei and ZTE citing US investigations South China Morning Post (furzy)

China Is Advancing Artificial Intelligence Technology to Fool US Satellites Epoch Times (David L)
Europe and the new imperialism Bruegel
UniCredit waits in wings to bid for Commerzbank Financial Times
Brexit
New Cold War
The West Takes NATO For Granted. Georgia Still Wants In. Atlantic
Big Brother is Watching You Watch
Hundreds of millions of Facebook records exposed on public servers – report Guardian (David L)

'It's Time To End the NSA's Metadata Collection Program' Wired

Elizabeth Warren Introduces Bill That Could Hold Tech Execs Responsible For Data Breaches The Verge
Imperial Collapse Watch
The Sanction Addicts Need a New Fix American Conservative

The False Allure of Authoritarian Stability LobeLog (resilc)
Trump Transition
Paul Ryan says Ocasio-Cortez didn't really listen 'to a thing I said' when he offered her advice The Hill. UserFriendly: "Smart cookie."
How Climate Change Is Fuelling the U.S. Border Crisis New Yorker. Resilc: "I was there 2000-2003 at USAID. With low coffee prices poor pickers had to work their kids to make ends meet. Babies couldn't work so they didn't get food and hundreds died each week."
2020
737 Max
Ethiopia calls for review of Boeing 737 Max flight controls Financial Times

What happened when one US pilot asked for more training before flying the 737 Max Quartz
Ford, GM and Toyota Collaborate For Self-Driving Safety Rules Detroit News
California accounted for nearly three-quarters of US jobs added in February CNBC
Linus Torvalds on Social Media: 'It's a Disease. It Seems To Encourage Bad Behavior.' Linux Journal
Thinking Beyond Monetary Policy and Banking Regulation to Manage the Next Economic Downturn Roosevelt Institute (UserFriendly)
Amazon Quietly Removes Promo Spots That Gave Special Treatment To Its Own Products CNBC
Class Warfare
Antidote du jour. From Paul O, who said in comments yesterday that he'd just lost his cat Dougal the preceding night:
In response to Yves comments on her lovely cat, Gabriel, I mentioned that our old boy Dougal passed away last night. Here he is working on his memoirs

We had him for 17 good years and he had very few health issues – he just kind of slowed down to a halt. We got him for our daughter when she was very young, she cannot remember a life without him. It was his time but we will miss him.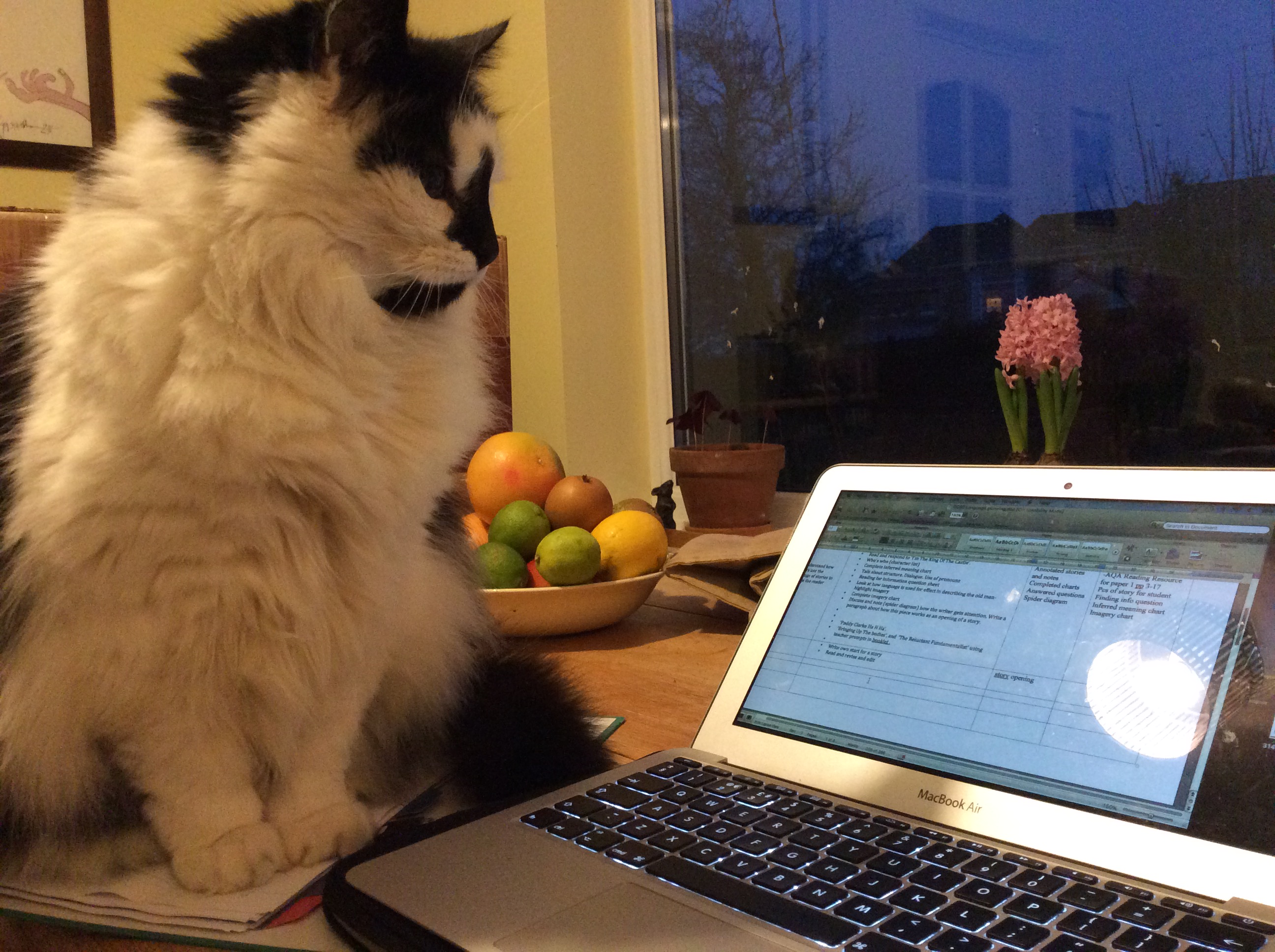 See yesterday's Links and Antidote du Jour here.