By Lambert Strether of Corrente.
Politics
"But what is government itself, but the greatest of all reflections on human nature?" –James Madison, Federalist 51
"They had one weapon left and both knew it: treachery." –Frank Herbert, Dune
"2020 Democratic Presidential Nomination" [RealClearPolitics] (RCP average of five polls). Biden (38.3% 34.7%) and Sanders (18.8% 17.7%) both drop, Warren, Harris, Buttigieg up, as of May 23. Nothing new as of this writing.
* * *
2020
Biden (D)(1):


Wow. @JoeBiden's team announces he WILL NOT be attending the:@MoveOn Big Ideas Forum (8 Top Candidates Going)

The California Democratic Party Convention (14 Candidates Going)

The Iowa Democratic Party Dinner (17 Candidates Going)

He really thinks he has this in the bag.

— Shaun King (@shaunking) May 28, 2019

To be fair, I don't think "the hardest working man in American politics" is something anybody ever said about Biden.

Biden (D)(2): "Joe Biden is the front-runner by every measure — except big crowds" [Politico]. "Crowd size, after all, is an imperfect metric to measure a campaign's vitality. While it can be a revealing indicator, it still lacks the scientific underpinning of polling or the fixed-dollar figures associated with fundraising. Nor does it account for the judgment of elected and influential Democrats across the country. Just as critics doubted Biden's popularity before he got in the race, his campaign is confident he'll have the crowds when he needs them. It's not just the size of Biden's events that are modest, he's also holding far fewer of them than his primary competitors. Since his launch, he's visited Iowa only once. And while Democrats crisscrossed early presidential primary states during the long Memorial Day weekend, Biden took it off." • Kurt von Hammerstein-Equord: "I divide my officers into four groups. There are clever, diligent, stupid, and lazy officers. Usually two characteristics are combined. Some are clever and diligent — their place is the General Staff. The next lot are stupid and lazy — they make up 90 percent of every army and are suited to routine duties. Anyone who is both clever and lazy is qualified for the highest leadership duties, because he possesses the intellectual clarity and the composure necessary for difficult decisions. One must beware of anyone who is stupid and diligent — he must not be entrusted with any responsibility because he will always cause only mischief." So Biden is suited for routine duties? One could argue, of course, that that's an improvement.

Buttigieg (D)(1): "Buttigieg campaign pushing wealthy supporters to keep up fundraising momentum: report" [The Hill]. "Democratic presidential hopeful Pete Buttigieg's campaign has reportedly rolled out a program to court wealthy supporters, with participants eligible to receive benefits including meetings with the South Bend, Ind., mayor. The program, reported by Politico on Monday, would encourage bundlers to pledge to raise between $25,000 and $250,000 in exchange for the perks." • So what's wrong with a little fan service?

Sanders (D)(1): "Millions of taxpayer dollars fueled Bernie Sanders to wealth success" [The Hill]. • Get this. When Sanders was a Mayor, Representative, and then a Senator, he was actually paid a salary! And he saved it!!!

Trump (R)(1):

Anyone associated with the 1994 Crime Bill will not have a chance of being elected. In particular, African Americans will not be able to vote for you. I, on the other hand, was responsible for Criminal Justice Reform, which had tremendous support, & helped fix the bad 1994 Bill!

— Donald J. Trump (@realDonaldTrump) May 27, 2019

"Anyone associated" would be that lovable goof, Joe Biden. And not only Biden.

Warren (D)(1): "Elizabeth Warren Gains Ground in 2020 Field, One Plan at a Time" [New York Times]. "After five months as a presidential candidate, Ms. Warren is showing signs of success at distinguishing herself in a packed field. She has inched higher in national polls and, at events within the last month, consistently overshot the campaign's expected amount of attendees. She has been propelled in part by a number of disruptive choices, most notably the breakneck pace at which she introduces policy proposals. That has helped keep her in the news, put pressure on rivals and provided more opportunities to shore up her campaign's once-lackluster fund-raising…. Still, interviews with more than two dozen attendees at Ms. Warren's campaign events in Iowa over Memorial Day weekend suggested that her steady stream of policy proposals was getting voters' attention. Her 'I have a plan for that' campaign slogan has become a rallying cry for supporters." • A few responses on "I have a plan for that." First, no plan survives contact with the enemy. Sanders knows who his enemies are: The billionaire class. Does Warren? Second, for the Warren plans I have looked at, there has been an impressively concise and pointed problem statement — followed by a plan that's disproportionately cautious and weak. Finally, my favorite Warren plan is the Post Office bank, an idea that Sanders and AOC cheekily stole. Why isn't she pushing it?

"2020's Calm Before the Storm"[US News]. "[T]he broad contours of the primary campaign toward the end of May are remarkably close to what they were when the year began…. Joe Biden is not only the undisputed front-runner, he's acting like one. A month into his third quest for the presidency, the former vice president spent the week holding a trio of closed fundraisers in Tennessee and Florida without a single public event, even as requests for his presence pile up. It's a defiantly traditional way to run, and one that exudes his team's confidence in his initial standing… 'Idealism is giving way to, 'We've got to get Trump out.' If they don't have five horns growing out of their head, it's, 'I think we can work with them," says Minyon Moore, a former top adviser to Hillary Clinton. 'People say about Joe Biden it's all about name ID. It's a little bit more than that. He's got texture, he's got value, he's got grit. He's got something more that people want to hold onto.'" • And other people have something he wants to hold onto: especially women and girls!
2019
"Baseball team apologizes for video calling AOC 'enemy of freedom'"[Roll Call]. "A minor league baseball team apologized Monday for playing a video showing an image of Rep. Alexandria Ocasio-Cortez superimposed over audio of a speech given by President Ronald Reagan warning about the 'enemies of freedom.'… For most of the three-and-a-half minute video, Reagan's 1981 inaugural speech plays over soaring music and images representing the U.S. military: Arlington National Cemetery, a flag-draped casket and fighter jets taking off into the air. … But around the three minute mark, as Reagan begins to admonish the "the enemies of freedom" and "those who are potential adversaries," the video shows a series of images of anti-fascist protests, Cuban leader Fidel Castro, Korean dictator Kim Jong Un and one member of Congress: New York Rep. Alexandria Ocasio-Cortez." • Baseball should not only apologize to AOC, it should stop playing this militaristic crap entirely. Who goes to the ballpark for that?
2018 Post Mortem
Obama speechwriter and pod-caster Jon Favreau on Trump's tweet above:

Trump's surest path to victory in 2020 will be the same as it was in 2016: depress Democratic turnout. He'll hit the nominee from the left, knowing that reporters will be more interested in chasing his attacks than calling out his lies and hypocrisy.

— Jon Favreau (@jonfavs) May 27, 2019

Wait, what? Trump depressed Democrat turnout? And Trump hit Clinton "from the left"? Really? (Perhaps here we have a liberal Democrat talking point that "Sanders is really the same as Trump"; horse-shoe theory, I believe it's called). Forgotten nothing, learned nothing.
Realignment and Legitimacy
"Blue-state House members try to reclaim higher SALT deductions that were cut in Trump's tax overhaul" [CNBC]. "[T]he new $10,000 limit on state and local tax deductions… disproportionately hit residents of high-tax blue states. But efforts to hike the deduction limit may not play as well politically nationwide. Democrats have spent a year and a half eviscerating the Republican tax law as a giveaway to the wealthy and corporations that blows a hole in the federal budget deficit. Not only do analyses show high earners would see the most benefits from raising the deduction cap, but doing so is expected to further reduce federal revenues…. Even if the bills stall in Congress, the state and local deduction issue is unlikely to go away soon. Blue-state governors such as New York's Andrew Cuomo have repeatedly criticized the state and local deduction caps, and some set up workarounds to help ease the new limits. However, the Treasury Department put rules in place ahead of the last tax season to prevent states from circumventing the cap."

The path rightward seems pretty well sign-posted. Thread:

Breitbart, Ben Shapiro "bridged the gap" between Fox News and Stormfront for this pair of white supremacist terrorists.

That's the purpose the alt-right was created to serve, y'all.

It's literally the reason they exist. pic.twitter.com/NjXY0ZSRKP

— Gwen Snyder is uncivil (@gwensnyderPHL) May 27, 2019

Very sad.

"Contemporary America Described Through Summaries of Famous Poems" [Los Angeles Review of Books]. "Dylan Thomas, 'Do Not Go Gentle into That Good Night': Resist." • I picked the most 2020-ish one, but they're all good.
Stats Watch
Consumer Confidence, May 2018: "Consumer confidence is moving up, to a higher-than-expected [level] in May for the best showing since November last year and in line with the mid-month jump posted in the consumer sentiment report" [Econoday], "Consumer confidence is moving up, to a higher-than-expected 134.1 in May for the best showing since November last year and in line with the mid-month jump posted in the consumer sentiment report." Accurate. More: "Consumer confidence is moving up, to a higher-than-expected 134.1 in May for the best showing since November last year and in line with the mid-month jump posted in the consumer sentiment report."
Dallas Fed Manufacturing Survey, May 2019: "Texas manufacturing activity unexpectedly slowed in May, with the general business activity index falling into contraction" [Econoday]. "Despite the headline decline, factory activity continued to expand… The survey's demand indicators likewise slipped but remained positive:… Contrasting with the weakness of the overall report were shipments, which rose…. Contrasting with the weakness of the overall report were shipments, which rose."
S&P Corelogic Case-Shiller Home Price Index, March 2019: "Home prices flattened out more than expected in March" [Econoday]. "Case-Shiller data are 3-month averages which will slow the report's response to the ongoing pivot higher in underlying sales. Yet indications from the FHFA house price index, up only 0.1 percent in March and also released this morning, are also pointing to very subdued conditions"
FHFA House Price Index, March 2019: "Below expectations" [Econoday]. "FHFA and Case-Shiller home price data are not yet showing improvement despite what has been a solid pivot higher for underlying home sales this year. In contrast, price data for April released in last week's existing home sales and new home sales reports were very strong."
Commodities: "U.S. oil refiners are preparing for what they believe will be a business bonanza from impending shipping-industry emissions restrictions. PBF Energy Inc. is reviving and expanding a Delaware production site that's been idle for nearly a decade" [Wall Street Journal]. "The project is among the billions of dollars' worth of in investments that U.S. refiners have advanced to capitalize on the new international rules that require cleaner-burning fuels on the world's oceangoing ships starting Jan. 1."
Commodities: "Fake news infiltrates commodity markets: 10 ways you can fight back" [Materials Risk]. " On that Sunday reports began to emerge of explosions from four crude oil tankers near the port of Fujairah in the UAE. Initially reported by websites with a reputation for spreading propaganda and then by other media networks in the region. Conflicting reports began to emerge… Brent crude prices jumped over a dollar to over $72 per barrel when markets opened on the Monday morning. Despite the uproar there was little or no evidence to support any of the claims. The most telling of all was satellite footage of the area which showed zero sign of any explosion." • The truth finally got its boots on….
Shipping: "Shipping lines benefited in 2018 as customers looking to get ahead of tariffs ordered earlier and boosted inventories. New levies lined up for this summer take in a wider range of consumer goods, however, and some trade patterns already appear to be shifting. That's casting uncertainty over carrier planning, however, and the higher costs from tariffs could end up dampening consumer demand" [Wall Street Journal].
Tech: "Zuckerberg and Sandberg ignore Canadian subpoena, face possible contempt vote" [CNN]. "Facebook's Mark Zuckerberg and Sheryl Sandberg did not attend a hearing in Ottawa on Tuesday, despite receiving summonses from the Canadian parliament." • Facebook acting like a sovereign, part 1.
Tech: "Facebook held talks with Winklevoss twins over new currency" [Financial Times]. "A secretive unit of the social media company has been working for more than a year to create a currency that its 2bn users can use to send money to each other, and to buy things not just on Facebook, Instagram and WhatsApp but across the internet and in the real world. A secretive unit of the social media company has been working for more than a year to create a currency that its 2bn users can use to send money to each other, and to buy things not just on Facebook, Instagram and WhatsApp but across the internet and in the real world…. Facebook's cryptocurrency team, headed by David Marcus, the former head of PayPal, held meetings with other senior Facebook executives this week to discuss an imminent announcement, according to one person familiar with the situation." • Facebook acting like a sovereign, part 2.
Tech: "All the Ways Google Tracks You—and How to Stop It" [Wired]. Saving the best for last: "There's also the option of simply turning your phone off if you don't want Google to know where you are." • Of course, all these helpful tips assume that the settings aren't like "close door" buttons in elevators: Placebos. Probably not for the simplest cased — since whether the phone is emitting data can, after all, be checked — but automatic upgrades could "accidentally" change settings, dark patterns/interactions between settings could mean users aren't turning off what they think they're turning off, etc. And that's before we get to apps. Not that I'm foily, but Google has every incentive to suck down as much of your data as it can, and no incentive — other than "don't be evil" [groan] — to avoid it.
Honey for the Bears: "Copper markets are showing signs of a downturn in global manufacturing demand. Copper prices have erased nearly all of their gains for the year and are on the brink of entering correction territory… a signal that some investors are wagering on a continued growth slowdown overseas" [Wall Street Journal]. "An industrial metal heavily used in construction and manufacturing, copper is closely tied to the health of the world economy because shifts in global growth tend to swing demand. Prices surged to start the year amid optimism the U.S. and China would soon resolve their trade fight but have slid recently on concerns that escalating tariffs will crimp economic activity. That would crimp a nascent rebound in an industrial shipping sector that depends on manufacturing growth. China accounts for about half of global copper demand."
The Biosphere
"Big Oil Pushes Corporate-Friendly Carbon Tax in Attempt to Stem Green New Deal Wave" [LittleSis]. "With intensifying demands for bold climate action, the fossil fuel industry and its top allies are lining up behind a corporate-funded, market-centered carbon tax proposal, in an effort to stem the rising momentum around ideas like the Green New Deal and growing shareholder and investor concerns about the climate crisis. Oil and gas powerhouses BP and Shell recently announced that they were each contributing $1 million over the next two years to lobbying efforts for the Baker-Schultz Plan, which proposes an initial tax of $40-per-ton on carbon emissions…. Backed by top global corporate powerhouses, the plan is driven by an industry-friendly logic firmly within the bounds of the neoliberal imagination. For example, under the plan, revenue generated from the carbon tax would be returned back to "taxpayers," rather than used by the government to oversee an accelerated transition to a system of renewable energy… (AFCD) is the U.S. lobbying arm for the Baker-Schultz Plan. AFCD appears to be entirely run by the lobbying firm Squire Patton Bogg and several of its top revolving door lobbyists. In addition to the fossil fuel industry ramping up its efforts to promote the Baker-Schultz plan, over a dozen major corporations and corporate-aligned environmental groups just announced a new group, the CEO Climate Dialogue, to promote 'a market-based solution' to the climate crisis." • This is a very good piece, which "connects the dots" in a more evidenced and rigorous way (it's database driven) than dots are usually connected.
"Fishing fleets have doubled since 1950—but they're having a harder time catching fish" [Science]. "The number of ships more than doubled to 3.7 million between 1950 and 2015, the team reports this week in the Proceedings of the National Academy of Sciences; in Asia, the number quadrupled. Another important trend is the spread of motors. In the 1950s, only about 20% of fishing vessels around the world had motors; by 2015, 68% did, most with power under 50 kilowatts—a small engine, or outboard motor, for example. Tabulating all these figures, [Yannick Rousseau—a graduate student in the lab of Reg Watson, a fisheries ecologist at the University of Tasmania in Hobart, Australia] and his co-authors found that the combined engine power of small vessels equals that of the industrial fleet. 'It was a very counterintuitive result,' Rousseau says, given the public and political attention attracted by large fishing vessels…. But compared with ships in the 1950s, today's global fleet catches only 20% as much fish for the same amount of effort. This metric—called catch per unit effort, sometimes measured by days at sea—is a key indicator of fish population size and responsible management, which limits the number of fishing vessels or stops them from overfishing. These actions have stabilized fish stocks in the past 2 decades in North America, Western Europe, and Australia, where government regulators have tightened the rules and subsidies have made it more attractive to retire ships. Not so in Southeast Asia, the Mediterranean, and Latin America."
"To Fight Climate Change, Convert One Greenhouse Gas Into Another" [Anthropocene]. "Most climate efforts focus on carbon dioxide, but methane is in some ways a worse offender. While it does not last as long as carbon dioxide in the atmosphere, it traps 84 times as much heat in the first two decades. Agriculture and livestock are the biggest source of methane emissions, followed by oil and gas production and use. Removing methane would kickstart the reduction of global warming, say the researchers. And that 'would buy us considerable time to address the [larger] problem of carbon dioxide emissions,' Rob Jackson, a professor of earth system science at Stanford University told Technology Review. Jackson and his colleagues propose removing methane from the atmosphere and oxidizing it to produce carbon dioxide. This would turn 3.2 billion metric tons of methane into 8.2 billion metric tons of carbon dioxide, which is just a few months' worth of the 40 billion tons of carbon dioxide emissions the world produces each year. The challenge of capturing methane from air is that its concentration is very low. But the researchers recommend using zeolite, a highly porous material made mainly of aluminum, silicon and oxygen, to soak up methane. They envision giant renewable-powered arrays of electric fans that push air into chambers full of the zeolite. Heating the catalyst in the presence of oxygen would then create carbon dioxide that can be released into the air." • Are you a Giants fan? No, I'm a large air conditioner!
Poor tree:
Photos: Tree catches fire after lightning strike in Millbury, appears to burn from inside https://t.co/3b26OUJWlP pic.twitter.com/Uacm4WpquR

— Boston.com (@BostonDotCom) May 28, 2019
"Slime Thinks Fast and Slow" [Scientific American]. "Dussutour and her colleagues were interested in studying how three strains of a particular slime mold species handle trade-offs between speed and accuracy when trying to find food. After presenting strains native to Japan, Australia and the U.S. with food sources of varying quality, the researchers observed which ones the organisms chose to engulf and consume. The Japanese strain acted quickest, randomly selecting whatever food it found. The Australian strain took longest but typically chose the best food. The American slime mold decided more slowly than the Japanese strain but faster than the Australian one and also opted for the highest-quality grub."
Guillotine Watch
Peak income inequality, visualized:
Everest is having an unruly climbing season, with jostling crowds and at least 10 deaths. Experts blame increased permits and untrained climbers. This is the long line of climbers waiting to summit Mount Everest on May 22 https://t.co/5ZlBibDwIg pic.twitter.com/C6AA2wHJ2Z

— Massimo (@Rainmaker1973) May 28, 2019
"How Mount Everest's popularity turned fatal" [Washington Post]. One word: Money. Too much of it in too few hands. More: "Others saw the traffic as an indication of how climbing Everest has become a commodity, drawing inexperienced thrill-seekers and polluting the mountain with garbage. Seeing the 'anxiety-inducing conga line in the death zone,' it is 'not only dread you sense, but hubris, too,' Peter Beaumont wrote in the Guardian. Climbing the world's tallest peak 'has become a trophy experience.'" • Not merely garbage, but frozen fecal matter and corpses, now thawing from climate change. Once again, income inequality, visualized
"Confusion grips three tiers of government over division of royalties from natural resources" [Kathmandu Post]. "Mount Everest is not only the highest peak in the world but also one of the highest sources of revenue from tourism in Nepal. Every year, aspiring climbers pay thousands of dollars to scale the mountain, generating much income for the country. But Nepal's new federal set-up has created confusion over how this income should be shared, leading to rifts between the local governments in Solukhumbu district, where the mountain is located." • If Sagarmatha is indeed a goddess, I can't imagine she's pleased by any of this.
Class Warfare
"Inspiring photo shows college grad standing in the fruit fields where her immigrant parents work" [CNN], "Erica Alfaro says she never forgot the advice her mom gave her when the two worked long hours together in California's Central Valley tomato fields. 'One day, I was very tired and told my mom and she said to me, 'This is how life is going to be from now on. The only people who don't have to go through this get an education.' Those words stuck with me,' Alfaro, 29, told CNN on Saturday. Those wise words inspired Alfaro, who dropped out of high school when she got pregnant at 15, to dive back into education. On May 19, Alfaro graduated from San Diego State University with a master's degree in education, with a concentration in counseling. She decided to honor her parents in her graduation photos, standing in her cap and gown with her parents, in work clothes, in the middle of the fruit fields where her mother still works." • Good for Alfaro. But this is only one individual's story; most are not so lucky. And is Alfaro in debt?
"Low-Wage Living" [Public Source]. • I'd like to like this project, and do give it a read, but it's actively hostile to laptop users, not having scrollbars (drag with the mouse), and actively hostile to bloggers (because I can't easily copy the text). The text is good, and the graphics are good, though.
News of the Wired
"J.R.R. Tolkien Expressed a "Heartfelt Loathing" for Walt Disney and Refused to Let Disney Studios Adapt His Work" [Open Culture]. Well done that man. I remember a Disney retelling of Winnie the Pooh, where Pooh answers a knock at his door carrying a pop-gun. A pop-gun, but still a gun. Very American!
"The neurobiology of conscience" [Nature]. "Churchland argues that [for] the evolutionary origins of human conscience. To build that case, she first focuses on the fundamental bond between mothers and children. This relationship, she argues, was eventually extended across evolutionary time to mates, more distant kin, and friends. Conscience is essential to our ability to sustain and benefit from such attachments. As Churchland writes, 'attachment begets caring; caring begets conscience'. The capacity to formulate and act on moral norms therefore arises from the need to develop practical solutions to social problems. Our conscience is reinforced by social stimuli: for instance, we face disapproval for lying and approval for courteous behaviour. Thus, conscience, as Churchland sees it, involves 'the internalization of community standards."… .For most people, as she argues, 'love for one's family members is a colossal neurobiological and psychological fact that mere ideology cannot wish away'. She concludes that utilitarianism is irresolvably at odds with how our brains function, given that we evolved to care more deeply about people we know than about those whom we do not…. The limitations in Churchland's account are mostly limitations in the state of the field. As she repeatedly notes, many aspects of how conscience comes to be embodied in the brain, and shaped by natural selection, are simply not yet known. But she nevertheless makes a mighty effort." • I think it's a good thing that we don't know how conscience is embodied in the brain. If we did, there'd be a market for removing it surgically, instead of the less efficient cultural, ideological, and financial methods we use today.
No:
To host a 70's dinner party is to celebrate the delightfully horrible dishes that populated magazine covers, cookbooks, and recipe cards during the decade https://t.co/jMYw3DvGEF

— Grub Street (@grubstreet) May 28, 2019
* * *
Readers, feel free to contact me at lambert [UNDERSCORE] strether [DOT] corrente [AT] yahoo [DOT] com, with (a) links, and even better (b) sources I should curate regularly, (c) how to send me a check if you are allergic to PayPal, and (d) to find out how to send me images of plants. Vegetables are fine! Fungi are deemed to be honorary plants! If you want your handle to appear as a credit, please place it at the start of your mail in parentheses: (thus). Otherwise, I will anonymize by using your initials. See the previous Water Cooler (with plant) here. Today's plant (MF):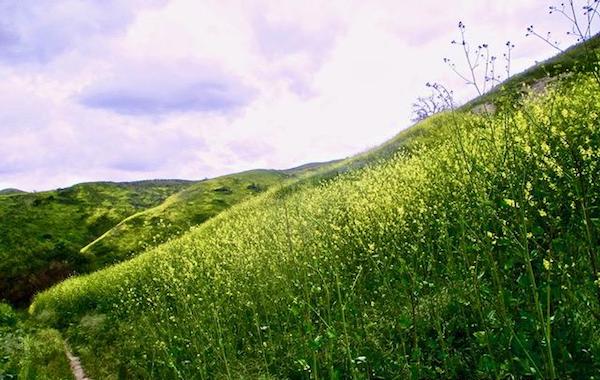 MF writes: "These mustard plants were taken about 2 miles from the start of the Las Virgenes Trailhead, which is about 8 to 10 miles from the Victory Trailhead — this area was hit particularly had by the Woolsey fire. When I stood next to them I would guess that they stood at least twice as tall as I do, so they're over 12 ft tall." Los Angeles Times: "Mustard plants lay down thousands of seeds and are one of the first plants to spring up after a fire."
* * *
Readers: Water Cooler is a standalone entity not covered by the annual NC fundraiser. So do feel free to make a contribution today or any day. Here is why: Regular positive feedback both makes me feel good and lets me know I'm on the right track with coverage. When I get no donations for five or ten days I get worried. More tangibly, a constant trickle of small donations helps me with expenses, and I factor in that trickle when setting fundraising goals. So if you see something you especially appreciate, do feel free to click this donate button:
Here is the screen that will appear, which I have helpfully annotated.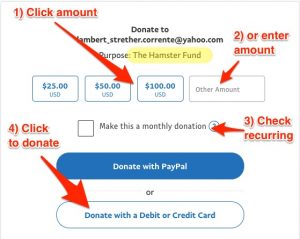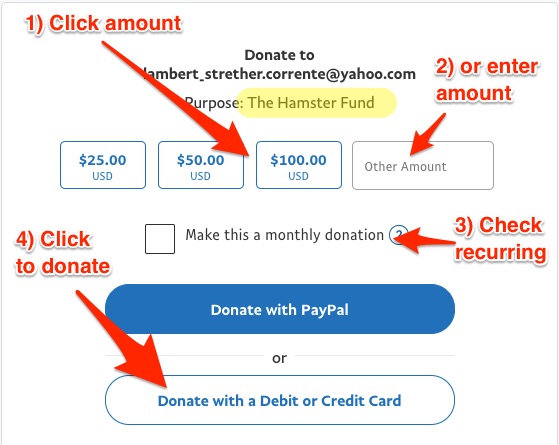 If you hate PayPal, you can email me at lambert [UNDERSCORE] strether [DOT] corrente [AT] yahoo [DOT] com, and I will give you directions on how to send a check. Thank you!