Yves here. Things are looking ugly indeed at Tesla. The once-celebrated carmaker has has a lot of the air removed from its stock price, so that its market cap is finally below that of major auto manufacturers like GM. But the stock has fallen nine of the past ten days, for a cumulative decline of 20%, and the bottom does not seem to be nigh.
After drinking enough Tesla Kool-Aid for the electric car maker to float stock and bond market offerings earlier this month, collective sobriety kicked in. Tesla still has a high burn rate and is nowhere close to being consistently cash flow positive. For instance, Yahoo's cheery headline late yesterday was, "Tesla may avert bankruptcy, but it will still need $1 billion in cash." It didn't help that one of Tesla's biggest cheerleaders lost confidence. From the Yahoo story:
We believe Tesla will have to raise another $1 billion in capital," Wedbush analyst Dan Ives told Yahoo Finance's "On the Move." The former Tesla super bull slashed his price target on the stock again on Monday to $230 from $275, which sent shares of the money-losing auto outfit down as much as 5%.

The analyst only a month ago cut his rating on Tesla's stock to Neutral from Outperform.

Ives' cash projection is somewhat startling considering Tesla is fresh off a badly needed capital raise. Earlier this month, Tesla raised about $860 million by selling new stock and $1.84 billion through the issuance of convertible debt. Both efforts came despite Musk contending throughout most of 2018 that Tesla didn't need to raise capital.

But with a stock price continuing to languish and terrible first quarter earnings in the books, Musk clearly had to take some form of action to shore up Tesla's finances. Keep in mind Tesla's cash pile plunged $1.5 billion in the first quarter of 2019 from the fourth quarter 2018.

Indeed, a weak cash position is the last thing Tesla needs ahead of a Model 3 production ramp, forays into robo-taxis and car insurance, and whatever else Musk dreams up. Slowing demand for Tesla's pricey electric cars doesn't help the company's fundamentals.
Tesla's 5.3% bonds due 2025 now yield about 9%, according to Trace, well above the average yield for a B-rated company. The bonds have trailed the broader Bloomberg Barclays Single B U.S. High Yield Index this year by around 500 basis points, according to Bloomberg Intelligence analyst Joel Levington.

"There's little in the form of favorable credit catalysts to turn momentum around in the near term," Levington said in a report Monday. The bond price dropped below 83 cents on the dollar and was one of the biggest losers in the high-yield market Monday, according to Trace.

Musk, 47, recently told employees in an email that he and Chief Financial Officer Zachary Kirkhorn will personally scrutinize expenditures following a worse-than-expected first-quarter loss. After having to pay off a $920 million convertible bond with cash in March, another $566 million is due in November….

If Tesla is unable to earn profit in the second half of the year, the company may need to raise another $1 billion to $2 billion of capital, Ives said in an interview with Bloomberg Television.

"With a code red situation at Tesla, Musk & Co. are expanding into insurance, robotaxis, and other sci-fi projects/endeavors when the company instead should be laser-focused on shoring up core demand for Model 3 and simplifying its business model and expense structure," Ives wrote in his report.
Elon Musk had promised that Tesla would produce 500,000 cars this year, then quickly corrected that to meeting a run rate of 500,000 by year end. The latest spate of stories focuses on the poor first quarter results, plus the news of a fatal crash by a driver using Autopilot, which Musk had recently been flogging hard. And recall that had serious quality problems on its Series C, faces sluggish demand (the phasing out of EV subsidies almost certainly pulled forward purchases.
Wolf Richter explains how the reaction of Tesla's bondholders is much more grim than that of its stock investors, and why that bodes ill. Ones bonds are in the junk range, they are "story paper." Junk bond investors look at risks very much the way equity investors do….in part because they may wind up holding equity.
S&P rates Tesla bonds at B-, which is "extremely speculative." Moody's just downgraded them to Caa1, which is "substantial risk". And recall the big rating agencies tend to be laggards, as in they downgrade after the market is pricing a bond at a lower credit level.
By Wolf Richter, a San Francisco based executive, entrepreneur, start up specialist, and author, with extensive international work experience. Originally published at Wolf Street
When bonds dive, it's a bad sign. And Tesla's bonds dove today to new all-time lows, and the yield spiked to new highs. In August 2017, Tesla sold $1.8 billion in senior unsecured notes due in August 2025, with a coupon rate of 5.3%. The most recent transaction at the moment that I see recorded by FINRA/Morningstar this afternoon was at 82.375 cents on the dollar. This is what these bonds have done in their lifetime: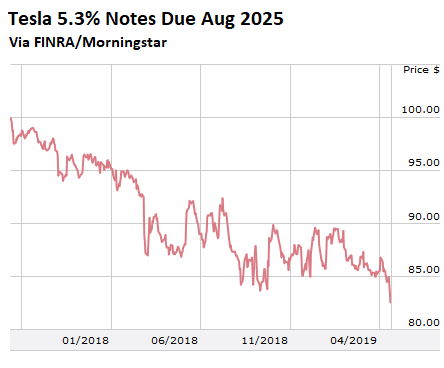 Tesla's shares are volatile and jump up and down. So they've been jumping down, down, down, leaving out the ups in between, as some long-term investors finally threw in the towel. They're down 47% from their 52-week high last December, a big move in five months, when other stocks have rallied in a historic manner. However, at $205 at the moment, they're still ridiculously overvalued, according to Tesla's bonds.
The bonds tell a story of a company that is facing a considerable risk it might default on its debts. If this scenario comes about, it would trigger a restructuring of the company, possibly in bankruptcy court, where creditors would get most or all of the equity, and current shareholders would be mostly or totally wiped out. The bond market is now saying that this risk – the risk that existing shareholders might get wiped out in a restructuring – though still distant, is getting closer.
The yield on these notes due in August 2025 has shot up to 9.06% this afternoon, the highest ever (when the price of a bond falls, the yield rises):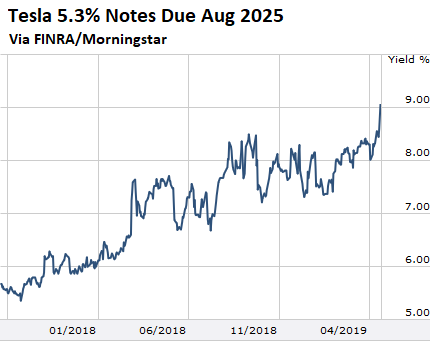 Standard and Poor's rates these notes a B-. Moody's recently downgraded them to Caa1, one notch below S&P's rating. Both ratings are deep junk (here is my cheat sheet on the corporate bond rating scales by S&P, Moody's, and Fitch and what they mean in painfully plain English). Moody's Caa1 means "substantial risk" of a default.
The average yield for B-rated junk bonds in the US was 6.67% as of Friday evening. So Tesla's B-/Caa1 rated bonds trading at a yield of 9.06% means that the market has already downgraded these bonds a lot further than the ratings agencies.
To shed some light on the obscure bond market, FINRA now publishes the data on the actual bond transactions. Here is today's batch of transactions for Tesla's notes due in August 2025, as of the moment I'm writing this: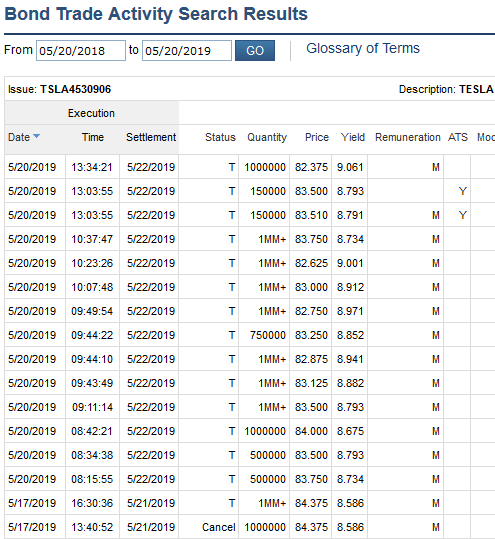 In early May, Tesla closed an offering of stock and convertible notes that netted $2.4 billion, giving it sorely needed cash to keep its cash-burn machine fueled for a while longer, after having reported a huge loss and a massive cash burn in the first quarter, that would have been a lot worse if Tesla had not booked record pollution credits that it ingeniously disclosed five days after the earnings announcement.
Immediately after the stock and debt offering, shares rose because the new money would delay Tesla's liquidity crisis by some time, depending on how fast it will burn this cash. But then reality sank in. Shares have since dropped 18% from $250 two days after the offering was announced to about $205 now. So OK, some true believers got taken to the cleaners.
But the $1.84 billion of senior unsecured convertible notes issued at the time were supposedly acquired by institutional investors – the smart money. They were issued at 100 cents on the dollar at the beginning of May and jumped 4% to close at 104.37 on May 7. Then they started the downtrend. Today, they've traded in a range of 88.5 to 92, and are currently at 90. In other words, the smart money handed its cash to Tesla and two weeks later already lost 10%.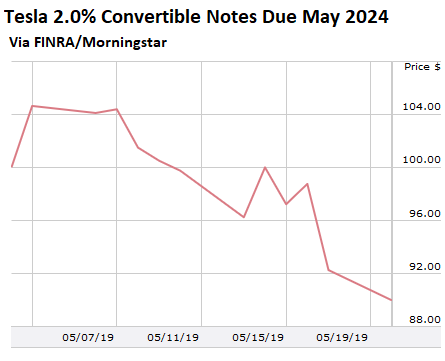 Turns out, according to CEO Elon Musk's own admission in an email to his employees, Tesla will burn through that $2.4 billion in net proceeds in just 10 months. If Tesla's stock is still worth anything at that time, the company will have to sell more shares or it will have to sell more debt to an increasingly nervous bond market. If it cannot do that, and thus if it cannot get more cash to fuel its cash-burn machine, it will have to default on its debts – see above scenario.
Tesla has been steeped in chaos – and chaos is absolutely the opposite of what a complex manufacturing, distribution, and retail operation needs. Musk himself has sowed that chaos. And he relentlessly continues to sow it.
One of his recent antics was that he told employees in this email last week that the company would embark on a cost-cutting drive that would entail that "all expenses of any kind anywhere in the world, including parts, salary, travel expenses, rent, literally every payment that leaves our bank account must (be) reviewed" by the CFO, and that Musk himself would sign off on every 10th page of expenses.
The CFO and Musk will be busy reviewing and signing off on janitorial department purchases of cleaning materials and toilet paper. The hope is that this amount of work will keep Musk off Twitter, but those hopes too will be dashed.
The company has already undergone waves of layoffs. Now the CFO and Musk are themselves looking at cleaning supplies to reduce the cash burn.
So let me give you, Dear Elon, a little piece of personal advice: I only ran a small company, a Ford dealership and subsidiaries with 250 employees. And I kept my eyes closely on expenses. But let me tell you, Dear Elon, that in even such a small and local operation, there are many thousands of expense items every month!
But Tesla is a large, global, complex manufacturing, distribution, and retail operation, and you, Dear Elon, will have no idea what most of these expense items are and what they're for unless you ask the responsible manager. This, Dear Elon, takes a HUGE amount of time. Trying to do this for a company the size of Tesla shows that you are:
Either clueless about running a complex manufacturing, distribution, and retail operation,
Or so desperate that you can't think straight any longer,
Or willing to say anything no matter how silly just to boost the shares,
Or all of the above.
I give you, Dear Elon, enormous credit for having put electric cars on the map and making them cool. No one in the world has ever been able to do this. You created an entire industry. And that was an awesome accomplishment. But this very talent of creating market hype and investor bedazzlement has a dark side, and that is now coming to the foreground.
The surprise came in Tesla's SEC 10-Q filing when no one was supposed to pay attention. Read…  Tesla Discloses Record Pollution Credits for Q1: Without Them, it Would Have Lost $918 Million and Bled $1.14 Billion in Cash