Landmark UN Report to Show 'Transformational Change' Urgently Needed to Save Humanity and Natural World From Nightmarish Future Common Dreams
Bike lanes need physical protection from car traffic, study shows Ars Technica
A drone has been used to deliver a donor kidney for the first time MIT Technology Review
The very surprising way common insomnia drugs can be fatal TreeHugger
Britax sent defective fix to customers in deal to avoid safety recall of its BOB strollers WaPo. Oops. File under crapification.
An American Lab Test Abroad The Baffler
The Race to Develop the Moon New Yorker
Waste Watch
Petition wants all disposable menstrual products to be plastic-free Treehugger
The world's most degraded marine ecosystem could be about to make a comeback The Conversation
Meet the fish leather pioneers BBC
A Mystery Frequency Disrupted Car Fobs in an Ohio City, and Now Residents Know Why NYT (The Rev Kev)
2020
Brexit
Brexit: retreat to the bunker EUReferendum.com

Brexit: Theresa May warned more than 100 Tories could block compromise deal with Labour Independent

Rory Stewart declares he would like to be prime minister Guardian
Class Warfare
'Either They Kill Us or We Kill Them' NYT (re Silc)
How Fear Contributes to Cops' Use of Deadly Force Marshall Project
Boeing 737 Max
Boeing Knew About Safety-Alert Problem for a Year Before Telling FAA, Airlines WSJ

Long before first 737 MAX crash, Boeing knew a key sensor warning light wasn't working, but told no one Seattle Times
Forty-one reported killed after Russian passenger plane crash-lands in Moscow Reuters
Syraqistan
Israel Again Bombs Gaza – But Is It "In Response"? Moon of Alabama

Palestinians and Israelis reach truce in Gaza as Ramadan begins France 24

Bolton: US deploying bombers to Middle East in warning to Iran Al Jazeera
Imperial Collapse Watch
Turkey says it will not bow to U.S. sanctions over S-400 deal Reuters

The Left Needs to Stop Crushing on the Generals American Conversation
China?
In abrupt move, Donald Trump says 10 per cent China tariffs will rise to 25 per cent on Friday SCMP

China is considering canceling this week's trade talks after Trump's tariffs threat, sources say CNBC
India
Venezuela
Despite International Law Which Would Make It Illegal, Pompeo Claims US Attack on Venezuela "Would Be Lawful" Common Dreams
Trump Transition
Trump picks former Border Patrol chief to lead ICE Vox

Trump: 'Mueller should not testify' Politico

Judicial-Nominations Update National Review. 102nd nomineee confirmed – and counting.
Antidote du Jour. From reader MGL, pyrrhuloxia @ feeder at Bosque del Apache, NM, DEC 2018. Jerri-Lynn here. Happens to be one of my favourite places to bird in the US: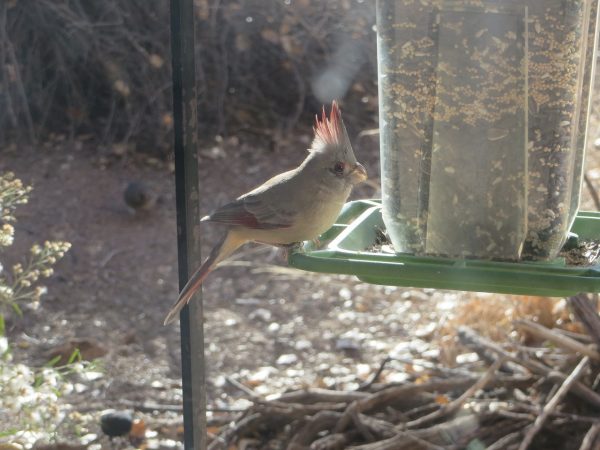 See yesterday's Links and Antidote du Jour here