2:00PM Water Cooler 6/26/2019
By Lambert Strether of Corrente
Patient readers, as Yves approaches escape velocity from New York this week, I will be taking on more posting duties, and so Water Cooler may appear at odd times, and, as today, will shortly become less abbreviated. With a big post on the debates just up, politics is covered, so I'll only be covering business, the biosphere, and other random topics. –lambert
I will also be Live Blogging the Democrat Presidential Debates. The debate starts at 9:00PM, and the pre-game festivities will begin at 8:30PM (when this link goes live).
And I will also be posting a Water Cooler special on an amazing gaffe by Elizabeth Warren, so stay tuned. [Not this afternoon. –lambert]
* * *
Trade
"Nintendo, Microsoft, and Sony Say Trump's Tariffs Will Make Consoles Cost More" [Vice]. "Sony, Microsoft, and Nintendo have written a joint letter to the Trump administration, warning the government that its looming tariffs on Chinese goods will dramatically harm the video game industry and its employees. The companies also argued that the 25 percent tariff hike would result in US consumers paying $840 million more for game consoles."
Politics
"But what is government itself, but the greatest of all reflections on human nature?" –James Madison, Federalist 51
"They had one weapon left and both knew it: treachery." –Frank Herbert, Dune
"2020 Democratic Presidential Nomination" [RealClearPolitics] (average of five polls). As of June 26: Biden flat at 32.0% (32.1%) and Sanders still rising at 16.9% (16.5% ). Warren up 12.8% (12.4%), Buttigieg down 6.6% (4.0%), others Brownian motion, though maybe not Harris, who just pulled even with Buttigieg. Of course, it's absurd to track minute fluctuations at this point.
* * *
Stats Watch
Richmond Fed Manufacturing Index, June 2019: slowed, below consensus [Econoday]. "Weakness on the employment front was accompanied by a drop in wage pressures… Like other regional surveys recently, today's report shows manufacturing continuing to falter, with weakness now appearing in the sector's previously rock solid employment."
S&P Corelogic Case-Shiller Home Price Index, April 2019: lower than Econoday's consensus, and a year-on-year seven year low [Econoday]. "Case-Shiller's results are sobering and not consistent with the improving strength seen so far this year in underlying home sales."
Federal Housing Finance Agency House Price Index, April 2019: stronger-than-expected, at the top end of the consensus range [Econoday]. "This report is consistent with signs of price strength in the existing and new home sales reports though it does contrast with this morning's weakness in Case-Shiller data."
New Home Sales, May 2019: "Positives are hard to find in a May new home sales report that will renew concerns over the strength of this year's housing sector" [Econoday]. "May was also a poor month for the labor market which could have had a marginal bearing on new home sales as could, in theory, concerns over the stock market and trade wars, factors that appear to have shaken June's consumer confidence report which was also released this morning."
Banking: "Neobank 86 400 CEO: 'banking is broken'" [SBS (Savita)]. "86 400 is owned by Cuscal, a non-listed public Australian payment processing company that provides financial services for building societies and credit unions." • Oh.
Retail: "Leaked docs reveal McDonald's is launching a spicy chicken sandwich and spicy chicken tenders after years of demand from customers" [Business Insider]. • Crazy talk. Who spices up chicken?
The Bezzle: "Alphaville's Libra cheat sheet" [FT Alphaville]. "Spoiler alert: it's a glorified exchange traded fund which uses blockchain buzzwords to neutralise the regulatory impact of coming to market without a licence as well as to veil the disproportionate influence of Facebook in what it hopes will eventually become a global digital reserve system. (Boldness in business award incoming.)" • Missed this last week. Stoller: "This is an excellent piece by @izakaminska on Facebook's new Libra project, and how it's just an unregulated financial instrument and potential antitrust violation dressed up with fancy terminology like 'blockchain.'"
The Bezzle: "Coins of No Nation" [The Baffler]. "The official Libra white paper, which outlines the project's inspiration, purpose, and management, is a poor man's stew of all the last decade's discredited ideas from micro-finance and international development. Introducing itself as a benevolent gift to humanity, the white paper is dedicated largely to the goal of "financial inclusion"—connecting the world's unbanked to western techno-capital….
The Bezzle: "Claiming to be Cherokee, contractors with white ancestry got $300 million" [Los Angeles Times]. "Since 2000, the federal government and authorities in 18 states, including California, have awarded more than $300 million under minority contracting programs to companies whose owners made unsubstantiated claims of being Native American, a Los Angeles Times investigation found. The minority-owned certifications and contract work were issued in every West Coast state, New Mexico and Idaho, Texas and four Southern states, several states in the Midwest and as far east as Pennsylvania, The Times found. In applying for the minority programs, 12 of the 14 business owners involved claimed membership in one of three self-described Cherokee groups, according to government records and interviews. Those three groups have no government recognition and are considered illegitimate by recognized tribes and Native American experts, however. The three groups are the Northern Cherokee Nation, based in Clinton, Mo.; the Western Cherokee Nation of Arkansas and Missouri, based in Mansfield, Mo.; and the Northern Cherokee Nation of the Old Louisiana Territory, based in Columbia, Mo."
Tech: "Optimizing for Searcher Intent Explained in 7 Visuals" [Moz]. Read for detail, but it looks like pagerank isn't really pagerank any more; Google is working to keep searchers on their site, rather than clicking through. Also, this, though off-topic, at the end: "P.S. I don't actually believe in arbitrary birth year ranges for segmenting cohorts of people. The differences between two individuals born in 1981 can be vastly wider than for two people born in 1979 and 1985. Boomer vs. Gen X vs. Millenial vs. Gen Z is crappy pseudoscience rooted in our unhealthy desire to categorize and pigeonhole others. Reject that ish."
Infrastructure: "Amtrak Chief Calls on U.S. to End 'Red Tape' on Gateway Project" [Bloomberg]. "The rail link beneath the Hudson River is critical for commuters on New Jersey Transit and Amtrak's Northeast Corridor, the busiest and most profitable U.S. route with more than 800,000 daily passengers. It sustained severe structural and electrical-system damage from Hurricane Sandy in 2012 and must be shut for repairs. The states are trying to delay that closing until Gateway, a second tunnel, opens." • We can't even build a tunnel under the goddamned Hudson when we know the existing tunnel is going to fail. Elites to each other, on America: "It's a tear-down."
The Biosphere
"Protective Wind Shear Barrier Against Hurricanes on Southeast U.S. Coast Likely to Weaken in Coming Decades" [Weather Underground]. "When low wind shear occurs in summer or fall in the Atlantic's main development region (MDR), from the coast of Africa through the Caribbean, an active period for major hurricane activity often results. But the major hurricanes that form in the MDR during these situations often have trouble maintaining their intensity when they reach the Southeast U.S. coast, since low wind shear in the MDR is typically accompanied by high wind shear along the Southeast U.S. coast. This high shear, typically associated with strong upper-level winds from the mid-latitude jet stream, helps protect the U.S. East Coast against strikes by full-strength major hurricanes. But research published last month led by Mingfang Ting of Colombia University, Past and Future Hurricane Intensity Change along the U.S. East Coast, found that the Southeast U.S. protective barrier of high wind shear is likely to weaken in coming decades due to global warming. Using multiple climate computer models, the researchers found that global warming is likely to cause wind shear along the Southeast U.S. coast to decline significantly, mostly due to the northward migration of the mid-latitude jet stream that would accompany the expansion of the tropics (in meteorological lingo, we call this the expansion of the Hadley Cell)." • I guess I had better cut down those trees in the back of the house after all..
"Algae Blooms Fed by Farm Flooding Add to Midwest's Climate Woes" [Inside Climate News]. "Scientists project that all that water has flushed vast amounts of fertilizer and manure into waterways, triggering a potentially unprecedented season of algae blooms. The National Oceanic and Atmospheric Administration has predicted that the 'dead zone' in the Gulf of Mexico—a massive overgrowth of algae—could become the size of Massachusetts this summer, coming close to a record set in 2017, and that an algae bloom in Lake Erie could also reach a record size. 'Every place in the Midwest is wet,' said John Downing, an aquatic ecologist and director of the Minnesota Sea Grant. "There will be a terrific amount of algae blooms.'"
"Historic Midwest flooding to increase Gulf of Mexico 'dead zone' to size of Massachusetts" [Independent]. "A dead zone, or hypoxic zone, is an area in water where oxygen concentration is so low that animal life suffocates and dies. The Gulf of Mexico hosts a consistently large one; in 2017, it reached its largest recorded mass at 8,776 square miles, or roughly the size of New Jersey. This year's zone is predicted to take up approximately 7,829 square miles, which is about the size of Massachusetts. This year's large zone is caused by nutrient pollution, the result of intense flooding in the American Midwest, where the Mississippi River's watershed saw abnormally high amounts of flooding that created record high river flows. The nutrient discharge, in the form of fertiliser and manure, washed into streams, rivers and lakes, stoking the growth of algae, which depletes oxygen in the water, killing aquatic life and making water unsafe to swim in or drink." • Thanks, Big Ag!
"Dinosaur-age landscapes lurk in Southern Hemisphere" [Science]. "Climbing to the top of the Urucum plateau, a shock of rust-red land thrust 1 kilometer above the Brazilian savanna, is a journey into Earth's deep past. Despite the region's heavy, erosive rainfall, the surface of the plateau has remained largely unchanged for some 70 million years, making it Earth's oldest known landscape. Walk along it and you're only a few meters below the surface that dinosaurs once trod… Earth scientists say ancient landscapes could exist atop other inselbergs, a German term for the isolated plateaus that dot geologically quiet regions in the Southern Hemisphere that have not been reshaped by plate tectonics or planed away by ice sheets. Geologists had suspected that these inselbergs, found in Brazil, Australia, and southern Africa, are old—enduring while erosion stripped away the surrounding landscape. Now, that history is emerging."" • Word of the day: Inselberg!
"Alaska Tribes Call for Solidarity to Stop World's Largest Gold Mine" [Intercontinental Cry]. "Trump administration officials have fast-tracked permits for the largest open-pit mine in North America. The proposed Pebble Mine had previously seemed paralyzed, after more than a decade of relentless opposition by Alaska Native elders and youth. Now, plans for the mine are being rushed forward. The final public comment period for the proposed U.S. Army Corps of Engineers (USACE) permit ends on Monday July 1st, 2019. • Along with the oil, leave the gold in the ground. For Maine's Bald Mountain, too, despite what the Irvings are scheming for.
Games
"Japan's anime industry in crisis despite its popularity" [Japan Times]. "But just as Japanese anime seemed to be threatening to loosen Pixar and Disney's grip on the popular imagination with the likes of the teen mega hit 'Your Name.' and a Nintendo Super Mario movie in the pipeline, long-running structural problems are in danger of sapping its rise… Ayumu Watanabe — whose beautiful 'Children of the Sea' was shown out of competition at the festival — also worries about visual "standardization" and lack of originality, which he says is not helped by the fact that "fewer and fewer animators can draw well by hand."" • Software…
Sports Desk
"The UFC will tarnish its name forever if it goes ahead with the Justin Bieber vs. Tom Cruise farce" [Business Insider]. • Wait. Did I read that headline correctly? Any part of it?
"Daily briefing: Athletes' guts host a performance-enhancing microbe" [Nature]. "The guts of elite marathon runners contain a particular bacterium that eats lactate and makes mice run longer. Lactate is the by-product of strenuous exercise — it's what makes you 'feel the burn'. The bacterium, Veillonella atypica, metabolizes lactate into propionate, which seems to have exercise- and recovery-enhancing effects." •. A mouse study….
Our Famously Free Press
This is not your father's Slack:
The buried lede in this article on Slack is how many newsrooms use the service, home to the most interesting private conversations on the planet, as a de facto space for gossip. It is reckless for journalists to use Slack like this and it will end in tears https://t.co/MR7cEwzwYK

— Pinboard (@Pinboard) June 20, 2019
Guillotine Watch
We are ruled by Harkonnens, except they're stupid and gullible. Quotation from Bad Blood:
There is some metaphor to be found in the fact that Theranos strategically targeted the Hoover Institution fellows for its Board of Directors, and that they were so easily duped. ? pic.twitter.com/pLOK5ELRRs

— David Stein (@DavidpStein) June 26, 2019
"The mansion that inspired 'Gone With the Wind' is going up for auction" [CNN]. "The mansion that inspired the Twelve Oaks plantation, home of the Wilkes family in 'Gone With the Wind,' is going up for sale…. The majestic white MR SUBLIMINAL So how white is it? mansion features 12 bedrooms, 12½ bathrooms, more than 3 acres of gardens, a pool, 12 fireplaces, a grand dining room, a formal parlor and a four-car carriage house…. The mansion was built as a private home … 'This would make a magnificent home, a lucrative business [indeed!] or both," Dewey Jacobs of Target Auction said in a news release. 'Operating permits for a B&B, an event venue, and a historic tourist site are already in place, and the property receives movie and TV contracts each year.'" • Will the "historic tourist site" include the slave quarters?
Class Warfare
"What hope for America's Deplorables?" [Unherd]. A review of Chris Arnade's Dignity. " This is not a sentimental journey. It's a deeply unsettling examination of the pathology of what Donald Trump referred to in his inauguration speech as 'American carnage'. At the time, that phrase seemed so coarse, so jarring. Didn't even George W. Bush turn to Hillary Clinton and say, "that was some weird shit"? Didn't everyone who smelled nice from sea to shining sea raise his or her eyes to the skies and wonder what The Donald was smoking? Well: hello polite America. This is what he meant." • The review leans a little heavily on the idea that Arnade "explains Trump," which Arnade himself says he does not do, but this is still a useful review. Funny how J.D. Vance's deplorables-shaming Hillbilly Elegy became a love fetish for every pundit imaginable, eventheliberals, but Arnade's book has not. Arnade must be on the right track….
"'We Are Part of the Problem': Billionaires and Heirs Demand Wealth Tax" [Bloomberg]. "George Soros, heiresses to the Pritzker fortune, Abigail Disney and Facebook Inc. co-founder Chris Hughes are among those calling for a wealth tax to help address income inequality and provide funding for climate change and public health initiatives….. 'We are writing to call on all candidates for President, whether they are Republicans or Democrats, to support a moderate wealth tax on the fortunes of the richest one-tenth of the richest 1% of Americans — on us,' according to a letter signed by 19 individuals — one anonymously — and posted online Monday. 'The next dollar of new tax revenue should come from the most financially fortunate, not from middle-income and lower-income Americans.'… Warren, a senator from Massachusetts, as well as fellow Democratic presidential hopefuls Pete Buttigieg and Beto O'Rourke support the idea, according to the letter. Warren has proposed a 2% tax on assets of $50 million or more, and a further 1% on assets over $1 billion. It is estimated to generate nearly $3 trillion in tax revenue over 10 years." • 2%? I'd expect squillionaires — and Warren — to be better with decimal points. And "moderate"? What's wrong with confiscatory?
"Invest" is not one of Leary's Keywords, but perhaps it should have been. Especially "invest in yourself." (The quote is from the Wall Street Journal, paywalled.)
This is horrific. pic.twitter.com/4fzrJSWac4

— Savvy Opinion Haver (@savvyopinion00) June 26, 2019
"Human capital" (which is a Leary keyword) is surely a contradiction in terms, like "slave-owning slave" would be.
News of the Wired
Why are these people smiling:
These reality TV newcomers thought they were ready for fame. Then social media turned vicious. https://t.co/chMWpGwQ3G

— The Washington Post (@washingtonpost) June 26, 2019
* * *
Readers, feel free to contact me at lambert [UNDERSCORE] strether [DOT] corrente [AT] yahoo [DOT] com, with (a) links, and even better (b) sources I should curate regularly, (c) how to send me a check if you are allergic to PayPal, and (d) to find out how to send me images of plants. Vegetables are fine! Fungi are deemed to be honorary plants! If you want your handle to appear as a credit, please place it at the start of your mail in parentheses: (thus). Otherwise, I will anonymize by using your initials. See the previous Water Cooler (with plant) here. Today's plant (KS):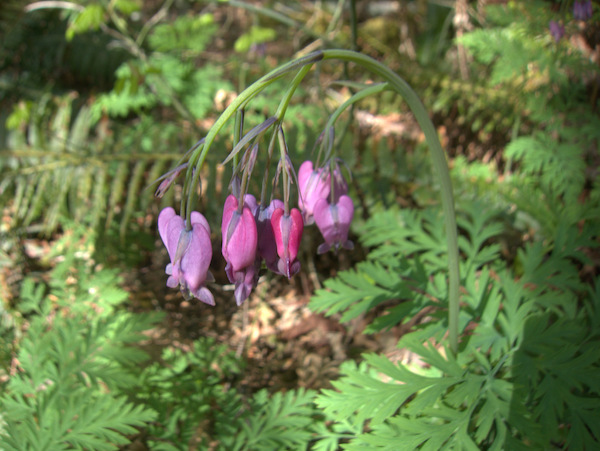 KS writes from the NW temperate rain forest. Bleeding hearts are one of my favorite flowers (but I'm weeding out all those frondy things in the background).
* * *
Readers: Water Cooler is a standalone entity not covered by the annual NC fundraiser. So do feel free to make a contribution today or any day. Here is why: Regular positive feedback both makes me feel good and lets me know I'm on the right track with coverage. When I get no donations for five or ten days I get worried. More tangibly, a constant trickle of small donations helps me with expenses, and I factor in that trickle when setting fundraising goals. So if you see something you especially appreciate, do feel free to click this donate button:
Here is the screen that will appear, which I have helpfully annotated.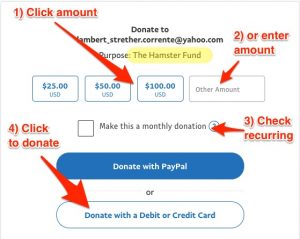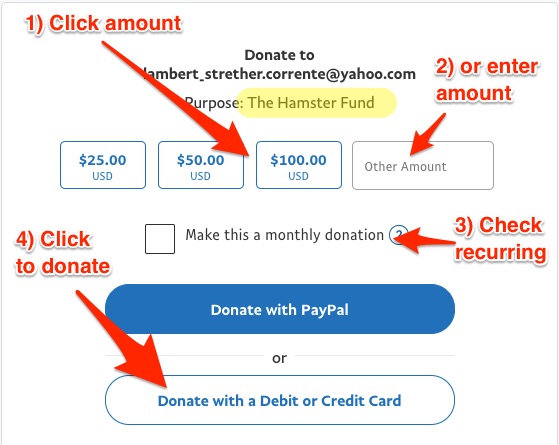 If you hate PayPal, you can email me at lambert [UNDERSCORE] strether [DOT] corrente [AT] yahoo [DOT] com, and I will give you directions on how to send a check. Thank you!