By Lambert Strether of Corrente
Trade
"Trump's Bid to Dismantle Global Trading System Poised for a Win" [Industry Week]. "Thanks to a U.S. veto on new appeals judges, the WTO's dispute arm is expected to start slipping into the institutional equivalent of a coma at the end of this year. That has set off a scramble by the European Union, Canada and other countries to set up a temporary alternative allowing the use of arbitrators rather than three-judge panels to hear appeals. But by creating that system, WTO members may be giving Trump and aidesーwho, like him, have deep-rooted skepticism of multilateral institutionsーthe very thing they want. Arbitration would above all provide the flexibility the U.S. is after, Vaughn said. It would see disputes treated as individual cases, avoiding the precedent-dependent system the WTO appellate body has become."
"Inside the lose-lose trade fight between Japan and South Korea" [Nikkei Asian Review]. "[There is a] growing 'Boycott Japan' movement spreading across South Korea. South Koreans have also stopped buying cars, beer, cosmetics and just about anything else bearing the label 'Made in Japan.' Some are even canceling their summer holidays…. Well-organized protests are not uncommon in South Korea, and they tend to pass relatively quickly. But these boycotts — which in South Koreans' minds are tied with the emotionally-charged issue of wartime labor and a sense that their most successful companies are under attack — may be different. The movement kicked off shortly after the decision by Japanese Prime Minister Shinzo Abe's administration on July 4 to tighten controls on exports of three chemicals essential for making semiconductors and flat panel screens used in smartphones and TVs. By choking off supplies of the chemicals — Japan's market share for two of them stands at more than 90% — the Abe administration was essentially taking aim at the engine that powers South Korea's high-tech economy."
"USDA gave almost 100 percent of Trump's trade war bailout to white farmers" [New Food Economy]. • Deceptive headline erases class: "The Environmental Working Group (EWG) has documented that the program has disproportionately helped landowners and a recent analysis by Donald Carr, a senior advisor for EWG, argues that the MFP has deepened the disadvantages of black and minority farmers."
Politics
"But what is government itself, but the greatest of all reflections on human nature?" –James Madison, Federalist 51
"They had one weapon left and both knew it: treachery." –Frank Herbert, Dune
"2020 Democratic Presidential Nomination" [RealClearPolitics] (average of five polls). As of July 30: Biden continues rise at 32.2% (32.0), Sanders flat at 16.2% (16.2%), Warren up at 14.3% (14.0%), Buttigieg flat at 5.6% (5.5%), Harris up at 10.8% (10.5%), others Brownian motion. Sanders opens a little daylight between him and Warren, for the first time in two weeks.
* * *
2020
I'm going to file individual debate items here by candidate, and put general debate commentary in the following section.

Bullock (D)(1): "Judge Overturns IRS Rule to Shield Political Donor Identities" [Bloomberg]. "The ruling upends a change the IRS made last year that permitted so-called Section 501(c)4 groups, known as "social-welfare" organizations, to keep their donor lists private. A federal judge said the IRS didn't follow proper procedure in writing the rule and needs to allow the public to weigh in on the change before altering the tax code… Among the organizations with 501(c)4 status are the National Rifle Association, the Democratic Socialists of America, the AARP and Americans for Prosperity, the conservative group backed by the billionaire brothers Charles and David Koch…. The case is v. Internal Revenue Service (4:18-cv-00103)."

Delaney (D)(1): Naughty, naughty:

so someone edited John Delaney's Wikipedia page ? pic.twitter.com/dFMHiz15XD

— Sarah Flourance (@BookishFeminist) July 31, 2019

Delaney (D)(2): "Delaney says Warren's put-down of him on the debate stage was 'dishonest' and 'lazy'" [WaPo]. "'You know, I don't understand why anybody goes to all the trouble of running for president of the United States just to talk about what we really can't do and shouldn't fight for,' Warren said. 'I don't get it.' Presented with a clip of Warren's line from the night before, Delaney shot back: 'That's the response when someone really can't defend their plans,' he said. 'It's a dishonest, kind of lazy response," Delaney continued." • So Delaney's a little thin-skinned?

Gabbard (D)(1): "Tulsi's Last Stand?" [The American Conservative]. "Gabbard has been perhaps the most interesting Democrat running for president and Wednesday night could be her last stand. She gets to share the stage with frontrunner Joe Biden, like Hillary Clinton a vote for the Iraq war. There is no guarantee she will get another opportunity: the eligibility criteria for subsequent debates is more stringent and she has yet to qualify…. Gabbard has so far been unable to penetrate this madness despite being young (she's 38), attractive, telegenic, a military veteran, a woman of color, and an articulate, passionate opponent of the regime change wars that have brought our country so much pain."

O'Rourke (D)(1): "'FOR THE LOVE OF GOD, DONATE, BETO'S DYING UP THERE' Reads O'Rourke Campaign Fundraising Email Sent During Debate" [The Onion]. "'Oh Jesus, please, please, please—Beto's in WAY over his head, and he really needs your help!' read the header from the digressive, 1,500-word email, which featured a photograph from the debate that showed a visibly panicked O'Rourke above the caption 'This is a complete trainwreck.'"

Sanders (D)(1): "Ending America's Endless War" [Bernie Sanders, Foreign Affairs]. "as an organizing framework, the global war on terror has been a disaster for our country…. American power should be measured not by our ability to blow things up, but by our ability to build on our common humanity, harnessing our technology and enormous wealth to create a better life for all people." • But isn't the military industrial complex shifting from the war on terror back to great power conflict? What about that?

Trump (R)(1): "The Latest: Drug industry warns importing meds risky" [Associated Press]. "The Trump administration says it will set up a system allowing Americans to legally access lower-cost prescription drugs from Canada. Health and Human Services Secretary Alex Azar made the announcement Wednesday morning." • Sanders getting inside Trump's head?

Warren (D)(1): The liberal Democrat enforcers are coming for Warren:

Maybe Warren really believes that single-payer is the only way; if so, I've misjudged her policy acumen. Either way, that was a bad night for someone who should be leading the progressive charge 7/

— Paul Krugman (@paulkrugman) July 31, 2019

Warren (D)(2): I wasn't the only one who was watching Warren on the split screen:

Some of the looks @ewarren gave to other candidates were the same @Sifill_LDF gave to me when I obviously hadn't done my reading for Civ Pro class. Law school students know that look anywhere. pic.twitter.com/4pVMFrUkKG

— Eric Karl Hontz (@eric_hontz) July 31, 2019

Williamson (D)(1): Young Ezra!

Williamson legit outshining most of the candidates on that stage

— Ezra Klein (@ezraklein) July 31, 2019

I have to look into Williamson more. Dunno about those "dark forces."
The Debates
"Sanders, Warren battle centrists in testy debate" [The Hill]. "But on Tuesday night, with grave warnings about the electoral consequences." • Oh.

"The Centrists Did Not Hold" [Jeet Heer, The Nation]. The Deck: "Both and centrist Democratic candidates during Tuesday's debate." • So we've normalized the idea that the moderators are not refs but players? One more reason to get the networks out the debate business. More: "The fusion of entertainment with politics continued apace with CNN orchestrating the Democratic primary debates as a professional-wrestling donnybrook. Led by Jake Tapper, the CNN hosts consistently tried to get the two factions to attack each other, while bizarrely elevating John Delaney for much of the debate."

"The Middle Ground Did Not Fare Well in the Democratic Debate" [Jacobin]. "The next round of debates will probably be leaner in number, short a few of the forgettably conventional Democrats who — their hubristic claim to speak for a nonexistent centrist majority notwithstanding — will soon have to face up to laughably terrible poll numbers and bow out. But it appears increasingly likely that the primary campaign will be a referendum on the failed strategies and pro-corporate politics that have enabled the current Republican hegemony — and that those intent on retaining the supposed middle ground are going to find it fast separating beneath their feet." • #NoMiddleGround? I guess we'll see how Biden and Harris do.

"The Wildest Moments From the Second Democratic Debate, Night One" [New York Magazine]. • Very good! If you didn't watch the debates or follow our live blog, this is the article to read for the blow-by-blow.

"'Do or die:' The pressure is on struggling 2020 Democrats to break through at Detroit debates" [McClatchy]. "With the leading candidates increasingly separating themselves from the rest of 2020 Democratic presidential primary field, this week's second set of debates are shaping up to be most crucial for the bottom half of the pack who are dwelling in single digits and struggling to raise money. It's those campaigns that are preparing to take a more aggressive posture in Detroit as they fight for survival ahead of a traditionally slow summer fundraising period and stiffer requirements to qualify for the next debates in the fall…. The next debates aren't until September, when polling and donor requirements for entry will tighten. Seven candidates have indicated they've already crossed the necessary thresholds, with at least two others claiming they are close to doing so." • Hence, beyond ideology, the aggressiveness of Hickenlooper, Delaney, et al., and the relative quiesence of Buttigieg and O'Rourke, who have already made it to the the next debate round. I would expect the same dynamic to be in play in tonight's debate as well.
2019
"California Aims to Make Trump Release Taxes by Requiring It for Primary Ballot" [Ed Kilgore, New York Magazine]. "California governor Gavin Newsom signed legislation making disclosure of five years of income-tax filings a condition for appearing on the state's presidential-primary ballot, beginning next year." • Here the Constitutional qualifications and requirements for the Presidency. Article II, section 8:

No Person except a natural born Citizen, or a Citizen of the United States, at the time of the Adoption of this Constitution, shall be eligible to the Office of President; neither shall any Person be eligible to that Office who shall not have attained to the Age of thirty five Years, and been fourteen Years a Resident within the United States.

I don't see the grounds on which California gets to add additional qualifications for a Federal office. Further, the additional qualifications are blatantly aimed at a political enemy of the California Democrat power structure (California is a one-party state). What happens a tit-for-tat struggle begins with states dominated by Republicans? We won't have national elections any more. Back to the article:

But the latest bill passed on a strict party-line vote, and Newsom signed it on the grounds that because of its size and stature, California had a "

This is a 21st century states' rights argument, except only for large states. Where is it written that any state has "special responsibilities"?

"Bored governor signs silly bill; Film at 11" [Editorial Board, Sacramento Bee]. "In addition, Newsom's signature on SB 27 may open a Pandora's box of political crisis by inspiring legislatures in Republican states to take actions designed to keep Democratic candidates off the ballot. At a time when American politics is extremely divided and our democratic institutions are under attack, the last thing we need are more cynical ploys to disenfranchise voters…. Newsom has also handed Trump a terrific talking point: Trump can now say, truthfully, that California is attempting to rig the election against him."
Realignment and Legitimacy
"DSA Members, America's New Left" [New Left Review]. "But the five dsa members, all from California chapters—and spanning a range of positions, from neo-Kautskian electoralism to libertarian party-building—offer a vivid sense of the debates agitating the group's membership base. How will dsa convert its newly acquired supporters into political organizers? What fields of activity should it bestow its (still limited) resources upon? Most pressingly, how should it relate to the Sanders 2020 campaign, and to the Democratic Party as a whole? Can the long-term goal of building an independent working-class party be reconciled with dsa's current practice of running candidates on Democratic ballot-lines?" • Interviews with five DSA members. Interesting!

"No, Professors Aren't Discriminating Against Conservative Students" [Pacific Standard]. "The idea that left-wing college professors are both brainwashing undergraduates and discriminating against conservative students has emerged as one of the most consistent right-wing lines of attack against American higher education over the last few decades. While conservative undergrads, like many types of students, may often feel isolated, a new working paper led by a public policy professor who tells me he's a 'lifelong Republican' suggests that any evidence for bias in grading against conservative students is at best minimal and most likely absent."
Stats Watch
Chicago Puchasing Managers Index, July 2019: "[T]he lowest reading in 4-1/2 years" [Econoday]. "New orders sank deeper into contraction with employment falling into contraction for the first time in nearly two years and to its deepest level of contraction in nearly 10 years… Though conclusions are difficult to draw based on uncertainties over the make-up and size of Chicago's sample, the drop in this report could reflect trade-tension issues."
ADP Employment Report, July 2019: "ADP estimates that private payroll growth in Friday's employment report for July will rise 156,000" [Econoday].
Employment Cost Index, Q2 2019: "Wage pressures are flat and will not stand in the way of a Federal Reserve rate cut that is expected this afternoon" [Econoday]. "The lack of acceleration in employment compensation readings hints at available capacity in the labor market."
State Street Investor Confidence Index, July 2019: "Global institutional investors continued to reduce their exposure to equities and were even more risk averse in July" [Econoday].
Tech: "Privately Owned Scooter Companies Don't Have a Future" [Jacobin]. "Nearly two years ago, dockless e-scooters started appearing on the sidewalks of major cities across the United States, eventually fanning out to Europe, Asia, Australia, and beyond. In most American cities, the companies didn't bother getting permits or checking their services would be legal; they just dropped off their scooters." • Scooter economics seem quite similar to ride "sharing" economics, i.e. not and never going to be profitable.
Manufacturing: "The CEO of one of the world's largest airlines said Boeing needs to get its 's— together' as the ongoing 737 Max crisis hits the carrier's profits" [Business Insider]. "The CEO of one of the world's largest airlines said that Boeing needs to get its "shit together" as the ongoing grounding of its 737 Max planes extends beyond predictions and the carrier's profits take a hit…. Ryanair, the biggest low-cost carrier in Europe, had ordered 135 of the 737 Max planes, with the first 58 of those planes due to arrive by summer 2020. The airline was the fifth-biggest in the world by seating capacity in 2018, and is the world's largest airline by number of routes."
The Biosphere
"Whose fault is plastic waste in the ocean?" [Deutsche Welle]. "Because plastic is so tough, it can last for centuries without breaking down. That means plastic made in the past, mainly in richer nations, has accumulated, often in the ocean. Experts say this, along with the lack of data on plastic from marine and other sources, makes blaming individual regions for ocean plastic unhelpful." •
"Geoengineering is very controversial. How can you do experiments? Harvard has some ideas." [MIT Technology Review]. "For years, several Harvard climate scientists have been preparing to launch a balloon capable of spraying reflective particles into the atmosphere, in the hopes of learning more about our ability to counteract global warming…. 'It's an extremely high-profile institution that's decided they don't want to wait for the regulatory regimes to greenlight this,' says Wil Burns, co-director of the Institute for Carbon Removal Law and Policy at American University."
"Green New Deal: Candidate Scorecards" [Data for Progress]. "Using a rubric of 48 essential Green New Deal components, we identify where each candidate 1) addressed a component with a proposed federal policy or action, 2) acknowledged a component but lacked clear policy details, or 3) did not include a component." • With handy chart. Inslee's plan addresses the greatest number of components "with Federal policies and actions."
Health Care
"The Plausible Path to Medicare for All" [The American Prospect]. "The flailing second-tier Democrats in the presidential debates who attack Medicare for All and its sponsors are indeed doing the work of Republicans. It is indeed possible to get to universal coverage under the auspices of Medicare, without bankrupting the public treasury or increasing net costs to the middle class. And the coverage would be better, more reliable, and more cost-effective than even the best insurance that people now get from their employers. Today's employer-provided insurance is riddled with deductibles, co-pays, denials of reimbursement, limits on which doctor or hospital you can use, and loss of insurance when you change jobs. Sanders and Warren are right about all that. But the transition problems are far from trivial. The biggest problem is that the people who will save money when they no longer pay premiums are not the same people who will likely pay more in taxes*. So the sponsors of Medicare for All should recognize that a better transition strategy may be the best way to disarm critics, among centrist Democrats, Republican attackers, and the press; and to reassure the electorate and make Medicare for All the big winner that it can be. The best of the transition approaches are those proposed by Jacob Hacker, with a close legislative counterpart in the Medicare for America Act co-sponsored by Representatives Rosa DeLauro and Jan Schakowsky." • I would be more sympathetic to Kuttner if TAP and its ilk hadn't, through unremitting effort, themselves created the need to "reassure the electorate." I also remember the fantastically destructive role played by Hacker in the liberal Democrat bait-and-switch operation against single payer in 2009-2010. I know this is the genetic fallacy, but it's very hard for me to believe that TAP and Hacker are operating in good faith. NOTE * So #MedicareForAll is a downward transfer of wealth? And this is a bad thing?
Black Injustice Tipping Point
"Whites get half of mortgages in Detroit, nation's largest majority black city" [Bridge]. "Home loans are heating up in Detroit after years of a frigid lending market, but a majority of loan dollars now go to whites, who comprise just over 10 percent of the population. African-Americans, who still make up fourth-fifths of the city, are now far more likely to buy homes in the suburbs than Detroit. The findings come from a Bridge Magazine analysis of hundreds of thousands of federal mortgage records from 2007 to 2017."
Guillotine Watch
"Ex-Corporate Lawyer's Idea: Rein In 'Sociopaths' in the Boardroom" [Andrew Ross Sorkin*, New York Times]. "A longtime lawyer for the insurance giant American International Group, Mr. Gamble worked alongside Richard Beattie, Simpson Thacher's chairman at the time, to advise A.I.G. during the financial crisis of 2008 and in the years of litigation that followed…. [Gamble] has concluded that corporate executives — the people who hired him and that his firm sought to protect — 'are legally obligated to act like sociopaths.' … "The corporate entity is obligated to care only about itself and to define what is good as what makes it more money,' he writes in the essay. 'Pretty close to a textbook case of antisocial personality disorder. And corporate persons are the most powerful people in our world.'… Companies, he suggests, should 'adopt a binding set of ethical rules, approved by stockholders and addressing the key ethical dimensions of corporate life" … Once the rules are in place, he writes, 'any shareholder could sue the board of directors for violating the ethical rules — just as any shareholder can today sue the board of directors for violating the maximize rule.'" • NOTE * Of all people. Hmm. A corporate super-ego?
Class Warfare
"The Roepke Lecture 2019: ʺWar, capitalism, and the making and unmaking of economic geographiesʺ [Erica Schoenberger, Johns Hopkins]. Worth a listen over a cup of coffee:
(I owe a hat tip to an alert reader for this, but I can't find the comment where the suggestion was made.)
"The tyranny of productivity" [The Week]. "More than 100 years ago, states began listening to workers' demands and limiting the hours employers could make people work. Later, in the 1930s and '40s, the federal government did the same thing on the national level. And governments didn't just guarantee people the free time to pay attention to things one might deem "unproductive" — they also helped them find unproductive things to do. Indeed, early 20th-century political leaders made playgrounds and public spaces a priority. Teddy Roosevelt, who helped create the national parks system, ensuring Americans' access to wild and beautiful places, frequently described the power of nature in decidedly non-instrumental terms. 'There are no words that can tell the hidden spirit of the wilderness, that can reveal its mystery, its melancholy, and its charm,' he once wrote. Later, during the depths of the Great Depression, workers hired by the federal government built some of the country's most gorgeous public architecture — including, as Odell notes, the Oakland rose garden she so enjoys. But, in the second half of the 20th century, government increasingly shied away from policies aimed at anything as unproductive as beauty and pleasure and devoted itself to economic growth, instead."
"IBU strike shuts down Alaska ferries" [Alaska Public Radio]. "In Ketchikan, approximately 30 picketing ferry workers stood on the sidewalk outside Alaska Marine Highway System terminal where the ferry Columbia was set to depart for Bellingham, Washington…. The union had warned the night before that a strike was imminent if it didn't get a contract deal. It's been negotiating for the past three years. An impasse last week led a majority of members to vote to authorize taking direct action."
"These Are the Wealthiest Towns in the U.S." [Bloomberg]. Handy map: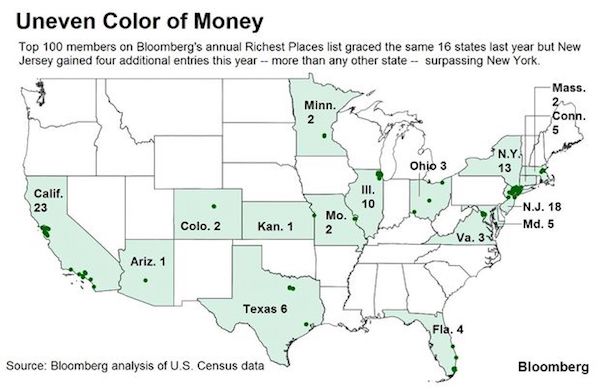 News of the Wired
"Daemons are the programs that run the internet. Here's why it's important to understand them." [The Conversation]. "Internet daemons optimize how computers actively manage systems toward certain goals or highest-efficency states. Optimization is another way to understand algorithmic governance. It is at once a way of thinking and a way of doing. To optimize is to calculate optimal states that solve social and political problems. Optimization also involves ways to actualize these states…. The technical connotations of optimization obscures its social and political implications. For example, an optimal amount of news to include in Facebook's NewsFeed or shorter passenger wait times on Uber are technical decisions and business ones." • Optimization is not neutral!
"Behold, the most (intentionally) poorly designed website ever created" [Ars Technica]. • Here it is. Looks like Twitter's designers examined this site closely.
* * *
Readers, feel free to contact me at lambert [UNDERSCORE] strether [DOT] corrente [AT] yahoo [DOT] com, with (a) links, and even better (b) sources I should curate regularly, (c) how to send me a check if you are allergic to PayPal, and (d) to find out how to send me images of plants. Vegetables are fine! Fungi are deemed to be honorary plants! If you want your handle to appear as a credit, please place it at the start of your mail in parentheses: (thus). Otherwise, I will anonymize by using your initials. See the previous Water Cooler (with plant) here. Today's plant (Re Silc):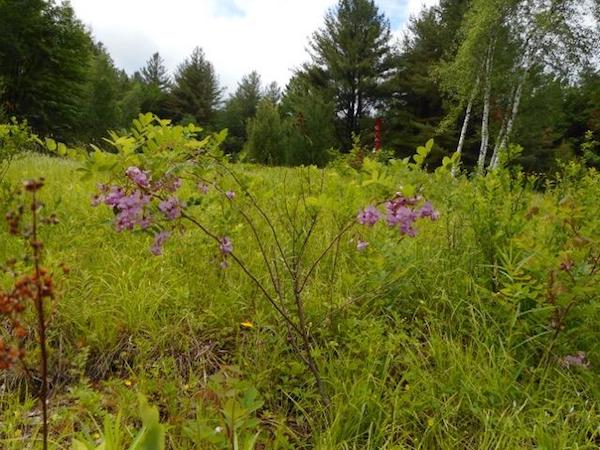 Re Silc writes: "My 3-year-old bristly locust love southern vermont."
* * *
Readers: Water Cooler is a standalone entity not covered by the annual NC fundraiser. So do feel free to make a contribution today or any day. Here is why: Regular positive feedback both makes me feel good and lets me know I'm on the right track with coverage. When I get no donations for five or ten days I get worried. More tangibly, a constant trickle of small donations helps me with expenses, and I factor in that trickle when setting fundraising goals. So if you see something you especially appreciate, do feel free to click this donate button:
Here is the screen that will appear, which I have helpfully annotated.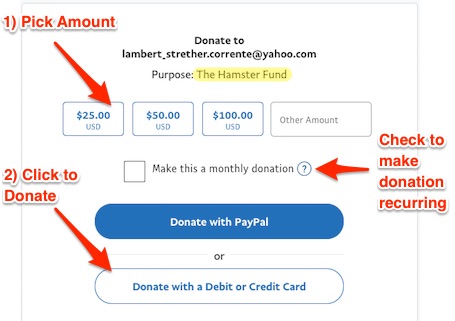 Readers, I have redesigned the image above because the composition of your Water Cooler donations has changed. For the last few months, donations have shifted to monthly donations in smaller amounts, with very few one-time donations in larger amounts. While I'm very happy to have enabled small contributions (Luke 21:1-4), the lack of larger contributions has cut into the trickle of funding from Water Cooler that I really do depend on. In other words, your contributions are way down. (Readership and comment counts have not fallen, so I don't think Water Cooler editorial content as such is the issue, though do feel free to drop me a line if you have thoughts.)
So, I redesigned the image to emphasize one-time donations, while still enabling smaller monthly donations. And if you've been waiting for a good excuse to contribute, perhaps last night's debate coverage will provide an excuse!
If you hate PayPal, you can email me at lambert [UNDERSCORE] strether [DOT] corrente [AT] yahoo [DOT] com, and I will give you directions on how to send a check. Thank you!