30 Of The Funniest Cat Jokes Vet Clinics Put Up On Their Signs Bored Panda
The Man Who Walked His Life Away Deadspin (foghorn longhorn)
Everything You Need To Know About The Future Of Pesticides And Bees Forbes (David L)
Committed emissions from existing energy infrastructure jeopardize 1.5 °C climate target Nature. Shorter: "We already have too much carbon-emitting stuff to have any hope of arresting climate change." Even shorter: "We're fucked."
The latest consideration for would-be parents: Climate change Grist
Nuclear is less costly than you think Financial Times. UserFriendly: "From January, still relevant."
Austrian parliament votes for ban on weed killer glyphosate Associated Press (David L)
Obesity is now a bigger cause of deadly bowel, kidney, liver and ovarian cancer than smoking Daily Mail
China?
China condemns violent Hong Kong protests as 'undisguised challenge' to its rule Reuters. Resilc: "As soon as a trade "deal" is inked the tanks roll?"

China targets Hong Kong's divisions to undermine protests Nikkei
India staring at a water apocalypse Asia Times
Surprise finish, uncertain consequences, in race to choose new EU leaders Politico
Christine Lagarde, managing director of the IMF, was just nominated for the top job at the European Central Bank Business Insider
Brexit
No-Deal Brexit recipes you can make without food Daily Mash
Syraqistan
Deadly attack hits Tripoli migrant detention centre: Official MSN. Ignacio: "First rejected from the EU, then held malnourished, finally massacred. About 3500 migrants held in detention centers in war zone. Not better than Trump records on migration."

Air strike hits Libya migrant detention center DW

Edward Gallagher: Navy Seal chief found not guilty of killing IS teen BBC. This story stinks to high heaven.
Big Brother is Watching You Watch
Imperial Collapse Watch
American Pride Hits New Low; Few Proud of Political System Gallup
Trump Transition
Court finds consumer has standing to pursue FACTA violation Public Citizen
US retail group offers to help antitrust investigators in going after Amazon and Google TechCrunch. Note the "group" includes WalMart. I love these Godzilla v. Mothra fights.
Constitutionality of $16 billion of Illinois bonds challenged – Reuters (EM)
Border Patrol Out of Control
More Than 140 Holocaust, Genocide Experts Think Ocasio-Cortez Should Be Allowed to Call Migrant Detention Centers 'Concentration Camps' Newsweek (UserFriendly)

Rep. Castro secretly recorded a migrant facility in Texas. Here's what he found PBS (David L)
2020
Libra
Thumbs Down to Facebook's Cryptocurrency Joseph Stiglitz, Project Syndicate

We just got a clear sign that Facebook's dodgy reputation means it has a massive struggle to persuade people to use its new cryptocurrency Libra Business Insider
The Culture War Has Finally Come For Wikipedia BuzzFeed (UserFriendly). Spare me the encomiums for Wikipedia. It may be pretty good on value-neutral topics like pure math, but it relentlessly reinforces neocon/neoliberal orthodoxy.
Are Your Ag Borrowers Weathering the Storm Federal Reserve Bank of Minneapolis (UserFriendly)
How Amazon and the Cops Set Up an Elaborate Sting Operation That Accomplished Nothing Vice. UserFriendly: "Amazon, now actively getting you arrested."
Tesla stock surges after setting new delivery and production records CNBC
Bob Dylan & the Culture Industry's Destruction of Dissent Consortiumnews (furzy)
When Brokers Act Badly at Wells Fargo, Women Take the Fall Intercept
Apartment Rents Fall in Seattle, Southern California, New York, Oakland, San Jose, Chicago, Honolulu Wolf Richter
Class Warfare
There are Still Good Paying Jobs for People Without Skills, Just Read the Washington Post Opinion Page Dean Baker

Black workers are being left behind by full employment Brookings (UserFriendly). And that's before you get to involuntary part time employment.
Antidote du jour. Aviva:
The chicken is Feisty, a 2 year old Australorp. The lizard got into the chicken run and Feisty tried to eat it. The lizard (possibly an Alligator lizard of some kind) clamped on to Feisty's beak and would not let go. My husband had to do an emergency Feisty/lizard separation. Both chicken and lizard were unharmed.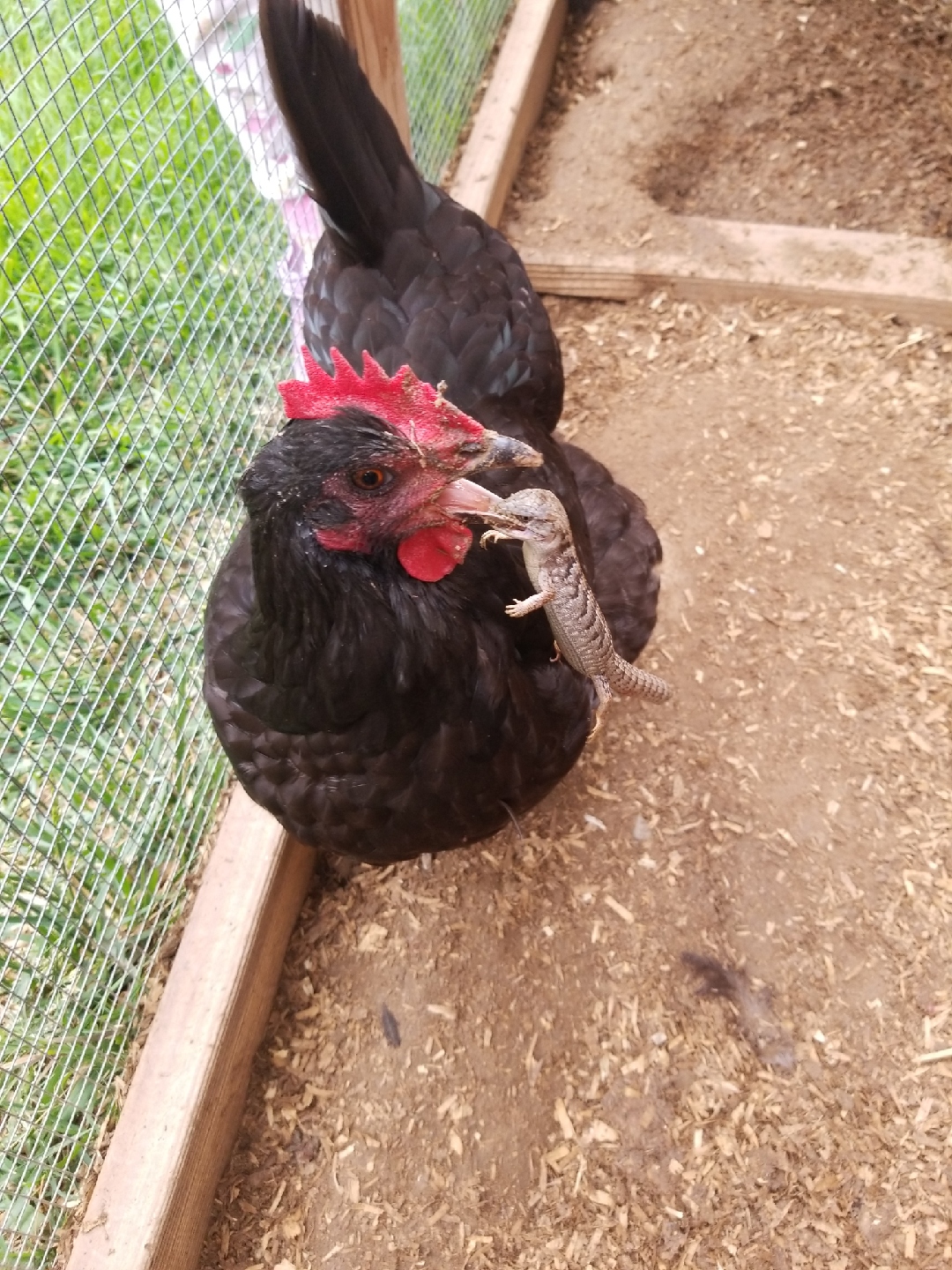 And a bonus from Randy G:
…something a little less cuddly than your typical 'antidote'….

This is a rattlesnake that I photographed hiking in Pacheco Pass near the San Luis Reservoir in California. The species is Crotalus o. oreganus, the Northern Pacific Rattlesnake.

See yesterday's Links and Antidote du Jour here.