There's a lot not to like about what passes for Trump's economic policy. But the
Financial Times Martin Wolf's critique of it, in Donald Trump's boom will prove to be hot air, leaves a lot to be desired. The fact that "boom" appears in the headline is a big tell.
It's a reasonable surmise that Trump will be re-elected unless the economy falls out of bed. Despite his long and ever-growing list of offenses and crappy policies, Trump is a master at keeping the spotlight turned on him.
Democratic Party leaders, by contrast, seem to think that Trump is so obviously odious that Being Not Trump and other forms of virtue signaling will prove sufficient for them to retake the White House. Never mind that the party is doing as little as it possibly can to address issues that affect ordinary Americans, like stagnant real wages, ever-escalating medical costs, student debt, and the seeming impossibility of retiring on a diet better than cat food, except as required to neutralize Bernie Sanders and to a lesser degree, Elizabeth Warren.
However, Trump gets support from the business community, securities touts, and political leaders who benefit by peddling optimism, whether warranted or not. Most look at results over a comparatively short horizon . Even Wolf, who does make some key longer-term comparisons to cast doubt on what Trump presents as his accomplishments, fails to look at the bigger context.
The US is in the late stages of a shallow and long expansion by historical standards. Michal Kalecki described how that that would become the new normal in his seminal 1943 essay on the barriers to achieving full employment. If you haven't read this lucid piece, please stop now and study it.
And par for the course, as we'll address shortly, Kalecki predicts Wolf's main critique of Trump, that he's running supposedly bad for you deficits (note that the fact that Trump is running deficits at all is a no-no, made worse by the fact that the resulting stimulus was less effective by virtue of his tax cuts overwhelmingly benefiting the rich). From Kalecki (emphasis ours):
We shall deal first with the reluctance of the 'captains of industry' to accept government intervention in the matter of employment. Every widening of state activity is looked upon by business with suspicion, but the creation of employment by government spending has a special aspect which makes the opposition particularly intense. Under a laissez-faire system the level of employment depends to a great extent on the so-called state of confidence. If this deteriorates, private investment declines, which results in a fall of output and employment (both directly and through the secondary effect of the fall in incomes upon consumption and investment). This gives the capitalists a powerful indirect control over government policy: everything which may shake the state of confidence must be carefully avoided because it would cause an economic crisis. But once the government learns the trick of increasing employment by its own purchases, this powerful controlling device loses its effectiveness. Hence budget deficits necessary to carry out government intervention must be regarded as perilous. The social function of the doctrine of 'sound finance' is to make the level of employment dependent on the state of confidence.
It is frustrating to see Wolf land only glancing blows Trump's claims, such as taking credit for supposedly low unemployment. Wolf seems to content himself with looking at macro data, without considering underlying structural changes, such as the long-standing and highly successful attack on worker bargaining rights.
Wolf gives Trump credit for decent but not stellar GDP growth, attributing it to his fiscal stimulus:
The conclusion is that the economy has responded to a big fiscal stimulus roughly as the best forecasters predicted. That upsurge is unlikely to last. The big tax cuts have, as intended, hugely benefited owners of corporations. But they have certainly not paid for themselves. They have left the long-term fiscal position fragile…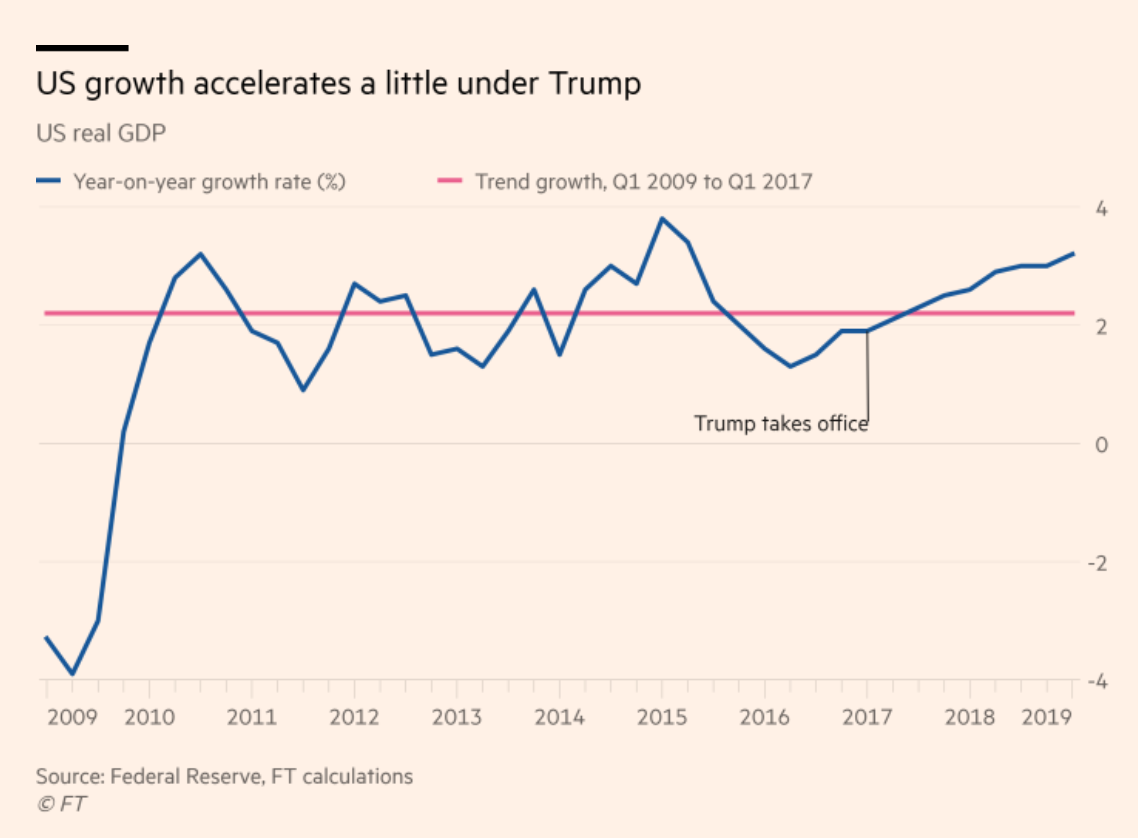 It's hard to accept even this qualified sunny view when the share of economic expansions going to workers as opposed to profits has been falling since the early 2000s. This site daily has evidence of how wobbly most American's finances are, such as the fact that nearly 40% of Americans don't have the cash to handle an unexpected $400 expense, or that car sales are at the level of 1999 despite the industry's ever more lavish financing schemes, or deteriorating indictors of social well being, like falling life expectancy and more than half of all births happening outside marriages.
points out that the headline unemployment rate is at the lowest level since 1969, while failing to consider that high levels of involuntary part-time employment make that metric less valid as a barometer of the strength of the labor market. Wolf does cast doubts, but by looking at pay levels and the labor participation rate:
There has been a modest rise in the growth of average hourly earnings of private employees, from 2.4 per cent in the year to January 2017 to 3.1 per cent in the year to June 2019. But this rate has stabilised over the past year. In real terms, average weekly earnings rose just 1 per cent in the year to May 2019. If the tax cuts brought much to working people, it is certainly more via additional jobs than rising real earnings….

Yet participation in the labour market by men and women aged between 25 and 55 is still below past peaks. Prime-age male participation was 89 per cent in June 2019, against 96 per cent in early 1970. For women, it was 76 per cent in June 2019, against a peak of 77 per cent in April 2000. The decline in unemployment has to be put in this context. Labour force participation has fallen dramatically in the case of prime-age men. The secular rise in participation stopped two decades ago in the case of prime-aged women.
It is also frustrating to see Wolf dignify bad conventional wisdom:
The big economic justification for lower taxes on corporations is that it would raise investment. The ratio of real non-residential private fixed investment to GDP was 13.8 per cent in the first quarter of 2019. This is only 0.8 percentage points higher than in the last quarter of 2016. It is also well within the historic ratios. The paper by Profs Barro and Furman suggest that the changed tax treatment of corporations should have a modest upward effect on growth, largely through higher cumulative investment. But the impact would only be to raise GDP over 10 years by 0.2-0.4 percentage points.
For the most part, businesses do not invest because they have retained earnings sitting around (if the opportunity is attractive, they can raise funds by borrowing or selling equity). They invest because they see opportunity. That said, there would be some improvement in the expected free cash flow from investment projects at a lower tax rate and that could generate some additional investment. But why in this globalized world would one assume that would necessarily lead to investment that was significantly in the US? Virtually from when China joined the WTO, large companies in advanced economies have been net saving (which means dis-investing), as China has stepped into the role of being the world's foundry.
Wolf doesn't even acknowledge the degree to which the tax cuts funded yet more stock buybacks. From Forbes:
The Tax Cut and Jobs Act (TCJA) of December 2017 had two main provisions affecting corporate taxes. First, it reduced corporate taxes, changing them from a graduated structure with a maximum rate of 35% to a flat rate of 21%. Second, it changed taxation of foreign profits. Previously these profits weren't taxed until repatriated, so companies kept their profits abroad….The underlying logic for the TCJA was that allowing companies to keep a greater share of profits, would stimulate investments in long term growth. Instead, the dominant company response to the TCJA was stock buybacks. For the first three quarters of 2018, buybacks were $583.4 billion (up up 52.6% from 2017). In contrast, aggregate capital investment increased 8.8% over 2017, while R&D investment growth at US public companies increased 12.5% over 2017 growth.
And there may be other Trump factors that contributed to the uptick in investment, staring with his big push for even more lax regulation. Most businesses equate lower regulation with higher profit potential, and that alone could have generated more investment at the margin.
Wolf makes deficit spending, as opposed to (say) starting trade wars, bullying the Fed, or government shutdowns as Trump's economic original sin. It's disheartening to see mainstream economists continue to decry spending by currency issuers, when the real hazard to economic health is private debt. And nowhere do we see any consideration of resource limits or the need to mitigate climate change.
Donald Trump's main policy has been a regressive form of Keynesianism, masked as corporate tax reform. The latter delivered huge gains to shareholders. It has brought a strong short-term stimulus, which has had good effects on unemployment. Whether current unemployment rates are sustainable is unknown. But they cannot go on falling forever. The effects on long-term growth are likely to be modest, though running the economy this "hot" just might generate an upsurge in investment and so growth. Given the pressure on the Federal Reserve to keep pouring on petrol, this could end in tears, with higher inflation and interest rates and damaged fiscal and monetary credibility.

It is too soon to laud Trumponomics. But it is not too soon to note where the US is heading. It is hard to imagine anybody standing up for fiscal prudence. The choice is rather between rightwing and leftwing Keynesians. In the long run, that is likely to end badly. But that could be a very long run.
Threatening to put the brakes on Federal spending when many Americans are under stress is one way to help Trump win. But as we can see from Wolf's own article, orthodox economists have abandoned real wage growth, meaning how ordinary people are doing, as the key metric of sound policy. And the lack of concern about real people is also why they stick their heads in the sand as far as species loss and climate change are concerned.