By Lambert Strether of Corrente
Trade
"5 Smart Reasons to Tax Foreign Capital" [Michael Pettis, Bloomberg]. "Senators Tammy Baldwin and Josh Hawley have introduced a bill that would require the Federal Reserve to manage the foreign-exchange value of the U.S. dollar to achieve balance in the U.S. capital account…. The bill would task the Fed with implementing a variable tax on foreign purchases of U.S. dollar assets whenever foreigners direct substantially more capital into the U.S. than Americans direct abroad, something they have been doing for more than four decades…. Today's U.S. trade deficits are driven mainly by capital flow imbalances, and so the most effective way to reduce them is with restrictions on capital inflows. Tariffs are much less efficient and only work by distorting the real economy and rearranging bilateral imbalances." • 
Politics
"But what is government itself, but the greatest of all reflections on human nature?" –James Madison, Federalist 51
"They had one weapon left and both knew it: treachery." –Frank Herbert, Dune
"2020 Democratic Presidential Nomination" [RealClearPolitics] (average of five polls). As of July 31: Biden dips to 32.0% (32.2), Sanders up to 16.4% (16.2%), Warren up at 14.8% (14.3%), Buttigieg flat at 5.6% (5.5%), Harris up at 11% (10.8%), others Brownian motion. All the bottom-feeders — except O'Rourke! — went down.
* * *
2020
"Detailed Maps of the Donors Powering the 2020 Democratic Campaigns" [New York Times]. "Senator Bernie Sanders of Vermont has a huge lead over other Democratic presidential candidates in the number of individual donors they have each accumulated so far." • This is very good data-driven reporting. Kudos to the Times. Here is a map of individual donors for all the candidates:

And here's a map of all the candidates but Sanders:

I think the story these maps tell is the strong influence of local oligarchies, not just for "favorite children" like O'Rourke and Klobuchar, but for Biden and Harris as well. Sanders, by this metric, is the only truly national candidate, with Warren reaching for that status, but doing poorly in the South.

* * *

Candidates Answer CFR's Questions: Joe Biden Council on Foreign Relations

"What role will climate change play in the 2020 presidential elections" [Yale Climate Connections]. "The roughly two dozen Democratic presidential candidates by and large have voiced support for a debate devoted exclusively to climate change and climate policy. The Democratic National Committee has remained reluctant to hold single-topic debates, but outside groups are planning a presidential candidate climate forum on September 23rd…. At that point, both major political parties increasingly see the writing on the wall, and candidates from both sides of the aisle will come to compete for the voting public's favor on climate change. The heat is rising."

"Why We're Challenging the 2020 Democrats to a Climate Summit [Updated]" [Gizmodo]. From last week, still germane: "On September 23, 2019, The New Republic and Gizmodo will host a presidential climate summit in New York City. We'll be joined by the League of Conservation Voters, giving us a leg up on the candidates' environmental voting records and 2020 climate plans. We've also brought on Columbia University's Earth Institute, ensuring our questions will be in line with current climate science… We hope all the candidates in the 2020 Democratic field will find a way to take part, because the climate crisis deserves to take center stage in the 2020 primaries. For now, this will be a forum-type event; candidates will appear on stage one by one, to be asked questions by our moderator and others. During that time, they'll be asked to respond to key policy statements and claims now shaping the emergent Democratic climate agenda. We are, however, prepared to change our summit to a debate if the DNC changes its rules, which bar candidates from participating in non-DNC hosted debates. We are also willing to work with the DNC to make our event the officially sanctioned Democratic climate debate of the 2020 election. Either way, we intend to host a robust discussion with and among the candidates." • Yet again, the DNC pins the bogometer.

* * *

Gabbard (D)(1): "Tulsi: A Living Reminder of Iraq's Liars and Apologists" [The American Conservative]. "When Chris Matthews asked Gabbard about Biden's support for the Iraq war, she said, 'It was the wrong vote. People like myself, who enlisted after 9/11 because of the terrorist attacks, were lied to. We were betrayed.' Her moral clarity is rare in the political fog of the presidential circus. She cautions against accepting the 'guise of humanitarian justification for war,' and notes that rarely does the American government bomb and invade a country to actually advance freedom or protect human rights. Gabbard's positions are vastly superior to that of the other young veteran in the race, Pete Buttigieg. The mayor of South Bend recently told New York that one of his favorite novels is The Quiet American, saying that its author, Graham Greene, 'points out the dangers of well-intentioned interventions.' Buttigieg's chances of winning the nomination seem low, and his prospects of becoming a literary critic appear even lower. The Quiet American does much more than raise questions about interventions: it is a merciless condemnation of American exceptionalism and its attendant indifference to Vietnamese suffering."

Harris (D)(1): "Victims question Kamala Harris' record on clergy abuse" [Associated Press]. "Survivors of clergy abuse and their attorneys say that Harris' record on fighting sex abuse within the Catholic Church is relevant as the U.S. senator from California campaigns for the presidency as a tough-on-crime ex-prosecutor who got her start prosecuting child sexual abuse cases. They complain that Harris was consistently silent on the Catholic Church's abuse scandal — first as district attorney in San Francisco and later as California's attorney general. In a statement to The Associated Press, the Harris campaign underscored her record of supporting child sex abuse victims but did not address her silence regarding victims abused by Catholic clerics." • So Gabbard was pretty nice; she didn't mention Mnuchin, and she didn't mention sex abuse either.

Harris (D)(2):

Kamala Harris on Tulsi Gabbard's comments regarding her record as a prosecutor: "I'm obviously a top tier candidate and so I did expect that I would be on the stage and take hits tonight. … I'm prepared to move on" #DemDebate pic.twitter.com/kPNYfBs2rB

— CNN Politics (@CNNPolitics) August 1, 2019

People who get totally owned are always "prepared to move on."

Sanders (D)(1): Holy moley:

I'm not only going to be Commander in Chief. I am going to be Organizer in Chief. pic.twitter.com/bBWYvN4iyj

— Bernie Sanders (@BernieSanders) August 1, 2019

Sanders (D)(2): "What the Left Must Do" [Jeremy Toback, Medium]. "Sanders is building his campaign around a clear commitment to transformative universal policies, which create the solidarity necessary to win them. The others are not. Sanders is using his campaign infrastructure and volunteers to create solidarity on the ground with workers and unions. The others are not. Sanders is coalescing the movement necessary to win the fight against powerful, monied interests. The others are not. None of the DEM candidates allegedly in Sanders's lane exhibit even the most rudimentary understanding of the scale of this fight or the political power needed to win it. Sanders has made political revolution a mantra."

Warren (D)(1): "The old Democratic trade paradigm is collapsing. Good riddance." [The Week]. "Democratic presidential candidate Elizabeth Warren is now proposing a bold overhaul of how the U.S. conducts its trade negotiations. It's only a matter of time before the old trade paradigm dies an ignoble and well-deserved death…. [Warren] would replace the current wildly business-slanted negotiation process with one that is carried out in the open, and prioritizes "labor rights, human rights, environmental protection, combating climate change, heading off international tax avoidance…. Critically, Warren would also include the welfare of other countries as part of the considerations." • Warren's plan just got savaged on the WaPo Op-Ed pages, so that's a good sign.

Yang (D)(1): "Yang campaign slams DNC over poll qualification criteria for September debate" [The Hill]. "Andrew Yang's presidential campaign accused the Democratic National Committee (DNC) of rejecting one of the two NBC polls that the tech entrepreneur had promoted as having qualified him for the September presidential debate, which left him short of making the stage for the crucial showdown…. 'A particularly important rule in our debate framework is the requirement that candidates' initial qualifying poll be conducted by different sponsors, or if by the same sponsor, in different geographies,' [DNC senior adviser Mary Beth Cahill] wrote [in response]. 'The intent of this rule is to avoid scenarios in which a single poll sponsor or media outlet is responsible for qualifying a candidate through multiple sets of results in the same geography.'" • Which is fine, but isn't Cahill's hidden assumption that the pollsters are independent of the party? MSNBC certainly isn't!

MI: "Democrats Spend Little Time Courting Union Voters in Debate in Crucial Michigan" [Bloomberg]. "Hillary Clinton lost Michigan by less than 11,000 votes out of almost 4.8 million cast. In doing so she got 75,000 fewer votes in Wayne County, which includes Detroit and nearby towns, and 26,000 fewer in Genesee County, which includes Flint, than Barack Obama did in 2012. There are votes to be had if Democrats can bolster turnout. In a mostly white, working-class county like Macomb — a swing district and much studied as the birthplace of Reagan Democrats — Obama won with less than 52% of the vote. It's always hotly contested." • Learned nothing, forgotten nothing.
The Debates
"The Democratic Debates Were Built to Fail" [Frank Rich, New York Magazine]. "In the end, perhaps the most salient fact to be taken away from the debates is the collapse in viewership: 8.7 million viewers tuned in the first night (second-night figures are not yet available as I write this), as opposed to 15.3 million viewers for the first Democratic debate a month ago and 18.1 million for the second. We're down to the hard-core, highly engaged base of Democratic voters who probably are the least in need of the debates to make up their minds, plus Trump campaign strategists and scattered hate-watchers from the other side. It's not hard to see why other viewers are staying away. The election is more than a year away. There are too many people onstage. The format is both counterproductive and actively annoying. There is no new face or new story that the broader public is thus far panting to see — and no new one emerged." • MSNBC ran a far worse debate and got the best ratings. That's life. Meanwhile, why can't we put the debates on C-SPAN? Then this won't happen:

Okay so as YouTubers, we're used to dealing with a lot of shit. Adpocalypses, random demonetizations for no reason, algorithms redirecting to "safe" establishment media outlets and away from us. But this one really makes me furious (1/4)

— Secular Talk (@KyleKulinski) August 1, 2019

This YouTuber, among others, was deplatformed for using short, fair use-style clips from CNN's "exclusive" coverage of the debates. That's ridiculous and anti-democratic. If the debates were on C-SPAN, they'd be in the public domain, and the public wouldn't be at the mercy of YourTube's capricious moderation policies.

"Debates Identify Plenty of Democratic Divisions, but Not a Consensus Favorite" [New York Times]. "After nearly 10 hours of nationally televised and often contentious candidate forums, the Democratic hopefuls and their voters are plainly torn over how best to take on Mr. Trump and how aggressive a program they should embrace, particularly on health care and immigration. And far from coalescing around a possible nominee, Democrats are also sharply divided over what kind of standard-bearer would best bridge the larger generational, gender and racial differences shaping the party in the 2020 race." • Nice erasure of class in that last sentence.

"The Real Winners of the Second Debate Were Elizabeth Warren and Bernie Sanders" [The Nation]. "Granholm sighed after the second group of 10 Democratic presidential candidates finished the second night of the the second round of the exercises that the Democratic National Committee refers to as 'debates.' 'This was a joyless debate,' said Granholm. She was right. The front-runner, former vice president Joe Biden, took his expected hits on Wednesday night. The other leading contender on the stage, California Senator Kamala Harris, took some unexpected hits. Biden and Harris pushed back, sometimes effectively, sometimes not. But the second night of debating lacked the electricity, the energy, and the clarity of purpose that Massachusetts Senator Elizabeth Warren and Vermont Senator Bernie Sanders brought to the first." • Very true. However, I would like to see, for want of a better word, a little more "joy" from both Sanders and Warren. They're both at the top of their game in the most important election of their (and our) lives, and I think a little exhiliration is in order. Oh, and Neera Tanden agrees with Frank Rich:

I've heard from die hard Dems from all over the country who have volunteered for many elections who told me they shut off the debate or watched in anger. And this last debate lost 50% of its audience from the first one. Politics is about addition; the debates seem to be repelling

— Neera Tanden (@neeratanden) August 2, 2019

Maybe if we rebranded "Medicare for America" to "Medicare Advantage Plus for Americans Who Want It." Yeah, that's the ticket…
RussiaGate
It still goes on, presumably funded:

But his emails.

What does Russia have on #LeningradLindsey? Why is he so willing to support Trump's criminal behavior and aid and abet Putin's attack on America?https://t.co/IPWSXIIknt

— The Daily Edge (@TheDailyEdge) August 2, 2019

First, #MoscowMitch. Now, #LeningradLindsey. What poor soul is being forced to come up with this reflex action-only nonsense? "Leningrad" was changed back to "Saint Petersburg" in 1991!
Realignment and Legitimacy
DSA National Convention in Atlanta:

Follow along live here:https://t.co/hQUFKy1Sbv#dsacon2019

— NYC-DSA Tech Action? (@NYCDSATechWG) August 2, 2019

Can't really opine; I don't know enough! There do seem to be rather a lot of factions. But somebody's thinking:

Here's some good info for all travelers, courtesy of @DemSocialists pic.twitter.com/Xo8fEim90m

— Annie Shields (@anastasiakeeley) August 2, 2019
Stats Watch
Employment Situation, July 2019: "How far along the rate-cut path will the Fed go? Maybe a bit further given a middling employment report where an important detail is pointing to big trouble for the next industrial production report" [Econoday]. "But a key detail is a decline in manufacturing hours… Even if wages aren't rising that much, the availability of labor does show some tightening."
Factory Orders, June 2019: "Capital goods that surged in last week's advance data are revised down a bit in the factory orders report, limiting June's monthly headline increase" which is still in consensus range [Econoday]. "Capital goods orders had been softening and duly raising concern at the Federal Reserve over the health of business investment; June's jump does not fit into this pattern. If strength continues to appear in this reading, then a central concern for the Fed and its policy shift will be less pressing."
Consumer Sentiment, July 2019 (Final): "Consumer sentiment did fall noticeably in June but stabilized well in July" [Econoday]. "The consumer, backed by solid job growth, looks to remain in place as the fundamental driver of the economy."
International Trade, June 2018: "[B]oth imports and exports contracted" [Econoday]. "June's trade report edges the trade debate deeper on the troubled side, but only slightly. Yet if the pattern continues and both exports and imports contract, the Federal Reserve's concerns over the effects of slowing global trade, expressed by this week's rate cut, will look more and more justified."
Employment Situation: "Has the Jobs Report Become Irrelevant?" [Bloomberg]. "Everyone knows the labor market is the one part of the economy that is in stable shape. But even though unemployment is at a 50-year-low, it hasn't been strong enough to keep growth from decelerating while Trump ratchets up the trade wars. And while the Fed knows the U.S. has held up better than most other economies, that won't last forever given how interconnected the world's economies are today…. The bond market is pricing in two more rate cuts for this year, just like it had before the jobs report. Going forward, the more important data for markets will be those reports that show how the broad economy, especially manufacturing, is responding to the escalating trade wars rather than what is happening with jobs and wages." • "Everyone knows."
The Bezzle: "Brixmor and former executives charged with accounting fraud by SEC, Justice Department" [Francine McKenna, MarketWatch]. "MarketWatch reported on Feb 11, 2016, that Brixmor used a non-GAAP metric that triggered incentive bonuses called "cash NOI" that starts with total property revenues and then also subtracts straight-line rent, above- and below-market rent amortization, and Brixmor's share of cash net operating income from unconsolidated joint ventures. [Brixmore executives] Carroll, Pappagallo and Splain were each awarded bonuses in 2014 for exactly meeting the targeted $2.79 per share on the NOI measure. That non-GAAP metric was one of three quantitative metrics used to determine bonuses for the executives. Carroll received a bonus of $800,000, Pappagallo received $750,000, and Splain got $210,000." • All in the six figures. Clearly, these pikers didn't steal enough.
The Bezzle: "How Jaywalking Could Jam Up the Era of Self-Driving Cars" [New York Times]. "In New York, the unwritten rule is plain: Cross the street whenever and wherever — just don't get hit. It's a practice that separates New Yorkers from tourists, who innocently wait at the corner for the walk symbol. But if pedestrians know they'll never be run over, jaywalking could explode, grinding traffic to a halt. One solution, suggested by an automotive industry official, is gates at each corner, which would periodically open to allow pedestrians to cross." • As I keep saying: If your algo doesn't work, change the inputs, in this case by. mandating on enormous infrastructure investment that would also destroy the street life of the city. On the bright side, we could sell advertising on the gates. Captive audience!
The Bezzle: "Electric scooters aren't as green as they seem" [Axios]. "Electric scooters are often worse for climate change when compared to the transportation methods they're displacing, according to what is likely the first-ever peer-reviewed study on the new trend…. The report's 'results show that dockless e-scooters consistently result in higher life cycle global warming impacts relative to the use of a bus with high ridership, an electric bicycle, or a bicycle per passenger-mile traveled. However, choosing an e-scooter over driving a personal automobile with a fuel efficiency of 26 miles per gallon results in a near universal decrease in global warming impacts'… The study finds that the global warming impact of an e-scooter, including how it's made and during its use, is equal to about half the impact of an average gasoline-powered car per mile traveled." • As usual, Silicon Valley dumps something into the public space and lets others handle the externalities.
The Bezzle: "Goldman Sachs is spending $100 million to shave milliseconds off stock trades" [CNBC]. • No capital allocation issues in our economy, no sirree.
Honey for the Bears: "Wall Street's Least-Loved Stock Is Now a Personal Loan Company" [Bloomberg]. "World Acceptance Corp., a company that specializes in small loans to people with limited credit, was already having a rough day after its first-quarter earnings miss. Now, an analyst downgrade has made it the least-loved stock on Wall Street…. World Acceptance is one of the largest small-loan consumer finance companies, operating 1,218 branches in 16 states as of June 30." • So, we've got this great labor market, but…
Today's Fear & Greed Index: 35 Fear (previous close: 43, Fear) [CNN]. One week ago: 60 (Greed). (0 is Extreme Fear; 100 is Extreme Greed). Last updated Aug 2 at 1:01pm. • Restored at reader request. Note that the index is not updated daily, sadly.
The Biosphere
"These scientists found 2,500 years of economic history frozen in ice" [Grist]. "Lead pollution topped out near the end of the 20th century thanks to the 1970 Clean Air Act, which banned leaded gasoline, among other pollutants. The result: an 80 percent decrease in atmospheric lead levels, according to Chellman's team's findings. There's still 60 times as much lead in the atmosphere as there was during the Middle Ages, but it's evidence that regulatory measures are working." • Onward to carbon!
"Warm Weather Brings Major Melting to Greenland" [NASA Earth Observatory]. "In late July 2019, a major melting event spread across the Greenland Ice Sheet. Billions of tons of meltwater streamed into the Atlantic Ocean throughout the month, making a direct and immediate contribution to sea level rise." • Which, sadly, is not quantified in the article. There was apparently a similar, but less intense, event in 2012.
"Economics of the disintegration of the Greenland ice sheet" [William Nordhaus, PNAS]. That William Nordhaus. From the abstract: "A key finding is that, under a wide range of assumptions, the risk of GIS disintegration makes a small contribution to the optimal stringency of current policy or to the overall social cost of climate change. It finds that the cost of GIS disintegration adds less than 5% to the social cost of carbon (SCC) under alternative discount rates and estimates of the GIS dynamics." • Here is one comment on the Nordhaus paper. Thread:
This is a good study that can be done within the bounds of the DICE model. But it is a bit ludicrous to treat large-scale changes to the earth system as a stand-alone event. Here's one example: potential impacts to ocean circulation. https://t.co/rzkg4XbD5d

— Arvind P. Ravikumar (@arvindpawan1) August 2, 2019
Health Care
"When Did You Realize American Health Care Was Broken?" [New York Magazine]. From mid-July, still germane. An aggregation of horror stories, of which there are many: "Much of access has to do with money, but it also has to do with information — who can get it, and how it is (or isn't) communicated. Below, we share stories from women who've experienced devastating (but not uncommon) encounters with the health-care system at every level: insurance companies, debt collectors, emergency rooms, and more." • Yes, "access" is a red flag, but access to information adds a new wrinkle. More: "'When I had a terrible stomach bug last year and couldn't stop vomiting, I took an ambulance to the hospital. They gave me an IV, some strong anti-nausea meds, and a vanilla milkshake (I'd been vomiting for hours, so I was very dehydrated), and a few hours later, I was discharged. They charged me over $4,000 (and I have health insurance!) just for the ambulance ride! It shouldn't be like this. $4,000 for an ambulance ride is ridiculous!' — Madeline"
"Cancer patients are being denied drugs, even with doctor prescriptions and good insurance" [Fresno Bee]. "Norma Smith was diagnosed with stage-three cancer in December… Smith, a retired special education teacher in Fresno, and her husband, Rodney, a retired school psychologist and director of special education, consider their 'very expensive' health insurance coverage to be 'the best.' But that insurance didn't ensure Smith would get the drugs she needed when facing CVS Specialty Pharmacy – the pharmacy their insurance required them to use. Cancer drugs prescribed by Smith's oncologist were denied because they didn't follow the standard protocol sequence of medications that Smith's pharmacy benefit manager, CVS Caremark, had in their guidelines. That means . Smith is among thousands of documented cases of patients who have been denied needed medications in this way. Doctors and other medical professionals say these denials are only expected to get worse as the country's largest health insurance companies and pharmacies are increasingly joining forces. These elusive middlemen with the authority to deny doctors' prescriptions based on company policies are sometimes referred to as PBMs for short. " • PBMs are being run by the Harkonnens, it seems.
Guillotine Watch
"Two Iowa football assistant coaches reach $800,000 in base salary" [Hawk Central]. "Iowa football strength and conditioning coach Chris Doyle and defensive coordinator Phil Parker have reached the $800,000 mark in annual base pay, according to documents obtained by the Des Moines Register through an open-records request." • You could pay an entire department with that kind of money. And that might even have something to do with the university's putative educational mission.
Class Warfare
Awesome:
"For more than three days, hundreds of coal miners and their allies have been blocking the tracks refusing to allow a load of coal that they mined from leaving the site."

by @MikeElk

— Heidi N. Moore (@moorehn) August 1, 2019
"Acts of Kindness, and the Underlying Rot – When `Good Stories' Happen for Bad Reasons" [Portside]. "Sweet stories like these, the critics say, hide an underlying rot. Individual acts of kindness don't solve systemic problems — in fact, they can do harm by glossing over deeper issues. 'They reveal the deficiencies of public policy, but the interesting thing is people may not make that connection because a feel-good story has short-circuited that connection,' said Lessie Branch, an academic with the Scholars Strategy Network and a senior fellow at the DuBois Bunche Center for Public Policy. She added, 'So the frame, essentially, is individual deficiencies — not systemic issues — for why people need the rescues that we're seeing.'"
"Review: Unions keep watch on corporations — Steven Greenhouse digs into labor's battle" [Los Angeles Times]. "If labor's predicament seems dire, its future may lie in a new approach — organizing low-wage workers whether or not they can be unionized. LAANE's success is one example. Greenhouse describes others: the Coalition of Immokalee Workers raised pay for 35,000 workers and fought sexual abuse in Florida's tomato fields with a successful boycott of Taco Bell; the Fight for $15 movement, funded by the Service Employees International Union, mounted a global campaign to raise pay at McDonald's, and then branched out to support minimum-wage hikes in cities and states across the country, benefiting some 22 million workers. Those efforts may be having an impact. Public approval of unions has risen to 62%, the highest level since 2003. But the path forward for a diminished labor movement is far from clear. 'In the balance,' Greenhouse argues, 'is the future of our economy and our democracy.'"
News of the Wired
"Tinkle, booger, flapjacks, schmuck. What makes a word funny?" [National Geographic]. Handy table:

* * *
Readers, feel free to contact me at lambert [UNDERSCORE] strether [DOT] corrente [AT] yahoo [DOT] com, with (a) links, and even better (b) sources I should curate regularly, (c) how to send me a check if you are allergic to PayPal, and (d) to find out how to send me images of plants. Vegetables are fine! Fungi are deemed to be honorary plants! If you want your handle to appear as a credit, please place it at the start of your mail in parentheses: (thus). Otherwise, I will anonymize by using your initials. See the previous Water Cooler (with plant) here. Today's plant (EW):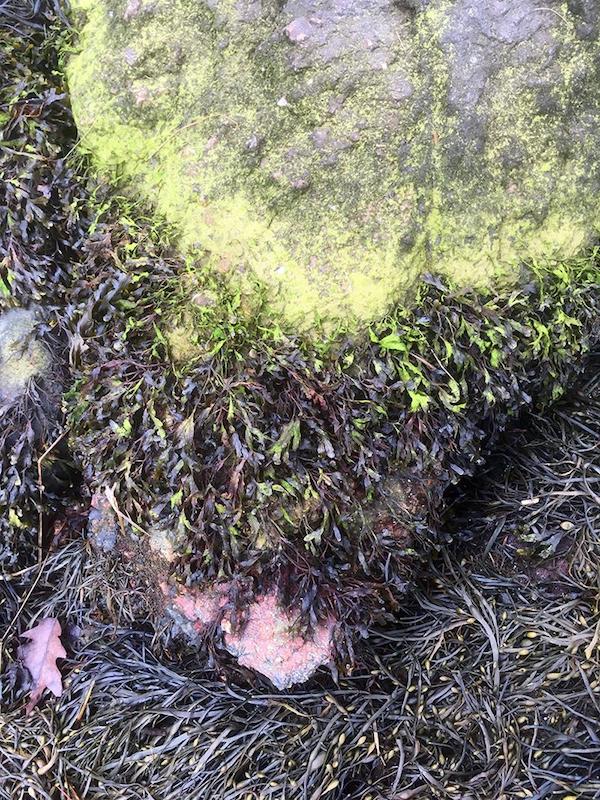 EW writes: "I was struck by the intense green in early April, low tide seaweeds." From Maine.
* * *
Readers: Water Cooler is a standalone entity not covered by the annual NC fundraiser. So do feel free to make a contribution today or any day. Here is why: Regular positive feedback both makes me feel good and lets me know I'm on the right track with coverage. When I get no donations for five or ten days I get worried. More tangibly, a constant trickle of donations helps me with expenses, and I factor in that trickle when setting fundraising goals:
Here is the screen that will appear, which I have helpfully annotated.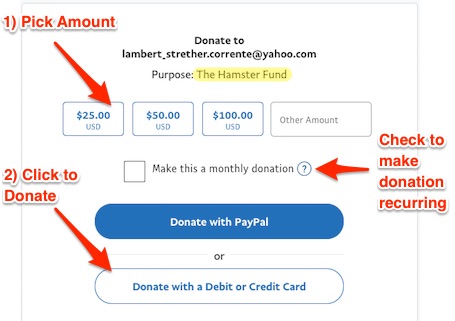 Readers, thank you very much. The mix of one-time contributions to smaller, monthly subscriptions is now more like what is was, and hence the total I budget for is back to normal as well. Remember, a tip jar is for tipping! So if you see a link you especially like, or an item you wouldn't see anywhere else, please do not hesitate to express your appreciation in tangible form…
If you hate PayPal, you can email me at lambert [UNDERSCORE] strether [DOT] corrente [AT] yahoo [DOT] com, and I will give you directions on how to send a check. Thank you!