By Lambert Strether of Corrente
Trade
"The freight railway route from China to Europe is not generating business volume" [Freight Waves]. "The much popularized Chinese one belt one road (OBOR) strategy seems to have hiccups on its path, as evidenced from the statements made by the state-run China Railway admitting that several of the intermodal containers on trains connecting China to Europe run empty. Empty intermodal containers have been a perennial problem that Beijing has had to contend with on this trade route ever since services commenced a few years ago…. The problem with the railway system is that it has not convinced exporters on its apparent utility of being faster than maritime and cheaper than air transport. Most of the exports to the EU from China are manufactured in cities near the eastern coast of China; from that area it makes more sense to ship freight by sea rather than rail. "
Politics
"But what is government itself, but the greatest of all reflections on human nature?" –James Madison, Federalist 51
"They had one weapon left and both knew it: treachery." –Frank Herbert, Dune
Alert reader dk (not to be confused with DK) has developed the following chart: Since the RCP poll aggregator had a nice chart, but kept changing its polls (and didn't include Reuters/IPSOS, which the DNC uses to game select debate participants), and the FiveThirtyEight aggregation seemed better, but lacked charts, he came up with an aggregator of his own, driven, as I understand it, by all the 528 polls, but without any secret sauce at all, and allowing some user customization. Here, I have filtered out all the candidates but the top five, and used a "stair step" presentation, which, although a little jarring, conveys the idea that polls are only slices in time; it's the voters who move in curves, whereas the polls really are jagged proxies for whatever is happening out there in the dark matter of the electorate: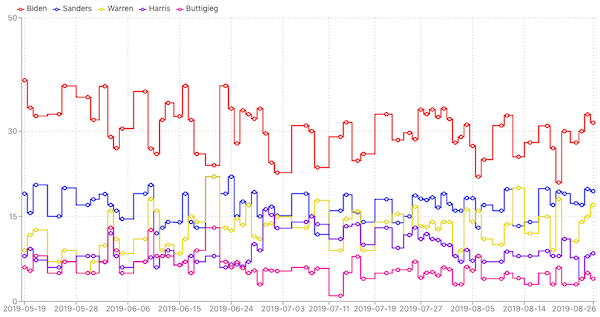 And here are the numbers as of 8/28/2019, 12:15 PM EDT:

The relative positions of Biden, Sanders, and Warren remain the same. However, Biden's trendline is clear. I think DK has started a really neat project, and in the near future we'll seek your feedback (within reason) for the tool "live." UPDATE: We now have the option of adding dots to the trendlines.
* * *
2020
Biden (D)(1): "Joe Biden is my Harvard, not my 'safety school.' He really is my favorite 2020 Democrat." [USA Today]. "At a wedding in New York, changing planes in Washington, over coffee in Boston and on my porch in Kansas City, what I hear from pro-Joe Democrats is hardly resignation. Nor is it some complicated, defeatist calculus about how appealing non-Trump-loving Republicans might find him. Don't underestimate Biden: He knows what America needs and how to get it done. A childhood friend in Illinois talks about how blessedly comfortable Biden makes her feel — and if you think "comfortable" means meh, you must have slept through the past three fun-filled years. His authenticity and experience are exactly what the country needs now, says a former colleague in Florida. And best of all, he would have no learning curve, so he could get right to work undoing the damage caused by what's-his-name, says a therapist in North Carolina. 'He's a good, honorable, smart, decent, civil man who has dedicated his entire life to public service,' says Morna Murray, executive director of the Rhode Island Disability Law Center and former senior counsel to Sen. Bob Casey, D-Pa. 'He was a great senator and vice president, and I'm pretty sure it does not get much better than that!'" •

Biden (D)(2): "Joe Biden: It Would Be an Insult to My Dead Son for Everyone to Have Healthcare" [Vice]. A Biden ad: "In all, the ad is saying that healthcare is personal to Joe Biden because his son died; that as a father, he believes the best and most legitimate way to honor his dead son's legacy would be to implement further incremental regulatory reform, along the lines of what Barack Obama did; and that people who disagree and think that radical reform is necessary—among them, presumably, the 80 percent or so of Democrats who say it's important to nominate a presidential candidate who supports Medicare for All—are dishonoring his son's legacy. A hell of a pitch!"

Biden (D)(3): "The One Where Everyone Goes After Biden" [McSweeney's]. Missed this review of the last debate: "Biden is asked about the fact that more immigrants were deported under Obama than during Trump's first two years of presidency. Protestors interrupt the debate to reiterate this fact in a more confusing manner. Biden laughs and then says, "Well, Castro was in Obama's administration too!" Castro pulls out a water balloon and lobs it at Biden. As the water cascades down Biden's forehead, Castro replies, "One of us has learned the lessons of the past and one hasn't." Biden responds by throwing his hands up and making a "would you look at this guy" face to the audience, who tries not to make eye contact in return."

UPDATE Sanders (D)(1): "Bernie Sanders Hails Volunteer Army As Advantage Over Rivals" [HuffPo]. "Staff and volunteers for the presidential campaign of Sen. Bernie Sanders (I-Vt.) have organized and hosted over 11,000 events, including more than 2,000 in California, the campaign announced Tuesday evening. The vast majority of the events have been organized by volunteers, according to the campaign…. the Sanders campaign sees [this] as a secret weapon as it seeks to stand out in a crowded field of candidates: a "distributed" ― or volunteer-run ― organizing system that it innovated in the 2016 race and has since fine-tuned…. The conceit of distributed organizing, which has its fair share of skeptics, is that campaigns can amplify by orders of magnitude the effect of the staff they employ directly by empowering exceptionally motivated volunteers to run their own house parties, lead their own canvasses and develop, and monitor their own voter contacts by phone and text message. It differs from traditional campaign volunteering in terms of the resources and technology the Sanders campaign, and others inspired by it, have expended on creating an infrastructure to facilitate the work of its most dedicated supporters…. ." • Or "measure" at all.

UPDATE Sanders (D)(2): "Bernie Sanders Isn't Going to Tear Down Elizabeth Warren: 'That's Not What I Do'" [Vice]. Sanders: "I would suggest in my defense that I've been doing this for, as you indicated a few moments ago —check me out, and people may find me a little bit boring and repetitious — but I have been fighting these fights for about 30 years." • Drop the self-deprecation!

UPDATE Sanders (D)(3): "Bernie Sanders Boxing Scouting Report: Gotta Keep Those Hands Up" [The Big Lead]. "Bernie Sanders is in very good shape for a man who will turn 78 in a few days. People from all points of the political spectrum can agree on that. He's repeatedly put his basketball skills on display and not long ago showed he has some promise as a baseball prospect. There are some limitations to his sporting prowess, though. Like boxing. Here's the presidential hopeful working a speed bag and, in turn, getting a bit worked himself." [video]. "For reasons beyond comprehension, Sanders decided to punch on a level plane with his right hand when we all know he's most comfortable attacking upward and from the left. Bizarre strategy." ¨• Heh.

Warren (D)(1): "Elizabethan Warren knows the power of words" [WaPo]. Post theatre critic on Warren: "The vocal modulation. The oratorical rhythm. The instinct for a good story: She's got the ingredients for a magnetic performance. And she delivers. When Warren speaks, you lean in. 'Friends, Romans, countrymen' is not exactly where the talk goes in her 45-minute strut upon the Tempe stage on this August evening in the Marquee Theatre, capacity 2,500. It is so packed, some of the crowd must remain outside in the 100-degree heat. Still, the sense of drama Warren radiates replicates the momentum of an actor at the climactic point of a play. Her speech may not convey the compact lyrical eloquence of Marc Antony, but the sights and sounds of her presentation deliver the centrifugal emotional force of a potent soliloquy." • Readers, have any of you attended a Warren rally?

Warren (D)(2): "Where is Elizabeth Warren's health care plan?" [WaPo]. "I would be shocked if Warren and her policy team aren't well aware of the shape of public opinion, even as they're trying to come up with the most effective plan they can. That might account for why she has released plans on so many other issues but not on this one. (I've asked the Warren campaign when she will release a plan and will update if they answer.) The longer she waits, the more time she has to see how things shake out and come up with something that will solve the system's problems without engendering too much of a campaign backlash. But she won't be able to wait for much longer." • So I guess Warren won't be attacking Sanders from the left, and endorsing Jayapal's bill.

"Sanders-Warren Niceties Mask Growing Tension and Suspicion Among Allies" [Bloomberg]. "The two New England senators — Sanders represents Vermont and Warren Massachusetts — poll well with those who identify as liberal. Warren does better with older voters and loyal Democrats, while Sanders is stronger with younger people and disaffected voters who say they feel ignored by both parties." • Leaves out income and credentials. Do better, Bloomberg!

* * *

GA: "Stacey Abrams says she won't run for Georgia Senate seat" [The Hill]. "Abrams's announcement that she would forego a run for Isakson's seat is the second time in a matter of weeks that she has ruled out a Senate bid. She was previously considered a top recruit to challenge Perdue in 2020, but declined to launch a campaign, saying that she would instead focus on combating voter suppression through her advocacy group Fair Fight. Still, there's speculation that Abrams could be a top pick for the Democrats' vice presidential nomination in 2020." • Quick! But "still"?
Realignment and Legitimacy
"Mississippi officials confirm multiple cases of voting machines changing votes in GOP governor runoff" [The Hill]. "State officials have confirmed at least three reports of voting machines in two counties changing voters' picks in Mississippi's GOP gubernatorial primary runoff…. The issues emerged Tuesday morning, with one Facebook user posting a video showing a touch-screen voting machine changing their selection from Waller to Reeves. 'It is not letting me vote for who I want to vote for,' the voter says in the video. 'How can that happen?' a woman in the background asks." • Good news in the run-up to 2020!
Health Care
"Poll: Dems more likely to support candidate who backs Medicare for All over fixing Obamacare" [Politico]. "According the POLITICO/Morning Consult poll out Wednesday, 65 percent of Democratic primary voters would be more likely to support a candidate who wants to institute a single-payer health care system like Medicare for All; 13 percent said they'd be less likely to back a candidate based on that support. While the Democratic base has essentially demanded that its White House hopefuls offer up a plan for universal health care, the party has devolved into infighting over the nuances of such plans, centering almost entirely on the role of private insurers in the health care market." • "Nuance." Nuance?
Stats Watch
Survey of Business Uncertainty, August 2019: "In a month of sharp swings in the financial markets and spikes in US-China trade tensions, the August index for business uncertainty rose" [Econoday]. "This index hit a low of 80.2 in March this year and has mostly been on the climb since…. Sales growth is the weakest component within expectations."
State Street Investor Confidence Index, August 2019: "Global institutional investors reduced their exposure to equities at an accelerated pace in August" [Econoday]. "Driving the risk aversion were growing concerns about the global economic slowdown amid widespread declines in global manufacturing and monetary and trade policy uncertainty."
MBA Mortgage Applications, week of August 23, 2019: "After a burst higher on lower mortgage rates, refinancing activity fell" [Econoday].
Tech: "'If you have an addiction, you're screwed' – How Facebook and social casinos target the vulnerable" [Reveal News]. "Reveal examines how Facebook is partnering with social casino games to monitor and analyze the behavior of vulnerable players. The companies are using big data and advanced software to predict which people will spend massive amounts of money on the games and then targeting these people with aggressive marketing. For some people, these games result in financial ruin…. And the kicker? She can't win any money in the game. It's not traditional gambling. Players can never cash out their virtual chips for real money. They're paying only to buy more chips, which allows them to spend extra time in the game. "So this is, in some ways, pure addiction," says Keith Whyte, executive director of the National Council on Problem Gambling. Social casino games, such as slot machines and poker games on Facebook and mobile devices, have become a $5 billion-a-year business, with revenues nearly as large as all the Las Vegas Strip casinos combined. But because the games are classified as entertainment, they are not subject to any gambling regulations. So there is nothing stopping tech companies from monitoring, analyzing – and targeting – those with addictive personalities." • Nothing, especially not ethics or a sense of empathy…
Tech: "This Nobel Prize-Winning Idea Is Instead Piling Debt on Millions" [Bloomberg]. "Sub-Saharan Africa has proven the most fertile ground for microlending through mobile devices. In 2018, there were 395.7 million mobile-money accounts in the region, or almost half of the world total; the $26.8 billion handled represents two-thirds of the total transactions, according to GSMA, which represents 750 mobile operators around the world…. By far, the dominant force is M-Pesa, the payments platform of Vodafone Plc's Safaricom unit. … The option to deposit and borrow can be activated within the M-Pesa wallet… The expansion in consumer debt has an inevitable dark side. While yotal lending by banks grew 5% to 2.5 trillion shillings in the year ending June 2018, non-performing loans climbed 27% to 298 billion shillings, according to the central bank. Two-thirds of Kenyan borrowers are in debt stress—those caught in a debt spiral or those who have to sell an asset or reduce food spending to repay loans." • Remember this?
Manufacturing: "Boeing's Crashes Expose Systemic Failings" [Der Spiegel]. This is brutal, a must-read. This caught my eye: "And this all comes at a time when the Airbus-Boeing duopoly has been developing cracks. The two may still be the world's undisputed aerospace leaders, but companies in China, Russia and Japan are in the process of grabbing a bigger piece of the pie. Furthermore, it has become easier to build airplanes because a highly specialized global market of suppliers has developed that can deliver almost any part in the desired quality at the desired moment in time. The times when airplane construction was a calling card of unattainable technological excellence are coming to an end. Things are becoming more difficult, especially for Boeing." • Uh oh….
* * *
Today's Fear & Greed Index: 20 Extreme Fear (previous close: 16, Extreme Fear) [CNN]. One week ago: 25 (Extreme Fear). (0 is Extreme Fear; 100 is Extreme Greed). Last updated Aug 28 at 12:28pm. Note that the index is not always updated daily, sadly.
The Biosphere
Asteroid Ryugu:
This photo blows my mind.

It's the surface of asteroid #Ryugu, taken by the @MASCOT2018 lander, deployed by the @haya2e_jaxa spacecraft. A real place, out there, in the dark.

And we've been there. pic.twitter.com/KWvWayHTyS

— Paul Byrne (@ThePlanetaryGuy) August 22, 2019
Ryugu to scale:
Hello earthlings, look what I discovered while exploring asteroid #Ryugu! https://t.co/L68sUbmEZu Thanks @haya2e_jaxa and my @JAXA_jp friends for the perfect #AsteroidLanding! #hayabusa2

— MASCOT Lander (@MASCOT2018) July 15, 2019
UPDATE "Lifecycle of a Leaf" [Current Affairs]. Oy:
Input #1: Since like all other leaves, arugula starts as a seed, these seeds were likely extracted and bulk-sorted in a mechanized process using fossil fuel energy. Then they were shipped using diesel fuel to the field (input #2) in California or possibly Arizona, since 98 percent of packaged salad greens are grown within those two states. By this point, the ground has been stripped and prepared with internal combustion engine vehicles (#3) into which the seeds are planted with precision seeders (#4). Water is sprayed in vast quantities—agriculture uses 80 percent of California's human-use water—through pumps powered typically by (you guessed it) fossil fuels (#5) until seedlings break the ground. Laborers traverse the field, sometimes with vehicles (#6), applying pesticides synthesized from—and manufactured with—petroleum (#7): herbicides to kill weeds, fungicides to kill fungus, and pesticides to kill insects and rodents. Petroleum-derived fertilizers (#8), too, have been applied in a mechanized process (#9). When they're ready, the arugula leaves are cut with big diesel-fueled vehicles (#10) and transported to a processing facility that is powered by, most likely, coal (#11). There, the leaves are sorted on conveyors (#12), washed in industrial washers (#13), dried in industrial dryers (#14), and then packaged with machines (#15) into plastic (#16) containers.

Then the packaged greens are put on a truck (#17), then onto a diesel-powered, refrigerated train (#18), and shipped across the country to a grid-powered distribution center (#19) , let's say Hunts Point, a sprawling food-warehousing complex in the Bronx. There they are moved with a forklift (#20) to a truck (#21) that takes them to a supermarket where they sit on a refrigerated shelf (#22), are then plopped in your basket, chucked in your electric refrigerator (#23), and partially consumed in exactly one meal before you forget about it.

But wait! The cycle isn't complete.
UPDATE "Life in deep Earth totals 15 to 23 billion tons of carbon—hundreds of times more than humans" [Phys.org]. From 2018, still germane: "[S]cientists with the Deep Carbon Observatory today reported several transformational discoveries, including how much and what kinds of life exist in the deep subsurface under the greatest extremes of pressure, temperature, and low nutrient availability. Drilling 2.5 kilometers into the seafloor, and sampling microbes from continental mines and boreholes more than 5 km deep, scientists have used the results to construct models of the ecosystem deep within the planet. With insights from now hundreds of sites under the continents and seas, they have approximated the size of the deep biosphere—2 to 2.3 billion cubic km (almost twice the volume of all oceans) – as well as the carbon mass of deep life: 15 to 23 billion tonnes (an average of at least 7.5 tonnes of carbon per cu km subsurface)."
Black Injustice Tipping Point
No:
"As part of our commitment to racial equality and feminism, Mattel is proud to debut our limited-edition 'hot Rosa Parks' doll." https://t.co/mHcRHxmMKf

— Current Affairs (@curaffairs) August 27, 2019
"No" because Rosa Parks was "hot" exactly the way she was, not idealized and abstracted in doll form. Next we'll be calling Parks "iconic."
Neoliberal Epidemics
America's opioid epidemic is a disaster exacerbated by corporate greed, a failing health system and lack of political will https://t.co/YwzvbtpyEd

— The Economist (@TheEconomist) August 28, 2019
Everything's going according to plan!
Guillotine Watch
"'NO EXCESSIVE BARKING': A Chevy Chase dog park divides the rich and powerful" [WaPo]. "To stop outsiders from driving to Chevy Chase Village and parking on the Bourkes' street — — the dog park was wiped from the village website." • And lots more like this!
Class Warfare
"'I was working like a slave': Exhausted Popeyes employees describe a harrowing situation amid chicken-sandwich chaos, including working 60-hour weeks and shifts with no breaks" [Business Insider]. "For Popeyes and Chick-fil-A, the chicken-sandwich war still rages. And at the front lines of the battle are the employees — managers, sandwich makers, shift leaders, and cashiers — some of whom are working more than 60-hour weeks and many days without breaks to quell the public's craving for chicken sandwiches. Business Insider spoke with five Popeyes employees across the US about working at the chain during the so-called chicken wars. Workers said they were overwhelmed and exhausted, and many are considering quitting their jobs. 'I was working like a slave in the back prepping the buns with pickles and the spicy mayo,' said an 18-year-old Popeyes crew member in Orange County, California." • "Like"?
"Unpaid Kentucky coal miners have been blocking a train track for 3 weeks" [CBC]. "It's been more than three weeks since Jeff Willig got a call from his buddy Chris Sexton asking if he wanted to go stand in front of a moving train loaded with coal. 'He called me and said, 'Hey, they're trying to load this train up. You want to stop this train?' Willig told As It Happens guest host Helen Mann. 'I said, 'Absolutely." The two friends are coal miners who have been been out of work since Blackjewel, the company that owned the Black Mountain mine near Cumberland, Ky., shut its doors suddenly in July and filed for bankruptcy. More than 1,100 miners in Kentucky, Wyoming, West Virginia and Virginia lost their jobs with no warning. They didn't get paid for their last week of work, and their paycheques from the previous two weeks bounced. So when the miners got word that Blackjewel was quietly shipping a trainload of coal, worth at least $1 million US, out of Black Mountain — coal the miners took out of the ground — they decided to take matters into their own hands." • Oddly, this isn't a major story.
"Capitalism Is Making Us Sick: A Q&A With Emily Guendelsberger About Her New Book, On the Clock" [New York Magazine]. "Sarah Jones: What really struck me most about your book is that the jobs you held — at Amazon, and Convergys, and McDonald's — were not jobs designed to let human beings be human beings. What sort of psychological effect does that have on workers? Emily Guendelsberger: That is the takeaway that I hope people have…. But I also wanted workers from these industries who read it to be able to recognize that it is all the same struggle. People in fast food should have common cause and solidarity with people who work at Amazon. I think the Fight for 15 has done a really great job of showing fast-food workers that this is one fight. It's not just unionizing McDonald's or just unionizing Burger King, it's all fast food. And I think that the inescapability of the sort of computer business systems and timing and monitoring systems that I talk about in the book, I tried to draw sort of a thread between them….. The feedback I expected to get on the book was just people saying that millennials don't have any work ethic, people don't know how to work hard, it's their own fault if they can't keep these jobs, no one's holding a gun to their head. But honestly the response that I've gotten from almost everybody who's actually had one of these jobs is, wow, I didn't realize it was this similar in other industries. I thought it was just my job that sucked."
"Afraid of the Dark" (book reviews) [The Baffler]. Dark markets. "Not content with destroying the environment, criminals are sabotaging efforts to save it. The EU's European Commission has a 'cap and trade' policy, involving carbon credits, which carbon-efficient firms can sell to polluting firms. Hackers broke into the EC's carbon registry and stole credits, which they sold while also claiming rebates for VATs which they hadn't paid, all to the tune of $6.5 billion. Moreover, 'Interpol believes that the $176 billion carbon market is vulnerable to other forms of criminal penetration, such as securities fraud, transfer mispricing, and the sale of nonexistent carbon credits.'…. Everything about the dark web is chilling. Whatever legitimate activities may go on there (if any), it appears to be primarily a supermarket for narcotics, child porn, human trafficking, weapons, and malware. The fabled dark site Silk Road processed six hundred thousand messages per month, translating into an unknown number of orders, and in its two years of operation facilitated the sale of $1.2 billion in drugs, arms, and malware, paid for in Bitcoin. Malware in particular is a growing market. Half a billion records are stolen each year, and five years ago an astonishing one in ten Americans over sixteen had their identity stolen."
News of the Wired
"Sumerian: The Languages of Berkeley: An Online Exhibition" [Berkeley Library]. "Sumerian was spoken in the most southern part of ancient Mesopotamia. With its oldest texts dating to no later than 3000 BCE, it has the distinction of being the first attested language known to us. After its death as a spoken language, about 2000 BCE, it continued to be studied in the Mesopotamian school system for another thousand years. Sumerian literature is the oldest preserved literature in the world, and some of its compositions still have the power to move us today. Sumerian also has the honor of being a 'language isolate.' It has no obvious relatives, living or dead. It must have had relatives in the past, but these have all died out, without any of them being recorded." • "Must have had"? Fitting this into my Snow Crash framework….
Statistics!
In my intro stats class today, I told students the median is a "resistant" measure of a distribution's center & is often preferred to the mean in the case of salary data, etc. I jokingly referenced this meme and in the 15 mins' break they had, a student created this MASTERPIECE! pic.twitter.com/TScgnV8dye

— Anna J. Egalite (@annaegalite) August 27, 2019
"Optimists Live Longer" [Medium]. • No way!
* * *
Readers, feel free to contact me at lambert [UNDERSCORE] strether [DOT] corrente [AT] yahoo [DOT] com, with (a) links, and even better (b) sources I should curate regularly, (c) how to send me a check if you are allergic to PayPal, and (d) to find out how to send me images of plants. Vegetables are fine! Fungi are deemed to be honorary plants! If you want your handle to appear as a credit, please place it at the start of your mail in parentheses: (thus). Otherwise, I will anonymize by using your initials. See the previous Water Cooler (with plant) here. Today's plant (via):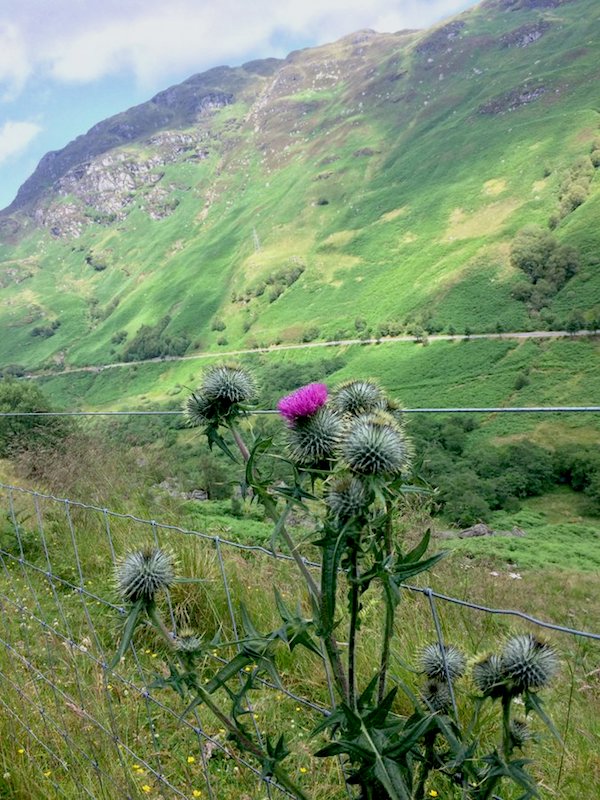 * * *
Readers: Water Cooler is a standalone entity not covered by the annual NC fundraiser.Remember, a tip jar is for tipping! So if you see a link you especially like, or an item you wouldn't see anywhere else, please do not hesitate to express your appreciation in tangible form. Regular positive feedback both makes me feel good and lets me know I'm on the right track with coverage. When I get no donations for five or ten days I get worried. More tangibly, a constant trickle of donations helps me with expenses, and I factor in that trickle when setting fundraising goals:
Here is the screen that will appear, which I have helpfully annotated.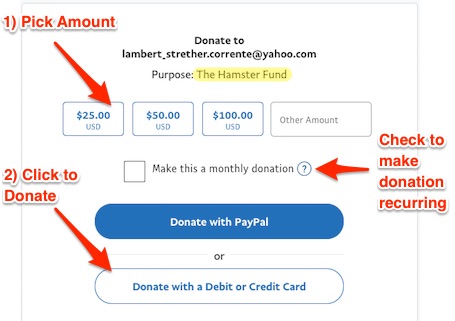 If you hate PayPal, you can email me at lambert [UNDERSCORE] strether [DOT] corrente [AT] yahoo [DOT] com, and I will give you directions on how to send a check. Thank you!