By Lambert Strether of Corrente
Politics
"But what is government itself, but the greatest of all reflections on human nature?" –James Madison, Federalist 51
"They had one weapon left and both knew it: treachery." –Frank Herbert, Dune
"2020 Democratic Presidential Nomination" [RealClearPolitics] (average of five polls). As of August 7: Biden down to 31.0% (31.6), Sanders down to 15.8% (16.6%), Warren flat at 15.5% (15.6%), Buttigieg flat at 5.5% (5.4%), Harris down at 8.3% (9.4%), Beto separating himself from the bottom feeders, interestingly. Others Brownian motion.
* * *
2020
Harris (D)(1): "Kamala Harris becomes first major candidate with TV ad as she debuts '3 a.m. agenda'" [McClatchy]. "According to the Republican ad-buying firm Media Buying, Harris' campaign is spending just under $200,000 to air the ad on broadcast, cable and satellite television in the Des Moines and Cedar Rapids media markets. It will run for the coming week, the firm said. Harris is the first of the top-tier presidential candidates to air television advertisements."

Harris (D)(2): "Kamala Harris, The Early Years":

Six weeks after the second largest bank failure in US history and about a week before the government would take over Fannie Mae and Freddie Mac, Kamala Harris was asked how the country would be different if she were POTUS for 8 years. This was her answer. pic.twitter.com/fGAyHCnq6S

— Walker Bragman (@WalkerBragman) August 8, 2019

Sanders (D)(1): Sanders goes into the lion's den…

A thread of Youtube comments from Joe Rogan's podcast with Bernie Sanders. pic.twitter.com/vUhgjtq9Cd

— rafael (@rafaelshimunov) August 7, 2019

… and comes out riding a lion.

* * *

"The Main Difference Between Warren and Sanders" [Benjamin Studebaker]. "Warren believes in a meritocratic system, where the deserving members of the working class and underclass can work hard and earn their way into the professional class. Sanders believes that all our citizens, regardless of class position, ought to be entitled to a decent life. That's the difference. That's why Warren declined to endorse Sanders in 2016. That's why Warren says she would have accepted an offer to become Hillary Clinton's Vice President. That's why Warren still says she's "capitalist to her bones". That's why Warren clapped for Trump when the president said there would never be socialism in this country:" • Excellent piece; I just cut out the bottom line. Studebaker really firing on all eight cylinders here :-)

IA: "Gun policy activists organize Des Moines forum following mass shootings; Democratic presidential candidates will attend" [Des Moines Register]. "In the wake of mass shootings in El Paso, Texas and Dayton, Ohio, gun policy activists quickly organized a presidential "gun safety" forum in Des Moines Saturday. Despite Democratic presidential candidates' busy Iowa schedules for this week — with the Iowa State Fair, the Des Moines Register Political Soapbox at the Fair, and several other multi-candidate events — at least 14 have said they will attend. The event starts at 8 a.m. at the Iowa Events Center in downtown Des Moines. The event was organized by Everytown for Gun Safety Action Fund, Moms Demand Action and Students Demand Action, groups advocating for gun regulation after previous mass shootings throughout the country."
The Debates
"DNC rules for October debate gives struggling candidates longer window to qualify" [CNN]. "In an email reviewed by CNN that was sent to a presidential campaign by the Democratic National Committee, the campaign was informed that qualifying polls for the October debate must have been released between June 28 and two weeks prior to the debate. That polling window means that candidates who qualified for the September debate will automatically qualify for the October contests, and it gives candidates who did not qualify in September additional time to make the next debate stage." • Funny they waited until after Gravel dropped out. Complex and constantly changing rules, independent entities that in fact aren't (pollsters), "hidden hands" — Third World stuff.

"Sanders: Democratic debate format is 'demeaning'" [The Hill]. "Speaking on the 'The Joe Rogan Experience' podcast, Sanders said 'you shouldn't even call them a debate.' 'What they are is a reality TV show in which you have to come up with a soundbite and all that stuff,' he said. 'It's demeaning to the candidates and it's demeaning to the American people. You can't explain the complexity of health care in America in 45 seconds, nobody can.'" • Drag 'em, Bernie!
Identity Politics
Know your enemy:

White supremacy is often subconscious. & Clearly, our nation has not been inoculated. WS is our nation's original sin;the driving logic of slavery, of Native genocide, of Jim Crow, of segregation, of mass incarceration,of "Send Her Back."

It never went away. It was just dormant.

— Alexandria Ocasio-Cortez (@AOC) August 8, 2019

Apparently, the "driving logic" of slavery had nothing to do with profit — or capital. Really?

"White Supremacy Is Not The Arsonist — It's The Fire." [Ryan Dalton, Medium]. • The same objection applies.
L'Affaire Joffrey Epstein
"The Right Kind of Continuity" [Jewish Currents]. "Within the Jewish institutional world, however, Wexner's relationship with Epstein is significant in a different way. Wexner is among a small number of Jewish community megadonors, billionaires who provide an outsize and growing proportion of funding for communal organizations and to a large extent determine what those organizations look like. Along with Sheldon Adelson, Charles Bronfman, and a few others, he has spent millions of dollars on institutions ranging from Birthright Israel—which has sent over 500,000 young diaspora Jews on free trips to Israel—to the Jewish Theological Seminary, where Conservative rabbis are ordained… Epstein was closely involved with Wexner's charitable giving; together, for instance, the two men helped fund the construction of a new building for Harvard's Hillel. Tax filings suggest that Epstein spent six years as a trustee of the Wexner Foundation, and that the foundation gave millions of dollars to pet projects of his own…. These ties are now stoking anxiety and division behind the scenes at Jewish institutions led by Wexner-affiliated professionals." • As well they might.
RussiaGate
"Did Russian Interference Affect the 2016 Election Results?" [Larry Sabato's Crystal Ball]. "No." From the summary:

— Special Counsel Robert Mueller's recent testimony was a reminder that Russia attempted to influence the outcome of the 2016 election and very well may try to do so again in 2020.

— This begs the question: Is there any evidence that Russian interference may have impacted the results, particularly in key states?— The following analysis suggests that the 2016 results can be explained almost entirely based on the political and demographic characteristics of those states. So from that standpoint, the answer seems to be no.

So, a well-regarded, mainstream political scientist and horse-race analyst throws in the towel. Scholars Ferguson, Jorgenson, and Xie got this right in 2018; kudos to them. Humble bloggers who were also skeptical of enormous claims made on little evidence may also take a bow [lambert blushes modestly].
El Paso and Dayton Shootings
"Has anyone actually read the El Paso manifesto?" [Washington Examiner] (original (I think)). • I would still like the provenance of the manifesto to be clear. The Times said "may be linked" five days ago; Buzzfeed says "Authorities said the writings came from the gunman, identified as 21-year-old Patrick Crusius, and had been attributed 'directly to him.'" I don't want to go all CT on this, but it's a loose end I'd like cleared up.

"The El Paso shooter's manifesto contains a dangerous message about climate change" [Bill Black, The Week]. "If we are to prevent the rise of eco-fascism, we must begin by telling a new story about climate change. Too often, people are presented with only two stories: (1) we are fine, and the earth is fine; or (2) we are awful and the earth is about to die. It is easy to understand why people would reject the second story and retreat to denialism. But the second story is just as dangerous as denialism, if not more so. If we accept the premise that humanity is a parasite on the earth, then we can be persuaded to support ever more drastic means of exterminating that parasite — an extermination that would, of course, be selective. 'The earth would be better off without us' can easily morph into "the earth would be better off without them.'" • See the material on Garret Hardin under "The Biosphere."
Realignment and Legitimacy
"Ads Pulled for Gory Universal Thriller 'The Hunt' in Wake of Mass Shootings (Exclusive)" [Hollywood Reporter]. "'Did anyone see what our ratfucker-in-chief just did?' one character asks early in the screenplay for The Hunt, a Universal Pictures thriller set to open Sept. 27. Another responds: '.' In the aftermath of mass shootings within days of one another that shocked and traumatized the nation, Universal is re-evaluating its strategy for the certain-to-be-controversial satire. The violent, R-rated film from producer Jason Blum's Blumhouse follows a dozen MAGA types who wake up in a clearing and realize they are being stalked for sport by elite liberals." • Hey, come on. Where's your sense of humor? Good to see the quiet part said out loud, though.

"The Destructive Politics of White Amnesia" [Kimberlé Williams Crenshaw, The New Republic]. "To counter [Trump's] terrifying demagoguery, the party must be as unified in its repudiation of racism, xenophobia, and misogyny as the Party of Trump has been in enabling them. One would think, therefore, that candidates angling to become the standard-bearer of the loyal opposition should be capable of articulating not only the danger of this political moment, but also how their own party helped create this tragedy. Democratic candidates will never be able to steer a fresh course so long as they continue decades of denial and dissemblance. Joe Biden's status as the 2020 field's front-runner, in spite of his cringeworthy efforts to account for his part in that history, speaks volumes about how far today's Democrats still have to go before they can meet the challenges of Trumpism head-on. A good deal of Biden's inflated standing comes from an all-too characteristic Democratic posture of risk aversion, compounded by a talismanic faith in Biden's mystic "electability." Many party leaders and voters clearly view a Biden candidacy as the safest post-Trump course correction—and Biden as a pragmatic man of the people with the unique ability to build coalitional bridges between coastal elites and the so-called forgotten men and women of America's heartland." • Crenshaw, a law professor, coined intersectionality. It will be interesting to see which non-amnesiac she endorses.

"Reapportionment Projections and the Potential Impact of New States" [ESRI (hat tip…)]. "[I]t is estimated that, compared to the current seat apportionment determined by the 2010 Census, nine states will lose one seat, six states will gain one seat, and one state will gain three seats. The final five seats in the apportionment process (seats 431-435) are given to Texas, Arizona, California, Montana, and Alabama. These "bubble" states are at the highest risk to lose seats as a result of any differences between the population projections and the actual Census 2020 counts. On the other hand, the five states that are closest to gaining additional seats are Minnesota, West Virginia, Ohio, Rhode Island, and Florida (four of which are projected to lose a seat when compared to the current 2010 apportionment). Based on these projections this would be the first time since statehood that California would lose a congressional seat."

The "Pass the Hat" resolution was in essence a cash payment to locals of $100 a month. Here is the case against it. Here's the view of the resolution's proponent (account now protected oddly):

"Denver City Council Ends Private Prison Firms' Contracts" [The Intercept]. "Two for-profit prison companies have lost major contracts in Denver over their work in immigrant detention, as backlash to President Donald Trump's immigration policy continues to mount. The stunning $10.6 million rebuke to the two firms, CoreCivic and the GEO Group, was led by newly elected city council member Candi CdeBaca, who won in June on a radical platform backed by the Democratic Socialists of America." • Kudos!
Stats Watch
Jobless Claims, week of August 3, 2019: "Declines to even more favorable levels are the results of the latest jobless claims report" [Econoday]. "The current state of the labor market, which is strong, isn't why the Federal Reserve cut rates last week."
Consumer Credit, June 2019: "Consumer credit came in below consensus expectations" [Econoday]. "Although the monthly drop indicates a loss of credit-card spending momentum, revolving credit for the second quarter still increased [for] the strongest quarterly growth in more than a year. This is a negative for household wealth but it has been a positive to consumer spending."
Wholesale Trade, June 2019: "Inventories in the wholesale sector were unchanged" [Econoday]. "Inventories of autos did fall in June but were still up percent on the year. This will likely be a negative for near-term auto production."
* * *
Today's Fear & Greed Index: 26 Fear (previous close: 25, Extreme Fear) [CNN]. One week ago: 43 (Fear). (0 is Extreme Fear; 100 is Extreme Greed). Last updated Aug 7 at 12:19pm. • Restored at reader request. Note that the index is not always updated daily, sadly.
The Biosphere
"Climate Change and Land: Summary for Policymakers" (PDF) [IPCC]. An "approved draft" of a new report. Handy chart from page 4: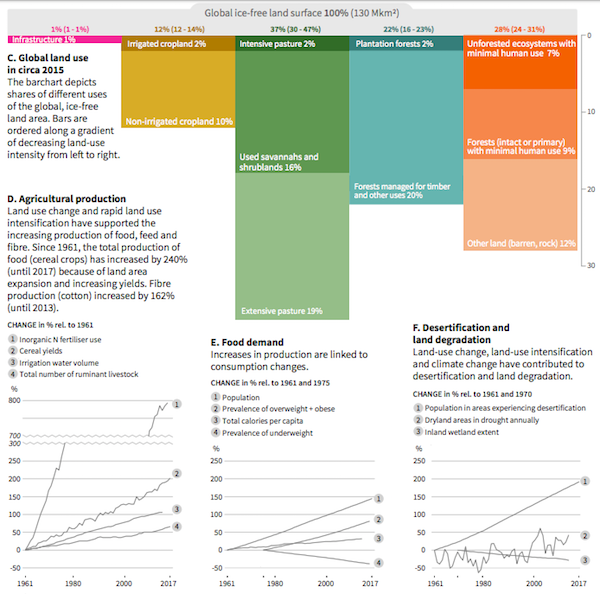 "What is Agrobiodiversity?" [FAO]. Yikes:
* Since the 1900s, some 75 percent of plant genetic diversity has been lost as farmers worldwide have left their multiple local varieties and landraces for genetically uniform, high-yielding varieties.

* 30 percent of livestock breeds are at risk of extinction; six breeds are lost each month.

* Today, 75 percent of the world's food is generated from only 12 plants and five animal species.

* Of the 4 percent of the 250 000 to 300 000 known edible plant species, only 150 to 200 are used by humans. Only three – rice, maize and wheat – contribute nearly 60 percent of calories and proteins obtained by humans from plants.

* Animals provide some 30 percent of human requirements for food and agriculture and 12 percent of the world's population live almost entirely on products from ruminants.
This all seems a little fragile.
"The Tragedy of the Tragedy of the Commons" [Scientific American]. "Fifty years ago, University of California professor Garrett Hardin penned an influential essay in the journal Science. Hardin saw all humans as selfish herders: we worry that our neighbors' cattle will graze the best grass. So, we send more of our cows out to consume that grass first. We take it first, before someone else steals our share. This creates a vicious cycle of environmental degradation that Hardin described as the 'tragedy of the commons.' It's hard to overstate Hardin's impact on modern environmentalism…. [H]e promoted an idea he called 'lifeboat ethics': since global resources are finite, Hardin believed the rich should throw poor people overboard to keep their boat above water…. But the facts are not on Hardin's side. For one, he got the history of the commons wrong. As Susan Cox pointed out, early pastures were well regulated by local institutions. They were not free-for-all grazing sites where people took and took at the expense of everyone else. Many global commons have been similarly sustained through community institutions…. Despite what Hardin might have said, the climate crisis is not a tragedy of the commons. The culprit is not our individual impulses to consume fossil fuels to the ruin of all…. The truth is that two-thirds of all the carbon pollution ever released into the atmosphere can be traced to the activities of just ninety companies. These corporations' efforts to successfully thwart climate action are the real tragedy." • NC readers have long been familiar that Hardin is in error.
"Into the deep: Deep sea mining is upon us, whether you would risk it or not" [Ocean Bites]. "The deep sea is almost entirely unknown, with only about 5% of it having been explored with remote vehicles and less than 0.0001% of the seafloor having been sampled. This is largely due to how difficult it is to navigate the region….. we don't know how mining could impact deep sea ecosystems, or even others. For example, global fisheries are an important source of income and food. Mining could stir up sediment from the bottom of the ocean, which could drift in and out of country boundaries, changing shallower ecosystems. Could this impact fisheries? The little we do know about deep sea ecosystems emphasizes how risky this is to them. Animals in the deep sea tend to live a long time, grow slowly, reproduce slowly, and reach sexual maturity later in life. All of these characteristics makes it difficult for these species to recover from disturbances, much less adapt to change…. Maybe one of the most concerning elements of the approach of deep sea mining is its legal ambiguity. Rights to the seafloor are generally controlled by two groups: countries, which have control over the continental shelves off their coasts, and the International Seabed Authority (ISA), which controls international waters referred to as the Area… ISA uses guidelines outlined by the United Nations Convention on the Law of the Sea (UNCLOS) to make decisions; in this case, they follow Article 140, which states that mining can be done "for the benefit of mankind as a whole." But that is the ultimate question. If "benefit" is interpreted economically alone, who benefits?"
Health Care
"Financial Eligibility Criteria and Medication Coverage for Independent Charity Patient Assistance Programs" [JAMA]. "In 2018, among 274 patient assistance programs operated by the 6 independent charity foundations, the majority did not provide coverage for uninsured patients. Medications that were covered by the patient assistance programs were generally more expensive than those that were not covered." And:
"California auditor blasts Medi-Cal overseer for failing patients in 18 rural counties" [Sacramento Bee]. "In a report released Tuesday, California State Auditor Elaine Howle upbraided the state Department of Health Care Services for its failure to ensure Medi-Cal beneficiaries have adequate access and quality of care in 18 rural counties stretching from Inyo to the south to Tehama and Plumas in the north…. In a report released Tuesday, California State Auditor Elaine Howle upbraided the state Department of Health Care Services for its failure to ensure Medi-Cal beneficiaries have adequate access and quality of care in 18 rural counties stretching from Inyo to the south to Tehama and Plumas in the north…. Anthem has scheduled these Medi-Cal patients with AIDS specialists, psychiatrists, pulmonologists and physical therapists more than 300 miles away, according to the auditor's report, and Health & Wellness has directed patients to travel more than 300 miles to see dermatologists and 200 or more miles to see ear, nose and throat doctors; kidney specialists; and neurologists." • California's Medicaid program.
"Just one season of playing football—even without a concussion—can cause brain damage" [Science]. "In the new study, researchers at the University of Rochester (U of R) in New York followed 38 of the school's football players. The athletes wore helmets outfitted with accelerometers to track the number and force of hits during practices and games. Before and after each season, the scientists took MRI scans of the players' brains. The researchers looked specifically at the midbrain, a region on the brain stem that governs primitive, thoughtless functions such as hearing and temperature regulation. When a player's head is hit from any angle, the brain ripples like the surface of a pond after a rock is thrown, explains study author Adnan Hirad, a medical student at U of R. Although the forces can affect many regions of the brain, the midbrain's central location makes it likely to sustain damage. The results were striking. Although only two of the 38 players received a concussion, more than two-thirds of them showed changes to the integrity of the white matter of their midbrains. Rotational hits—when a player's helmet is struck by a glancing blow—were particularly bad for the midbrain's white matter."
The Last of the Feral Hogs, I Swear
Lot of dunking on this thread, for some reason. I think it's interesting:
Ok y'all did it: A thread about hogs, ferality, and race in American history.

— Gabriel Rosenberg (@gnrosenberg) August 6, 2019
Class Warfare
"The College Wealth Divide: Education and Inequality in America, 1956-2016" [CEPR Discussion Paper No. DP13864]. From the abstract: "Using new long-run micro data, this paper studies wealth and income trends of college and non-college households in the United States since 1956. We document the emergence of a substantial college wealth premium since the 1980s, which is considerably larger than the college income premium. Over the past four decades, the wealth of American households with a college-educated head has tripled. By contrast, the wealth of non-college households has barely grown in real terms over the same period. Part of the rising wealth gap can be traced back to systematic portfolio differences between college and non-college households that give rise to different exposures to asset price changes. Non-college households have a lower exposure to the equity market and have profited much less from the recent surge in the stock market. We also discuss the importance of financial literacy and business ownership for the increase in wealth inequality between college and non-college households." • Oh, man. "Financial literacy."
EPI updates its productivity-pay gap chart:
"Here's why the economy feels so bad when it sounds so good" [Business Insider]. "Americans are broadly pessimistic about what's coming next, the Pew Research Center found earlier this year. Increasingly, they believe that our political and economic systems work only for those with power. This is because neither the stock market nor employment data captures what's ailing most American families: rising costs for critical, necessary items. Meanwhile, despite wages eking up a little bit since the financial crisis, adjusted for inflation, Americans haven't gotten a significant raise since 1999. This is why Americans are drowning in debt. As for the stock market, most people aren't involved…. Employment numbers don't tell you anything about that. Having a job doesn't mean as much as it used to because wages simply don't cover the same costs they used to."
"Karl Marx Is Useful for Our Time, Not Just His" (interview) [David Harvey, Jacobin]. "The question of sovereignty is: Does the state control finance, or does finance control the state? In Greece, for instance, the latter is clearly the case — there, state sovereignty is pretty irrelevant, a minor part of the power relation running the country. Interestingly, this is even what's said in the United States. When Bill Clinton came to power after the 1992 election, he laid out an economic program. His policy advisor Robert Rubin — who came from Goldman Sachs, and later became secretary of the Treasury — said, "You can't do that." Clinton said, "Why not?" Rubin replied, "Because the bondholders won't let you." Clinton supposedly said, "You mean my whole economic policy and my whole chances of re-election are dependent on a bunch of fucking bond traders?" And Rubin said yes. So Clinton implemented neoliberal measures like NAFTA and a whole set of welfare measures and did not deliver what he'd promised — free health care. I think we're in a situation where it's the money changers who rule, not the politicians." • This is an interesting interview, and more "moderate" than the headline conveys. Harvey also has interesting things to say about the contrast between the US and the Chinese responses to the 2008 Crash.
"False Freedom: Sharing the Scraps from the Perilous Gig Economy" [Steven Greenhouse, Lit Hub]. "The digital on-demand economy resembles globalization in that it has created a larger, and often a worldwide, labor pool, putting workers in the United States, Canada, Britain, Germany, and other industrial nations in competition, via the internet, with workers in India, China, and elsewhere. Like globalization, the app-based economy often pulls down wages in the industrial world, even as it creates new opportunities for workers in poorer nations."
"Foundation announces gift of more than $768,000 to unpaid Blackjewel miners" [WYMT]. "Two major announcements regarding relief for unpaid Blackjewel miners took place at the Harlan County Courthouse and at the Letcher County Extension Office Monday morning. Ross Kegan, former Vice President of Operations of Black Mountain Resources, spoke in Harlan County on behalf of the Richard and Leslie Gilliam Foundation. He said the foundation will give a total of $492,000 to Harlan County CAA so that each Blackjewel miner in the immediate-needs database will get $2,000. Another announcement took place in Letcher County at 11:00 a.m. and then another is expected to happen in Virginia. Kegan said the foundation is giving another $276,000 to Blackjewel miners in the area, which will also amount to $2,000 each." • Foundation bails out unpaid workers in Harlan County, while DSA is silent. Another win for noblesse oblige!
News of the Wired
Not all programmers get free meals and massages. Thread:
if you have a cable modem, there's a really good chance that it has a "DNS ALG", which is a type of software that has no excuse to exist whatsoever, serves no identifiable purpose, and is absolutely batshit

— Utterly dispassionate, documentary hog slaughter (@gravislizard) August 8, 2019
* * *
Readers, feel free to contact me at lambert [UNDERSCORE] strether [DOT] corrente [AT] yahoo [DOT] com, with (a) links, and even better (b) sources I should curate regularly, (c) how to send me a check if you are allergic to PayPal, and (d) to find out how to send me images of plants. Vegetables are fine! Fungi are deemed to be honorary plants! If you want your handle to appear as a credit, please place it at the start of your mail in parentheses: (thus). Otherwise, I will anonymize by using your initials. See the previous Water Cooler (with plant) here. Today's plant (MF):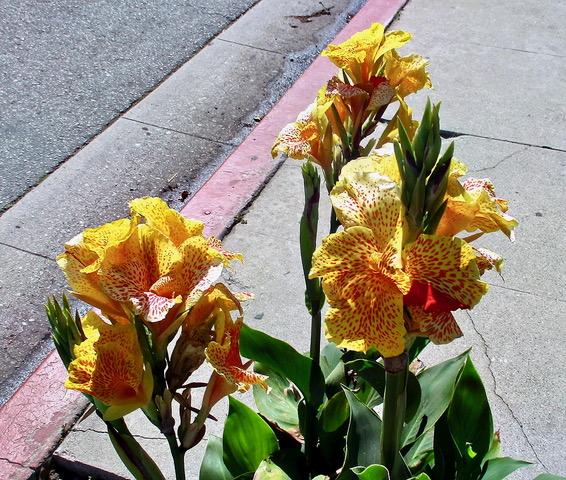 MF writes: "Spotted these while waiting for a table at a local restaurant with a friend. She tells me that these are Canna lilies, likely canna indica or a hybrid of canna indica with another canna species."
* * *
Readers: Water Cooler is a standalone entity not covered by the annual NC fundraiser.Remember, a tip jar is for tipping! So if you see a link you especially like, or an item you wouldn't see anywhere else, please do not hesitate to express your appreciation in tangible form. Regular positive feedback both makes me feel good and lets me know I'm on the right track with coverage. When I get no donations for five or ten days I get worried. More tangibly, a constant trickle of donations helps me with expenses, and I factor in that trickle when setting fundraising goals:
Here is the screen that will appear, which I have helpfully annotated.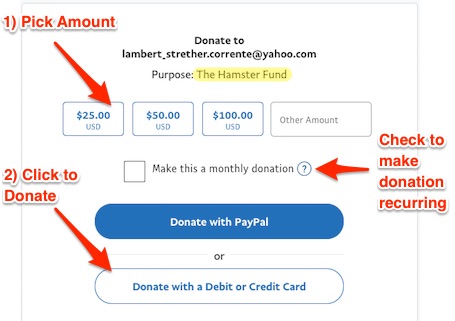 If you hate PayPal, you can email me at lambert [UNDERSCORE] strether [DOT] corrente [AT] yahoo [DOT] com, and I will give you directions on how to send a check. Thank you!