This is Naked Capitalism fundraising week. 105 donors have already invested in our efforts to combat corruption and predatory conduct, particularly in the financial realm. Please join us and participate via our donation page, which shows how to give via check, credit card, debit card, or PayPal. Read about why we're doing this fundraiser, what we've accomplished in the last year and our current goal, funding our digital infrastructure.
Patient readers, as usual I've accumulated too much material over the weekend. Back shortly with more. –lambert UPDATE All done!
By Lambert Strether of Corrente
Politics
"But what is government itself, but the greatest of all reflections on human nature?" –James Madison, Federalist 51
"They had one weapon left and both knew it: treachery." –Frank Herbert, Dune
* * *
2020
Alert reader dk (not to be confused with DK) is in the process of developing the following interactive chart. Here is (are) the latest Dem Primary Polling as of 9/25/2019, 12:00 PM EDT:

Biden leads, Warren, Sanders, Undecided neck-and-neck. Here are the latest results:

I think dk has started a really neat project, and in the near future we'll seek your feedback (within reason) for the tool "live."

UPDATE 2019-09-24: These screens are from a revised version that now includes Undecided-Refused, which is in grey.

UPDATE 2019-08-30: Now the polls aggregated (all available) are shown at the bottom of the poll. We also give more detail about each poll than RCP, and allow candidates to be selected or deselected. That's three reasons what dk is doing beats RCP, and if we can make the individual polls selectable/highlightable, that will be four reasons. With more to come, grid willing.

* * *

Biden (D)(1): "Hillary Clinton Defends Joe Biden After Controversy About How He Interacts with Women and Girls: 'Get Over It'" [People]. "'We can pick apart anybody. I mean, that's a great spectator sport. But this man who's there in the Oval Office right now poses a clear and present danger to the future of the United States. So get over it,' Clinton said. 'Look at the candidates, look at what they've accomplished, look at what they have fought for — and vote for anybody to get rid of Donald Trump.'" • Sigh.

Biden (D)(2): "Biden Campaign Demands TV News Execs Stop Booking Giuliani" [Daily Beast]. • Come on, man.

Sanders (D)(1): "Bernie Sanders' endorsement for Bill Clinton in 1996" [Reddit]. "Yet, without enthusiasm, I've decided to support Bill Clinton for president."

Sanders (D)(2):

We have millions of people in our country who have gone bankrupt, and what did they do?

Did they take a risk on Wall Street?
Did they buy real estate that worked out badly?

No, they got cancer. Or they couldn't afford medicine for their kid. That is unconscionable.

— Bernie Sanders (@BernieSanders) September 29, 2019

Sanders (D)(3): "Young Black Voters In The Carolinas Say They Like What Bernie Sanders Is Saying About Racial Justice" [Buzzfeed]. ""I feel like he's learning so much that he didn't know previously. I've watched a lot of Bernie Sanders videos, and just the knowledge that he's accumulated from last time he was running to this time, it's just so different,' said Jada Bethea, 20, a UNC Greensboro student at the Bennett rally, who mentioned campaign co-chair Nina Turner, a former Ohio state senator who is black, and also on the tour with Sanders…. Bethea's friend, Kylah Burnette, 19, also a student at UNC Greensboro, agreed. '[Sanders] has said over and over that there's a lot of things that have been happening in the black community that he didn't know about,' she said. 'He's one of the few that's been open to educating himself on that.' She added that she thought Sanders handled Black Lives Matter protesters in 2016 more respectfully than his opponent, Hillary Clinton." • Which wasn't hard.

Sanders (D)(4): "Bernie Sanders Is in Trouble" [Politico]. I'm shocked to hear this from Politico. "With just four months until the first-in-the-nation caucuses, Sanders is in trouble. As he delivered his populist gospel to large crowds of camouflage-clad high schoolers, liberal arts college students, and trade union members across Iowa last week, a ." • "Was hardening." Note lack of agency. An emptied Rolodex of Democratic strategists…

Trump (R)(1): "Trump Quotes Ally Who Predicts a 'Civil War Like Fracture' in America if He Is Impeached" [New York Magazine]. • Cf. "It's Time for a Bluexit", The New Republic.

Warren (D)(1): "CNN's latest Nevada and South Carolina polls: Live analysis" [CNN]. "Our South Carolina poll suggests the Massachusetts senator has a lot of work to do. She gets only 4% of the black likely primary voters. That looks quite similar to the 2% Warren was earning amongst this group in previous polls by Fox News and Monmouth University…. Black voters, of course, make up a majority or near a majority of Democratic primary voters in southern primaries such as Alabama, Georgia, Louisiana, Mississippi and South Carolina. Warren's going to run into some major problems in southern primaries if she can't do better with this bloc of voters."

Warren (D)(2):

When asked about her Native American heritage scandal and how she will address it, Warren's spokesperson says "This is old news and this is racist news."

Warren took a DNA test to try and prove her Cherokee ancestry less than a year ago in Oct 2018.

— cursed-dem chaotic good✌︎ (@kallllisti) September 27, 2019

Huh?

Warren (D)(3): Interesting tactic (that an NC reader testified to):

This is what call time means to me: Talking with grassroots donors who give whatever they can to build this movement. I'm making more calls tomorrow. Chip in $3 or whatever you can, and I might just call you to say thanks! https://t.co/Bam8yokJbq pic.twitter.com/qUYKIYmHUb

— Elizabeth Warren (@ewarren) September 30, 2019

The candidate's time is a campaign's most precious resource, so presumably the staff has decided this works (local news coverage?)

Warren (D)(4):

Sen. Elizabeth Warren speaks in Rock Hill, SC: "You want to understand the climate crisis we face in this country today? It's 25 years of corruption in Washington that brought us here." pic.twitter.com/oExlCgurGl

— The Hill (@thehill) September 30, 2019

Holy moley. First, 2019 – 25 = 1994. Even accepting the corruption frame, is that when C02 began its rise? Second, is the issue corruption, or business as usual?

* * *

Campaigns, with staffers: Biden, Sanders, Warren. • Plenty of grist here…
Impeachment
A dash of cold water:

Dear "deep state" enthusiasts,
Trump created his Ukraine problem with a dumb phone call. Russiagate was dead and he revived it with help from his fellow imbecile Rudy Giuliani. It annoys me to no end that Schiff and company are making hay. But Trump handed it to them.

— Margaret Kimberley (@freedomrideblog) September 30, 2019

"Democratic candidates try to campaign through an impeachment gale" [Los Angeles Times]. "For most of the lesser-known candidates, however, the Trump scandal poses an existential threat by guaranteeing they get even less attention than before. 'The problem for all of them is it denies them oxygen,' said Steve Elmendorf, a Democratic strategist who was deputy campaign manager for John F. Kerry's 2004 presidential bid.' … The candidates are also grappling with the reality that not every voter is pining for the expulsion of Trump. The night House Speaker Nancy Pelosi announced impeachment proceedings were underway, canvassers with Working America, the organizing arm of the AFL-CIO, were out talking with voters in Scranton, Pa. They had 65 conversations. Not one of the voters mentioned impeachment."

"Pelosi says public opinion shifting in support of impeachment inquiry" [Reuters]. "'If the facts are persuasive to the American people, they may be to some Republicans,' Pelosi said during the event." • Oh.

"For Dems, Ukraine Is Perfect Extension of Russian Narrative" [Michael Tracey, RealClearPolitics]. "'Ukrainegate' now provides Democrats an opportunity to revive and reframe the previous Russia-specific allegations, because they're part of the same overarching narrative…. None of this excuses or justifies Trump's behavior, which (as usual) is stupid, self-defeating, and corrupt in a variety of respects. But any forthcoming impeachment will be inescapably tied to what came before it in the narrative timeline. The Ukraine phone call is not a singular event, whatever Democrats might now want to claim — it is the latest iteration of the 'collusion; saga that brought such spectacular humiliation to the political and media class." • Stupid, indeed. If only Trump had phoned up Bibi!

"The Right Way to Impeach Trump" [The New Republic]. "For Democrats, there's also a straightforwardly political case for impeachment—the information an impeachment process would reveal could damage President Trump at the polls next year by mobilizing Democrats and Trump opponents, swaying whatever small share of voters might be persuaded to change their minds about Trump, or depressing Trump supporters. Additionally, vulnerable House and Senate Republicans would be forced to take difficult and potentially costly public votes on the president's actions." • h, great. Impeachment in an election year. Sure, impeachment is political. That political?

"POLITICO Playbook: What Pelosi is telling vulnerable Dems about impeachment" [Politico]. "It's not about President Donald Trump; it's about the Constitution. That's the message Speaker Nancy Pelosi wants House Democrats to remember as they gear up for what will be a key week in their march to impeachment. "We have to proceed with our hearts full of love for America and our hearts full of love for the Constitution. And not with negative attitudes towards him, but a positive attitude towards our responsibility," she said on a conference call with House Democrats on Sunday." But see above.
Realignment and Legitimacy
"The Myth of Class Reductionism" [Adolph Reed, The New Republic]. "Black, female, and trans people tend to be disproportionately working class. So any measure to advance broad downward economic redistribution—from Medicare for All to a $15 hourly minimum wage—can't coherently be said to thwart the interests of women, racial minorities, or other identity groups. What's more, this brand of class denialism artificially separates race, gender, and other ascriptive identities from the basic dynamics of American capitalism. True, African Americans, Latinos, and women are disproportionately poor or working class due to a long history of racial and gender discrimination in labor and housing markets—conditions that have worsened alongside the postwar deindustrialization of American cities. But this means that these populations would benefit disproportionately from initiatives geared to improve the circumstances of poor and working-class people in general…. Black Democratic and other neoliberal elites have shown again and again in their sustained denunciations of the Sanders program since 2016 that they ultimately rely on race-specific arguments to oppose broadly redistributive initiatives that would improve the circumstances of African American working people along with all others." • Very good to see Reed at TNR!

"Democrats keep talking tough on Silicon Valley. This week, they can't stop taking money from it." [Recode]. "At least 16 events featuring six candidates or spouses are scheduled to raise money over a six-day period that ends Wednesday, one of the largest bank rushes of the campaign so far. All told, it's a reminder that for all of the Democratic Party's new rhetoric about the role that tech companies have played in corroding our democracy, presidential candidates are still dependent on the deep well of Silicon Valley money. Tech billionaires might be increasingly toxic, but not quite enough to repel Democrats in 2020. The names of venture capitalists, Big Tech executives, and other rich Silicon Valley liberals litter the invitations seen and tallied by Recode, with tickets going for up to $2,800 a head. While it is nothing new for presidential aspirants to court the tech wealthy, the volume of cash-chasing over the course of this week is as high as it has been at any point in the primary."

"America's Electronic Voting System is Corrupted to the Core" [Jennifer Cohn]. "Just two vendors — Election Systems & Software, LLC (ES&S) and Dominion Voting — account for eighty percent of US election equipment. Thus, corrupt insiders or foreign hackers could wreak havoc on elections throughout the United States by infiltrating either of these vendors." • And it goes on from their, horrid detail after horrid detail. A must-read.
Stats Watch
Chicago Purchasing Managers Index, September 2019: Fell, and missed the consensus range. [Econoday]. "New orders fell sharply… Employment is deeply below breakeven… This report, though often volatile, is filled with unexpectedly deep negatives."
Dallas Fed Manufacturing Survey, September 2019: "Texas manufacturing activity continued to expand but at a slower pace in September, with the general business activity index edging down" [Econoday]. "Though employment is a strong plus in today's mixed report, the overall moderation in the regional survey is not likely to reduce the Fed's concerns about weakness in the manufacturing sector and its exposure to global trade risks."
Shipping: "PE-backed truckload carrier files bankruptcy. 339 trucks impacted" [Freight Waves]. "In a November 2018 article, private equity firm KJM was described as being 'unlike the others' and 'having daily involvement in the support functions of the business, allowing the company to implement growth initiatives and improve the customer experience.' Unfortunately, for the 450 employees and stakeholders of Cold Carriers, a truckload roll-up assembled from four of KJMs acquisitions, the PE firm was not successful in running an asset-based truckload portfolio and filed Chapter 11 bankruptcy on Friday… KJM is a buyout shop, using a leveraged buyout model of acquisitions… In many of these models, the operating companies will be loaded up with debt and required to service it on behalf of the private equity group. It works in businesses that throw off significant amounts of cash flow, but rarely works in trucking due to the cash-flow cycles of the business. Private equity firms have a spotty track record in buying asset-based truckload carriers and making a profit."
Shipping: "The U.S. blacklisting of vessels operated by a subsidiary of Cosco Shipping Energy Transportation has oil traders scrambling to find alternative capacity…, as companies turn away from one of the world's biggest tanker owners" [Wall Street Journal]. "The U.S. action is over allegations that some of the Chinese company's ships were tied to illicit Iranian crude shipments. The impact may reach beyond the ships the U.S. has targeted since oil traders are wary of inadvertently getting caught up in the net Washington is casting around Iranian crude exports. As one broker put it, 'There is panic, and it's snowballing.' The search for new crude carriers is driving up tanker rates just as relative calm in the shipping market seemed in sight after a summer of turmoil in the Middle East."
Retail: "Rent the Runway Offers Cash and Apologies to Angry Customers" [Business of Fashion]. "Rent the Runway will temporarily stop accepting new subscribers and is issuing payments to some customers as the fashion rental platform scrambles to fix its snarled supply chain. Over the last few weeks, hundreds of customers have complained on social media about not receiving rented items. Users left frantic comments on Rent the Runway's Facebook page and on Twitter about missing dresses they'd chosen for events. Some also said they were unable to get through to the start-up's customer service team. 'My dress never arrived and customer service isn't responding. HELP! My event is TOMORROW the 21st!!' a typical Facebook post read…. It has raised over $300 million in funding and has a $1 billion valuation."
Retail: "Forever 21 files for bankruptcy, will close up to 178 stores in U.S." [MarketWatch]. "The privately held company based in Los Angeles said Sunday it will close up to 178 stores in the U.S. As of the bankruptcy filing, the company operated about 800 stores globally, including more than 500 stores in the U.S….. Forever 21 joins Barneys New York and Diesel USA in a growing list of retailers seeking bankruptcy protection as they battle online competitors. Others like Payless ShoeSource and Charlotte Russe have shut down completely."
Tech: "Rumors of Disk's Death Have Been Greatly Exaggerated" [The Next Platform]. "In other words, what HDD might lose in share to SSD could be made up as more applications require a less expensive tier since cost drives so much of what happens in datacenter storage…. Data volumes are not expected to shrink in any industry, after all. This bodes well for disk as well as the other tiers in an increasingly complex storage stack."
Tech: "Google Draws House Antitrust Scrutiny of Internet Protocol" [Wall Street Journal]. "The new standard [DNS-HTTPS] would encrypt internet traffic to improve security, which could help prevent hackers from snooping on websites, and from spoofing—faking an internet website to obtain a consumer's credit-card information or other data. But the new standard could alter the internet's competitive landscape, cable and wireless companies said. They fear being shut out from much of user data if browser users move wholesale to this new standard, which many internet service providers don't currently support. Service providers also worry that Google may compel its Chrome browser users to switch to Google services that support the protocol, something Google said it has no intention of doing."
Tech: "Why You Can't Really Consent to Facebook's Facial Recognition" [OneZero]. "[Law professor Nancy Kim] maintains that what lawmakers and companies often call "consent" is an abuse of the term that sanctions unfair arrangements. Building on her insights, we argue that the consent offered by Facebook and every other company using facial recognition is tainted… Facebook's facial recognition policy may be legal but it fails the consentability standard by obscuring risk and corroding collective autonomy. The company doesn't explain the big risks of turning on facial recognition; users are led to believe that by enabling facial recognition, the worst that can happen is they're making it easier for Facebook to send targeted ads and identify them in random photos. Since these risks seem low-stakes, it's easy for folks to embrace the service and expect that their friends will, too. Leadership at Facebook can predict this. They realize that making it easy for users to consent protects against a mass opt-out."
* * *
Today's Fear & Greed Index: 56 Neutral (previous close: 52, Neutral) [CNN]. One week ago: 59 (Greed). (0 is Extreme Fear; 100 is Extreme Greed). Last updated Sep 30 at 12:09pm.
Rapture Index: Closes up one on Drought. "Several nations are suffering from drought conditions" [Rapture Ready]. Record High, October 10, 2016: 189. Current: 185. Remember that bringing on the rapture is a good thing. I wonder when, in 2020, the index will start flirting with 190 again. So far, the latest impeachment push hasn't changed the Index.
The Biosphere
Moar coral:
Leptastraea coral bloom #coralmorphologic pic.twitter.com/hD7tEft0OO

— Coral Morphologic (@CoralMorph) September 28, 2019
I have made coral an honorary plant for Water Cooler. Surely there are some oceanographers or coral fans in the readership?
* * *
"The Grey Zone of Climate Economics" [Hereticus Economicus]. "Half a degree of warming may not seem much. Ditto for one more degree added to the global average. But consider this analogy of a person running a fever. When you're running a fever of 37°C, symptoms are minimal to non-existent. You can walk, you can do work, you have an appetite, you don't have headaches, you don't sweat. All that changes if your fever reaches 38°C. Now you're tired. You're more sensitive to light. Your appetite is smaller. You have headaches, shivers. You're sweating. It's more difficult to stand up and do work. You may feel like throwing up. And as the fever gets higher, these symptoms amplify, new ones develop, and once you reach 40°C, you're a case for the hospital emergency room. The climate is an open system; and no model [to predict it] is perfect. That being said, it's beyond question that human civilization must strive to replace antiquated technology with better systems; to become more productive, more efficient, and eco-friendly. We should strive to do more with less, not less with less." • A seductive analogy. But I'm not sure that climate is like the body. A government is not like a household.
"Why is the Gates foundation investing in GM giant Monsanto?" [Guardian]. "The fact is that Cargill is a faceless agri-giant that controls most of the world's food commodities and Monsanto has been blundering around poor Asian countries for a decade giving itself and the US a lousy name for corporate bullying. Does Gates know it is in danger of being caught up in their reputations, or does the foundation actually share their corporate vision of farming and intend to work with them more in future? The foundation has never been upfront about its vision for agriculture in the world's poorest countries, nor the role of controversial technologies like GM. But perhaps it could start the debate here? In the meantime, it could tell us how many of its senior agricultural staff used to work for Monsanto or Cargill?" • It could?
Water
"'What they put on the fields contaminates our water': Iowa's pollution problem" [Guardian]. "Fellow city council member Ryan Askeland, who owns and runs the town's only restaurant, was also at the meeting: 'They described the harm it could do to infants under one-year-old and I thought, 'Holy cow, what they're putting on the fields is poisoning us."" • The original headline, from the URL, was better: nitrate-problem-iowa-dont-use-the-tap-water-for-babies. Austin Frerick: "In a nutshell, children in Iowa are being poisoned so Big Ag can profit."
Health Care
The Backroom Deal That Could've Given Us Single-Payer Portside. From 2013, but an angle I never considered.
"Opinion: Importing cheaper drugs from Canada isn't the miracle cure for high U.S. prices" [MarketWatch]. "A recent study estimates that the entire Canadian drug supply would be exhausted in 183 days, if only 20% of U.S. prescriptions were filled using Canadian prescription drug sources. The U.S. and Canada cannot force the companies to manufacture more. Also, Canadians could end up paying more, and Canadians are not happy about this. U.S. drugmakers could give up on Canada and focus on the more profitable U.S. market." •
MMT
If not the market…
#MMTConf2019 @KateAronoff we have never figured out before how to decarbonize an economy. This raises many questions, such as material throughout, and changing consumption patterns. We need new tools.

— Deficit Owls ? (@DeficitOwls) September 29, 2019
Our Famously Free Press
I'm sure Jeff had nothing like this in mind:
As we discuss Bernie Sanders' plan to save media from billionaires, keep this video in mind: billionaire Laurene Powell Jobs saying she started buying up media properties to ensure her business ventures received positive coverage. pic.twitter.com/Uykvc5qzW3

— Walker Bragman (@WalkerBragman) August 31, 2019
"Read, Attend and Comment: A Deep Architecture for Automatic News Comment Generation" (PDF) [Ze Yang, Can Xu, Wei Wu, and Zhoujun Li, arxiv.org]. From the abstract: "The reading network comprehends a news article and distills some important points from it, then the generation network creates a comment by attending to the extracted discrete points and the news title…. Experimental results on two public datasets indicate that our model can significantly outperform existing methods in terms of both automatic evaluation and human judgment." • Oh good.
News of the Wired
"A New Theory of Obesity" [Scientific American]. "[Kevin Hall, who works at the National Institute of Diabetes and Digestive and Kidney Diseases,] has done two small but rigorous studies that contradict common wisdom that faults carbohydrates or fats by themselves. In both experiments, he kept participants in a hospital for several weeks, scrupulously controlling what they ate. His idea was to avoid the biases of typical diet studies that rely on people's self-reports, which rarely match what they truly eat. The investigator, who has a physics doctorate, has that discipline's penchant for precise measurements. His first study found that, contrary to many predictions, a diet that reduced carb consumption actually seemed to slow the rate of body fat loss. The second study, published this year, identified a new reason for weight gain. It found that people ate hundreds more calories of ultraprocessed than unprocessed foods when they were encouraged to eat as much or as little of each type as they desired. Participants chowing down on the ultraprocessed foods gained two pounds in just two weeks."
Home renovation project:
The bigger question from this video, what brand door is this? Every trap house needs this door. pic.twitter.com/axp7c1gqqh

— Roy Wood Jr- Ex Jedi (@roywoodjr) September 26, 2019
Replies are full of accounts who want to this door. For some reason. And vendors!
One take!
Brothers Fayard and Harold Nicholas dancing in the 1943 film "Stormy Weather." Years later, Harold recalled that they never rehearsed the jumps over each other's heads but still managed to do the routine in just one take. pic.twitter.com/pVSAfUtLaY

— Dust-to-Digital (@dusttodigital) September 27, 2019
* * *
Readers, feel free to contact me at lambert [UNDERSCORE] strether [DOT] corrente [AT] yahoo [DOT] com, with (a) links, and even better (b) sources I should curate regularly, (c) how to send me a check if you are allergic to PayPal, and (d) to find out how to send me images of plants. Vegetables are fine! Fungi and coral are deemed to be honorary plants! If you want your handle to appear as a credit, please place it at the start of your mail in parentheses: (thus). Otherwise, I will anonymize by using your initials. See the previous Water Cooler (with plant) here. Today's plant (MG):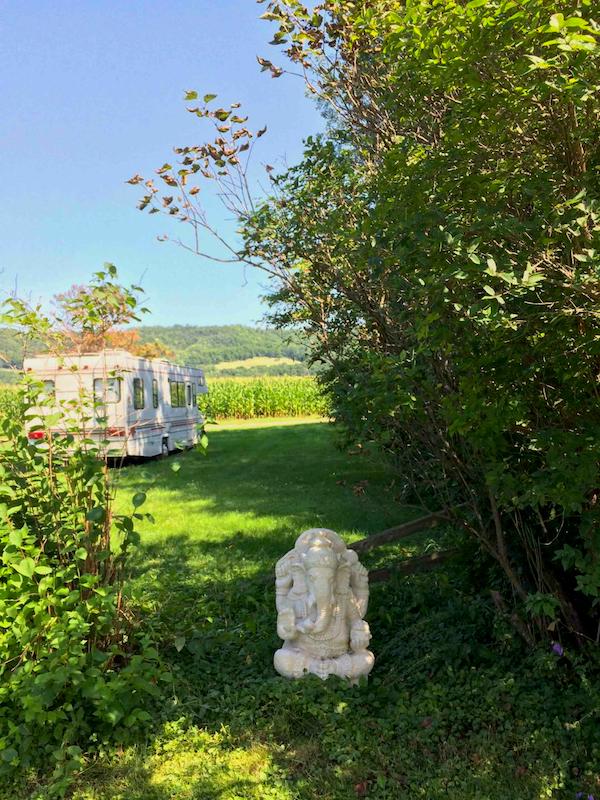 MG writes: "Rural America, not always what you think it is but yes, the RV belongs to someone serving time for meth and is permanently parked in the empty lot behind mine. Ganesha mine, not consecrated and has only been fed fruit a couple of times so undoubtedly a bit owly." I suppose Ganesh falls into the category of a garden project. And that looks like a cornfield in the background…
Thank you readers, I think I have enough plant images by now. But please don't forget about taking a picture when you see the leaves turning on a tree, or when you complete a garden project…