This is Naked Capitalism fundraising week. 417 donors have already invested in our efforts to combat corruption and predatory conduct, particularly in the financial realm. Please join us and participate via our donation page, which shows how to give via check, credit card, debit card, or PayPal. Read about why we're doing this fundraiser, what we've accomplished in the last year and our current goal, funding meetups and travel.
By Lambert Strether of Corrente
Politics
"But what is government itself, but the greatest of all reflections on human nature?" –James Madison, Federalist 51
"They had one weapon left and both knew it: treachery." –Frank Herbert, Dune
* * *
2020
Alert reader dk (not to be confused with DK) is in the process of developing the following interactive chart. Here is (are) the latest Dem Primary Polling as of 10/1/2019, 1:00 PM EDT:

Holy moley, Undecided pulls into the lead! (And how useful this feature is; thank you, dk.) All together, now: "That's just one poll!" Nevertheless, Reuters/IPSOS is B+ and respected. Power lying in the street, here, if the numbers are correct. And here are the poll results:

I think dk has started a really neat project, and in the near future we'll seek your feedback (within reason) for the tool "live."

UPDATE 2019-09-24: These screens are from a revised version that now includes Undecided-Refused, which is in grey.

UPDATE 2019-08-30: Now the polls aggregated (all available) are shown at the bottom of the poll. We also give more detail about each poll than RCP, and allow candidates to be selected or deselected. That's three reasons what dk is doing beats RCP, and if we can make the individual polls selectable/highlightable, that will be four reasons. With more to come, grid willing.

* * *

Biden (D)(1): From the chief speechwriter for President Bill Clinton, of all people:

I helped write "middle class" mantras for decades. But progressive leaders can no longer repeat this rhetoric without acknowledging precarious situations of workers from every background & vulnerabilities of marginalized groups. 1990s politics & economics are over. https://t.co/9COh7e9zEC

— David Kusnet (@DavidKusnet) October 1, 2019

Buttigieg (D)(1): "Pete Buttigieg Pitches Himself to Moderates as the Biden Alternative" [Bloomberg]. Buttigieg: "'She and I are after the same goals,' he said of Warren. 'But her pitch has a lot more to do with fighting — she's more interested in the fighting part of it. I'm more interested in outcomes.'" • Ryan Grim: "Power concedes nothing without first being asked politely."

Sanders (D)(1): "Sanders sets high bar with $25.3 million Q3 haul, Buttigieg falls short of his Q2" [ABC]. • Drop out, Bernie!

Sanders (D)(2): "More money in your pocket":

This is so simple. Under #MedicareForAll, people will save thousands of dollars. No more premiums, deductibles, or copays.

If you save $20k & your taxes go up 10k, that's 10k in your pocket. Not sure why other candidates struggle to answer this question.pic.twitter.com/94LGf2Z8dl

— Samuel D. Finkelstein II (@CANCEL_SAM) September 28, 2019

Sanders (D)(3): "Ten Recent Democratic Primary Polls Good for Bernie Sanders Ignored by the Conventional Wisdom" [Counterpunch]. "The conventional wisdom for the Democratic Primary right now is that Senator Bernie Sanders is fading while Senator Elizabeth Warren is rising into a two-way race with former Vice-President Joe Biden…. I am a bit loathe to engage in the exercise that follows — that is to highlight the evidence that runs counter to this narrative. While it feels a bit like cherry-picking in the opposite direction, it also just is a necessary counter-weight to a herding instinct that does not adequately describe where the race is currently on average…. Here are ten polls since Debate 3 that show Sanders doing quite well, but that you would have heard hardly anything about if your primary source of information is major newspapers or television news programming."

Sanders (D)(4): "Sanders aims to fix one of his campaign's biggest problems: winning older voters" [McClatchy]. "In the coming weeks, the Sanders campaign is planning to address this weakness with a Medicare for All message that's more tailored to older voters. Campaign aides in Iowa have already drawn up new placards featuring hearing aids and eyeglasses to highlight the benefits of Sanders' health plan, which has been increasingly assailed by his moderate rivals. They're also looking to center Sanders' return trip to Iowa next week around a set of issues designed to resonate with retirees, including pension protection, expanding Social Security and in-home health care. 'We are telling senior citizens in Iowa and New Hampshire that Medicare is a strong program, we're going to make it stronger,' Sanders said. 'I'm not saying we're going to win older people by a huge number, but we're going to do a lot better than we are right now.'"

Trump (R)(1): "Trump cranks up grievance machine" [Politico]. "Donald Trump's campaign aides expected months ago that Democrats would try to impeach the president — and he needed a way to exploit it. So this summer, Trump 2020 officials spliced news clips of Democrats discussing impeachment into a 90-second video montage, punctuated by the president imploring supporters to help him "stop this nonsense." Aides quietly filed the spot away until last week, when it was released as part of an online counteroffensive to the impeachment push that brought in 50,000-plus new donors and raked in $8.5 million in two days — the campaign's biggest digital haul since its June launch." • Notice how this directly contradicts the "chaos in the White House" talking point (below).

Warren (D)(1): "Grading the Democratic Presidential Candidates on Marijuana: Elizabeth Warren" [Canna Law Blog]. From July, still germane: " Warren receives a "B+" grade on cannabis. She obviously wants to come across as a long-time advocate for marijuana reform. Despite her claims, however, Warren did not consistently support legalization of marijuana before 2016. Additionally, the statement on Warren's website regarding marijuana calls for decriminalization, rather than legalization, even though Warren herself has called for legalization. Fortunately, Warren's recent legislative action surrounding marijuana is promising, indicating Warren would likely reform marijuana laws if elected President."
Impeachment
"Schiff becomes key Democrat in battle with Trump" [The Hill]. "[T]he unfolding Ukraine controversy has put Schiff and his panel in the driver's seat on impeachment among congressional panels jockeying for influence." • "His panel" is the House Intelligence Committee. Pelosi, let us remember, is a member of "The Gang of Eight," "a set of eight leaders within the United States Congress who are briefed on classified intelligence matters by the executive branch." One big happy!

"Trump team scrambles to formulate an impeachment plan" [Politico]. "White House has yet to converge on any single plan, strategy or even unified messaging to fight back. All the talk about setting up a so-called war room inside the West Wing, similar to the approach of the Clinton White House, has gone nowhere." • Maybe. But we hear this over and over again, and then it turns out that Jared Kushner organized a digital operation nobody knew about, or two obscure lawyers are controlling Trump's RussiaGate defense (and did very well). Chaos is a ladder. And a smokescreen, too.
2019
"Alexandria Ocasio-Cortez's Next Big Effort: Tackling Poverty" [New York Times]. "[H]er anti-poverty initiative, 'A Just Society,' is six fully formed bills, written in legislative language — another sign of serious legislative intent…. Ms. Ocasio-Cortez acknowledged the package's ambitions. 'I don't think there's any shortage of obstacles that we have ahead of us, but I don't think that we not do things just because they're hard,' she said. 'In fact, sometimes the hard things to do are the most worthwhile.'" • So often, the hard things are nice things for working people. Odd.
Health Care
"The false choice over "Medicare for All"" [Randi Weingarten, Politico]. • Union bosses against #MedicareForAll should be a PAC.

"One Member/One Vote: Health Care Workers Show How To Endorse, Democratically" [Counterpunch]. "As Labor Notes just reported, this top-down approach is increasingly controversial, particularly among Bernie Sanders supporters who were not consulted about their unions' ill-fated embrace of Hillary Clinton three years ago. To avoid being by-passed again, some union activists are demanding a bigger say in 2020 presidential primary endorsements. Now, thanks to the National Union of Healthcare Workers (NUHW), they have a good working model for making candidate endorsements more democratic, by opening up the process to all members." • Crazy talk. Obviously, the "leadership" should have superdelegate-like powers, following in the footsteps of the Working Families Party. Big-D Democratic Centralism, as it were.
Realignment and Legitimacy
"Vast majority of the 180,000 Ohio voters purged because they didn't vote" [Columbus Dispatch]. "Most of the voter registrations purged from Ohio's rolls were canceled under the more controversial "supplemental process" that eliminates registrations for those who have not cast a ballot for six years, a Dispatch analysis of data from 88 county boards of elections shows. Ohio Secretary of State Frank LaRose's office said those registrations could be duplicates, belong to deceased voters or those who have moved but didn't notify the U.S. Postal Service. But voting rights advocates say it shows flaws in the system, which can sweep up eligible voters among those who should be canceled." • Six years? 2019 – 6 = 2013, i.e., a voter who — for some reason, I just can't imagine why! — dropped out during the second Obama administration. This is going to make it harder for Sanders, who has staked a lot on bringing non-voters back into the system. Nice work, Frank!
Stats Watch
Purchasing Managers' Manufacturing Index, Seotember 2019: "[N]ear stagnant conditions but a little less stagnant than prior readings" [Econoday]. "The best news is an upturn in new orders that, however, is centered entirely in domestic markets as exports sales fell at one of the very sharpest rates of the last five years…. The report describes the sample's confidence as 'gloomy', hiring as 'tentative', and inflation pressures 'subdued.'"
Institute For Supply Management Manufacturing Index, September 2019: "Contraction in export orders is severe and is pulling composite activity for ISM manufacturing's sample under water" [Econoday]. "Total new orders in September's report are… below breakeven… to indicate outright monthly contraction. Backlog orders… have been in contraction for this sample since May, and evaporating backlogs are not a positive signal for employment… Other details include flat price pressures for inputs, contraction in inventories, and improvement in delivery times — all consistent with a sample that is sinking. This report is very closely watched, whether among policy makers or among US manufacturers themselves who frequently cite it in their own statements and forecasts. Slowing in global trade has hit this sample hard and confirms the concerns at the Federal Reserve which started its move to rate cuts in July citing the risk that slowing global demand would specifically hurt US manufacturers."
Construction Spending, August 2019: "consensus range though just barely" [Econoday]. "Yet this report, especially what it indicates for housing, is a positive, suggesting that low mortgages together with strong employment are setting up housing for a late-year rally."
Commodities: "Global ambitions for electric vehicles appear to be racing far ahead of the raw materials production need to keep the cars moving. Supplies of the nickel that is a key ingredient in electric-vehicle batteries are running short… and pipelines for new output are thin after years of low prices stalled mining investment" [Wall Street Journal]. "AlixPartners estimates auto makers will launch more than 200 plug-in electric vehicles through 2023, but the technology drive remains linked to the fundamentals of commodity production. The ore commonly used to produce nickel is mined in only a handful of places, many of them politically or operationally challenging. BHP Group Ltd. is investing in production, and has lined up Asian buyers for the launch of a large nickel-sulfate plant next year. But betting on demand in mining is a tough business, especially for a niche commodity that isn't easily priced or hedged." • Hmm….
Commodities: "The American shale boom appears to be cooling down at just the wrong time. Growth in U.S. oil production is slowing as output from new shale wells slows…just as shale's importance in global markets is reaching new highs following an attack on Saudi Arabia's oil infrastructure" [Wall Street Journal]. "The latest reports from the oil patch suggest there are limits to the shale innovations that have helped overhaul international energy markets. Slowing shale growth this year is driven at least partly by core operational issues rather than concerns over pricing, with new wells producing less than expected."
Real Estate: "[Blackstone Group Inc.] is buying a clutch of U.S. industrial sites from Colony Capital Inc. in a $5.9 billion deal… extending Blackstone's substantial bet on the growth of e-commerce. The acquisition solidifies Blackstone's role as a major financial force behind the logistics market, following its $18.7 billion deal in June to buy the U.S. warehouses of Singapore-based GLP and last week's move to create a separate business in Europe for 'last-mile logistics' properties [Wall Street Journal]. "The latest buy is the result of two firms going in different strategic directions in infrastructure. While Blackstone is expanding its place in the changing business of moving goods, Colony is pivoting away from traditional industrial real estate toward digital infrastructure such as data centers and fiber-optic networks."
Tech: "AI used for first time in job interviews in UK to find best applicants" [Telegraph]. • Tech bros reinvent phrenology.
* * *
Today's Fear & Greed Index: 49 Neutral (previous close: 54, Neutral) [CNN]. One week ago: 54 (Neutral). (0 is Extreme Fear; 100 is Extreme Greed). Last updated Oct 1 at 12:29pm.
The Biosphere
"Cows Burp Out Tons of Methane. Feeding Them Seaweed Could Help" [Discover]. "[C]ow burps, (not farts, as often believed), release a considerable amount of methane into the atmosphere. The EPA estimates that cows and other ruminating animals, like cows and sheep, produce an estimated one third of U.S. agricultural methane emissions. And although agriculture accounts for a smaller percentage of greenhouse gas production than other sectors like transportation and energy, it produces more methane, which warms the Earth up to 84 times faster than CO2. 'People have been looking for a way to reduce methane for quite some time,' [UC Davis researcher Breanna] Roque says. It turns out seaweed, particularly A. taxiformis, can help ruminating animals produce less gas."
"Antibiotic resistance: researchers have directly proven that bacteria can change shape inside humans to avoid antibiotics" [The Conversation]. "We have directly shown that bacteria can 'change shape' in the human body to avoid being targeted by antibiotics – a process that requires no genetic changes for the bacteria to continue growing. Virtually all bacteria are surrounded by a structure called the cell wall. The wall is like a thick jacket which protects against environmental stresses and prevents the cell from bursting. It gives bacteria a regular shape (for example, a rod or a sphere), and helps them divide efficiently. Human cells don't possess a cell wall (or 'jacket'). Because of this, it's easy for the human immune system to recognise bacteria as an enemy because its cell wall is noticeably different. And, because the cell wall exists in bacteria but not in humans, it's an excellent target for some of our best and most commonly used antibiotics, such as penicillin. In other words, antibiotics targeting the wall can kill bacteria without harming us…. Our battle with bacteria is ongoing. As we come up with new strategies to fight them, they come up with ways to fight back."
"Cooking shapes the structure and function of the gut microbiome" [Nature]. "we show that a plant diet served raw versus cooked reshapes the murine gut microbiome, with effects attributable to improvements in starch digestibility and degradation of plant-derived compounds. Shifts in the gut microbiota modulated host energy status, applied across multiple starch-rich plants, and were detectable in humans. Thus, diet-driven host–microbial interactions depend on the food as well as its form. Because cooking is human-specific, ubiquitous and ancient6,7, our results prompt the hypothesis that humans and our microbiomes co-evolved under unique cooking-related pressures." • We don't know anything, do we? (I find that hopeful.)This study is super-neat. And just imagine what processed food is doing to our gut microbiota. Sure, we can adapt (over time) but do we want to?
Water
"U.S. mining sites dump millions of gallons of toxic waste into drinking water sources" [Chicago Tribune]. "Every day many millions of gallons of water loaded with arsenic, lead and other toxic metals flow from some of the most contaminated mining sites in the U.S. and into surrounding streams and ponds without being treated, The Associated Press has found. That torrent is poisoning aquatic life and tainting drinking water sources in Montana, California, Colorado, Oklahoma and at least five other states. The pollution is a legacy of how the mining industry was allowed to operate in the U.S. for more than a century. Companies that built mines for silver, lead, gold and other "hardrock" minerals could move on once they were no longer profitable, leaving behind tainted water that still leaks out of the mines or is cleaned up at taxpayer expense. Using data from public records requests and independent researchers, the AP examined 43 mining sites under federal oversight, some containing dozens or even hundreds of individual mines."
Guillotine Watch
Today is my day to be kind, so….
$350,000… and STILL struggling https://t.co/Q5XEM96D12 pic.twitter.com/XZaWiXIP7p

— MarketWatch (@MarketWatch) September 29, 2019
Imperial Collapse Watch
"Why Underachievers Dominate Secret Police Organizations: Evidence from Autocratic Argentina" [American Journal of Political Science]. " Low‐performing officials in hierarchical organizations have little chance of being promoted or filling lucrative positions. To salvage their careers, these officials are willing to undertake burdensome secret police work. Using data on all 4,287 officers who served in autocratic Argentina (1975–83), we study biographic differences between secret police agents and the entire recruitment pool. We find that low‐achieving officers were stuck within the regime hierarchy, threatened with discharge, and thus more likely to join the secret police for future benefits. The study demonstrates how state bureaucracies breed mundane career concerns that produce willing enforcers and cement violent regimes. This has implications for the understanding of autocratic consolidation and democratic breakdown." • Interesting, but with no obvious contemporary relevance.
Class Warfare
"Harvard's Affirmative Action for Rich Whites Exposes Myth of Meritocracy" [New York Magazine]. "Last week, three economists unearthed one stunning fact hiding within that data: Between 2009 and 2014, 43 percent of the white students admitted to Harvard were either athletes, legacies, faculty kids, or the offspring of major donors. And white students with these characteristics were held to a decidedly less-demanding standard than those who lacked them: Roughly three-quarters of these applicants would have been rejected, had they lacked athletic skills or connections, according to the economists' analysis. Critically, athletic admissions often function as a proxy for familial wealth and/or connections." • "Athletic" admissions…." So, optimizing for elites — with brain damage? That explains a lot.
"The Shaw Family Admission Plan: One Wall Street billionaire and the ultimate college hedge." [New York Magazine]. "[Wall Street billionaire David E. Shaw] has even devised a model to protect his family from the possibility of loss or disappointment (what some might call the stuff of life itself) in that most uncertain of contemporary futures markets — namely, the college-admissions process. Like other couples of ample means, Shaw and his wife, financial journalist Beth Kobliner, have sent their three children to an elite prep school, supported them with hyperqualified nannies and tutors, and encouraged their extracurricular interests. But while the typical snowplow parent quietly eliminates potential obstacles by clearing the road ahead, Shaw and Kobliner have seemingly bulldozed an entire mountain. Even though their children were by all accounts excellent students, the Shaws pursued a remarkably elaborate and expensive pattern of philanthropy to seven of the most renowned universities in the country." •
News of the Wired
"Borges's mirror" [The New Criterion]. "'In the hallway there is a mirror which faithfully duplicates all appearances': the author invites us to consider the implications of this mirror, from which 'men usually infer . . . that the Library is not infinite (if it really were, why this illusory duplication)?'" • It's too bad Borges never encountered Twitter. Or Instagram influencers…
* * *
Readers, feel free to contact me at lambert [UNDERSCORE] strether [DOT] corrente [AT] yahoo [DOT] com, with (a) links, and even better (b) sources I should curate regularly, (c) how to send me a check if you are allergic to PayPal, and (d) to find out how to send me images of plants. Vegetables are fine! Fungi and coral are deemed to be honorary plants! If you want your handle to appear as a credit, please place it at the start of your mail in parentheses: (thus). Otherwise, I will anonymize by using your initials. See the previous Water Cooler (with plant) here. Today's plant (petal):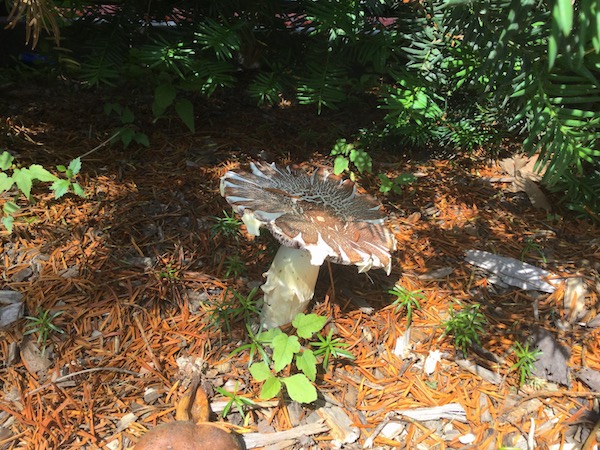 Fungi are honorary plants. Now, how about some coral?