By Lambert Strether of Corrente.
Readers, thank you very much for your comments yesterday, many very funny, when, on Veterans Day, I mistakenly posted a Water Cooler template instead of an actual Water Cooler. I had thought I pushed not only the title, but the scheduled posting date, up one day. Oopsie! –lambert
Trade
"A 14.1% decline in loaded container imports into the ports of Los Angeles and Long Beach in October is the starkest sign yet of the roller-coaster ride underway at shipping docks, as a rush to import goods ahead of new tariffs gives way to a pre-holiday slowdown while retailers burn off stockpiled inventories. The figures from Southern California were among the first on shipping volumes following a new round of U.S. tariffs on China-made goods in September that brought consumer products into the trade battle" [Wall Street Journal]. "Trade data group Panjiva estimates overall seaborne imports into the U.S. fell 8.9% in October, and that consumer products from China took the biggest hit. Experts expect volumes to pick up again this month before diving again, although talks toward a possible interim U.S.-China trade agreement may change shipping decisions."
Politics
"But what is government itself, but the greatest of all reflections on human nature?" –James Madison, Federalist 51
"They had one weapon left and both knew it: treachery." –Frank Herbert, Dune
Here is a second counter for the Iowa Caucus, which is obviously just around the corner:
* * *
2020
Alert reader dk (not to be confused with DK) is in the process of developing the following interactive chart. Here is (are) the latest Dem Primary Polling as of 11/11/2019, 12:00 PM EST:

The Biden juggernaut rolls on, but Sanders pulls ahead of Warren. Here, the latest national results, as of 11/12/2019, 12:00 PM EST:

Quinnipiac has released a new NH poll. As of 11/12/2019, 12:00 PM EST:

The results, as of 11/12/2019, 12:00 PM EST:

Sure enough, Gabbard got a pop after Clinton smeared her. Looks like Clinton is the Russian asset!

I think dk has started a really neat project, and in the near future we'll seek your feedback (within reason) for the tool "live."

* * *

Biden (D)(1): "What is going on in New Hampshire?" [Jennifer Rubin, WaPo]. "the latest Quinnipiac poll tells us two things. First, the race is very fluid and most voters are undecided. Second, former vice president Joe Biden's political death may have been exaggerated — or entirely premature…. The poll is also instructive in figuring out the candidates' base of support. Biden, we know, has been leading in electability and among older voters. That is still the case, where he draws 31 percent in both categories. However, he has expanded his support from moderate/conservative voters and now is in a four-way tie among self-described 'somewhat liberal' voters. Interestingly, Buttigieg is in a statistical tie with Warren on electability and is in first place when it comes to being a good leader. In other words, voters are not simply changing 'favorites'; they are reevaluating what they think about the candidates' strengths."

Bloomberg (D)(1): "Why Bloomberg won't be the Democratic nominee" [WaPo]. "If Bloomberg were to succeed in becoming the nominee, he possibly would have done so over the objections of African American voters. Come November 2020, those voters could do what they have consistently done when they feel ignored or taken advantage of: They could stay home. Thus, the candidate who jumped into the race because he was not satisfied that the current crop of candidates could beat Trump could be the candidate who gets him reelected."

UPDATE Bloomberg (D)(2): "Excitement over Bloomberg's trial balloon should concern Democrats" [The Hill]. • That's the headline. The body provides no evidence of "excitement" whatever. Who's excited?

Warren (D)(1): "Bonderman Backs Warren Over Trump Despite Private Equity Attacks" [Bloomberg]. "David Bonderman, the billionaire co-founder of TPG Capital, said the existing slate of candidates would do better than Donald Trump, and said he would pick the Massachusetts senator over the president… While Bonderman, 76, said Warren is smart, he doesn't think she'd be able to push through many of her proposals. The problem with the candidate, he says, is 'she can't count.' 'I believe in capitalism,' said Bonderman, who has a net worth of $4.2 billion, according to the Bloomberg Billionaires Index. 'Like with everything else, it gets overwhelmed. The tax policies are all wrong. The social policies are all wrong. It's hard to do something about it.'" • Slaves of some defunct economist….

UPDATE Sanders (D)(1): "The country's largest nurses' union will back Bernie Sanders in 2020" [Axios]. "National Nurses United, the country's biggest nurses' union, will endorse Bernie Sanders in the 2020 presidential race this week, the New York Times reports. It's significant that the group chose to back Sanders and his 'Medicare for All' plan despite the fact that he's facing a progressive challenger in Elizabeth Warren on the issue."

UPDATE Warren (D)(2): "Elizabeth Warren's Head Tax Is Indefensible" [Matt Bruenig, Jacobin]. "As I noted…, Warren's head tax is very regressive and far inferior to the usual income- and payroll-tax proposals. More recently, the Tax Policy Center's Howard Gleckman and Center on Budget and Policy Priorities' Jared Bernstein have made the exact same point. As part of the response to this undeniable point, it appears that Warren's team, e.g., Simon Johnson, has been pushing out arguments that conflate Warren's temporary maintenance-of-effort (MOE) payment with the permanent head tax that she transitions into. This conflation has been at the root of similar arguments made by Mike Konczal and Jordan Weissman, among others." • Read for the detail, but I don't like this shape-shifting.

* * *

"Which Democratic Candidates Are National Security Employees Opening Their Wallets for?" [Foreign Policy]. • The article aggregrates the troops with the State Department and the TLAs, which is demented. Sanders leads in military contributions. Buttigieg leads with State, DOJ, and DHS (though Sanders is close).

"Democrats on edge as Iowa points to chaotic race" [The Hill]. "More than half of likely caucusgoers in Iowa haven't made a final decision on who to support. All of the top-tier candidates have reason to believe they could be the one to win the Iowa caucuses and get the subsequent jolt of momentum that could carry them to the nomination…. 'Historically, when two or more people are vying for the nomination, the leader will change in the final weeks before the caucuses,' said Des Moines Register pollster Ann Selzer, whose surveys and methods are viewed as the gold standard in the Hawkeye State."
Impeachment
"Do Trump impeachment hearings need boffo ratings, 'must-see TV' buzz to succeed?" [Will Bunch, Inquirer]. • Skipping the analysis of this inquiry, this rings very true to me:

I grew up a child of Watergate — dashing home from summer camp at age 14 to watch the drama of 1973′s whistleblower, John Dean, and the homespun wisdom of Senate committee chair Sam Ervin of North Carolina — and it's only in hindsight that one really understands that the scandal by which all scandals are judged may also have been a once-in-a-lifetime catch of lightning in a bottle.

The case against Richard Nixon and his men around campaign dirty tricks and an elaborate cover-up of lies and hush money was a damning one, but Nixon's foes also lucked out in the riveting way the story unfolded, drip by drip, over two years of what Slate nailed by dubbing it 'a slow burn.' [Unlike Mueller, a damp squib.] The top writers in the room at today's TV hits like Succession or Watchmen would struggle to invent the plot twists that marked each season of Watergate. And it played out in the last decade before cable, where there was nothing else on TV, and when millions of the viewers were still persuadable.

That Watergate America where the news was pounded out on typewriters and broadcast over rabbit- era antennas is a hazy memory. … Whatever facts are uttered Wednesday morning on Capitol Hill will be remixed and recast on Twitter, Facebook, Fox News and MSNBC to become the legend of our warring political tribes by the time we go to bed Wednesday night.

It pains me to write that.

This current enquiry, at least insofar as the cases made and the principal players if not the stakes, strikes me as fundamentally frivolous. There is no Sam Ervin, nor Howard Baker, either.

"Scoop: GOP outlines theory of impeachment defense in memo to members" [Axios]. "Republicans on the three House committees conducting the Trump-Ukraine investigation have settled on 'four key pieces of evidence' that they claim will undermine Democrats' arguments for why the president should be impeached, according to a staff memo circulated to committee members Monday night." • They are:

The July 25 call summary — the best evidence of the conversation — shows no conditionality or evidence of pressure;

President Zelensky and President Trump have both said there was no pressure on the call;

The Ukrainian government was not aware of a hold on U.S. security assistance at the time of the July 25 call; and

President Trump met with President Zelensky and U.S. security assistance flowed to Ukraine in September 2019 — both of which occurred without Ukraine investigating President Trump's political rivals."

Read the full article for the Democrat responses. Here is a link to the full memo. Beneath all the detail, this passage stands out for me:

Democrats want to impeach President Trump because unelected and anonymous bureaucrats disagreed with the President's decisions and were discomforted by his telephone conversation with President Zelensky. The Democrat impeachment narrative flips our system of government on its head. The federal bureaucracy works for the President. The President works for the American people. And President Trump is doing what Americans elected him to do.

On its face, this is just wrong. Federal civil servants take an oath to uphold the Constitution, not to the President in its own person. (As opposed to political appointee, who in addition serve at the pleasure of the President). There's a name for that idea, and its not pretty. Nevertheless, this gives the right perspective on the power struggle. RussiaGate was, and UkraineGate is, a struggle over policy. Liberal Democrats seem to have this odd, West Wing-style fantasy view that the national security and intelligence communities are autonomous, professionalized services performed autonomously, and that it is the President's duty to defer to them, and not the other way round. Needless to say, this is hardly what the Framers had in mind when they wrote of "energy in the executive." We might also remind ourselves that "The Blob" is responsible for at twenty years of grotesque policy debacles for which they have never been called to account. Making sure that never happens is, too, part of the power struggle.
The Debates
UPDATE Can't wait:

NOV DEBATE MODERATORS
Mitchell: Married to Alan Greenspan who Bernie embarrassed
Maddow: Created the "Bernie attacked Planned Parenthood narrative"
Welker: Caught on hot mic feeding Hillary a question before interview in 2016
Parker: Works for The Washington Post

Fair & balanced pic.twitter.com/nVR2r69K6Q

— Nate's Liver – Commentary (@SilERabbit) November 12, 2019
Realignment and Legitimacy
"How Voters Turned Virginia From Deep Red to Solid Blue" [New York Times]. "Once the heart of the confederacy, Virginia is now the land of Indian grocery stores, Korean churches and Diwali festivals. The state population has boomed — up by 38 percent since 1990, with the biggest growth in densely settled suburban areas like South Riding. One in 10 people eligible to vote in the state were born outside the United States, up from one in 28 in 1990. It is also significantly less white…. It's not just Virginia. From Atlanta to Houston, this pattern is repeating itself — a new kind of suburbanization that is sweeping through politics. The densely populated inner ring suburbs are turning blue, while the mostly white exurban outer ring is redder than ever. Elections are won and lost along that suburban line, and in some places — like Atlanta, Denver, and Riverside County, Calif. — Democrats have begun to breach Republicans' firewalls…. " • Holy cow! The Times buried the class lead under a mountain of self-congratulatory idpol blather!

UPDATE "How to Not Waste the Next Crisis" [The Nation]. "All we know is that a downturn is a "when," not "if," scenario. Whoever is in power when that day finally comes will have a once-in-a-generation opportunity to seize the moment and transform the US economy… As we continue to obsess over stock prices and prognosticate the end of days (no one wants to be the sucker who didn't call it), it's crucial to plan how not to squander the next crisis." • I feel — and this is no more than a feeling, I can't justify it — that the next crisis will be the real economy driving the financial economy, and not the other way round. FWIW! Perhaps some enormous infrastructural failure.

UPDATE "Capitalism and socialism are just words" [The Week]. "Allow me to sketch what is, I think, something close to my own ideal economy: The private sector is made up of many small-to-medium sized firms, all run and owned by the workers who labor within them. Wages are determined through sectoral bargaining. If stocks still exist at all, they confer no voting rights, and are simply an alternative means of raising finance. Financial markets are modest and straightforward affairs geared solely toward facilitating real investment. Wall Street and the big banks are no more, and loans for private business are created through a national network of public banks and credit unions. Major conglomerates, corporate monopolies, and big tech platforms have all been smashed by antitrust law, nationalized, or tamed as tightly regulated public utilities." • Doable? Doable, given hysteresis?

UPDATE Can anybody who follows the right decode this? Thread:

Thread: The booing of Charlie Kirk, Don Jr, and Kimberly Guilfoyle by alt-right activists was the culmination of a month-long campaign that received no press attention.

— Matthew Sheffield (@mattsheffield) November 11, 2019

Looks to me like the moral of the story is never assume the right can't adapt. In fact, they're very good at it!
Stats Watch
NFIB Small Business Optimism Index, October 2019: "The small business optimism index showed modest but wide improvement in October" [Econoday]. "Eight of the index's 10 components improved in October led by plans to increase inventories and including increased plans to make capital outlays. Earnings trends, however, fell sharply and current job openings edged lower."
Big Ag: "Financial strains are spreading through U.S. Farm Belt supply chains. More growers are taking on high-interest loans outside traditional banks to stay in business… as farmers struggle through a relentless agricultural downturn" [Wall Street Journal]. "… One expert calls it 'shadow financing for ag,' the latest result of stresses that are showing up across businesses that touch farming. Agriculture equipment supplier Deere & Co. has been spending billions of dollars to buy its own products to lease the farming tractors and construction equipment to users."
Retail: "Dealers Say Chrysler Prodded Them to Absorb Glut of 40,000 Unordered Cars" [Industry Week]. "Fiat Chrysler Automobiles NV has been manufacturing more cars and trucks than its U.S. dealers are willing to accept, at one point creating a nationwide glut of about 40,000 unordered vehicles and stoking tension with some of its retailers. Four dealers, two of whom spoke on the condition they not be named, said Fiat Chrysler has revived what's known in industry circles as a 'sales bank.' The practice is decades old and frowned upon by investors and analysts because it can obscure an automaker's inventory figures. Dealers don't like it because it can amp up the pressure companies place on them to stock vehicles they don't want."
Retail: "The rapid growth of sales by Chinese suppliers on Amazon.com Inc.'s marketplace is raising concerns about the safety and labeling of products that effectively sidestep oversight by going direct to consumers" [Wall Street Journal]. "[T]housands of items that compete with American independent sellers by squeezing down prices and seeming to cut corners on materials and U.S. rules meant to protect consumers. Consumers and businesses with safety and intellectual-property grievances have found it hard to hold Chinese sellers accountable—in part because Amazon doesn't require its sellers to provide their locations to the public on its U.S. site."
Tech: "Researchers used a laser to hack Alexa and other voice assistants" [CNN (RH)]. "Usually you have to talk to voice assistants to get them to do what you want. But a group of researchers determined they can also command them by shining a laser at smart speakers and other gadgets that house virtual helpers such as Amazon's Alexa, Apple's Siri and Google's Assistant. Researchers at the University of Michigan and Japan's University of Electro-Communications figured out they could do this silently and from hundreds of feet away, as long as they had a line of sight to the smart gadget. The finding could enable anyone (with motivation and a few hundred dollars' worth of electronics) to attack a smart speaker from outside your house, making it do anything from playing music to opening a smart garage door to buying you stuff on Amazon." • It's really time to stop thinking that "high tech" programmers are any good at all. Why on earth would you want a Trojan Horse in your house? Don't you value your rugs?
Tech: "This Wearable Gets in Your Head" [Industry Week]. "Nūrio is the world's smallest wearable EEG device that simply slips over the ear like a headphone and provides users with app- and cloud-based command capabilities to control any IoT-enabled device integrated on the nūrio cloud using brain waves rather than voice commands…. h the nūrio device users can add compatible IoT devices to their profile. And after recording approximately one minute of thoughts based on that object, nūrio's AI algorithms can process their future waves into actionable commands." • As long as there's no feedback from the horridly programmed IoT devices, I guess: "As the wearables industry continues to proliferate, nūrio believes opportunity lies in looking at data from new angles to reveal insights into what's going on in various parts of our bodies and optimizing our health in completely new ways. The nūrio app instantly processes collected data to provide . 'EEG also allows users to pull more health and mental activity insights in addition to controlling items by thoughts – aspects like attention, calmness and emotions,' says [nūrio founder and CEO Ian Rowan]. 'There is already a lot of science behind this using neuroscience to show people what is going on in their mental activity.'" • Ah, so this is the real selling point: Screwing workers on their health insurance. Next up, the phrenological hard hat!
Concentration: "How the tech duopoly killed the headphone jack" [The Week]. "[T]here isn't so much competition between individual products — between this phone or that, or these headphones or another — as much as between ecosystems: Apple's, Google's, and perhaps Amazon's and Microsoft's — though the latter two don't really have their own as much as piggyback on the other two. That isn't really competition; instead, it's a scenario in which the ecosystem owners either swallow or overshadow those who oppose them. And that is how we end up with a world in which a universal standard — the good old headphone jack — disappeared and we are instead left with a series of wireless earbuds from Apple, Samsung, Amazon, Microsoft, and more that are each less effective when paired with 'opposing' ecosystems. Ideally, the tech world would agree to some sort of standard, but given their both short- and long-term incentives to create their own internal and inaccessible protocols, that goal is likely a long way off, if it ever comes at all."
* * *
Today's Fear & Greed Index: 88 Extreme Greed (previous close: 89, Extreme Greed) [CNN]. One week ago: 89 (Extreme Greed). (0 is Extreme Fear; 100 is Extreme Greed). Last updated Nov 11 at 12:08pm.
Rapture Index: Closes down 1 on Date Settings. "The lack of activity has downgraded this category" [Rapture Ready]. Record High, October 10, 2016: 189. Current: 183. Remember that bringing on the rapture is a good thing. I wonder when, in 2020, the index will start flirting with 190 again. So far, the latest impeachment push hasn't affected the Index. Everything else on this index I can fit into a framework. "Date settting" is when you pick a date for the Rapture. The Bible frowns on this (Mat 25:13) but apparently people are doing it anyhow.
The Biosphere
"Bringing the world's buried wetlands back from the dead" [Associated Press]. "These are not the kind of phantoms that scare or haunt — they are ghost ponds. Over the years, landowners buried them, filling in wetlands so they had more land for planting crops and other needs, or let ponds fade away with neglect…. In the wetlands of eastern England, a motley team of farmers, university researchers and conservationists is digging into the region's barley and wheat fields to turn back the clock. They seek out patches of muddy earth that hint at lost ponds lurking beneath… Using chain saws, an excavator and plenty of sweat, the team takes just a few hours to resurrect one dying pond near Hindolveston, a thousand-year-old village not far from the North Sea. They fell trees and shrubs, then start digging until reaching their goal: an ancient pond bottom that once supported insects, aquatic plants and the birds and animals that fed on them…. 'As soon as they get water and light, they just spring to life,' says Nick Anema, a farmer in nearby Dereham who has restored seven ponds on his property. 'You've got frogs and toads and newts, all the insects like mayflies, dragonflies, damselflies. … You can't really beat a pond.'"
"The Toxic Bubble of Technical Debt Threatening America" [The Atlantic]. "A kind of toxic debt is embedded in much of the infrastructure that America built during the 20th century. For decades, corporate executives, as well as city, county, state, and federal officials, not to mention voters, have decided against doing the routine maintenance and deeper upgrades to ensure that electrical systems, roads, bridges, dams, and other infrastructure can function properly under a range of conditions. Kicking the can down the road like this is often seen as the profit-maximizing or politically expedient option. But it's really borrowing against the future, without putting that debt on the books… Almost everywhere you look in the built environment, toxic technical-debt bubbles are growing and growing and growing. This is true of privately maintained systems such as PG&E's and publicly maintained systems such as that of Chicago's Department of Water Management. It's extremely true of roads: Soon, perhaps 50 percent of Bay Area roads will be in some state of disrepair, not to mention the deeper work that must occur to secure the roadbeds, not just the asphalt on top. Then there are the sewers and the wastewater plants. Stormwater drains. Levees. And just regular old drinking water."
"At least 1,680 dams across the US pose potential risk" [Associated Press]. "A review of federal data and reports obtained under state open records laws identified 1,688 high-hazard dams rated in poor or unsatisfactory condition as of last year in 44 states and Puerto Rico. The actual number is almost certainly higher: Some states declined to provide condition ratings for their dams, claiming exemptions to public record requests. Others simply haven't rated all their dams due to lack of funding, staffing or authority to do so…. [U]nlike much other infrastructure, most U.S. dams are privately owned. That makes it difficult for regulators to require improvements from operators who are unable or unwilling to pay the steep costs."
Water
"Are We Flushing Our Resistance to Antibiotics Down the Drain?" [Nautilus]. "Another potent source of resistance-laden wastewater may be hospital sewage. Across the world, antibiotic use is likely to be higher in hospitals. Half of patients in U.S. hospitals and a third in European hospitals take antibiotics. You can think of the hospital sewage system "as a pipe where an entire bacterial ecosystem is growing on the walls," says [Willem van Schaik, a specialist in microbiology and infection at the University of Birmingham in the United Kingdom]. 'These ecosystems will be optimized to grow in the conditions of the sewage that's flowing through those systems. Because levels of antibiotics will be high—almost higher than anywhere else—those bacteria will have adapted to life in the presence of high levels of antibiotics.""
Our Famously Free Press
Big controversy in the student newspaper world:
"Addressing The Daily's coverage of Sessions protests" [The Daily Northwestern]. "While our goal is to document history and spread information, — and in situations like this, that they are benefitting from our coverage rather than being actively harmed by it." • Oh? The students at the Medill School of Journalism who publish The Daily Northwestern have an odd idea of what journalism means. (Here is a Tweet storm from the Editor which, while gracefully phrased and seemingly conciliatory, does not seem to me to address the central issue.
"Harvard Student Groups Condemn The Crimson's Coverage of Abolish ICE Rally" [The Crimson]. "The petition — started by student-led immigration advocacy group Act on a Dream earlier this month — from an ICE spokesperson for its Sept. 13 article, "Harvard Affiliates Rally for Abolish ICE Movement.' The article covers a Sept. 12 protest hosted by Act on a Dream and quotes several students' criticisms of ICE, including calls for its dissolution. The article notes that ICE did not immediately respond to a request for comment. 'In this political climate, a request for comment is virtually the same as tipping [ICE] off, regardless of how they are contacted,' the petition reads." • As I understant it, the Crimson, unlike the Daily, did not cave.
"Graduates of Elite Schools Dominate America's Most Prominent Newspapers, New Study Finds" [The Intercept]. "The researchers found that both the Times and the Journal are overwhelmingly dominated by graduates of America's elite schools. Around 44 percent of Times employees attended elite schools, as did nearly 50 percent of Journal employees, the study found. Among staff writers (as opposed to the broader pool, which included editors, contributors, and others whose job titles did not fall cleanly into another major category), elite school overrepresentation was still higher, with almost 52 percent of writers at the Times and 54 percent of writers at the Journal attending elite schools." • So, it's going to be interesting to see what journalism turns into when all these Medill and (perhaps) Harvard graduates start turning journalism into a safe space.
* * *
"The good internet is history" [The Week]. "Culturally, the blog era and its better-capitalized afterlives didn't represent a utopian project, but it did represent a responsive one. As these blogs leveled unabashed criticism at the powerful, they also remained open to criticism themselves, nimble, ready to change with the discourse they helped create. They held the little power they had well — lifting up new voices, giving writers editorial responsibilities, letting people say what they wanted to say and listening…. From over here, it's clear, in the wake of all the bad vibes, that what these sites represented, what they tried to mainstream — or at least fund — is done. Experiment after experiment has failed, not because these writers couldn't produce extraordinary writing, but because the people in a position to value it consistently failed to know how to value it, and because those same people often failed to see those writers — who used to write for free! — as deserving of workers' rights and protections. The question now is not whether a new angel investor will provide a life raft for everybody floating out there who hasn't been scooped up by Vox or The New Yorker or whether The Ringer's unionization will yield positive results." • And yet Yves keeps NC rolling along… I think a lot of the angst about the death of the blogosphere is a result of the fact that search is so bad you can't find anything. I am constantly stumbling across great blogs nobody knows about.
"It Is Shameful That ABC News and CBS News Are Punishing the Epstein Leaker" [New York Magazine]. "News organizations should not hunt down leakers in their ranks, not when it's a matter of valid public interest — specifically, how the press reported on a serial abuser — even if the ultimate beneficiary is an ethics-free garbage fire like James O'Keefe's right-wing muckraking outfit, Project Veritas."
Health Care
"What if the Road to Single-Payer Led Through the States?" [New York Times]. "Ro Khanna, a Democratic representative, will introduce legislation Friday that lets states bundle all their health care spending — including Medicare, Medicaid, Affordable Care Act dollars and more — to fund a state-level single-payer system. The policy could create something akin to Medicaid for all. It would be 50 separate programs, jointly funded by the state and the federal government, with local officials making decisions about whom to cover, how much to pay doctors, and what benefits to cover. What he envisions is similar to Canada's progression toward universal coverage. It began with a single province, Saskatchewan, which started hospital insurance in 1947. Other provinces followed, and within , the entire country had government-provided health coverage." • If the states handle #MedicareForAll, funding would be cut in the first downturn. That's why the currency issuer, the Federal Government should handle it. Also, I'm not sure that the Canadian path is the right one. First, two decades is a long time. Second, I doubt that people were as desperate, or the system as monstrous, in Canada 2019 – 1947 = 72 years ago.
Games
"Cory Doctorow: Jeannette Ng Was Right: John W. Campbell Was a Fascist" [Locus]. "Science fiction (like many other institutions) is having a reckoning with its past and its present. We're trying to figure out what to do about the long reach that the terrible ideas of flawed people (mostly men) had on our fields. We're trying to reconcile the legacies of flawed people whose good deeds and good art live alongside their cruel, damaging treatment of women. These men were not aberrations: they were following an example set from the very top and running through the industry and through fandom, to the great detriment of many of the people who came to science fiction for safety and sanctuary and community. It's not a coincidence that one of the first organized manifestations of white nationalism as a cultural phenomenon within fandom was in the form of a hijacking of the Hugo nominations process. While fandom came together to firmly repudiate its white nationalist wing, those people weren't (all) entry­ists who showed up to stir up trouble in someone else's community. The call (to hijack the Hugo Award) was coming from inside the house: these guys had been around forever, and we'd let them get away with it, in the name of "tolerance" even as these guys were chasing women, queer people, and racialized people out of the field. Those same Nazis went on to join Gamergate, then became prominent voices on Reddit's /r/The_Donald, which was the vanguard of white national­ist, authoritarian support for the Trump campaign."
Gunz
"Mass Shootings and the Misguided and Pernicious Push for 'Gun Control'" [Black Agenda Report]. "Liberal calls for 'gun control' as a panacea conveniently circumvent the deep roots these atrocities have in our history and society. Furthermore, the reformist, institutional solutions advocated by these liberals, committed to the capitalist and imperialist systems which motivate mass shootings, will inevitably have racist and oppressive consequences. 'Gun control' entails giving the state a monopoly on weapons, whose foot soldiers (the police) are armed, racist, and militarized. Additionally, it invites the state to further regulate the people psychologically, inferably ushering in an Orwellian surveillance program in the form of 'background checks' based on the false belief that an individual's mental health, and not a macro social illness, is to blame for mass shootings. Additionally, it doesn't take a psychic medium to predict who will be the primary target of this desired crackdown on guns: black and brown Americans, the threatened populations who need the weapons most. These groups will surely be the most persecuted given general racial disparities in policing and imprisonment; 'gun control' will expand the racist carceral state which liberals played a critical role in building in the first place ."
UPDATE "Supreme Court refuses to block lawsuit against gun manufacturer brought by Sandy Hook families" [USA Today]. "The Supreme Court refused Tuesday to shield a major arms manufacturer from potential liability in the 2012 school shooting that left 26 students and educators dead in Newtown, Conn. The justices' action allows a lawsuit filed by parents of Sandy Hook Elementary School victims to move forward at the state level, on the allegation that Remington Arms Co. marketed the military-style rifle used in the mass shooting 'for use in assaults against human beings.' The case tests the reach of a 2005 law passed by Congress to protect firearms manufacturers from being held liable for crimes committed by gun purchasers. That law was hailed by the National Rifle Association, but it included exceptions, including one for violating rules related to marketing and advertising.
Class Warfare
"Instacart Customers and Workers Are Revolting Against the App" [Vice]. "Motherboard alone received nearly 50 messages from Instacart workers across the country voicing outrage about recent pay cuts. Many of them have the overall sense that what was a good paying gig just two years ago has devolved into a subsistence wage job as the company has tinkered with the algorithm that determines pay and flooded markets with new workers, driving down wages…. Longtime Instacart delivery workers, in particular—who have built relationships with clients and know their preferences—rely on the "quality bonus," which comes with a five star rating. "I used to like working for them and I really enjoyed helping customers who were disabled or unable to get out to the store," another worker wrote to Motherboard. "I have over 39 five star ratings and prided myself on my customer service. But no more! This is just so wrong on many levels.'" • Another Silicon Valley "disruptive," "innovative" company whose business model is screwing its workers.
"Is Inequality Inevitable?" [Scientific American]. "In 1986 social scientist John Angle first described the movement and distribution of wealth as arising from pairwise transactions among a collection of "economic agents," which could be individuals, households, companies, funds or other entities. By the turn of the century physicists Slava Ispolatov, Pavel L. Krapivsky and Sidney Redner, then all working together at Boston University, as well as Adrian Drgulescu, now at Constellation Energy Group, and Victor Yakovenko of the University of Maryland, had demonstrated that these agent-based models could be analyzed with the tools of statistical physics, leading to rapid advances in our understanding of their behavior. As it turns out, many such models find wealth moving inexorably from one agent to another—even if they are based on fair exchanges between equal actors." • [!!]
"She feeds Bel-Air's mega-mansion boom. But lunch is a battlefield" [Los Angeles Times]. "On any given weekday, 12 to 15 food trucks patrol the streets of Bel-Air alone, serving hundreds of men who may labor on the same site for months, even years…. [Jennifer Ramirez] hopped into the driver's seat and started the engine, waiting for a cement mixer to pass before inching out onto the narrow strip of Bel Air Road. But before she could merge, another driver swerved ahead of her, arching out of his seat to scream invective from the window of his black Rolls-Royce. 'He's like, 'I'm the owner, I'm in charge, and I don't want you here,' Ramirez said, still visibly shaken when she reached her next stop. Two months before, the same man had taken two bottles of water from her and refused to pay. 'He said, 'I'm the owner of the house,' so I gave them to him for free.' For those who labor in the shadow of fortune, this is what a living costs." • Welcome to the third world.
News of the Wired
"Gender reveal stunt led to plane crash in Texas" [CNN]. "The pilot dumped 350 gallons of pink water from the plane, but the plane was 'too low' and immediately stalled." • I don't undertstand why gender reveals, are a thing, and I don't understand why gender reveal disasters (here; here) are a thing.
"The Dark Side of K-Pop: Assault, Prostitution, Suicide, and Spycams" [Bloomberg]. "K-pop depends on a highly controlled relationship with fans. The idol, the genre's base unit of stardom, is gestated from adolescence through years of grueling training. When he's ready to meet his public, his labels place him in a group, flowing his image and voice into the music, video, and social media streams of fans across East Asia. The ideal idol has a moral record as unblemished as his pores, eschewing drugs, gambling, and public misbehavior of any kind. While female groups employ the usual male-gaze clichés—the flirty schoolgirl, the doe-eyed ingénue—the frank sexuality of a Rihanna or a Lady Gaga would be unthinkable. And even though many, many K-pop songs are about relationships and breakups, labels often discourage dating. What the music loses in edge, it more than gains in marketability."
"Falsehoods CS Students (Still) Believe Upon Graduating" [Signs of Triviality]. "37. They understand team work based on their senior design project."
"A natural biomolecule has been measured acting like a quantum wave for the first time" [Technology Review]. "In 1999, they demonstrated the wave-particle duality of fullerene molecules. And other groups have since done the same with even larger molecules. And that raises the interesting question of how big they can go. Could they, for example, measure the quantum properties of the molecules of life itself? Today, they get an answer thanks to the work of Armin Shayeghi at the University of Vienna and a few colleagues, who for the first time, have demonstrated quantum interference in molecules of gramicidin, a natural antibiotic made up of 15 amino acids. Their work paves the way for the study of the quantum properties of biomolecules and sets the scene for experiments that exploit the quantum nature of enzymes, DNA, and perhaps one day simple life forms such as viruses." • Or larger?
* * *
Readers, feel free to contact me at lambert [UNDERSCORE] strether [DOT] corrente [AT] yahoo [DOT] com, with (a) links, and even better (b) sources I should curate regularly, (c) how to send me a check if you are allergic to PayPal, and (d) to find out how to send me images of plants. Vegetables are fine! Fungi and coral are deemed to be honorary plants! If you want your handle to appear as a credit, please place it at the start of your mail in parentheses: (thus). Otherwise, I will anonymize by using your initials. See the previous Water Cooler (with plant) here. Today's plant (ChiGal):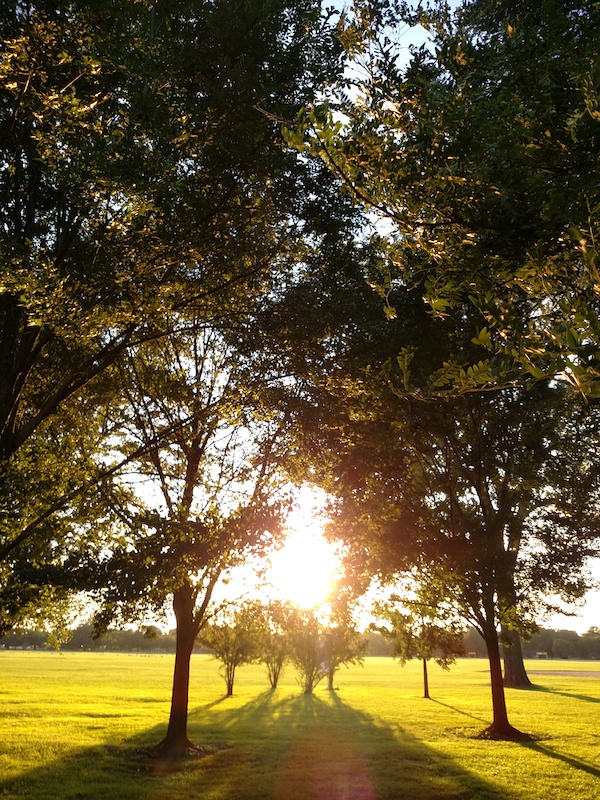 ChiGal writes: "This summer in Chicago: trees in Washington Park at sunset." (Obama's Presidential "Center" is to be in Jackson Park, not in in Washington Park.) That is what the sunlight shining through the trees at sunset feels like!
* * *
Readers: Water Cooler is a standalone entity not covered by the annual NC fundraiser. So if you see a link you especially like, or an item you wouldn't see anywhere else, please do not hesitate to express your appreciation in tangible form. Remember, a tip jar is for tipping! Regular positive feedback both makes me feel good and lets me know I'm on the right track with coverage. When I get no donations for five or ten days I get worried. More tangibly, a constant trickle of donations helps me with expenses, and I factor in that trickle when setting fundraising goals:
Here is the screen that will appear, which I have helpfully annotated.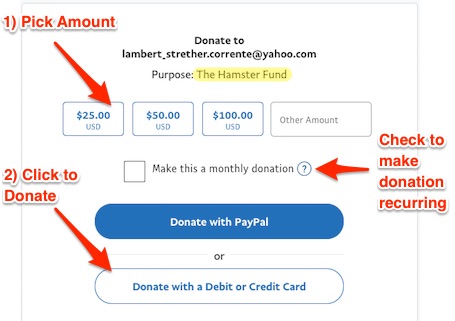 If you hate PayPal, you can email me at lambert [UNDERSCORE] strether [DOT] corrente [AT] yahoo [DOT] com, and I will give you directions on how to send a check. Thank you!