Vampire bats help their friends in need, study finds CNN (furzy)
INCURSION Society and Space (guurst). Yaks as spies.
Multiple raccoons take over the library at Arkansas State Arkansas Online (Dan K)
Iceland Livestreams 10-Year-Old McDonald's Cheeseburger That Won't Decompose BBC
Artist 'humiliated' after UN cultural agency put underwear on his nude sculptures CNN (resilc)
Video: Drones help restore Minnesota's North Shore forests MPR News (Chuck L)
Could trains haul millions of gallons of MN groundwater to the Southwest? A Lakeville railroad thinks so Pioneer Press. Chuck L: First shots of inter-region water wars in the Upper Midwest?"
Scientists find a way to target the protein behind Huntington's disease ars technica
China?
China says it's reached a consensus in principle with the US during this week's trade talks CNBC

China cleared to impose $3.6bn in new tariffs on US Financial Times

Even Latin America's Trump is Kowtowing to the Chinese American Conservative (resilc)
Brexit
Boris Johnson faces threat of Brexit party battle in every seat Guardian (avoidhotdogs)

Brexit: groupthink Richard North. I have not had the misfortune to be subjected to Farage much, but my view is North is giving Farage far too much credit. Farage looks to be knowingly adopting the strategy that has the best potential payoff for him. He'd rather be the slayer of a wannabe King than made irrelevant by the success of Johnson's deal. Remember that even if the Tories win the most seats but cannot form a new government, and therefore Johnson's deal fails, Brexit is not going away as a topic. The embittered loyalists would still keep stirring the pot.

In case you had any doubts, the headline on the daily e-mail from ERG mouthpiece BrexitCentral had the subject line: "The Farage ultimatum to the Tories should make Brexiteers despair."

Boris Johnson takes no-deal off the table: PM's manifesto will abandon the threat of crashing out of EU – and promise tax cuts – in bid to capture the centre ground after ruling out a pact with Nigel Farage's Brexit Party Daily Mail
Fracking banned in UK as government makes major U-turn Guardian (PlutoniumKun, BC)
European snub to North Macedonia fuels frustration in Balkans BBC
Syraqistan
Iraq: Anti-government protesters hold largest rally since demonstrations began DW

Nuclear Weapons and Turkey Since 1959 | National Security Archive (Chuck L)
Big Brother is Watching You Watch
Horrifying destruction of constitutional rights at industrial scale. I have no doubt that most of these capabilities were developed to serve Chinese Government internal requirements and were then repackaged to pedal here "to protect children". Once the existence of these capabilities become normalized and the implementation bugs are worked out, it will be pointed to broader and broader constituencies.
Imperial Collapse Watch
Senate Panel Tackles Unauthorized Appropriations, or 'Zombie Payments':
Unauthorized payments accounted for 23% of the discretionary budget in 2019, compared to 10% in the early 1990s. Government Executive (Changemaker)

The F-35 Is Cheap To Buy (But Not To Fly) Popular Mechanics (resilc)
Trump Transition
Trump Names Chad Wolf as Acting Homeland Security Secretary Wall Street Journal

Trump Administration Stops Enforcing Some Nondiscrimination Provisions in Federal Grants Wall Street Journal
Nearly 40% of 2019 farm income will come from federal aid and insurance Axios (resilc)
Obama to address top Democratic donors in Washington Politico (Christi I)
Impeachment
Trump at rally says impeachment an 'attack on democracy itself The Hill

Energy Secretary Perry refuses to testify before Trump impeachment inquiry, his spokesperson says CNBC
2020
Warren's Medicare proposal underlines the question: Is she an electable revolutionary? Washington Post. UserFriendly:

I am really getting sick of the trend of putting 7 headlines on a story, The Atlantic does it constantly. And on WaPo's on trending story list the headline is "Warren wants to be a revolutionary — and electable. Her embrace of new taxes for health care shows the dilemma." Which has the unstated premise that the Bezos Reader is full of incompetent hacks enamored with the status quo who would just love to vote for Warren as soon as she can just drop the charade of wanting to change anything. Because, you know by definition revolutions are without a doubt against the popular will. Beltway common wisdom is probably the most underrated evil in existence.

After a campaign mega-launch before a crowd of 20,000, Kamala Harris now trails Tulsi Gabbard in a USA Today/Suffolk U. national poll https://t.co/EQzuhoQ9po

— Max Blumenthal (@MaxBlumenthal) November 1, 2019

O'Rourke ends presidential bid The Hill
L'affaire Epstein
Jeffrey Epstein: Hanging or Strangulation? MedPage. Frustrating in that the author seems not familiar with some complicating facts, such as the lack of any drop and even inability to get full body weight against the noose for a "hanging" scenario (Epstein presumably leaned or fell into his sheet-noose). Another bit of info presented in one of Baden's accounts seems missing from consideration, that the thyroid cartilage was broken on both sides of the neck. Finally, Epstein was an avid weight-trainer, which means his bone density would have been better than that of the typical 66 year old man.
California Burning
Evacuations Mount in Southern California as Wildfire Spreads Bloomberg

California governor says if PG&E doesn't get itself out of bankruptcy the state could take it over CNN. Newsom trying not to look impotent.

Five hundred goats save the Ronald Reagan library from wildfires Guardian (furzy)
Bigger Private Equity Checks Won't Make Up for Weakened Credit Protections Institutional Investor
MDE, Verso seeking to identify chemical leak into Potomac at closed Luke mill Times-News. An item of personal interest. I lived in Luke for a couple of years in my toddlerhood. The house there is the first I remember. Cerberus bought a package of paper mills from Mead Corp. which had merged with WestVaCo, and proceeded to wreck them (putting way overpaid, no-nothing CEOs in charge, underinvesting in maintenance, a huge no-no in a continuous process operation).
Europe, Not America, Is the Home of the Free Market Atlantic (UserFriendly)
Class Warfare
The Capitalist War on the Last American Commons Counterpunch (ChiGal)

Uber's lawsuit challenging NYC's cap on new vehicles is dismissed The Verge

Chaos in Brooklyn as 1,000 anti-cop protesters block traffic, storm subway stations and say 'don't let these pigs touch us' in anger over the $2.75 fare evasion crackdown – hours after Trump slammed the 'disrespect' of the NYPD Daily Mail. You need to read past the Mail's spin, but this story isn't being reported much elsewhere. Lambert adds:

Signage doesn't = organizing, but the yellow signs are People's Power Assembly (though the Mail stupidly cuts off the bottom of the big banner)

http://peoplespowerassemblies.org/new-york-city-ppa/

PPA is Worker's World Party

https://en.wikipedia.org/wiki/Workers_World_Party

I think they're tankies!

One remembers that protests in both Chile and France were over transport costs.

People protest NYPD policing the MTA by mass hopping the turnstiles pic.twitter.com/Roli76gPMX

— barely informed with elad ??‍♂️ (@elaadeliahu) November 2, 2019

Public Misperceptions Are a Barrier to Combating Inequality YouTube (vlade)

The right's mega-rich problem Stumbling and Mumbling (UserFriendly)

Stealing Amazon Packages in the Age of Nextdoor Atlantic (UserFriendly)
Antidote du jour (Pleasant Lake Protective Association via Lawrence R):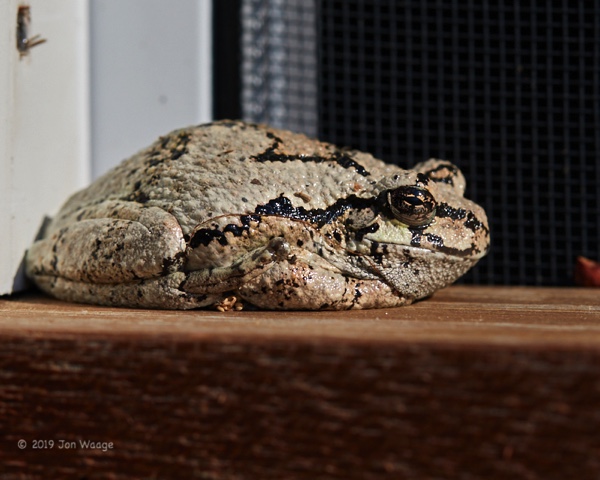 And a bonus (guurst):
Aerial acrobatic mating dance of Hornbills – male inviting the female to stay in its heart & nest without any rent. pic.twitter.com/a921kLjWs4

— Susanta Nanda IFS (@susantananda3) October 11, 2019
Another bonus:
Halloween is really the fucking best in NYC pic.twitter.com/0L3Vt5aGn6

— air (@ayoair) October 31, 2019
See yesterday's Links and Antidote du Jour here.