Despite Wall Street rising yet again to record highs, more and more of the rich are taking unexpected reversals, thanks to this generation of the super wealth deviating in a major way from historical norms by regularly taking a walk on the borrowing wild side. As the cliche goes, leverage cuts both ways, amplifying gains and losses. Borrowing against illiquid assets is a classic way to end up in a cash crunch, selling assets at fire sale prices to hold off creditors.
Two stories tonight demonstrate how even some of the ultra-rich are feeling the pinch. The first is a report in the Wall Street Journal on the softening art market and how that is hitting collectors who were too casual about using debt; the second is on the very soft state of the ultra high end real estate market in New York City.
The first story, on art investing gone sour, gives a window on how this business has grown; it's clear that every bank in the wealth management business has an art lending operation. I recall when one of my good friends, who had been the right hand man to Steve Ross at Related Companies (best known for endowing the Ross School of Business, and in New York City, for developing the Time Warner Center) founded one of the early entrants into the art lending world, Fine Art Capital. I thought the idea was nuts from the collector standpoint (why would you want to pay interest on a non-income generating asset that would be difficult to sell) but clearly I was not in tune with the desire of the rich to leverage their buying power.
The Journal story is heavily anchored on the tale of the decline, in both senses of the word, of retired insurance executive Donald L. Bryant Jr., who was such a heavyweight collector of modern art, with a collection once valued at over $300 million, that he served as a trustee of MOMA. The 77 year old, who has Alzheimers, is overextended, facing $300,000 a month in interest. His third wife, Bettina, a former ballerina, is trying to sort things out as children by previous marriages as well as fired advisers challenge the propriety and even legality of her actions. As an aside, the Journal has been on a roll lately; this is a very detailed investigated account.
The photo below gives an idea of his holdings: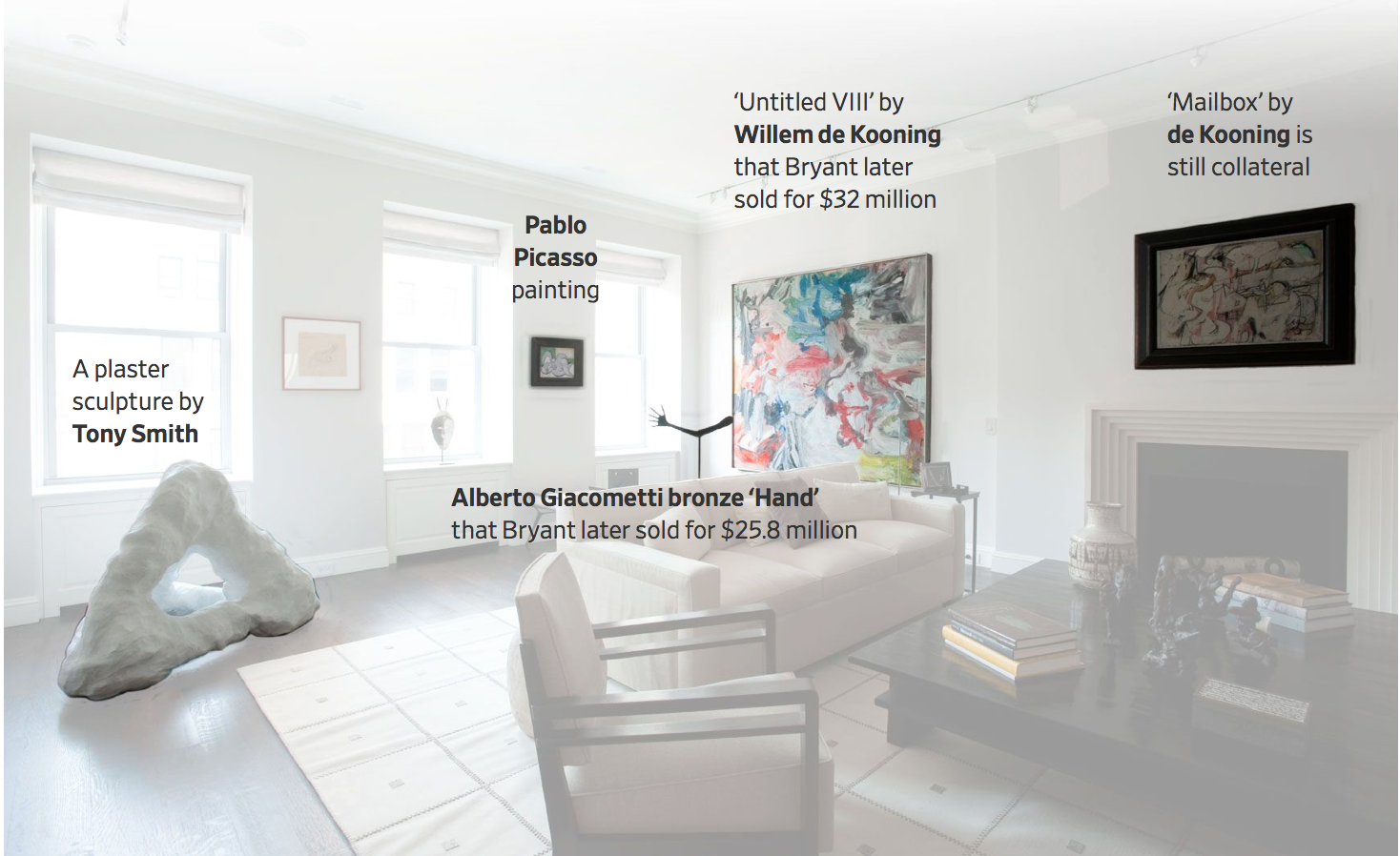 From the article:
These days, the whole art world is getting a crash course in leverage—and worries are growing that cases like the Bryants' could prove a tipping point for banks and borrowers alike amid an increasingly skittish art market…

Today's art-backed loans have gotten larger and riskier for collectors as the art market has started to shrink. U.S. collectors staked their art to borrow up to $24 billion this year, more than double the level a decade earlier, according to the latest data compiled by the Deloitte accounting firm and ArtTactic, an auction-database company. Some affluent borrowers tap their art like a piggy bank to fund living expenses. Others use the loans to buy more art.

But after a four-year rise, the global art market has started to retrench, with the value of sales down 22% at Christie's auctions in the first six months of 2019 compared with the same period a year earlier. Last week's $1.4 billion major fall auctions in New York were a third smaller.
One key point missed in the article that was flagged in comments: the valuations for art loans are based on completed auction sales. The problem with that as a basis is that some lots don't sell, either by virtue of no one bidding (the estimate looked too high) or the bids not reaching the reserve.
The fear is that the Bryants, or others dumping art could create a classic liquidation spiral, particularly since lending has been concentrated in certain artists:
If art values plummet, experts say, collectors may need to sell works for less than they are valued to pay down their loans—or add more pieces to their collateral pool to keep their loans square. If not, they could default on loans and forfeit their art altogether.

"If everyone is taking the same art as collateral—same artists, same bodies of work—and there's a crisis, everyone may need to sell and you have a big problem," said Adriano Picinati di Torcello, who issued the Deloitte-ArtTactic report last month.

Lenders typically extend credit of up to half a work's value, but some are starting to take a harder line. Mitchell Zuckerman, who started Sotheby's art-lending arm in 1988, said if he were asked to lend against an $80 million Andy Warhol today, the most he would be willing to lend is $20 million.
50% is the level I heard when the business was young, so at least on the surface, lending standards may not have gotten lax. 50% would seem to be an ample margin, but in a crisis, bids dry up.
The second sighting is the perilous state of high end New York City residential real estate. There's been a ton of construction of super lux apartments….just before Trump decided to square off with China and New York City imposed a "mansion" tax on the transfer of high end properties.
The thing to bear in mind are the various parties on the wrong end of this picture. The first is the developers who are holding the bag. Here the example is the investment fund CIM….which has CalPERS as one of its investors (note we are not sure whether CalPERS is in any of the properties discussed in this article, but the bigger point is that public pension funds, endowments, and life insurers have traditionally had some high end residential development in their portfolios). The other losers are investors who bought properties like this before the market turned.
Mind you, the Financial Times headline, NY property buying rules get bent in 'scary' market, has a blood-in-the-streets tone, but a former long-standing NYC resident, letting buyers tie up a property with so little equity is reminiscent of bad bear markets, even if the acute distress is confined to the top end.
New York developers have taken the rare step of easing down payments for residential properties to entice buyers in a sluggish market.

The hard-and-fast rule for those hoping to own a New York City apartment was that they must come up with 20 per cent of the purchase price in cash, a formidable barrier to entry even for deep-pocketed residents.

Yet in an attempt to prod buyers in what has been a moribund market, several developers have begun to show more flexibility by either accepting smaller down payments or staggering them.

One such developer is Los Angeles-based CIM, which is allowing buyers to pay 5 per cent when they sign sales contracts at two new Brooklyn projects it is marketing: Front & York in the Dumbo neighbourhood, and 111 Montgomery in Crown Heights. Another 5 per cent payment is not due until several months later. 
Yves here. The article isn't as crisp as it should be, since the CIM properties aren't top drawer. However, there has been a glut of development of residential rentals (so lower rents change the rent v. own equation for less affluent buyers) and the super high end market, where properties are developed to be sold, has also seen overbuilding. The article describes forces that hit the very high end particularly hard:
According to Core, a New York City brokerage, median prices in the city fell 12 per cent from the same period a year earlier to $999,950. It was the worst quarterly fall since the last three months of 2009, in the depths of the financial crisis. The number of sales has also plummeted.

"Scary," is how one developer described the luxury market, particularly along the so-called "billionaires row" of new super-tall buildings on 57th street, overlooking Central Park.

The chilling effect on the high end of the market came as foreign buyers retreated at the same time as New York City introduced a "mansion tax", intended to fund the renovation of the subway system. The new surcharge came into effect in July with a one-off tax starting at 1.25 per cent on homes worth more than $2m, rising to 3.9 per cent on those sold for more than $25m.
And the gimmies can be extreme:
Short of lowering prices, which they are loath to do, developers have resorted to enticements to try to nudge hesitant buyers. They are offering to pay closing costs and transfer charges and throwing complimentary amenities, such as wine lockers, into the bargain.

At One Manhattan Square, a development on the Lower East Side that came on the market earlier this year, Extell is offering to pay 10 years of common charges, as well as what it calls a "deferred closing programme".

Buyers make a non-refundable 10 per cent down payment and can live in their unit for up to a year before closing*. It is the equivalent, according to Sush Torgalkar, Extell's chief executive, of effectively saving a year's rent.

Extell is also offering a "rent to buy" scheme at One Manhattan Square, with those who end up purchasing a unit having their rent deducted from the sale price..

Reducing or staggering down payments is not likely to sway that prized clique of buyers at the highest end of the Manhattan property market, for whom a $50m purchase is, as Mr Torgalkar observed, more of a "life experience" than a financial transaction.

But developers are hoping it will appeal to the merely affluent, who may be spared having to come up with several-hundred-thousand dollars in cash all at once.

The risk to developers is that a smaller down payment would, in theory, make it easier for a buyer to walk away in the event the market falls further. So many concessions may also constrain cash flow as they try to repay their own lenders.
In other words, if this sort of thing continues for too long, some of these developers may come unglued. Pass the popcorn.