By Lambert Strether of Corrente.
Today is Friday the 13th. Look both ways before you cross the street! –lambert
Trade
"Trade war: US and China said to agree on 'phase one' deal, with new US tariffs set aside" [South China Morning Post]. "In the absence of last-minute problems, the big impact for U.S. importers and exporters will be a more stable business environment as they prepare new orders for 2020" [Wall Street Journal]. "A White House adviser said the deal calls for China to buy $50 billion worth of agricultural products in 2020, along with energy and other goods. That's far more than China has ever bought in the past, marking a big win for U.S. farmers if the orders come through." • Hell-o-o-o-o, Iowa!
Politics
"But what is government itself, but the greatest of all reflections on human nature?" –James Madison, Federalist 51
"They had one weapon left and both knew it: treachery." –Frank Herbert, Dune
Here is a second counter for the Iowa Caucus, which is obviously just around the corner:
* * *
2020
Alert reader dk (not to be confused with DK) is in the process of developing the following interactive chart.

Nationally, we have, from the day before yesterday, YouGov and Emerson (Iowa) polls, as of 12/13/2019, 12:00 PM EST. Biden leads, Sanders strong second, Warren six points back, Buttigeig trailing (Bloomberg above the bottom feeders). This seems to be an established pattern (or, if you prefer, narrative). On to the next debate (December 19), and Iowa:

We also have a new Change Research poll from SC:

And the numbers:

The Biden juggernaut rolls on!

CAVEAT I think we have to track the polls because so much of the horse-race coverage is generated by them; and at least with these charts we're insulating ourselves against getting excited about any one poll. That said, we should remember that the polling in 2016, as it turned out, was more about narrative than about sampling, and that this year is, if anything, even more so. In fact, one is entitled to ask, with the latest Buttigieg boomlet (bubble? (bezzle?)) which came first: The narrative, or the poll? One hears of push polling, to be sure, but not of collective push polling by herding pollsters. We should also worry about state polls with very small sample sizes and big gaps in coverage. And that's before we get to the issues with cellphones (as well as whether voters in very small, very early states game their answers). So we are indeed following a horse-race, but the horses don't stay in their lanes, some of the horses are not in it to win but to interfere with the others, the track is very muddy, and the mud has splattered our binoculars, such that it's very hard to see what's going on from the stands. Also, the track owners are crooked and the stewards are on the take. Everything's fine.

I think dk has started a really neat project, and in the near future we'll seek your feedback (within reason) for the tool "live."

* * *

UPDATE Biden (D)(1): "Biden's SC firewall in danger? 2020 front-runner's lead shrinks to new low." [Post and Courier]. "The latest poll released Thursday shows Biden with just a 7 percentage point lead among likely voters in the South's first primary, the first time he has not held a double-digit advantage in seven Post and Courier-Change Research surveys taken since February. Most consider South Carolina a must-win for Biden as he stumbles in Iowa and New Hampshire. Biden led the S.C. race by as much as 31 percentage points in May. Now, challengers are slicing into his dominant lead among African American voters in the first primary state with a significant black population…. Sanders gained the most support of any candidate since the last Post and Courier-Change Research poll taken in October. He added 7 percentage points to pass Warren, whose backing was unchanged." • Well, well. "Everybody has a plan until they get punched in the mouth" clearly applies to Warren — but it applies to Sanders as well. So far, the story of the Sanders campaign is a slow, steady, disciplined rise… But will that survive contact with the electorate when the voting begins?

UPDATE Biden (D)(2): Hot take on the UK election:

Joe Biden with the UK elections take at a San Francisco fundraiser:
"Look what happens when the Labour Party moves so, so far to the left. It comes up with ideas that are not able to be contained within a rational basis quickly."

— Edward-Isaac Dovere (@IsaacDovere) December 13, 2019

Buttigieg (D)(1): "What McKinsey really suggests about Pete Buttigieg" [The Week]. "That brings us back to Buttigieg. In the first instance, his campaign relies on two McKinsey staples: cynicism and a win-at-any-cost mentality. He's shifted his positions radically to court big donors and lobbed cheap attacks on his own positions from a year ago…. But perhaps the most marked McKinsey trait in the Buttigieg campaign is the effrontery of the thing. Next to Trump he would be the least experienced president in history, by a considerable margin….[I]t takes an incredible amount of arrogance to look at the crushing problems facing America in every direction and think that running a smallish Indiana city for a few years is sufficient preparation. But that's the McKinsey mindset — the idea that a bunch of clueless Harvard dweebs can solve any problem in 10 minutes with a spreadsheet and a slick slideshow." • While nailing Buttigieg on his McKinsey career is good clean fun, and also delegitimizes all those credentials, I worry that this line of attack will end up giving him a free pass on #MedicareForAll.

UDPATE Patrick (D)(1): "Former judges claim unequal pay, retaliation during Deval Patrick's tenure" [Boston Globe]. "As former governor Deval Patrick runs for president, he faces the uncomfortable prospect of being deposed in a lawsuit over gender discrimination and retaliation filed by three women he appointed as judges. The onetime administrative judges say their performance reviews plummeted and they were not reappointed after they complained that a new male judge had been hired at a higher salary and offered a downtown Boston parking space. Patrick's labor secretary allegedly defended the pay disparity by telling the women's supervisor, 'We have to pay him; he's our only black judge,' the suit claims." • Oops.

UDPATE Sanders (D(1): "Krystal Ball: Is this how Bernie Sanders will break the establishment?" [The Hill]. "Just as he did in Burlington, Sanders is putting his faith not in some mythical negotiating power as Trump did, or in some fantasy of coming to the table in good faith negotiations with Mitch McConnell as Biden and Obama and Buttigieg do, or even in his ability to jiujitsu the levers of government through superior bureaucratic knowledge as Warren does. He believes, just as he did in Burlington, that the only way to break the back of Congressional gridlock and inertia and neoliberal entrenchment is by putting your faith in the people. In serving as organizer in chief."

Sanders (D)(2): "Koch-Backed Groups Target Bernie Sanders' GND Support" [Iowa Starting Line]. "The conservative energy non-profit that campaigned against President Barack Obama's 2012 reelection is now set on targeting the Green New Deal and 2020 Democratic candidate Bernie Sanders' advocacy for it. In an advertisement released on Facebook and Instagram near the end of October, the American Energy Alliance made at least six buys of ads depicting the Vermont senator speaking to three scientists in white lab coats with tape over their mouths and text saying 'The Debate is Over.'" • The right-to-lifers use the taped-mouth trope, I believe…

Sanders (D)(3):

Good. Now $1,685,456,413,335 more to go. Cancel all student debt and tax Wall Street to fund tuition-free public college. https://t.co/2xlA4UVII6

— Bernie Sanders (@SenSanders) December 12, 2019

Warren (D)(1): "Elizabeth Warren and the magical thinking of the political class." [Commune Magazine]. "Warren and her daughter, management consultant Amelia Warren Tyagi, will write a book promising 'the ultimate lifetime money plan.' All Your Worth will be the second book the Warrens have co-authored, after The Two-Income Trap…. Today, Warren's campaign has largely focused on her perceived competence in public financing since the financial crisis. At the same time, the appeal of her expertise in personal financing sustains this fantasy that the revolution can be internalized by capitalism itself — that financial security is possible for an individual in a system of unending precarity… 'We hope this is a lifelong road of smooth wealth building, month after month,' the Warrens write, as if there's steady ground to build on. 'But in just the same way that negative-thinking traps can stop you from balancing your money, these thinking traps can also sabotage your savings plan.' In other words: the only way out of a thinking trap is not thinking about the capitalism in your bones. When (not if) the next crisis ensues, perfect your work ethic, your personal discipline, and hope for the best. Believe in the longue durée of market recovery, and in the meantime, maybe you'll get lucky and survive as merely witness to the misfortunes of those around you. While we can talk about how Wall Street is to blame in the abstract, you will always be the one left to survive the consequences." • Brutal takedown.

* * *

"White Democrats Are Leading the Primary Because Nonwhite Voters Support Them" [Eric Levitz, New York Magazine]. " Judging by recent national polls, if only African-Americans were allowed to vote in the Democratic primary, the top three contenders would be Joe Biden, Bernie Sanders, and Elizabeth Warren — the same three candidates preferred by the Democratic electorate as a whole. Meanwhile, black Democrats' overwhelming favorite among that trio is also the race's clear front-runner. If Joe Biden retains his current standing, then the Democrats' 2020 nominee will better reflect the preferences of black Democrats than those of white ones: In Quinnipiac's most recent poll, the former vice-president boasts only 21 percent support among white primary-goers, but a whopping 51 percent support among African-Americans. For this reason, Biden's numbers are much weaker in Iowa and New Hampshire than they are nationally." • 

"A Progressive's Guide to Choosing Between Bernie and Warren" [Medium (Nippersmom)]. • This is well-worth reading in full.

"The surprising second choices of Democratic primary voters upend political cliches" [WaPo]. "In a large-scale project called Nationscape that we're conducting with our colleague Chris Tausanovitch at the University of California at Los Angeles, we have queried more than 6,000 voters weekly since July. Using these data, we find a surprising amount of agreement among Democrats on major policy issues. Contradicting the conventional wisdom, clearly defined ideological "lanes" don't seem to exist in the minds of most voters… This general agreement is reflected in how voters rank candidates. Despite all the talk about the moderate-progressive split, for instance, the most popular second choice of Biden voters is Sen. Bernie Sanders (I-Vt.) — followed by Warren. Many supporters of the "progressives" also rank a moderate as a second choice."
The Debates
"Trump May Skip 2020 Debates: Report" [New York Magazine]. "Though a head-to-head between the eventual Democratic nominee and the incumbent is months away, his team doesn't seem to be too concerned by the thought: One senior adviser 'seemed to wince' at a debate-related question. Nor is the Trump campaign worried about the nominee to debate: The Times reports that the president is less concerned about his opponent than he is about "which media personality will be chosen as the debate moderator.'" • Correctly! More: "In March 2016, Trump was able to shut an entire debate down after bailing on the event in Salt Lake City; John Kasich refused to join without the front-runner, and Fox News mercifully canceled to avoid two hours of Ted Cruz onstage by his lonesome."
Impeachment
"Marquette poll: Wisconsinites oppose Trump impeachment, removal" [Journal-Sentinel]. "After multiple hearings, dramatic public testimony and wall-to-wall news coverage, Wisconsinites aren't budging on impeachment. For the second straight month, a majority of registered voters don't believe President Donald Trump should be impeached and removed from office, according to Thursday's Marquette University Law School Poll. Forty percent said the president should be impeached and removed while 52% said he should not. The numbers were nearly identical to November's poll. In fact, the high-water mark for impeachment in the poll came in October, before House Intelligence hearings on Trump's policy in Ukraine. Back then, 44% favored impeachment and removal to 51% who did not. " • So the liberal Democrats don't plan to visit Wisconsin in 2002, either?

The Senate is working as designed:

Important analysis from @TheEconomist: A plurality of Americans—but not of states—want Trump impeached. https://t.co/Oq1U0ze7Xl pic.twitter.com/ozPhfrp8FV

— Joanna Piacenza (@jpiacenza) December 12, 2019

"Meet the legal minds behind Trump's impeachment" [Politico]. "Then there's McCord, the ex-DOJ Russia probe official who is now the legal director of Georgetown University's Institute for Constitutional Advocacy and Protection. McCord and a team that includes former National Security Council and DOJ attorneys first appeared earlier this fall on the legal docket as attorneys representing the Judiciary Committee in its fights for McGahn's testimony and Mueller's grand jury evidence." • And so forth. What frosts me is that this faction may actually believe that it stands above or outside politics — West Wing-style — when the historical record shows that [genuflects] the "rule of law" has been under assault for years, and often by the very President they, as Democrts, not only owe their positions to, but reverse.

"The latest guessing game is figuring out Pelosi's picks to prosecute impeachment trial" [WaPo]. "But many Democrats, particularly those in the Senate who will serve as jurors, want Pelosi to send over a mix of lawmakers from the committees that handled the Ukraine investigation, particularly Schiff and members of his Intelligence Committee." • It's gonna be diverse, though.

Federalist 65: "What other body would be likely to feel CONFIDENCE ENOUGH IN ITS OWN SITUATION, to preserve, unawed and uninfluenced, the necessary impartiality between an INDIVIDUAL accused, and the REPRESENTATIVES OF THE PEOPLE, HIS ACCUSERS?" (caps in original).

Free-floating anxiety:

While I don't doubt that crimes were committed and that solicitation of electoral interference is an impeachable offense, I can't shake the sinking feeling that impeachment, with this Senate, is a political trap — even if, in a strange way, an unavoidable trap

— Tim Wu (@superwuster) December 13, 2019

Tim Wu is no dummy; see NC here.
L'Affaire Joffrey Epstein
"ABC's Epstein Story Didn't Kill Itself" [FAIR]. "ABC's decision to spike the Epstein exposé in order not to embarrass or implicate his powerful associates, thereby effectively enabling his crimes, is a perfect example of the danger of access journalism. Robach predicted, "There will come a day where we will realize Jeffrey Epstein was the most prolific pedophile this country has ever known." Thanks to our corporate media system, that day was delayed by at least three years." • This is a very good overview, well worth a read.
Realignment and Legitimacy
Trust issues (1): "Computer glitch wiped out tens of thousands of California voters' party preference" [San Francisco]. "In a press release sent out by the Contra Costa County Elections Division Tuesday, voters were cautioned that during the 2018 roll-out of the automatic voter registration system, 'some voters' party preference was overwritten.' As such, individuals who registered with a party may have been swapped to 'no party preference.'… Being listed as "no party preference" means would-be Democratic voters could have issues voting in the upcoming Democratic Presidential Primary scheduled for March 3, 2020." • Here we go again?

Trust issues (2):

THIS IS SO COOL! Now I can generate thousands upon thousands of untraceable avatars for my astroturfing campaigns. Thanks AI!

— Torta de Chilaquiles (@LaBearDod) December 12, 2019

"Ursula K. Le Guin's Revolutions" [Dissent]. "The late British academic Mark Fisher once compared capitalism to the titular monster of John Carpenter's The Thing—an alien creature that infects, and then assimilates, hapless human beings. The corruption hides behind a familiar face. Capitalism becomes whatever it touches. Inside this totality, the introduction of some new thing might just feel like a dream. Maybe, then, an opening is all anyone needs. A crack. A tear. Some tiny rent in the real. 'Leave the tombs,' Ged tells Tenar. 'And that is the beginning of the story.'" • This is a good synopsis of LeGuin's work, but capitalism is not really a structuring element of her imagined worlds, except possibly on Urres in The Dispossessed.
Stats Watchd
Shipping: "Crude oil exporters and customers should get used to high shipping costs. The chiefs of two big tanker operators say tight capacity on the water will likely stay with the sector well into 2020…. keeping freight rates high even as producers cope with flagging oil prices and excess output" [Wall Street Journal]. "Oil customers are turning to producers like the U.S., leading to longer and more expensive sailings. At the same time, orders for new ships are depressed as operators look for clarity on how a new generation of ships will meet looming environmental targets."
Real Estate: "Some grocery chains including Albertsons Cos., Walmart Inc. and others are building small fulfillment centers near existing stores and customers to quickly fill online orders online… in a contrast with the strategies that operators have built around larger, remote warehouses" [Wall Street Journal]. "The so-called micro-fulfillment centers typically range from 10,000 to 20,000 square feet and carry a compelling financial footprint since they can be built in a few months and reach profitability in a year."
Tech: "She installed a Ring camera in her children's room for 'peace of mind.' A hacker accessed it and harassed her 8-year-old daughter." [WaPo]. "Several Ring users nationwide have reported that their security systems were also infiltrated by hackers who harassed them through the camera's two-way talk function. (Ring is an Amazon product. Amazon chief executive Jeff Bezos owns The Washington Post.) A spokesperson for Ring told The Post in a statement early Thursday that what happened to the LeMays 'is in no way related to a breach or compromise of Ring's security.' The 'bad actors' behind the attacks 'often re-use credentials stolen or leaked from one service on other services,' the spokesperson said. Ring has addressed the other reports of hacking with similar statements." • Lol, "in no way related" is doing a lot of work, there. Maybe the entire product line is a bad idea?
* * *
Today's Fear & Greed Index: 74 Greed (previous close: 74 Greed) [CNN]. One week ago: 70 (Greed). (0 is Extreme Fear; 100 is Extreme Greed). Last updated Dec 13 at 11:49am.
The Biosphere
"Sweet potato can warn neighbors of insect attacks" [Science]. "Sweet potato plants don't have spines or poisons to defend themselves. But some have evolved a clever way to let hungry herbivores know they aren't an all-you-can-eat buffet, a new study finds. When one leaf is injured, it produces a chemical that alerts the rest of the plant—and its neighbors—to make themselves inedible to bugs." • The warning is within a single species. When we find communication between species, we will understand "companion plants" much better.
Water
"Nestlé cannot claim bottled water is 'essential public service', court rules" [Guardian]. "Michigan's second-highest court has dealt a legal blow to Nestlé's Ice Mountain water brand, ruling that the company's commercial water-bottling operation is "not an essential public service" or a public water supply. The court of appeals ruling is a victory for Osceola township, a small mid-Michigan town that blocked Nestlé from building a pumping station that doesn't comply with its zoning laws. But [But?] the case could also throw a wrench in Nestlé's attempts to privatize water around the country… If it is to carry out such plans, then it will need to be legally recognized as a public water source that provides an essential public service. The Michigan environmental attorney Jim Olson, who did not represent Osceola township but has previously battled Nestlé in court, said any claim that the Swiss multinational is a public water utility 'is ludicrous'. 'What this lays bare is the extent to which private water marketers like Nestlé, and others like them, go [in] their attempts to privatize sovereign public water, public water services, and the land and communities they impact,' Olson said."
"Congress to halt military use of toxic foam contaminating drinking water" [Los Angeles Times]. "Congress has reached a deal on [the NDAA] … that has been the focus of intense negotiations for months. House Democrats saw it as their best chance to force President Trump's Environmental Protection Agency to increase its oversight of a class of chemicals, called perfluoroalkyl and polyfluoroalkyl substances — commonly known as PFAS — that have contaminated drinking water sources across the country. The bill that emerged out of a joint House-Senate committee this week had been stripped of measures that would require the EPA to designate the chemicals as 'hazardous' and set a nationwide safety standard for PFAS in drinking water. A proposal requiring contaminated sites across the country to be cleaned up under the Superfund program had also been removed, as had one that would limit how much PFAS chemical manufacturers could dump into water supplies." • Thanks, Democrats. It's only drinking water, after all.
"The hurdles that still remain as Maine's lawsuit over tribal water standards nears an end" [Bangor Daily News]. "fter years of disagreement, the state of Maine, tribes and the federal government appear to agree that a long-running lawsuit over water quality standards is nearing its end, though procedural disagreements stand in the way. The lawsuit over who has the authority to regulate waters on tribal lands used for cultural sustenance fishing, has been paused for a year, while the EPA reconsidered a February 2015 decision to approve Maine's water standards everywhere except on Indian territories, which the state said created regulatory uncertainty. It looks like all parties are close to getting what they want. The EPA approved in November Maine's sustenance fishing rules supported by the tribes. The new rules were seen as a possible path to ending the yearslong court case earlier this year and part of Democratic Gov. Janet Mills' efforts to improve the state's rocky relationship with its tribes. The EPA proposed in November to withdraw its 2015 decisions and approval of certain parts of a 1980s law allowing the state to treat tribes largely like municipalities — though the tribes have never ceded their federal rights — related to inland waters of the Penobscot Nation and the Passamaquoddy Tribe's reservations, according to a report filed in U.S. District Court." •
"Dry man of Europe, Poland strives to save water [Reuters]. "[Poland's] six-year strategy – which runs from 2021 to 2027 – aims to improve water availability in Poland, a country of 38 million people, through public campaigns and investments, including the building of 30 new water reservoirs…. [B]ig new reservoirs could in fact make matters worse. 'Rivers have big, natural potential for water retention. If we start to construct big dams and reservoirs, you have to regulate the water stream,' said Zbigniew Karaczun, a professor at the Warsaw University of Life Sciences…. Wiktor Kotowski, a professor at University of Warsaw's Department of Plant Ecology & Environmental Conservation, said mis-management was the real problem. Poland could be in a much better position if it had kept its wetlands, instead of converting them into farmland, or had not straightened its rivers to speed up water flow. This intervention stopped nature retaining water then returning it back to the atmosphere through evapotranspiration, thereby cooling the climate, he said. The government's plans also include deep wells for irrigation which could further deplete the water, he said."
"Glimmers of Hope Appear for Brazil's Toxic Water" [Bloomberg]. "The Tiete and the under-served slums on its banks are just one window into Brazil's sanitation system, deemed among the worst in the world. The state-run infrastructure serves only half of the nation's 200 million population. Some 33 million don't have access to drinkable water. The years of under investment are harming the country's health and impeding economic development. But the situation may be about to change. The nation's politicians are weighing legislation to privatize the sector, a move that could open it up to $200 billion of investments." • Worked in Chile. Oh, wait…
Health Care
"Medical Advice From a Bot: The Unproven Promise of Babylon Health" [Undark]. "Since early 2018, the London-based Babylon Health has grown from just 300 employees to approximately 1,500. The company has a valuation of more than $2 billion and says it wants to "put an affordable and accessible health service in the hands of every person on earth." In England, Babylon operates the fifth-largest practice under the country's mostly government-funded National Health Service, allowing patients near London and Birmingham to video chat with doctors or be seen in a clinic if necessary…. Babylon promises to save money on rising health care costs by using AI to filter patients so that only those who need medical attention will take up time and resources… speedy deployment has raised serious concerns among experts who say Babylon Health has rushed to market without adequate proof that its products work. So far, there are no peer-reviewed, randomized control studies — the gold standard for evidence in medical science — showing how the AI performs in the real world on real patients. Yet Babylon's symptom checker is already affecting thousands of people daily —with the approval of government regulators in countries where it's offered…. They have managed to be commissioned by the NHS to do this job without ever having to test the product on real patients and without any independent scrutiny, and yet this seems to be OK for regulators,' says Margaret McCartney, a general practitioner in Glasgow, Scotland and a Babylon critic. 'I think it's staggering.'" • But all the AI has to do is deny patients care unaccountably for adminstrators to embrace it, I am sure.
"'Medicare for All' backers notch win with high-profile hearing" [The Hill]. "The Energy and Commerce Committee discussed the single-payer health plan backed by White House hopefuls Sens. Elizabeth Warren (D-Mass.) and Bernie Sanders (I-Vt.) after a sustained campaign led by Rep. Pramila Jayapal (D-Wash.), a co-chairwoman of the Congressional Progressive Caucus, and other members of the party's liberal wing. Chairman Frank Pallone Jr. (D-N.J.), whose committee has primary jurisdiction over health care issues, included eight other bills that aim to achieve universal coverage as part of Tuesday's hearing, stealing some of Medicare for All's spotlight. Jayapal nonetheless touted the "historic" hearing as a success, even as polls show support for the proposal is waning." • "Waning" thanks to P4ADHCF, Partnership for American'sDystopian Health Care Future (with an assist from liberal Democrats).
"Americans take fish antibiotics because it's cheaper than a visit to the doctor" [Guardian]. "Researchers analyzed reviews for fish antibiotics available online, and found a small but significant percentage of consumers reviewed the antibiotics for human use…. 'Self-medication and the availability of antibiotics without healthcare oversight might contribute to increasing antimicrobial resistance and delayed appropriate treatment,' Bookstaver said. 'We were particularly concerned that the high volume of positive feedback on the comments about human use might encourage others to attempt to use these drugs.' Researchers found nine antibiotics for sale at 24 different websites, including some of the most commonly prescribed to humans, such as penicillin and amoxicillin. Only 55 of the 2,228 comments reviewed described human use, but garnered nine times as much attention as others through 'likes' and 'dislikes.' Additionally, at least one online seller responded to an online question, saying fish antibiotics were suitable for human use. There is also anecdotal evidence Americans are increasingly taking veterinary medicine. Dr Farzon Nahvi, an emergency room doctor in New York City and a member of Physicians for a National Health Program, said he had a patient overdose on fish antibiotics." • Greatest health care system on earth.
Our Famously Free Press
"Do journalists know less than they used to?" [Poynters]. "The ability of journalists to know the people they cover close up, to walk the crash site, or get human insight into the people in power in most cases is substantially reduced. The press is more conduit now than constituent — or public surrogate. And while there are fewer journalists in America overall, more of them are swarming over a smaller range of stories, which means, too often, they tend to be the stories where newsmakers exercise the most control and journalists are kept more at a distance."
Class Warfare
"How consulting companies like McKinsey optimized American inequality" [WaPo]. "[T]he larger issue [than the Buttigieg campaign] is the very nature of management consulting firms; so much of their work 'is about increasing investors' share of profits by reducing labor's share,' Anand Giridharadas, a former McKinsey consultant turned journalist and author, recently put it. Consulting firms, by this line of thinking, are one of the drivers of the current state of runaway economic inequality. Academic and journalistic findings tend to support this idea. The key to management consulting firms' function is in the word management. Management consultants work for a company's executives, not its employees, and the hiring of one is often a sign that layoffs are imminent. Wendell Potter, a former vice president at the health insurer Cigna, says 'it was clear that when [a management consulting firm] was brought in there would be layoffs. In my own department, there were times when I had to lay people off because off because of McKinsey's work.'"
"Samsung VP gets jail term for attempting to break up labor union" [Korea Herald]. "Friday's ruling is the first since a document dubbed the "S Group labor strategy" first surfaced in 2013, raising allegations the conglomerate deliberately targeted labor unions. Kang was charged with obstructing labor union activities at Everland from June 2011 to March 2018 based on the group's labor management scheme. He is also suspected of illegally collecting the personal information of labor union members and their families as well as putting them under surveillance." • Maybe we could learn something by following the example of First World countries.
"Hearst Workers Are Organizing but They May Already Have a Union" [Bloomberg]. "An effort to unionize hundreds of Hearst Magazine editorial workers at outlets like Esquire and Popular Mechanics hit a potentially significant roadblock with the discovery that the employees already may be represented by another union that's been around for decades… The odd twist emerged after a union called the Hearst International Employees Association [HIEA] filed to intervene in the Writers Guild of America, East's highly publicized organizing effort at the company's 24 magazine brands… The HIEA lists 300 W. 57th St. in New York as its headquarters, the same address as Hearst Communications headquarters. The secrecy of the union and its location is suspect, according to Gordon. He said it's indicative of a 'company union,' referring to an illegal union run through employer influence that's often meant to prevent independent unions from forming." • Plot twist!
"Challenger Wins Re-Run Vote to Head NewsGuild" [Labor Notes]. "Jon Schleuss helped win union recognition and a historic first contract at the Times (a non-union paper for 136 years) before ousting NewsGuild President Bernie Lunzer, a three-term incumbent twice his age. In the first round of balloting last spring, Lunzer beat Schleuss by a margin of 261 votes out of 2,300 cast. With backing from many upset members, Schleuss challenged those results, based on election irregularities. To avoid a further appeal to the U.S. Department of Labor, the NewsGuild ordered a rerun, with voting overseen by the American Arbitration Association, a neutral third party. When the AAA completed its tally in New York City December 10, Schleuss emerged as the victor, receiving 1,979 votes vs. 1,514 for Lunzer. The challenger's stronger showing this time was partly the result of more Guild members participating in their union's unusual one-member, one-vote system of electing top officers. Overall turnout increased by nearly 50 percent."
"Recent moves by Pittsburgh Post-Gazette management have led to a shrinking and increasingly chaotic newsroom. Can the P-G survive?" [Pittsburgh City Paper]. "Since the start of this year, 20 guild members have left the P-G, while nine managers have either taken buyouts, been fired, or been forced out by management. Another newsroom manager will leave by the end of the year. Some positions have been replaced, but not many… Michael Fuoco, P-G staff reporter and president of the guild, says management is practicing an intentional strategy to make the newsroom so unbearable that guild members quit. 'He is driving people out, he's driving younger people out,' Fuoco says of [executive editor Keith Burris]. 'We believe it is a coordinated effort.'"
"GM Workers Shocked to Learn New Hires Will Still Take Eight Years to Reach Top Pay" [Labor Notes]. Missed this at the time: "After six weeks on the picket line, General Motors workers ratified an agreement that left many major areas unchanged, but one provision stood out as a true gain: the time it took to 'grow in' to the top wage would be cut from eight years down to four. The eight-year grow-in had been established, amid much controversy, in the 2015 United Auto Workers agreements with the Big 3 automakers, as an improvement over a system where Tier Two workers would never catch up to Tier One wages. But it turns out that the gain is only partial. Tier Two workers on the payroll now will progress to top pay by the end of the four-year pact, but any future hires will still take eight full years to get there." • Dear Lord. Now we have tiers within tiers. Has anybody defenestrated the UAW misleadership yet?
News of the Wired
"The Gospel of Wealth According to Marc Benioff" [Wired]. "Integral to Benioff's reputation for goodness is the insistent badness regularly displayed by his ultrarich brethren. Benioff does not offer the Russians a handy platform for derailing our democracy or erode civil discourse 280 characters at a time. He doesn't use his wealth to undermine public education or fund climate change denial. He does not accuse British rescue divers of pedophilia. At a moment when his plutocrat peers seem increasingly hell-bent on mucking everything up, Benioff has carved out a different brand altogether: the good billionaire. The particulars of the brand can be dissected, but the point is a feeling, a man-sized dollop of hope that powerful interests might start working for us rather than against. On November 6, 2018, San Francisco residents passed Prop. C. But in a sense the biggest victor was the magnanimous billionaire behind it." • Let me know how that works out.
"Magic Mushrooms Pass First Hurdle as Depression Treatment" [Bloomberg]. "The active ingredient in the mushrooms, psilocybin, was found to be safe and well tolerated when given to healthy volunteers in a study by researchers at King's College London. Unsurprisingly, the subjects got high… [Psilocybin's] potential is drawing researchers beyond depression. Scientists are seeking to enlist patients to test the chemical for ailments including addiction, Alzheimer's disease, anorexia, obsessive-compulsive disorder and migraines. Closely held Compass Pathways is working to bring to market a version of psilocybin it manufactured for depression that resists other treatments. Compass sponsored the trial, which according to organizers was the largest controlled study of the chemical to date." • Because we can't just grow the damn mushrooms. We have to give Big Pharma a cut.
* * *
Readers, feel free to contact me at lambert [UNDERSCORE] strether [DOT] corrente [AT] yahoo [DOT] com, with (a) links, and even better (b) sources I should curate regularly, (c) how to send me a check if you are allergic to PayPal, and (d) to find out how to send me images of plants. Vegetables are fine! Fungi and coral are deemed to be honorary plants! If you want your handle to appear as a credit, please place it at the start of your mail in parentheses: (thus). Otherwise, I will anonymize by using your initials. See the previous Water Cooler (with plant) here. Today's plant (TH):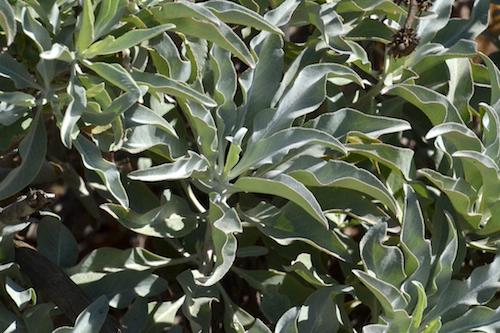 * * *
Readers: Water Cooler is a standalone entity not covered by the annual NC fundraiser. So if you see a link you especially like, or an item you wouldn't see anywhere else, please do not hesitate to express your appreciation in tangible form. Remember, a tip jar is for tipping! Regular positive feedback both makes me feel good and lets me know I'm on the right track with coverage. When I get no donations for five or ten days I get worried. More tangibly, a constant trickle of donations helps me with expenses, and I factor in that trickle when setting fundraising goals:
Here is the screen that will appear, which I have helpfully annotated.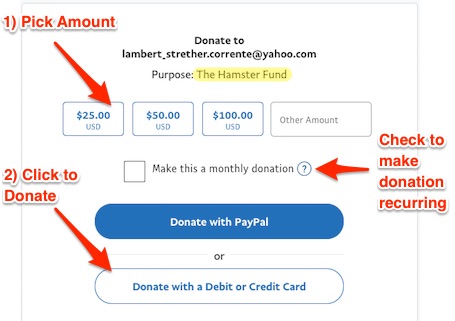 If you hate PayPal, you can email me at lambert [UNDERSCORE] strether [DOT] corrente [AT] yahoo [DOT] com, and I will give you directions on how to send a check. Thank you!