By Lambert Strether of Corrente.
The debate begins at 8 p.m. ET, one half hour from now, and it will run for about three hours. It's being held at Loyola Marymount University, a private Jesuit and Marymount research university in Los Angeles, California, and one of the largest Roman Catholic universities on the U.S. West Coast with 8,000 students. Here's a series of videos from the Loyola faculty on debate history and stagecraft.
The co-hosts are PBS NewsHour and Politico. Here is how to watch:
The debate will be televised on PBS and CNN, livestreamed online at PBS.org, PBS NewsHour, Politico.com, and CNN.com, and available on many of the news organizations' social, mobile and live-TV streaming apps. You can also listen to the debate on SiriusXM channels 116, 454, and 795.

NPR.org will also be streaming special coverage of the debate, and the politics team will provide live fact-checking and analysis throughout the evening.
The moderators:
Tim Alberta (Politico)
Yamiche Alcindor* (PBS)
Amna Nawaz (PBS)
Judy Woodruff (PBS)
* Ugh.
The seven candidates, in alpha order:
Joe Biden, former Vice President
Pete Buttigieg, Mayor of South Bend, Ind.
Amy Klobuchar, Senator from Minnesota
Bernie Sanders, Senator from Vermont
Tom Steyer, billionaire and activist
Elizabeth Warren, Senator from Massachusetts
Andrew Yang, entrepreneur and philanthropist
The candidates, in stage order:

And those who did not make it: Bennet, Bloomberg, Booker, Castro, Delaney, Gabbard, Patrick, and Williamson. (Seven is the smallest number of candidates yet, and there's much gnashing of teeth about the lack of "diversity" on the stage, despite a Jewish representation of 14% (general population: 2.2%), and the presence of an American Indian.)
It occurred to me to take a quick look at how the seven were polling: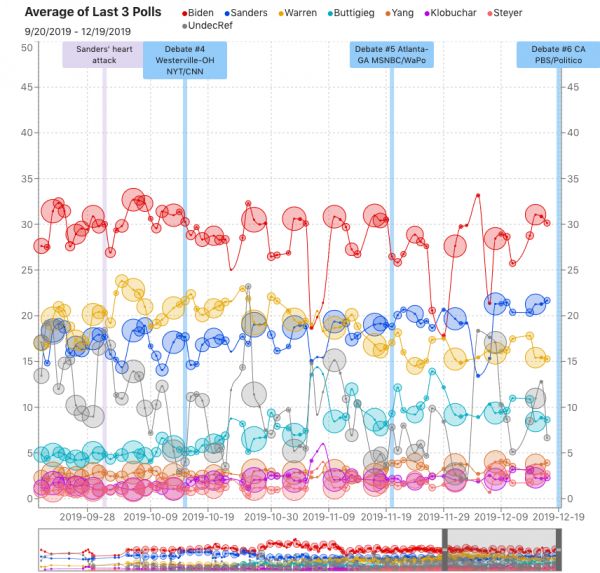 (This is a little different from Water Cooler's poll, because it includes debates on the timeline and excludes Bloomberg.)
And since the debate is in California, here is the latest California poll: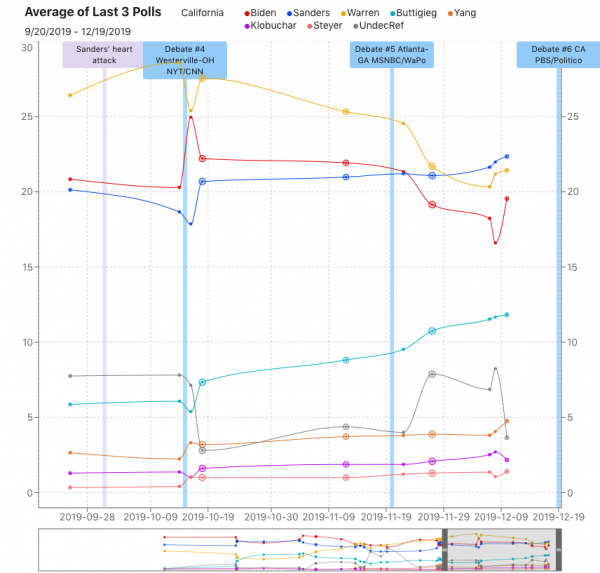 Remarkably, Sanders is in the lead: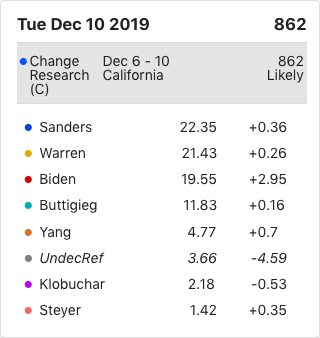 Politico characterizes this holiday season debate as awkward:
IT'S ALSO A BIT AWKWARD to be holding a debate a day after the House voted to impeach the president, a subject these candidates want to avoid like a drunken co-worker at the company holiday party; they'd rather outline their plans on health care, student debt and family leave. Still, polls show that's exactly what Democratic voters want to hear about. Impeachment isn't going to affect their lives one iota, as most realize by now that Donald Trump isn't going anywhere.
Pelosi has made things even more awkward by delaying sending the articles of impeachment to the Senate (though I suppose that could be resolved before the debate, if Schumer and McConnell want to do that). Awkward for the candidates to be put in the position of justifying both Pelosi's calendar-driven "hurry up," and now her "wait," especially when preventing history's worst monster from committing more crimes is the ostensible goal. I suppose the campaign staffs will have worked something out. Where's Malcolm Tucker when we need him? More:
THAT SAID, IMPEACHMENT IS ALSO AN OPPORTUNITY for one of the candidates to cast themselves as something very different from the sturm and drang of Washington. Could this be PETE BUTTIGIEG? The South Bend mayor has been testing an outsider message in a field dominated by D.C. insiders, but he's been a bit sidetracked by his pillow fight with ELIZABETH WARREN and endless stories about his Harvard days, McKinsey clients and wine-cave fundraisers in Napa.
First time I've heard Sanders characterized as a "D.C. insider"!
A debate requires a drinking game — or perhaps a munchies game? I don't know — so here is a thread of suggestions:
Any last suggestions for debate drinking game rules?

— Matt Taibbi (@mtaibbi) December 19, 2019
As before, this post does not update; readers may track the debate in real time in comments. Please keep your comments as informative and analytical as possible. There are no points at NC for context-free one-liners ("Boo ____!") that only those who are also watching can make sense of; that's for Facebook or Reddit. I think it adds more value if you take a moment, use your critical thinking skills, then comment, and readers can discuss what you say. This is what the NC commentariat is so very good at, after all. Last time, the times before that, and this time. Thank you!
NOTE I can't find an image of the Loyola stage; perhaps that's a good sign, and this will be a more serious effort than other debates.