By Lambert Strether of Corrente.
Politics
"But what is government itself, but the greatest of all reflections on human nature?" –James Madison, Federalist 51
"They had one weapon left and both knew it: treachery." –Frank Herbert, Dune
Here is a second counter for the Nevada Caucus, which is obviously just around the corner:
* * *
2020
Alert reader dk (not to be confused with DK) is in the process of developing the following interactive chart.

Today we have two new national polls from Marist and Zogby, and a new polls from NV. As of 2/18/2020, 11:00 PM EST (three-day average):

The Zogby numbers:

The Marist numbers:

Note the small sample sizes. (However, I thought the jump in Sanders' numbers in the YouGov poll yesterday was an artifact of the methodology; here we have two more polls. So….)

And a new poll from NV (% by day):

NV numbers:

Not hearing good things about how Nevada will count the votes, though, as readers know.

SC:

SC numbers:

Sanders within striking distance of Biden, Steyer within striking distance of Sandersl.

CAVEAT I think we have to track the polls because so much of the horse-race coverage is generated by them; and at least with these charts we're insulating ourselves against getting excited about any one poll. That said, we should remember that the polling in 2016, as it turned out, was more about narrative than about sampling, and that this year is, if anything, even more so. In fact, one is entitled to ask, with the latest I boomlet (bubble? (bezzle?)) which came first: The narrative, or the poll? One hears of push polling, to be sure, but not of collective push polling by herding pollsters. We should also worry about state polls with very small sample sizes and big gaps in coverage. And that's before we get to the issues with cellphones (as well as whether voters in very small, very early states game their answers). So we are indeed following a horse-race, but the horses don't stay in their lanes, some of the horses are not in it to win but to interfere with the others, the track is very muddy, and the mud has splattered our binoculars, such that it's very hard to see what's going on from the stands. Also, the track owners are crooked and the stewards are on the take. Everything's fine.

* * *

Biden (D)(1):

Nothing says "I'm ready to defeat Trump!" like crying about mean tweets. https://t.co/psa3S6FWHV

— David Doel (@daviddoel) February 17, 2020

The Democrat Establishment — and that includes not only Clinton, but Bloomberg and Warren — is trying to delegitimize the Sanders canvassing operation (in other words, an actual assault on voters from the top down).

Biden (D)(2): "More Than 1,200 IBEW Members Call on Union Leadership to Retract Biden Endorsement" [In These Times]. "The letter, from 'IBEW Members For Bernie,' blasts the union's leadership for endorsing Biden without a vote of members. 'The leadership of the union had previously provided reassurance to the membership that they would trust the judgement of rank-and-file leaders and members to represent their own interest in the 2020 presidential primary, and we are disappointed that the International has instead thrown their weight behind the Biden campaign without member consultation,' it reads. The letter says that those who sign it support Sanders' 'transformative vision for expanding the labor movement, as well as the democracy and the solidarity that his campaign embodies.' It concludes, 'We are calling on the International Officers to immediately retract their endorsement and call for the rank-and-file to participate in a democratic endorsement process by participating in an in person vote at their March local union meeting.' It is signed by more than 1,200 IBEW members from across the country, including dozens who identify themselves as officers or members of the executive boards of their locals. Signatures were still being added as of Monday night." • This split between leadership and the rank-and-file keeps happening: The Nevada Culinary Union and the Working Families Party come to mind.

For reasons that I think are obvious, I'm filing this under Bloomberg (D)(1): "Stacey Abrams 'absolutely' wants to run for president one day, but says she'd accept a VP slot in 2020" [ABC]. Abrams: "My best service is to be in that neutral space where it's not about who the nominee is — it's about making sure no matter who the nominee is, any person who wants to go and vote, can vote. That's what we're doing through Fair Fight 2020." • Fair Fight, to which Bloomberg gave $5 milllion. Ka-ching.

UPDATE Bloomberg (D)(2): "Mike Bloomberg just made the debate. Can he keep his cool?" [Politico]. "Bloomberg has a history of losing his cool in public. He once grew visibly annoyed at a reporter in a wheelchair who interrupted his news conference when he dropped a recording device. More recently, he urged a reporter to "get on with it" when he was pressed about his controversial stop-and-frisk policing tactic. Snapping at other candidates or a moderator could undermine his efforts to convey empathy and contrition." • Love to see Bloomberg explode if Sanders does a Borscht Belt routine: "Mike Bloomberg is struggling. Hes down to his last $60 billion."

Bloomberg (D)(3): "Michael Bloomberg Isn't a Smug Technocratic Centrist. He's Something Far Worse" [Jacobin]. "Bloomberg is an emissary of something far more sinister than smarmy, professional-managerial class centrism. Bloomberg is a genuine admirer of dictators, violent foreign interventions, mass surveillance, and sprawling police states. His ascent to the presidency would represent the apotheosis of a certain sophisticated, immovable global elite that disdains, above all, popular dissent… Swapping kakistocracy for oligarchy will not undo the damage of the Trump presidency. It will merely calcify the rot." • If we elect Bloomberg, we will have crossed the Rubicon. There's a long line of much younger squillonaires waiting in line to run (Zuckerberg comes to mind). One of them will break through. And then another, and another, and another.

Bloomberg (D)(4): "As Bloomberg rises, Democrats are stumbling toward disaster" [Greg Sargent, WaPo]. "It's now a reasonable possibility that the nominating contest could winnow down into a sustained brawl between Bloomberg and Sen. Bernie Sanders (I-Vt.), the front-runner. What happens if Bloomberg spends massively from his fortune to try to demolish Sanders, whose tremendous success in stockpiling small-dollar donations is forging a new, people-powered model for funding presidential campaigns as we speak?" • Every Democratic strategist and consultant gets a third boat. What's the issue here? More: "What message will it send if Democrats allow this new model to be snuffed out under an avalanche of one billionaire's spending from his plutocratic fortune?" • It would send this message:

"They are who we thought they were!"

Bloomberg (D)(5): Shot, chaser:

Hey @ksheekey — have you seen this video of your boss? pic.twitter.com/iRvDujkMnG https://t.co/Q9OtUMSH6H

— David Sirota (@davidsirota) February 18, 2020

Kevin Sheekey is Bloomberg's campaign manager. He is also Global Head of Communications, Government Relations and Marketing for Bloomberg L.P. Not sure what that says about Bloomberg L.P.

Bloomberg (D)(6): "Bloomberg's Rise in Democratic Race Provides Foil for Sanders" [Bloomberg]. The parenthetical: "(Bloomberg is the founder and majority owner of Bloomberg LP, the parent company of Bloomberg News.)" • Fine, but since the management hierarchy, not just a theoretically arms-length owner, has picked a candidate, how can their coverage be trusted? For example, if Bloomberg really does have a garbage barge of Sanders oppo, why was it not already published as news? Did Bloomberg news organization hold back on it to benefit the Bloomberg campaign? Supposing there to be a difference between the two?

Bloomberg (D)(7): News you can use:

Here is a google doc with all of the congresspeople who have endorsed Bloomberg and their primary challengers. Very useful. Thank you, @Dakota_Schmidt! https://t.co/K4taJBxlio

— Secular Talk (@KyleKulinski) February 18, 2020

UPDATE Bloomberg (D)(8): "Sekiko Sakai Garrison v. Michael Bloomberg and Bloomberg, L.P." (document) [WaPo]. • (Here's the full article.) Pretty disturbing:

Worse than anything Trump ever said. And to a subordinate, too. Maybe Bloomberg could release all these women from their gag orders? Oddly, the Clintonites and bourgeois feminists seem to be awfully quiet about all this. I'd expect them to be all over this in the age of #MeToo.

Sanders (D)(1): Recall that Jim Messina worked not only for Obama but for Theresa May:

Jim Messina on MSNBC asked which candidate aligns most with the ideology of Barack Obama, he first demurs and then says "they all do except Bernie Sanders"

— Shuja Haider (@shujaxhaider) February 18, 2020

UPDATE Sanders (D)(2): "The Cosmic Irony of Bernie Sanders's Rise" [Jacobin]. "As a result, there are millions of loyal Democrats whose loyalty stems from no other source than the belief — the touching faith — that the Democratic Party is there to stand up to powerful interests on their behalf. The public personas of Obama and Sanders may differ wildly along a hundred different dimensions, but ideologically, tens of millions of Democrats see Bernie Sanders simply as Barack Obama, only more so…. It's not hard to see how this puts the Democratic elite in an agonizing bind. There is an ideological struggle going on within the party, even if many ordinary Democrats hardly notice it. But it's a struggle that dare not speak its name. Whatever popular legitimacy the party possesses depends on its followers' belief that its principles are the very same ones now most closely associated with Bernie Sanders. That makes it excruciatingly difficult to craft an effective anti-Bernie appeal." • Hence the attacks on voters, his supporters?

UPDATE Trump (R)(1): "Democrats worried about Trump's growing strength" [The Hill]. "The chief worry among congressional Democrats is that if the party doesn't settle on a nominee until the convention in mid-July, Trump will have a substantial organizing advantage. 'You hear everybody talk, 'If we take all that time [until the Convention], how are they going to be able to get organized to combat what [the president] is doing?' the senator said." • Um, there's one campaign that's already organized to scale out to the general. More: "Democratic lawmakers, however, were dismayed by signs that Trump's approval ratings got stronger over the course of the impeachment process, which fired up the GOP base and failed to register as a priority among independents and swing voters." • Everybody who was wrong about this is still in power, and everybody who was right is marginalized or an insurgent.

Warren (D)(1): "The Latest: Warren calls for party unity in taking on Trump" [Associated Press]. "Elizabeth Warren is preaching Democratic unity in taking on President Donald Trump, a challenge she framed as an existential crisis for America… The Massachusetts senator also spoke about how she's adopted policy plans and hired staff from Democrats who have dropped out of the race, including New York Sen. Kirsten Gillibrand, former Obama administration housing chief Julián Castro, Washington Gov. Jay Inslee and California Sen. Kamala Harris. Warren said culling those ideas builds a Democratic Party and coalition 'that works for all of us.'"

Warren (D)(2): "Warren says Sanders 'has a lot of questions to answer' about his supporters' online attacks" [NBC]. Warren: " do not build on a foundation of hate." • Clinton tried that (the truly hateful and demographically false "Bernie Bros"), and it didn't work in 2016. And "we" is doing a lot of work, there. "Unity" must not mean what I thought it means.

Warren (D)(3): "How Elizabeth Warren's Camp Is Seeking to Regain the Spotlight" [New York Times]. "Grievance can be a powerful motivator for political campaigns, bonding supporters against a common enemy, driving small-dollar donations and volunteers, and helping to create an organic network of support, particularly online and on social media…. But the tactic can also be a sign of a campaign in decline. Supporters of Ms. Harris, Mr. O'Rourke, Mr. Castro and Senator Kirsten Gillibrand of New York all criticized outside factors, such as media coverage and the debate rules set by the Democratic National Committee, before their favored candidates exited the race."

Warren (D)(4): "The Woman Behind Elizabeth Warren's Foreign Policy" [The Nation]. "This delay in getting my article into print was largely the result of lengthy interactions with members of the Warren campaign's communications team, which, while friendly and professional, dragged out the reporting process. Initially, they declined to let me interview Baker on the record. Eventually, they agreed to let me tape interviews with her as long as that information would be considered off the record by default, meaning I couldn't quote anything without clearing it with them first. A communications staffer sat in on our phone interview in November and our in-person interview in January at a pub near the campaign's headquarters outside Boston. Based on discussions I've had with other reporters, this did not reflect any personal animosity toward me; the Warren team is cagey and does not generally make policy advisers available for on-the-record interviews." • Confidence builder!

* * *

* * *

NV:

"Early voting a boon for Las Vegas Strip workers" [NBC]. "Early voting began Saturday and will go on through Tuesday. Twenty-six thousand people voted across the state in the first two days alone…. Culinary Workers Union Local 226, which represents the largest segment of workers on the Strip, was influential in pushing for the nearby polling sites. That the caucuses take place on a Saturday can be challenging for the shift workers who keep the hotels and casinos running."
Our Famously Free Press
Watch Bloomberg's anti-Sanders video on mean tweets propagate in real time. Thread:

1) Just started watching cable news from today and I can already tell you this is going to be a very long thread. Inside politics managed to have 3 seperate segments on Bernie, 2 of which were negative and the other neutral

— Greg C (Bernie 2020) (@greg06897) February 17, 2020
Stats Watch
At reader reader request, I added some business stats back in. Please give Econintersect click-throughs; they're a good, old-school blog. If anybody knows of other aggregators, please leave links in comments.
Manufacturing: "February 2020 Empire State Manufacturing Index Again Improves" [Econintersect]. "Key elements significantly improved. I would consider this report is again better than last month."
Debt: "November 2019 Loan Performance: U.S. Overall Delinquency Rate Lowest for a November in at Least 20 Years" [Econintersect]. "As of November 2019, the foreclosure inventory rate – which measures the share of mortgages in some stage of the foreclosure process – was 0.4%, unchanged from November 2018. The November 2019 foreclosure inventory rate tied the prior 12 months as the lowest for any month since at least January 1999. Measuring early-stage delinquency rates is important for analyzing the health of the mortgage market. "
Shipping: "Ship Owners Burned By The China Slowdown" [Forbes]. "Traffic jams are a nuisance for road users but off the west and east coasts of Australia there are marine traffic jams as bulk carriers which normally carry iron ore and coal to China are riding at anchor because even if they take on a load there's no guarantee they will be able to unload… A measure of the problem for ship owners caused by China's virus fight can be seen in a usually reliable form of economic activity, the Baltic Dry Index (BDI) which provides a composite picture of the cost of hiring a bulk carrier. Last week the Capesize component of the BDI, which measures the cost of hiring a bulk carrier capable of carrying between 150,000-and-400,000 tons of dry cargo (mainly iron ore and coal) fell into negative territory for the first time since it was created in 1999. The index fall from 5000 points in the middle of last year to less than zero means that some ship owners are almost certainly running at a loss."
Shipping: "Container shipping lines are bracing for steep financial blows as operations at China's ports grind to a near halt. Carriers have canceled more than 50 sailings from China since the outbreak of the coronavirus…and logistics operators say remaining ships serving the country's troubled ports are leaving China with only a small fraction of their capacity filled" [Wall Street Journal]. "Several carriers say privately they are preparing for a heavy impact on earnings as they scramble to cut sailings in line with the diminished demand.
Shipping: "Refrigerated cargo is being diverted from Chinese ports" [American Shipping]. "The Chinese population still has the same demand for food, but a major logistical hurdle has emerged to the import of perishables — and the consequences are reverberating across global agricultural export markets, including in the U.S. Perishables are imported in refrigerated containers or "reefers." When they're unloaded at the destination terminal, they must be connected to power via "reefer plugs" until they're picked up by trucks. Terminals only have so many reefer plugs, and given delays in inland truck transport due to coronavirus restrictions, reefer plugs are now full in several top Chinese ports." • Not just exports; imports.
Manufacturing: "Global automotive supply chains are getting sicker from the coronavirus outbreak. Volkswagen AG is postponing the reopening of some of its China plants for at least another week… highlighting the challenges industrial companies face as they try to resume stalled production" [Wall Street Journal]. "About 41% of companies in a survey by the American Chamber of Commerce in Shanghai said lack of staff is their biggest challenge, while 30% call logistics problems their greatest headache. The shuttered automotive production is triggering a domino effect on overseas operations. Fiat Chrysler Automobiles NV is suspending production at a Serbian factory because it can't get parts from China, the first publicly disclosed closure of a large car plant outside Asia. Union officials warn parts shortages at General Motors Co.'s U.S. factories…. but the automaker doesn't expect an impact soon on production."
The Bezzle: Totally sustainable and not at all fragile. Thread (dk):
also we were able to turn the car back on somehow but now we are afraid to turn it off because it may not start again and Gig told us we used our "allotted restarts" of the car so we are on a literal endless road trip through California now

— Kari Paul (@kari_paul) February 17, 2020
The cream of the jest: "we called a tow truck on our own and made it back to our Airbnb. TBD on whether I'll be refunded for this."
The Bezzle: "Galaxy Z Flip durability test calls Samsung's Ultra Thin 'Glass' into question" [The Verge]. "Samsung's claim that the new Galaxy Z Flip uses "Ultra Thin Glass" sounded like a true breakthrough when the foldable phone was announced last week. Until now, foldable screens have used plastic displays, which can be easily scratched with even a fingernail. The Z Flip making the switch to glass, however thin it might be, had us hopeful that it would hold up better to long-term use. But it seems that might not be the case. Zack Nelson has gotten his hands on Samsung's second attempt at a foldable phone, and the results of his JerryRigEverything durability test do not inspire confidence… 'This screen is in no way scratch resistant whatsoever,' Nelson says near the end of the video. At the end of the clip, he begins poking holes in the screen that make the OLED panel go on the fritz — but there's no sign of any glass fracturing…. Nelson thinks Samsung could be using a hybrid plastic polymer (with microscopic bits of glass mixed in) so it can advertise this display as 'glass.'"
https://www.theverge.com/2020/2/16/21139897/samsung-galaxy-z-flip-ultra-thin-glass-durability-scratch-test-jerryrigeverything
* * *
Today's Fear & Greed Index: 55 Neutral (previous close: 55 Neutral) [CNN]. One week ago: 56 (Greed). (0 is Extreme Fear; 100 is Extreme Greed). Last updated Feb 14 at 6:30pm. President's Day.
The Biosphere
"Electric bacteria create currents out of thin—and thick—air" [Science]. "Generating electricity from thin air may sound like science fiction, but a new technology based on nanowire-sprouting bacteria does just that—as long as there's moisture in the air. A new study shows that when fashioned into a film, these wires—protein filaments that ferry electrons away from the bacteria—can produce enough power to light a light-emitting diode. The film works by simply by absorbing humidity from the surrounding air. Though researchers aren't sure exactly how these wires work, the tiny power plants pack a punch: 17 devices linked together can generate 10 volts, which is enough electricity to power a cellphone…. Researchers are also just starting to learn how electron-conducting bacteria function."
"Bezos launching initiative that commits $10 billion to combat climate change" [The Hill]. • The decimal point is in the wrong place. Anyhow, we need to euthanize the NGOs; they have a miserable track record and are weak substitutes for a functional state.
Health Care
A thread of dental horror stories:
People are walking around here with cavities so old they've abscessed.

But they learn how to survive without insurance. https://t.co/4JlgXQePYF

— Benjamin Dixon (@BenjaminPDixon) February 17, 2020
There are so many threads like this. But people love their insurance.
'Things didn't feel right': Some SmileDirectClub customers report problems" [NBC]. "While SmileDirectClub, the largest at-home dental alignment company, and others promise to leave patients smiling, an NBC News investigation into a growing list of complaints found that this new trend in straightening teeth is leading to painful problems for some people. The Better Business Bureau reports more than 1,800 complaints nationwide involving SmileDirectClub. Most of the complaints involve customer service issues — such as broken aligners, delivery issues and payment problems — but dozens describe concerns about treatment results: complaints like broken teeth and nerve damage." • Brain surgery self-taught!
Groves of Academe
"This college was accredited by a DeVos-sanctioned group. We couldn't find evidence of students or faculty." [USA Today]. "Reagan National University was supposed to be a place of higher learning, but it was unclear how it awarded degrees. By all appearances, at present, it has no students, no faculty and no classrooms. An agency meant to serve as a gatekeeper for federal money gave the university approval to operate anyway. That accrediting agency, financially troubled and losing members fast, exists mainly because it was saved by the Education Department in 2018. Accreditation might be the driest part of higher education, but these independent groups have huge importance: If they approve a college, the government agrees to give federal grants and loans to the students there." • "Reagan National University," I love it. Another failure of professional regulation, sadly.
Class Warfare
"Kickstarter Employees Win Historic Union Election" [Vice]. "Kickstarter employees voted to form a union with the Office and Professional Employees International Union, which represents more than 100,000 white collar workers. The final vote was 46 for the union, 37 against, a historic win for unionization efforts at tech companies. Kickstarter workers are now the first white collar workers at a major tech company to successfully unionize in the United States, sending a message to other tech workers." • I wonder if Bloomberg LLP is unionized…
"'We can't afford healthcare': US hospital workers fight for higher wages" [Guardian]. "Hospital and healthcare workers across the US are launching union drives and organizing protests in order to win higher wages and better working conditions, saying their industry exploits them and leaves them often unable to afford healthcare, despite working in the sector." • Many examples.
"A shocking number of Americans are living paycheck to paycheck" [MarketWatch]. From January, still germane. "how many Americans are living paycheck to paycheck[?] Depending on the survey, that figure runs from half of workers making under $50,000 (according to Nielsen data) to 74% of all employees (per recent reports from both the American Payroll Association and the National Endowment for Financial Education.) And almost three in 10 adults have no emergency savings at all, according to Bankrate's latest Financial Security Index. Even many in the upper class are seeing their six-figure incomes slip through their fingers. The Nielsen study found that one in four families making $150,000 a year or more are living paycheck-to-paycheck, while one in three earning between $50,000 and $100,000 also depend on their next check to keep their heads above water."
News of the Wired
"Sorry!" [The Civil War: A History Podcast]. "Hey, everyone. We wanted to let you know that some stuff has come up the last couple of weeks and as a result we haven't had the time or energy to record… but as soon as Real Life permits, we'll be back with a new episode." • I love this podcast, and I hope Rich & Tracy are OK. We're just getting rolling with Gettysburg!
"Mediterranean diet intervention alters the gut microbiome in older people reducing frailty and improving health status: the NU-AGE 1-year dietary intervention across five European countries" [Gut]. "Adherence to the [Mediterranean] diet was associated with specific microbiome alterations. Taxa enriched by adherence to the diet were positively associated with several markers of lower frailty and improved cognitive function, and negatively associated with inflammatory markers including C-reactive protein and interleukin-17. Analysis of the inferred microbial metabolite profiles indicated that the diet-modulated microbiome change was associated with an increase in short/branch chained fatty acid production and lower production of secondary bile acids, p-cresols, ethanol and carbon dioxide. Microbiome ecosystem network analysis showed that the bacterial taxa that responded positively to the MedDiet intervention occupy keystone interaction positions, whereas frailty-associated taxa are peripheral in the networks." • Popular version from CNN here.
"Return of cybernetics" [Nature]. "In an Article in this issue, Yeo et al. demonstrate a compact and lightweight, scalp-wearable device that reads out visually evoked electrical signals with high resolution. A deep learning algorithm is trained to classify the signals and can be used offline. In one experiment (with able-bodied subjects) it is shown that a wheelchair can be controlled in real time, demonstrating the practical promise of this approach…. It seems likely that the field of brain–machine interfaces will evolve quickly, especially given the promise for a multitude of medical applications. At the same time, ethical concerns arise, especially regarding invasive devices that do not just read out but also stimulate neural activity, such as treatments for Parkinson's disease and epilepsy patients4. Such neural manipulation can affect a patient's autonomy and sense of personhood5, and it is a challenging task to weigh complex neuroethical concerns against medical benefits."
* * *
Readers, feel free to contact me at lambert [UNDERSCORE] strether [DOT] corrente [AT] yahoo [DOT] com, with (a) links, and even better (b) sources I should curate regularly, (c) how to send me a check if you are allergic to PayPal, and (d) to find out how to send me images of plants. Vegetables are fine! Fungi and coral are deemed to be honorary plants! If you want your handle to appear as a credit, please place it at the start of your mail in parentheses: (thus). Otherwise, I will anonymize by using your initials. See the previous Water Cooler (with plant) here. Today's plant (Amfortas the Hippie):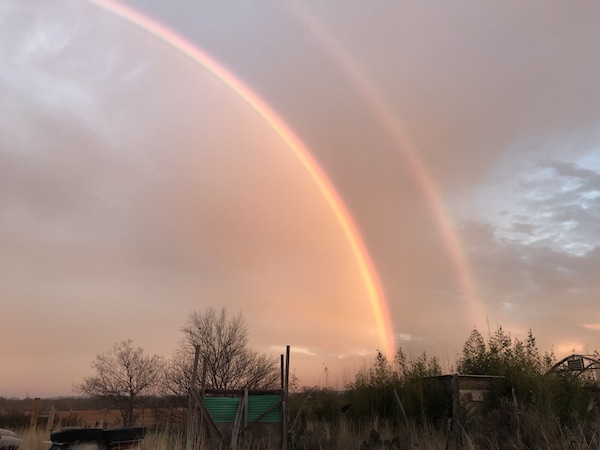 Amfortas the Hippie's sig:
Men fear thought as they fear nothing else on earth – more than ruin – more even than death… Thought is subversive and revolutionary, destructive and terrible, thought is merciless to privilege, established institutions, and comfortable habit. Thought looks into the pit of hell and is not afraid. Thought is great and swift and free, the light of the world, and the chief glory of man.

–Bertrand Russell
* * *
Readers: Water Cooler is a standalone entity not covered by the annual NC fundraiser. So if you see a link you especially like, or an item you wouldn't see anywhere else, please do not hesitate to express your appreciation in tangible form. Remember, a tip jar is for tipping! Regular positive feedback both makes me feel good and lets me know I'm on the right track with coverage. When I get no donations for five or ten days I get worried. More tangibly, a constant trickle of donations helps me with expenses, and I factor in that trickle when setting fundraising goals:
Here is the screen that will appear, which I have helpfully annotated.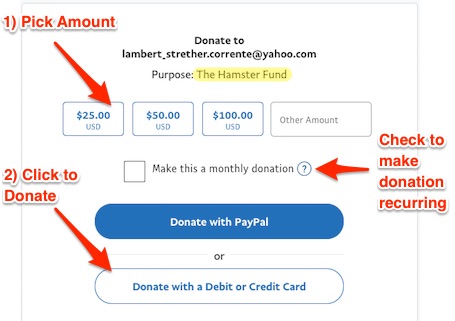 If you hate PayPal, you can email me at lambert [UNDERSCORE] strether [DOT] corrente [AT] yahoo [DOT] com, and I will give you directions on how to send a check. Thank you!