Readers are showing understandable concern about the progress of the coronavirus, particularly given the combination of the the CDC warning that community spread was a given shortly before a confirmed case with no known vector to China was announced in California. Trump's response was to make Mike Pence his coronavirus czar.
Mike Pence literally does not believe in science.

It is utterly irresponsible to put him in charge of US coronavirus response as the world sits on the cusp of a pandemic.

This decision could cost people their lives. Pence's past decisions already have. https://t.co/NhMPOusOWm

— Alexandria Ocasio-Cortez (@AOC) February 27, 2020
Perhaps Trump secretly believes in faith healing?
Needless to say, it is not terribly cheery to know so little about the transmission mechanism of the coronavirus and to be uncertain as to how contagious and lethal it is. As readers no doubt appreciate, only a subset of people with symptoms in China and even abroad are being tested, and individuals have tested negative, some repeatedly, only to test positive later.
It is also not terribly cheery to find out that the CDC as of two days ago had dispatched 37% of its 1,336 staff members tasked to coronavirus, to 39 US and international locations for coronavirus response. This is not a very large number. And as of February 23, all of 439 individuals had been tested, with 11% of the results not yet in. But as readers have pointed out, the huge cost of getting tested via an ER, which is how most Americans would normally go first, is a huge deterrent. So our terrible health system guarantees that we will have incomplete data on disease progress (ie, patients are likely not to get tested until they are very sick, so those with mild cases could continue spreading the coronavirus).
Now it may prove that the coronavirus is less deadly in populations that don't smoke as heavily as Chinese men do, and that have less exposure to air pollution. But even in that case, it is still just about certain to have a mortality rate way way above that of seasonal flus.
However, one unnoticed bit of good news is Thailand. Recall Thailand was early to report contagion from China. Yet even with three new cases, all people returning from Japan, it has had only 40 cases and no deaths, which seems a low number given the density of Bankgkok. And there have been no deaths and no "community transmission," unlike in the US.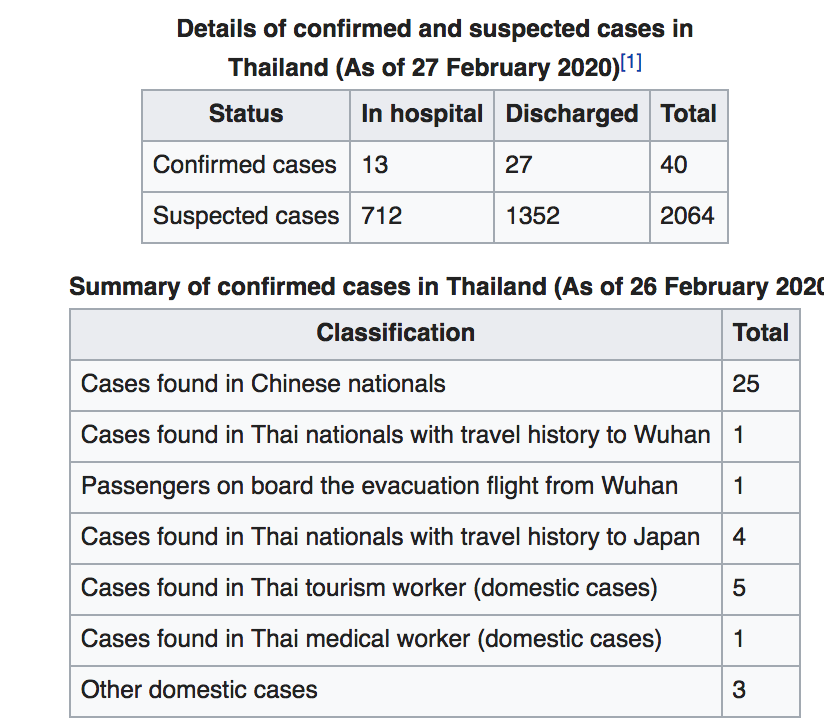 However, Thailand also has a good public health system, unlike the US. But most of Thailand is also very hot. The average temperature range for Bangkok in January is a low of 72° and a high of 90°, and in February, 76°
to 92°. So there may be reason to hope the transmission rate slows when summer arrives.
There is plenty to focus the mind, but let's serve up two examples. One is Nouriel Roubini, one of the few economists to foresee the 2007-2008 unraveling. From the Financial Times in Markets are too complacent about coronavirus despite sell-off:
It is becoming clear that this is a global pandemic rather than a China-focused epidemic. And we do not know yet how many other countries in Asia and other parts of the world will experience a severe outbreak — most likely many more.

The view that the economic impact will peak before the end of the first quarter now looks very shaky. The damage to China is severe, and global supply chains are being seriously disrupted, at a time when China accounts for about 20 per cent of global gross domestic product, not the tiny 4 per cent it had at the time of Sars in 2003. Add to that an economic shock to big economies like Japan, South Korea and Italy. When the disease spreads to other developed and emerging markets, this damage will increase.

Global business confidence will soften, too. Last year, companies' capital expenditure dropped as executives waited for the risks of a US-China trade war and a hard Brexit to pass. With those tail risks partially clearing, capex will be pushed back further because of the incentive to wait and see how severe and widespread the virus will be.

Soon enough, headlines will also dent consumer confidence. Even in the US where the contagion is so far limited, events are being cancelled and consumers are starting to prefer to stay home rather than go out. This is mild compared to what would happen if contagion truly hits the US, which is likely given the long latency of the disease.
Dr. Doom is looking at only the macro impact, which looks bad enough. But given that many businesses have over-optimized for efficiency, with just-in-time manufacturing a classic example, there is also an unknowable amount of "tight coupling," as in problems or destabilization will propagate through a system, with no circuit breakers to halt the process. The FDA has already warned of 150 medications from China that could wind up in short supply. How many might be added if diminished production in and container traffic from China continues well into the second quarter? And other important products, such as Vitamin C, come almost entirely from China.
Another issue is being caught in a lockdown area. SBS files a report from Australians in Italy (hat tip Kevin W):
More than 370 coronavirus cases have been detected in the northern Lombardy and Veneto regions and 12 people have died….

Authorities have so far put at least 11 towns in complete lockdown and children across the region have been sent home from school. In Lombardy's capital Milan, a number of high profile events, including fashion shows and football games, have been disrupted and residents have been urged to remain indoors as much as possible….

Ms [Bianca] Lentini, 30 [in Milan], is one of many teachers currently unable to go to work due to a week-long school shutdown. She said she was aware the closure could be extended into next week and even possibly into March.

"There is a quietness in the city, Chinese restaurants, museums, cinemas, galleries, everything is closed at the moment," she said, months after she moved to the city in September.

"It is a little nerve-wracking, the uncertainty over how bad the situation is now – is it going to escalate? We are in a moment of suspense at this point in time, just taking it day by day."


Empty shelves in a supermarket in Milan.
SBS Italian

…..Residents within the identified area are being prevented from travelling outside the zone, with roadblocks in place on the outskirts of the towns….

Mr [Nicolas] Musto, who moved to Italy a year ago to work as an assistant English teacher, is currently living in a small town called Capriolo in the province of Brescia – about 90 minute's drive from locked-down Codogno.

"I'm pretty sure the entire northern Italy has been affected," he said.

"I went to the shops yesterday … and there were some entire shelves just emptied of milk or bread or pasta or whatever it may be. It feels like it's a bit of an apocalypse era."
Yves here. This is a long-winded introduction to an issue readers have been kicking around in comments: what are they doing to reduce their risk of exposure? And what other measures are they taking?
The example of Italy demonstrates how rapidly the contagion can spread and how quickly basic features of daily life become upended.
It also demonstrates that people are more likely to suffer collateral damage from the coronavirus, by being caught in a lockdown, by having their income suffer due to lockdowns, supply chain disruption, or other precautions. For instance, conferences seem to be imploding; one wonder when if and when people will start cutting back on non-essential domestic travel.
We've already pointed out the risk of medicine shortages. Readers have said MRE kits are sold out in US and Canadian online stores (but these are a staple of preppers and it's easy to see them adding to their stockpiles). Masks are also getting to be in short supply.
But this conflates two issues: what level of hoarding makes sense for such a difficult to assess risk as being locked down? It's the classic fat tail: the odds aren't high, but the consequences are pretty bad. And one has no idea how long it might persist if it were to occur.
If you read the SBS article carefully, you'll note stores near but not in the lockdown area were also cleaned out. Residents no doubt worried the cordon might be extended to include their town and acted accordingly.
This risk raises additional imponderables in the US. For instance, what if parts of California become locked down? Would the ripple effects include truckers being reluctant to risk infection to haul produce out? You could see the perverse effect of a fruit and veg glut in California and the rest of the US eating more rice and beans.
So I am asking you to parse out: what if anything are you going to prepare for possible coronavirus disruption, and what if any anti-infection practices are you taking?
I'll natter on a bit on my situation.
Coronavirus disruption. individuals have wildly different profiles as to their personal scarcity and excesses. Were I still in New York, I would have very little storage space even if I wanted to stock up. Here, we have two refrigerators and a refrigerator-sized freezer, so I am putting some things away. But the idea of not having fresh vegetables bugs me. Frozen fruit is a no-brainer, especially berries. Frozen spinach is fine and if I can find time, I have a very easy cooked kale dish and I can put a lot of that away. But I have to do the evening meal for my mother and I pointedly avoid real cooking since I've never done that and do not have time to learn now (grilled meat, a very simple chicken dish, or scallops are as far as I go; I'd cook fish but forget about finding decent fresh fish in the grocers, along with some steamed fresh veg and maybe some sweet potato is as far as I go).
She does love butter so I am going very long butter and I may have to figure out how to do something with canned tomatoes if we get stuck. Maybe dried or canned mushrooms too.
Please don't say rice and beans; I don't have time to cook beans and my mother wouldn't eat them. I am getting lots of steel cut oatmeal and grits (she might eat grits with enough butter and cheese) and have found a black bean soup she deems OK. I should probably buy pre-peeled garlic since that will keep and some onions even though that will last only so long. I'm not sure how many pounds of meat and chicken to buy (for her; I would be happy eating tofu and canned fish and just got a lot of the latter). And of course lots of sweet potatoes.
Oh, plus hopefully enough alcohol and some desserts to freeze and dark chocolate. And plenty of my mother's breakfast breads. And I need to check our spice inventories and also get some of those normally-useful-only-in-a- pinch lime and lemon juices (the kind in those environmentally nasty fruit-shaped plastic dispensers).
My father did have a garden in our back yard and my mother though of having the yardman revive that, but is there any produce that will get well being tended only a day a week? I don't have the time, joints, or know how to garden.
And regarding meds, you'd think I could advance buy for a 92 year old woman. Nope, her Medicare Advantage plan very much limits stocking up (I am trying to get the attention of her doctor with no luck so far). By contrast, I can buy the entire amount my MD prescribes when the scrip goes to the pharmacy (as in all refills up front). But I do have a ginormous amount of dietary supplements on hand.
Any other suggestions, recognizing the key boundary condition that I do not have the time or interest to learn how to cook?
Minimizing infection risk. Honestly, I am not sure there is much that can be done beyond relentless hand hygiene and reducing contact versus a hazmat suit.
One reader gave a very useful pointer: 70% alcohol is apparently better for killing microbes and viruses than 90+%. I have taken to being the crazy person at the gym and wipe down the dumbbells and all equipment handles and grips before I use them. I also wipe down the handles of shopping carts and took up clarky90's idea of putting my hands in thin plastic veggie bags when I need to put my hands on things in the store and deal with checkout equipment. It ought to be effective and doesn't lead to too many odd looks.
I am skeptical re retail-grade hand sanitizers and the authorities seem to agree:
Outside the health care setting evidence to support the use of hand sanitizer over hand washing is poor…Alcohol-based hand sanitizer is recommended only if soap and water are not available
I am very skeptical about masks. The ones that work (n95 respirators) take training to put on properly. When they are on correctly, they are so difficult to breathe through that doctors say they need to take a break every half hour or so, they start getting panicky about the effort.
So even if you can procure one and wear it correctly, I would reserve its use for real high risk situations, like going to a place where you have good reason to worry about exposure and will be in close quarters, like a doctor's office.
One good bit of news is children aren't vectors for this disease, so being around them and teachers isn't all that hazardous. However, I have a problem here I can't readily solve, in that my mother has home health care aides that come in ever day. I'm not around to see how often they wash their hands; they are supposed to when they come in and I put up a sign to that effect, but do they after running errands too? I have no way of knowing.
The other 19th century health method is airing out your quarters regularly. And stay well rested.