Bumblebees remember objects they see and recognize them by touch Agence France Presse
Colombia has a hippopotamus problem – thanks to Pablo Escobar AP
Three charts on private equity FT Alphaville
World Bank's pandemic bonds sink as coronavirus spreads FT
#COVID-19
Lambert here: Today's links are a bit heavy on #COVID-19. But it does seem to be a big story, with a lot happening at once. I'll try for better balance next Links.

Potential Presymptomatic Transmission of SARS-CoV-2, Zhejiang Province, China, 2020 Emerging Infectious Diseases CDC

Characteristics of and Important Lessons From the Coronavirus Disease 2019 (COVID-19) Outbreak in China JAMA. From the "Response to the COVID-19 Epidemic" section:

The timing of the COVID-19 outbreak, prior to China's annual Lunar New Year holiday, was an important factor as China considered how to respond to the outbreak. Culturally, this is the largest and most important holiday of the year. It is the expectation that people return to their family homes, which is the cause for the several billion person-trips made by residents and visitors during this time, mostly on crowded planes, trains, and buses. Knowing this meant each infected person could have numerous close contacts over a protracted time and across long distances, the government needed to quickly act. However, it was not only the speed of the government's response, but also the magnitude of that response that were influenced by the impending holiday travel time.

Remarkably, or not, the debacle of the CCP's initial response goes undiscussed.

* * *

Coronavirus COVID-19 Global Cases by Johns Hopkins CSSE Johns Hopkins. This is the ArcGIS map that required a log-in yesterday. It is working for me as of this writing. We weren't the only ones asking:

The acting deputy secretary of homeland security is asking the internet where to get information about the spread of #Covid19.

We are so borked. pic.twitter.com/hWony9uGG4

— Greg Greene (@ggreeneva) February 24, 2020

Why does the US have so few confirmed coronavirus cases? AEI

* * *

You're Likely to Get the Coronavirus The Atlantic. Deck: "Most cases are not life-threatening, which is also what makes the virus a historic challenge to contain."

Spreading Across Continents, a Lethal Virus Tests a Fraying Global Order NYT

* * *

Collect 620 kg of used medical masks (Google translation) VN Express (Re Silc). Speaking of the rules-based international order, whose key rule is that you can screw people like this:

Classic example of a tie-in sale, the only way to purchase a box of 50 masks at Bonjour is to get this package, which includes facial masks, moisturiser, wipes – available only to VIP members. pic.twitter.com/xBcSt4Xacu

— Rachel Cheung (@rachel_cheung1) February 24, 2020

Scoop: Coronavirus threatens shortages of about 150 drugs Axios
Moscow targets Chinese with raids amid virus fears AP
China?
Analysis: Coronavirus has temporarily reduced China's CO2 emissions by a quarter CarbonBrief. Handy chart:

Useful proxy.

Xi's Response to Virus Foreshadows an Even Tighter Grip on China Bloomberg. Never let a crisis go to waste.

Why some experts are questioning China's coronavirus claims CBC

Protecting the Truth About the Coronavirus in China The Nation

Virus epicenter Wuhan revokes announcement easing lockdown Reuters
The Koreas
Coronavirus: infected health official leading South Korea's fight against Covid-19 is member of Shincheonji Church of Jesus South China Morning Post. Oh:

This is how Shincheonji holds its service – all sitting down very closely for hours, chanting "amen" in unison many times over. Perfect way to spread people's spittle. pic.twitter.com/tcr3ySCNct

— T.K. of AAK! (@AskAKorean) February 21, 2020

Oy:

LIVE IN SEOUL'S GWANGHWAMUN: This is absolute madness. Conservative groups have defied the ban on protests re: containing the spread of coronavirus in South Korea, which has surged. Most people here are elderly. They are singing "Imprison Moon Jae-in". Large police presence. pic.twitter.com/C8nanNTbA6

— Raphael Rashid (@koryodynasty) February 22, 2020
Italy
The coronavirus is wreaking havoc across European health services as Italy becomes the most-infected area outside of Asia Business Insider

Italy's Far-Right Seeks to Gain from Coronavirus Outbreak Time
Japan
Railway Station Employee Near Tokyo Infected With Coronavirus Bloomberg. Uh oh…
Preparedness and vulnerability of African countries against importations of COVID-19: a modelling study The Lancet. Could be worse.
Syraqistan
C.I.A. Names the 'Dark Prince' to Run Iran Operations, Signaling a Tougher Stance NYT
Lithium coup?
Under Evo, Bolivia was already beginning to manufacture lithium products in state factories (YLB).

Now, the coup leaders are asking Elon Musk to do it. Over twitter. https://t.co/VGKGJkeyFA

— Ollie Vargas (@OVargas52) February 23, 2020
Protesting Haitian Police Exchange Gunfire With Soldiers Outside National Palace Time
Chilean gov't braced for March protests, says president Xinhua
New Cold War
The Politicization of Russia Policy Is a Massive Mistake The National Interest
Grenfell public inquiry delayed again over evidence concerns Guardian
RussiaGate
FBI official warns Russia 'wants to watch us tear ourselves apart' amid intel briefing controversy CNN

Russia Isn't Dividing Us — Our Leaders Are Matt Taibbi, Rolling Stone

Intelligence Sources: All Candidates Are Russian Agents But Pete Buttigieg Caitlin Johnstone, Medium
Trump Transition
Supreme Court allows 'public charge' rule to take effect nationwide The Hill
Market plunge over coronavirus fears underscores political risk to Trump WaPo. Headline, top left. Priorities!
2020
Mike Bloomberg prepares media onslaught against Democratic front-runner Bernie Sanders CNBC

Bloomberg called Warren 'scary' and vowed to 'defend the banks' in closed-door 2016 event CNN

Bloomberg's Investment Portfolio Includes Bets on Private Equity, Fracking The Intercept

Bloomberg needs to take down Sanders — immediately Joe Lockhart, CNN (Nippersmom). Open grifting. Lockhart was a founder and managing director of the Glover Park Group, a snake pit of Democratic strategists. (Motto: "Own the conversation".) They think Bloomberg is a mark, and who's to say they're not right? They are, after all, subject matter experts in that area.

Sanders says he would 'absolutely' be willing to use military force if elected president The Hill

Finally, Can We All Agree? Everything We Were Told About Bernie Sanders Was Wrong Mehdi Hassan, The Intercept (Re Silc).
Assange
Class Warfare
The Robots Are Not Coming for All of Our Jobs Jacobin

Thomas Piketty's 'Capital and Ideology': scholarship without solutions FT
Nations seek biodiversity accord to stave off mass extinction Agence France Presse
Antidote du Jour (via):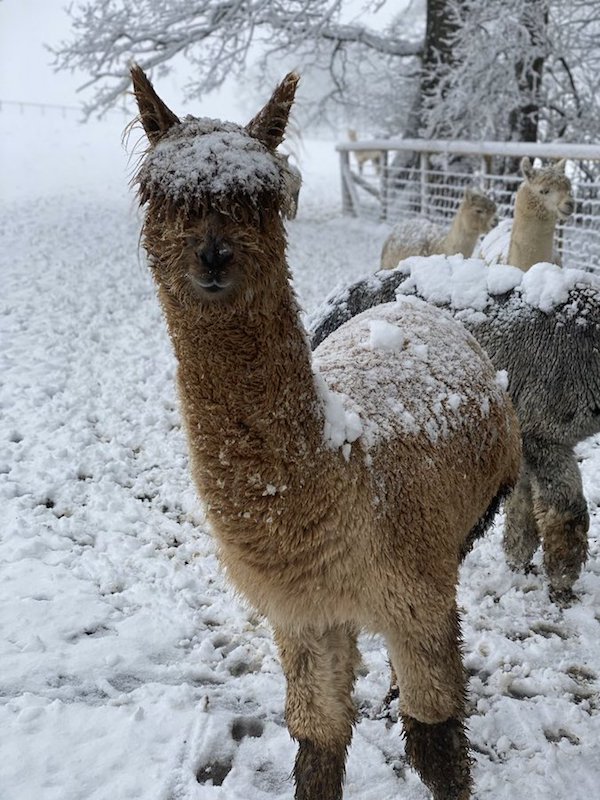 Bonus antidote, a lovely story:
He was so tiny and vulnerable. pic.twitter.com/KAg7GaukfB

— Howard Hardiman (@howardhardiman) January 9, 2020
See yesterday's Links and Antidote du Jour here.