By Lambert Strether of Corrente.
More politics shortly. Got wrapped around the axle with the WHO announcement (see Health). –lambert UPDATE All done!
Politics
"But what is government itself, but the greatest of all reflections on human nature?" –James Madison, Federalist 51
"They had one weapon left and both knew it: treachery." –Frank Herbert, Dune
"They had learned nothing, and forgotten nothing." –Charles Maurice de Talleyrand-Périgord
Key dates coming fast now, so I added some counters:
Some of the next primaries. (I picked the major dates; here is a complete calendar.)
I removed the mysterious "MP" from next week's primaries.
* * *
2020
We encourage readers to play around with the polling charts; they are dynamic, and there are a lot of settings, more than I can usefully show here. Here is a link to alert reader dk's project. You can also file bug reports or feature requests using the same contact process as for Plants, below. Thanks — but no promises!

Today we have one national poll from YouGov as of 3/11/2020, 12:00 PM EDT. The empire strikes back:

(Note the miserably small sample size.) And the numbers:

Biden's ups and downs have been of much greater amplitude than other candidates.

* * *

Biden (D)(1): "Joe Biden needs to say now who'll be in his White House. It's the only way he beats Trump | Will Bunch" [Will Bunch, Philadelphia Inquirer]. "The other Biden problem was dramatized by the freak-out over the unsourced Axios story that he might staff his administration with Wall Street hacks: Young voters under 30 simply don't trust him…. The simple fix? Biden shouldn't wait until December — when we might be out in the streets wondering how the hell Trump won by 78,000 votes again — or even until the Democratic convention in Milwaukee in early July, when the party needs to be more unified than it is now, to reveal some of the key players in his administration." • And the players mentioned — wait for it — Jay Inslee (climate czar), Sally Yates. Marie Yovanovitch, and Fiona Hill (high-level jobs), Pete Buttigieg (commerce), Stacey Abrams and Andrew Gillum ("re-certified as Cabinet members"). • Yes, that is totally the Cabinet to set the youth vote on fire. ("Fiona Hill's gonna be a National Security advisor!" "Dude!") There is also not a single Sanders supporter mentioned. Why not Jayapal at HHS, to pick an obvious example? Gabbard for the UN, to pick an outsider? Bunch is not a bad person. But oh, the Establishment stench…

Biden (D)(2): If Joe Biden Wins The Nomination But Suffers Cognitive Decline, The DNC Could Get Their Coronation After All" [Medium (antidlc)]. "As Vice President Biden seems to be struggling with memory and speech tasks, is he also being used by a Party he supported for decades? Perhaps Biden does have early stages of dementia, or perhaps he is just stressed. Regardless, I believe that if Biden wins the nomination, they will find a way to remove him from the ticket 'due to a decline in health.' After this vacancy is established, the Democrats are free to arbitrarily replace Biden with whomever they want."

Biden (D)(3): "'Never Trump' Republicans Will Support Biden, Not Sanders" [Sarah Longwell, New York Times]. "As more data emerge to explain former Vice President Joe Biden's stunning victory on Super Tuesday, there are two clear demographics that propelled him: African-American voters and suburban voters with college degrees….It's that helped moderate Democrats flip seven governorships, two Senate seats and about 40 House districts… African-Americans have long made up a core of the Democratic voting base, but many of Mr. Biden's college-educated, suburban supporters are right-leaning independents or moderate Republicans who supported candidates like John McCain and Mitt Romney. They don't want to re-elect Donald Trump. And they're willing to cross over to vote for a Democrat — a moderate and mainstream Democrat." • Ruy Teixeira must be rolling in his Aeron chair at CAP. So much for the coalition of the ascendant! Coalitions are supposed to have staying power, and a party built on a foundation of reactionary party establishments in Southern states the Democrats will never win plus Democrat-curious Republicans is hardly built for the long haul. To be fair, Republicans have already cheerfully voted for one President who was losing his mind in cognitive decline. So there's that.

Sanders (D)(1): Debate goals:

UPDATE Sanders (D)(2): "This Is Not the Moment for Progressives to Despair" [Jamelle Bouie, New York Times]. "If Biden goes on to win the White House, there's real space for the pro-Sanders left to work its will on policy. It can use its influence to steer Biden toward its preferred outcomes. It can fulfill some of its goals under the cover of Biden's moderation, from raising the minimum wage nationally to pushing the American health care system closer to single-payer. This may sound a lot like wishful thinking. And if Biden were a different politician — if, like Sanders, he was strongly ideological — I might also doubt his malleability. But Biden, like Northam, is a creature of the party. He doesn't buck the mainstream, he accommodates it." • I understand the argument, but (1) this was tried with Obama. Obama, quoting FDR, said "Go out and make me do it." And on Gitmo, withdrawal from Afghanistan, torture, foreclosures, nationalizing the banks, prosecuting banksters, and health care, "holding Obama's feet to the fire" failed, all along the line. I certainly don't despair, because the Left told the oligarchy in the fifth largest economy in the world to get [familu blogged], and proved it could self-fund a campaign of national scale, but then I'm not a tepid centrist like Bouie.

UPDATE Sanders (D)(3): "Biden Prevails, Even Though Voters Prefer Bernie's Ideas" [The Nation]. • Personnel is policy.

UPDATE Sanders (D)(4): "Bernie Supporters, No Surrender" [Jacobin]. "Too many react to the present situation with self-pity when, after five decades of political marginalization, awe is more appropriate…. We should fight to the end for Bernie Sanders's campaign, on the off chance that we might win a new beginning. And then, win or lose, we should be prepared to fight some more. As the great reformer Tony Benn put it, 'There is no final victory, as there is no final defeat. There is just the same battle. To be fought, over and over again. So toughen up, bloody toughen up.'"

UPDATE "Exclusive: White House told federal health agency to classify coronavirus deliberations – sources" [Reuters (Keith Howard)]. "The White House has ordered federal health officials to treat top-level coronavirus meetings as classified, an unusual step that has restricted information and hampered the U.S. government's response to the contagion, according to four Trump administration officials…. A fifth source familiar with the meetings said HHS staffers often weren't informed about coronavirus developments because they didn't have adequate clearance. He said he was told that the matters were classified 'because it had to do with China.'… 'It seemed to be a tool for the White House – for the NSC – to keep participation in these meetings low,' the official said." • Reuters. Not from the Beltway! Hence the diversion: "Trump's national security adviser says China 'covered up' coronavirus" [The Hill]. • Guess we won't be needing any masks from them soon. Or pharmaceuticals!

* * *

CA: "Bernie lost 553,000 Votes to California Dem Party Rules" [Greg Palast]. The rules are as arcane as, say, a Jim Crow literacy test. Suffice to say that the ingenious Democrat Establisment has devised a complex scheme to prevent Independents from voting on Presidential ballots. "What's the impact of this labyrinthine ballot dance? A lot, according to the statistician Paul Mitchell, vice president of Political Data Inc, a private firm employed by both the Republican and Democratic parties. Mitchell recently completed a poll of 700 independent voters and found that while 61% wanted to vote in the Democratic primary, nearly half (45%) were clueless about how to get a Democratic ballot. Another third of NPP voters believed that they could not exchange their no-candidate ballots — though the law says they may… Mitchell's pollsters also asked 300 NPP voters whom they'd vote for if they had obtained the correct ballot. About 26% preferred Sanders, which translates to 553,000 potential lost votes, by Mitchell's estimates. Mike Bloomberg, meanwhile, could come up 383,000 votes short." • If anybody's ever wondered why I always write "Democrat Party" instead of "Democratic Party," shenanigans like this are why. I don't care if loyalists who think the Democrat Party is something other than what it is get upset.

CA: "Long lines, voting problems prompt an investigation, grilling of L.A.'s elections chief" [Los Angeles Times]. "The Los Angeles County Board of Supervisors on Tuesday ordered an investigation into complaints about long waits and equipment malfunctions that hampered voting at many poll centers during last week's primary election." • There certainly does seem to be a lot of totally coincendental voter suppression and ballot shenanigains going on this year.

* * *

"A New Conservative Think Tank Challenges 'Market Fundamentalism'" [National Review]. "I would disagree with two things that you just said there. First, your characterization of the financial well-being and material living standards of the working class is not entirely fair. If you think it is, I encourage you to read Oren Cass's cost-of-thriving index report. Second, aggregate measures of well-being are problematic. Problems such as deaths of despair and the fallout from the China shock, which David Autor and his colleagues have documented — these are geographically concentrated problems, but these don't necessarily characterize the entire country. We need to acknowledge that the aggregate economic statistics do not map neatly onto social reality." • Wasn't the phrase "deaths of despair" invented by Putin? To divide us? That must be why you never hear it from Establishment Democrats.

"How Do You Properly Clean a Voting Machine?" [Wall Street Journal]. • I know! I know! By throwing it into a dumpster, and replacing it with hand-marked paper ballots, hand-counted in public.

Electronic pollbooks are another digital fraud:

OMG read this. Again, it's e-pollbooks from Knowink that effed up. Knowink has insinuated itself into 25 states. Knowink e-pollbooks failed in LA and GA. I have heard there were issues in MO too. This is Idaho. Knowink's managing director is a former Republican election official. https://t.co/BtcNu3WZI6

— Jennifer Cohn ✍? (@jennycohn1) March 11, 2020

* * *
Realignment and Legitimacy
UPDATE At least he's trying:

Terry McAuliffe just offered to take his Muslim fellow CNN panelist out drinking on St. Patrick's Day, only for him to inform him he doesn't drink, so how's your night going

— Alex Griswold (@HashtagGriswold) March 11, 2020

UPDATE Hardy perennial:

this tweet gets quoted all the time so i just want to say: it wasn't prescient. it was satirizing what had already been happening for years and the fact that it's still relevant is sad https://t.co/pd096clVqM

— california guy now (@InternetHippo) March 11, 2020
Stats Watch
At reader request, I added some business stats back in. Please give Econintersect click-throughs; they're a good, old-school blog that covers more than stats. If anybody knows of other aggregators, please contact me at the email address below.
Surveys taken before #COVID-19 really hit:
Inflation: "February 2020 CPI: Year-over-Year Inflation Rate Slows to 2.3%" [Econintersect]. "The index for energy was the reason for the decline of the CPI-U. Medical care services cost inflation increased from 5.1 % to 5.3 % year-over-year."
Shipping: "February 2020 Export Sea Container Counts Significantly Improve" [Econintersect]. "Simply looking at this month versus last month – this month was an improvement over last month for exports – but imports significantly declined. The three-month rolling averages for imports slipped deeper in contraction but exports is now in expansion…. Imports container counts give an indication of the U.S. economy's state and the soft data continues to indicate a weakening U.S. economy. Container data is consistent with other transport data indicating a weak economy."
* * *
Tech: "Smart Devices Will Eventually Die, and the Internet Is to Blame" [Vice (RH)]. "You can sell a 30-year-old car and it maintains some semblance of value, especially if it's been well-maintained. Products like baseball cards and books still remain things people want to buy many years after they were first produced. But if a smart speaker company can't promise that your internet-enabled device will be able to hook up to the internet eight years after you bought it, it's useless. Because, remember, a loss of updates doesn't just mean you'll get the fanciest new features—but it means you won't get access to security updates that will keep the device alive for decades to come…. Many consumer products have far higher standards for longevity than 15 years. By allowing computers to infiltrate everything else—by adding things to our internet—we've decimated the long-term value of these products unnecessarily, all for someone else's short-term gain." • You say "someone else's short-term gain" like that's a bad thing.
* * *
Today's Fear & Greed Index: 4 Extreme Fear (previous close: 6 Extreme Fear) [CNN]. One week ago: 15 (Extreme Fear). (0 is Extreme Fear; 100 is Extreme Greed). Last updated Mar 11 at 12:12pm.
The Biosphere
"Ride-hailing has a climate problem" [Anthropocene]. "Ride-hailing trips on services such as Uber and Lyft create about 70 percent more pollution on average than the trips they replace, according to the analysis by the Union of Concerned Scientists. 'In communities across the country, ride-hailing is increasing vehicle travel, climate pollution, and congestion,' the authors write. Since Uber's debut a decade ago, the ride-hailing and sharing industry has grown explosively around the world. These services are making it easier than ever to keep your car at home or not buy one in the first place. But they are a climate problem for two reasons, the report states. One is that they increase the number of car trips overall, by steering people away from walking, biking, taking public transport, or just skipping the trip. The other reason is that ride-hailing increases the number of miles a car travels to get from place to place between passengers." • Thank you, Silicon Valley, and especially the VCs. We couldn't have done it without you!
"Why Alaskans Are Trying to Recall Their Governor" [The New Yorker]. The lead: "Alaska does not levy taxes on sales, income, or personal property. In 1968, the largest oil field in North America was discovered on state land in Prudhoe Bay, a windfall that began Alaska's transformation into a petrostate. For decades, oil revenues supplied not only the majority of its budget but helped establish the Permanent Fund Dividend, or P.F.D., a yearly check given to each Alaskan, based on returns from a sovereign-wealth fund. But four years ago, after a precipitous decline in oil prices, the previous governor, an independent named Bill Walker, reduced the P.F.D. as part of an effort to close the growing budget deficit. It was an unprecedented—and deeply unpopular—move, which doomed his chances for a second term."
"Philly refinery shutdown pitted workers against climate activists. Did it have to be that way?" [Philadelphia Inquirer]. "Marsden, 30, was one of the hundreds of union workers who lost their jobs — good jobs, six-figure-salary jobs — when the East Coast's largest oil refinery abruptly shut down after an explosion ripped through the South Philly facility last summer. She'll have to leave Philadelphia, where she's lived all her life, if she wants to stay in the industry. 'They say they support us — the workers — but there's no plan for us,' Marsden said last month at the Erin Pub, the bar next to her union hall in Norwood, Delaware County. To some in her union, it was a group of climate activists called Philly Thrive who were among the biggest hypocrites. Philly Thrive — an alliance of young progressive organizers, or 'elites,' as Marsden's former union president called them, and poor black people who said their families were suffering health issues from living near the refinery — claimed to support the workers. Still, they declared victory and celebrated when the refinery was shut down for good. 'There is no 'just transition,' " Marsden said, referring to the term advocates use to describe how workers like her should be supported in the move away from fossil fuels. 'It's shutting us down, putting us out of work, and that's it.'"
"" [The Conversation]. "Jeff Bezos, Amazon CEO and the richest man alive, recently made headlines after pledging to donate $10 billion to a new "Bezos Earth Fund" to help combat climate change. It's one of the largest charitable gifts in history. Though details regarding the exact kind of work that will be funded are scarce, Bezos noted in his announcement on Instagram that the new global initiative will 'fund scientists, activists, NGOs – any effort that offers a real possibility to help preserve and protect the natural world.'…. Bezos' contribution highlights the dangers of relying on billionaire philanthropy at the expense of the democratic social transformation that is needed to adequately address the climate and ecological crisis. By contributing such significant sums, the wealthy elite exert ever greater influence over the organisations they control, media platforms and public policy discussions."
"Canada's LNG dreams fade as blockades add new costs to industry" [WorldOil]. • That's a damn shame.
Health Care
"Coronavirus has been declared a pandemic: What does that mean and what took so long?" [USA Today]. "Is a pandemic different than an epidemic? Yes. While an epidemic describes an illness affecting a defined region, a pandemic has a global impact. In February, Fauci explained why coronavirus hadn't yet met the definition of a pandemic. At that time the virus' spread in other countries has not yet been sustained for a significant amount of time. And since many of the cases outside China were related to travel, the virus' global impact wasn't yet considered widespread….That situation has evolved in recent weeks."
"WHO Director-General's opening remarks at the media briefing on COVID-19 – 11 March 2020" [World Health Organization]. From Tedros Adhanom, Director general of the World Health Organization"]:
WHO has been assessing this outbreak around the clock and we are deeply concerned both by the alarming levels of spread and severity, and by .

We have therefore made the assessment that COVID-19 can be characterized as a pandemic.

Pandemic is not a word to use lightly or carelessly. It is a word that, if misused, can cause unreasonable fear, or unjustified acceptance that the fight is over, leading to unnecessary suffering and death.

Describing the situation as a pandemic does not change WHO's assessment of the threat posed by this virus. It doesn't change what WHO is doing, and it doesn't change what countries should do.

We have never before seen a pandemic sparked by a coronavirus. This is the first pandemic caused by a coronavirus.

And we have never before seen a pandemic that can be controlled, at the same time.
True. Certainly, South Korea has flattened the curve. More:
Several countries have demonstrated that this virus can be suppressed and controlled.

The challenge for many countries who are now dealing with large clusters or community transmission is not whether they can do the same – it's whether they will.

Some countries are struggling with a lack of capacity.

Some countries are struggling with a lack of resources.

Some countries are struggling with a lack of resolve.

to slow the virus and control their epidemics.

We know that these measures are taking a heavy toll on societies and economies, just as they did in China.
Pointedly, the United States is nowhere mentioned.
* * *
"Government coronavirus response updates: Fauci warns Congress 'it's going to get worse'" [ABC]. "Maloney leveled harsh criticism of the administration's response. 'My question is if the Trump administration is exacerbating the crisis by downplaying it,' she said. 'My constituents are telling me they can't get tested.' 'South Korea can test more people in one day than we have in the last two months,' Maloney noted, asking why the U.S. hasn't tested more people. CDC Director Dr. Robert Redfield testifies in front of the House Oversight committee on the coronavirus response, March 11, 2020, in Washington, D.C.CDC Director Dr. Robert Redfield testifies in front of the House Oversight committee on the coronavirus response, March 11, 2020, in Washington, D.C. Redfield defended the CDC, saying tests were always available at the CDC in Atlanta suggested some responsibility lay with the private sector. But — a critical step in coronavirus testing. The hearing turned especially testy when Rep. Stephen Lynch, D-Mass., confronted the witnesses with misleading statements made by President Trump, repeating his claims that the tests were available to anybody who wanted one and are 'perfect' and 'beautiful.'" "Not confident." Maybe we could ask China for help.
"Coronavirus map: Track COVID-19′s spread in your state, around the world in real-time" [Syracuse.com]. "UPDATE 12:36 p.m.: The Johns Hopkins University map no longer contains county level data. A statement from the university said that in order to maintain timeliness and accuracy of the data in light of the "increasing rate of cases being reported domestically in the U.S. and worldwide," the map had to focus on reporting only at the state and country level. A different map, this one maintained by the University of Washington, is still reporting county-level data, however that map is not updated as frequently as the Johns Hopkins University map." • That's very unfortunate. People who are flying need to know what airports are hot spots, not what states. And people who are driving need to know what cities. And people with relatives in nursing homes (or schools (or jails)) need county-level data, too. If the goal is social distancing, so people don't travel at all, just gate the site for scientists. State-level data is pretty much useless except as decoration.
"New Study on COVID-19 Estimates 5.1 Days for Incubation Period" [Johns Hopkins]. "An analysis of publicly available data on infections from the new coronavirus, SARS-CoV-2, that causes the respiratory illness COVID-19 yielded an estimate of 5.1 days for the median disease incubation period, according to a new study led by researchers at Johns Hopkins Bloomberg School of Public Health. This median time from exposure to onset of symptoms suggests that the 14-day quarantine period used by the U.S. Centers for Disease Control and Prevention for individuals with likely exposure to the coronavirus is reasonable. The analysis suggests that about 97.5 percent of people who develop symptoms of SARS-CoV-2 infection will do so within 11.5 days of exposure. The researchers estimated that for every 10,000 individuals quarantined for 14 days, only about 101 would develop symptoms after being released from quarantine." • n=181 (from China).
"How the Biogen leadership conference in Boston spread the coronavirus" [Boston Globe]. "They greeted each other enthusiastically, with handshakes and hugs, and then caught up over breakfast, picking from plates of pastries and the self-serve hot food bar. They were there for two days of discussions and presentations about the future of the Cambridge-based, multinational biotech firm, which develops therapies for neurological diseases. It was the kind of under-the-radar gathering that happens in this region just about every week. Within days, though, the Biogen conference would be infamous, identified as an epicenter of the Massachusetts outbreak of Covid-19, with 70 of 92 coronavirus infections in the state linked to the conference as of Tuesday night, including employees and those who came into contact with them." • The sequence of events seems positively Wuhan-like, although not on the scale of a banquet for 40,000 with shared food.
UPDATE I would like to thank both parties for building a health care system where we are fighting a pandemic with GoFundMe:
this tweet gets quoted all the time so i just want to say: it wasn't prescient. it was satirizing what had already been happening for years and the fact that it's still relevant is sad https://t.co/pd096clVqM

— california guy now (@InternetHippo) March 11, 2020
Class Warfare
UPDATE "Assortative Matching at the top of the distribution: Evidence from the World's Most Exclusive Marriage Market" (PDF) [Marc Goñi, Department of Economics, University of Vienna]. The abstract:
Using novel data on peerage marriages in Britain, I find that low search costs and segregation in the marriage market can generate sorting. Peers typically courted in the London Season, a matching technology introducing aristocratic bachelors to eligible debutantes. When Queen Victoria went into mourning for her husband, the Season was interrupted (1861–63), exogenously raising search costs, and reducing market segregation. I find a 24% increase in peer-commoner intermarriage and a 36% decrease in sorting along landed wealth. My second contribution is to show empirically that assortative matching affected peers' political power and distorted public goods' provision."
So, we have a natural experiment in social distancing.
News of the Wired
Not feeling particulary wired today. Sorry!
* * *
Readers, feel free to contact me at lambert [UNDERSCORE] strether [DOT] corrente [AT] yahoo [DOT] com, with (a) links, and even better (b) sources I should curate regularly, (c) how to send me a check if you are allergic to PayPal, and (d) to find out how to send me images of plants. Vegetables are fine! Fungi and coral are deemed to be honorary plants! If you want your handle to appear as a credit, please place it at the start of your mail in parentheses: (thus). Otherwise, I will anonymize by using your initials. See the previous Water Cooler (with plant) here. Today's plant (JN):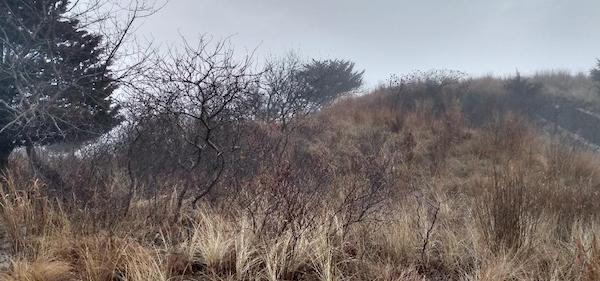 This photo has a lovely rhythm to it.
* * *
Readers: Water Cooler is a standalone entity not covered by the annual NC fundraiser. So if you see a link you especially like, or an item you wouldn't see anywhere else, please do not hesitate to express your appreciation in tangible form. Remember, a tip jar is for tipping! Regular positive feedback both makes me feel good and lets me know I'm on the right track with coverage. When I get no donations for five or ten days I get worried. More tangibly, a constant trickle of donations helps me with expenses, and I factor in that trickle when setting fundraising goals:
Here is the screen that will appear, which I have helpfully annotated.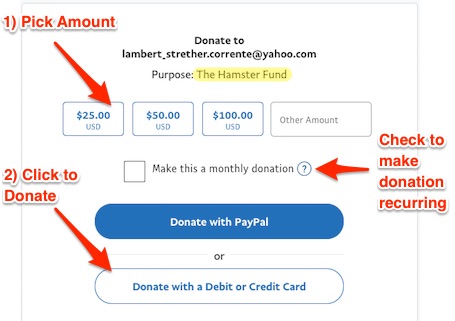 If you hate PayPal, you can email me at lambert [UNDERSCORE] strether [DOT] corrente [AT] yahoo [DOT] com, and I will give you directions on how to send a check. Thank you!