By Lambert Strether of Corrente.
Patient readers, thank you so much for your collectively spectacular comments during my dereliction of connectivity traveling yesterday. I knew the NC commentariat was well-read, but now I really know it! Holy moley! –lambert Also, I'll make up for my absence with some more material on #COVID-19 (and maybe for politics).
Politics
"But what is government itself, but the greatest of all reflections on human nature?" –James Madison, Federalist 51
"They had one weapon left and both knew it: treachery." –Frank Herbert, Dune
"They had learned nothing, and forgotten nothing." –Charles Maurice de Talleyrand-Périgord
Key dates coming fast now, so I added some counters:
Some of the next primaries. (I picked the major dates; here is a complete calendar.)
* * *
2020
We encourage readers to play around with the polling charts; they are dynamic, and there are a lot of settings, more than I can usefully show here. Here is a link to alert reader dk's project. You can also file bug reports or feature requests using the same contact process as for Plants, below. Thanks — but no promises!

Today we have one national poll from Morning Consult and polls from FL, IL, and OH as of 3/13/2020, 12:00 PM EDT. The empire strikes back:

(Note the nice big sample size.) And the numbers:

And now the state polls (caveating that state polls are small, infrequent, and bad. First, FL:

FL numbers:

IL:

IL numbers:

OH

OH numbers:

Pretty much the same story everywhere. Earlier in the year, we often had occasion to comment on the mysterious strength of the Biden Juggernaut, on display here; but it's also true that Biden's ups and downs have been of much greater amplitude than other candidates.

* * *

Biden

Biden

https://www.politico.com/news/magazine/2020/03/11/michigan-romp-shows-biden-could-rebuild-democrats-blue-wall-vs-trump-125489

Biden

he did though!! https://t.co/PfWe4EnBcK

— ryan cooper (@ryanlcooper) March 10, 2020

Sanders (D)(1): #NotMeUs:

Right now in Michigan, Bernie organizers are getting 100s of people signed up to provide housing, transport, food, etc to any student in need following #Covid_19 school closings. Hours after a disappointing MI election, we're doing mutual aid work. #NotMeUs is more than a slogan.

— Jeff Sorensen (@jeffreysorensen) March 12, 2020

This would scale (dk):

Thanks Katie! All credit to @aaronjmate for the idea. Bernie should embrace being Organizer in Chief right now and use his list to help support vulnerable communities. https://t.co/i5JNlNrIhh

— Krystal Ball (@krystalball) March 13, 2020

Not only right, but politically smart; see Krystal Ball here. Go out and serve the working class! dk commented:

Lambert you were talking about repurposing the Sanders app to overcome

the loss of large rallies, this is that.

There is risk of establishment + law enforcement pushback if it's not done carefully, not sure how good the discipline is. Very small margin for error.

Ideally a second app on a phased rollout (test early) would need more tracking of the user for accountability, to recognize and catch bad

actors. Personal data privacy/sharing concerns as well. This is not a no-brainer, with lessons from Uber and other job app-platforms to draw on.

Sanders (D)(2): "Most People Never Saw the Best of Bernie Sanders's Campaign" [The New Yorker]. "One of the reasons that Sanders's collapse—and Joe Biden's corresponding surge—has come as such a surprise to the political world (and the journalists who cover it) is that, whether you supported him or not, the Vermont senator's events, up close, were compelling. Sanders was offering regular people a platform to describe what was happening around them. "His suggestion, by asking you to speak up about your private anxieties, many of them financial, is that you . . . will begin to see your struggles not as personal failings, but systemic ones," BuzzFeed's Ruby Cramer wrote, in December. Sanders held these events throughout the fall and winter, campaigning in Iowa and elsewhere. It wasn't just college kids venting. Older people were standing up to tell their stories. Immigrants were standing up. Members of minority groups. This was not the vibe at Biden's events, where the candidate tended to ramble, and where you could feel the audience, even if they were loyal to him, go slack. Yet it wasn't enough." • Oddly, there was very little reporting on "the best of" Sanders campaign, given that many (most?) Sanders events were organized just like this. You would think the stories would have offered endless fodder for reporters, who are, after all, all about the narrative.

Sanders (D)(3): "Sanders Offers Biden A Path To Win Over His Movement" [NPR]. "'While our campaign has won the ideological debate, we are losing the debate over electability,' Sanders said. The recent underdog added that he disagrees that Biden is the stronger candidate to take on President Trump, 'but that is what millions of Democrats and independents today believe.' Sanders promised to show up at the debate on Sunday in Arizona to face Biden one-on-one, and basically offered him a cheat sheet: "Let me be very frank as to the questions that I will be asking Joe.' Sanders listed off issues central to his campaign, which he says are very important to younger progressives: health care costs, climate change, income inequality, student debt, racial disparities in criminal justice, immigration and housing affordability. So why tip Biden off to how you're going to challenge him on Sunday? Maybe Bernie Sanders wants Joe Biden to succeed." • Well, this is NPR. "Lie to me, Joe. Lie to me!"

Sanders (D)(4): "CALL For the 2020 Democratic National Convention" (PDF) [Democrats.org]. I had a look at the Loyalty Oath the DNC made the candidates (but really, only Sanders) sign:

Pursuant to Article VI of the Call for the 2020 Democratic National Convention, I hereby affirm that, upon publicly announcing my candidacy for the Democratic nomination for President of the United States in the 2020 election, I am a member of the Democratic Party. I will run as a Democrat, accept the nomination of my Party, and I will serve as a Democrat if elected. I understand that signing this form does not supplant any legal or Party requirement by any state or territory to qualify for ballot placement in that jurisdiction. Further, I acknowledge that the National Chairperson of the Democratic National Committee is authorized to determine whether a presidential candidate has established substantial support for their nomination as the Democratic candidate for the Office of the President of the United States, is a bona fide Democrat whose record of public service, accomplishments, public writings and/or public statements affirmatively demonstrate that the candidate is faithful to the interests, welfare and success of the Democratic Party of the United States, and will participate in the Convention in good faith.

Maybe there's something I've missed, but I don't see anything here that prevents a Third Party run. I don't think it's likely Sanders will do that, but I don't see it forbidden. I also don't see anything that would forbid Sanders from supporting the Democrat candidate (but under the branding of some other organization, e.g. Our Revolution).

* * *

"Judge agrees to recount of missed Dallas County primary ballots" [FOX 4]. "A judge on Tuesday authorized the Dallas County Elections Office to recount Super Tuesday votes from 44 electronic machines. Elections administrator Toni Pippins-Poole requested the recount after finding discrepancies between the number of voters and the number of votes counted from those machines. Attorneys said that this situation is unprecedented in Dallas County. There were thousands of missing votes because several dozen thumb drives containing votes were not included in the count. Officials said during testimony on Tuesday that about 8,000 votes were not counted and included in the official results due to the failure of some election judges to turn in thumb drives from 44 vote centers throughout the county. . The equipment used to cast and record votes is new. Last week's election was only the second time the machines were used in Dallas County." • One of the more hilarious continuing aspects of election 2020 is that the party that draws itself up in high dudgeon when it's called "Democrat" instead of "Democratic" can't seem to count votes accurately. Over and over again.

Warren (D)(1): "Elizabeth Warren Is Unlikely to Endorse Bernie Sanders. Here's Why." [New York Times]. "Those close to Ms. Warren say her foremost reason for not endorsing Mr. Sanders is simple: Since her exit from the race, his path to victory has looked unlikely. They doubt that Ms. Warren, even as the most prominent former candidate to have not backed another primary contender so far, could reverse Mr. Sanders's fortunes at this point, and fear that she risks squandering valuable political capital if she tries to do so and fails." • Again, I think Warren has a lot less political capital than she thinks she has.
Health Care
"What Do Likely Voters Think About Their Health Care?" [The Commonwealth Fund]. Handy chart:
Realignment and Legitimacy
Solidarity forever:

"The Dismantled State Takes on a Pandemic" [The New Republic]. • Well worth a read, but includes this amazing passage:

"As a clinician like yourself," [Robert Redfield, the director of the Centers for Disease Control and Prevention] said in his answer, " and helped develop it for the clinical side." He finished his response with more bewilderment: "I can tell you, having lived through the last eight weeks, I would have loved the private sector to be fully engaged eight weeks ago."

This is a remarkable parallel to this exchange between Alan Greenspan and Henry Waxman in 2008 after the Crash:

"," Greenspan said.

Referring to his free-market ideology, Greenspan added: "I have found a flaw. I don't know how significant or permanent it is. But I have been very distressed by that fact."

Waxman pressed the former Fed chair to clarify his words. "In other words, you found that your view of the world, your ideology, was not right, it was not working," Waxman said.

"Absolutely, precisely," Greenspan replied. "You know, that's precisely the reason I was shocked, because I have been going for 40 years or more with very considerable evidence that it was working exceptionally well."

Learned nothing and forgotten nothing. The article also includes this nugget: "This is how conservatives govern now, and even eight years of comparatively competent management by a liberal presidential administration was not enough to stem the larger trend of private negligence and public disinvestment. In its 2019 annual report on American public health funding, Trust for America's Health calculated that , after adjusting for inflation." • Neatly overlapping with the Obama administration, and an (almost) open admission that liberals are as complicit in dismantling government as conservatives.

"Blowing in the Whirlwind: As Ye Sow, Joe Shall Ye Reap" [Chris Floyd, Counterpunch]. "I think, perhaps, that we have come to such a crisis point on so many fronts that things are simply too overwhelming for most people to process, much less deal with, in any realistic way. Some strange combination of fatalism and magical thinking seems to have taken hold of large swathes of the electorate. There seems to be the feeling that we can't really do anything at all about the problems that are bearing down on us like a runaway train – climate disruption and all its ever-rippling repercussions; the rise of hyper-powerful rich elites manipulating our increasingly hollowed-out institutions for their own benefit; the economic demise of industry after industry, region after region, community after community; the endless wars, covert and overt, with their gargantuan corruption and pointless cycles of violence; the healthcare atrocities that leave millions of people literally begging on the internet to obtain even the barest minimum of medical help, and so on. In the face of all this, many people long to embrace some figure or another who promises us a return to the 'status quo': either some mythologized post-war era when America was 'great,' or just back to the Obama years, when things were 'normal.' Overwhelmed, battered, beset, anxiety-ridden, suffering, confused, many people don't want to hear that hard work and big changes will be necessary if we are to have a chance for things to get better. They just want to latch on to something that will let them feel – if only for a moment – that the anxiety can go away, that someone up there in the circles of power will take care of it for us. This is not the wisest course when faced with overwhelming crises – but it is an entirely natural and understandable one. When you couple this natural reaction to extremity with the aforementioned systematic effort to undermine and thwart the Sanders' campaign, then it's not surprising you end up with a blank screen like Joe Biden as your candidate." • One interesting feature of the 2020 campaign is that serial fabulists (Trump, Biden, and yes, Warren) have played such a dominating role in it.

"It's Time to Cancel the U.S. Presidential Campaign as We Know It" [Foreign Policy]. "For the first time in the country's history, the United States must contemplate canceling the Democratic and Republican national conventions and campaign rallies, and give serious consideration to arranging ways of organizing election day that don't require in-person voting… If the epidemic forces cancellation of the Milwaukee gathering, the party's candidate may be at a distinct disadvantage going into the general election against Trump and his base of loyal support…. Yet the political system should note that such sacrifices are not unprecedented. On Nov. 5, 1918, the United States held midterm elections for congressional seats during World War I. The Spanish influenza was raging across the United States, claiming huge death tolls in most of the nation's large cities and striking terror across the country. Politicians abandoned most campaigning rituals, such as rallies and speaking tours."
Stats Watch
At reader request, I added some business stats back in. Please give Econintersect click-throughs; they're a good, old-school blog that covers more than stats. If anybody knows of other aggregators, please contact me at the email address below.
Consumer Sentiment: "Preliminary March 2020 Michigan Consumer Sentiment Significantly Declined" [Econintersect]. Surveys of Consumers chief economist, Richard Curtin, makes the following comments: "Consumer sentiment fell in early March due to the spreading coronavirus and the steep declines in stock prices. Importantly, the initial response to the pandemic has not generated the type of economic panic among consumers that was present in the runup to the Great Recession. Nonetheless, the data suggest that additional declines in confidence are still likely to occur as the spread of the virus continues to accelerate. Perhaps the most important factor limiting consumers' initial reactions is that the pandemic is widely regarded as a temporary event."
Trade: "February 2020 Import Year-over-Year Inflation Declined To -1.2%" [Econintersect]. "Year-over-year import price indices inflation slowed and are now in contraction."
* * *
"Elon Musk's Battery Farm Is an Undeniable Success" [Popular Mechanics]. • Gotta hand it to him.
"Amazon Battles Counterfeit Masks, $400 Hand Sanitizer Amid Virus Panic" [Wall Street Journal].•  Having created a marketplace that enables fakes by default, Amazon now "battles" to fix this one case.
* * *
Today's Fear & Greed Index: 3 Extreme Fear (previous close: 2 Extreme Fear) [CNN]. One week ago: 7 (Extreme Fear). (0 is Extreme Fear; 100 is Extreme Greed). Last updated Mar 13 at 12:24pm. Haven't ever seen the needle pinned at zero….
Rapture Index: Closes unchanged [Rapture Ready]. Record High, October 10, 2016: 189. Current: 181. Remember that bringing on the rapture is a good thing. It certainly is odd to see the Fear and Greed index in Freefall, and an index that measures the likelihood of the Apocalypse is stable in the midst of what, in Biblical terms, should surely be a plague. The Rapture Index should pin the needle in the other direction from the Fear & Greed Index. If indeed Evangelicals think #COVID-19 is fake news (some don't), their megachurches are going to get hit, just as in Korea.
The Biosphere
"Lake Erie walleye bite continues; steelhead trout on fire: Fishing Report for Jan. 31" [Cleveland Plain-Dealer (CR)]. "The astounding walleye bite ranges from the waters off Cleveland all of the way to the Western Basin. The hot techniques have been trolling a Smithwick Perfect 10 minnow-style lure with 2-ounce snap weights, with the best depths from 31 to 41 feet of water. Fishermen are also jigging hair jigs tipped with a with a small stinger treble hook while focusing on Western Lake Erie rock piles in 30 feet of water or deeper. 'It's quite a winter windfall for Lake Erie fishing,' said Mike Durkalec of the Cleveland Metroparks, but added, 'A lot of people who really enjoy ice fishing are disappointed, with no safe ice available.'" • Lake Erie, the person, seems to be doing OK. This language is pretty vivid, but I don't know what the heck it means. Snap weights? Hair jigs? (Too bad about the ice, though. Oof.)
"Cheatgrass, Wildfire and Livestock Grazing" [Counterpunch]. "The BLM, nor livestock promoters readily admit these problems of cheatgrass, wildfire, and livestock grazing. The fact remains the proposed regulation changes will make it more difficult to hold accountable the BLM and the livestock industry who are directly culpable for the on-going degradation of our public lands."
"Six-fold jump in polar ice loss lifts global oceans" [The Australian]. "Greenland and Antarctica are shedding six times more ice than during the 1990s, driving sea level rise that could see annual flooding by 2100 in regions home today to some 400 million people, scientists have warned. The kilometres-thick ice sheets atop land masses at the planet's extremities sloughed off 6.4 trillion tonnes of mass from 1992 through to 2017, adding nearly 2cm to the global watermark, according to an assessment by 89 researchers, the most comprehensive to date. Last summer's Arctic heatwave will likely top the 2011 rec­ord for polar ice sheet loss of 552 billion tonnes, they reported in a pair of studies, published on Thursday in Nature."
Our Famously Free Press
"Truthdig Employees Stop Work To Protest Labor Conditions" [Popular Resistance]. From 2019:
Truthdig, one of the few progressive sites willing to call out the Russiagate hysteria, challenge the Democratic Party hierarchy and donor class and lift up the voices of the Palestinians in the face of Israeli war crimes, is imploding.

The publisher, Zuade Kaufman, who has lent the site an estimated two or three million dollars, has had bitter clashes with the legendary Editor-in-Chief and the co-owner of the site, Robert Scheer, over the past few months. Their disputes, staff members say, revolve around Kaufman's desire to make the site more mainstream and commercially viable by catering to the Democratic Party establishment and adopting the dominant narratives about supposed Russian interference in the 2106 presidential election, as well as other stances embraced by mainstream outlets such as MSNBC. The dispute between Scheer and Kaufman came to a head last week when Kaufman attempted to fire Scheer. Scheer's and Kaufman's lawyers are now in mediation.
Bound to happen with a squillionaire sponsor, sooner or later.
Groves of Academe
UPDATE "Academe's Coronavirus Shock Doctrine" [The Chronicle of Higher Education]. "Never let a crisis go to waste. In her bestselling book The Shock Doctrine: The Rise of Disaster Capitalism, Naomi Klein observes that disasters, emergencies, and breakdowns often prove inspirational to entrepreneurs, and just as often provide ideological cover for the repurposing of public funds and the reconfiguration of labor conditions. Covid-19 looks like it will furnish exactly this sort of pretext. Faculty members — a variegated group that has not excelled at thinking of ourselves as a collective — should beware….. What comes after the shock? If instruction is going to be utterly transformed, then other protocols and systems must be too, and faculty members ought to insist upon assurances and protections now. Intellectual property rules by which universities claim ownership over materials uploaded to course-management software must be completely suspended; we cannot willingly contribute to the rebranding of education as 'content delivery.' Universities must explicitly ensure that third-party platforms will not monetize our words for Big Data and our faces for surveillance industries. Faculty performance reviews (crucial to renewal for contingent faculty, to merit pay, to tenure proceedings) should be reformatted to account for the derailed 'outputs' when conferences and guest lectures have been canceled, publications slowed, and alternate teaching strenuously improvised. Student evaluations should not be proctored or employed as usual. Face-to-face learning is irreplaceable — even in a virtualizing culture, even when classroom infrastructures are overcrowded and outmoded, even when administration has become the dominant sector in education. Absent firm administrative commitments to resume ordinary instruction after the virus subsides, and in the presence of administrative memos specifying 'indefinite' and 'permanent' dimensions of the transition, faculty as a group should pause before making the extraordinary efforts now demanded."
Guillotine Watch
"Elon Musk wants to get paid" [Francine McKenna, The Dig]. "I explained later on Twitter why using "adjusted EBITDA" to determine bonus eligibility so self-serving. That's because in addition to adjusting GAAP earnings to add back expenses for interest, taxes, depreciation, and amortization, the double non-GAAP crap adjustment at Tesla also adds back stock-based compensation expense." • These are all easily manipulated ("pliugged"). More: "Tesla's annual report makes it very clear they will plug the numbers if it looks like Musk might make it."
Class Warfare
"Coronavirus Is the Perfect Disaster for 'Disaster Capitalism'" (inteview) [Naomi Klein, Vice]. Klein: "The "shock doctrine" is the political strategy of using large-scale crises to push through policies that systematically deepen inequality, enrich elites, and undercut everyone else. In moments of crisis, people tend to focus on the daily emergencies of surviving that crisis, whatever it is, and tend to put too much trust in those in power. We take our eyes off the ball a little bit in moments of crisis…. The shock really is the virus itself. And it has been managed in a way that is maximizing confusion and minimizing protection. I don't think that's a conspiracy, that's just the way the U.S. government and Trump have utterly mismanaged this crisis. Trump has so far treated this not as a public health crisis but as a crisis of perception, and a potential problem for his reelection. It's the worst-case scenario, especially combined with the fact that the U.S. doesn't have a national health care program and its protections for workers are abysmal. This combination of forces has delivered a maximum shock. It's going to be exploited to bail out industries that are at the heart of most extreme crises that we face, like the climate crisis: the airline industry, the gas and oil industry, the cruise industry—they want to prop all of this up. … In The Shock Doctrine I talk about how this happened after Hurricane Katrina." • Good frame for today's "dramatic measures to ease market strain", for example.
News of the Wired
"New Analysis of Large Hadron Collider Results Confirms Something Weird Is Happening" [Gizmodo]. "The world's largest particle accelerator, the Large Hadron Collider in Geneva, Switzerland, contains a host of experiments that seek to answer the unanswered questions about the nature of the universe. Mostly, these experiments have ruled out theories describing various exotic particles to explain dark matter. But one of the experiments, called LHCb, has discovered a small deviation between what they've measured and what's predicted by the core theory of particle physics, called the Standard Model. After three years of data analysis, the discrepancy remains—a potential sign of new physics."
"Something strange is going on with the North Star" [LiveScience]. "The problem with Polaris is that no one can agree on how big or distant it is."
* * *
Readers, feel free to contact me at lambert [UNDERSCORE] strether [DOT] corrente [AT] yahoo [DOT] com, with (a) links, and even better (b) sources I should curate regularly, (c) how to send me a check if you are allergic to PayPal, and (d) to find out how to send me images of plants. Vegetables are fine! Fungi and coral are deemed to be honorary plants! If you want your handle to appear as a credit, please place it at the start of your mail in parentheses: (thus). Otherwise, I will anonymize by using your initials. See the previous Water Cooler (with plant) here. Today's plant (CH):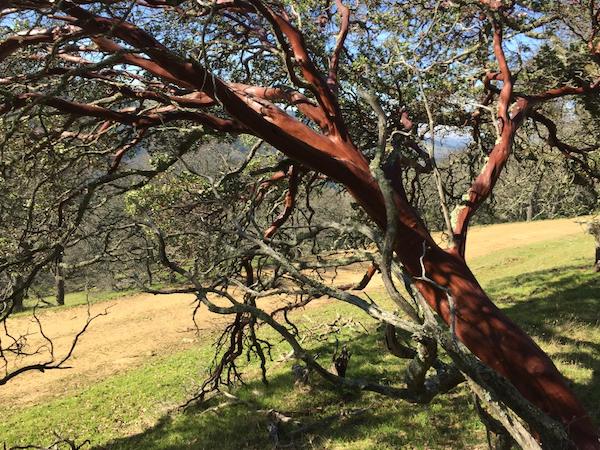 CH writes: "Talked to park ranger and it is a manzanita tree."
Bonus plant video (SN):
* * *
Readers: Water Cooler is a standalone entity not covered by the annual NC fundraiser. So if you see a link you especially like, or an item you wouldn't see anywhere else, please do not hesitate to express your appreciation in tangible form. Remember, a tip jar is for tipping! Regular positive feedback both makes me feel good and lets me know I'm on the right track with coverage. When I get no donations for five or ten days I get worried. More tangibly, a constant trickle of donations helps me with expenses, and I factor in that trickle when setting fundraising goals:
Here is the screen that will appear, which I have helpfully annotated.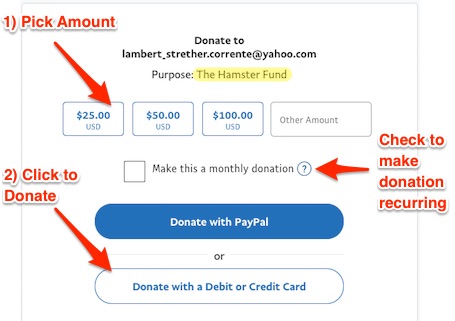 If you hate PayPal, you can email me at lambert [UNDERSCORE] strether [DOT] corrente [AT] yahoo [DOT] com, and I will give you directions on how to send a check. Thank you!