By Lambert Strether of Corrente.
Politics
"But what is government itself, but the greatest of all reflections on human nature?" –James Madison, Federalist 51
"They had one weapon left and both knew it: treachery." –Frank Herbert, Dune
"They had learned nothing, and forgotten nothing." –Charles Maurice de Talleyrand-Périgord
Key dates coming fast now, so I added some counters:
Some of the next primaries. (I picked the major dates; here is a complete calendar.)
* * *
2020
We encourage readers to play around with the polling charts; they are dynamic, and there are a lot of settings, more than I can usefully show here. Here is a link to alert reader dk's project. You can also file bug reports or feature requests using the same contact process as for Plants, below. Thanks — but no promises!

Two days and we have no new polls, whether national or state, as of 3/20/2020, 11:00 AM EDT.

* * *

Biden (D)(1): Profile in courage:

I am calling on every CEO in America to publicly commit now to not buying back their company's stock over the course of the next year. As workers face the physical and economic consequences of the coronavirus, our corporate leaders cannot cede responsibility for their employees.

— Joe Biden (Text Join to 30330) (@JoeBiden) March 20, 2020

Pinkie swear!

Biden (D)(2): "'Writing a Check to Joe Biden Is Not a Major Priority': The Pandemic Is Complicating Biden's Fundraising Just When He Needs It Most" [Vanity Fair]. "There are urgent life-and-death worries facing the country and the world right now, so political fundraising is barely on the list. But Biden will likely be running a general election campaign very soon, and the coronavirus pandemic and the resulting economic collapse could blow a hole in his efforts to mount a fair spending fight with Trump. Veteran political money people are crossing their fingers. "I've never seen anything like this, where the presidential race isn't even in the discussion right now, in mid-March," a Democrat with deep connections in New York's financial community says. 'aIt's the pandemic, it's the Wall Street performance, it's the economic slowdown. All that combines into tremendous uncertainty. It's your health and your finances that are on the line. So writing a check to Joe Biden is not a major priority.'"

Bloomberg (D)(1): "Bloomberg gives $18 million to DNC in lieu of starting his own group to beat Trump" [Bloomberg]. " Former New York City Mayor Michael Bloomberg is transferring $18 million left in the accounts of his now-defunct presidential campaign to the Democratic National Committee and forgoing, for now, creating his own independent political group to help Democrats in November…. Bloomberg will also offer to transfer campaign field offices the billionaire's campaign set up and paid for to local state Democratic Parties as in-kind contributions. His staff, some of which were planning to transfer to work for Bloomberg's independent entity in six battleground states, are all being laid off…. This differs significantly from the message the Bloomberg campaign pushed since his entrance into the presidential race in November. The plan, if not the nominee himself, was to fund a sizable campaign effort through the general election working to elect the Democratic nominee, paying his large staff and keeping a sizable amount of offices open. Bloomberg spent more than $400 million on his presidential campaign and is worth an estimated $50 billion, according to Forbes, so $18 million is a relatively small amount for one of the richest men in the world." • BWA-HA-HA-HA-HA-HA-HA!!!! Did the Democrats believe him?

Sanders (D)(1):

Tonight, I will be holding a virtual roundtable on the economic and health crises created by the coronavirus outbreak. Tune in at 7 p.m. ET at https://t.co/vreIiWfeoS. pic.twitter.com/p01FifNN0s

— Bernie Sanders (@BernieSanders) March 20, 2020

I have seen the CNN clip from Sanders saying that postponing the primaries just past would be a good idea. The message was hardly crisp. I would have preferred a full-throated demand for a halt from the Sanders campaign, if for no other reason than to draw a bright line between the sociopaths in the Biden campaign and the DNC from the Sanders campaign. What the Sanders campaign did say:

While Arizona, Florida and Illinois are still voting today, going to the polls amid the coronavirus outbreak is a personal decision and we respect whichever choice voters make. If you do go to the polls, please see CDC guidance on keeping yourself safe: https://t.co/dS8dW76GwH

— Bernie Sanders (@BernieSanders) March 17, 2020

Mush.

Adding, I like that Sanders is now using The List for Coronavirus relief (although in principle I believe that NGOs are poor replacements for a functioning State). That's not sociopathic. But between Ali decking his opponent and setting up a charity, and Ali setting up a charity, I prefer the former, thank you very much, and I don't think I'm alone.

Trump (R)(1):

JUST IN: 55% of Americans approve of Pres. Trump's management of the coronavirus crisis, compared to 43% who disapprove, according to new @ABC News/Ipsos poll. https://t.co/oNg6ZipDN2 pic.twitter.com/yVcGO0CpbD

— ABC News Politics (@ABCPolitics) March 20, 2020

Turns out means-testing wasn't the winner the Democrat Establishment thought it was going to be.
Realignment and Legitimacy
Clinton comes out in favor of Vote By Mail (VBM):

Congress needs to act to make voting by mail the norm going forward, with the specifics outlined by election expert Marc Elias below to make it accessible for all. https://t.co/K2TlHIJx2d

— Hillary Clinton (@HillaryClinton) March 18, 2020

I figured Clinton's endorsement meant the Democrats had figured out a VBM election fraud method. Here's one:

"During the 2015 General Election, a team from Idox helped deliver its postal vote management system (PVMS) in local authorities across Scotland." Temporary staff was "employed to open and scan the postal vote statement and ballot papers". 9/ https://t.co/mNNaHcEl6e

— Jennifer Cohn ✍? (@jennycohn1) March 19, 2020

Privatize the counting. Note that the list Clinton gives allows that.

"Coronavirus Plunges 2020 Elections Into Disarray: 'BradCast' 3/17/2020" [BradBlog]. ""The entire primary and elections process is going to have to be re-examined, given this crisis," [ION SANCHO is Leon County (Tallahassee), Florida's former longtime Supervisor of Elections tells] me. "This pandemic provides a challenge like no other in my lifetime. Mail ballots may be the way out of this, but mail ballots require machinery. Mail ballots require high-speed counting devices. It can be done, and it can be done excellently, but it can't be done cheaply. So if that's something we're going to need to go to, we're need to prepare for that." He warns that voters, many of whom do not bother to change their address on their registration when they move within a county, should check their registration record to assure it's up to date immediately, or else they risk not receiving a ballot at all, when and if states begin moving to VBM."

* * *

"Yesterday's Elections Were a Disgrace" [Jacobin]. "On Tuesday, despite urgent pleas from public health experts for postponement of the balloting, voters reported being forced into unsanitary environments and jumping through arduous hoops to vote. The culprit was the party that believes in science and voting rights." • Well, for some definition of "believes."

"The Corrupt Senators And Coronavirus" [The American Conservative]. "Burr and Loeffler appear to have broken the law, and they did so to enrich themselves in the middle of a public health catastrophe. Rather than doing their duty and telling their constituents what they knew, they were more concerned to take their profits before the market crashed. At the very least, neither of them should be a senator and neither should hold an office of public trust again. If there were any other members of Congress that tried to use this information about the outbreak for their own profit, the same goes for them. Loeffler has not yet been elected in her own right, and she faces Georgian voters for the first time this fall. Somehow I doubt that voters in Georgia will appreciate being lied to and endangered while one of their senators put her portfolio ahead of their interests."
Stats Watch
At reader request, I added some business stats back in. Please give Econintersect click-throughs; they're a good, old-school blog that covers more than stats. If anybody knows of other aggregators, please contact me at the email address below.
Honey for the Bears: "13 March 2020 ECRI's WLI Growth Rate Moves Significantly Deeper Into Contraction" [Econintersect]. "In essence, economic growth will decline 6 months from today. Please note that the coronavirus is a black swan event and the decline likely is more immediate and not lagging off six months."
* * *
Retail: "Amazon halts grocery orders to restock amid surging demand" [Reuters]. "Amazon.com Inc (AMZN.O) said on Thursday it has halted its Prime Pantry delivery service in the United States to restock groceries, following a surge in online orders by shoppers worried about the coronavirus pandemic. 'Amazon Pantry is not accepting new orders at this time while we work to fulfill open orders and restock items following increased demand,' a company spokesperson said. The service, which sells non-perishable groceries from cereals to soaps, has seen huge demand despite consumers thronging supermarkets and grocery stores for everything from toilet papers and canned foods. Amazon did not say when the service will be back, but said it was working with partners to get the items back in stock as quickly as possible."
Shipping: "China's ports are finally starting to move more containers out to the trading world but they're sending the goods into highly uncertain Western markets. While China is returning to work, … concerns are growing that U.S. and European ports won't be able to handle a flood of imports as coastal cities face shutdowns and economic disruption" [Wall Street Journal]. "Port of Los Angeles chief Gene Seroka says he doesn't foresee the sort of virus disruptions that crippled China's megaports last month, when boxes piled up as workers were either sick or quarantined. But the Port of Houston suspended operations at its two main container terminals this week after a worker tested positive for the coronavirus, and shipping companies are wary of bigger disruptions. The U.S. ports may be bracing for a sudden rush of containers in coming weeks, with liner companies now deploying their biggest ships on trans-Pacific lanes."
Manufacturing: "Manufacturers are trying to build new supply chains for medical equipment that is suddenly in critical demand. Traditional suppliers of ventilators are racing to boost production for the equipment needed to save the lives of many coronavirus patients… and companies that don't make medical devices may join the rush" [Wall Street Journal]. "General Motors and Ford are exploring turning idled automotive plants toward making ventilators. That could help ease the crunch, but it isn't coming fast enough to keep up with mounting demand. One industry official says "available inventory on the shelf is gone." New producers will join a field of companies from food suppliers to retailers remaking supply chains on the fly to meet the fast-changing landscape. Companies across the West are retooling operations, making hand sanitizer rather than perfume and hygienic masks instead of car parts in response to the health crisis."
Supply Chain: "The Modern Supply Chain Is Snapping" [The Atlantic]. "We've built a global supply chain that runs on outsourcing and thin margins, and the coronavirus has exposed just how delicate it is. 'I guess we've done a good enough job within the health-care supply chain of getting pricing down to the point that the vendors don't have a lot of extra margin or slack to play with,' [Doug Watkins, who oversees the supply chain at the Medical University of South Carolina health system] said. So when demand spikes, everyone feels it. The Institute for Supply Management, which conducts monthly economic surveys, found that nearly 75 percent of the companies it contacted in late February and early March reported some kind of supply-chain disruption due to the coronavirus. And 44 percent of the companies didn't have a plan to deal with this kind of disruption. "That is a little surprising in this day and age," ISM's CEO, Tom Derry, said in an interview. 'However,' he added, 'you have to realize that there's almost no industry sector—and when I say that, I mean manufacturing and nonmanufacturing—that isn't reliant on China in the United States." • So how's that globalization thing workin' out for ya?
Supply Chain: "Will coronavirus affect food supply? First problem: A possible shortage of workers" [Los Angeles Times]. "California's nearly $50-billion agricultural industry is bracing for a potential labor shortfall that could hinder efforts to maintain the nation's fresh produce supply amid the widening coronavirus outbreak. The immediate concern centers on a backlog in the recruitment of foreign guest workers because of the virus-related shutdown of consul offices processing agricultural H2-A visas in Mexico. The expected bottleneck in recruitment of temporary agricultural workers arises weeks before harvest time for crops such as strawberries and lettuce that heavily depend on the foreign crews along the state's central coast and in Salinas Valley, according to growers and labor contractors."
Supply Chain: "A Covid-19 Supply Chain Shock Born in China Is Going Global" [Industry Week]. "The world's supply chains are facing a root-to-branch shutdown unlike any seen in modern peacetime as efforts to contain the coronavirus outbreak hit everything from copper mines in Peru to ball bearing makers in Germany's industrial heartland.In the last few days, a supply chain crisis that began earlier this year with Chinese factories has spread into key industries elsewhere that had weathered the impact until now. The shutdowns are contributing to the growing conviction that the world has slipped into its first recession since the financial crisis more than a decade ago…. Compounding the blow for companies, the initial supply shock has become interwoven with a demand crisis in Europe, the U.S. and other major economies as workers and consumers are ordered to stay home."
The Bezzle: "The End of Starsky Robotics" [Medium]. "There are too many problems with the AV industry to detail here: the professorial pace at which most teams work, the lack of tangible deployment milestones, the open secret that there isn't a robotaxi business model, etc. The biggest, however, is that supervised machine learning doesn't live up to the hype. It isn't actual artificial intelligence akin to C-3PO, it's a sophisticated pattern-matching tool." • Well worth a read for robot skeptics.
* * *
Today's Fear & Greed Index: 8 Extreme Fear (previous close: 7 Extreme Fear) [CNN]. One week ago: 5 (Extreme Fear). (0 is Extreme Fear; 100 is Extreme Greed). Last updated Mar 18 at 12:56pm. Haven't ever seen the needle pinned at zero. Last updated Mar 20 at 1:16pm. Still moving up, albeit slowly.
The Biosphere
"Why did nearly a million king penguins vanish without a trace?" [Science]. "It was early 2017. Colleagues had sent the seabird ecologist aerial photos of Île aux Cochons, a barren volcanic island halfway between Madagascar and Antarctica that humans rarely visit. The images revealed vast areas of bare rock that, just a few decades before, had been crowded with some 500,000 pairs of nesting king penguins and their chicks. It appeared that the colony—the world's largest king penguin aggregation and the second biggest colony of any of the 18 penguin species—had shrunk by 90%…. [The team] suspects that changes in the surrounding ocean forced the penguins to swim farther to find food…. During the longer foraging trips, hunger might force the parent left back at the colony to leave the nest to feed—leaving chicks vulnerable to predators or starvation. The longer swims might also make the adult penguins more vulnerable to deadly stress and predation."=
"Meet the Ecologist Who Wants You to Unleash the Wild on Your Backyard" [Smithsonian]. "The land is ten gently sloping acres in rural southeastern Pennsylvania, at one time mowed for hay, with a handsome farmhouse that Douglas Tallamy bought around 20 years ago. It isn't much to look at, by the standards most Americans apply to landscaping—no expansive views across swaths of lawn set off by flowerbeds and specimen trees—but, as Tallamy says, "We're tucked away here where no one can see us, so we can do pretty much what we want." And what he wants is for this property to be a model for the rest of the country, by which he means suburbs, exurbs, uninhabited woods, highway margins, city parks, streets and backyards, even rooftops and window boxes, basically every square foot of land not paved or farmed. He wants to see it replanted with native North American flora, supporting a healthy array of native North American butterflies, moths and other arthropods, providing food for a robust population of songbirds, small mammals and reptiles. He even has a name for it: ." • Nice framing. Lovely photos, too.
Health Care
"Covert coronavirus infections could be seeding new outbreaks" [Nature]. "As coronavirus outbreaks surge worldwide, research teams are racing to understand a crucial epidemiological puzzle — what proportion of infected people have mild or no symptoms and might be passing the virus on to others. Some of the first detailed estimates of these covert cases suggest that they could represent some 60% of all infections. … Many scientists have suspected that there is an undetected pool of covert cases showing limited to no symptoms because an increasing number of infected people cannot be linked to known COVID-19 cases or travel to epidemic hotspots. Most people with mild infections would not be ill enough to seek medical help, and would likely slip past screening methods such as temperature checks, so the extent of the phenomenon and its role in virus transmission has remained elusive… But probably the best-documented evidence for asymptomatic cases has come from the Diamond Princess cruise ship, which had a COVID-19 outbreak in early February while in Japanese waters, says Cowell….. Cowell's modelling study3, published on 12 March in Eurosurveillance, shows that about 18% of some 700 infected individuals on Diamond Princess never showed symptoms." • Yikes. That's an argument for a complete shutdown.
"Hospitals, Cities Hit by Surging Interest Rates in 2008 Echo" [Bloomberg]. "On Wednesday, as a hospital system in Memphis, Tennessee, was preparing for how to combat the spreading coronavirus, the havoc the pandemic was causing on Wall Street rippled down with its own financial hit. Investors were rapidly hoarding cash as the economy grinds to a near halt, creating an exodus from the corner of the municipal-bond market where the health-care provider had raised cash. With short-term yields surging, U.S. Bank more than doubled the interest rate on $124 million of variable-rate bonds issued by Methodist Le Bonheur Healthcare to 5% — threatening to add almost $4 million a year to its annual debt payments." • Guess we'll have to take those interest payments out of the ventilator budget…..
This is why we love our insurance companies:
Our hospital floor is full and we need open beds for the imminent COVID surge.

But multiple patients of mine can't leave the hospital because they're awaiting prior auths from commercial insurers.

Insurance companies are clogging up the system in the middle of a damn pandemic.

— Augie Lindmark (@AugieLindmark) March 18, 2020
The lightbulb goes on:
You know what's an easy way for health insurers to help stop the spread of #COVIDー19?

Immediately exempt COVID 19 diagnosis and treatment from co-pays and deductibles. Just ?% knock down the financial barrier to getting checked out and treated.

— Chris Murphy (@ChrisMurphyCT) March 19, 2020
It's stunning how many people want #MedicareForAll (here, "free at the point of care") but only for this one pandemic.
Personal testimony:
#CoronaVirusUpdate #QuarantineLife #QuarentineLife

Johnny, Johnny. pic.twitter.com/D7y6hfLKTB

— #BlackWomenForBernie #MedicareForAll or #GetFired (@LostDiva) March 19, 2020
Leveling up my dog game…
Games
"Amid coronavirus fears, here are 5 simple, social games that can restore your faith in humanity" [Los Angeles Times]. "[W]hile most people have at least heard about "Fortnite," not everyone is a game player and able to jump into the deep end of that popular arena. So for those on the prowl for a game that's social, friendly and doesn't require much prior experience with the medium, here are a few of the relatively simple and inviting ways to interact via play. And if none of the below strike your fancy, don't forget about the joys of "Mario Kart," which is now available for mobile phones." • Reviews.
"Canceled Soccer Game Played In Front Of 60,000 Fans (On Twitch)" [Kotaku]. "Spanish sides Real Betis and Sevilla were supposed to play each other in real life on Sunday night, but La Liga's covid-19 lockdown put paid to that. Not to matter, since both sides just picked one player each—their champion—and had them play the match on FIFA 20 instead…. The game was an absolute banger, with Betis winning 6-5 at the death. Amazingly, the winning goal was scored by Iglesias playing as himself."
Department of Feline Felicity
Something to do at home with your cats:
I can't stop watching this. It's amazing. pic.twitter.com/Dwq4SMxl46

— iPaulie (@iPaulie) March 19, 2020
These cats seem to have been trained. I'm not sure that's a good thing.
"Cats unprepared for all the extra attention" [Daily Mash]. "Cats around the country have confirmed that while they do sometimes like a stroke in the evening, during the day they have stuff to do and do not need the hassle. Roy Hobbs, a five-year-old cat living in Wimbledon, said: "How long is this meant to last for? Because it's already bugging me."
"We Spent 24 Hours Searching for the Elusive 'Butthole Cut' of Cats" [Vanity Fair]. "When reached by Vanity Fair via email, a spokesperson for Universal said that this was their 'favorite email of ALL TIME'—adding, unfortunately, that they could not comment on the rumors. 'Hopefully that will add to the magic and mythical nature of the cinematic treasure,' they added."
Groves of Academe
"America needs to talk about the new book that says lacking a college degree might kill you" [Will Bunch, Philadelphia Inquirer]. "OK, so most people agree that it should be easier and less expensive to attend college, in an economy where a diploma is frequently demanded as the price of admission. But not going to college in today's America could kill you? To a lot of folks, that's going to sound a little crazy. But that's the explosive premise of a new book called Deaths of Despair and the Future of Capitalism, which was written by the married Princeton University academics Anne Case and Angus Deaton and comes out on March 17, right in the middle of the 2020 primary season. Based on the advance write-ups, the perfectly timed tome could reshape America's political debate much as another academic work, Thomas Piketty's Capital in the Twenty-First Century, altered the way we looked at income inequality."
University administrators:
In the time it took me to surmise that crisis management should minimize bureaucracy, about 15 new forms were created at a university department near you.

— Tressie McMillan Cottom (@tressiemcphd) March 19, 2020
Class Warfare
"Essential Workers":
Now we know who are the essential workers:
Cleaners
Care workers
Nurses
Shelf stackers
Delivery drivers
Teachers
Refuse collectors
Posties
Scientists
Doctors
Street sweepers
Transport workers

The list goes on.
Did you notice one group which is missing?
Answer
The 1% richest

— Jon Trickett (@jon_trickett) March 18, 2020
Whole Paycheck:
cashier at Whole Foods just told she now spends her lunch breaks crying in her car trying to process how "mean and vicious" customers have been this past week…

It's not only your obligation to look these people in the eye and say "thank you," but to call these mean people out

— Simon Curtis (@simoncurtis) March 20, 2020
"The Coronavirus Is a Disaster for Feminism" [The Atlantic]. "For those with caring responsibilities, an infectious-disease outbreak is unlikely to give them time to write King Lear or develop a theory of optics. A pandemic magnifies all existing inequalities (even as politicians insist this is not the time to talk about anything other than the immediate crisis). Working from home in a white-collar job is easier; employees with salaries and benefits will be better protected; self-isolation is less taxing in a spacious house than a cramped apartment. But one of the most striking effects of the coronavirus will be to send many couples back to the 1950s. Across the world, women's independence will be a silent victim of the pandemic. Purely as a physical illness, the coronavirus appears to affect women less severely. But in the past few days, the conversation about the pandemic has broadened: We are not just living through a public-health crisis, but an economic one. As much of normal life is suspended for three months or more, job losses are inevitable. At the same time, school closures and household isolation are moving the work of caring for children from the paid economy—nurseries, schools, babysitters—to the unpaid one."
"Parental diet affects sperm and health of future offspring" [Medical Xpress]. "The developmental origins of health and disease is a school of thought that focuses on how prenatal factors such as stress and diet impact the development of diseases when children reach adulthood. Experimental evidence indicates that environmental factors that affect parents do play a role in reprogramming the health of their offspring throughout their lifespan. In particular, parental low-protein diets are known to be related to metabolic disorders in their children, such as diabetes. This phenomenon is thought to be regulated through epigenetics—heritable changes in which genes are turned on and off without actually changing an individual's DNA. However, until now, the details of this process were unknown. In their study published in Molecular Cell, a team led by Keisuke Yoshida and Shunsuke Ishii at RIKEN CPR tackled this question in a mouse model and discovered that a protein called ATF7 is essential for the intergenerational effect." • So that would seem to complete the logical chain on epigenetic; not for cranks any more! "prenatal factors such as stress and diet" is delicately put; what seems most obvious to me is that for the first time we have an intergenerational, biological account for multigeneneral issues driven by class.
News of the Wired
"Smart." There's that word….
This "smart, simple, sustainable" water bottle requires:
* a custom water bottle
* an iPhone app
* special canisters
* 3 of them actually
* a monthly payment
* I would assume a lithium ion battery?
* yes, it's a four day lithium ion battery in my sustainable water bottle pic.twitter.com/Qi3BJoMDZU

— Lee Edwards ?️‍?? (@terronk) March 7, 2020
* * *
Readers, feel free to contact me at lambert [UNDERSCORE] strether [DOT] corrente [AT] yahoo [DOT] com, with (a) links, and even better (b) sources I should curate regularly, (c) how to send me a check if you are allergic to PayPal, and (d) to find out how to send me images of plants. Vegetables are fine! Fungi and coral are deemed to be honorary plants! If you want your handle to appear as a credit, please place it at the start of your mail in parentheses: (thus). Otherwise, I will anonymize by using your initials. See the previous Water Cooler (with plant) here. Today's plant (petal):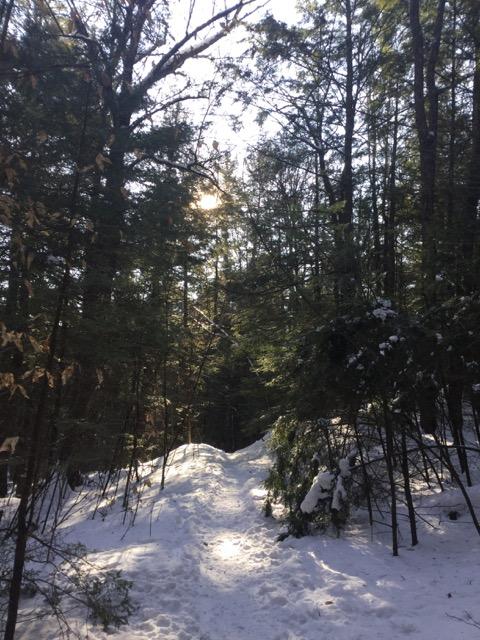 Into the woods…
* * *
Readers: Water Cooler is a standalone entity not covered by the annual NC fundraiser. So if you see a link you especially like, or an item you wouldn't see anywhere else, please do not hesitate to express your appreciation in tangible form. Remember, a tip jar is for tipping! Regular positive feedback both makes me feel good and lets me know I'm on the right track with coverage. When I get no donations for five or ten days I get worried. More tangibly, a constant trickle of donations helps me with expenses, and I factor in that trickle when setting fundraising goals:
Here is the screen that will appear, which I have helpfully annotated.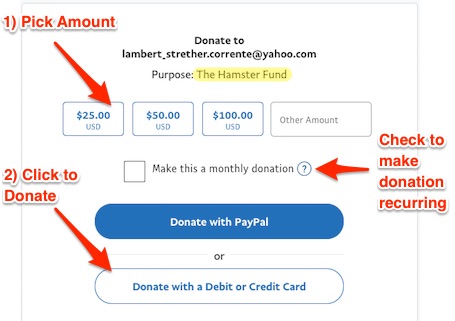 If you hate PayPal, you can email me at lambert [UNDERSCORE] strether [DOT] corrente [AT] yahoo [DOT] com, and I will give you directions on how to send a check. Thank you!