By Lambert Strether of Corrente.
Politics
"But what is government itself, but the greatest of all reflections on human nature?" –James Madison, Federalist 51
"They had one weapon left and both knew it: treachery." –Frank Herbert, Dune
"They had learned nothing, and forgotten nothing." –Charles Maurice de Talleyrand-Périgord
Key dates coming fast now, so I added some counters:
Some of the next primaries. (I picked the major dates; here is a complete calendar.)
* * *
2020
We encourage readers to play around with the polling charts; they are dynamic, and there are a lot of settings, more than I can usefully show here. Here is a link to alert reader dk's project. You can also file bug reports or feature requests using the same contact process as for Plants, below. Thanks — but no promises!

We have a new national poll from Emerson, and no state polls, as of 3/20/2020, 11:00 AM EDT.

And the numbers:

Earlier in the year, we often had occasion to comment on the mysterious strength of the Biden Juggernaut, on display here; but it's also true that Biden's ups and downs have been of much greater amplitude than other candidates.

Just for grins, I thought I would compare the profiles of the two campaigns:

It's evident that the voter bases of Biden and Sanders are quite different. Sanders, in blue at right, has been rising steadily, almost inexorably; to me, it looks more like he ran out of runway than that he reached a ceiling. And notice that his support has not collapsed, although post-#COVID-19, everything is scrambled. Biden, by contrast, depended on a 30-point swing (!) generated for him by the Democrat Establishmen on Obama's Night of the Long Knives before California. This shows both the strength and weakness of the Establishment: On the one hand, they showed impressive tactical dexterity by firmly giving Biden front-runner status (would that they showed similar form when "fighting for" the rest of us); on the other hand, they didn't take any votes away from Sanders, and so he remains a force.

* * *

"Tensions boil over on Senate floor amid coronavirus debate" [The Hill]. "Collins also walked over to directly confront Schumer while he was still on the floor, leaning toward him and pointing her finger at him. 'You are objecting to my speaking? This is appalling!" she said." • That's not all that's appalling. See NC here for the blow-by-low on "Bailout Shenanigains."

Biden (D)(1): Post-Night of the Long Knives Funders. Thread:

Joe Biden's Super PAC known as Unite The Country, and led by former campaign aides, raised $4.1 million in February for attack ads to save corporations and wealthy people from Bernie Sanders.

We now have receipts from contributors.

Thread.

— Kevin Gosztola (@kgosztola) March 21, 2020

Biden (D)(2): "'There's no playbook for this': Biden trapped in campaign limbo" [Politico]. "Because Sanders won't quit, Biden can't fully pivot to the general election. He can't truly unite the party's warring factions. Nor can he begin stockpiling the vast amounts of money he'll need for November. His momentum has effectively been stopped cold. A source familiar with the Democratic National Committee's discussions says the party offered both the Biden and Sanders campaigns the opportunity to open joint-fundraising accounts. But since Sanders declined, the party is reluctant to enter into one with Biden because of . [BWA-HA-HA-HA-HA-HA!!!!] 'That's going to eventually hurt Biden with financing if the DNC doesn't go ahead with this,' the source said. Stuck at home because of coronavirus precautions, Biden also can't meet with donors at fundraisers — which, in turn, may become less lucrative with an economy that's sinking into recession or perhaps worse." • So Biden disappeared for days…

Cuomo (D)(1): "Cuomo panel recommends $400M in hospital cuts as coronavirus pandemic rages" [New York Post]. "A panel appointed by Gov. Andrew Cuomo backed a plan that would slash Medicaid spending to New York's hospitals by almost $400 million as the facilities scramble to address the coronavirus epidemic. The Medicaid Redesign Team overwhelmingly backed the slate of proposals at its Thursday meeting, which aim to slash spending on NYC Health & Hospitals — the Big Apple's public hospital system — by $186 million in the fiscal year beginning April 1. The vote was unanimous with three abstentions. It will be forwarded to state lawmakers and Cuomo for consideration. The governor's budget director, Robert Mujica, told the commission beforehand that implementation of some of the proposed cuts could be delayed thanks to federal aid for coronavirus. These are the latest in a two-decade-long pattern of budget cuts and insurance overhauls that played a key role in the Empire State losing 20,000 now-badly needed hospital beds to fight the coronavirus." • Just to push back a little on the rapidly inflating Cuomo trial balloon…

Klobuchar (D)(1): "Amy Klobuchar says her husband has been hospitalized with coronavirus" [Axios]. "Sen. Amy Klobuchar (D-Minn.) announced Monday that her husband, John Bessler, tested positive for coronavirus and has been hospitalized. The Minnesota senator said that she has not seen her husband for the last two weeks because of his illness — and, as a result, will not be tested or self-quarantine." • Oh.

Sanders (D)(1): Sanders should listen to Richard Nixon:

Most of you who read the column have read it, but I want to highlight this for its own sake. pic.twitter.com/ABokt30bCv

— Richard M. Nixon (@dick_nixon) March 22, 2020

The Shadow Government idea is brilliant. Do it. Much better framing than town halls and round-tables.

UPDATE Sanders (D)(2): "What Joe Biden understood about Black voters that Bernie Sanders didn't" [The Grio]. "I've been traveling to the U.S. South quite a bit as of late and cannot begin to count the number of establishments and homes who have added a framed photograph of former President Barack Obama to their wall next to the pantheon of Dr. Martin Luther King, Jesus Christ at the last supper, and Malcolm X (or JFK depending on where you are). Biden's connection (and loyalty) to Barack Obama still matters. His solid identification as a Democrat still matters, and his role as 'the establishment' does matter to many…. Black support of Biden is not blind worship of the former vice president or lack of information as some have suggested. Black voters are strategically weighing their odds and many are choosing who they think is palatable not only for themselves but also their communities. They are making a strategic calculus of the voting behaviors of whites and others who tend not to factor in Black needs and opinions when making their voting decisions." • I've written elsewhere on the strategic failures of the Sanders campaign with the Black political establishment in the South. What I don't buy with this picture of older black voters as Wypipo Whisperers is that (a) it can't give an account of why young Black voters prefer Sanders, which they do, or (b) the Southern Firewall gave us Clinton in 2016, with disastrous results.

UPDATE Sanders (D)(3): "How It All Came Apart for Bernie Sanders" [New York Times]. • Worth reading if you can factor out the evident glee of the writers and generic insider back-biting (campaigns always have conflict, and if you want to see real campaign in-fighting, read Shattered and Chasing Hillary). But definitely an insider, horse-race perspective: "In the weeks before Super Tuesday, Mr. Sanders had indeed refused to yield to critics who were searching for gestures of accommodation. In Nevada, leaders of the powerful Culinary Workers Union Local 226 were frustrated that Mr. Sanders did not speak out more forcefully when his supporters heaped abuse on predominantly female union leaders over their opposition to 'Medicare for all.'" • Oddly, or not, the article never mentions that Sanders in fact won the Culinary leaders, because the leadership was out of touch with the rank and file. More on "Mr. Biden's roaring comeback," "a tectonic shift against him by the party's moderate wing" (tellingly lacking in agency). "'What the establishment wanted was to make sure that people coalesced around Biden and try to defeat me,' Mr. Sanders said. 'So that's not surprising.'" • Sanders is correct, unless you believe that sudden endorsement of Biden after South Carolina and before California was some sort of spontaneous event. But this is also a strategic failure by the Sanders campaign; if this was anticipated, why did it happen? In fact, as I argue here, theory of change aside, in practice the Sanders canvassing operation was insufficient to bring enough discouraged/disengaged working class voters to the polls, at least in time. The Times, of course, does not mention this; the working class is not in their Rolodexes, I guess.

UPDATE Trump (R)(1): "Lawsuit: Trump Admin Using Coronavirus as Political Weapon to Punish California and 'Reward' Red States" [Law and Crime]. "City leaders in Costa Mesa, California are currently engaged in a volley of words and legal briefs with the Trump administration in general–and the U.S. Department of Health and Human Services (HHS) in particular–over a plan to move several dozen Coronavirus patients from a military lockup facility to a civilian-run facility. Local officials there are backed up by their counterparts in Orange County, as well as state and federal officials representing California. … The plan from Trump's HHS to transfer the 50-plus patients out of military custody to a state-run facility have been vociferously opposed from the start–but the latest filings add an entirely new political dimension rife with themes of reward and retribution. The struggle in the Monday filing paints the choices and preferences of HHS Director Alex Azar–seemingly acting on Trump's behalf and/or in order to please his boss–as a tribal and partisan battle between red states and the bluest state in the nation." •  As Mike Duncan remarked:

Been feeling some extreme "a house divided against itself cannot stand" energy lately. And not how people think Lincoln meant it. How he *actually* meant it.

— Mike Duncan (@mikeduncan) March 23, 2020

UPDATE Warren (D)(1): "Silicon Valley Megadonor Karla Jurvetson Fueled Elizabeth Warren's Super PAC with $14 Million Donation" [The Intercept]. "In a campaign finance filing late on Friday, Persist PAC, the super PAC that attempted to revive Sen. Elizabeth Warren's presidential campaign finally disclosed its donors. Karla Jurvetson, a Silicon Valley megadonor, who made over 500 donations over the last year alone, provided 96 percent of the super PAC's financing through a $14.6 million donation. Barbara Lee, a prominent Democratic donor in Massachusetts, and Women Vote! — the super PAC affiliate of EMILY's List, a pro-choice group previously financed by Michael Bloomberg, among other wealthy donors — also provided significant funding for Persist PAC." • Warren does seem impressively…. nimble in her ethical and policy commitment, doesn't she? More on Jurvetson here. Warren also relied on Jurvetson to purchase her voter file, which would make a paranoid and cynical voter wonder how far back Warren's role as a spoiler was calculated.
Realignment and Legitimacy
"Coronavirus Spurs Vote-By-Mail Push, But Barriers Remain" [Time]. "But there are no magic fixes in a country where the rules governing elections make up a confusing patchwork from state to state. Expanding universal vote-by-mail options for November's election will require either the passage of federal legislation or a series of changes to state laws, especially in the states that now require an excuse for absentee ballots…. Money and momentum matters, though states would still quickly have to make a series of decisions governing how such ballots would make their way into voters' hands and be returned, handled and counted securely; the deadline to return ballots to be counted; as well as how to verify them and give voters the chance to address problems — questions different states answer in different ways." • What I am not seeing is a prohibition on either privatized or party counting.
Stats Watch
At reader request, I added some business stats back in. Please give Econintersect click-throughs; they're a good, old-school blog that covers more than stats. If anybody knows of other aggregators, please contact me at the email address below.
Employment Situation: "U.S. Jobless Rate May Soar to 30%, Fed's Bullard Says" [Bloomberg]. "Federal Reserve Bank of St. Louis President James Bullard predicted the U.S. unemployment rate may hit 30% in the second quarter because of shutdowns to combat the coronavirus, with an unprecedented 50% drop in gross domestic product…. 'This is a planned, organized partial shutdown of the U.S. economy in the second quarter,' Bullard said. 'The overall goal is to keep everyone, households and businesses, whole' with government support. 'It is a huge shock and we are trying to cope with it and keep it under control.'" • If Bullard things a one-time $3000 bridge payment is going to make American households whole, he's out of his mind.
* * *
Manufacturing: "China's Factories Work 24/7 to Build Ventilators for Milan, New York" [Bloomberg]. "For companies like Beijing Aeonmed, though, it's roaring business as orders pour in from dozens of countries, many of which are chartering planes or using military aircraft to pick up the machines. Aeonmed isn't the only Chinese company racing against the clock to build ventilators. 'All the ventilator factories in China have reached their maximum capacity, occupied fully by foreign demand,' said Wu Chuanpu, director of supply chain at Vedeng.com, one of the main platforms in China connecting medical equipment suppliers and buyers. The factories have orders to keep them at full capacity until May, according to Wu. Vedeng is still getting more than 60 to 70 new orders every day, each asking for hundreds or thousands of such machines, he said. Many are from governments."
The Fed: "Fed, saying aggressive action is needed, starts unlimited QE" [MarketWatch]. "Saying 'aggressive action' was needed to soften the blow to the economy from the coronavirus pandemic, the Federal Reserve on Monday announced it would purchase an unlimited amount of Treasurys and securities tied to home and business mortgages to ward off a credit crunch. The Fed said it would buy assets 'in the amounts needed' to support smooth market functioning and effective transmission of monetary policy. The Fed had previous set a $700 billion limit for asset purchases. In addition, the Fed announced several new lending programs worth $300 billion to support all corners of the financial markets. Economists said the Fed action was big. 'The only parallel that comes to mind is with [former ECB chief Mario] Draghi's 'whatever it takes' moment, except that these are not just words,' said Robert Perli, a former Fed staffer and now an analyst with Cornerstone Macro." • Swell. Now about that one-time bridge payment of $3000, sick leave for everbody, and free treatment….
* * *
The Bezzle: AirBnB bubble bursts:
In the last two weeks, the east bay has seen a huge (50+%) increase in new rental listings ?? And yet during this shelter-in-place order, how many of our neighbors are still without shelter? https://t.co/yViTUeQ3yX pic.twitter.com/EFk2PayAB4

— East Bay DSA ? (@DSAEastBay) March 22, 2020
Today's Fear & Greed Index: 9 Extreme Fear (previous close: 8 Extreme Fear) [CNN]. One week ago: 3 (Extreme Fear). (0 is Extreme Fear; 100 is Extreme Greed). Last updated Mar 18 at 12:56pm. Haven't ever seen the needle pinned at zero. Last updated Mar 23 at 12:23pm. Still moving up, albeit slowly.
Rapture Index: Closes up two on Unemployment. "The Great Job Crash of 2020 will leave million jobless" [Rapture Ready]. Record High, October 10, 2016: 189. Current: 182. Remember that bringing on the rapture is a good thing. It certainly is odd to see the Fear and Greed index in Freefall, and an index that measures the likelihood of the Apocalypse is stable in the midst of what, in Biblical terms, should surely be a plague. +2 is a big jump, for the Rapture Index.
The Biosphere
"Everyone, everywhere: the global challenge of climate change" [Nature]. "Climate change demands action: humanity must shift from persistent destruction to intentional regeneration. So, how best to make that happen? Two new books give very different answers. In one, the solution lies exclusively with nation states and their protection of security and self-interest. The other expects a global-scale spirit of shared endeavour to harness the collective power of governments, corporations and individuals."
"National monuments and economic growth in the American West" [Science]. "Our results using a rich longitudinal micro-dataset and quasi-experimental econometric methods suggest that national monuments provided a boost to local economies in some ways and in other ways had no effect at all. We estimated an increase in the average number of business establishments and jobs in areas around the monuments, an increase in the establishment growth rate and no effect, positive or negative, on the number of jobs in businesses in operation at the time of designation, average wage incomes, or the net job growth rate. We also found no effect on the natural resource industries that rely on public lands and that detractors claim are hurt by monuments—namely, mining, forestry, and livestock grazing. Several service industries and the construction industry exhibit positive effects from monument designations. An important previous study of monument designations found no change in per capita income at the county level after designations (23). Our findings for average wage income at the ZCTA level are consistent with these results."
Health Care
I mentioned the stress — ok, privilege alert — of monitoring my body constantly, each cough, each twinge, to alert reader dk, who responded with the following useful advice:
You don't have to check your body constantly. Just before bed, in the morning sometime, and during the day or after a physical task (like an errand) is completed. Relax in a standing position and take a couple of deep breaths with an erect but relaxed posture (loose belly). Pay attention to the breaths. It takes a few seconds, if something is unusual you'll notice right away. It's called "listening to the body" and one notices aches and pains which are normal for an aging person. Those are to be expected, and we shouldn't let our brains overthink them. This is the much inflated and hucksterized idea of holism. It's simple, not mystical or spiritual: we're the product of millions of years of evolution, a little faith in our own biology's fairly robust processes is warranted. The brain isn't in charge, but it can help monitor the situation.

The most common intellectual mistake is to "power through," I always think of Jim Henson of Muppet fame, who keeled over from a six week walking pneumonia. The opposite is hypochondria, which can lead us to overuse medications and needlessly harass doctors+nurses. But using simple home remedies early is a way to address nervousness and test a theory of illness onset.

Somewhere in the middle is hmm I've had a scratchy throat for 4 hours, I'll gargle with warm salt water (or similar) until it feels better. If that doesn't work, analyze surrounding circumstances and consider a more aggressive remedy (chicken soup? epsom salt bath?) or (and eventually) medical assistance.
Useful, I think (though personally I gargle honey). Readers?
* * *
"Chloroquine for COVID-19: Cutting Through the Hype" [The Scientist]. "While some of the hype has been fuelled by a document generated outside the scientific literature, chloroquine's potential in treating COVID-19 is gaining traction in the medical community. The drug has a long track record in medicine, having been used since the 1940s as an antimalarial. The modern drug is made from the bark of the Cinchona plant, which was taken as an herbal remedy by indigenous Peruvians four centuries ago to treat fever. And there are some early indications it could work against SARS-CoV-2 infections…. Small-scale experiments in which chloroquine has been given to COVID-19 patients in China and Australia have also shown encouraging results as far as shortening the course of the disease. Larger clinical trials will be necessary to determine how effective the drug is. Larger clinical trials will be necessary to determine how effective the drug is." • This is a level-header survey, well worth a read. Understandably, some dont want to wait. (It would be helpful if Trump stopped flapping his big mouth on treatment; and it would also help if the Maddows of this world didn't feed The World's Greatest Troll™. The noise, er, both sides generate makes it all that harder to sort what can really help, which a lot of us need to do in real time.
"Can a century-old TB vaccine steel the immune system against the new coronavirus?" [Science]. "Researchers in four countries will soon start a clinical trial of an unorthodox approach to the new coronavirus. They will test whether a century-old vaccine against tuberculosis (TB), a bacterial disease, can rev up the human immune system in a broad way, allowing it to better fight the virus that causes coronavirus disease 2019 and, perhaps, prevent infection with it altogether. The studies will be done in physicians and nurses, who are at higher risk of becoming infected with the respiratory disease than the general population, and in the elderly, who are at higher risk of serious illness if they become infected….. Vaccines generally raise immune responses specific to a targeted pathogen, such as antibodies that bind and neutralize one type of virus but not others. But [bacillus Calmette-Guérin (BCG)] may also increase the ability of the immune system to fight off pathogens other than the TB bacterium, according to clinical and observational studies published over several decades by Danish researchers Peter Aaby and Christine Stabell Benn, who live and work in Guinea-Bissau."
"Prolonged presence of SARS-CoV-2 viral RNA in faecal samples" [The Lancet]. "Our data suggest the possibility of extended duration of viral shedding in faeces, for nearly 5 weeks after the patients' respiratory samples tested negative for SARS-CoV-2 RNA. Although knowledge about the viability of SARS-CoV-2 is limited,1 the virus could remain viable in the environment for days, which could lead to faecal–oral transmission, as seen with severe acute respiratory virus CoV and Middle East respiratory syndrome CoV.2 Therefore, routine stool sample testing with real-time RT-PCR is highly recommended after the clearance of viral RNA in a patient's respiratory samples. Strict precautions to prevent transmission should be taken for patients who are in hospital or self-quarantined if their faecal samples test positive."
"Dating and Coronavirus: Can You Still Kiss, Have Sex, and Go on Dates During Social Distancing?" [Teen Vogue]. "Even if you're a teen or young adult, 'you should stop to consider your other contacts—not just the person you're in a relationship with, but your family, your grandmother or grandfather,' says Michael Chang, MD, an infectious disease specialist at The University of Texas Health Science Center at Houston. 'The effects go beyond just the two of you at this point.'"
"Area megachurch holds Sunday services despite coronavirus concerns" [Journal-News]. "While other congregations across Ohio are encouraging their worshipers to stay home and worship online to prevent the spread of the coronavirus, Solid Rock Church held in-person services Sunday morning and evening in Warren County…. 'We are open!' the church posted this morning via Facebook, publicizing its 10:30 a.m. and 7 p.m. services. 'Thankful the governor hasn't placed restrictions on churches. Join us today! If you can't make it or aren't feeling well [(!!!!)], watch us online at www.solidrockchurch.org…. The church is known nationwide for its iconic 'Lux Mundi' statue of Jesus, and its predecessor, which was struck by lightning in June 2010.Supporters of Solid Rock commented on Facebook that Bishop was 'fearless' and asked that 'God bless him with boldness.'" • Solid rock…
"NTNU in Norway Warns about Coronavirus, the United States' Healthcare and Infrastructure" [Truth or Fiction]. Yes, they said it: "On March 14 2020, the Norwegian University of Science and Technology (NTNU) advised students abroad to return home in the face of a global COVID-19 pandemic. The warning was for 'countries with poorly developed collective infrastructure, for example the USA, where it can be difficult to get transport to the airport if you don't have a car' and 'the same applies if you don't have health insurance.'"
"'A mess in America': Why Asia now looks safer than the U.S. in the coronavirus crisis" [Los Angeles Times]. "In Asian countries that initially faced the gravest risk from the coronavirus, the shambolic U.S. response to the pandemic has elicited confusion, horror and even a measure of pity. Suddenly, it seems, the U.S. is the basket case, an aloof, inward-looking power that had already weakened its alliances, failed to lead on global emergencies such as climate change and shrunk in a crisis." • Democrats abroad seem to agree:
.@BernieSanders wins Democrats Abroad primary (180 countries) in highest turnout in history. "Our voters believe in affordable healthcare & education, & a government that looks after its people, both those citizens at home and abroad," https://t.co/3Eg1Hwen2M

— Jane O'Meara Sanders (@janeosanders) March 23, 2020
"'I'm going to keep pushing.' Anthony Fauci tries to make the White House listen to facts of the pandemic" [Science]. Well worth reading in full. Pertinently:
Q: Big picture: We've had all this pandemic preparedness. Why did this fail? What went wrong?

A: I think we'll have to wait until it is over and we look back before we can answer that. It's almost like . After the war is over, you then look back and say, "Wow, this plan, as great as it was, didn't quite work once they started throwing hand grenades at us." It really is similar to that. Obviously, testing [for the new coronavirus] is one clear issue that needs to be relooked at. Why were we not able to mobilize on a broader scale? But I don't think we can do that right now. I think it's premature. We really need to look forward.
As Mike Tyson (apocryphally) said: "Everybody has a plan until they get punched in the mouth," a less subtle version of "No plan survives contact with the enemy."
"Your No-Panic Guide: What We Do (And Don't) Know About The U.S. Medical Stockpile" [LAist]. "About $8 billion worth of vaccines, pharmaceuticals, protective gear, ventilators and other kinds of medical equipment are housed in warehouses that are strategically located around the United States. From the outside, these warehouses look ordinary. Inside, however, armed guards stand watch over a vast collection of materials. Giant freezers keep certain products cold. Locked, caged-off sections of the warehouses store controlled substances like painkillers. Rows of ventilators, which can support people who are having trouble breathing, are kept charged-up and ready to roll at a moment's notice. When the stockpile started, back in 1999, the goal was to get prepared for unusual, unprecedented national threats, says O'Toole, who chaired an advisory committee on the stockpile for the National Academies of Sciences, Engineering, and Medicine… The stockpile can fill gaps in supply chains or respond to sudden surges in demand caused by emergencies, says O'Toole, but 'it is not big enough, and it can never be big enough to replace the supply chains.' 'It's a bridge," she says. 'It's not a replacement for the private sector.' That means there could still be shortages of critical items, as it will take time for manufacturers to ramp up production."
We love our insurance:
One of 30 million uninsured Americans gets $35,000 medical bill for coronavirus treatmenthttps://t.co/Uvm9lk6Qk2

— Jeffrey Stein (@JStein_WaPo) March 20, 2020
Feral Hog Watch
The next dominant species?
Diagonal con Balmes pic.twitter.com/xaD7IWmfnV

— Ana Raventós (@a2z75) March 19, 2020
Class Warfare
The weak suffer as they must. Important thread:
The initial spread outside of geographical epicenter has been via global travelers & in global conferences & such

It has yet to fully & really hit (outside of China & neighbors), poorer less connected countries & the poorer residents in wealthier countries. That sadly can't last

— Chris Arnade (@Chris_arnade) March 21, 2020
Quite right:
We have to seriously restrict the movement of rich people because they don't make good choices. https://t.co/uBrrOeby7H

— Tressie McMillan Cottom (@tressiemcphd) March 22, 2020
As the Hamptons will find out in two weeks, and Blaine County in Idaho, home of Sun Valley, already knows.
News of the Wired
"Le Show For The Week Of March 22, 2020" (podcast) [Harry Shearer, Le Show]. "Harry is back stateside and stuck inside like the rest of us for this week's Le Show." The show "where self-isolation is not a mandate, it's a lifestyle."
Sheltering in place:
My 8 year old daughter just yelled "Oh no the toilet is smoking!!" My wife and I ran to the bathroom to find this. It's just day 4 of home school. pic.twitter.com/tG92vJPOtR

— Matthew Berry (@MatthewBerryTMR) March 19, 2020
* * *
Readers, feel free to contact me at lambert [UNDERSCORE] strether [DOT] corrente [AT] yahoo [DOT] com, with (a) links, and even better (b) sources I should curate regularly, (c) how to send me a check if you are allergic to PayPal, and (d) to find out how to send me images of plants. Vegetables are fine! Fungi and coral are deemed to be honorary plants! If you want your handle to appear as a credit, please place it at the start of your mail in parentheses: (thus). Otherwise, I will anonymize by using your initials. See the previous Water Cooler (with plant) here. Today's plant (RB):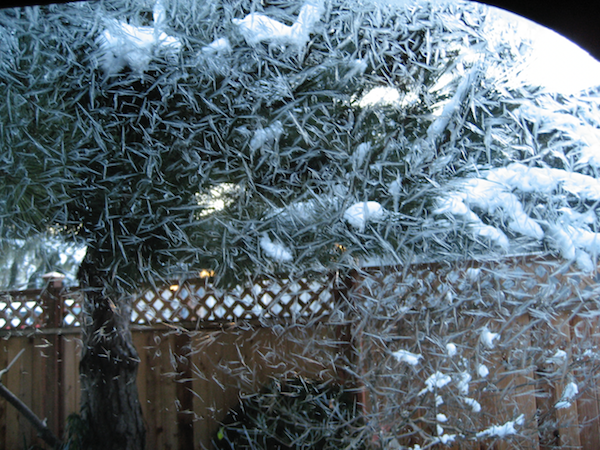 RB writes: "Spring is here in Puget Sound. Flowering cherries, apple trees, and my pear tree are starting to bud. A snap frost last week made me fear for the trees. Which reminded me… a couple of winters ago we had a snap frost that interrupted the melt-off of a late winter snow. The result was this. I took pictures – driver's seat looking out of my car to the left in my driveway. Through the window: that is a Monterey pine that gives me occasional grief with branches breaking from the weight of snow."
* * *
Readers: Water Cooler is a standalone entity not covered by the annual NC fundraiser. So if you see a link you especially like, or an item you wouldn't see anywhere else, please do not hesitate to express your appreciation in tangible form. Remember, a tip jar is for tipping! Regular positive feedback both makes me feel good and lets me know I'm on the right track with coverage. When I get no donations for five or ten days I get worried. More tangibly, a constant trickle of donations helps me with expenses, and I factor in that trickle when setting fundraising goals:
Here is the screen that will appear, which I have helpfully annotated.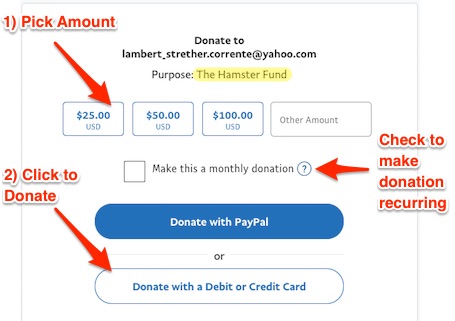 If you hate PayPal, you can email me at lambert [UNDERSCORE] strether [DOT] corrente [AT] yahoo [DOT] com, and I will give you directions on how to send a check. Thank you!